AA Awards – The Latest Top UK Restaurants Announced
The best hotels, restaurants and pubs across the UK were announced last night at the AA Hospitality Awards in a glittering ceremony at Grosvenor House in London.
To mark the twenty-first anniversary, this year's awards were presented by Claudia Winkleman and honoured the best establishments in the UK across multiple categories such as Hotel of the Year, Chefs Chef, Restaurant of the Year, Pub of the Year and Wine Award. The evening also unveiled the latest 3,4 & 5 AA Rosettes, recognising successful cooking at different levels across the UK. Considering that only about 10% of restaurants nationwide reach a standard worthy of one Rosette and above, then to attain this level is a substantial achievement that should not be underestimated.
See the new awardees below, or see the full list of 3,4 & 5 AA Rosette awarded restaurants here.
Big Award Winners
Hotel of the Year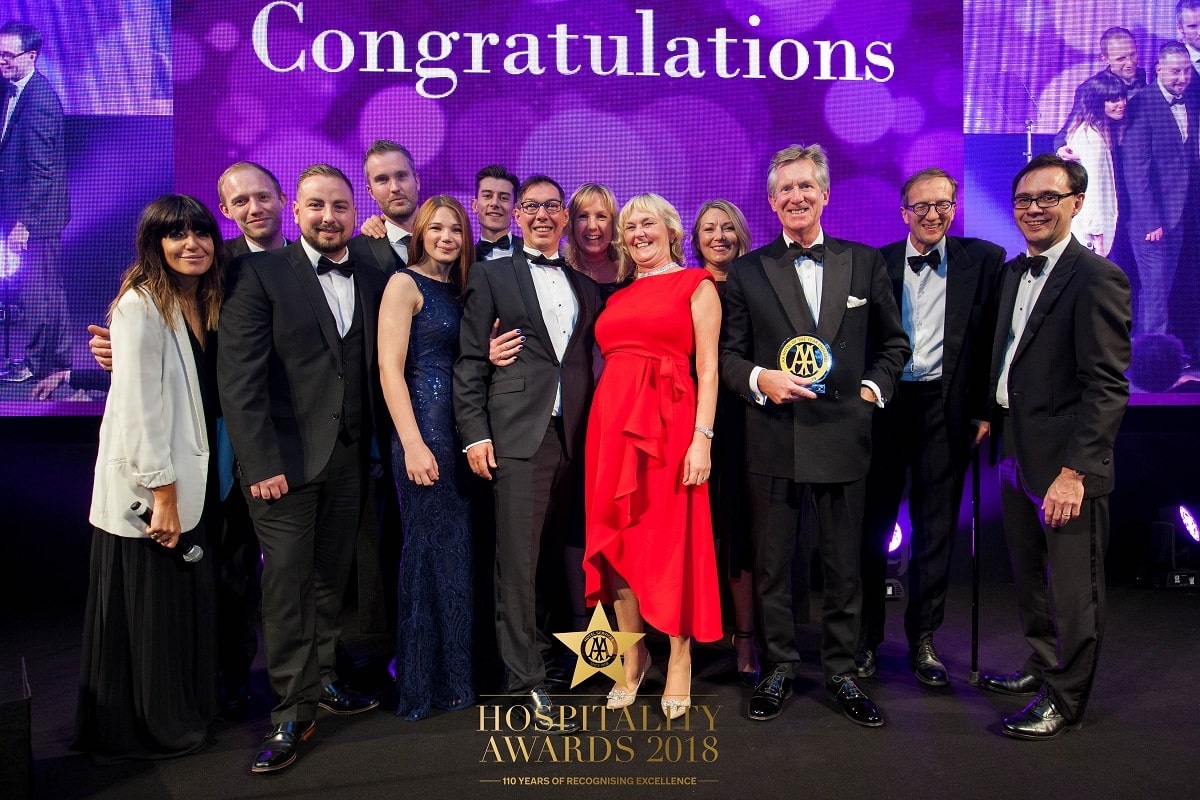 England: Great Fosters Hotel, Egham
London: Four Seasons Hotel London at Ten Trinity Square
Wales: Trefeddian Hotel, Aberdovey
Scotland: Old Course Hotel, Golf Resort & Spa, St Andrews
Northern Ireland: Bishop's Gate Hotel, Derry-Londonderry
Restaurant of the Year
England: Sorrel, Dorking
London: Sabor, London W1
Wales: Machine House Restaurant, Wrexham
Scotland: The Pot Still, Glasgow
Chef's Chef
Claude Bosi, Head Chef, Claude Bosi at Bibendum, London
Latest New Rosettes
5 Rosettes
Moor Hall Restaurant with Rooms, Ormskirk
4 Rosettes
Adam Reid at The French, Manchester
Burlington Restaurant at the Devonshire Arms, Bolton Abbey
The Man Behind The Curtain, Leeds
The Tudor Room at Great Fosters, Egham
3 Rosettes
ABode Canterbury, Canterbury
Amberley Castle , Amberley
Carters of Moseley, Birmingham
Castle Bow Restaurant, Taunton
The Greenway Hotel & Spa, Cheltenham
Jackrabbit Restaurant, Chipping Camden
Jöro Restaurant, Sheffield
Kilcamb Lodge Hotel, Fort William
Kota Restaurant with Rooms, Porthleven
Merchants Manor, Falmouth
Ocean Restaurant at The Atlantic Hotel, Jersey
The Oxford Kitchen, Oxford
Salt, Stratford upon Avon
The full list of this year's AA Hospitality Awards winners can be found at 
www.theaa.com/hospitality-awards/hospitality-awards-winners.
***
Discover these and more of the most awarded restaurants in the UK with over 500 exclusive dining offers with the free Luxury Restaurant Guide. Download free app here.