The Most Luxurious Private Dining Rooms in the UK
For special occasions you want a special place. If you have a celebratory, ceremonious or corporate gathering, being waited on in your own private room is more impressive, better served and fully caters you and your guests … some without room hire charge. We feature 16 of the finest private dining rooms for groups on one table from 2 to 40 guests: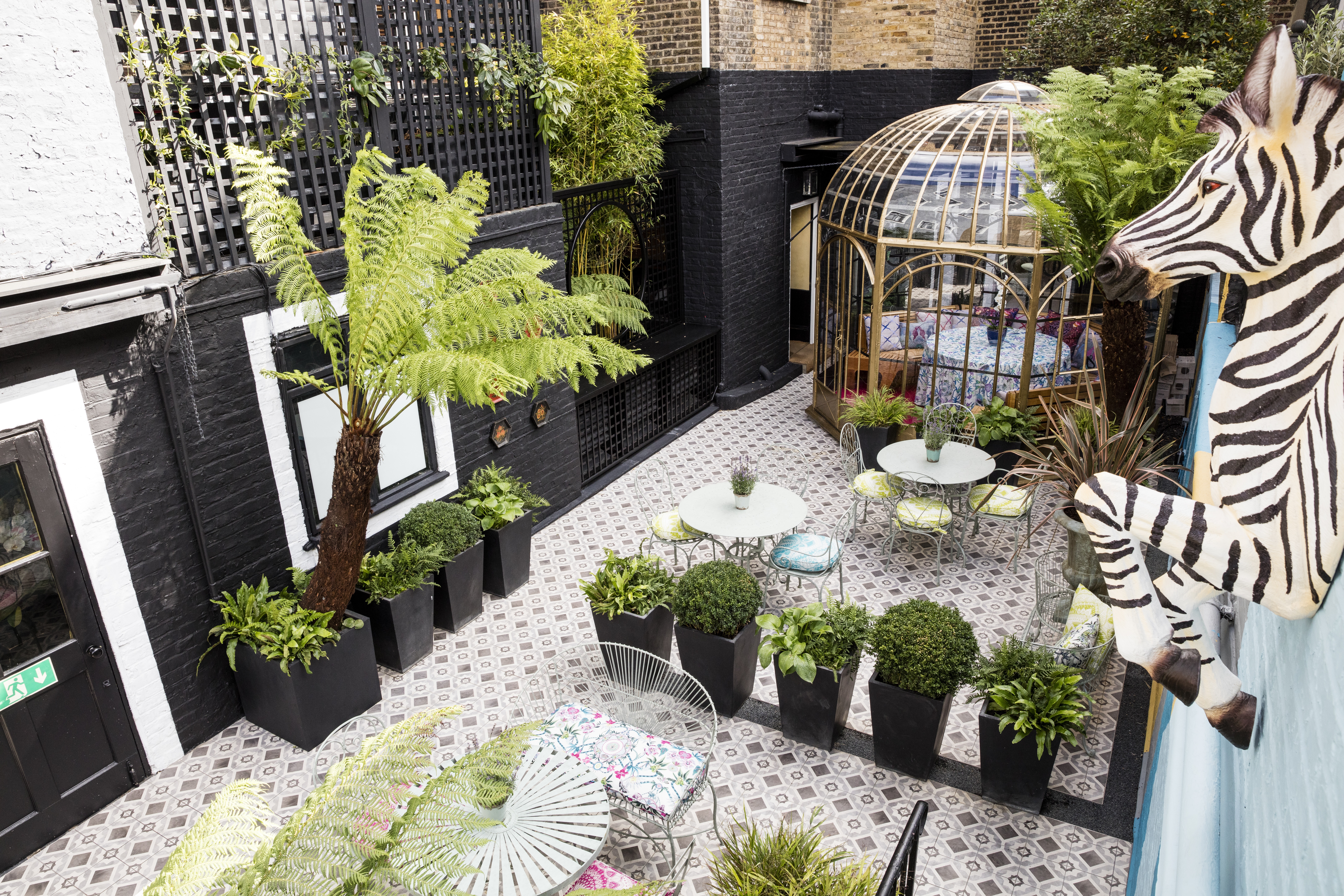 A perfect spot can be found in the Matthew Williamson designed courtyard at Blakes. The lavish domed birdcage has been refreshed with an antique gold exterior and deep magenta flooring. It has a decadently sumptuous feel for an escape from the elements or a magical night under the stars for year round dining. Caters for 2 to 12 diners.
For private dining enquiries call 0207 370 6701 or email kristel@blakeshotel.com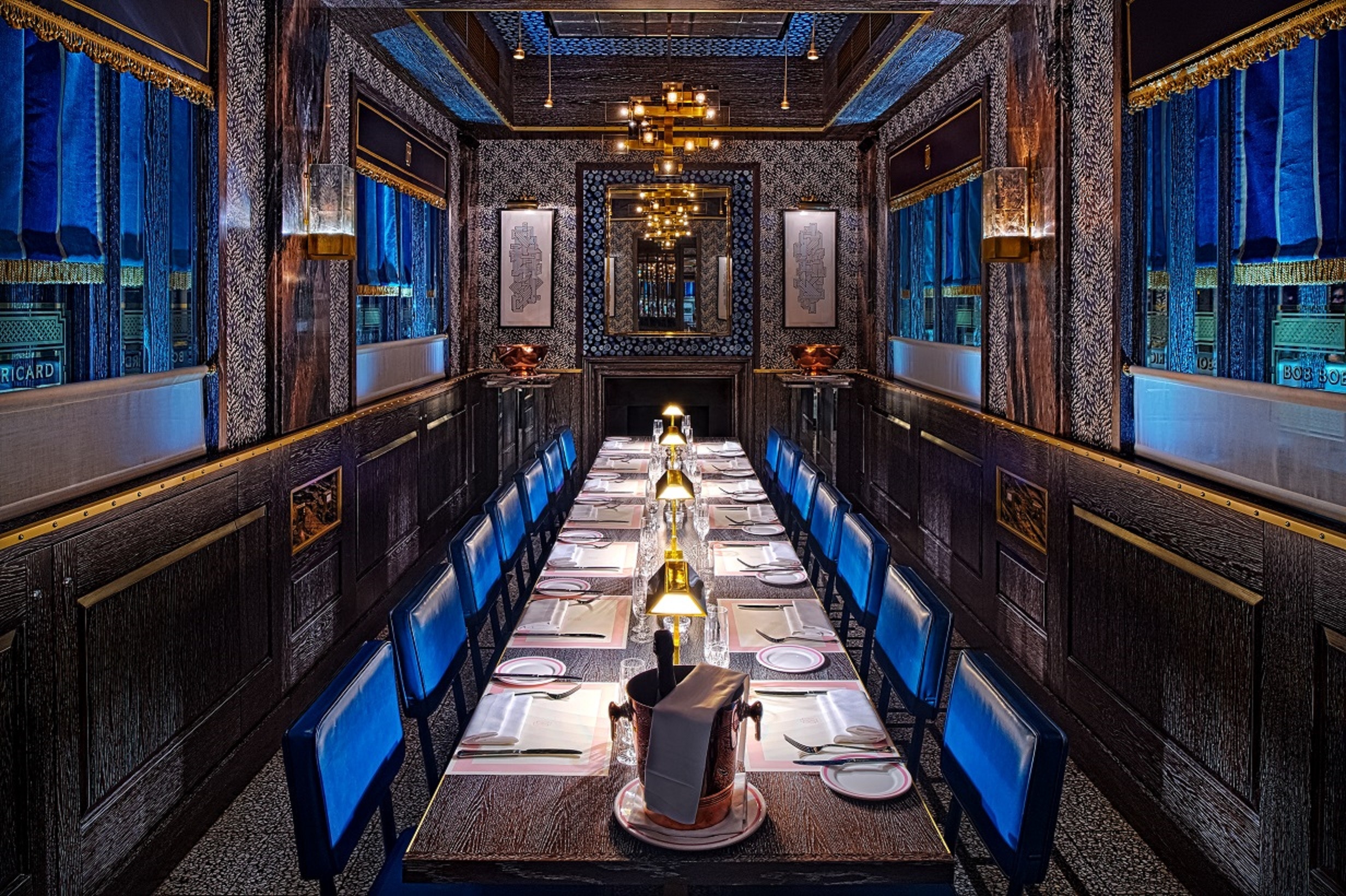 The Private Dining Room at the iconic Soho restaurant is modelled on the the Royal Dining Carriage and seats 9 to 16 guests.  It offers a more intimate experience to the all booth restaurant but with all the ambiance and glamour of Bob Bob Ricard's iconic design. Serving a luxury English and Russian menu to an eclectic and cosmopolitan clientele.
For private dining enquiries call 0203 145 1000 or email reservations@bobbobricard.com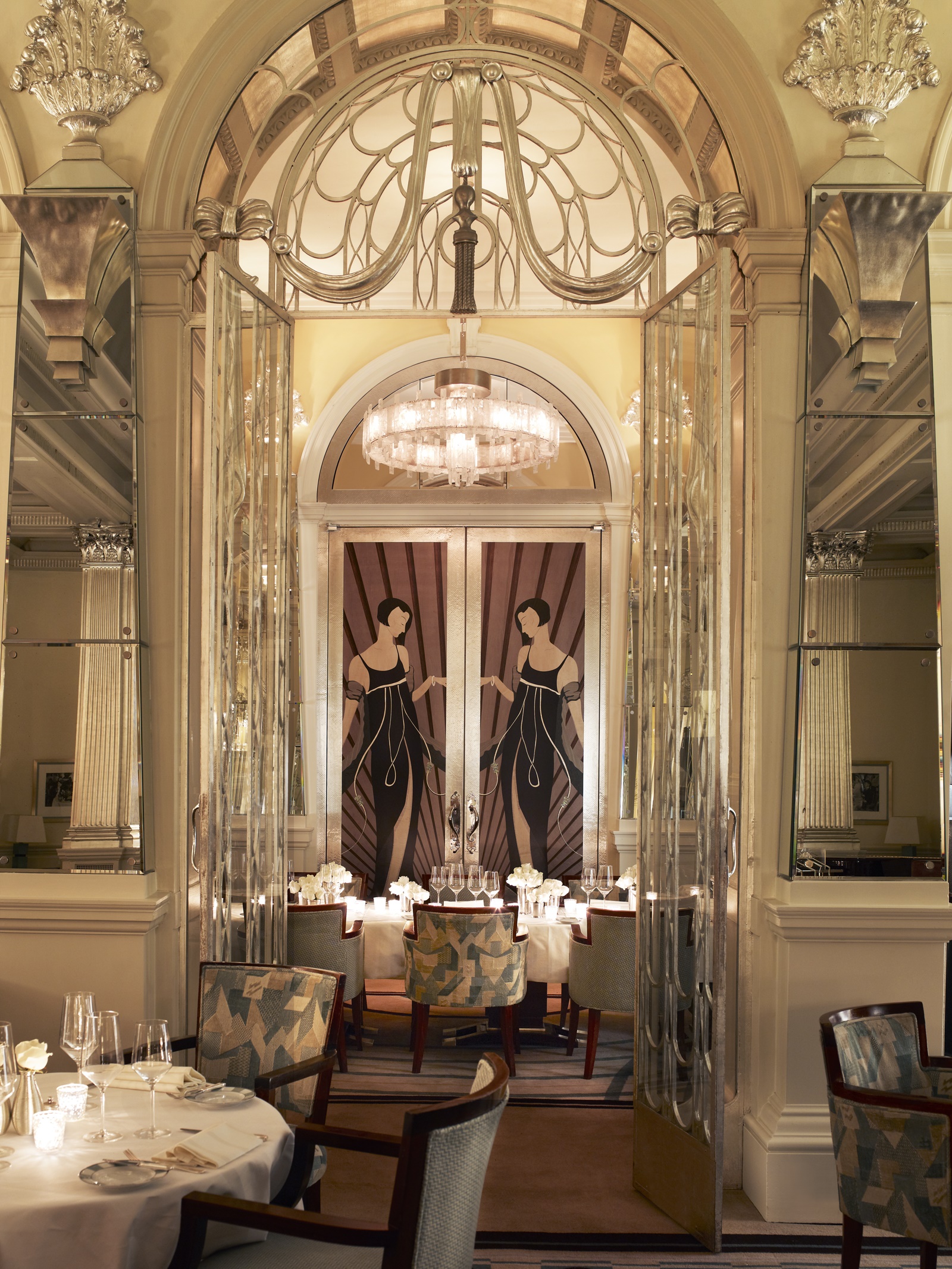 Set in the surroundings of the grand art deco Foyer, The Foyer Private Dining Room is available for exclusive hire. This space offers a private magical dining room in the heart of Claridge's. One long table can accommodate between 10 and 20 guests for Lunch or Dinner. Guests will be served The Foyer Private Dining Room menu. The above image shows the entrance into the private dining room.
For private dining reservations call Barbara Poljak on 0207 409 6232 or email bpoljak@claridges.co.uk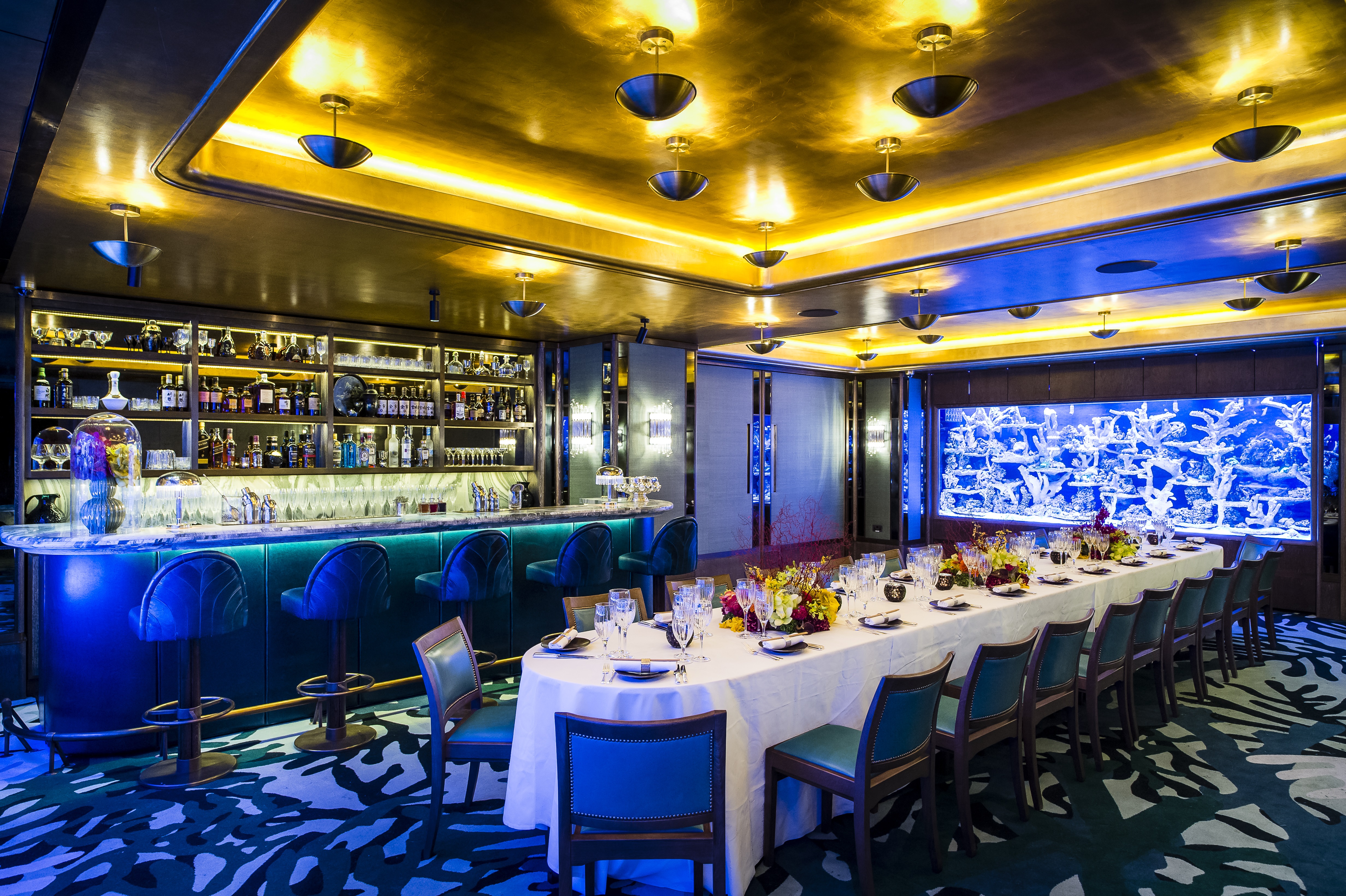 The two fish tanks in The Coral Reef Room at Sexy Fish are truly magnificent. Measuring 6m and 4.5m in length, they are the largest live coral tanks known. Each one houses stunning petrified coral sculptures, specifically crafted to accommodate an exquisite collection of live coral and the perfect seascape for a colourful assortment of tropical fish. Martin Brudnizki Design Studio has put together a collection of materials and colours that capture the essence of the sea. The chairs and bar stools are upholstered in aqua coloured leather and the walls are adorned with a keppel ribbed silk fabric. Michael Roberts has designed the bespoke patterned carpet in tonal blue hues. The Coral Reef Room can be hired for private dining 7 days a week for to up to 48 guests on round tables and up to 34 on one table. There is a custom-built bar, with an off-white veined marble top and antique brass detailing, which has an additional 6 seats, perfect for after-dinner digestifs, especially as last drinks orders are at 1.30am with taxi time at 2am!
For enquiries call Ashley Cooper on 020 7307 5904 or acooper@caprice-holdings.co.uk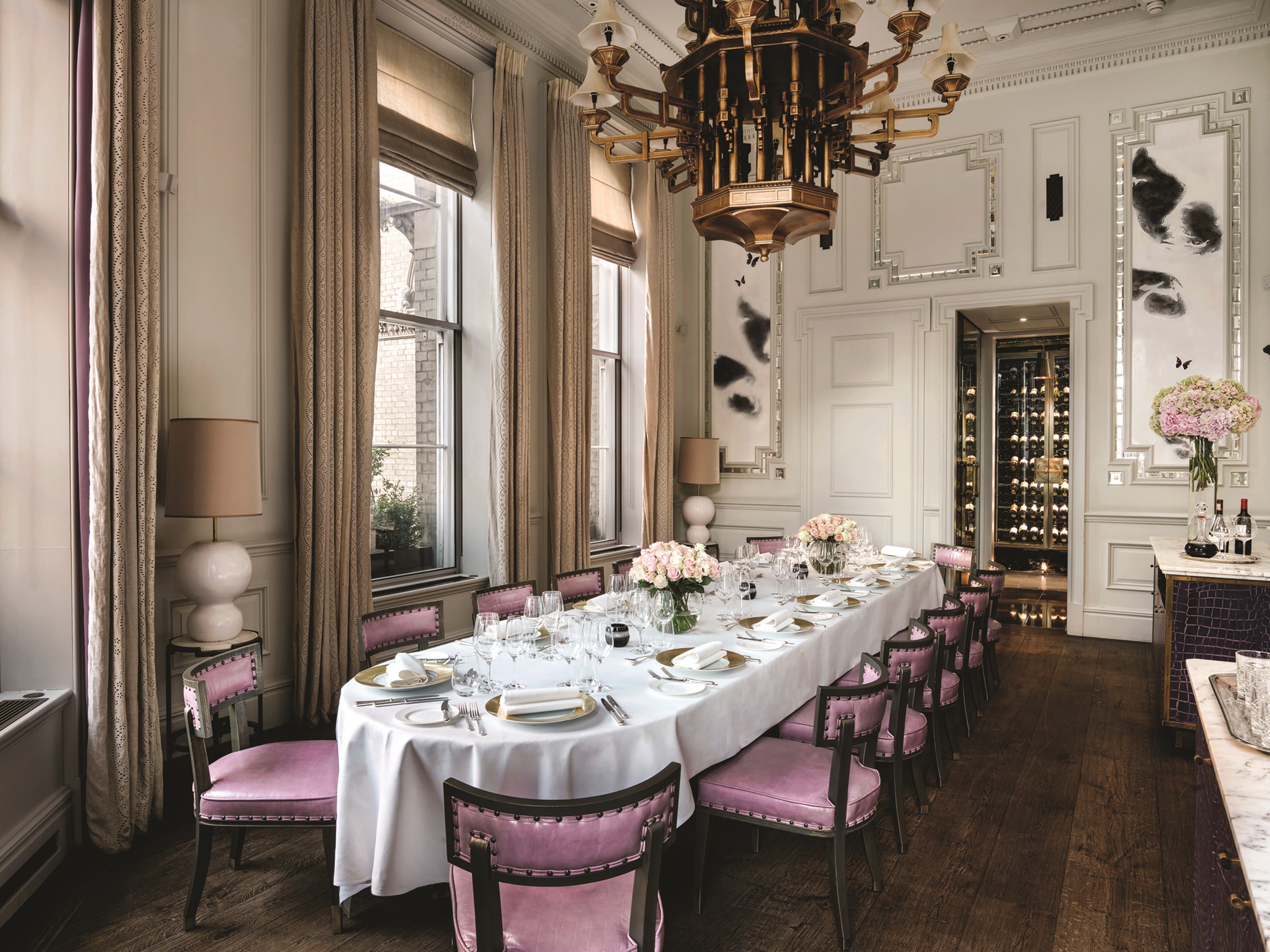 Postillion offers 'Private Dining by Roux' within the sumptuous settings of The Langham, London. Private Dining by Roux offers the Chez Roux hallmarks of classic French cuisine interpreted with a modern twist, with the same level of service experienced in fine dining Roux at The Landau restaurant.
With glamorous contemporary interiors by David Collins Studio, Postillion is an exquisitely appointed room with high ceilings and large windows making the most of natural light and charming views of All Souls Church. Perfect for cocktails for up to 35 people, and lunches and dinners for 18 people.
For private dining enquiries call 020 7636 1000 or email: tllon.eventsenquiries@langhamhotels.com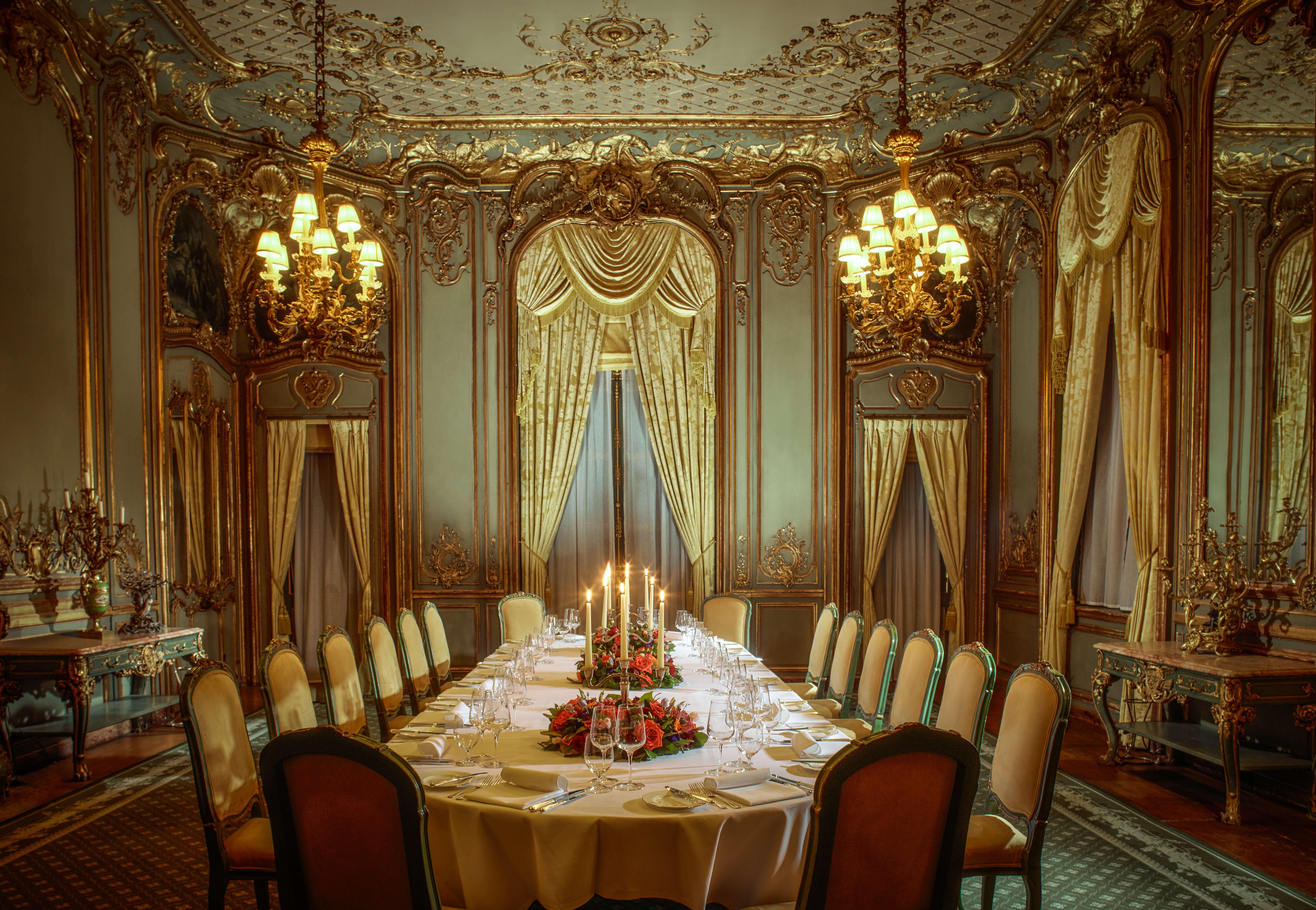 The French Dining Room at Cliveden is the original panelling from Madame de Pompadour's 18th century dining room at the Château d'Asnières, imported by William Waldorf Astor after a trip to Paris in 1897.
A Rocco masterpiece with views of the river and surrounding Berkshire countryside, it seats 25 up to 60 guests. The French Dining Room provides an incomparable setting for a romantic wedding breakfast, impressive lunch or sumptuous dinner.
For private dining enquiries call 01628 668 561 or email specialevents@clivedenhouse.co.uk
The Table Lumière at Alain Ducasse is the unique centrepiece of the restaurant and is surrounded by a curtain of 4,500 fibre-optic lights. Seating is for 2 to 7 guests. It has a room hire fee of £200 and guests are able to select their preferred chinaware from four vintage Hermes Collections. (see current Table Lumière Brochure) Please be advised that menus change seasonally.
Table Lumière menus: A La Carte (only available for lunch) – 3 or 4 courses (£100 or £120); Tasting Menu – 7 courses (£140); 10th Anniversary Menu – 7 courses (£280) – replaces our regular Seasonal Menu (£180) until 23rd December; Menu Jardin – 7 course (vegetarian) (£115)
For private dining enquiries call 020 7629 8866 or email AlainDucasseReservations@AlainDucasse-Dorchester.com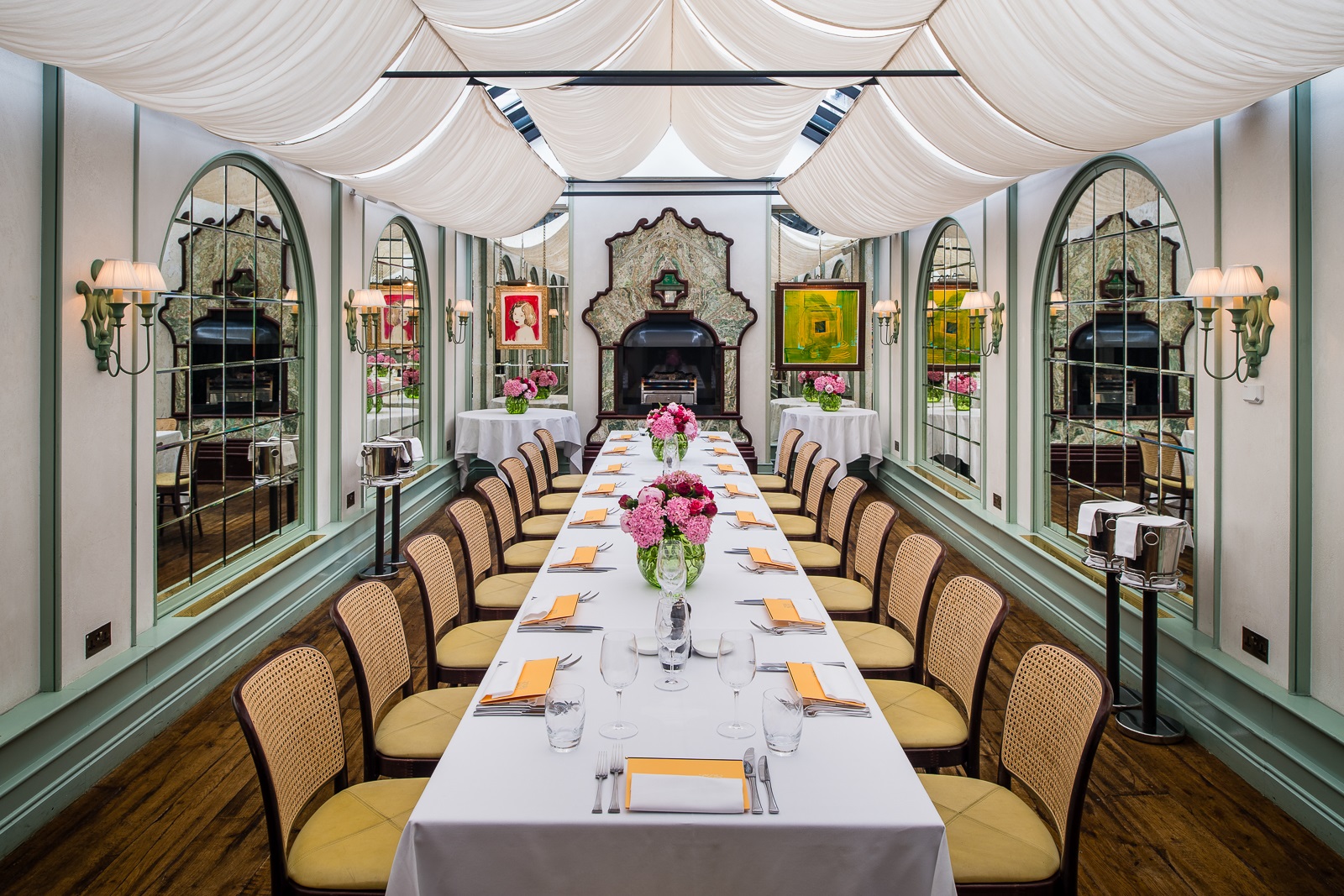 The area of Brompton Cross, near South Kensington, continues to attract some of London's most discerning visitors and the warmth, intimacy and charm of Daphne's is at the heart of its appeal. Its seasonal country cooking, sourced with exceptional attention to detail, is justly famed around the world. Daphne's Conservatory, warmed by an open fire in winter and cooled by its retractable roof in summer, makes an ideal setting for a private party. Seat from 20 to 40 guests for a seat down lunch or dinner, or 50 can gather for drinks and canapés. Daphne's also has a wedding licence – details upon application.
For private dining enquiries call Hayley Gibson on 0207 307 5786 or email  hgibson@caprice-holdings.co.ukhgibson@caprice-holdings.co.uk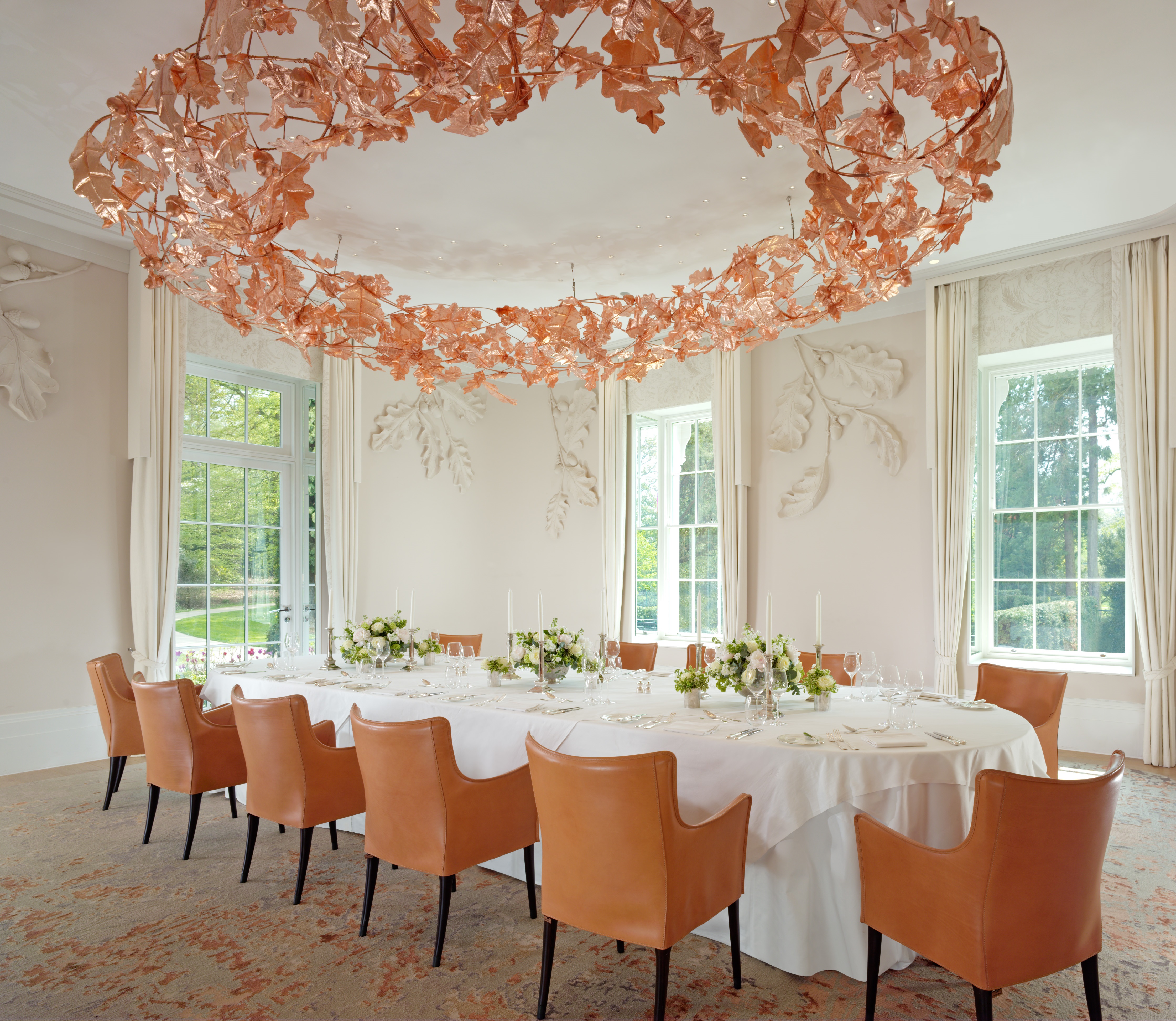 The Oak Room at Coworth Park is situated on the ground floor of the Mansion House adjoining Restaurant Coworth Park. It is entered through its own ante room.  At first glance classical in design, Georgian skirting and cornicing is updated with over-scaled acorn and oak leaf plaster reliefs.  Dual aspect windows provide fresh natural daylight, and a hanging sculpture of copper oak leaves adds warmth and a striking touch. Perfect for private dining functions for 12 to 18 guests.
For private dining enquiries call 01344 876600 or email groupandeventsales.CPA@dorchestercollection.com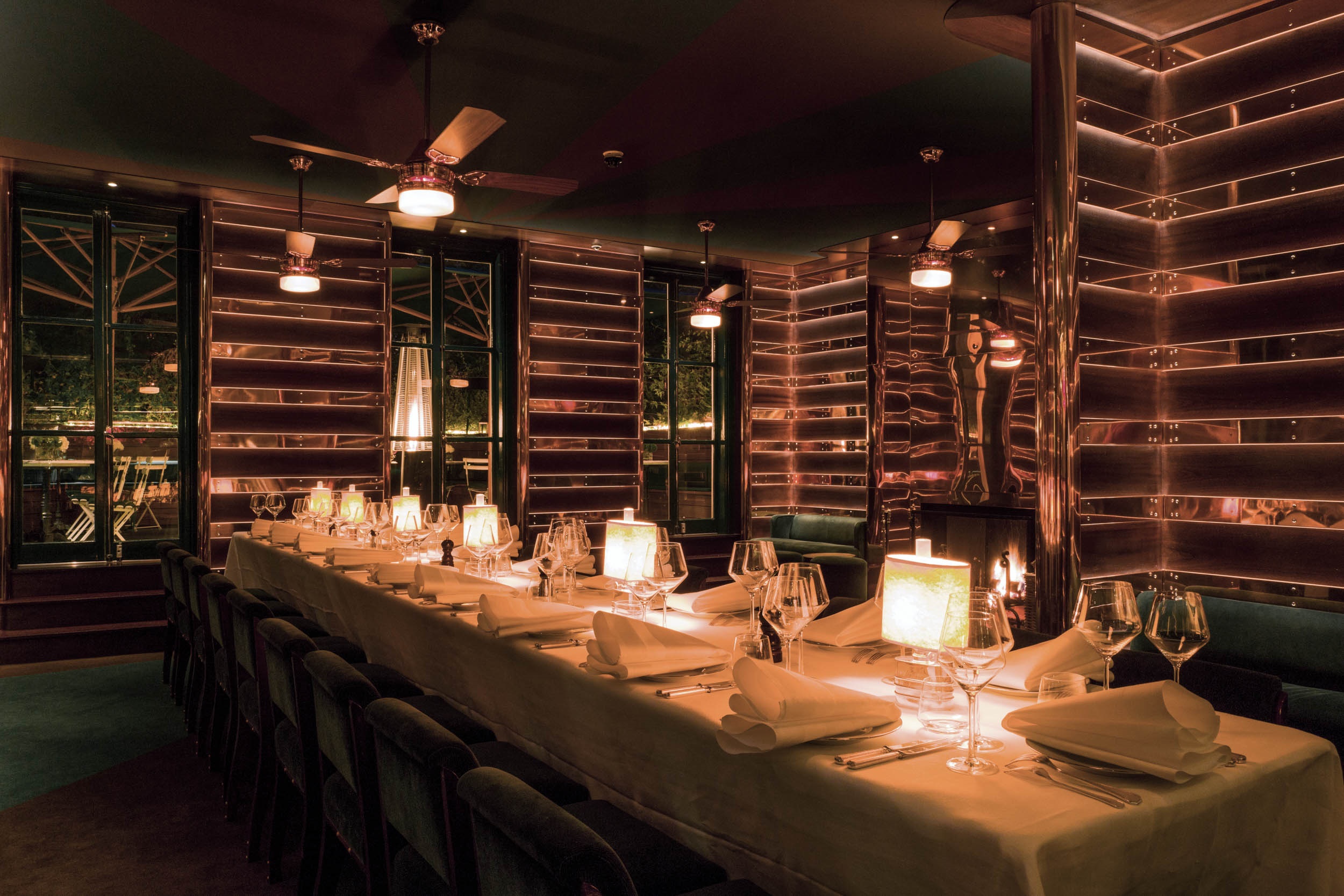 The first floor of Notting Hill's hugely popular Casa Cruz restaurant can seat from eighteen up to thirty-six guests on round table formats or one long table. Booking the first floor includes the terrace for pre and post dinner drinks. Perfect for a stylish and lively event with a private members club feel.
For private dining enquiries call Jen Brown Events Coordinator on events@casacruz.london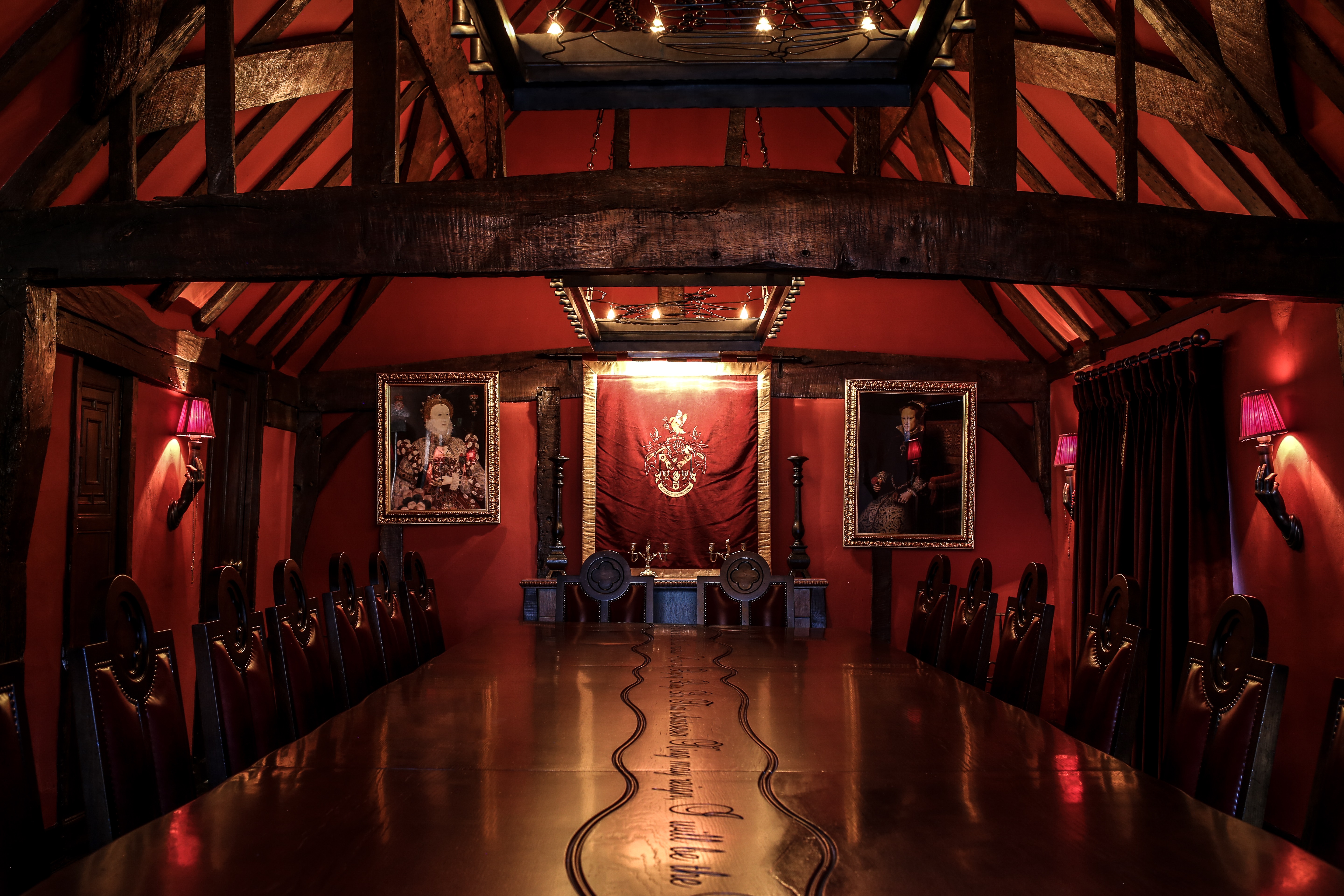 The Vicar's Room at Heston Blumenthal's Hinds Head captures the character of its historical setting, making it a truly atmospheric place for a business or private event without parallel. A dining table hewn from a single trunk of oak sits within the room amid wood-beamed walls, illuminated by a pair of parlour chandeliers depicting the likeness of Queen Mary and Queen Elizabeth.
There is seating for up to 20 guests and a selection of menus, changed seasonally, are available to choose from. There is no room hire charge.
For private dining reservations call 01628 626151 or email info@hindsheadbray.com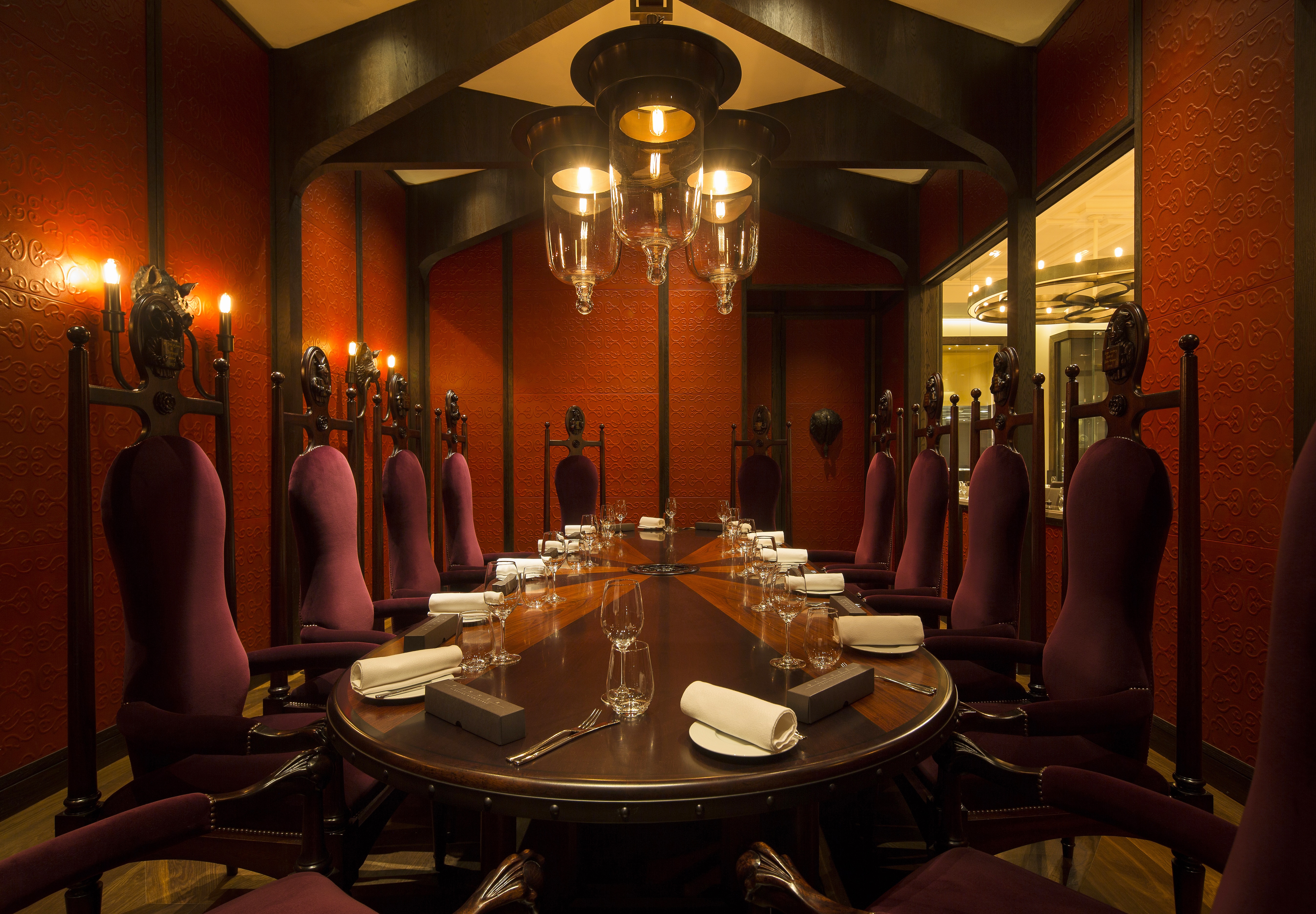 The dramatic Private Dining Room at Dinner, which can accommodate up to twelve guests, is sumptuously decorated with red, embossed leather walls, bespoke velvet armchairs and a grand table depicting the legendary table of King Arthur's Knights of the Round Table, excavated from Westminster Palace. A central chandelier boasts the largest hand-blown glass pieces in Britain. It is available for lunch and dinner seven days a week, and offers guests exclusive seclusion while still retaining views through a glass window into the restaurant and Hyde Park beyond if desired.
For private dining reservations call 0207 201 3833 or email molon-dinnerhb@mohg.com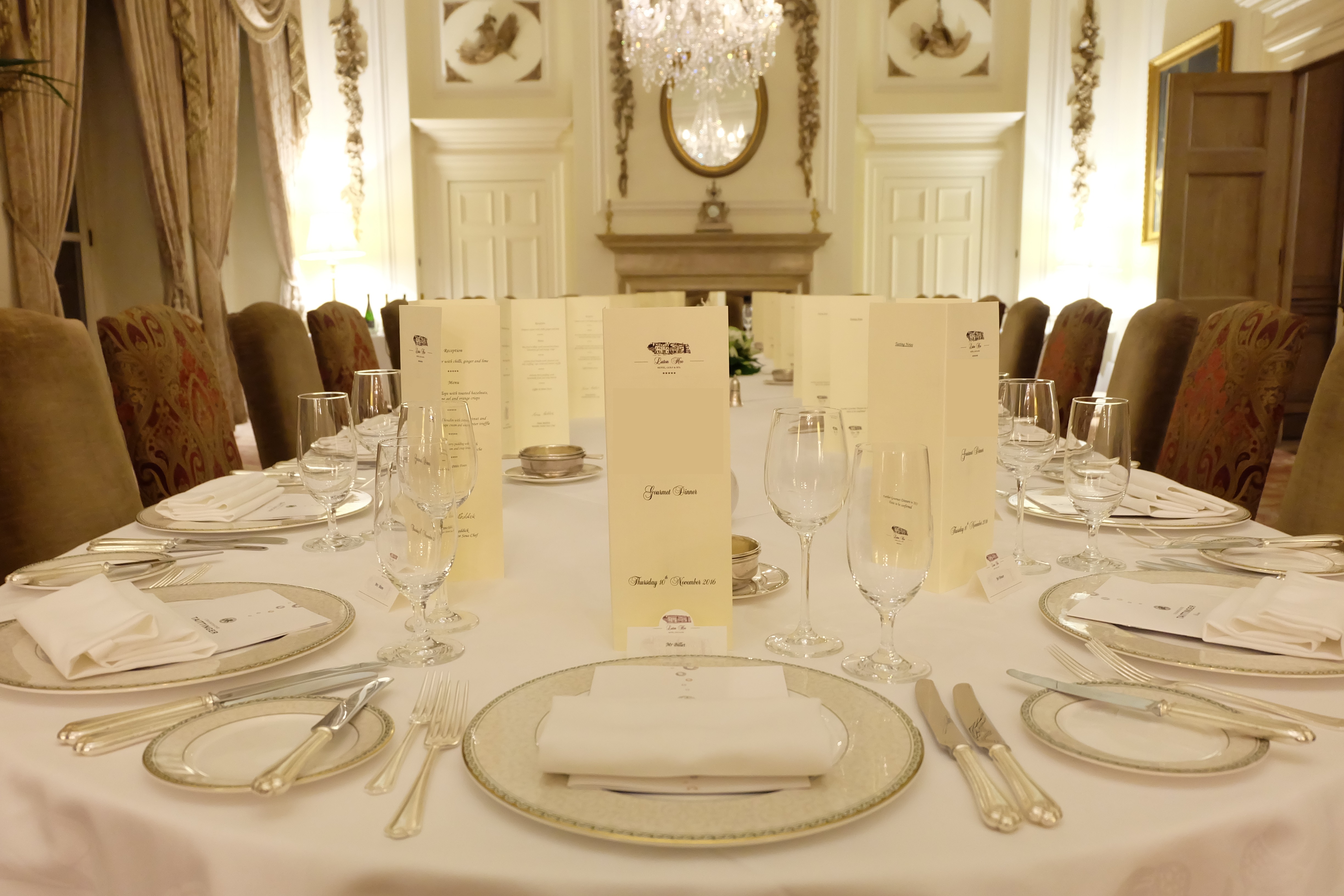 The Grinling Gibbons Room at Luton Hoo is an impressive room in the Mansion House of the five star Luton Hoo Hotel. The room Grinling Gibbons Room, with wood carvings by the famous English sculptor seats 12 to 26 guests and views over gardens designed by Capability Brown.
For private dining enquiries call 01582 698889 or email events@lutonhoo.co.uk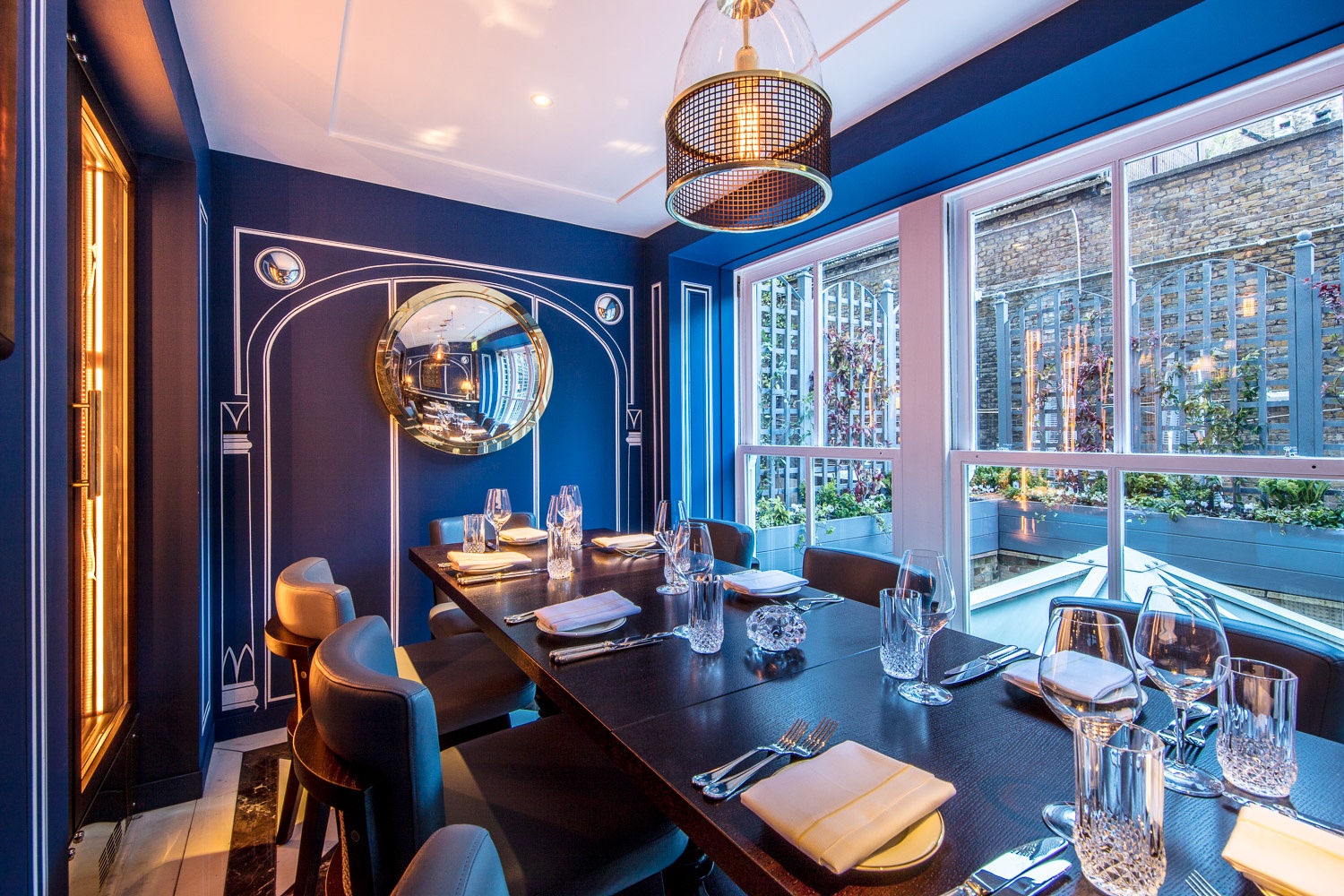 The Private Dining Room at Jamavar is nestled at the end of the main dining room on the ground floor, can accommodate up to eight guests. It comes with its own wine vitrine and views of a beautifully planted private garden. The charming space is a tribute to the rich heritage of natural indigo dyes of India, and its royal blue hues add luxurious warmth to the setting. Perfect for Indian fine dining.
For private dining enquiries call 0207 499 1800 or email reservations@jamavarrestaurants.com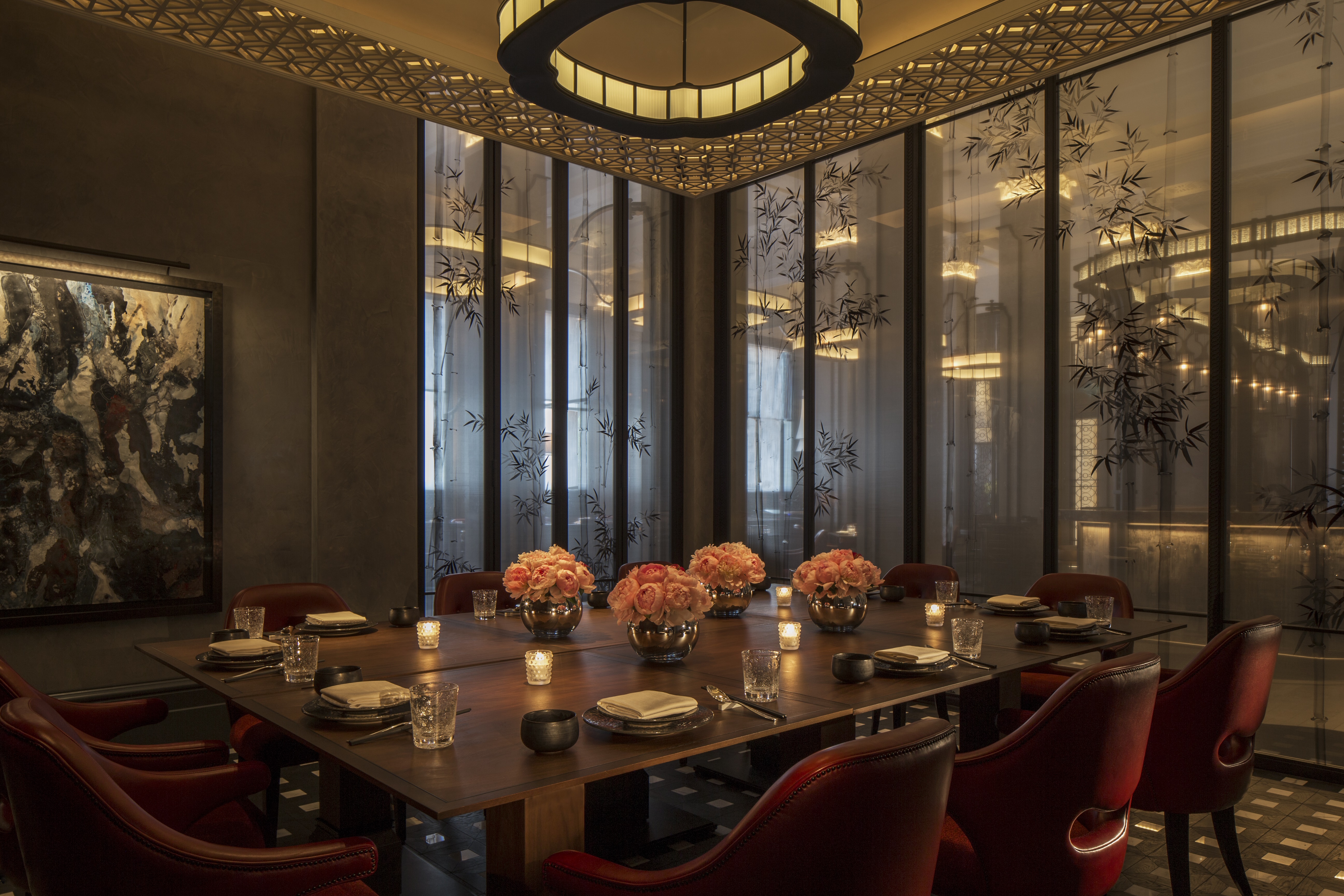 The Private Dining Room at Mei Ume seats up to 14 in the exciting new Asian dining venue at Four Seasons Hotel at Ten Trinity Square. Introducing a menu of authentic dishes from China and Japan with a modern approach. Seating is around a large central table, perfect for group dinners, corporate or leisure events. It is separated from the main restaurant by bamboo screen panels, providing privacy whilst also retaining the atmosphere of the restaurant. Menus start from £80 per person. There is no room hire charge, but a minimum spend of £1,000 applies.
For private dining enquiries call 0207 297 3799 or email diningreservations.tri@fourseasons.com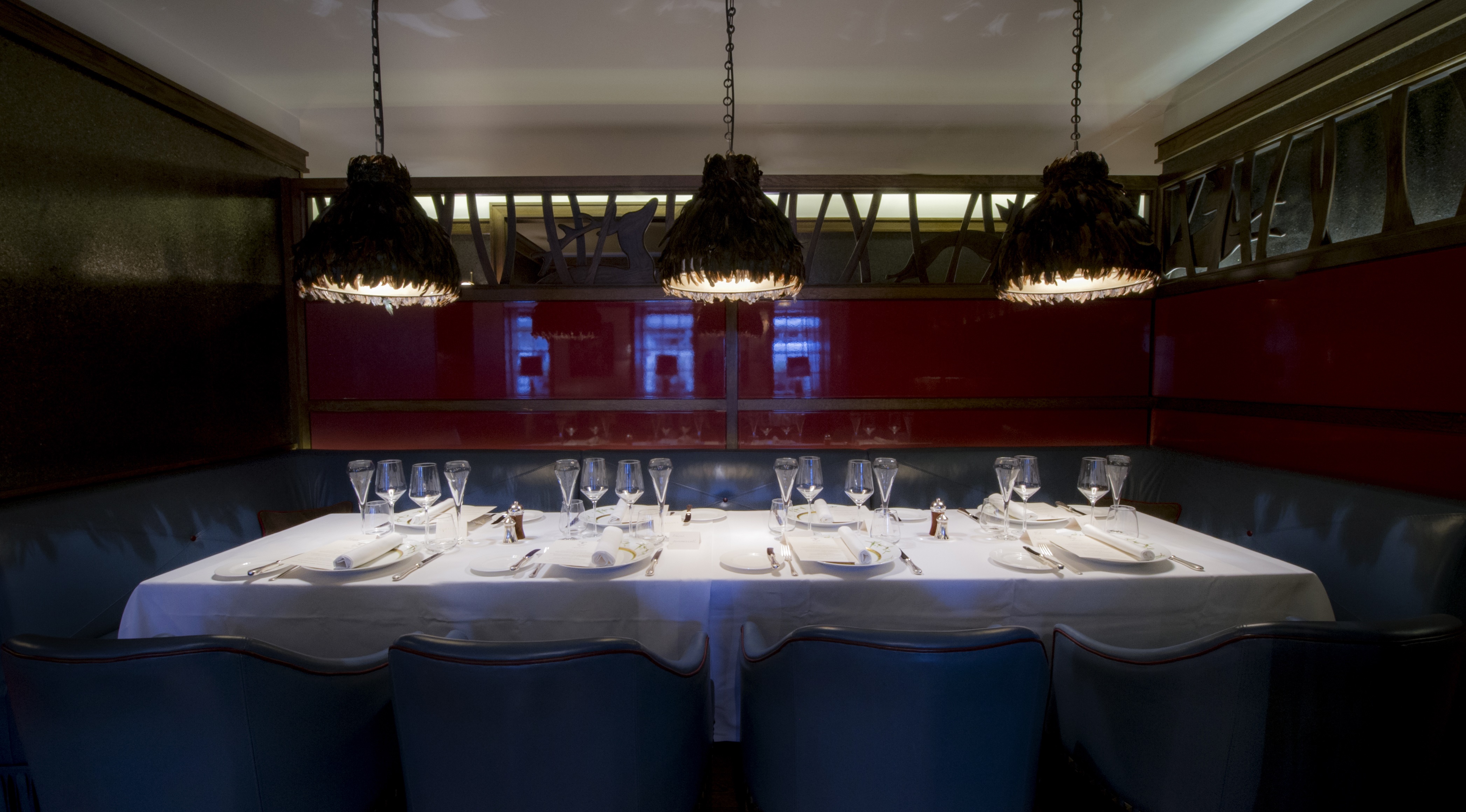 The newly designed Poet's Corner at Corrigan's is screened off from the main restaurant by a curtain allowing diners to sit back and enjoy the privacy of their own space amidst the buzzing atmosphere of the main restaurant. Seats up to 10 guests. Corrigan's Mayfair redefines the concept of quintessential British cuisine bringing no nonsense food to London's city.
For private dining bookings call 0207 499 9943 or email privatedining@corrigansmayfair.com
FIND MORE GREAT PLACES TO DINE
DOWNLOAD OUR FREE LUXURY RESTAURANT GUIDE APP HERE