How to Spot An Ethical Luxury Restaurant – Six Tips on Sustainable Dining
FACT: UK restaurants waste enough food in one year to fill London's tallest building The Shard more than ten times. 
Turn the clock just back a few short years and sustainability was a taboo word in luxury, fine dining restaurants and hotels. The customer was king and profligacy too often the order of the day.
Now, in 2019, the 'Attenborough' effect is bedded into our consciousness and the words conscious and luxury really can, and increasingly do, sit side by side when describing a fine dining restaurant.
For lovers of fabulous food though who are just as passionate about ensuring their dinner doesn't damage the planet, it can be difficult to tell the difference between those restaurants who really bleed green and the ones guilty of green washing.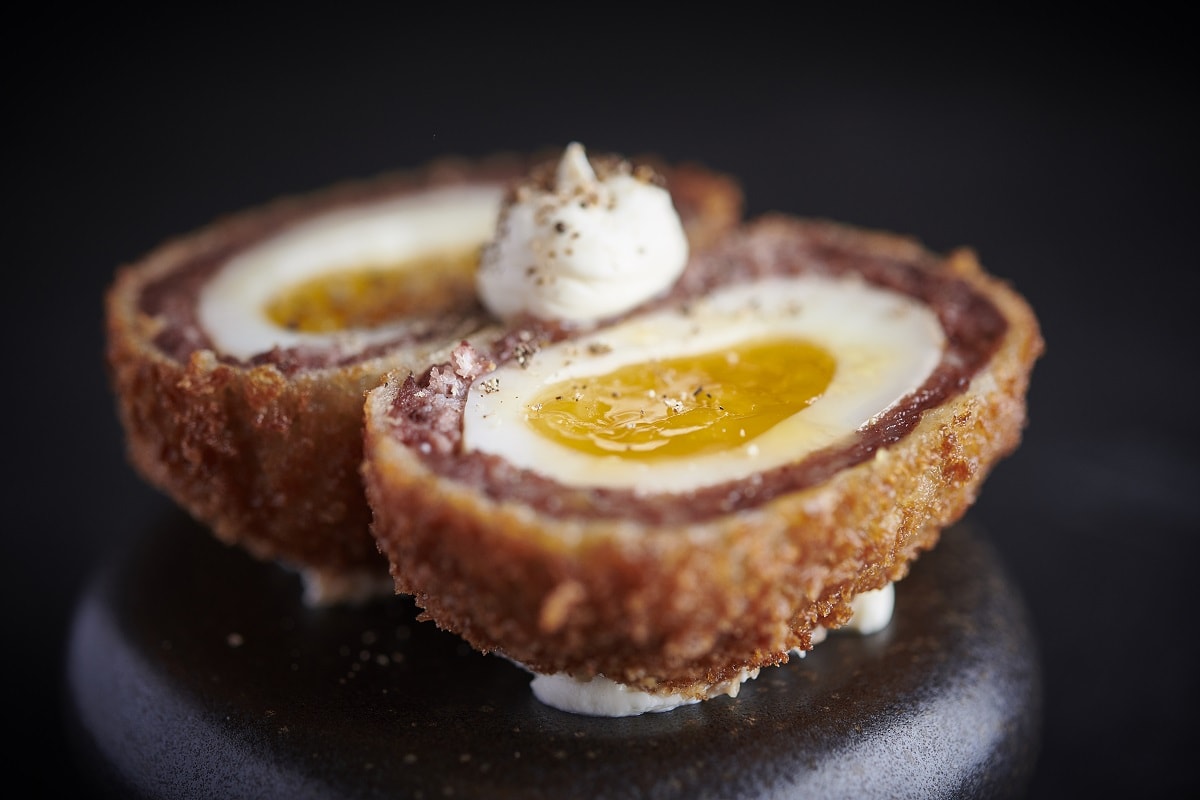 Some are easy to spot – the new Ugly Butterfly by Adam Handling on the Kings Road, Chelsea, in association with Cadogan Estates, is specifically set up to fight food waste using off cuts and ingredients that would otherwise be wasted from his group of restaurants, specifically the Belmond Cadogan Hotel. Think casual dining restaurant with an upmarket take on zero waste if you will.
Some may argue that doesn't sit with luxury per se, but there are many ways restaurants can make an ethical standpoint. To sort the organic wheat from the chaff thankfully there's the Sustainable Restaurant Association, a not-for-profit, membership organisation, based in the UK, which aids the food-service businesses to work towards sustainability in their sector and guides customers towards more sustainable choices. Here they've compiled a six-course menu for us to help diners spot the difference:
Local Heroes
While food miles really don't have quite the environmental impact once attributed to them, adherence to a largely local larder sourcing policy means traceability, a connection to a local network of farmers and producers, plus fresher, tastier seasonal produce. So steer clear of strawberries and asparagus in January and check the menu for authentic provenance.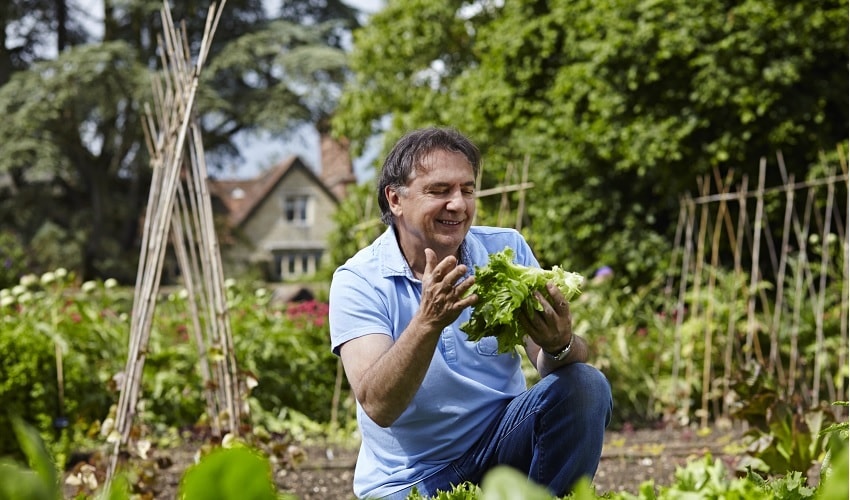 Menus at restaurants like Belmond Le Manoir aux Quat'Saisons, Petersham Nurseries and Summer Lodge feature plenty of fruit and veg grown in their own gardens, while daily specials at The Stafford feature produce grown on allotments tended by Chelsea Pensioners just a stone's throw from the kitchen door.
(M)eat less
With livestock production accounting for 15% of all greenhouse gases, the environmental case for eating less meat is undeniable. For those still wanting to indulge the carnivore in them when eating out for treat, smaller portions of meat (Belmond Le Manoir aux Quat'Saisons has reduced by 5%), nose to tail dishes, like ox cheek and offal, or even venison, which has an impact three and half times less than that of beef, are the dishes to look out for.
No (hali)buts
Even if you're aware that 90% of fisheries are either over-fished or at maximum capacity, it can be really hard to know which species to choose or avoid. While the list of threatened species is long, there are three that, if you spot them on the menu, you should steer well clear of; eel, officially rated as an endangered species, wild halibut and wild sea bass, both of which have excellent farmed alternatives.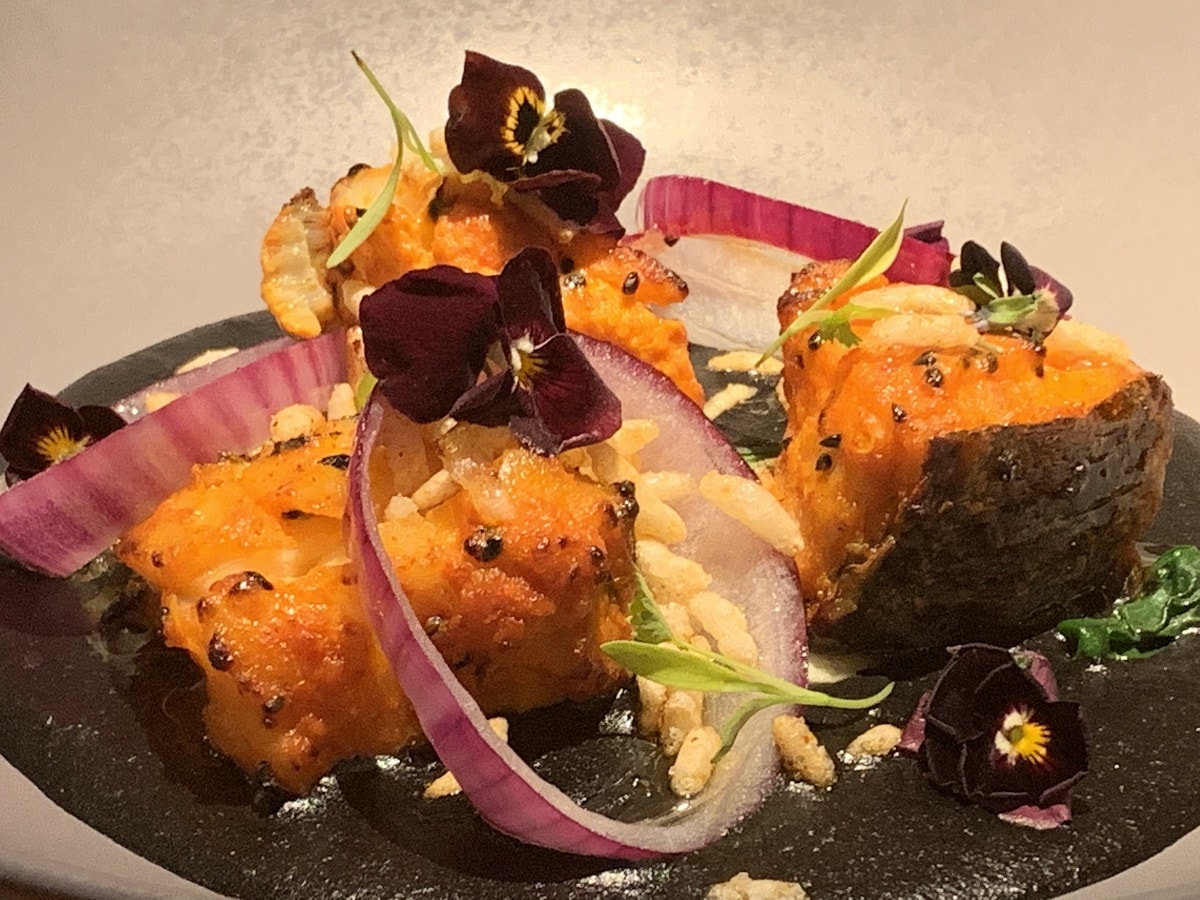 Cinnamon Club is one of the first UK restaurants to feature cobia, a white fish sustainably farmed off the coast of Panama, and Chalk Stream trout from Hampshire is an excellent alternative to farmed salmon.
Too good to waste
UK restaurants waste enough food in one year to fill London's tallest building The Shard more than ten times. Look closely and some menus do carry clues as to those chefs committed to keeping food on the plate and out of the bin. Dishes that showcase nose to tail, root to fruit and even fin to gill techniques are always a great bell-weather.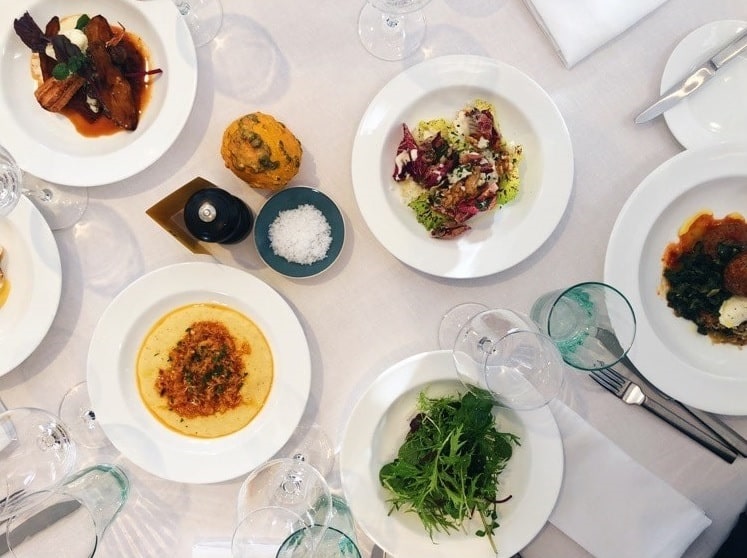 Petersham Nurseries and Spring are among the best exponents of this. Spring's 'Scratch' menu offers theatregoers a bargain dinner, featuring some of the less than perfect produce from grower Fern Verrow as well as some the tastiest if less prime cuts of meat.
A lot less bottle
Water is likely to be one of the first things a waiter offers. There's a sliding scale of sustainability. If tap or filtered is the first offering, then the restaurant is on the right track. If they go straight to imported bottled water, then the alarm bells should start to sound. Michelin-starred Quilon offers filtered house water – period.
The final tip
At the end of a fine dinner customers often want to reward staff with a generous tip but are worried about where it will end up. Transparency is king. Communicating clearly means customers can rest easy and staff know precisely where they stand.  These words appear at the bottom of Le Manoir's menu: "A discretionary service charge of 12.5% will be added to your bill, which is shared with the whole team in its entirety."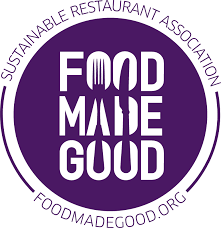 The Sustainable Restaurant Association has started an initiative called Food Made Good, Global.  It's putting ideas into action with tech and know-how from the world's most established and successful membership programme, delivering positive change across restaurants in any country, city or state that wants to replicate the model and help create a worldwide network committed to creating a better food system.
Here are some of the leading UK restaurants supporting the cause already, and to help you make better dining choices:
Summer Lodge Country House Hotel, Restaurant & Spa – 9 Fore Street, Evershot, Dorset, DT2 0JR
Restaurant at The Zetter Hotel – St John's Square, 86-88 Clerkenwell Road, London, EC1M 5RJ
The Restaurant at Cowley Manor – Cowley, Nr. Cheltenham, Gloucestershire, GL53 9NL
Belmond Le Manoir aux Quat'Saisons – Church Road, Great Milton, Oxfordshire, OX44 7PD
The Wild Rabbit – Church Street, Kingham, Oxfordshire, OX7 6YA
Mimo London – Borough Market, 1 Cathedral Street, London, SE1 9DE
The Game Bird at The Stafford, London – The Stafford, 16-18 St James's Place, London, SW1A 1NJ
Quilon – 41 Buckingham Gate, St James's, London, SW1E 6AF
Cinnamon Club – The Old Westminster Library, 30-32 Great Smith Street, London, SW1P 3BU
Ikoyi – 1 St. James's Market, London, SW1Y 4AH
Bingham Riverhouse – 61-63 Petersham Road, Richmond Upon Thames, Surrey, TW10 6UT
The Peterham – Petersham Nurseries, Floral Court, Convent Garden, London, WC2E 9FB
Momo – 25 Heddon Street, London, W1B 4BH
Dehesa – 25 Ganton Street, London, W1F 9BP
The Chesterfield Hotel – Butler's Restaurant, 35 Charles Street, Mayfair, London, W1J 5EB
The Gallery at Sketch – 9 Conduit Street, Mayfair, London, W1S 2XG
The Lecture Room & Library at Sketch – 9 Conduit Street, Mayfair, London, W1S 2XG
Salt Yard – 54 Goodge Street, London, W1T 4NA
Kaspar's at The Savoy – Strand, London, WC2R 0EU
Simpson's in The Strand – 100 Strand, London, WC2R 0EW
Spring – Somerset House, New Wing, Lancaster Place, London, WC2R 1LA
The Angel Inn at Hetton – Hetton, Near Skipton, North Yorkshire, BD23 6LT
For more information on the Sustainable Restaurant Association, visit: https://thesra.org/