Where to dine in The Cotswolds – An insiders guide to the best restaurants
Creature comforts in food terms don't come more plentiful than in The Cotswolds. England's second largest protected landscape (The Lake District is the first), covers 2,038 sq km from south of Stratford-upon-Avon to just north of Bath, and is awash with gastropubs, fine dining restaurants in glorious country houses, and deli-bistros offering the finest local produce.
Perhaps it's the destination; the accessibility; the breathtaking golden coloured Cotswold stone villages; the rich culture; or the quintessential English hospitality – but added with some of the finest cooking and exclusive offers, there is even more reason to visit this extraordinary area with the Luxury Restaurant Guide. Also see the Cotswolds_Map, courtesy of Cotswolds Tourism, the official destination organisation of The Cotswolds.
Here is our insiders guide to the finest dining in the Cotswolds
Gloucestershire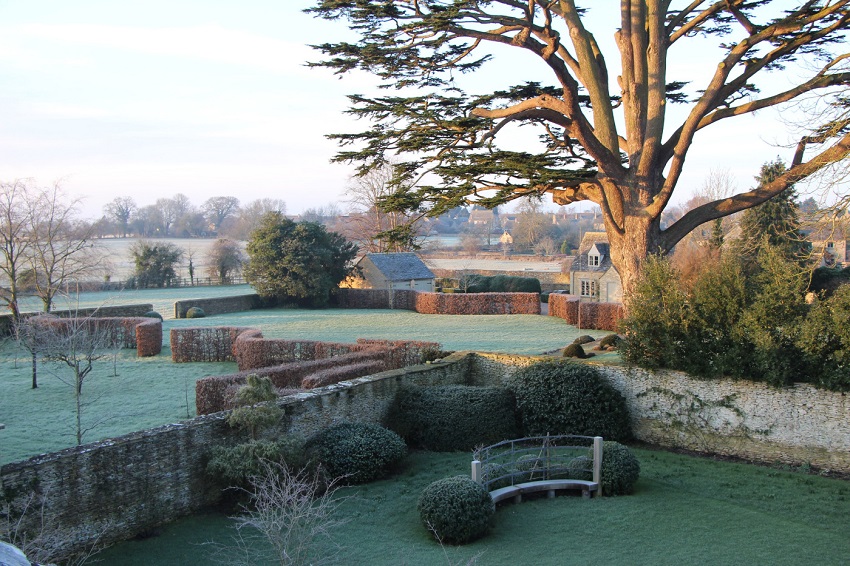 The Swan at Southrop is Thyme's 17th century English village pub with a beautiful restaurant and dining room, serving the best of what English country life has to offer, located a stone's throw away from the Estate, at the heart of Southrop's village community. "Home grown, homemade and produce-driven" is the motto at The Swan, where each morning, fresh vegetables, herbs, and eggs are harvested from the estate's gardens and incorporated in the seasonal menus.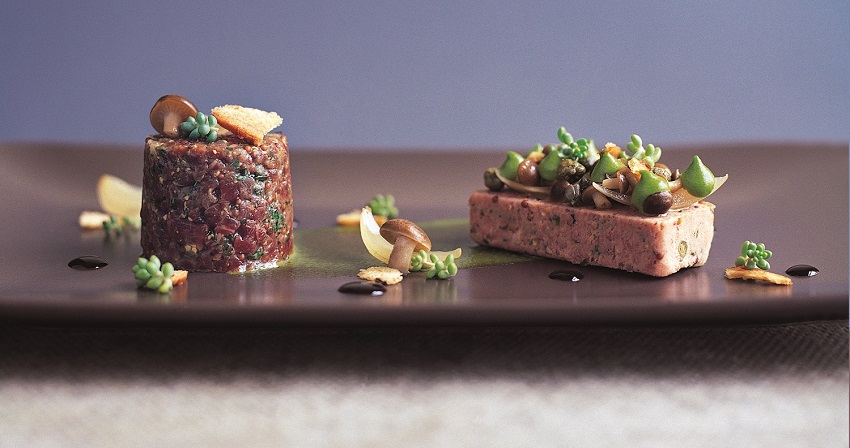 The Cotswolds' highest rated restaurant with two Michelin-stars serving French cuisine from Proprietor Head Chef David Everitt-Matthias. It brings flawless high-end gastronomy from an unassuming setting that has had foodies flocking since 1987.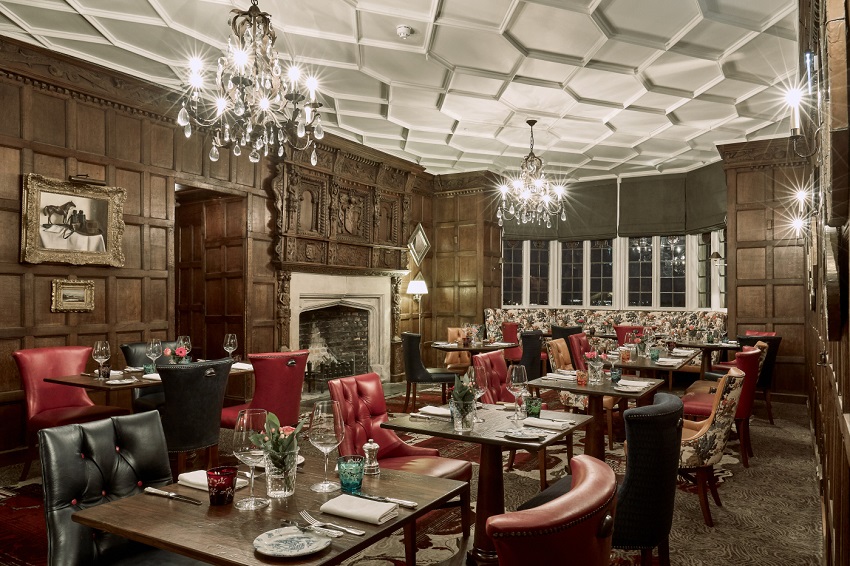 Cheltenham's only five star hotel, Ellenborough Park just got even better when it underwent a refurbishment in September 2017. The 15th Century country estate, within 90 acres by Cheltenham Racecourse, has two dining rooms – The Restaurant for exceptional fine dining, or The Horsebox for five star British pub style cuisine.  A Luxury Restaurant Club location, see details.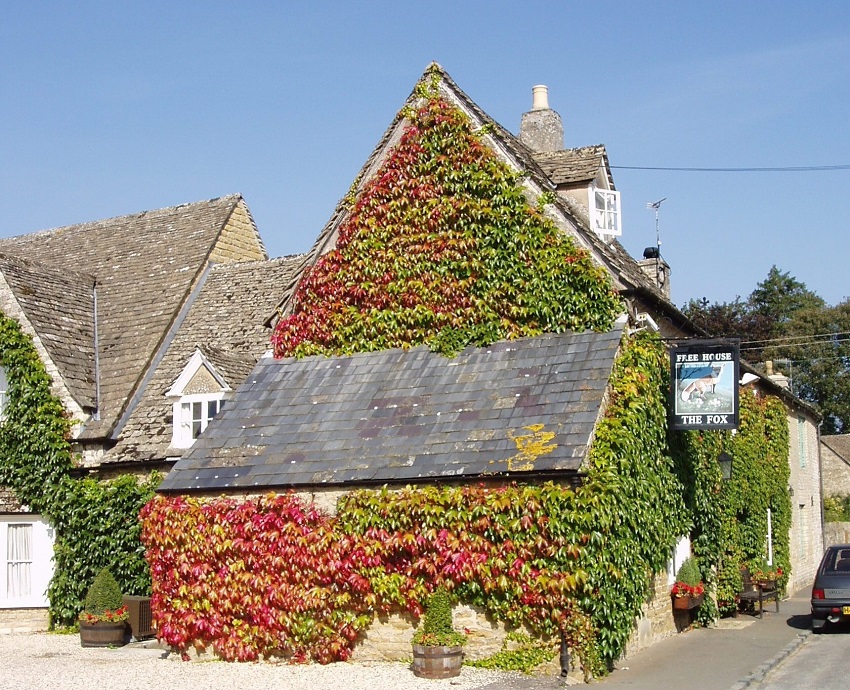 Charm is in abundance at The Fox at Oddington in its quaint 16th Century Cotswolds hamlet location. The Inn's exterior is clad in ivy, the interiors are flagstone floors, roaring fires, wooden beams, fabulous food in a relaxed setting, with three cosy bedrooms if you want to stay over. Everything you would expect – and want.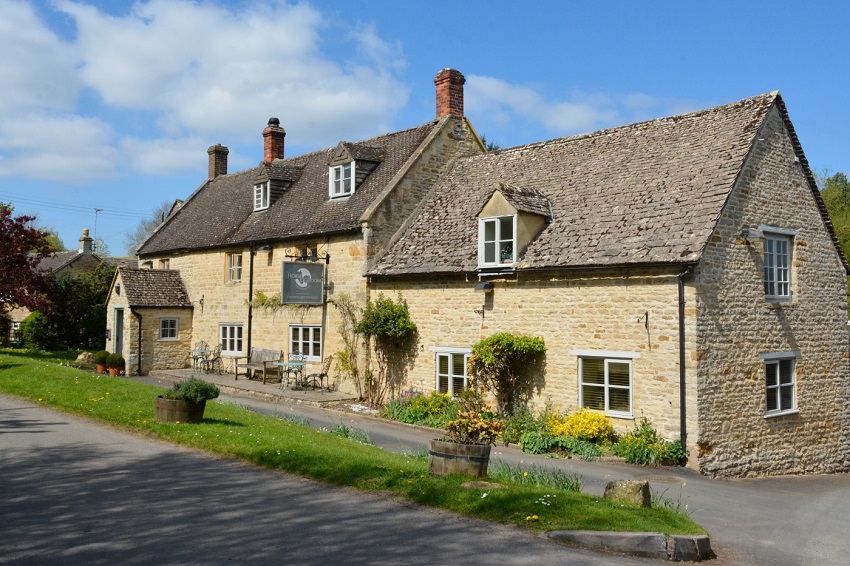 The Horse & Groom, Upper Oddington is a quintessential English Country Village Inn, dating back to 1580. This Grade II Listed Cotswold stone inn is full of character with exposed stone-walls, flagstone and oak floors, hefty beams and roaring fires and from its early days as a simple hostelry it has been updated without losing its wonderful charm. Featured in The Good Pub Guide, Alastair Sawday's Special Places, Good Beer Guide, Michelin Guide to Pubs, amongst others, this 'Little Gem in the Cotswolds'.

Lords of the Manor is one of the most acclaimed Cotswold luxury hotels.  It has racked up loads of awards of the years, including recently: The Good Hotel Guide's Best Hotel with Gardens award; it's in the Sunday Times Top 100 Restaurants; and one of the Top 20 Most Romantic Dining Rooms. A Luxury Restaurant Club location, see details.
The Bell is a charming pub and restaurant between the towns of Stroud and Cirencester in a sleepy little village called Sapperton, famous for it's long canal tunnel and association with the 20th Century Arts and Crafts Movement. Roaring log fires and cosy corners in the winter, and a beautifully landscaped garden and courtyard for summer, means The Bell has something for all seasons.
A quirky and very popular restaurant in Stow-on-the-Wold in an old butcher's shop utilising rare cuts for British dishes. Also has a very good wine list. Run by husband and wife team, Pete and Louise Robinson since 2005.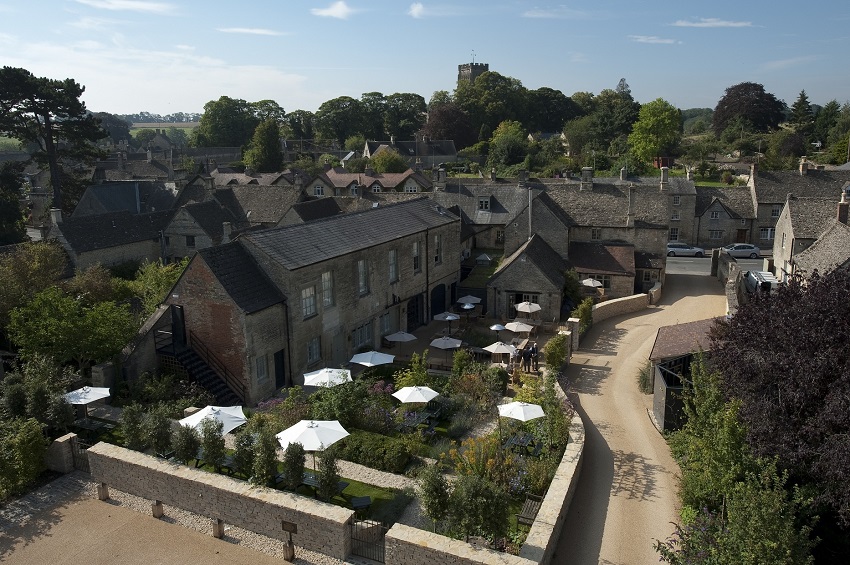 A former coaching inn come boutique style hotel has 14 very stylish rooms. This is a very cool dining location, decorated with beautiful flair for a traditional but very chic and contemporary look too. Visited by a fashionable Cotswold set and serves fantastic local food.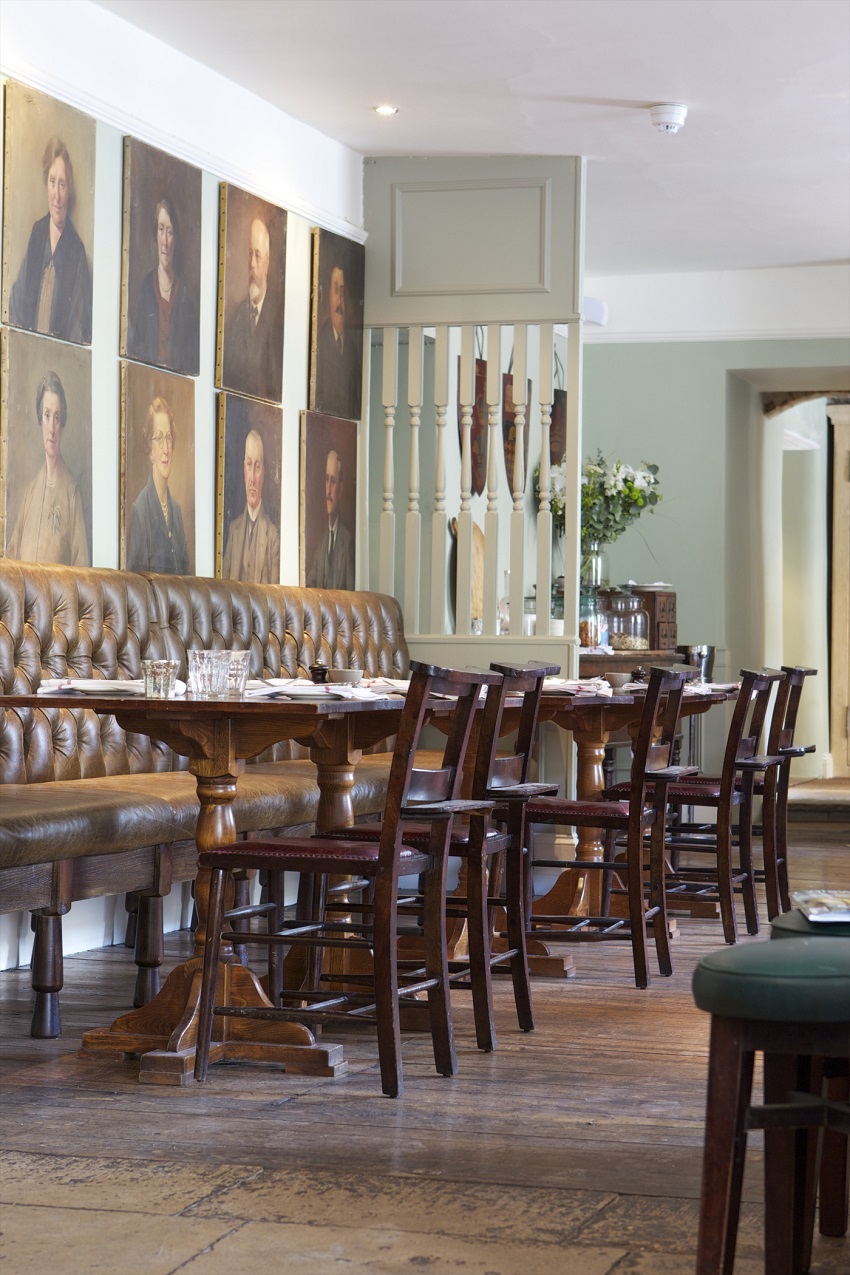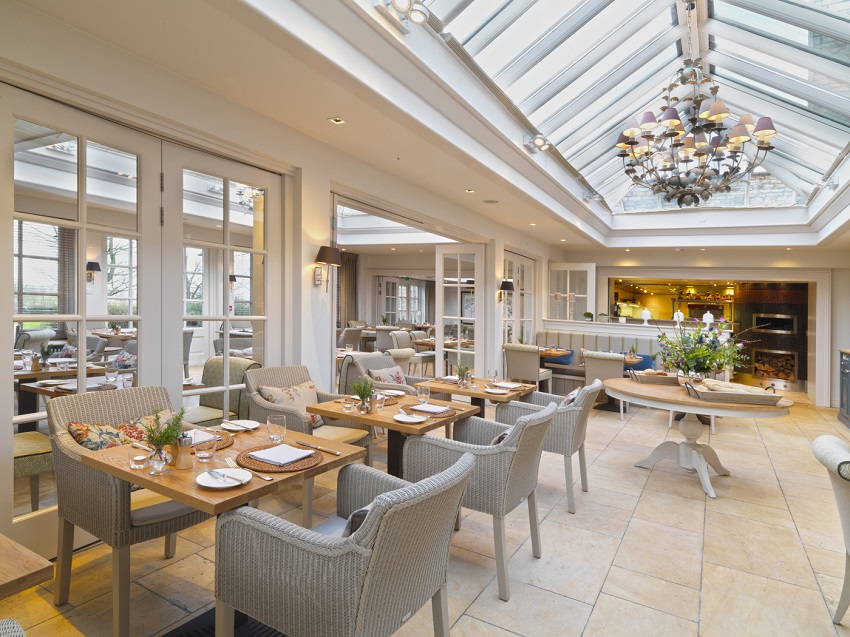 A former 14th Century farmhouse now luxury 35 bedroom/suite hotel and spa with The Conservatory Restaurant which offers simple food, cooked beautifully and served generously. Loved by families and couples alike. A Luxury Restaurant Club location, see details.

A grand 18th Century Palladian manor house now stunning boutique hotel with sixteen bedrooms and a restaurant which acts as the beating heart of this beautiful location.  A Luxury Restaurant Club location, see details.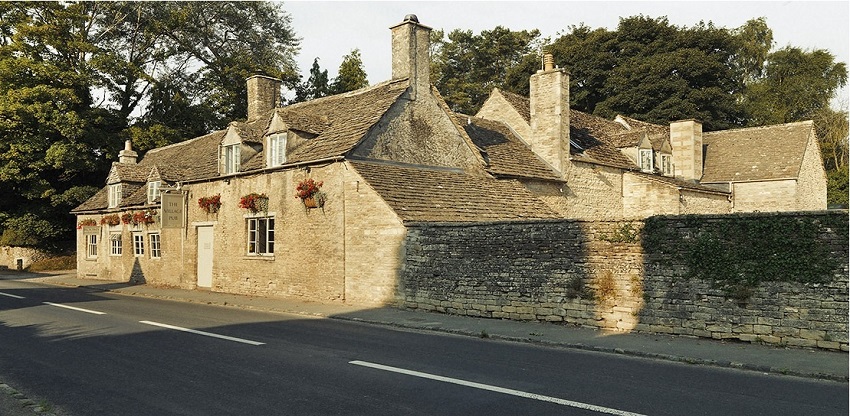 The Village Pub is in the centre of the pretty Cotswold village of Barnsley and across the road from its sister property, the upscale Barnsley House (detailed below). This is a perfect little country pub with great British produce.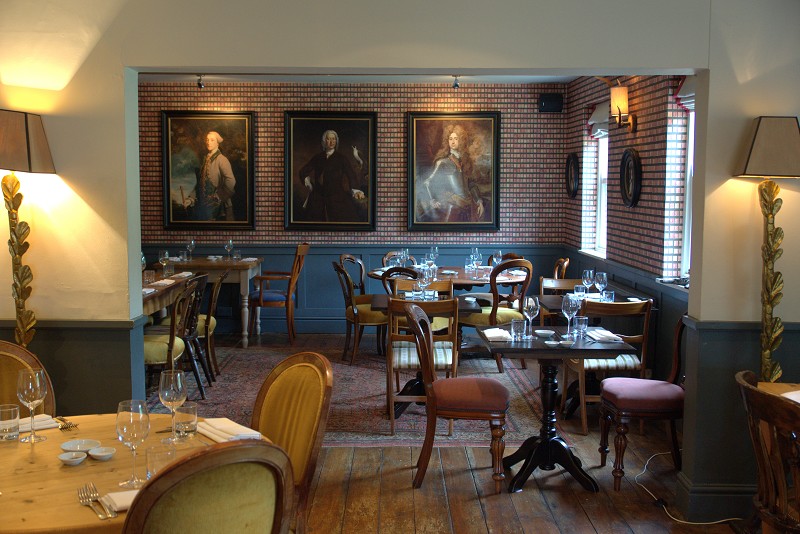 A stylish old inn in the picturesque village of Filkins. Chef and owner Sebastian Snow  brings formal dining in the restaurant and great pub grub in a separate bar area. Food is  meticulously sourced, high quality, seasonal ingredients from a wide variety of Cotswolds' artisan producers.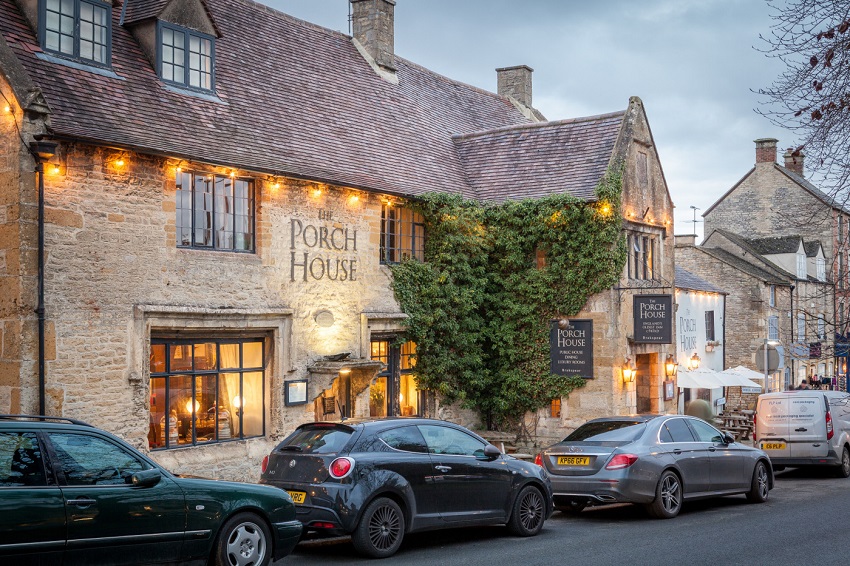 A period country pub/Inn impressively re-imagined for the 21st Century. Made up of two country inns joined together, one as a formal restaurant and private dining, and the other part as a cosy pub section with a conservatory extension. Thirteen bedrooms on offer if looking for a Cotswold getaway.
This a bistro with three bedrooms of fine pedigree when you consider the Chef Patron Matthew Beardshall has over 20 years experience working with the very best, such as Simon Rogan, Martin Blunos and Marcus Wareing. Wild Garlic's menu features plenty of tasty 'small plates' to share, fresh summer salads, mouth-watering steaks and delicious house pasta dishes. It also serves great children's menus, serving 'proper food' that kids will enjoy. Wilder is their newly opened eight course tasting menu and dinner only venue across the road on Market Street.

A very chic, intimate but unfussy boutique hotel with famous gardens. The hotel has a dedicated spa, private cinema and 18 large and luxurious bedrooms to choose from as well as its restaurant, The Potager, which looks out onto its extensive and detailed landscaped gardens. Many of its ingredients are grown from their own kitchen gardens. A Luxury Restaurant Club location, see details.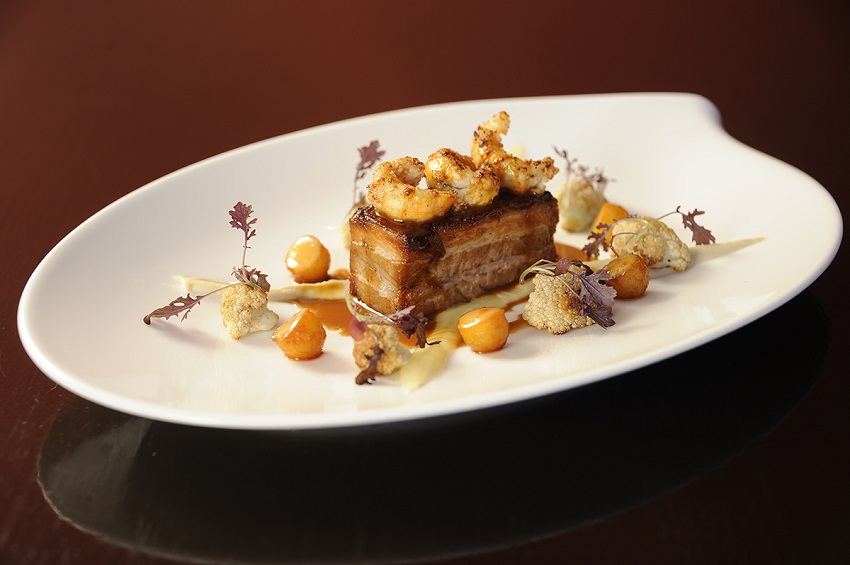 Restaurant 5 North Street is a small family run Michelin-starred restaurant set in the ancient Cotswold town of Winchcombe. The restaurant is owned and run by chef proprietor Marcus 'Gus' Ashenford and his wife Kate.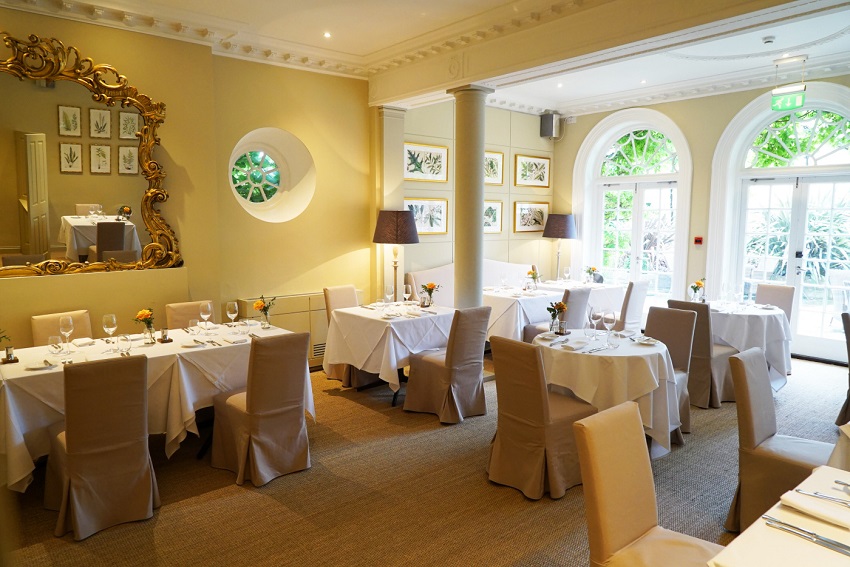 A superb regency Grade II townhouse, the hotel is located in lovely Chipping Campden's main square with landscaped gardens, unique rooms, a fine dining acclaimed restaurant, fig., and Bistro on the Square providing informal dining. A Luxury Restaurant Club location, see details.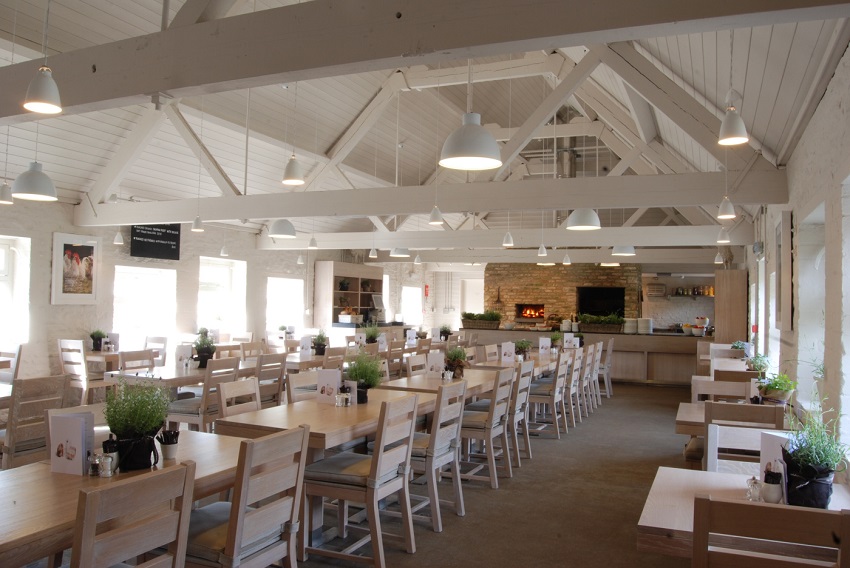 Daylesford is a unique organic farm and farmshop with a simple passion for real food. They grow, farm, produce and sell food according to sustainable principles, and in harmony with the environment. A fantastic and very popular cafe and restaurant as well a spa, cook shop, garden shop, Bamford luxury goods, homewares, butchers, grocers, dairy and fishmongers.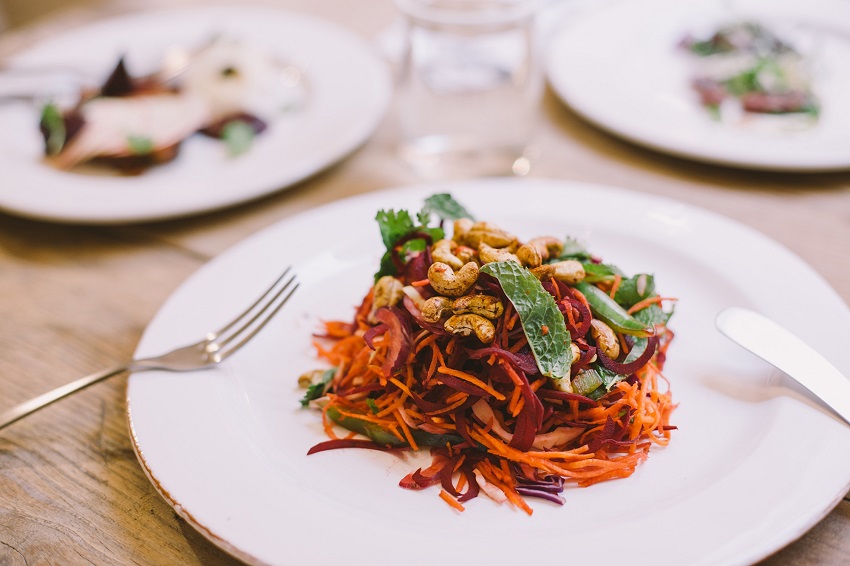 Oxfordshire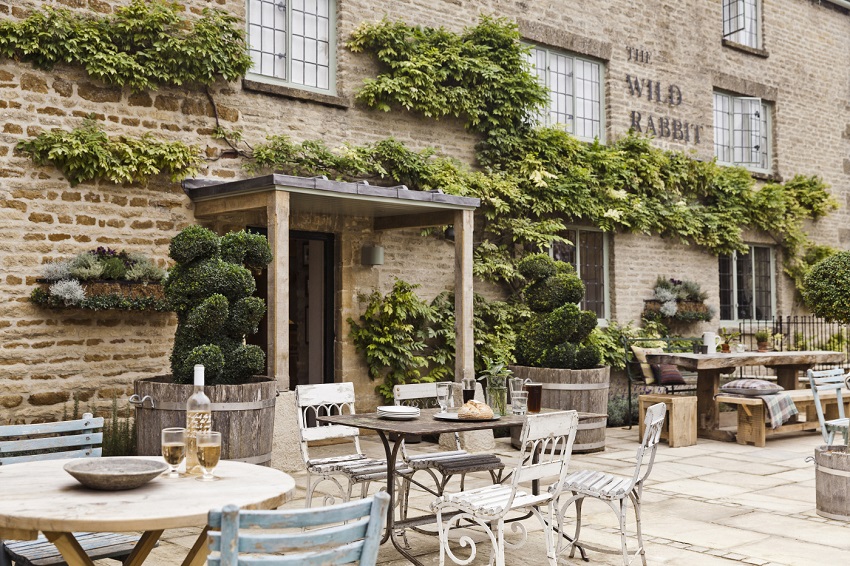 The Wild Rabbit restaurant is part of the Daylesford estate – one of the most sustainable organic farms in the UK, and a thoroughly modern British inn with 15 bedrooms. This is a spot where you'll find skilfully executed food using only the very best prime seasonal ingredients.
The Kingham Plough achieves that happy balance between a 'proper 'pub/Inn and an exceptional restaurant, with six bedrooms. It regularly features in the top 100 restaurants in the National Restaurant Awards and the Top 50 Gastropubs and has won the Oxfordshire Dining Pub of the Year in the Good Pub Guide for a third year. A Luxury Restaurant Club location, see details.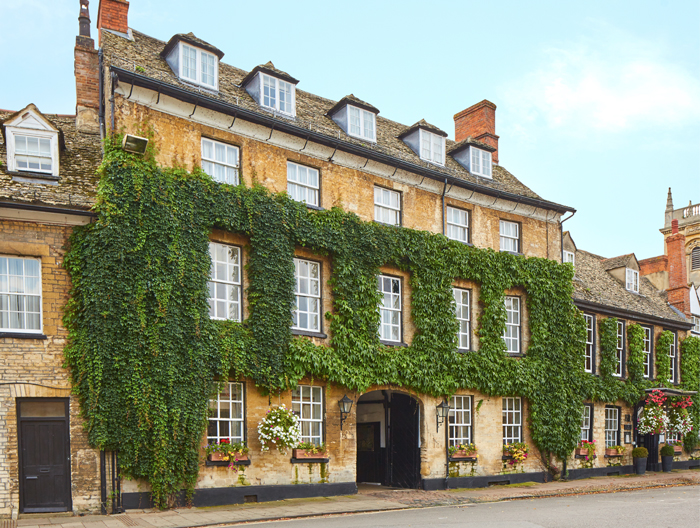 Famous 13th century Coaching Inn in the very picturesque and lively village location of Woodstock. Picture ivy clad facade, oak beams, open fireplaces and stone walls, the hotel exudes warmth and cosiness – perfect for an escape to good old-fashioned hospitality and classic British dishes with a modern twist. A Luxury Restaurant Club location, see details.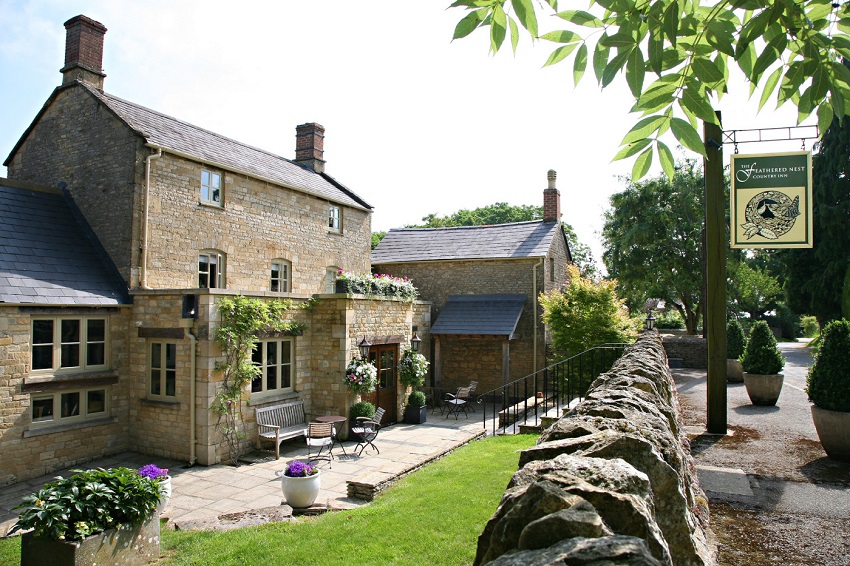 It's little wonder this gastropub with rooms has won practically every award going – Pub of the Year, Gastro Pub Hotel of the Year, Sunday Times Top 100 listing to name a few. Cooking is to 3 AA Rosette level and the former old Malthouse has been thoughtfully and charmingly converted. A Luxury Restaurant Club location, see details.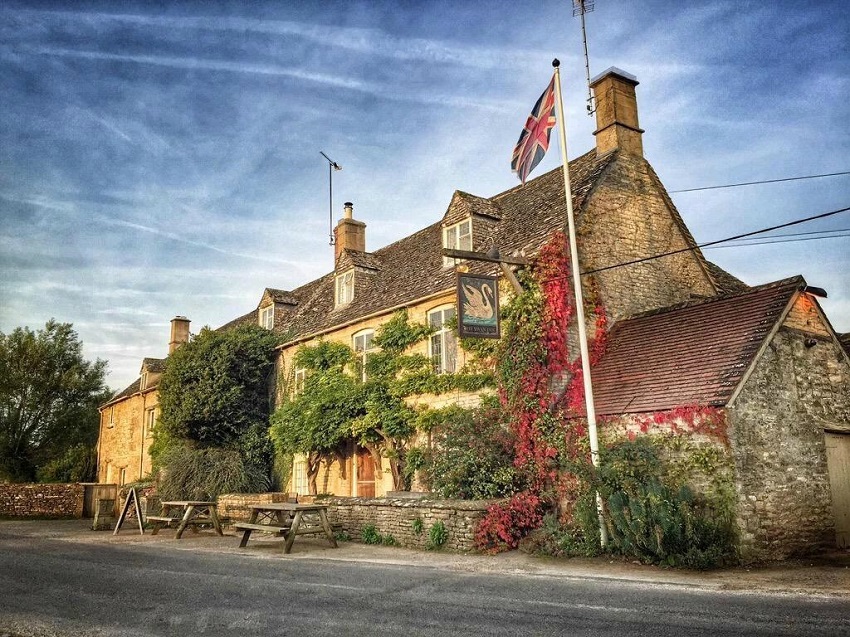 An idyllic 16th Century Cotswolds Inn on the banks of the River Windrush. Famous residents of Swinbrook were the Mitford sisters, of which Deborah owned the gastropub until her death in 2014. There are six charming rooms on offer too. It is also here where David Cameron treated the then French President Francois Hollande to lunch after Summit talks…but not the one where he left his daughter by accident – that was in Buckinghamshire!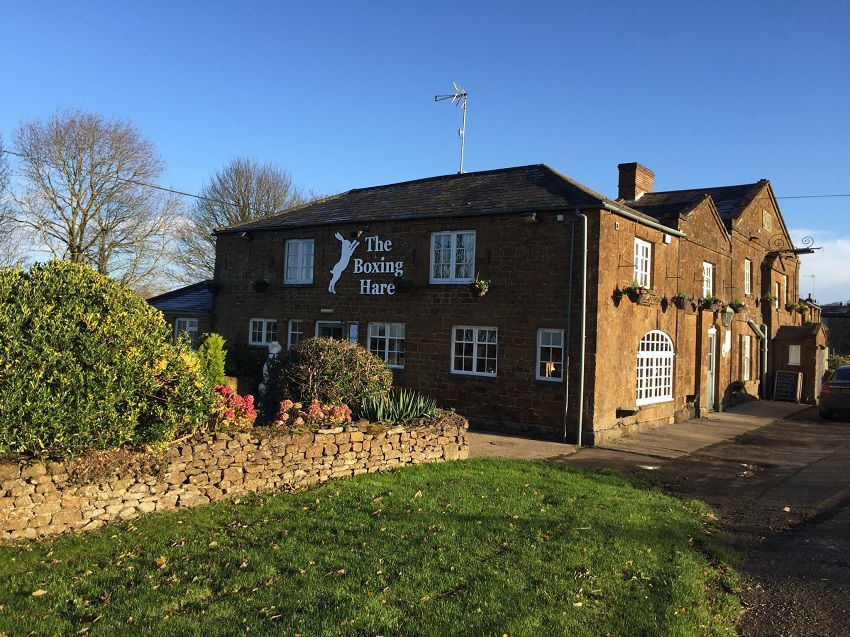 It's been less than six months since the new restaurant owner, London restaurateur Anthony Griffith Harris and his effervescent partner and former actress Stacey C. Elder took over the Masons Arms, bringing with them a former Michelin chef, Nicholas Anderson. The Boxing Hare is relaxed, fun, friendly and a quality gastropub delight. A Luxury Restaurant Club location, see details.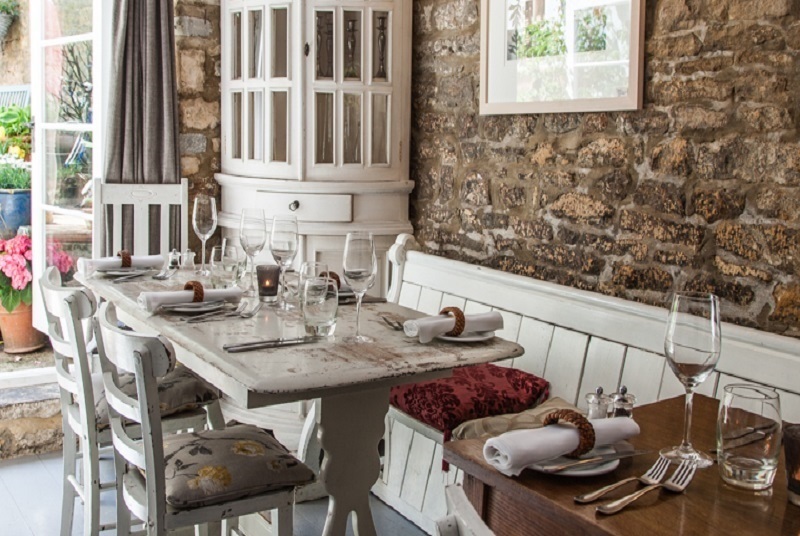 In the delightful market town of Chipping Norton, Wild Thyme Restaurant with Rooms offers exciting modern British food and relaxed friendly service. Complemented by three stylish rooms this is a special place to enjoy great food and wine with family and friends, or escape for a night or two.
ALSO TRY the following locations on the edges of the Cotswolds in Oxfordshire:
Worcestershire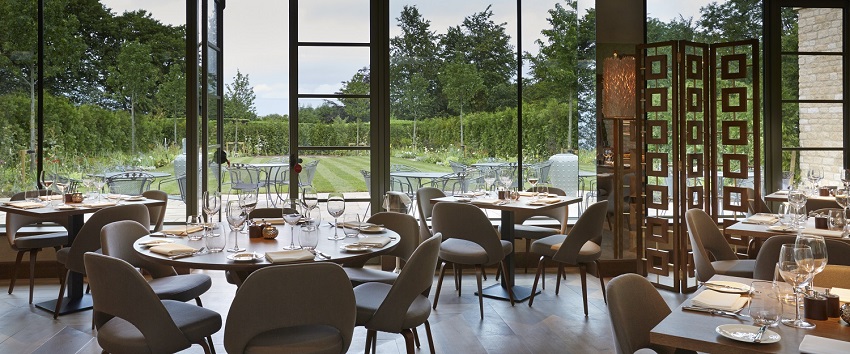 Farmhouse chic in the Cotswolds – Dormy House hotel is perched high above the village of Broadway, with fabulous views across the Cotswolds with a fine dining option available in The Garden Room and laid-back casual dining in The Potting Shed. A Luxury Restaurant Club location, see details.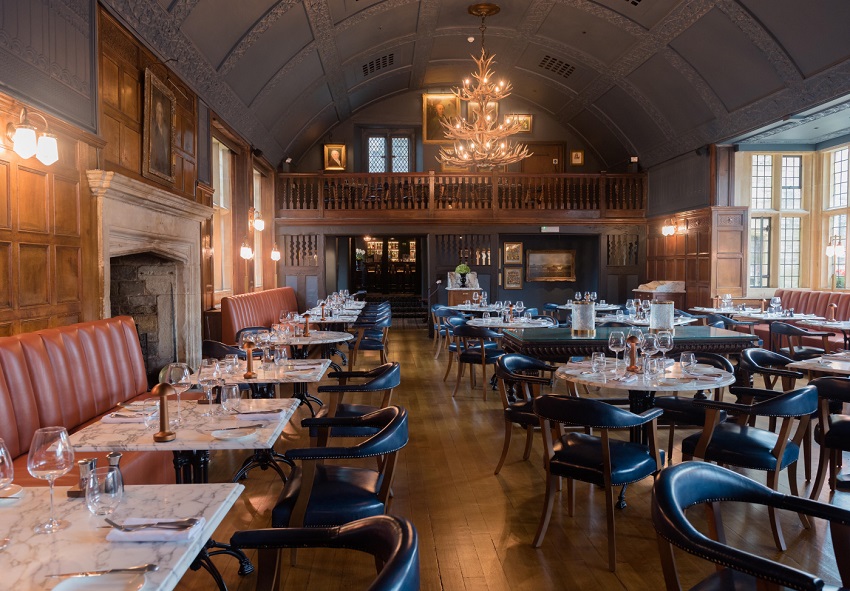 One of the most famous hotel locations in the Cotswolds, the 16th Century Lygon Arms re-opened following a multi-million refurbishment, creating the stunning Lygon Bar & Grill, a relaxed and informal eating space. A Luxury Restaurant Club location, see details.
Wiltshire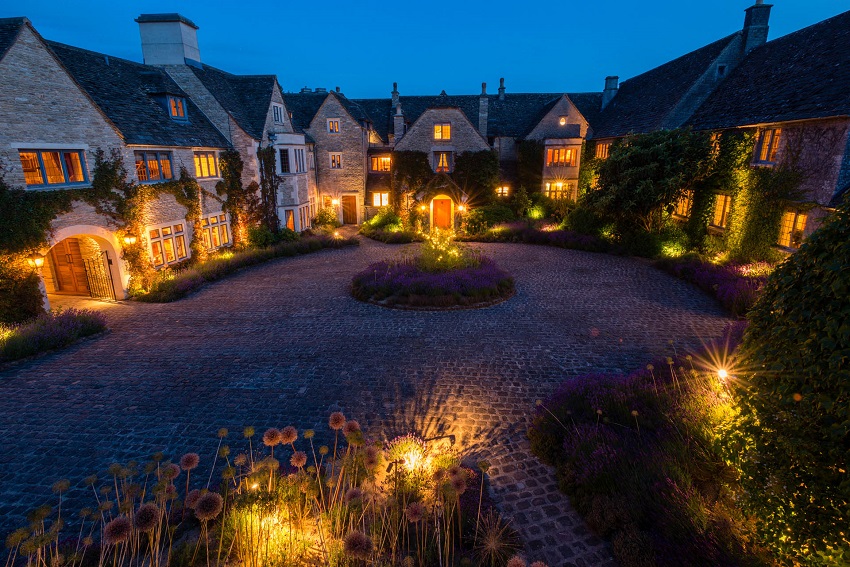 It's billed as a grown ups getaway, a five star hotel with Michelin-starred dining drawn from different cuisines in The Dining Room; The Green Room where chefs prepare small plates of expertly crafted food in front of you; or Grey's Brasserie for a leisurely lunch or dinner.
ALSO TRY the following locations on the edges of The Cotswolds in Wiltshire:
FIND THE BEST UK DINING LOCATIONS
USING GEO-LOCATION
BY LUXURY RESTAURANT GUIDE