Finding a boozer for a decent pub lunch was once a thing of great rarity. Now pubs are increasingly gentrified and celebrated as much for their food as their drink and community. Whipping up excitement for the evolution of the great British pub is the Estrella Damm Top 50 Gastropub Awards, who this week announced their picks for 2022.
Conceived in 2009, The Top 50 Gastropub Awards was created to recognise the hardworking individuals in the gastropub industry, The list is created by collecting votes from more than 100 industry professionals who are key people in the hospitality industry. Our judges come from leading pub businesses, editors of media brands and food writers who are geographically spread across the UK to ensure no regional bias.
Huge congratulations to all winners below, and with our recommended club picks:
* Club Privileges apply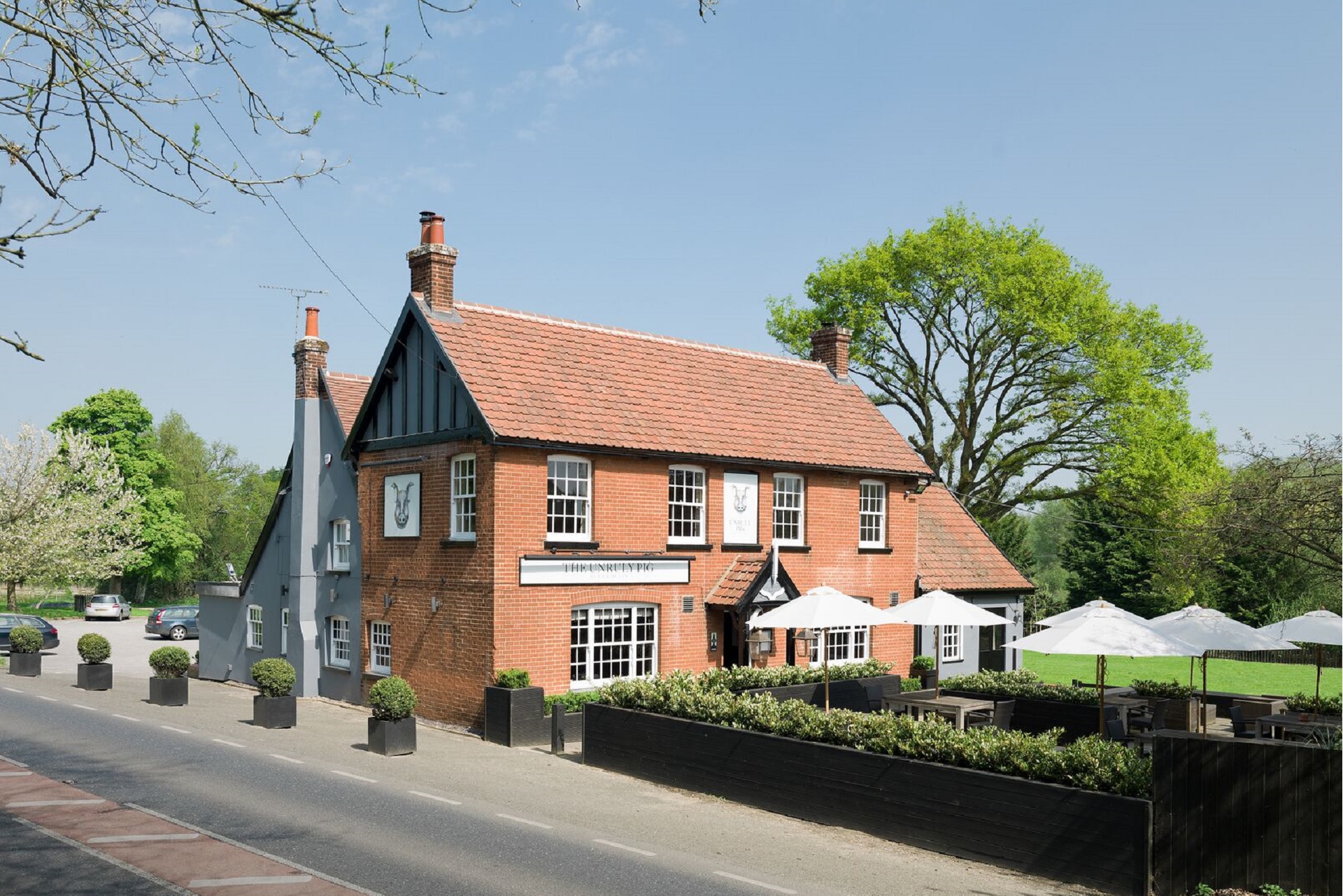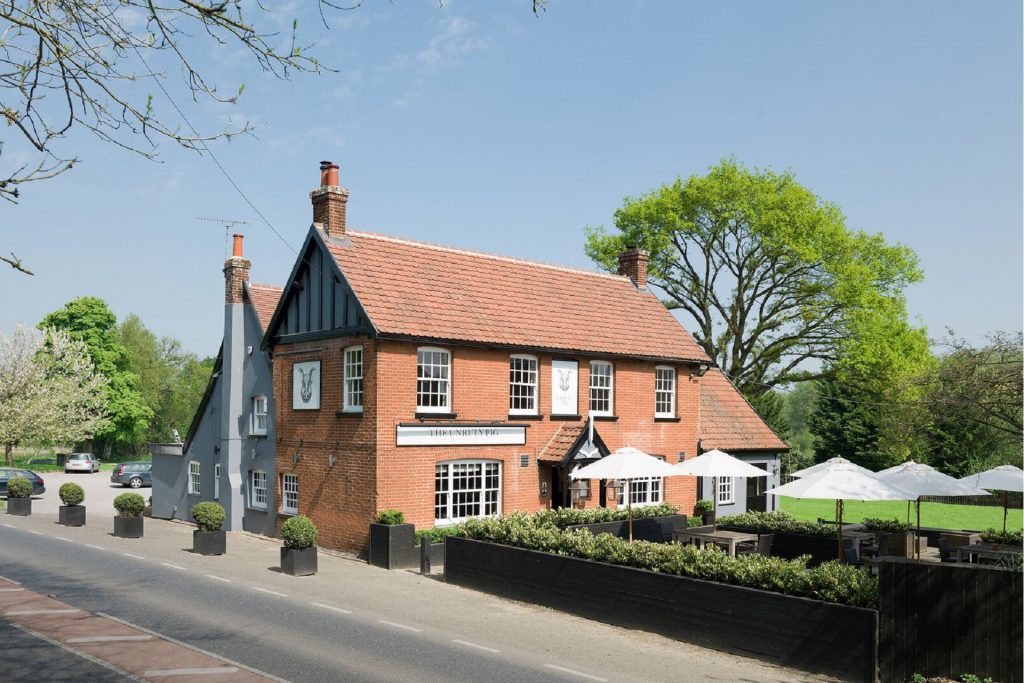 Estrella Damms Top 50 Gastropubs writes:
WINNER
"Winsome and warm, Suffolk's Unruly Pig serves filling and well-crafted pub food in an environment that reflects the personalities of the people behind the stunning venue.
Owner Brendan Padfield is a force of nature, being witty, charismatic and ultimately passionate about the pub he founded following a 36-year career in law.
The maverick owner, along with his outstanding team including chef supreme Dave Wall, has transformed the pub over several years into the stunning phenomenon it is today.
Last year's Highest Climber, Suffolk's Unruly Pig was also named by the Michelin Guide in 2021 as one of the top six food pubs in the east of England. The venue has come an exceptionally long way since joining the Estrella Damm Top 50 Gastropubs list as a newcomer in 2017.
Menus are changed at least monthly and every day has regularly changing specials, with produce coming in fresh from the coast or other local suppliers.
Dishes are a pleasant cross between British and Italian (Brit-Italian) cuisine, giving diners a refreshing change from the usual pub fare. While the menus differ from those in other gastropubs, it remains familiar, wholesome and ultimately tasty with something for every palate, thanks to the extreme talent in the kitchens.
Ensuring everyone is catered for, the Unruly Pig offers 'free from' menus and has gluten-free, dairy-free and vegetarian options always available.
There are more than 60 wines/fizz available by the glass, Cask Marque-accredited and hand pulled beers alongside a range of bottled craft beers for the drinkers. The pub also boasts home-made cordials as well as local, organic fruit juices.
While the pub's recent history has been filled with many magical achievements, its has also been subject to tragedy.
Within just 12 weeks of opening in April 2015, a devastating fire destroyed large parts of the building. The pub was closed for six months during which time, Padfield made changes to the structure and feel of the pub to make it more welcoming and accessible.
The pub reinstalled its Inka grill in the recently refurbished kitchen to enhance the flavour and succulence of grilled meat and fish.
We've always expected great things from the Unruly Pig, which is no stranger to awards and has been shortlisted for and won many prestigious accolades over the years including Great British Pub Awards.
The pub itself is in rural Suffolk and a five minutes' drive from the market town of Woodbridge or 25 minutes from Ipswich.
It is a 16th century inn with a Regency period add-on featuring beams, crooked ceilings, log burners and a lush, green garden."
Luxury Restaurant Club recommended with 10% privilege, terms and conditions apply. Not a member? Join here.
2. Parkers Arms – Clitheroe, Lancashire
*Club Privileges apply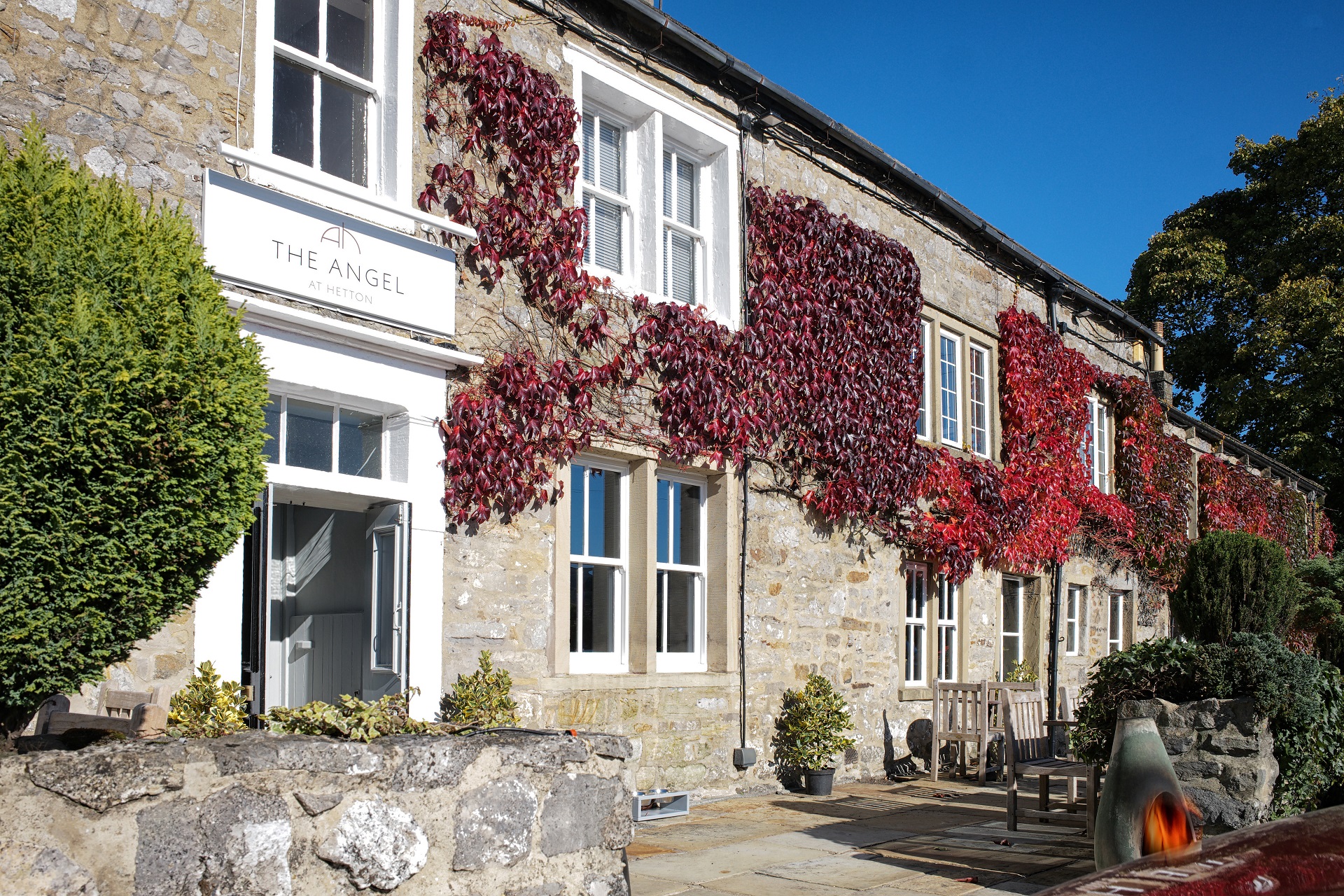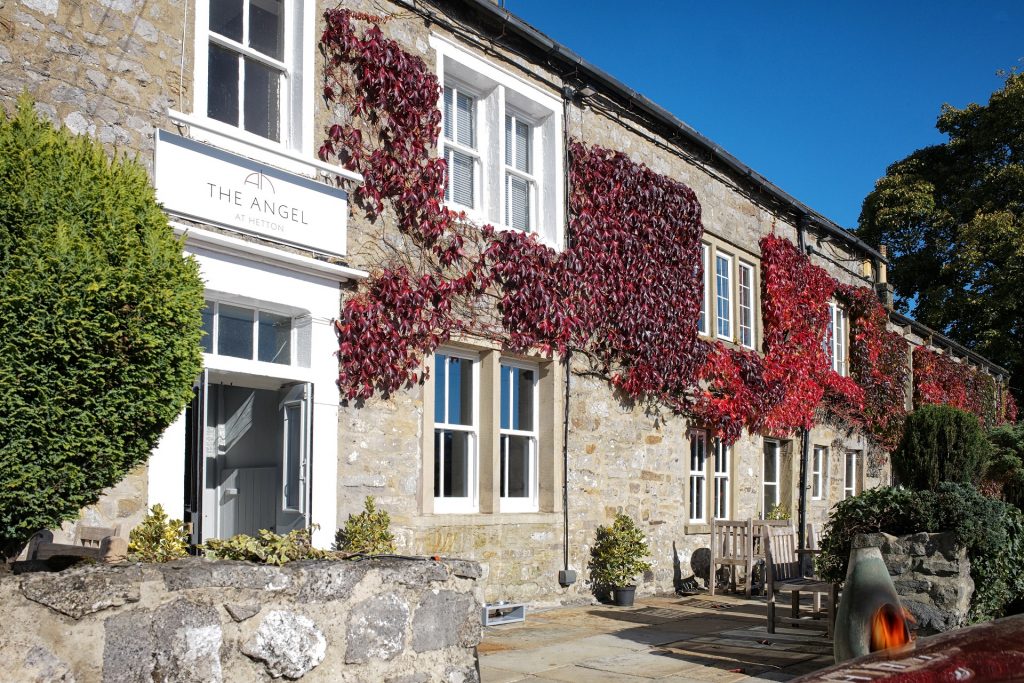 Estrella Damm Top 50 Gastropubs writes:
2022 CHEF OF THE YEAR: – Michael Wignall
"The venue was awarded its star in 2019, just 12 months after Michael Wignall took over the venue and maintained the accolade in 2021.
High on the venue's list of priorities, as well as delivering top nosh, is providing you, the diner, with the best service in the industry.
The pub also rocketed up the Top 50 Gastropubs 2020 list from 50th spot in 2019 to 11th, making it 2020's Highest Climber. This year it has risen again, taking fourth place and eyeing the top spot.
"A place where unsurpassed levels of service, outstanding food and the warmest of welcomes, meet North Yorkshire's most beautiful landscape," says its website.
Wignall, an acclaimed Michelin star-decorated chef, heads this gastropub that he claims is his "most exciting venture to date".
He and his wife Johanna took over the pub in the September of 2018 along with James and Josephine Wellock.
In just a short space of time, they have gathered a strong team around them, the combined skills and experience of whom will take the Angel to a brighter future.
What's to eat? Well, it all depends on your needs. The pub has a dedicated restaurant area – don't worry, it remains a pub in spirit and image – where Wignall showcases his impressive skills.
That's not to say the bar, vegetarian or breakfast menus don't receive the same impressive treatment, because they do indeed sparkle.
The glorious restaurant menu features dishes including Loire valley rabbit loin and merguez, salsify, trompette and poached pear to start.
Mains include Monkfish, quail, venison and garden-inspired vegetarian options including Jersey potatoes, parsnip, king oyster mushroom and lovage.
Desserts are just as sumptuous, with Tahitian Vanilla cheesecake with salted granola, buttermilk, roasted beetroot puree and yogurt; or how about caramel tart with poached pear, frozen custard and condensed milk ganache.
If you're romantically attached, then the Angel at Hetton is also set up for weddings, just so you know."
Luxury Restaurant Club recommended with welcome glass champagne at lunch, terms and conditions apply. Not a member? Join here.
7. The Guinea Grill – Mayfair, London
8. The Fordwich Arms – Canterbury, Kent
9. The Mariners – Rock, Cornwall
11. The Beehive – White Waltham, Berkshire
12. The Kentish Hare – Tunbridge Wells, Kent
14. The Cornish Arms – Tavisctock, Devon
16. The Red Lion and Sun – Highgate, London
17. Pyne Arms – Barnstaple, Devon
18. The Rat Inn – Anick, Northumberland
19. The Broad Chare – Newcastle Upon Tyne, Northumberland
20. The Hardwick – Abergavenny, Monmouthshire
21. The Bull & Last – Highgate, London
*Club Privileges apply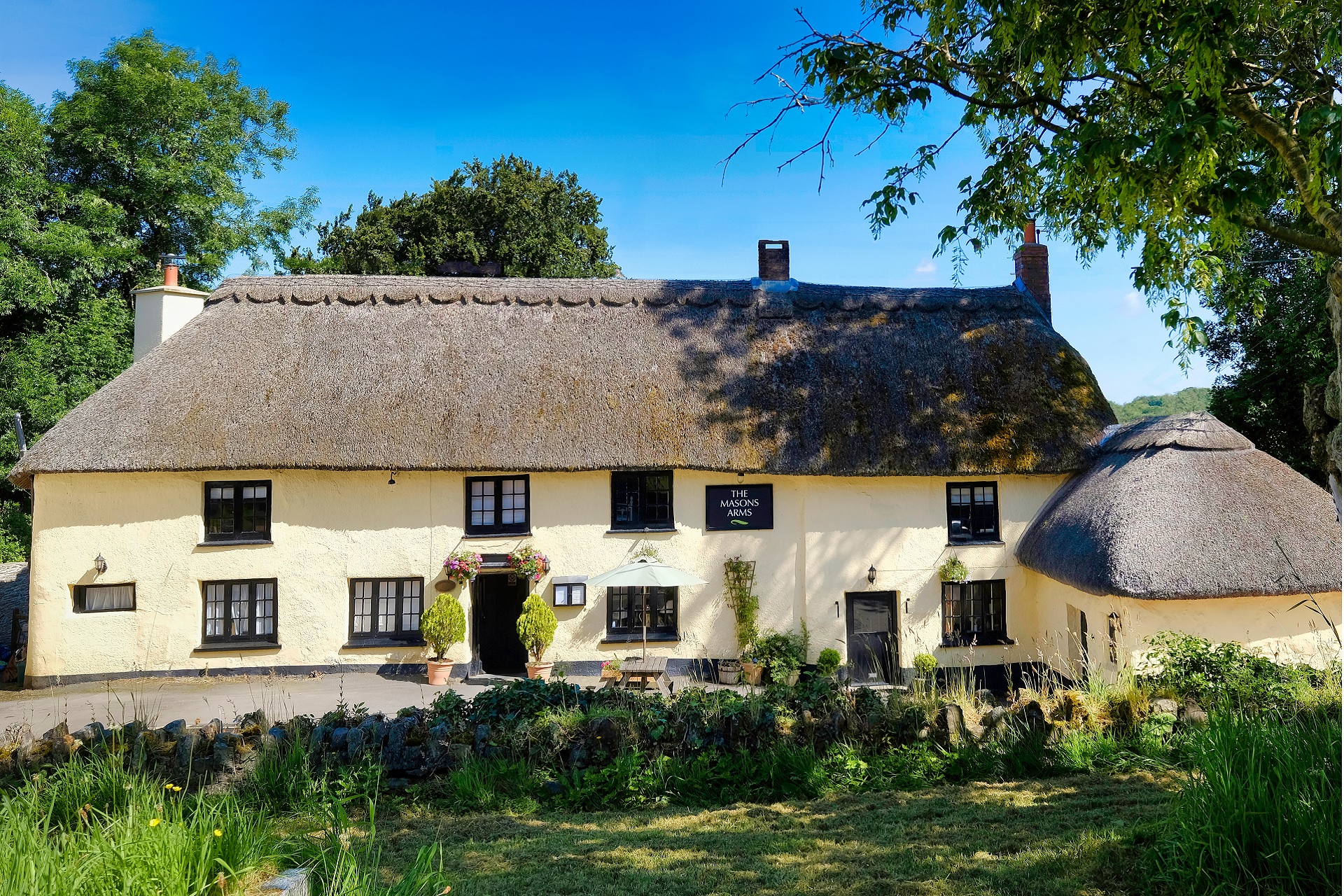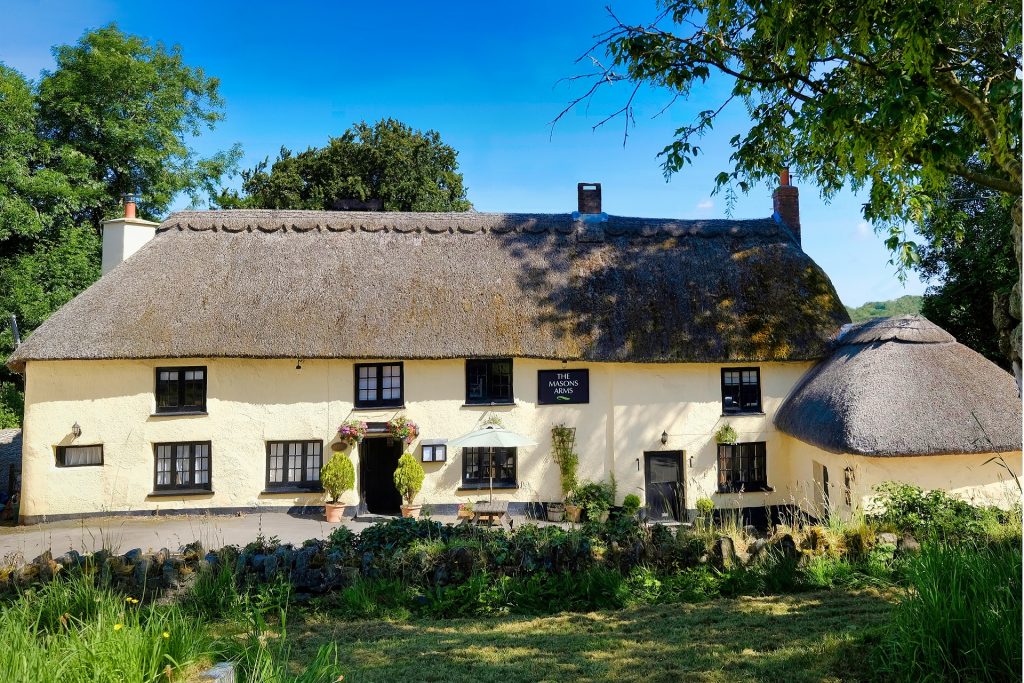 Estrella Damm Top 50 Gastropubs writes:
"Headed by chef-owner Mark and partner Sarah Dodson, the venue re-entered the Estrella Damm Top 50 Gastropubs list in 2021 at number 44 and his since launched up well above the halfway mark.
Their picturesque, thatched 13th century Inn and award-winning restaurant on the edge of Exmoor boasts exceptional local cuisine using only the finest ingredients, all presented with taste and style.
Michelin starred for the 16th consecutive year, the inn features seasonal, and ever-changing, lunch and Sunday lunch menus alongside an à la carte offer typically including fresh fish and locally sourced meat.
Indeed, the latest Michelin Guide recommends roast quail with salted caramel shallot tarte Tatin and hazelnuts; fillet of halibut with potato crust, bouillabaisse style sauce and anchovy aioli and its trio of raspberry desserts as specialties, praising the pub for exuding "rural charm" and classing it among their "most delightful places".
You'll also find a range of quaint local accommodation close to the pub should you wish to stay following your drinking and dining experience at this outstanding venue.
And you won't be disappointed with the food on offer either, far from it in fact. The menu changes frequently to ensure diners come back for more and recent dishes have included roasted tomato and garlic soup; breast of wood pigeon with chestnut and sausage stuffing; and seared peppered tuna with Thai style salad to start.
Mains have included potato rosti with roasted vegetables, poached egg, herb oil and balsamic reduction; fillet of seabass with carrot, ginger, tempura prawns and aioli; and roasted partridge with parmentier potatoes, pancetta and parsnips for the main event.
High standards continue into the third courses, with desserts including mixed berry crème brulee; pear with raspberry and sweet wine vanilla trifle; and chocolate cheesecake with caramelised banana and peanuts."
Luxury Restaurant Club recommended with welcome glass fizz when taking the tasting menu, terms and conditions apply. Not a member? Join here.
24. The Longs Arms – South Wraxall, Wiltshire
25. The Swan – Bampton, Devon
26. The White Swan at Fence – Fence, Lancashire
*Club Privileges apply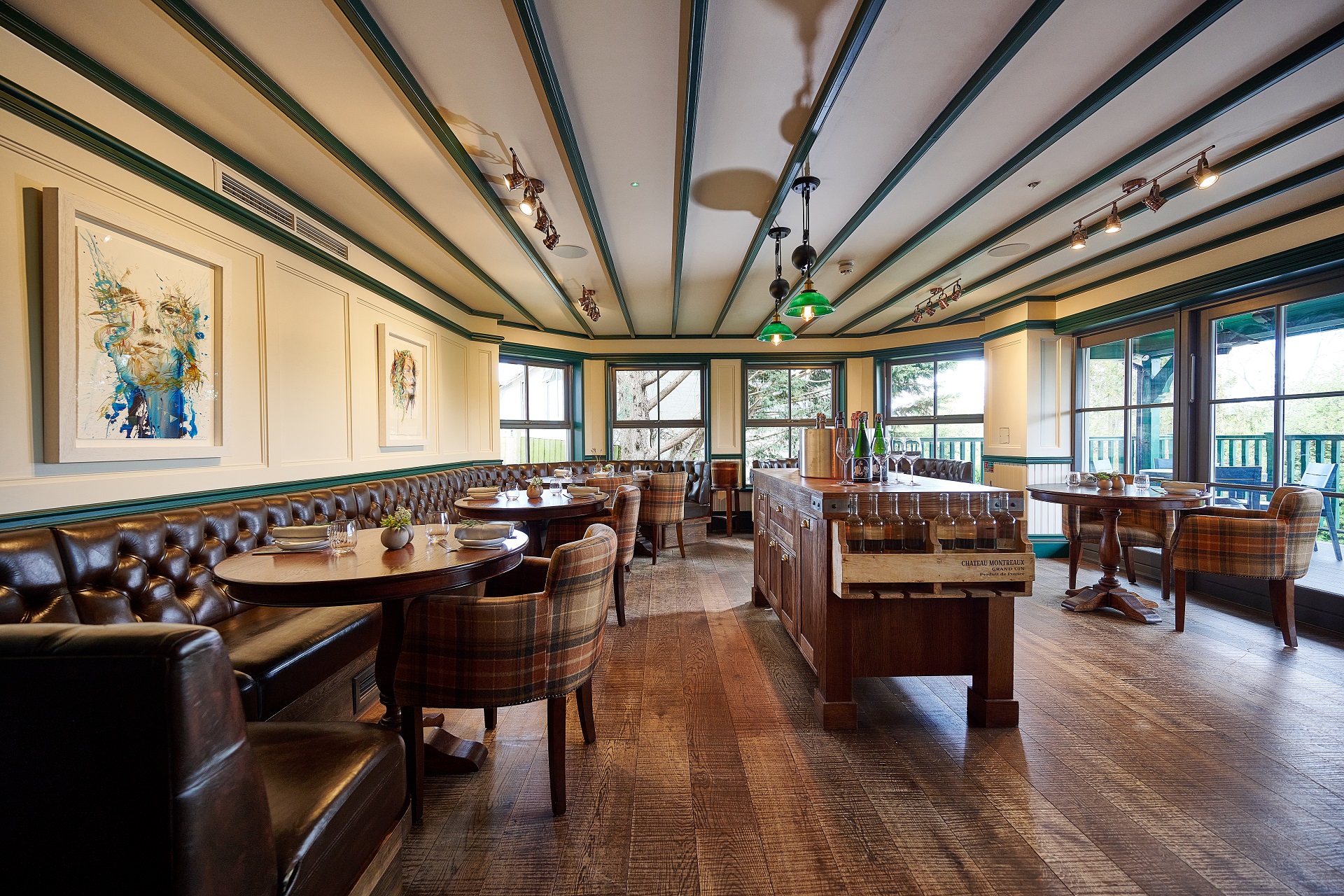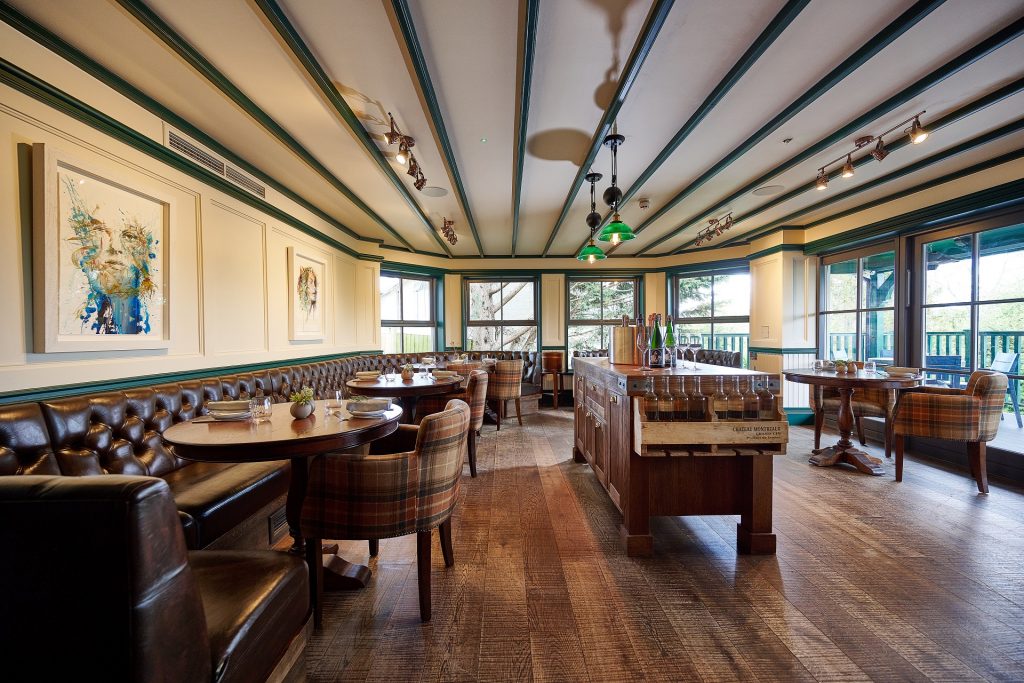 Estrella Damm Top 50 Gastropubs writes:
2022 HIGHEST NEW ENTRY
"Adam Handling is a foodie force who is the mind and thinker behind other venues including the Frog, Ugly Butterfly and Covent Garden cocktail bar Eve Bar. Now he has extended his brilliance into the pub world, opening the Loch & the Tyne not too long ago.
The venue is a pub and restaurant with rooms and is headed by co-chef proprietors Steven and Jonny who have worked with Handling now for over a decade.
This new site is an opportunity for the trio to showcase the skills they've learnt over the years, while also providing them with a platform to develop new flavours and dishes.
The venue offers everything you'd expect from a modern-day gastropub, including a private dining room and somewhere luxurious and comfortable to rest your head following a sumptuous feed.
Two bedrooms are available at the pub, which have been put together with the history and luxury of the pub in mind and feature furnishings and décor with stories.
But we're here to talk about food and as with all else, the Loch & the Tyne does not disappoint on the gastronomic front.
Diners are presented with a good selection of menus, including lunch, tasting and a la carte.
On the a la carte, dishes have included rabbit terrine with pease pudding; and Orkney scallop with leek and horseradish to start.
Mains have included potato with Jerusalem artichoke and white truffle; monkfish with chorizo and coleslaw; and roast halibut with pickled radish and dressed crab.
There is also a range of classics including mac & cheese; beef lardo burger; and, of course, fish and chips.
For afters, dishes have consisted of trifles, banoffee pie-themed puddings, and chocolate and marshmallow fondant."
Luxury Restaurant Club recommended with complimentary glass of own label sparkling wine, terms and conditions apply. Not a member? Join here.
28. The Duncombe Arms – Ashbourne, Derbyshire
29. The French House – Soho, London
30. The Moorcock Inn – Norland Moor, Yorkshire
31. Shibden Mill Inn – Halifax, Yorkshire
32. The Pack Horse – Hayfield, Derbyshire
33. Heft – High Newton, Cumbria
34. The Felin Fach Griffin – Brecon, Brecknockshire
35. The Five Bells Inn – Cullompton, Devon
36. St Kew Inn – Bodmin, Cornwall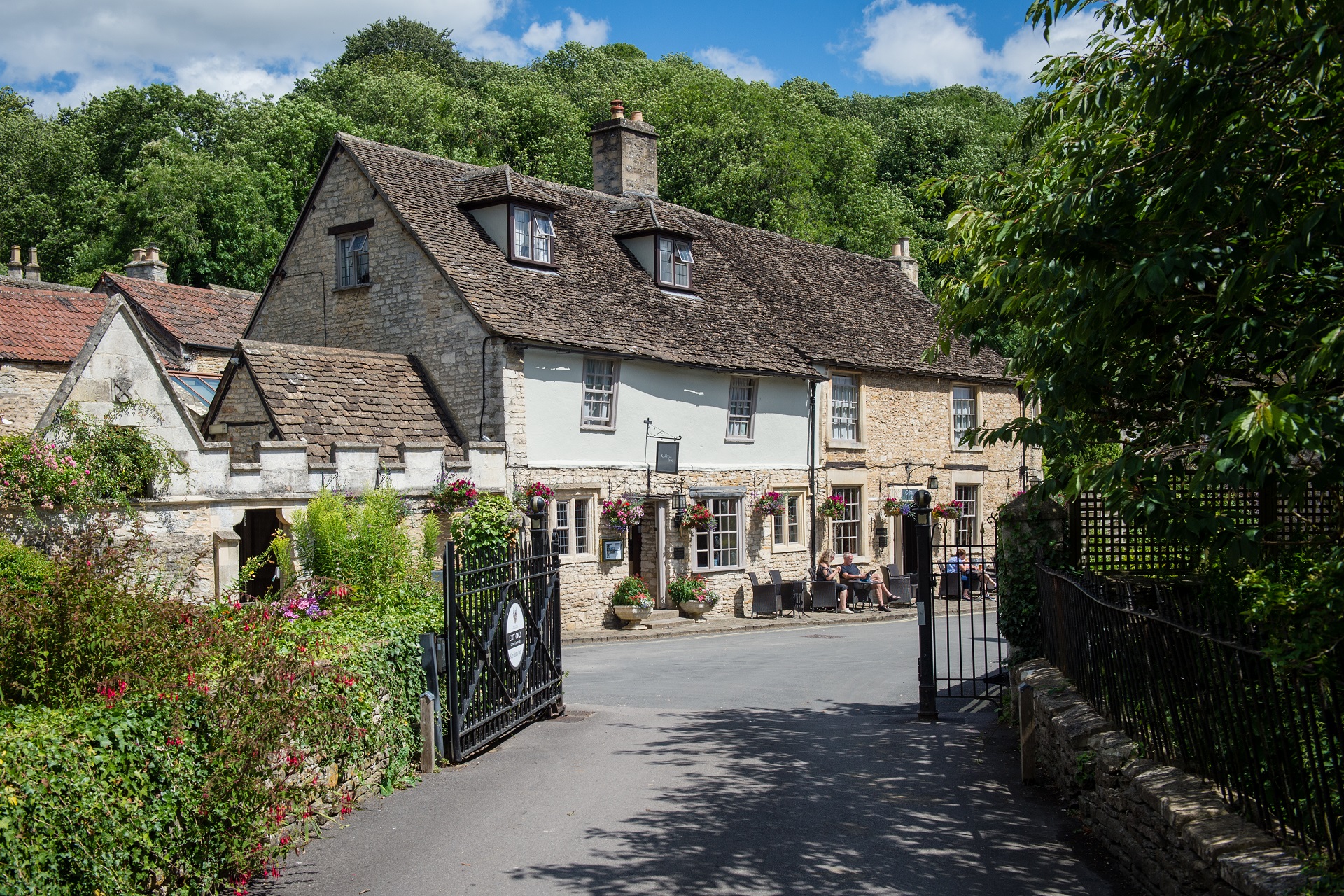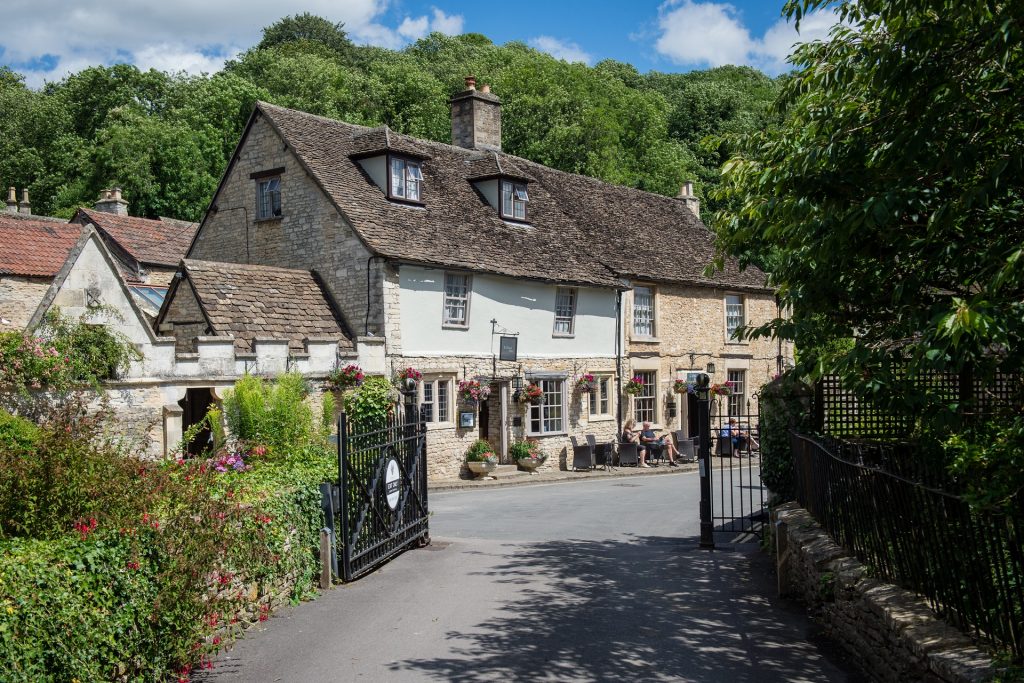 38. Canton Arms – Stockwell, London
39. The Higher Buck – Waddington, Lancashire
40. The Duck – Pett Bottom, Kent
41. The Hovingham Inn – York, Yorkshire
42. The Plough – Coton, Cambridgeshire
43. The Three Hills – Cartlow, Cambridgeshire
*Club Privileges apply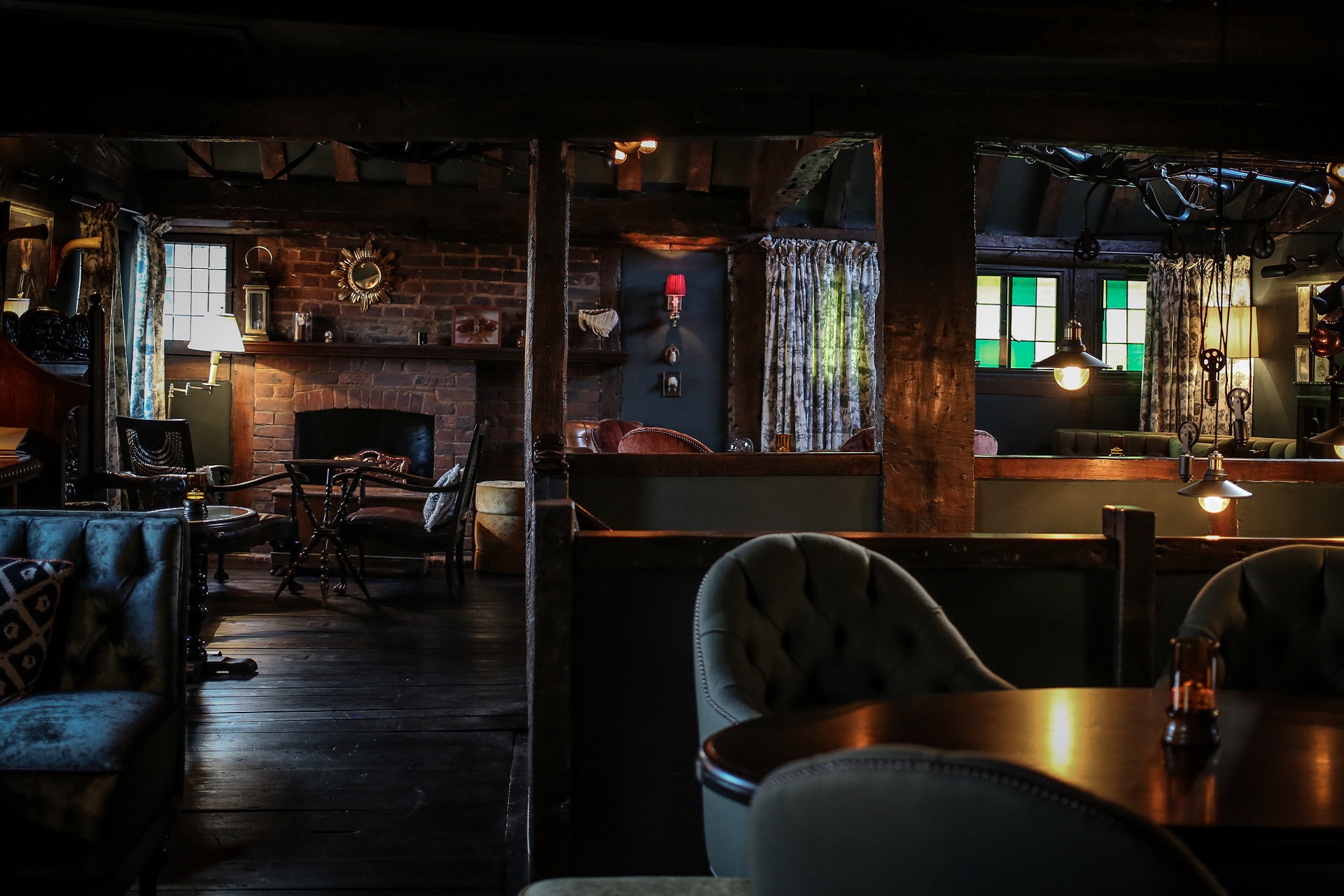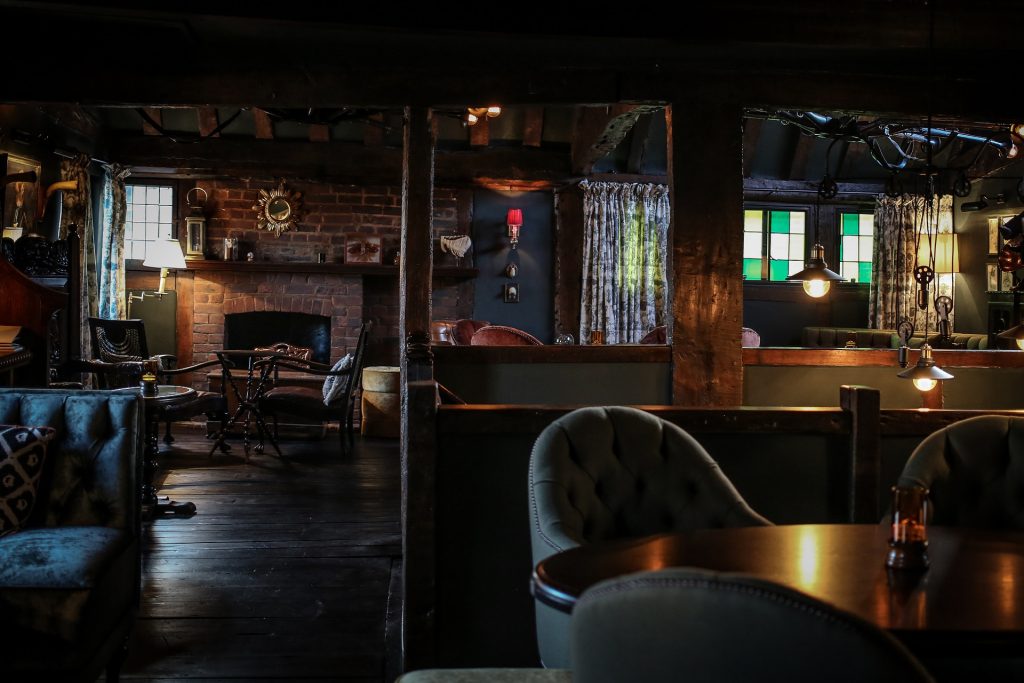 Estrella Damm Top 50 Gastropubs writes:
"Bray-on-Thames is, apparently, as British as it gets. Picture quaint pubs by the river, delightful Tudor buildings and lots of greenery.

The Hind's Head lives up to its surroundings, merging classic British style and food with Heston's modern thinking.
Menus at the gastropub change seasonally, reflecting traditional British cooking as well as the chefs' mindset to reinvigorate classic British dishes.

Heston heads the creativity in the kitchen, supported by his team of accomplished chefs. It is Heston's mind that has made the pub what it is; he has long been obsessed with pushing boundaries, finding new ways of doing things and breaking through what is deemed to be 'the norm'.

So brilliant is Heston's mind, he has been recognised by the Royal Society of Chemistry (where he is also a Fellow) as one of their 175 Faces of Chemistry from around the world and across the centuries. The chef has been awarded several doctorates from UK universities, as well as an OBE from Her Majesty the Queen for his services to gastronomy.
Visitors to the pub can choose from three areas, including the restaurant, the Royal Lounge Bar and the Vicar's Room.
The full skill of the chefs are showcased in the restaurant, while cocktails, spirits and fine Champagnes are served in the Royal Lounge Bar.

Dishes served at the gastropub have included pea and ham soup with ham hock, pork belly and mint oil; confit pumpkin tarte tatin with salt and vinegar pistachios, sherry caramel and goats cheese ice cream; and earl grey tea smoked salmon with sour cream butter, pickled cucumber and soda bread to begin.

Mains have included oxtail and kidney pudding with oxtail sauce; cauliflower macaroni with slow cooked hen's egg, brioche crumb and smoked salt; and roast cod with greens, cider butter sauce and caviar for main, with a host of sides to chose from too.

Desserts have, in the past, consisted of brioche butter pudding with spiced brandy custard and milk ice cream; rhubarb trifle with green tea, caraway biscuit and saffron custard; and quaking pudding with cinnamon, nutmeg, compressed apple and candied lemon."
Luxury Restaurant Club recommended with complimentary glass of champagne, terms and conditions apply. Not a member? Join here.
45. The Dog at Wingham – Wingham, Kent
46. The Bell Inn – Langford, Oxfordshire
47. The Black Bear Inn – Usk, Monmouthshire
48. The Cadeleigh Arms – Tiverton, Devon
*Club Privileges apply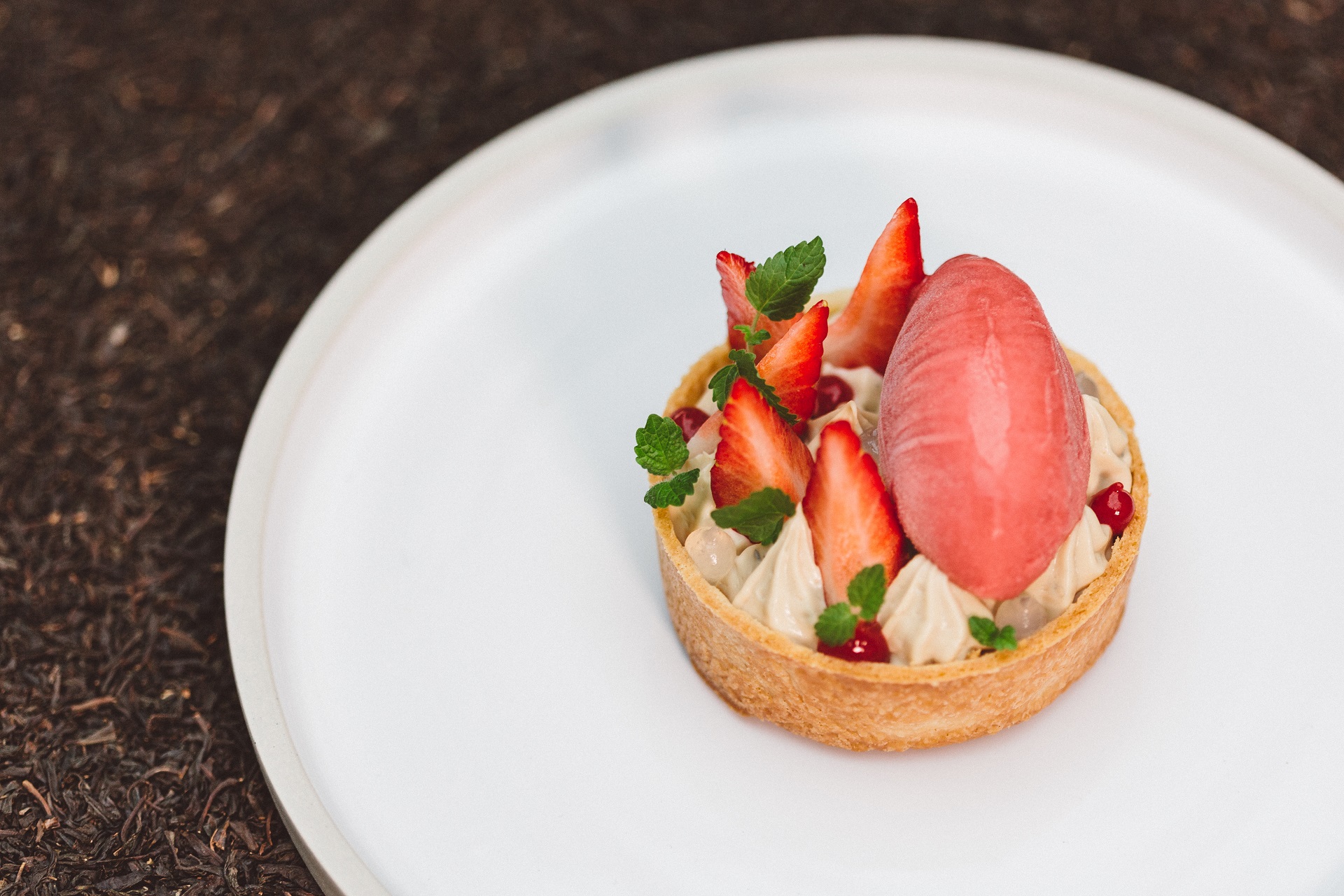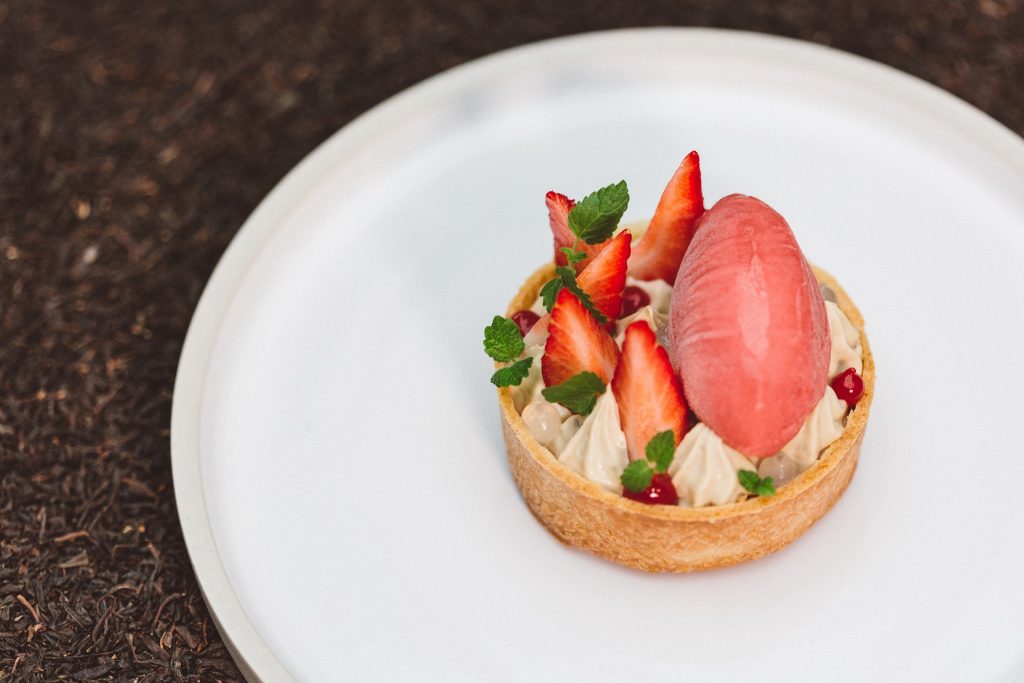 Estrella Damm Top 50 Gastropubs writes:
"Opened under the leadership of Steven Ellis, who brought the now closed Oxford Blue onto the Top 50 Gastropubs list some years ago, diners are in for a real treat.
Ellis's skills as a chef and relationship with the park game keeper allow for some incredible takes on classic British cooking. Meanwhile, Ellis's wife Ami is a top-notch pastry chef who pumps out some of the best desserts in the gastropub world.
Under Ellis, the Bailiwick is taking advantage of the larder of game surrounding the pub in his cooking, which makes perfect sense.
The pub is classic and beautiful and has a terrace that overlooks the stunning ancient woodland of the park.
But onto the food and you'll find both an a la carte and a tasting menu here, with dishes the likes of pig trotter terrine with apple, black pudding and sauce gribiche; wild mushroom tartlet with mushroom ketchup, confit egg yolk and 36-month aged parmesan; and corned beef from cured aged beef cap with pickled vegetables and English mustard to start.
Mains could include the likes of roast loin of Windsor Great Park Red Deer with smoked bacon, goose liver, braised shoulder croquette and celeriac; Isle of Gigha halibut with charred potatoes, mussels, champagne velouté and Avruga Caviar; and aubergine 'steak' with mushroom duxelles and vegetable demi-glace.
To finish, you have to try one of Ami's famous parfaits, which change seasonally and depending on what needs to be used in the kitchens. But also on offer could be the likes of chocolate delice, bavarois and cheeses from the British Isles."
Luxury Restaurant Club recommended with complimentary glass of Prosecco Spumante Luca on arrival and a bar snack for the table, terms and conditions apply. Not a member? Join here.
---
Luxury Restaurant Guide
Discovering the very best fine dining experiences for our members, since 1999. Join Luxury Restaurant Club to enjoy privileges and exclusive experiences at over 425+ of the UK's most awarded dining destinations. www.luxuryrestaurantguide.com