Ten Best Restaurant Openings Outside of London in 2019
Featured
,
Hotels
,
Lifestyle Articles
,
Lists
,
Luxury Restaurant Guide Loves
,
Miscellaneous
,
New
,
Recommendations
,
Research
,
The Best of
,
Zeitgeist
5th Dec 2019
Some of the most exciting gustatory events of the year haven't been in London, even though the capital has had a bevy of wonderful and varied new launches in 2019. In fact perhaps some of the coolest bistros and grandest restaurants have opened in the countryside. So if you like your restaurants where the ambience is relaxed, the food is inspiring, ingredients all 'local', and the space capitalises on the surrounding views, then you need to get in your car.  Here's our round up on the ten best restaurant openings outside of London this year: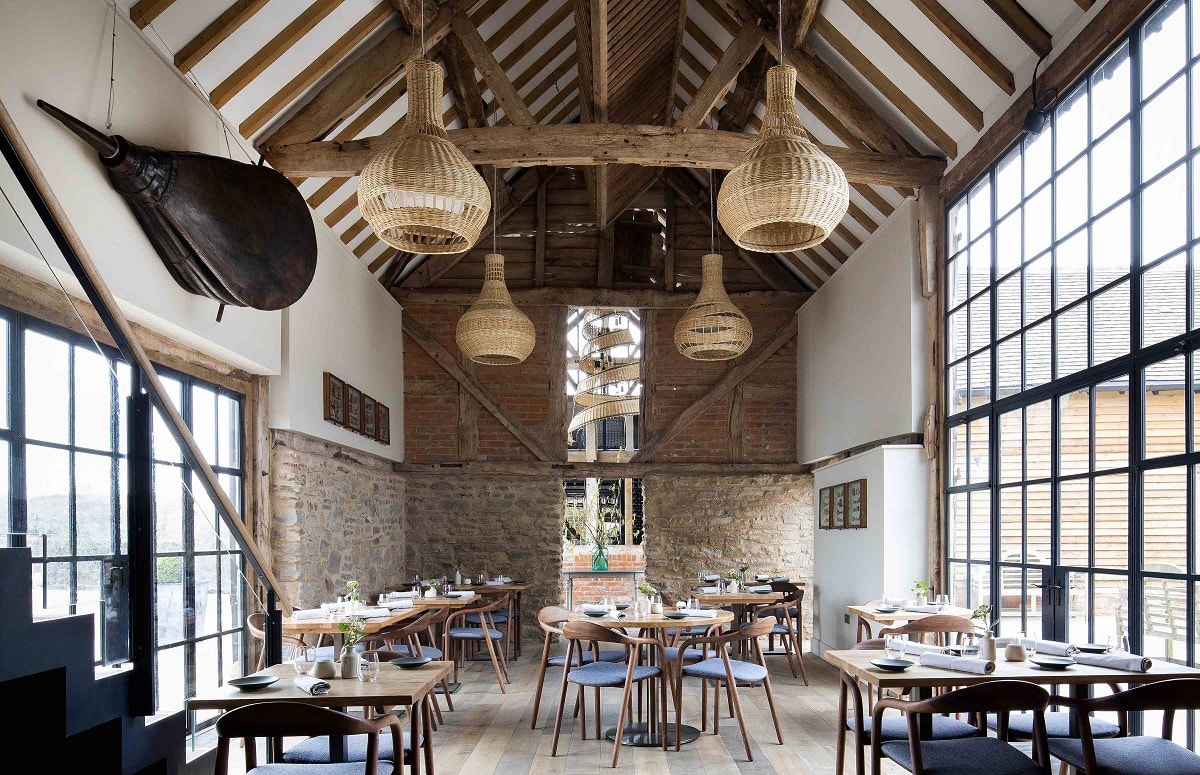 Opened: January 2019
Converting 15th Century barns for homes has long been a thing, but for restaurant businesses its now de rigueur. Which is of course why on trend Chef Lee Westcott closed his Michelin-starred Bethnal Green 'The Typing Room' for pastures new, setting up this massive project on the Netherwood Estate on the rural Herefordshire/Worcestershire border.
It is the perfect home for Lee's modern and imaginative, yet unpretentious approach to cooking. With its own kitchen garden, beehives, animals, game and endless foraging opportunities in the woods, where possible produce is sourced from the Estate, as well as other carefully selected local suppliers.  Lee is very excited about the provenance and quality of the ingredients that encapsulate his 'Estate to Plate' approach. And, without fail, a Michelin-star was attained in the next Michelin Guide awards in October 2019.
To find more destinations like this download the free Luxury Restaurant Guide app here.
***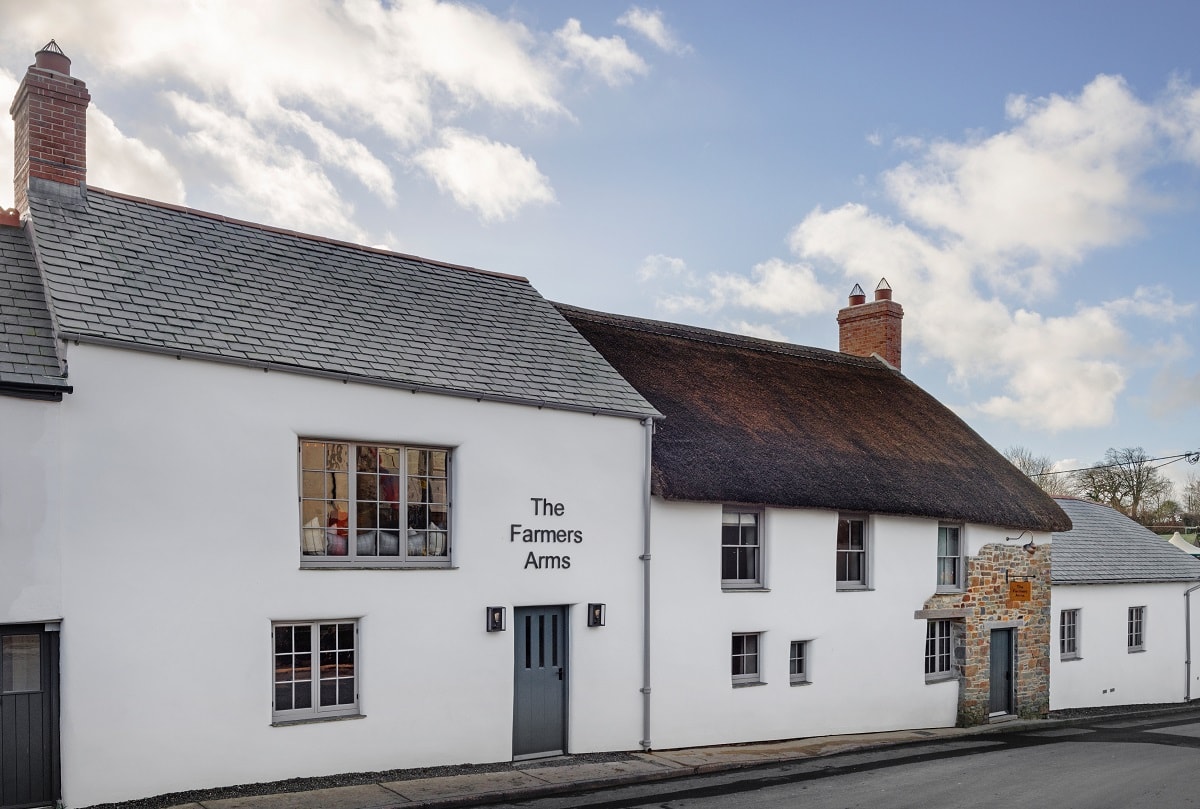 Opened: January 2019
There were a few news headlines recently on how Bebo's US tech multi-millionaire founder, Michael Birch, has transformed his grandma's tiny village. His ambitious project to regenerate Woolsery has snowballed from purchasing the local pub, to the fish and chip shop, village store, several residential properties and a large manor house, which will be converted into a hotel and spa. It's ongoing and expected to be complete in Spring 2022, but The Farmers Arms is a stellar venue complete and ready to dine at.
The former blacksmiths-turned-inn has been transformed into a beautiful pub and restaurant, with two bars, a dining room, a small upstairs lounge and garden. The renovation has been sensitively undertaken with thatched roof, beamed ceilings and both natural flagstone and reclaimed oak floors. With warm colours and comfortable seating throughout, the overall aesthetic, designed by Hannah Lohan Interiors, has been carefully thought out to evoke the feeling of a traditional pub, with a modern twist. In the restaurant the spotlight is on local ingredients and balanced flavour combinations. The passion for local sourcing is evident with the menus focusing on local farming and suppliers, foraged herbs and regional dishes.
Luxury Restaurant Club offering available, see details. Join club by downloading the free app here.
***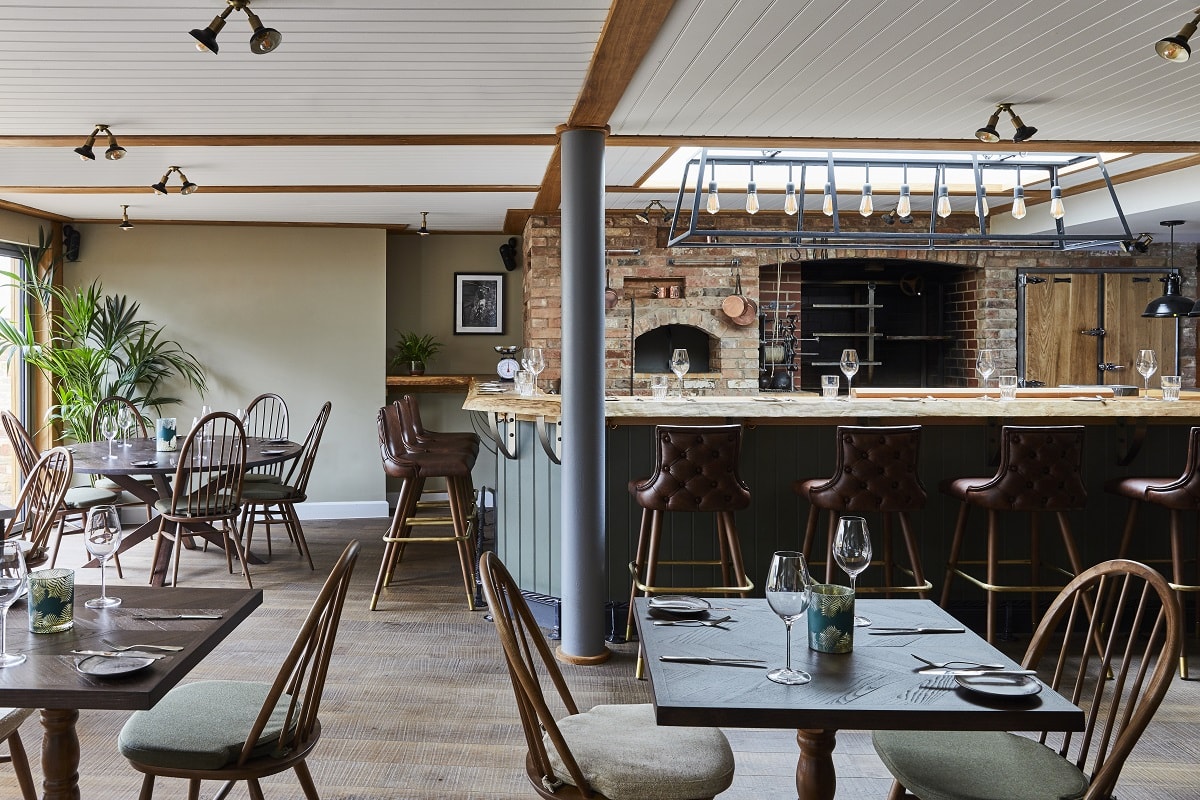 Opened: April 2019
First there's the small detail of the building: Dating back to 1500, it is Grade II listed, was used as an Inn between 1655 to 1661 and played host to The Royal Shakespeare Club's annual dinner from as early as 1824. Today this buildings rich history takes it back to it's roots, creating a heritage dining experience where comfort and conviviality are key. 
Which brings us back to now, with a core field-to-fork philosophy The Woodsman offers a traditional approach to contemporary British cooking in comfortable surroundings. Ingredients are sourced from the bountiful English countryside, the same lands hunted and foraged for thousands of years. Huntsman deliver game from local estates, and the chefs source the freshest seasonal produce from local farmers, makers, foragers and their own botanical and herb gardens. Executive Chef, Presenter and Author Mike Robinson – and the chef behind the Michelin-starred Harwood Arms in Fulham, cook using the oldest method known to man, wood, charcoal and flame, with primarily oak and Alder wood trees to lend a naturally sweet taste to the smoke. You can be assured of quality and provenance being at the heart of everything they do here.
Luxury Restaurant Club offering available, see details. Join club by downloading the free app here.
***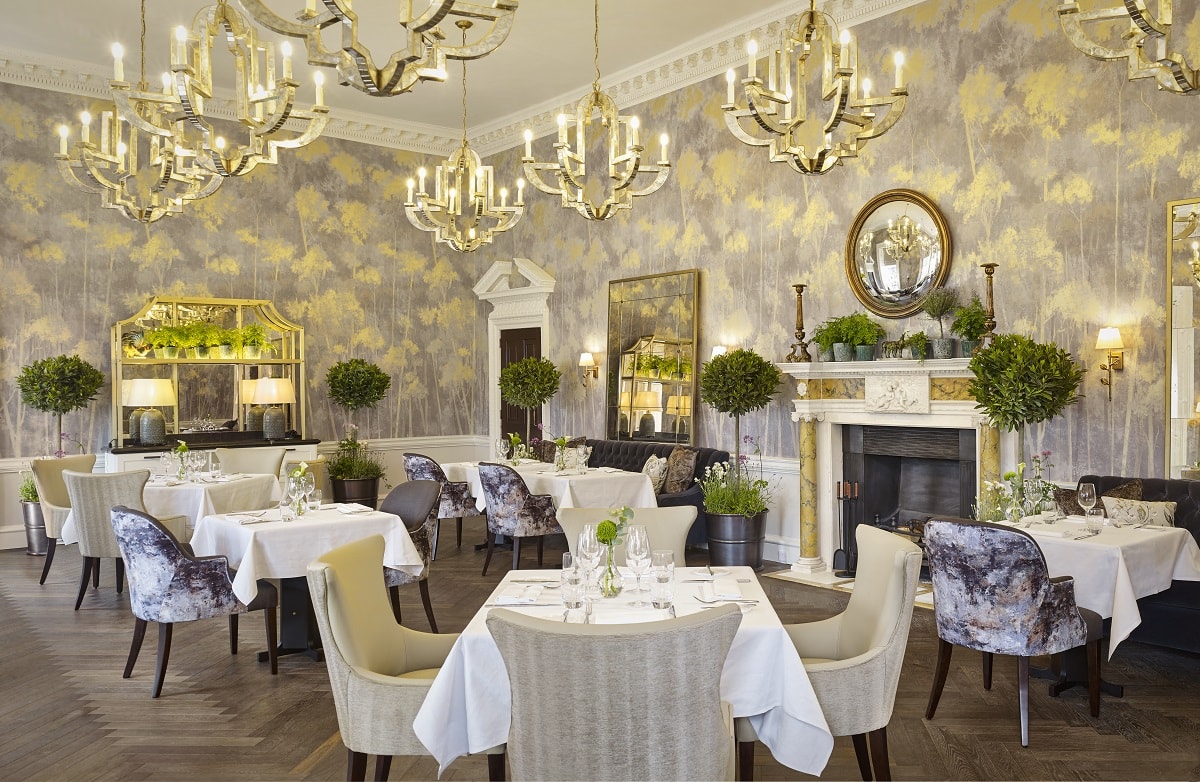 Opened: June 2019
Buckinghamshire has conjured up its finest grand country house five star hotel with The Langley. The former country estate of the third Duke of Marlborough, The Langley is now a luxury hotel and spa, which boasts of being in former royal hunting grounds and with landscaping originally designed by England's greatest gardener, Lancelot 'Capability' Brown.  
Bringing the luxe traveller to Iver, it is a stones throw from Pinewood Studios and the historic towns and villages of Windsor, Eton, Borehamwood and Fulmer, as well as its close location to London. Cedar, named after the English Heritage listed Lebanon Cedar tree outside of the front entrance, is the impressive restaurant in the main house of the hotel. Aside from impressive views from equally impressive floor to ceiling doors and windows, it also has a spectacular terrace area wrapping around the building for alfresco dining, overlooking the lake and grounds. European cuisine is served with contemporary British touches, using only the best seasonal ingredients, and complemented by an informal, sharing-plates philosophy.
Luxury Restaurant Club offering available, see details. Join club by downloading the free app here.
***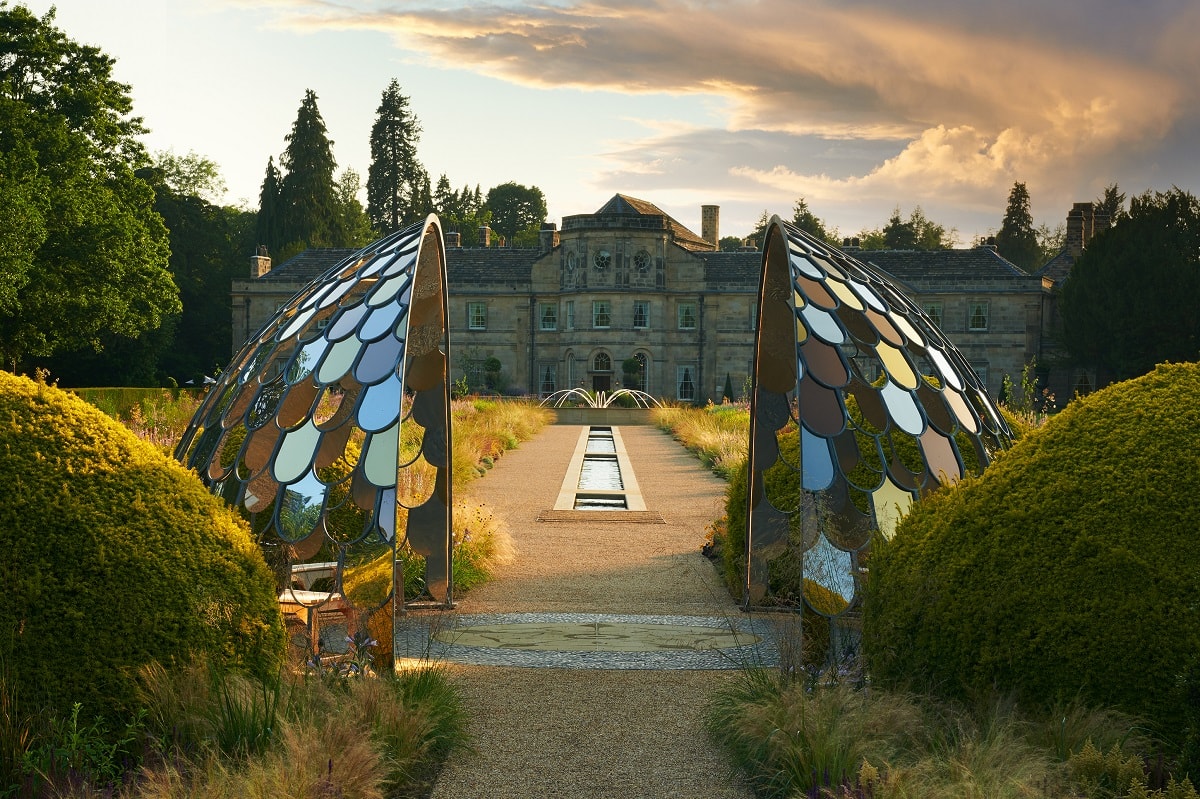 Opened: July 2019
We've placed Grantley Hall as one destination, but in fact you have three unique sleek dining venues to choose from:
Shaun  Rankin at Grantley Hall – Celebratory chef Shaun Rankin returns to his Yorkshire roots to bring the fine dining element to Grantley Hall. A plush 38 cover restaurant, plus a chef's table for up to eight guests, it is situated in one of the palladian mansion's stunning drawing rooms, with all ornate features in play and views to the formal gardens and fountain.     
EightyEight Bar & Restaurant – An ultra stylised, Pan-Asian dining experience within a listed Ornamental Japanese Garden at Grantley Hall. Revel in the unadulterated joy of wonderful Yorkshire produce and far Eastern flavours.
Fletchers Restaurant – Within the Queen Anne wing of Grantley Hall, Fletchers is the spot for sophisticated, casual, all-day dining in a relaxed atmosphere. Picture traditional oak panelling with historic fireplaces, in a tranquil parkland setting. The menu, served throughout the day, is comprised of British and European cuisine, made from the finest locally sourced seasonal produce.
Luxury Restaurant Club offering available at EightyEight, see details. Join club by  downloading the free app here.
***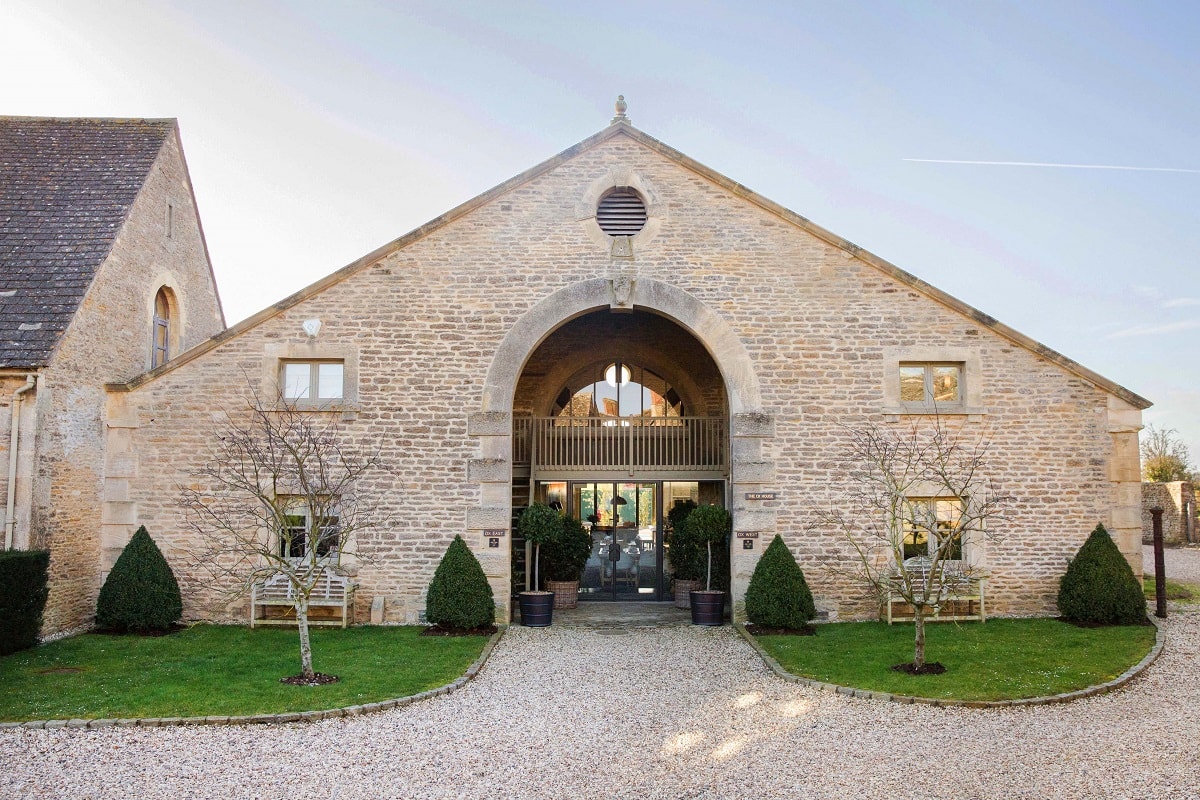 Terrace Opening: June 2019 – Ox Barn Opening: Late December 2018
The full Monte! The destination – the entire Southrop Estate, is a dream, food is to die for, your fellow guests are  more than interesting, you can stay in style beyond chic, and you can do things here. Thyme is exactly the sort of place that makes you feel better about life…and who couldn't do with a bit of that these days. Which is why we kind of sneaked this one in as technically it opened at the very tail end of last year, but we include because it wasn't finally completed until the summer of 2019.
The Ox Barn at Thyme is in the heart of the Cotswold village of Southrop.  An enclosed collection of restored historic buildings form a peaceful hamlet environment, a 'village within a village,' that epitomises the understated & natural beauty of the surrounding area – a collection of restored historic buildings in one peaceful hamlet which offers hotel rooms, cottages, cookery school classes, spa facilities, tithe barn dining for celebrations & corporate events, cocktail bar, restaurant, village pub and gardens. Dining at the Ox Barn at Thyme is a glamorous affair, in a fully 21st-century context. Expect homegrown produce and British cuisine.
Luxury Restaurant Club offering available, see details. Join club by downloading the free app here.
***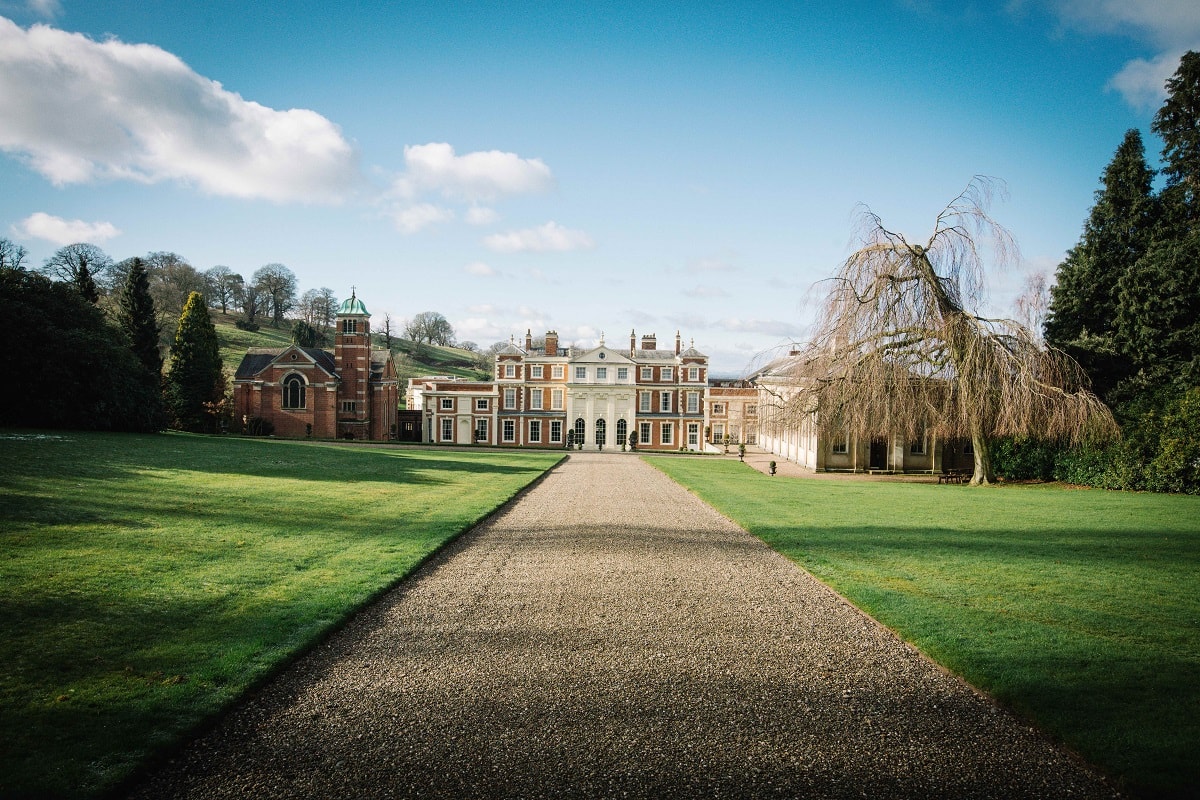 Opened January 2019
The stuff dreams are made of. Take up residence at one magnificently regal palatial home – if only fleetingly for an afternoon tea or dinner. Hawkstone Hall's exclusivity is not just a matter of its isolation within the hills of the rolling Shropshire countryside, but the obvious beauty of the aristocratic Grade I listed mansion house and gardens. The immaculate service and delicious cuisine are reminiscent of grander days. Enjoy the gilded ceilings, sweeping staircases, four-poster luxury suites and 88 acres of pristine gardens. 
The Saloon Restaurant, in one of the oldest parts of the original Main House, is suitably majestic and offers a stunning backdrop for a dinner or afternoon tea booking. It has a luxurious feel with artwork adorning the walls and rich, plush fabrics throughout. Menus offer chiefly British dishes with bold flavours, using locally sourced ingredients inspired by the seasons.
Luxury Restaurant Club offering available, see details. Join club by downloading the free app here.
***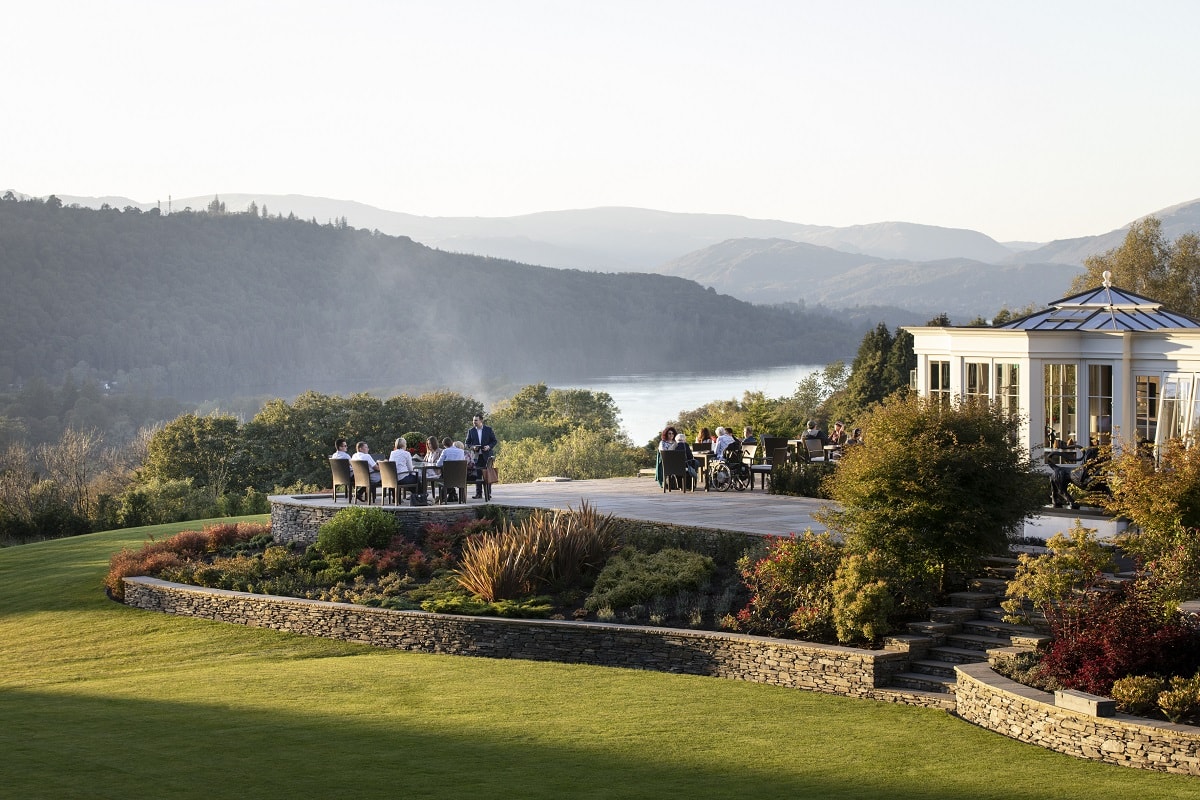 Opened: October 2019
Simon Rogan continues to sprinkle his Michelin magic in his beloved Lake District. Henrock, in the north tip of the Lake District, adds to his collection of gourmet establishments in the south which include L'Enclume, Aulis at L'Enclume, Rogan and Co., 'Our Farm', and The Shop.  Henrock, at renowned and recently fully refurbished Linthwaite House, has sweeping views across Lake Windermere and is a perfect showcase for natural, perfectly seasonal ingredients in a relaxed, informal setting. Henrock's name derives from a rocky outcrop on the lake, known as Hen Rock, which is often visible from the terrace of Linthwaite House.
The kitchen team is led by Head Chef Brian Limoges, who joins Simon from San Francisco after working in renowned restaurants such as Quince, Birdsong, and Atelier Crenn. Working together, they utilise local produce with items from Simon's 'Our Farm', in Cumbria. However, in a step away from Simon's other restaurants, L'Enclume, Roganic in London, Aulis and Rogan & Co., where the focus is loyally and deeply rooted in British cooking and ingredients, Henrock leans heavily on influences, techniques and produce discovered on the chefs' travels around the globe.
To find more destinations like this download the free Luxury Restaurant Guide app here.
***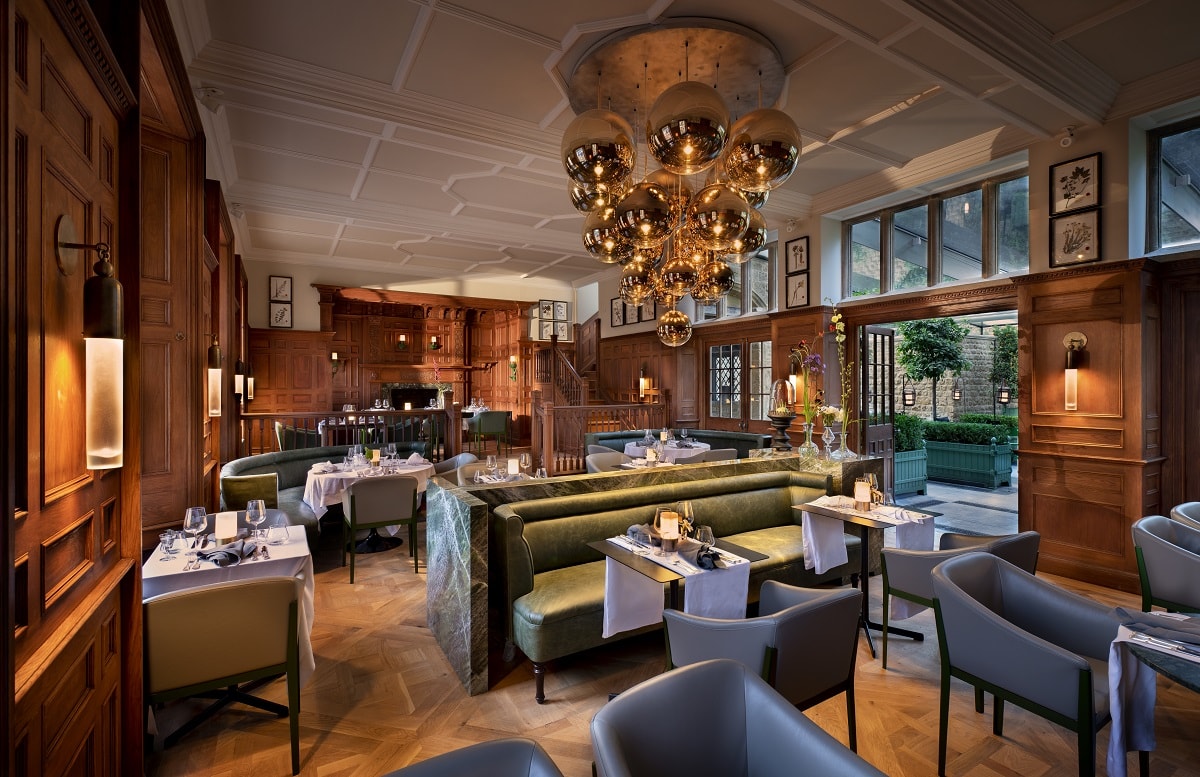 Opened: August 2019 (also main featured image)
The West Country takes on the established five star hotels around the UK with its very own sustainable boutique getaway destination cum working country estate. The Newt, located between Bruton and Castle Cary, incorporates farmland, orchards, formal and productive gardens, restaurants, farm shops, ancient woodland, and a Cyder Press & Cellar producing quality cyder made with 100% Somerset apples – all open to the public. Within the grounds lies Grade II listed Hadspen House and its Stable Yard; a country home that has been loved and lived in for centuries, now a luxury hotel and spa with luxury dining in the Botanical Rooms restaurant.
The Botanical Rooms restaurant, like the other dining facilities, shares its mantra of every plate of food served on the Estate features something grown or foraged there. Various productive kitchen gardens and greenhouses feed the restaurants, with more than 350 vegetable and salad varieties being grown. Gardeners and chefs work closely each day to harvest and use the freshest ingredients. And what they can't grow or produce is sourced from their neighbours. The restaurant itself comprises of two spaces – the immersive Glass Room, filled with orange trees and shrubbery, and the intimate Oak Room, the original billiards room of the house, with dried botanicals from Babylonstoren and leather banquette seating. Harking back to a true country house kitchen, House Cook Ben Abercrombie serves a menu built around the lifecycle of the Estate – from seeds sewn in the nursery, to vegetables preserved in the pantry. Dishes include just-picked fruit and vegetables suggested by the seasons, while a unique grill fired from their woodland prepares carefully husbanded venison, fish and meat, some from the Estate itself. Underneath, the vaulted cellar is home to an extensive wine collection, with tours and tastings by invitation. More than just a restaurant, make it a great day out.
To find more destinations like this download the free Luxury Restaurant Guide app here.
***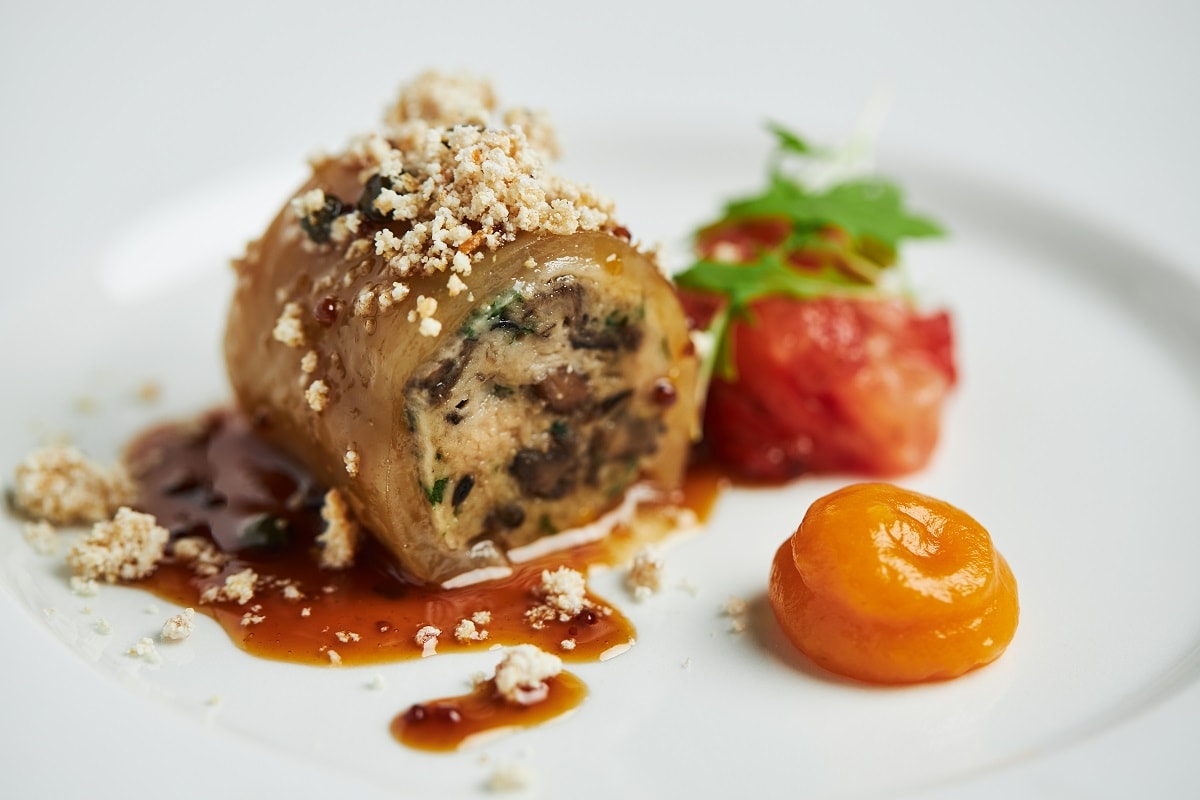 Opened: August 2019
Matt Gillan, Head Chef and Proprietor of Heritage, was feted as one of the UK's great chefs since coming to prominence at Exclusive Hotels' South Lodge Hotel, and then gaining its first ever Michelin star. But after ten years at South Lodge he was ready to launch his own projects: Pike and Pine in Brighton being the first; and then after stumbling across a beautiful rural Sussex pub for sale, The Chequers in Slaugham. With his many years cooking at the highest standards, the knowledge you can enjoy this in the comfort of a countryside pub has not gone without notice.
I relax. We're in safe hands. Actually, strike that, we're not: we're in inspired, creative and playful hands.
Marina O'Loughlin, The Sunday Times
His five star hotel sense hasn't left him though – the main emphasis at Heritage is hospitality, creating the most memorable experience for each and every guest who walks through the door. Each room in the pub is unique in design, capturing a sense of 'journey' while guests travel through each space. Menus are founded in classical techniques, carefully combined with Matt's signature twists. They offer a beautifully curated A La Carte menu alongside a multi-course tasting menu. This is paired with a unique and captivating drinks menu, with creative cocktails and exceptional wines. All menus change seasonally and are largely influenced by the incredible produce available from the Sussex countryside surrounding the restaurant.
Luxury Restaurant Club offering available, see details. Join club by downloading the free app here.
***