The Most Luxurious Outdoor Dining in London
With the sun out we go in search of outdoor dining with chic aplomb in central London. Some you can book, some by request and some you'll just need to be lucky and arrive early. Enjoy the Luxury Restaurant Guide's pick of the finest outdoor dining in London: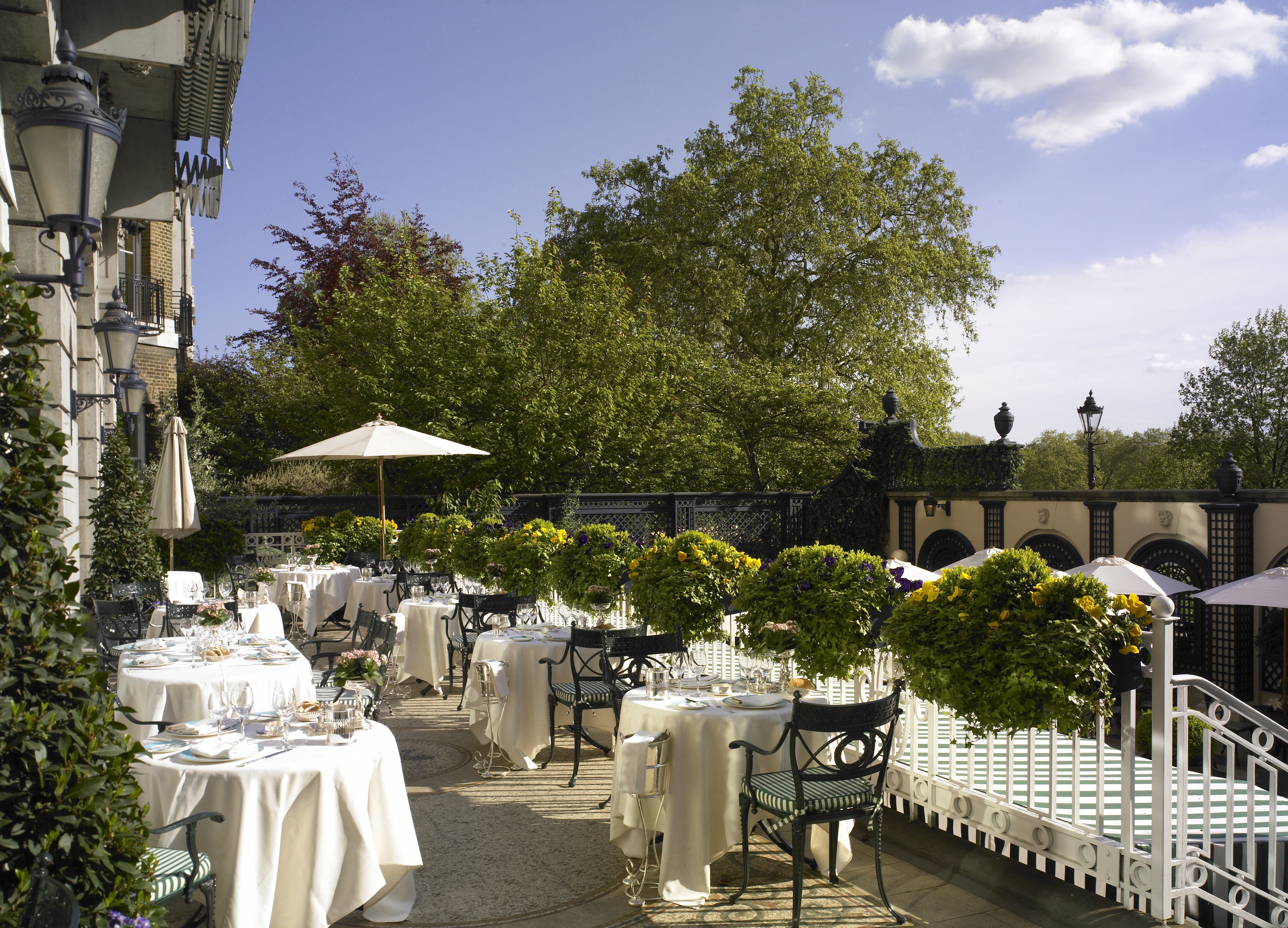 The Ritz Restaurant Terrace is open during the Spring/Summer season for al fresco dining in the heart of the city. The restaurant terrace is a stylishly sophisticated sanctuary for wining and dining, amidst the hustle and bustle of central London. Appreciate Michelin-starred delicacies and exceptional service for lunch, or relish in the finest Champagne and cocktails during the afternoon and early evening. Enjoy a three-course lunch menu or an extensive a la carte menu selection in The Ritz Restaurant and, weather permitting, seating on the terrace will be provided on a first-come-first-served basis.
To make a lunch seating reservation please telephone Reservations on +44 (0)207 300 2370 or email dining@theritzlondon.com
Opening times for Lunch: 12:30pm – 2:30pm
Opening times for Champagne and cocktails: 3:30pm – 8:00pm
☼☼☼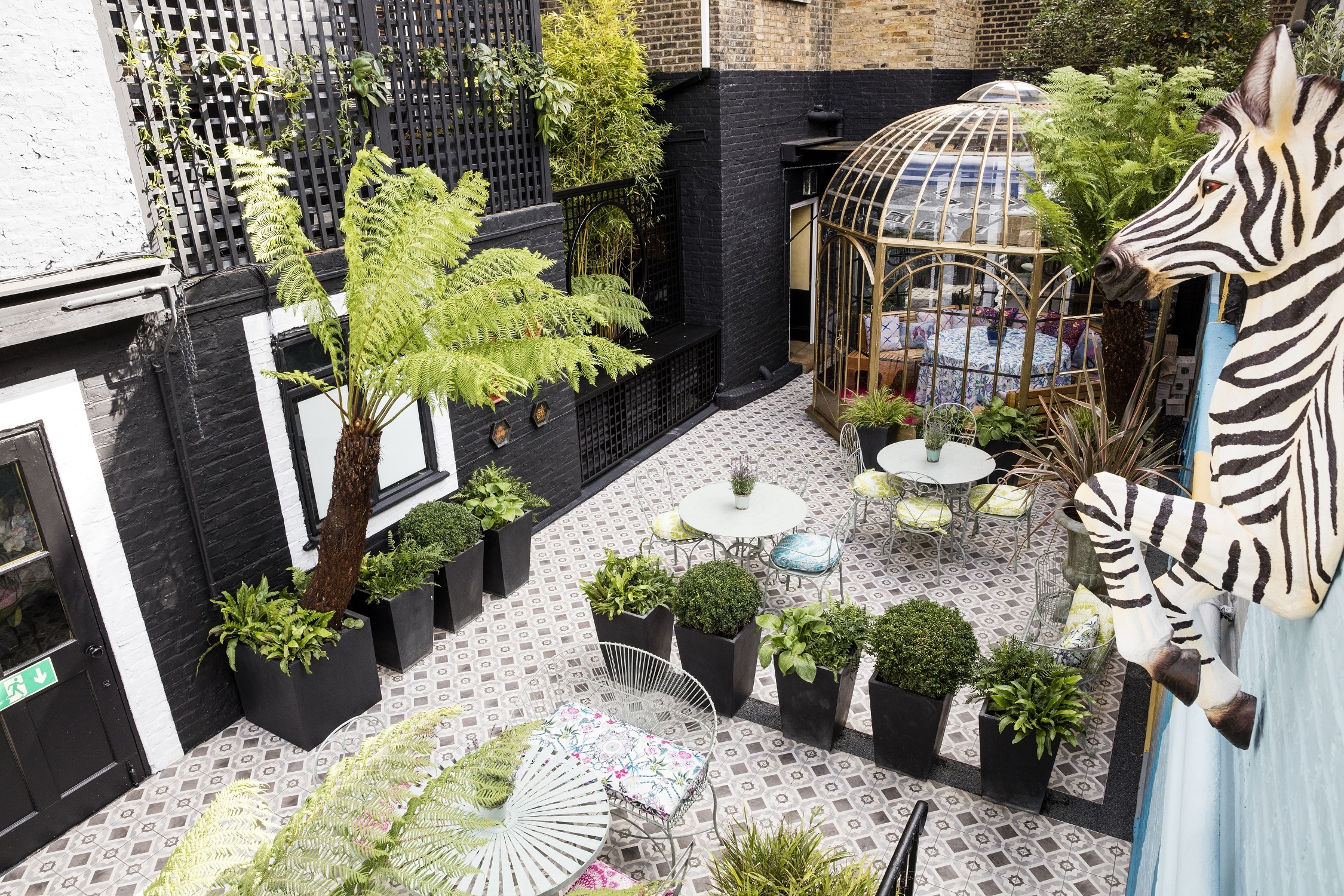 Blakes Courtyard is a stunning find. A tranquil space for up to 12 people maximum for the entire area, but it can be booked in advance. Available from 8am to 8pm but bookings will need to be over the phone. The Courtyard at the rear of one of London's most famous boutique hotels catches the sun, when it's out, or alternatively there is a glass area (shown) if you need to hide away from a London drizzle. Adorable location serving the full menu from the restaurant.
To book call +44 (0)207 370 6701
☼☼☼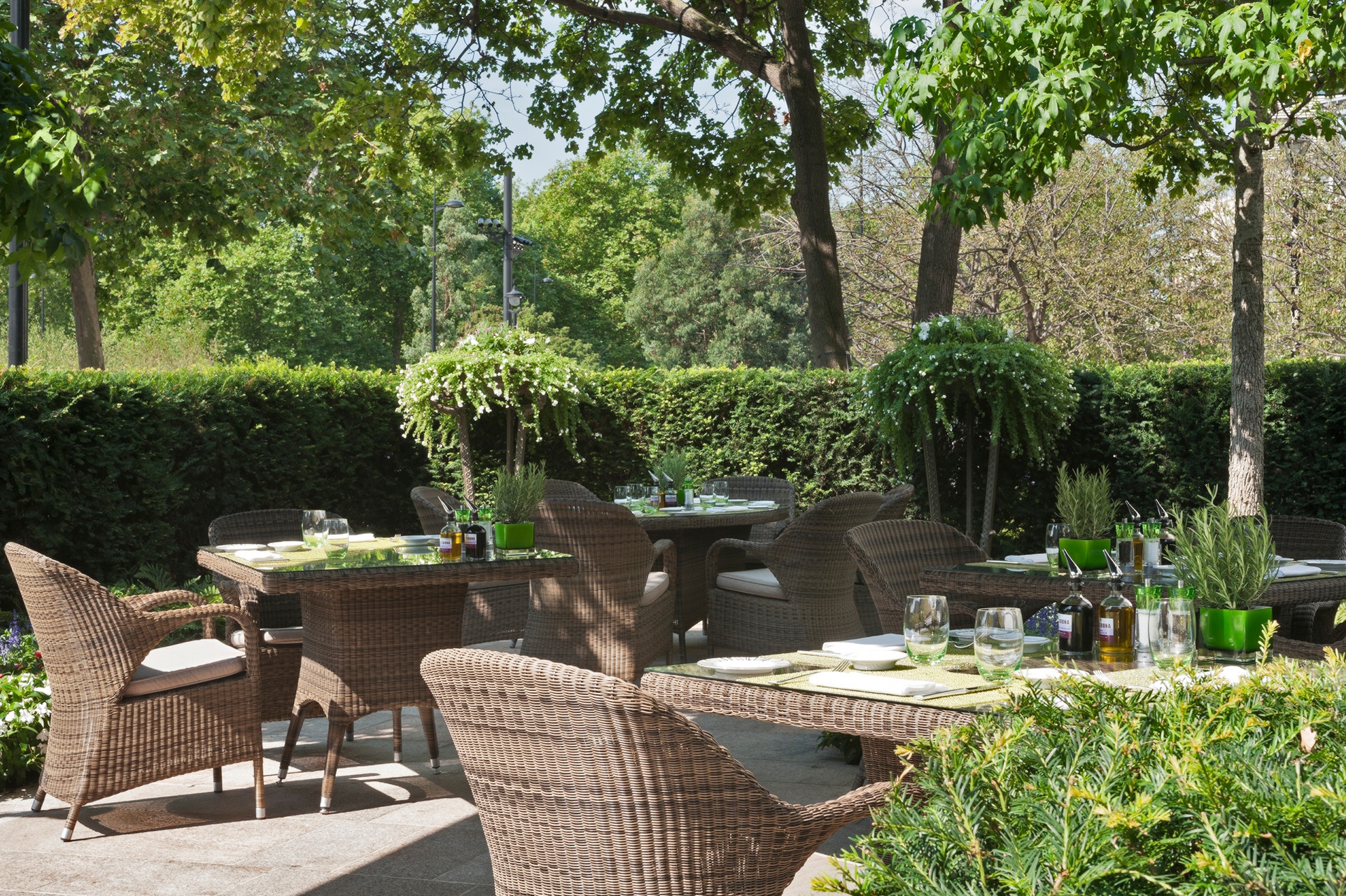 Surrounded by greenery in the heart of Mayfair, Amaranto is located in the Four Seasons Hotel London at Park Lane, and summer al fresco dining in the private garden is available when weather permits on a first come basis. New furniture this year so please note there is an update to this picture, but unfortunately not available at time of publication. A modern and really delicious Italian menu with international flavours.
To book call +44 (0)207 319 5206
☼☼☼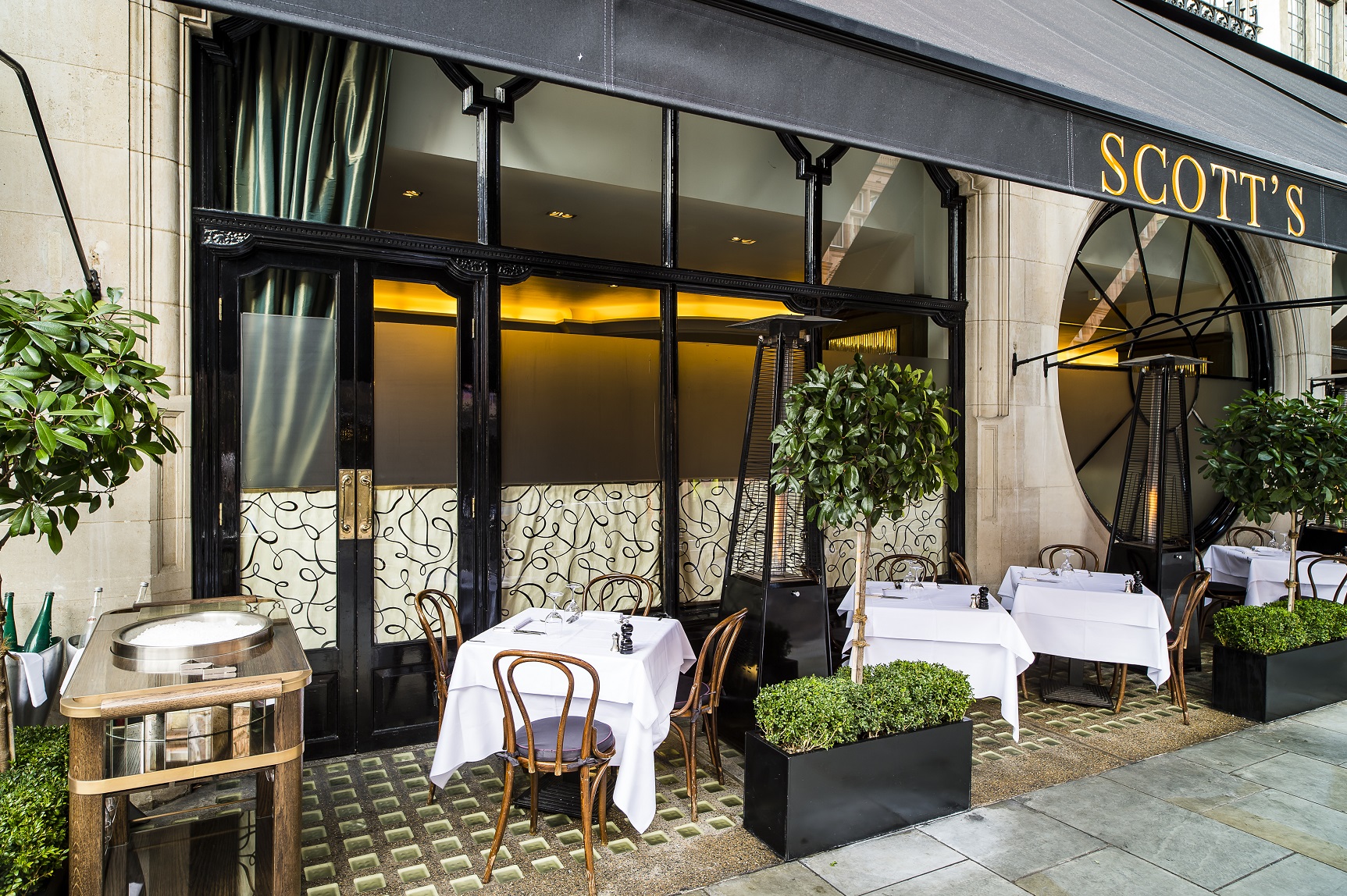 The terrace at Scott's may not be large but it's like the cat that got the cream to bag a seat on the street. Idle away the day of the passing traffic and people of Mount Street – fascinating people watching. There is an all day menu from midday in the restaurant which reflects its glittering heritage, serving the very finest traditional fish and seafood dishes alongside a variety of meat and seasonal game favourites in an atmosphere of urbane sophistication – inside or outdoors.
To book call +44 (0)207 495 7309 for the main restaurant. Terrace bookings work by request only with no guarantees.
☼☼☼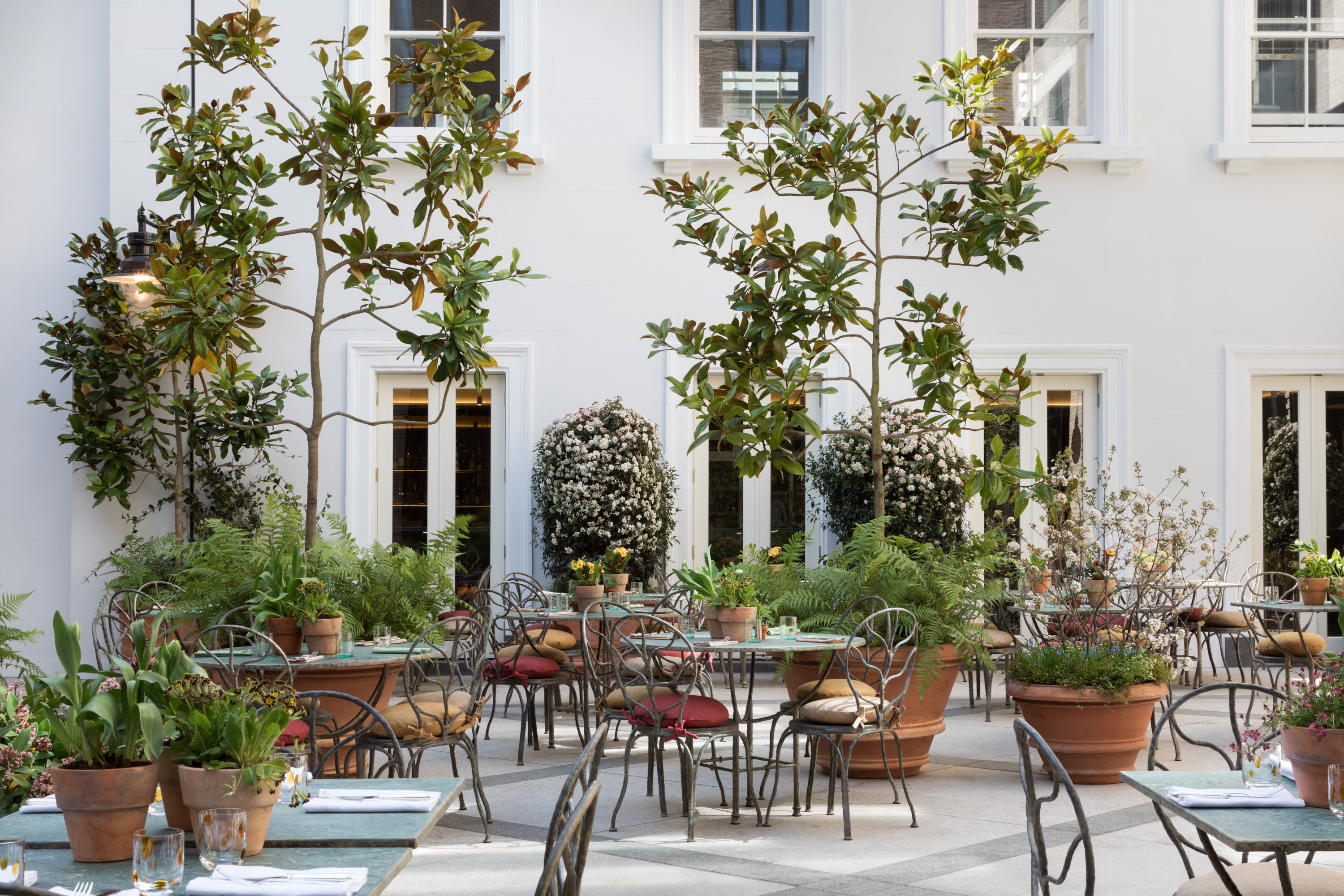 The newly opened Floral Courtyard lies at the heart of Petersham Nurseries in Covent Garden. It connects the Shop, Florist, Delicatessen and Cellar with the Petersham – elegant fine dining restaurant, and La Goccia – grill and dining bar. During the summer months the restaurants extend out into the courtyard for beautiful al fresco dining. The courtyard combines English country charm with Italian elegance and the signature style from Petersham Nurseries in Richmond – Italian terracotta pots handcrafted by artisans in Tuscany brimming with colourful and fragrant displays of seasonal plants and flowers. Best to book the restaurant and leave a request for the courtyard (but no guarantees).
To book call +44 (0)207 305 7676
☼☼☼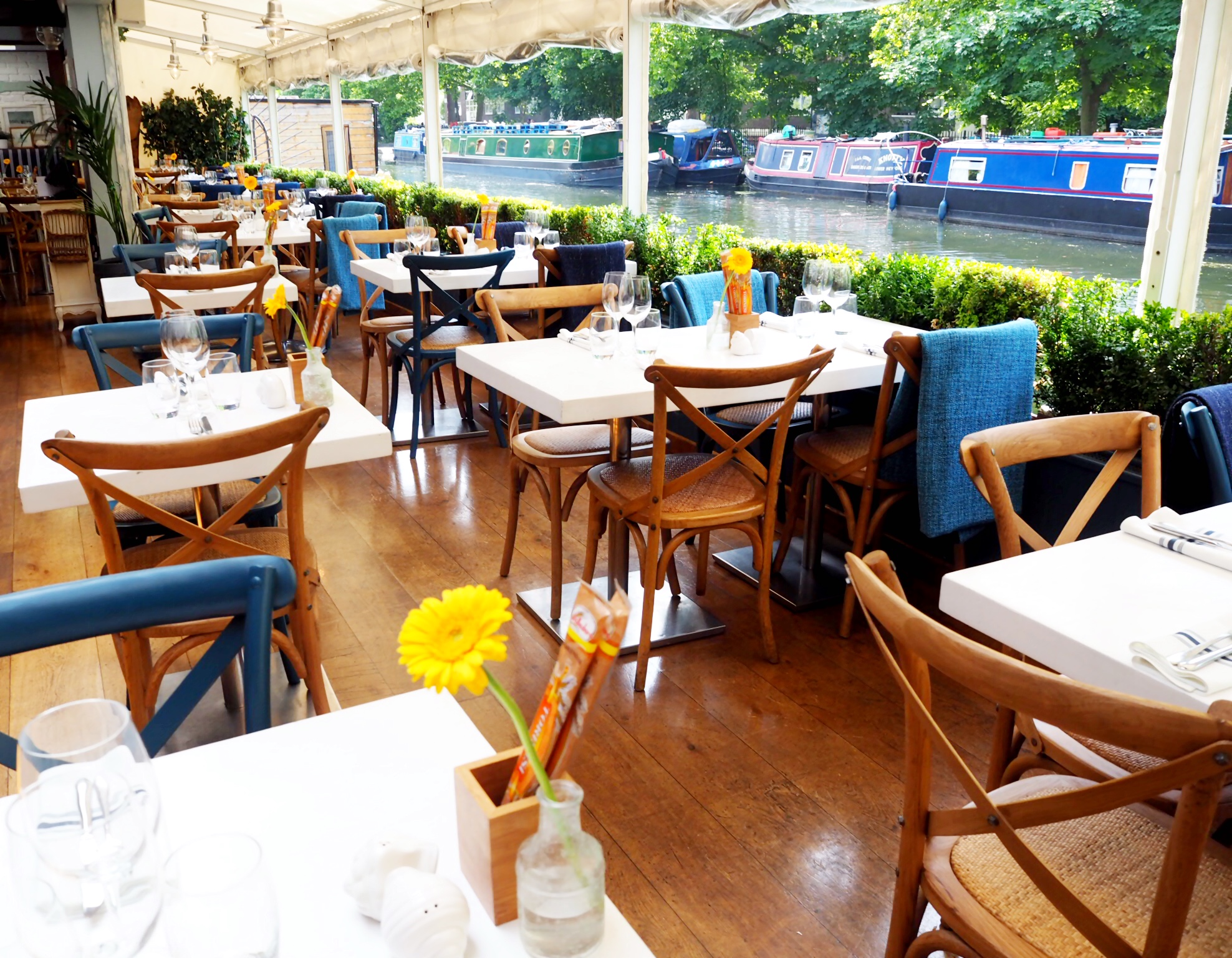 Situated on the Grand Union Canal in Little Venice this is a beautiful spot you can enjoy all year round, regardless of the weather. Its location however, always gives you that holiday feeling, dining overlooking the water and enjoying summer salads and the best fish & chips in town. Now also open in the winter when it converts into a magical cosy venue too.
To book call +44 (0)207 286 6752
☼☼☼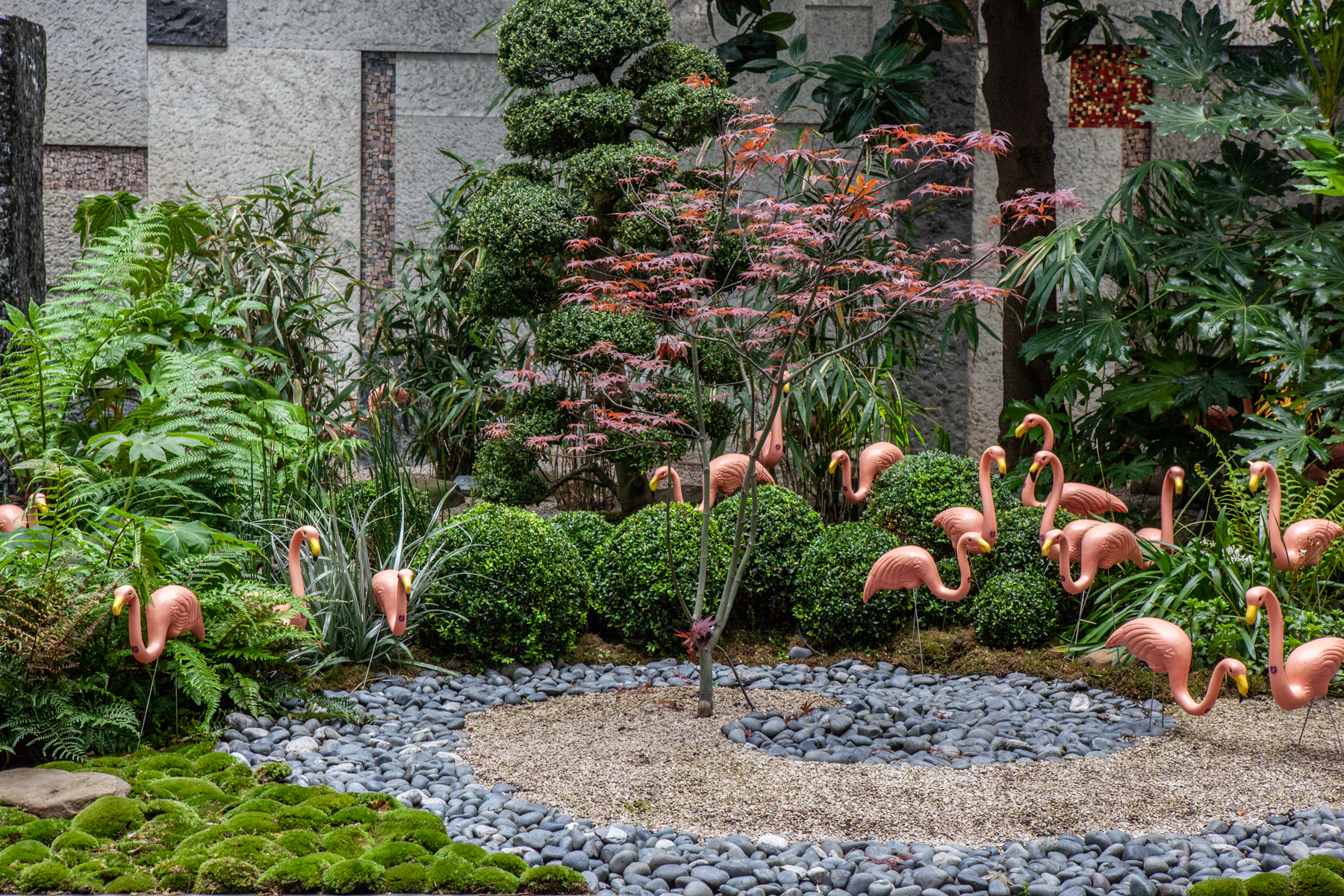 Escape into the captivating whimsical world that is the private Courtyard Garden at Sanderson London – a lush open-air oasis brimming with flowering trees, fountain, mosaics and a reflecting pool. This year they have transformed the iconic garden into a pink haven full of 50 flamingos and floral accents as the Laurent-Perrier Courtyard Garden, celebrating the 50th Anniversary of Laurent-Perrier Cuvée Rosé Champagne. The Courtyard Garden is an architecturally classified Heritage Garden with a blissfully heated outdoor terrace. Guests can drink, dine or simply relax in this private sanctuary that is unique in all of London.
To book call +44 (0)207 300 5588
☼☼☼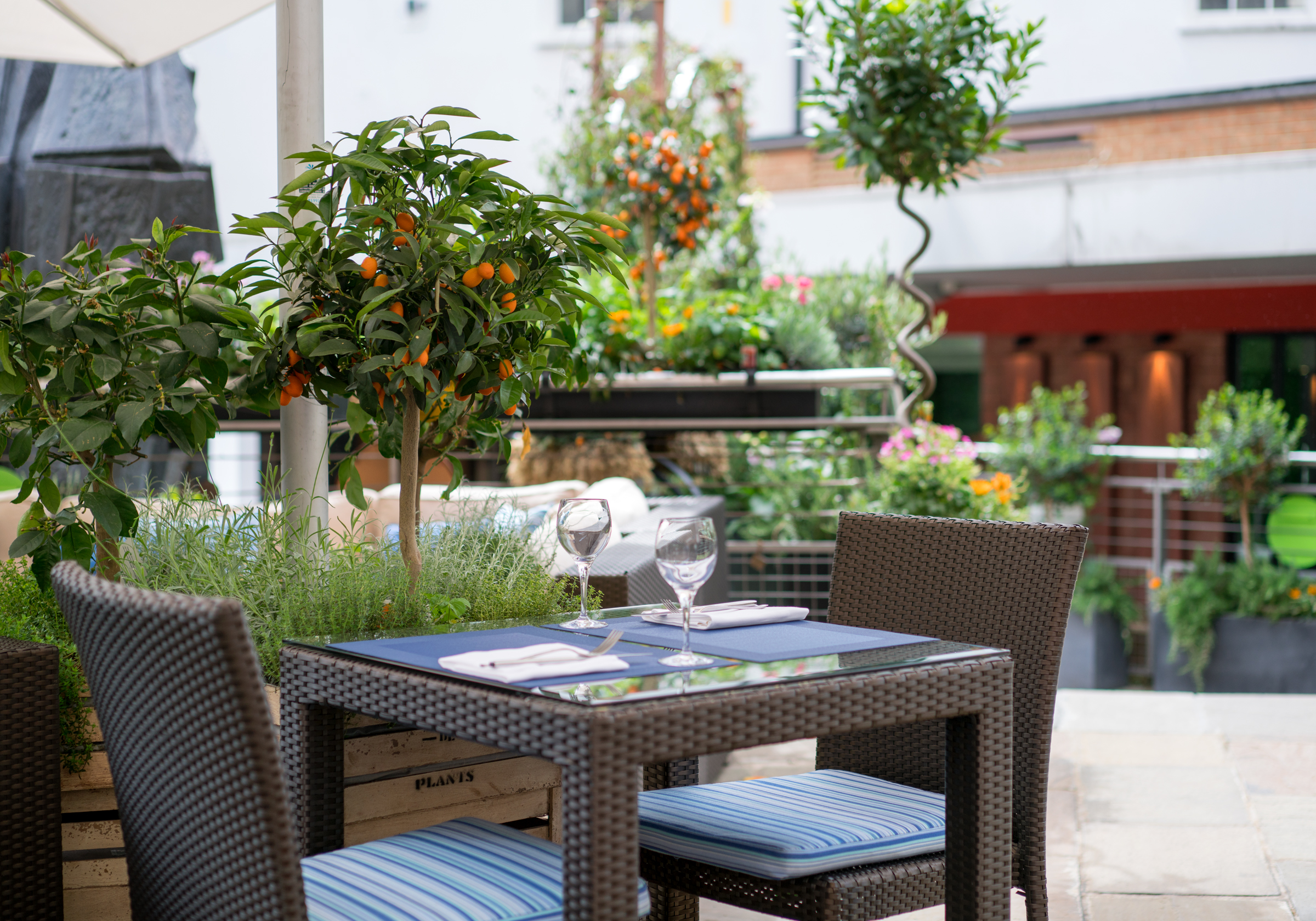 The al fresco Terrace restaurant of Jumeirah Lowndes Square is now open for the 2018 summer season and runs from May to September. You can relax on the corner couches with a drink and enjoy meat and seafood grilled on the barbecue, along with a wide array of salads, sandwiches, burgers and pizzas. The range of drinks is just as extensive, from popular smoothies and cocktails to wines and beers, both draught and bottled. You can do walk-ins but best to book this one in advance. Also, to coincide with the opening of the Frida Kahlo: Making Her Self Up exhibition at the Victoria and Albert Museum, the summer Terrace has re-opened with the Mexican artist at heart this year. So, in addition to the popular barbecue-style menu, a separate Mexican themed food and cocktail section is offered to guests as an ode to Frida.
To book call +44 (0)207 858 7223
☼☼☼
Picture coming shortly (sorry)
A restaurant that's been at the top of its game for 36 years and still draws the great and good is one you know will have impeccable service and amazing food. The elegant Santini Restaurant offers this in abundance. The Terrace can't be booked and its very popular…so book early if you can.
To book the restaurant indoors call +44 (0) 207 730 4094
☼☼☼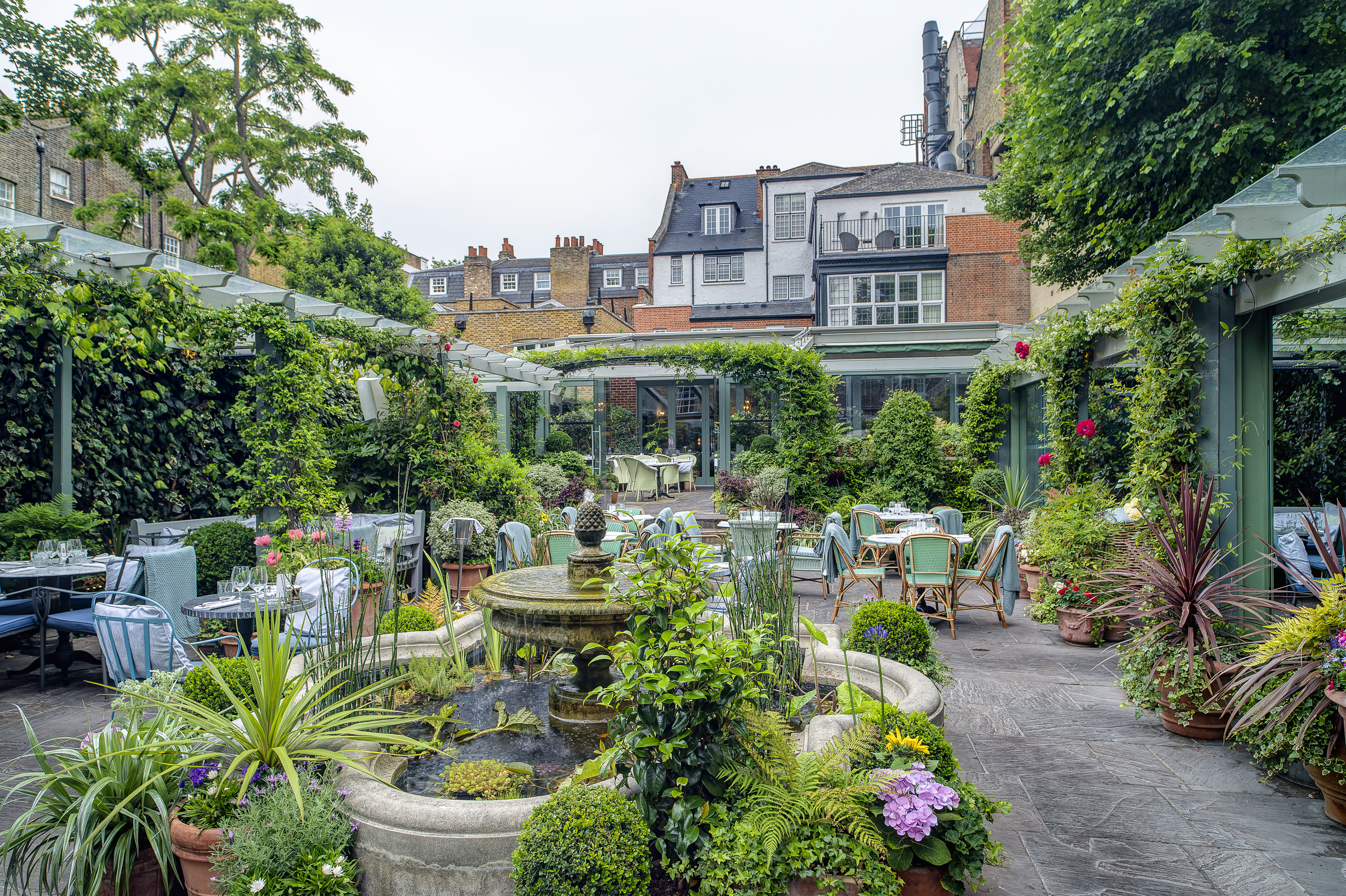 The Ivy Chelsea Garden combines approachable sophistication and familiar luxury with an underlying feeling of glamour and theatre. Situated on the King's Road, it offers easy access all day long – over half the tables are available to "walk-ins" but the beautiful garden at the back cannot be pre-booked due to not all of it being covered (just in case). Enjoy a menu serving modern British and international dishes from dawn till dusk indoor or outdoors, weather dependant.
To book (indoors) call +44 (0)203 301 0300
☼☼☼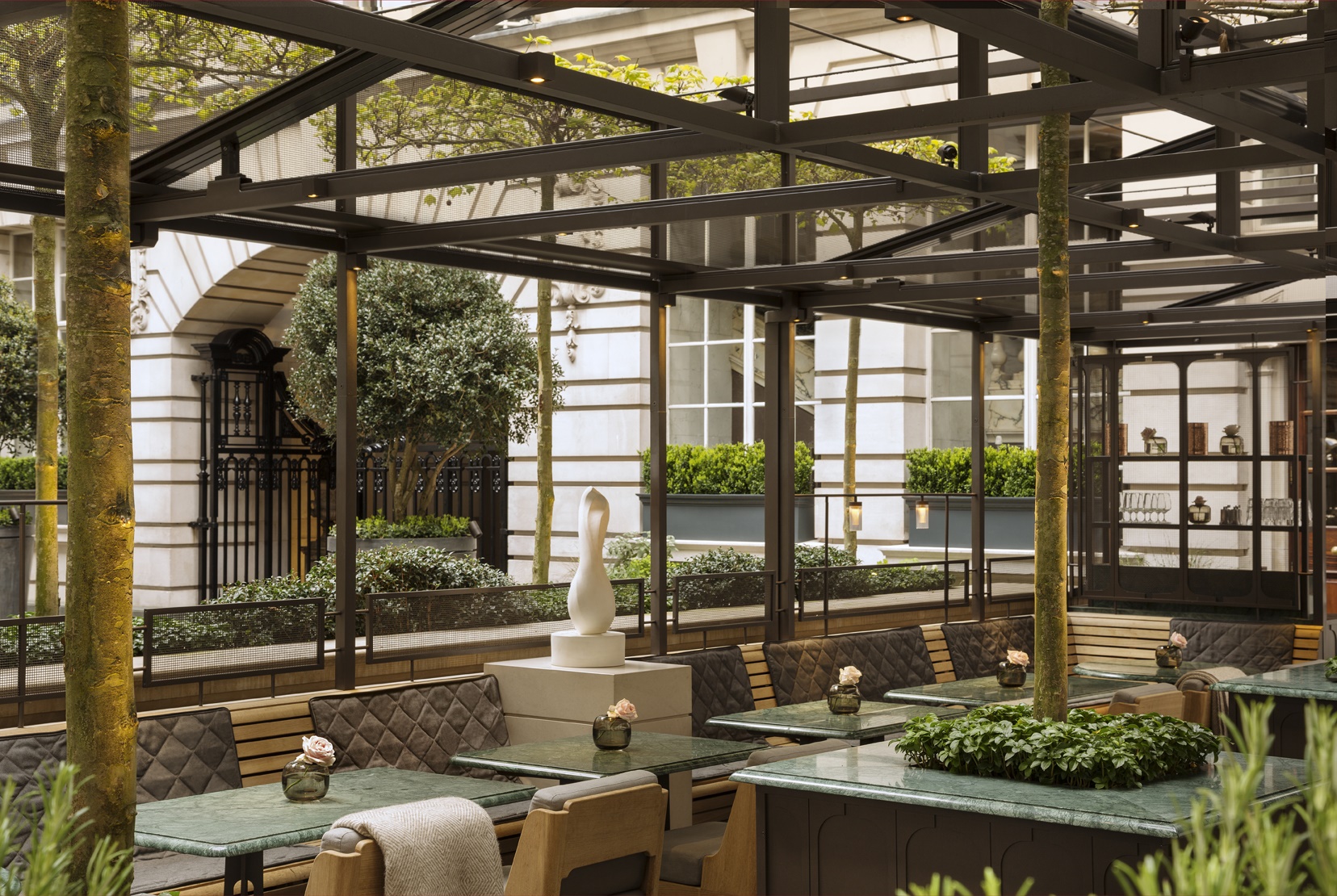 Transformed by award winning, landscape designer Luciano Giubbilei, The Terrace enables guests to savour unique food and drink offerings, reflecting the flavours and ingredients of each British season in a luxurious garden setting. Dine al fresco with seasonal lunch and dinner menus, created by Executive Head Chef, Calum Franklin. The Terrace at Holborn Dining Room welcomes guests all year on a walk-in basis.
To book (indoors) at the Holborn Dining Room call +44 (0) 203 747 8633
☼☼☼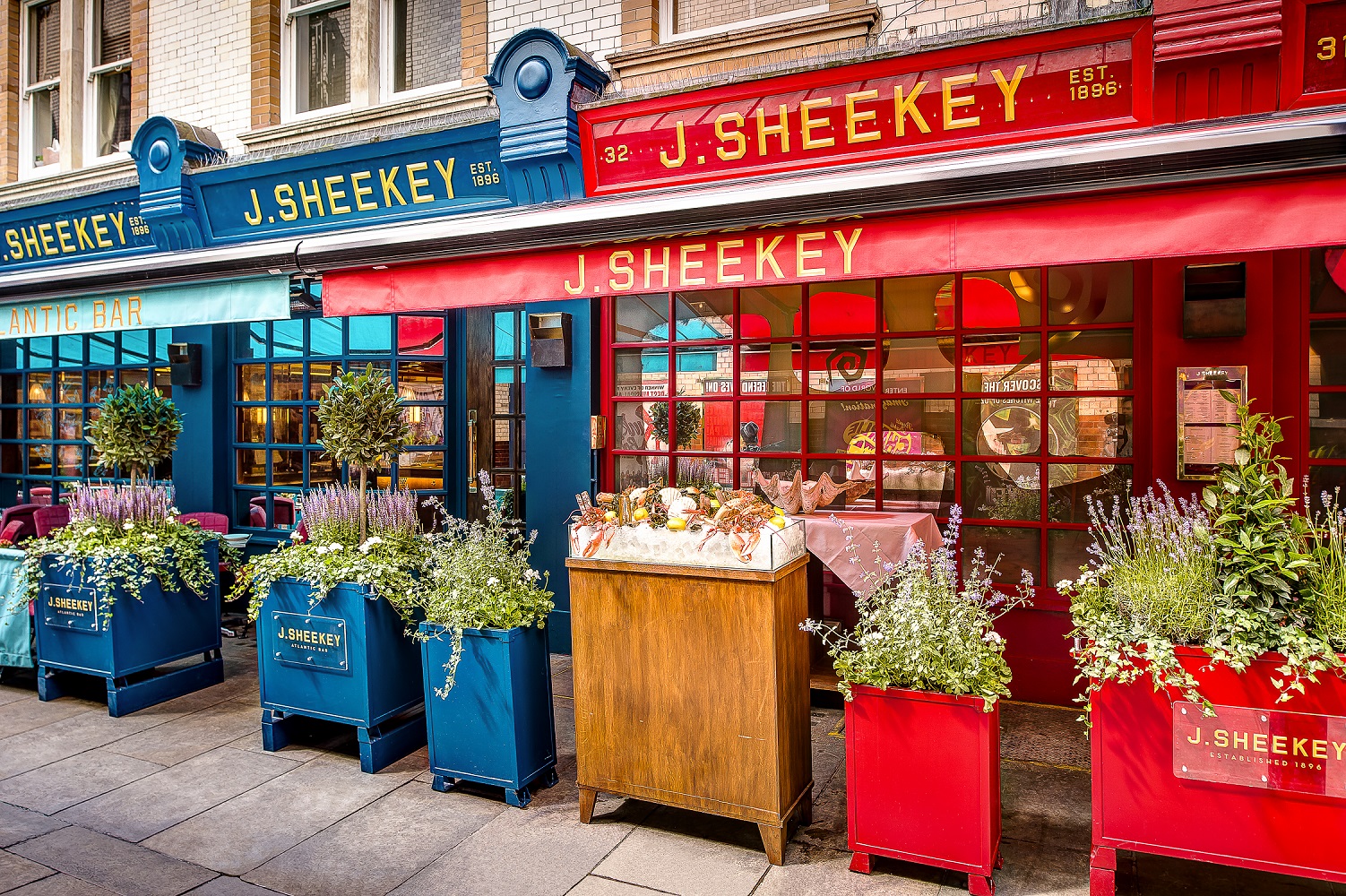 Josef Sheekey was an oyster trader in the late 1800's in Shepherd's Market. In 1896, the 3rd Marquess of Salisbury and then Prime Minister, Robert Gascoyne-Cecil, granted him a licence to open his first fish and seafood restaurant in St Martin's Court. "Sheekey's" was born. Its central position in the theatre world brings both cast and audience to flock here for immaculately sourced and perfectly prepared seafood – dressed crab, shellfish and the famous fish pie – continuing the evening's entertainment. In 2008, it was joined by the more informal J. Sheekey Oyster Bar next door (now the J. Sheekey Atlantic Bar). Its street, St Martin's Court, positively overflows with J. Sheekey, its Atlantic Bar and their terraces. Open daily from midday until late, food is seasonal, delicious and appeals to seafood enthusiasts. The terrace is ideal for al fresco dining in summer, and fully equipped with heaters and blankets for the winter months. Terrace seating can be booked in advance, for up to 4 diners and is booked for a maximum 1.5 hours per seating.
To book J. Sheekey or J. Sheekey Atlantic Bar call 0207 240 2565
☼☼☼