Dining in Stately Homes & Palaces
If you are more partial to palatial plates than pub grub, then pop on your finery at the country's most aristocratic of settings where everyday dining can become a stately occasion. Grand country and city homes able to trace their history back to occupation from a monarch are scarce, but these lavish properties and palaces have the royal seal: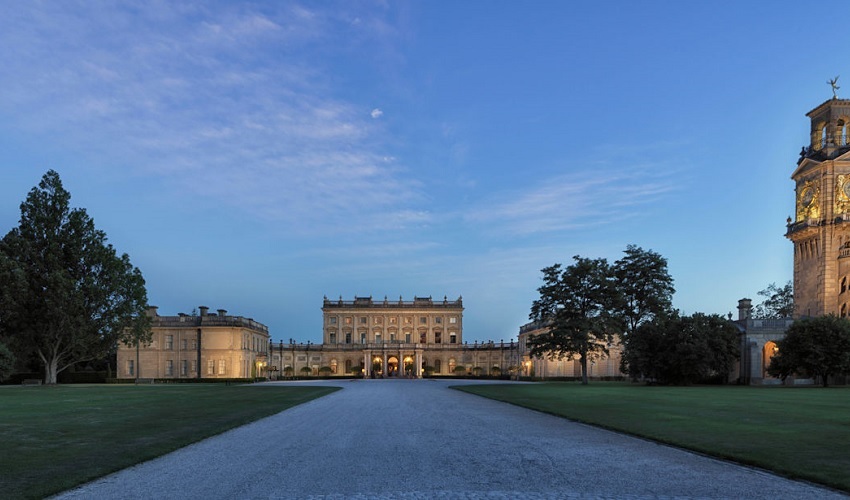 Cliveden has been home to an earl, three Countesses, two Dukes, a Prince of Wales (Frederick, in 1737) and the Viscounts Astor. Others may just remember it as the pre-wedding venue for Meghan, Duchess of Sussex before her wedding to Prince Harry earlier this year.
Enjoying a commanding position on a chalk cliff, the name Cliff-dene was given to the estate in the 1660's when the first house was built by the 2nd Duke of Buckingham. It's thought the Duke built Cliveden for his mistress, the Countess of Shrewsbury. In 1668, on hearing of the affair, her husband challenged Buckingham to a duel and was fatally injured. Successive owners sculpted the gardens and landscape, sparing no expense to create a magnificent summer retreat. The current house owes its elegant architecture to Sir Charles Barry, famous for designing the Palace of Westminster. His decadent masterpiece, created for the Duke and Duchess of Sutherland in the 1850's, is the third house here, the other two having burned down.
Cliveden has always been at the centre of political and social life. However, it was while Nancy and Waldorf Astor lived here during the first half of the twentieth century that Cliveden became famous for its lavish hospitality and glamorous guests. Cliveden hit the headlines in 1963 when it became known for the Profumo Affair when the then Secretary of State for War, John Profumo met call-girl, Christine Keeler, by the swimming pool. Profumo's affair caused concern for national security as Keeler was also involved with a Soviet naval attaché. It was the end of Profumo's career and nearly brought down the government. The Astors ceased to live at Cliveden in 1968, shortly after the Profumo Affair and Bill Astor's death.
The house, interiors, temples, pavilions, follies, clock-tower, themed gardens, sculptures, paddocks, parterre and woodlands are now part of the National Trust, bequeathed to them by the Astors. The National Trust have leased the property to various successive hotel owners, to current day owners, property developers Richard and Ian Livingstone, owners of London & Regional Properties, who have made Cliveden now one of the UK's finest hotels, spas and restaurants.
Dine here with the Luxury Restaurant Club and as a member you will dine complimentary from the a la carte or tasting menus, usually £97.50 per person in the fine dining André Garrett Restaurant, or 10% from the market lunch menus priced at three courses for £36, and 10% in The Astor Grill. See Club details.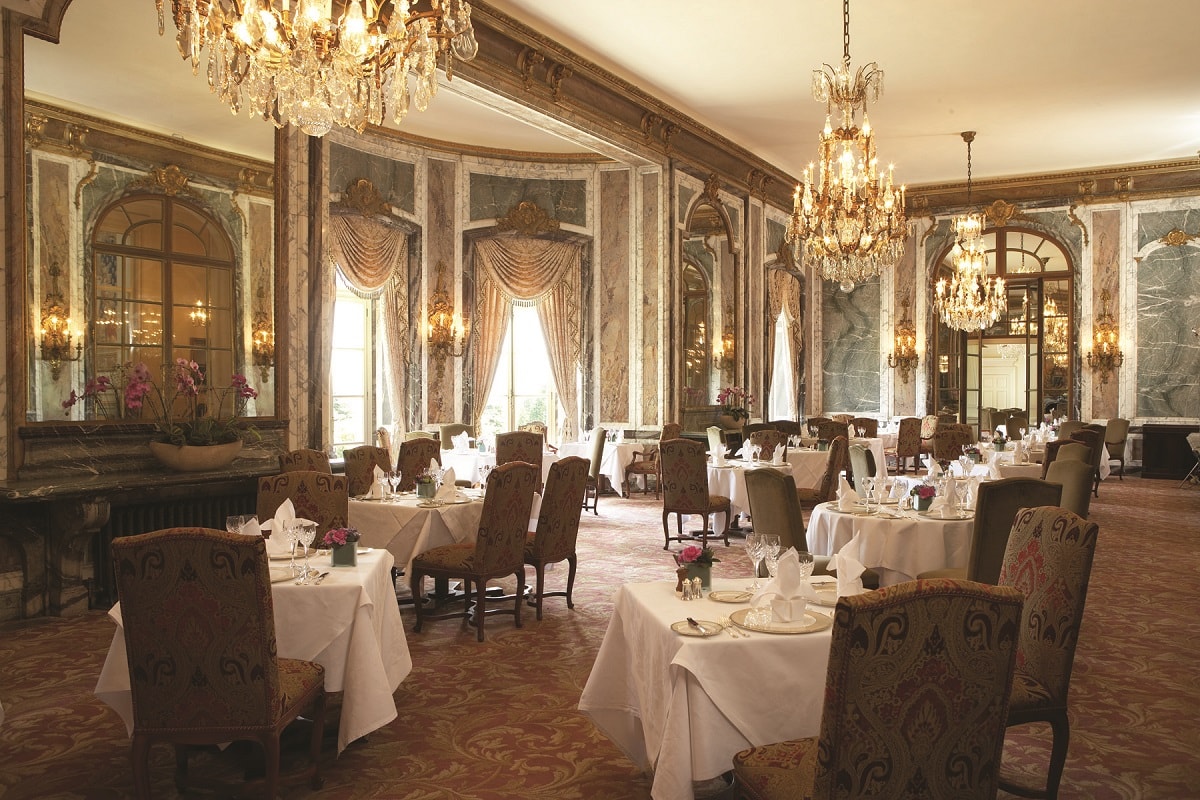 We include Luton Hoo, not for its residents who have included a Knight of the Garter, Lord Thomas Hoo, or the British nobleman who served as Prime Minister briefly from 1762 – 1763, John Stuart, 3rd Earl of Bute, nor for the succession of visitors which include a number of kings and queens and Winston Churchill, but for the latter day owners of Harold Augustus Wernher and his wife, Anastasia de Torby, for being the morganatic daughter of a member of the former Russian Imperial family.
These days it is part of the Elite Hotel collection where you can dine, stay, spa or golf at your leisure in this stunning five star location. Above shown, is the fine dining Wernher Restaurant, which was re-modelled by the architects of The Ritz during Sir Julius Wernher's ownership, Harold's father, to recreate the same at Luton Hoo in a lavish Edwardian 'Belle Époque' style.
Enjoy dining for midweek lunch with two courses for £26 or three courses £31, dinner three courses £45 or Tasting menu £69.50. Dine with the Luxury Restaurant Club and members dine complimentary meaning the above prices will be for two people to dine rather than per person. See Club details.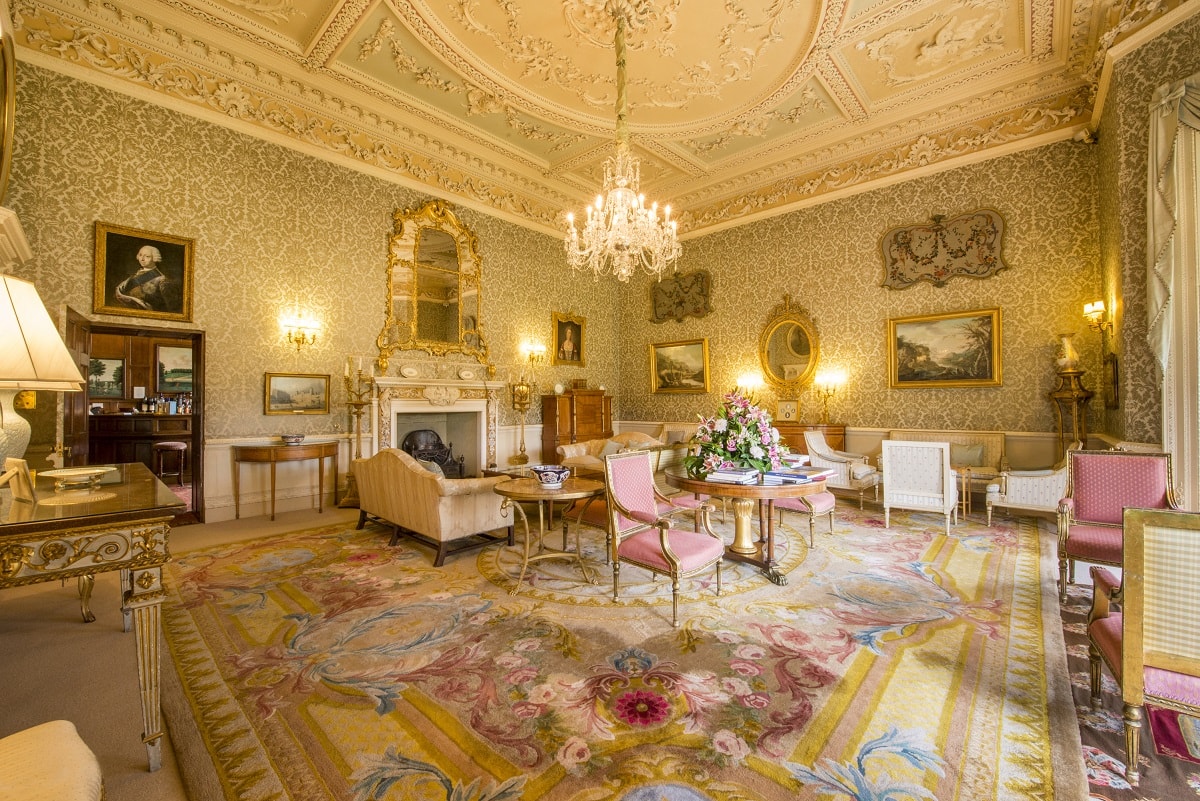 Hartwell House has a remarkable history, stretching back almost a thousand years to the reign of Edward the Confessor. It has been the seat of William Peveral the natural son of William the Conqueror; of John Earl of Mortaigne who succeeded his brother Richard the Lion Heart as King of England in 1199; and of Louis XVIII, the exiled King of France who held court there from 1809 to 1814. Louis was joined at Hartwell by his Queen, Marie Josephine de Savoie, his niece the Duchesse D'Angoulême, daughter of Louis XVI and Marie Antoinette, his brother the Comte d'Artois, later Charles X, and Gustavus IV the exiled King of Sweden.
Back to the present, Historic House Hotels have undertaken a complete restoration to the highest standards of the house and grounds, opening as a hotel in July 1989. The gardens and park have been extensively restored and some garden buildings and ornaments have been moved to their original, or found more suitable, positions. A dramatic new entrance sweep has been constructed, centered not only on the house, but also on the life-size equestrian statue of Frederick Prince of Wales, rescued from obscurity in a shrubbery. Thus entering a new phase of its long and distinguished history.
Dine in the main house fine dining restaurant with the Luxury Restaurant Club and enjoy 15% off your total food and drinks bill where prices before discount are: Seasonal luncheon two courses £27 and three courses £35; seasonal dinner two courses £45 or three courses £51; or Bill of Fare menu two courses £53 or three courses £64. See Club details.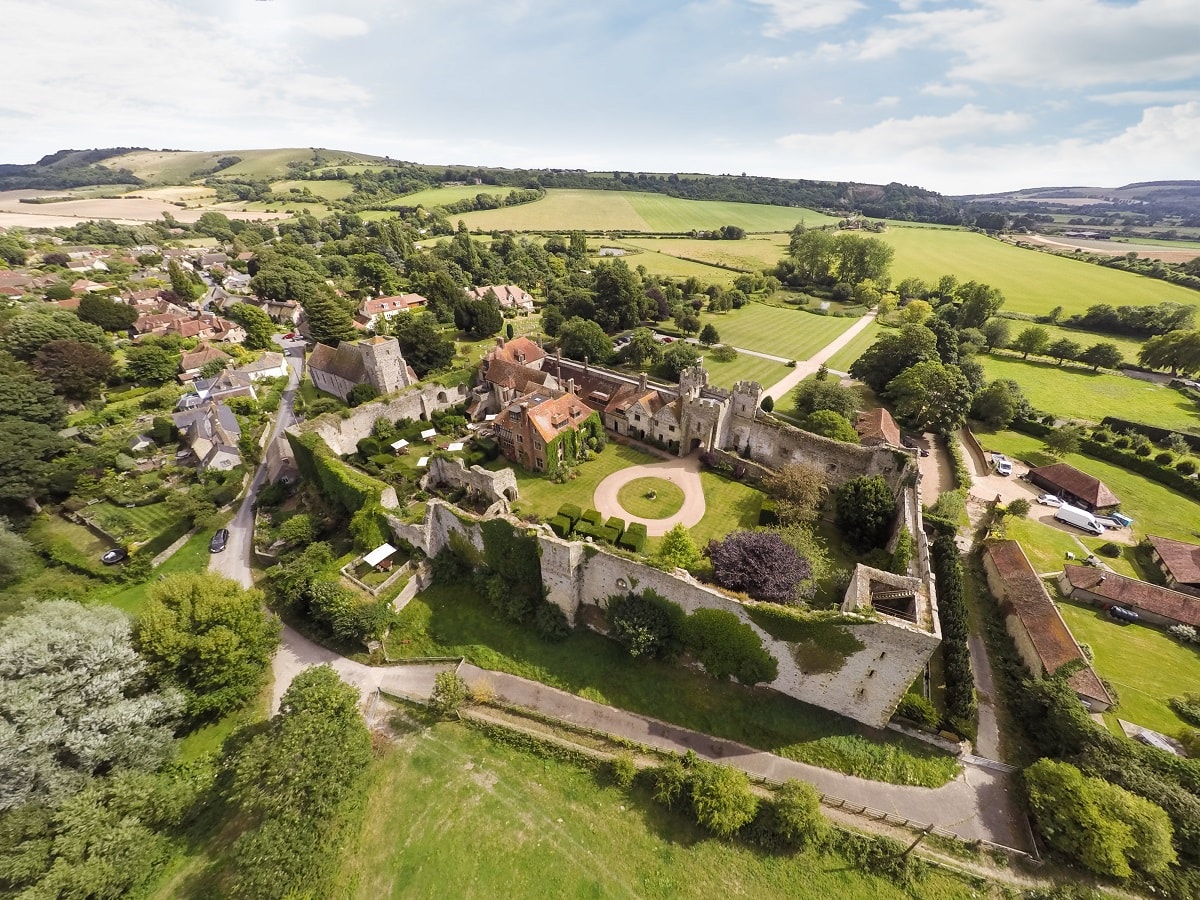 For the majority of its long and revered history dating as far back as 683 AD, Amberley Castle has been owned by the church for use by various bishops. Around 1526 when the new Church of England was formed, many church estates fell into Crown ownership. Although Amberley Castle didn't at this stage, it was then leased out to various tenants, one of which was Elizabeth I from 1588 to 1603. After the Civil War and its subsequent falling out with Parliament and Oliver Cromwell, it fell into disrepair and into Crown ownership who sold it on to a wealthy cloth merchant, John Butler, who set about renovations. However, when Charles II visited in 1660 he decreed ownership back to the Bishopric.
From here the Church eventually sold the property back to private hands in 1872 where it fell to various notable individuals who have all made significant contributions to its present day existence, most notable by Joy and Martin Cummings who turned it into a hotel in 1988. Today (and since 2011) it is owed by Andrew and Christina Brownsword, forming part of the Brownsword Collection and one of the finest hotels and restaurants in the UK.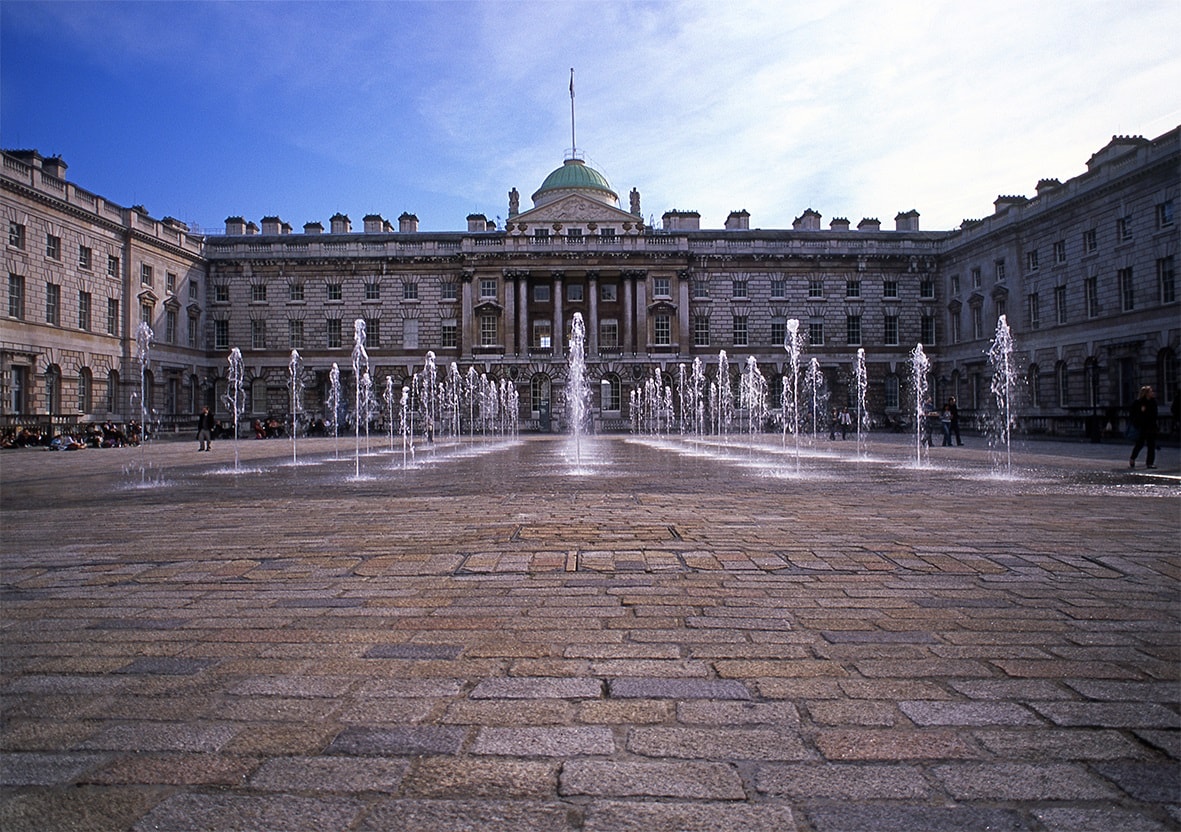 If not for an Act of Parliament, Buckingham Palace may instead have been Somerset 'Palace', not Somerset House. Built on the site of a Tudor Palace, the original Somerset House was built for the Duke of Somerset and Lord Protector but he was overthrown and executed in Tower Hill in 1551 before the building was finished. Somerset Place as it was then known, passed into the possession of the Crown where it was subsequently residence for the future Queen Elizabeth I during the reign of her half sister Queen Mary I. It then became the residence for King James I wife, Anne of Denmark, being renamed Denmark House, for Queen Henrietta Maria in 1661, then to Catherine of Braganza, wife of King Charles II.
However, in the 18th century the building ceased its royal associations as it started to fall into a state of disrepair, and in 1775 parts were demolished. All may have been demolished had it not been for an Act of Parliament to keep national buildings for national pride and public offices. Although the building had originally been ear-marked for Queen Charlotte in the event her husband predeceasing her, Parliament instead provided Buckingham House. However, the King outlived Queen Charlotte and successive kings and queens then lived in the renamed Buckingham Palace.
A new Somerset House was then built to house various government departments and also a home for the arts and learning.  Step forward to today and Somerset House is still a prime centre for art and culture. It is not on public subsidy so the upper floors are commercially rented to creative businesses, and the ground floor remains in public realm for programmes of visual arts and services to the public. Within this wing you will find the more fine dining element supplied by Chef Skye Gyngell's, Spring, which offers the best of seasonal cooking in a stunning dining space in the the 'New Wing', Bryn Williams for casual Modern British cuisine and the stylish Pennethorne's Cafe, named after Sir James Pennethorne, who designed Somerset House's New Wing, for all-day dining and lighter meals.
Dine with the Luxury Restaurant Club at Spring and enjoy welcome drinks, or at Pennethorne's Cafe and enjoy 20% from your total bill when you dine. See Club details.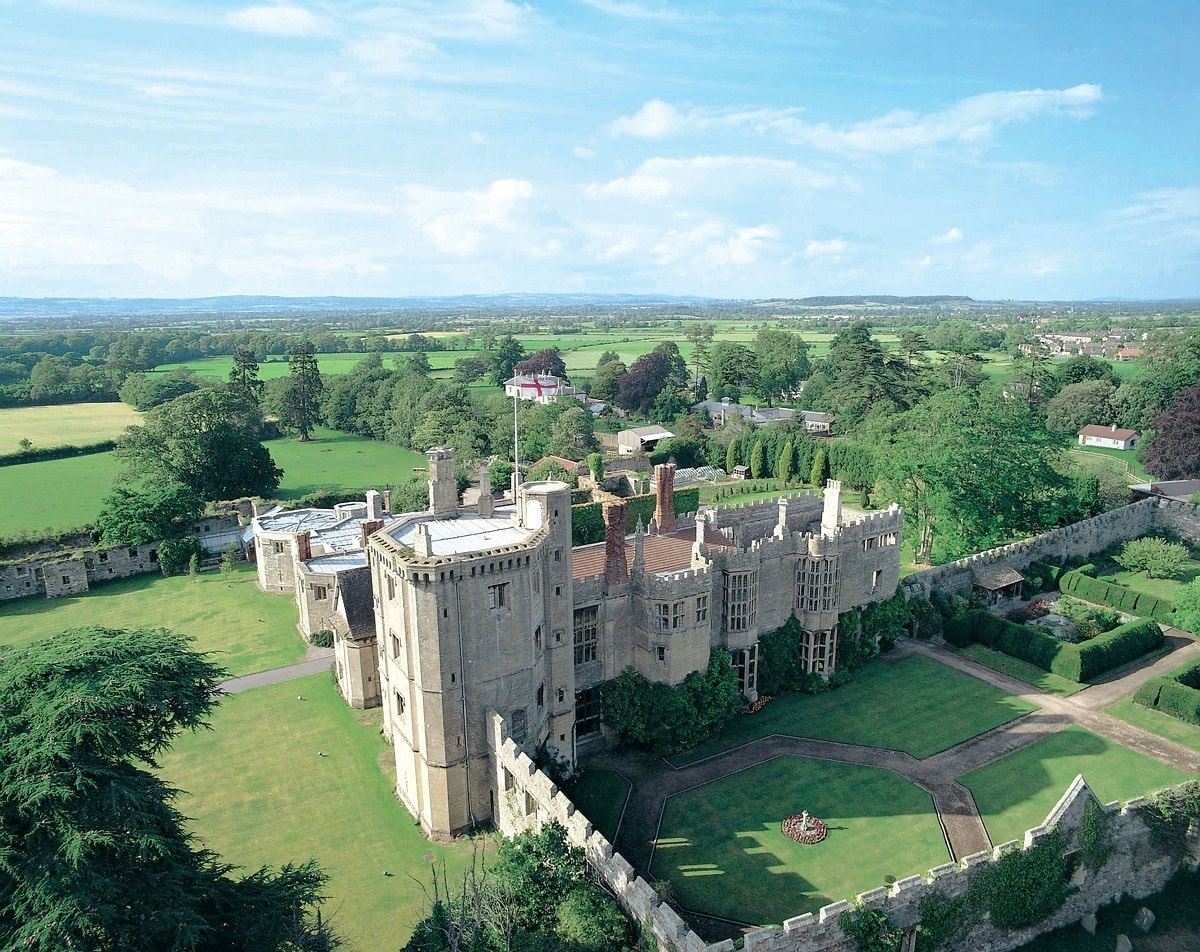 The manor of Thornbury dates back to the 10th century and the time of the Domesday Book. In a disastrous ancient love triangle, Brictric – one of the manor's earliest recorded owners – lost possession when he spurned the advances of Matilda of Flanders. Matilda later married William the Conqueror, who seized Thornbury, awarded it to his Queen and imprisoned her one-time love.
Edward Stafford, Duke of Buckingham, during the reign of Henry VIII built one of the most magnificent building projects of its time, though he wasn't able to enjoy it for long. When, in 1510, Henry VIII granted the Duke a licence to castelle his manor (the Duke used as a symbol of status rather than defence) the King envisaged no challenge to his crown. After being betrayed to the King by a disgruntled servant – Cardinal Wolsey, Stafford was arrested for high treason and executed on Tower Hill. Henry claimed the castle for himself, spending ten days here while on his honeymoon tour with Anne Boleyn. It remained royal property until the death of his daughter Mary I, when it was returned to the Duke's descendants.
For two centuries (from 1550 to the mid-nineteenth century), the castle was unoccupied, virtually neglected and fell into ruin. This was mainly due to the lack of ability to upkeep such a magnificent home, thus it remained a picturesque ruin and well known to admirers of ancient architecture. In the 1850's, it was saved and turned into a family home by Henry Howard who inherited the property in 1824 where he undertook the major restoration work by commissioning Anthony Salvin. He re-roofed the state apartments and restored the interior to his own designs. The work was completed in 1854. For the first time since the sixteenth century the Castle became, in part, what Buckingham had intended: a splendid and comfortable residency worth of its illustrious founder.
The Howards, the last in the lineage being Sir Algar Howard KCB, sold it to the Clifford family in 1959. They in turn sold it in 1966 to Kenneth Bell MBE (fortune made from his frozen seafood empire) and sold in 1986 to Maurice C.R Taylor of Portlethen (The Baron of Portlethen) who first developed it as a hotel. This was then sold to the von Essen Collection in 2000. The von Essen empire purchased 33 of the UK's finest hotels before falling into administration, owing Barclays an eye-watering £250 million as reported. The property was then purchased by its current owners, Luxury Family Hotels.
Book in to dine and Luxury Restaurant Club members receive 20% reduction from the food bill for lunch. Lunch menu, before discount, is two courses £21.95 or three courses £26.95. Dinner dining is two courses £42.00, three courses £50.00, Tasting Menu – £65.00 per person. See Club details.
***