Chef's Recipe: Soy Keema, Quail Egg, Lime Leaf Butter Pao from Indian Accent
Manish Mehrotra, Corporate chef for Indian Accent Restaurants, is widely regarded as the most exciting modern Indian chef in the world today. His brainchild, Indian Accent, of which there are now three: New York; New Delhi and London, has been recognized globally by diners and critics alike. His first in New Delhi is the only restaurant from India on the prestigious S. Pellegrino World's 100 Best Restaurants List. It also has the privilege of being the only restaurant in India to feature in the Asia's 50 Best Restaurants 2017. National acclaim was marked by Indian Accent being Awarded Restaurant Of The Year (Times Food and Nightlife Awards 2017) and ranked as the No.1 Restaurant in India by TripAdvisor for four consecutive years. London opened in 2017. Try this great vegetarian recipe, or even better, book the restaurant to try his inventive Indian cuisine. with special welcome gift from the Luxury Restaurant Guide, see below.
Ingredients
For Soya Keema
40gms dried Soya granules
5gms Garam Masala
5gms Cumin powder
10gms Coriander powder
5gms red chili powder
3gms Turmeric powder
Salt to taste
10gms root ginger, chopped
10gms garlic, chopped
3gms green chili, chopped
5gms fresh Coriander, chopped
60ml Desi ghee
30gms red onion, chopped
120gms fresh tomato, chopped
2 x Quail eggs
Parmesan shaving for gratination
For Lime Leaf Pao
250gms Flour
Salt to taste
30gms Sugar
10gms Yeast
90gms Milk
1 x egg
50gms salted butter
1tsp Kaffir lime leaves, finely chopped
60gms yellow butter (for brushing)
Method
For Soya Keema
Add the soya granules to boiling water and simmer until it becomes soft. Strain and keep for further use.
In a heavy bottom pan, pour ghee and saute chopped onion until golden in colour. Add Turmeric and Chili followed by chopped tomatoes. Then add cumin and coriander. Cook until the onion and tomato mix leaves the side of the pan and add the boiled soya granules and saute for 2-3 minutes. Simmer until a grainy consistency is achieved. Adjust the seasoning to taste and finish with chopped coriander and garam masala.
Pour the keema into a serving dish and break the quail egg on top. Then add parmesan shavings. Bake the keema in a pre-heated oven until the yolk is slightly soft. Serve with lime leaf pao.
Bake the keema in preheated oven til the yolk is slightly soft
Serve with Lime Leaf Pao
Method
Prepare Pavdough:
Sift flour and salt together
Dissolve yeast and sugar in milk in a mixing bowl. Using a hand mixer, blend in the milk at a low speed for about 1 minute
Add the sifted flour, mix well on same speed for 2 minutes
Add eggs and knead for 2 minutes til the dough has absorbed all the moisture. Add softened butter and chopped lime leaves
Mix for 2 minutes to form a rich, intense dough. Rest the dough for 30 minutes
Bake Pavs:
Divide the dough in portions, each of around 5gms. Shape them into rolls
Place the rolls on a lined baking tray, with a little space between each roll to give them room to rise
Keep the rolls aside in a warm place for 30 minutes
Bake in a pre-heated oven at 220 degrees C for 7-8 minutes
Using a soft brush, polish the hot pavs with salted butter
Alternatively, dine at Indian Accent instead?
The Luxury Restaurant Guide showcases only the finest UK restaurants. Download our free restaurant app and follow steps to club membership to enjoy instant rewards and exclusive offers at 500 + highest ranked restaurants from £10 per month. When dining in Indian Accent enjoy a complimentary welcome glass of Moët & Chandon for all members and their guests, see details.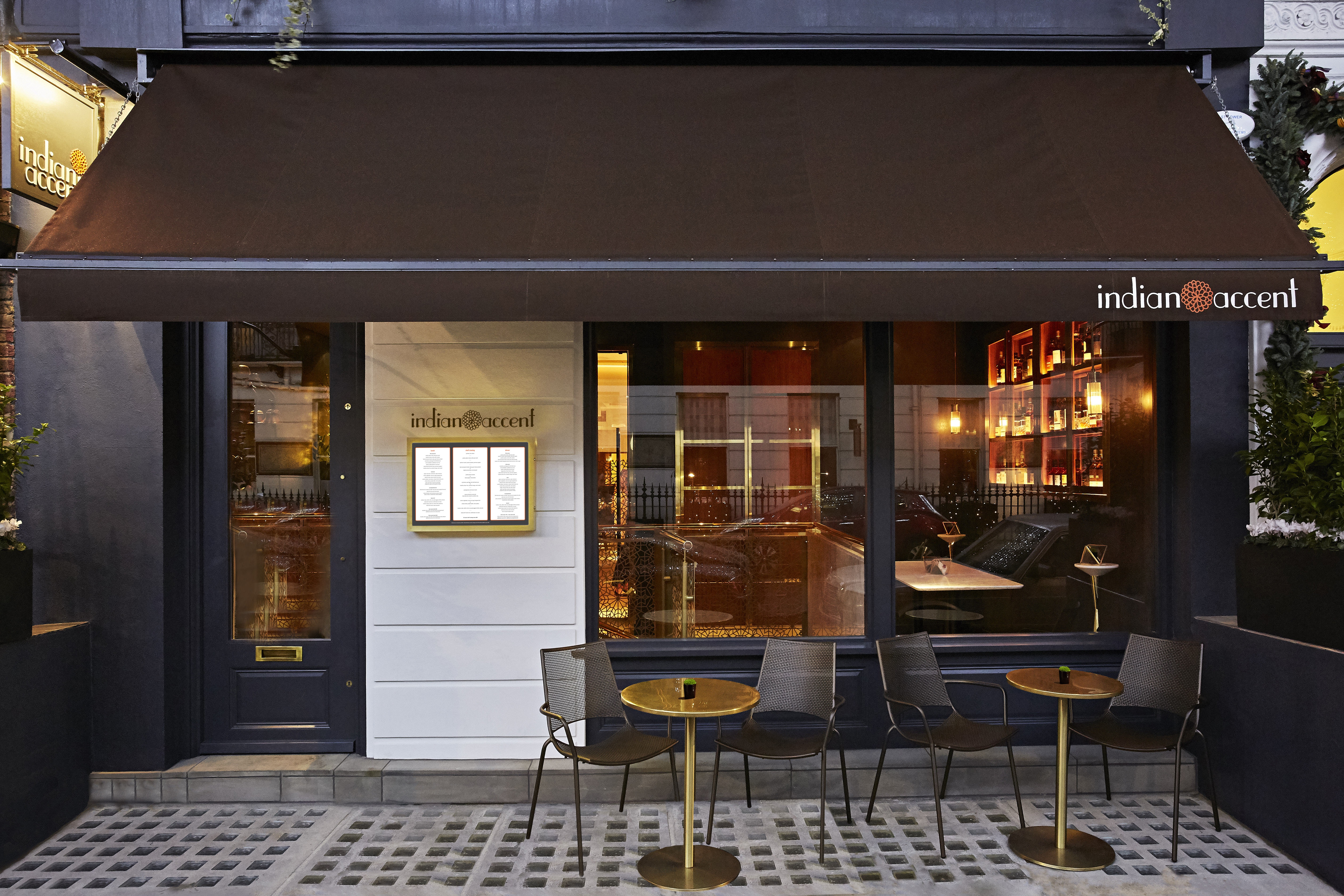 Recipe by:
Chef Manish Mehrotra
Corporate Chef, Indian Accent Restaurants
Download the FREE LUXURY RESTAURANT GUIDE APP and discover the finest restaurants in the UK.