Modernist Restaurants in the UK
Architecture plays a significant part in today's restaurant dining adventure as diners crave the experiential from both environment and food. Daring designs, groundbreaking effects and outright experimentation is the order of the day, as restaurants make a break from urbanism and identikit spaces. The Luxury Restaurant Guide explores the restaurants and designers, either working retrospectively with existing buildings, or new creations, to find the UK's most interesting modern fine-dining restaurants.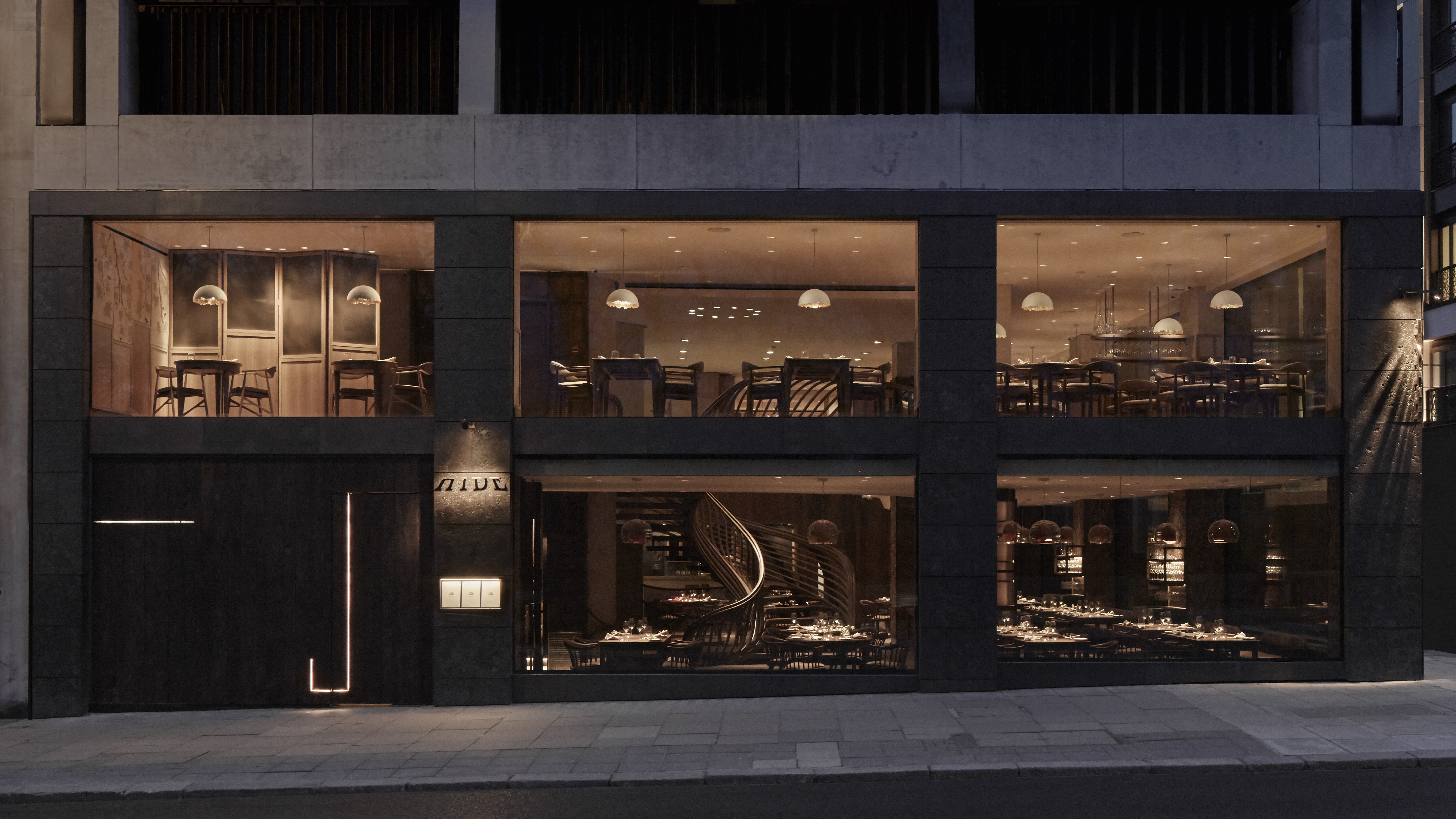 Hide was one of the most eagerly awaited restaurants of 2018, and now one of the most talked about. On the site of the former Fakhreldine restaurant, Hide is an extensive redesign over three floors, a joint project between Hedonism Wines and Ollie Dabbous. Lead interior designers were These White Walls and Lusted Green together with Hedonism's Yevgeny Chichvarkin and Tatiana Fokina. Each of the three floors has its own identity, all connected by a striking spiral staircase (lead picture), designed by Atmos Studio. The ground floor, offers an a la carte menu for lunch and dinner, as well as afternoon tea and breakfast with an open bakery. The mezzanine is for tasting menu and set lunch, and finally the bar offers a selection of Hedonism's finest and rarest spirits, along with a cocktail menu. There are four private dining rooms, The Hide & Seek Room, seating up to 20 people has hand-cast plaster artworks created by artist Rachel Dein, whereas The Reading Room is a bespoke creation from British artist Su Blackwell. Co-owner Yevgeny Chichvarkin, wanted to open a restaurant that would offer one of the finest dining experiences in London. Hide is the result.
– ᴸᴿᴳ –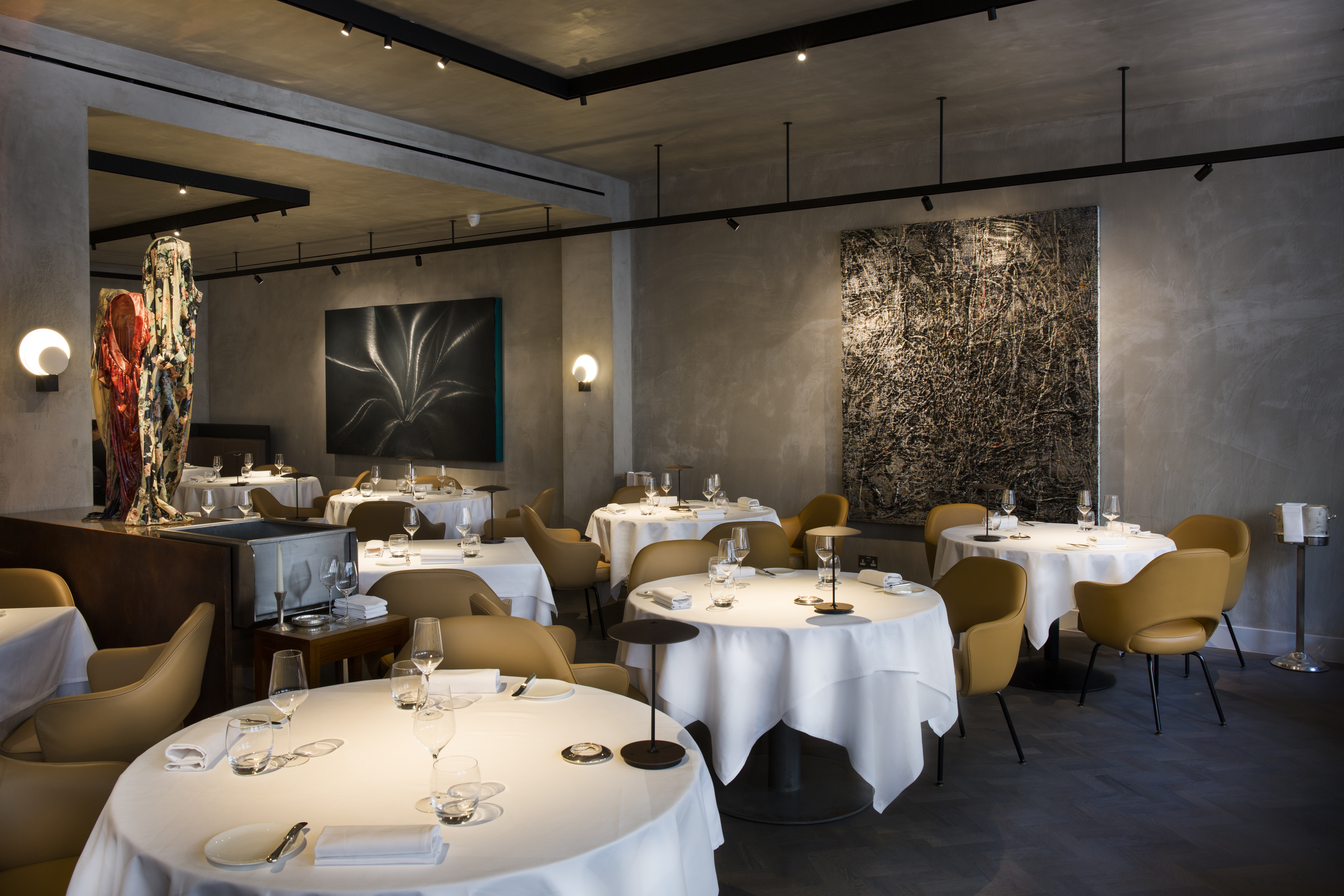 The Square is one of the most lauded London restaurants, and has achieved a tremendous reputation since its creation for its strong commitment to modern and inspired dining, quality of ingredients, immaculate service and attention to detail. The brief given to the design team, Virgile & Partners, was to place the 78 covers Michelin star restaurant at the forefront of the London scene by defying preconception of 'fine dining', presenting a more urban and unconventional approach, setting a new style that would defy trends, whilst maintaining its core values of quality and refinement. They have created a cutting edge, contemporary art gallery feel, which celebrates an innovative approach to food as well as highlighting the high quality of art on display, part of the owner's collection. The concrete and glass brick aesthetic of The Square is daring in its minimal and bold design, giving space for the food itself to shine.
A Luxury Restaurant Club location. Download free app and see offer.
– ᴸᴿᴳ –
It is a delight to finally be able to enjoy the iconic Battersea Power Station following a regeneration project that has been going on for years, well decades in fact. The Grade II listed building, which once supplied 20% of London's electricity in its peak, was decommissioned in 1983 and lay dormant as a great folly ever since. Now it's been (well still being) brought back to life and is billed as one of the most exciting and innovative mixed use neighbourhood's in the world – a place for locals, tourists and residents to enjoy a unique blend of restaurants, shops, parks and cultural spaces. The latest restaurant opening was on 12 March 2018, Vivek's Singh's Cinnamon Kitchen (Battersea), producing high quality Indian cuisine. Can't wait to go.
– ᴸᴿᴳ –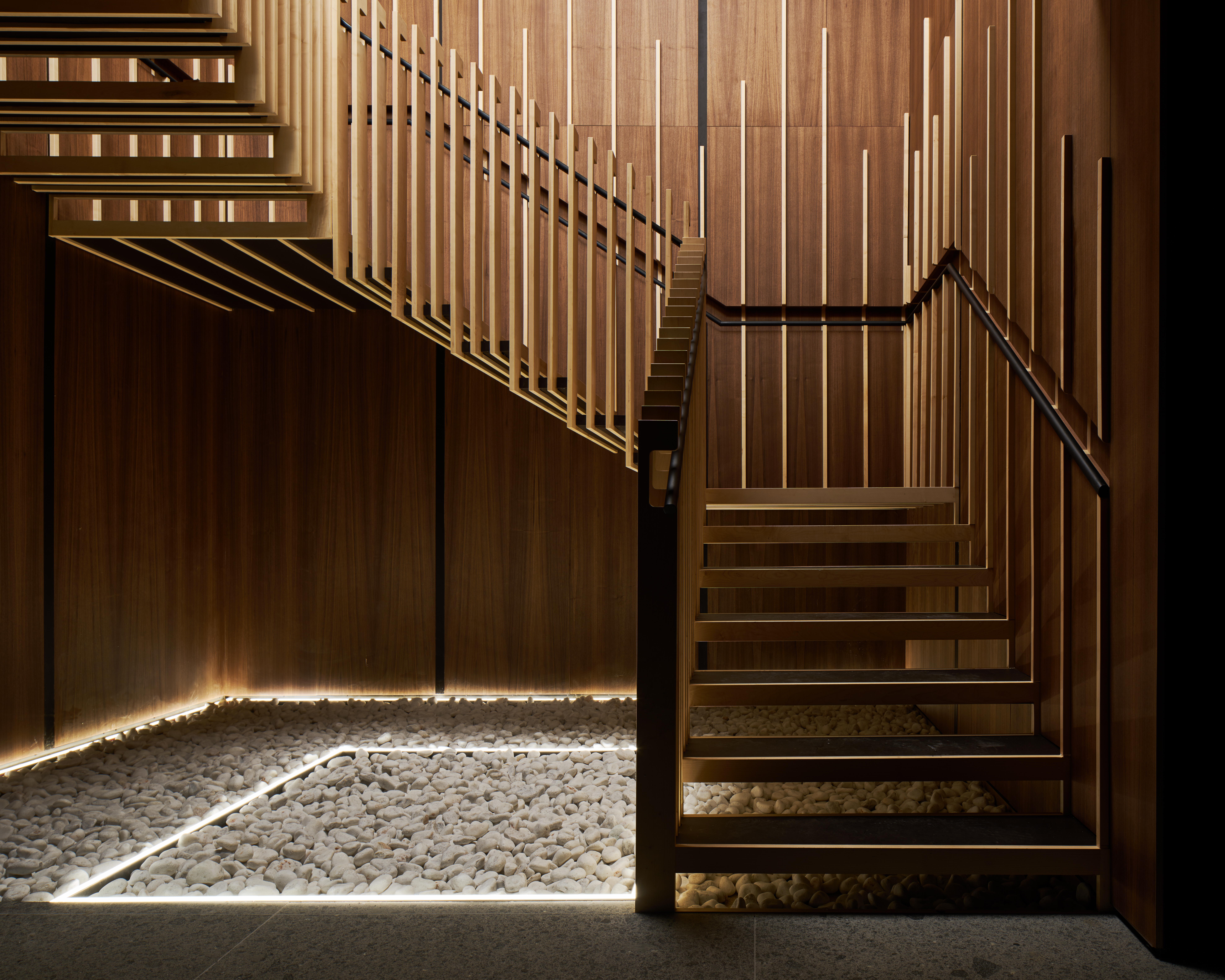 Opened at the end of 2017 Soba-specialists Yen London opened their 109 cover, fine-dining Japanese restaurant on the Strand. The interiors were designed to reflect traditional Japanese craftsmanship, using maple wood, Ikebana planting, and back-lit Japanese paper lining the walls to provide a soft and ambient light.
– ᴸᴿᴳ –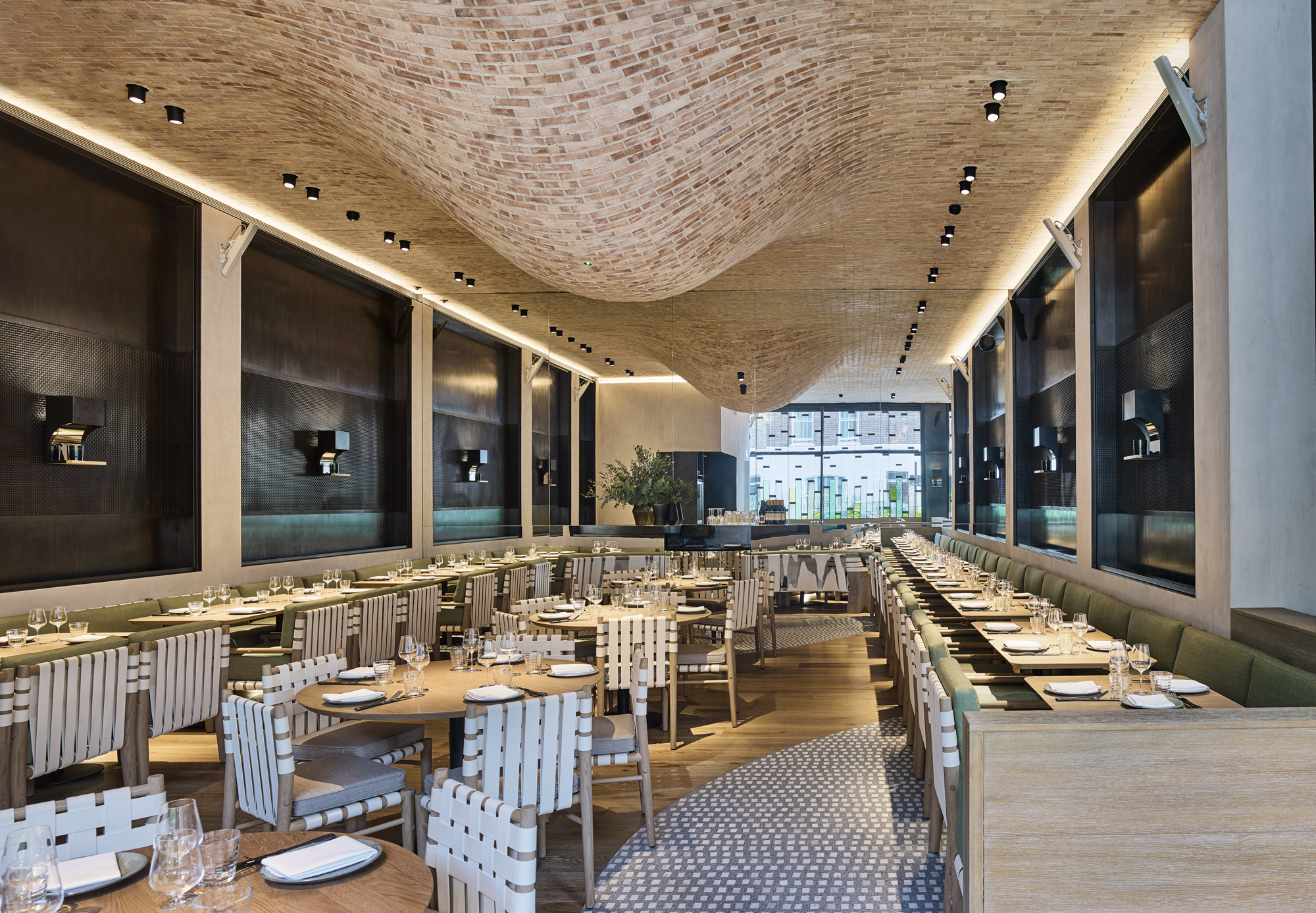 The eye catching designs by AMA, Andy Martin Architecture, won 2017 Restaurant Bar & Design Awards for Best UK Restaurant for Fucina, an Italian restaurant. The light-filled restaurant features an undulating red brick-lined ceiling, to emulate the inside of a pizza oven. On one side of the restaurant the red brick runs down the length of the wall and onto the ground merging with a bespoke marble terrazzo floor. Once inside, Fucina provides a haven for guests with the street obscured by handmade green glass and steel screens. The restaurant is centred around a large marble bar, which at one end will serve classic Italian cocktails, and at the other end a cichetti bar where Fucina's chefs add the final touch to dishes sent up from the lower ground kitchen.
A Luxury Restaurant Club location. Download free app and see offer.
– ᴸᴿᴳ –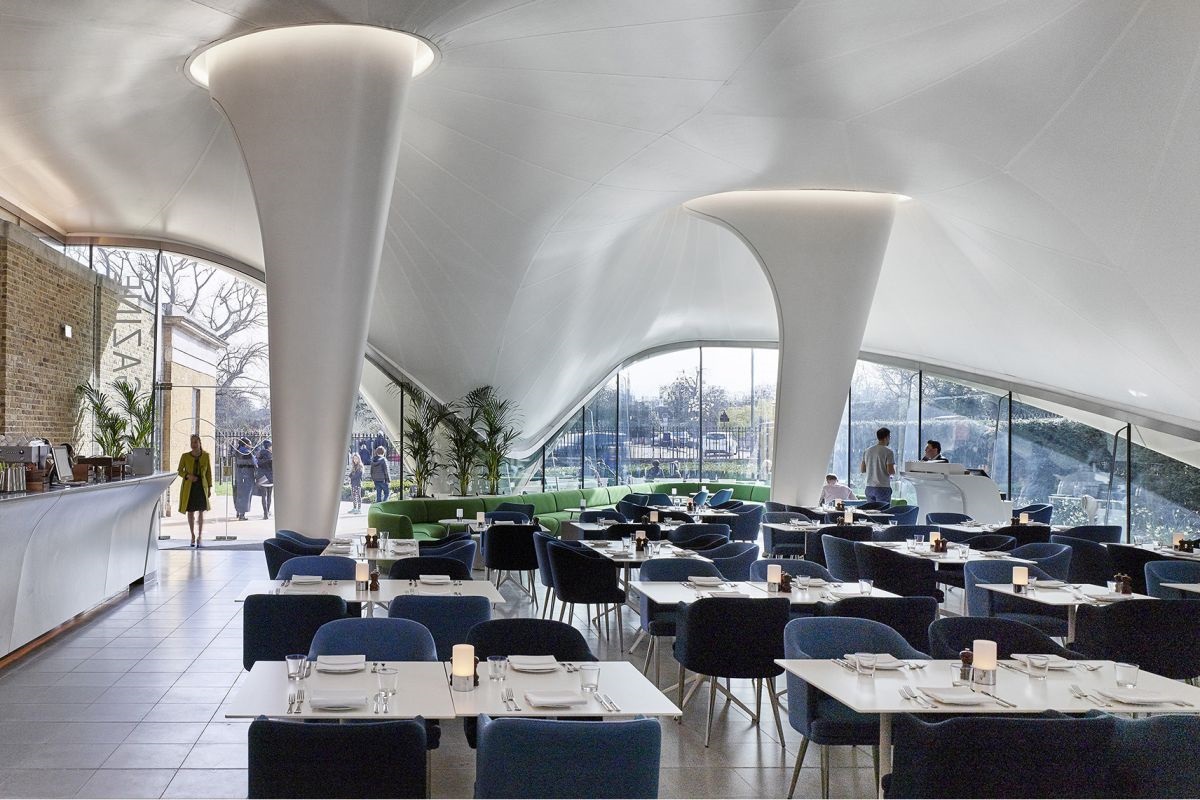 The Zaha Hadid-designed extension at the Serpentine Sackler Gallery in Kensington Gardens is a sight to behold. Hadid was widely recognised as a pioneer and leader in her field, with her creative brilliance winning her countless accolades and awards. Other stunning designs include The Riverside Museum Glasgow,  Guangzhou Opera House, Guangzhou, Dongdaemun Design Plaza, Seoul and the Vitra Fire Station, Germany to name a few.
– ᴸᴿᴳ –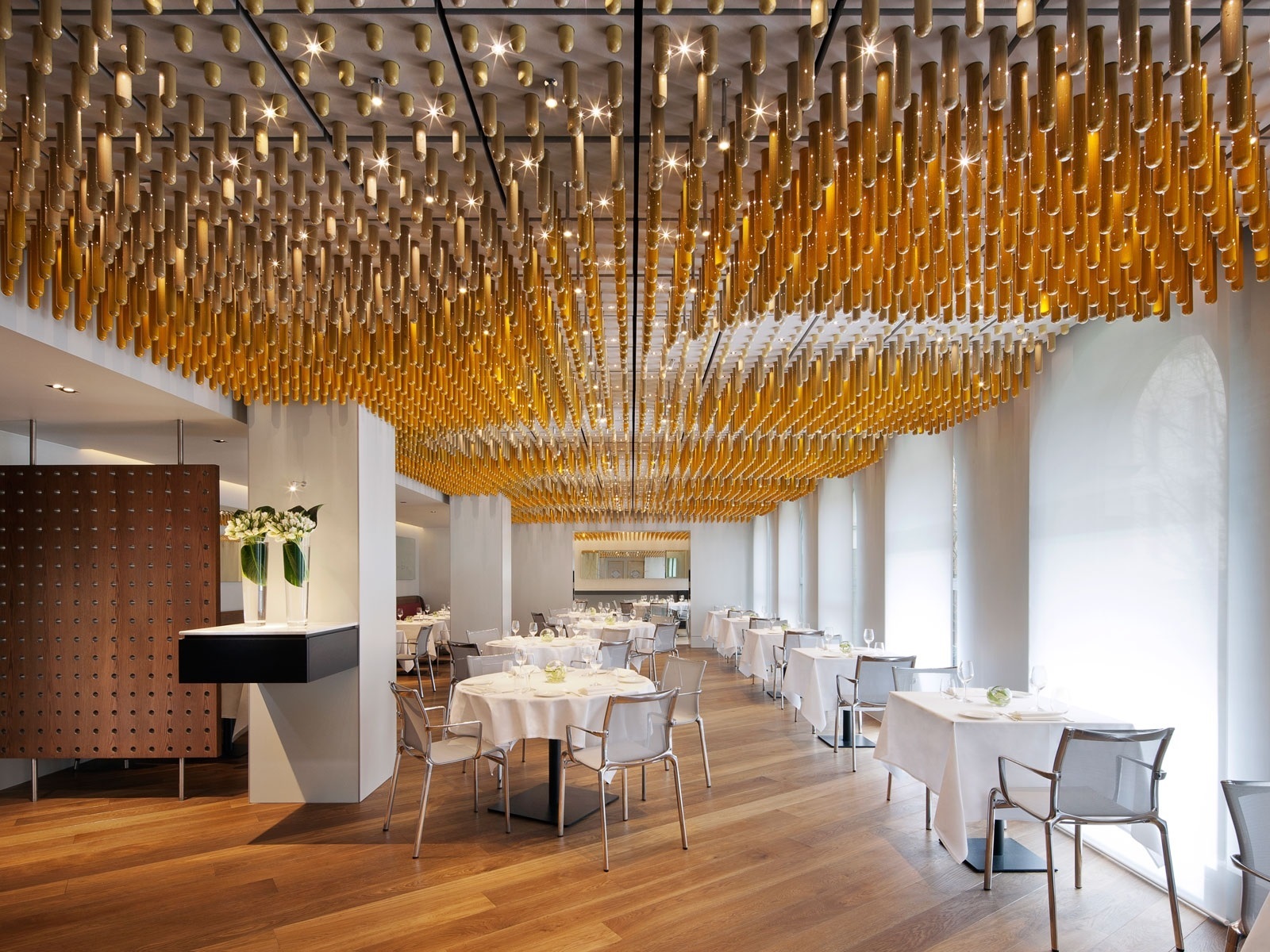 The Michelin-starred Basque cuisine restaurant is celebrated for both its cuisine and timeless elegance of the restaurant, which is as fresh and inspiring today as when it opened in 2013. The restaurant's interior was designed by London-based Ab Rogers Design, who took inspiration from the raw aesthetic of the original Arzak restaurant in San Sebastian, Spain, which holds three Michelin-stars. The focal point is the wave-like ceiling, created from 7,000 glass receptacles filled with spices. Other highlights include an oak floor laid at a 30-degree angle and lacquered walls that create a calm, light-filled interior.
A Luxury Restaurant Club location. Download free app and see offer.
– ᴸᴿᴳ –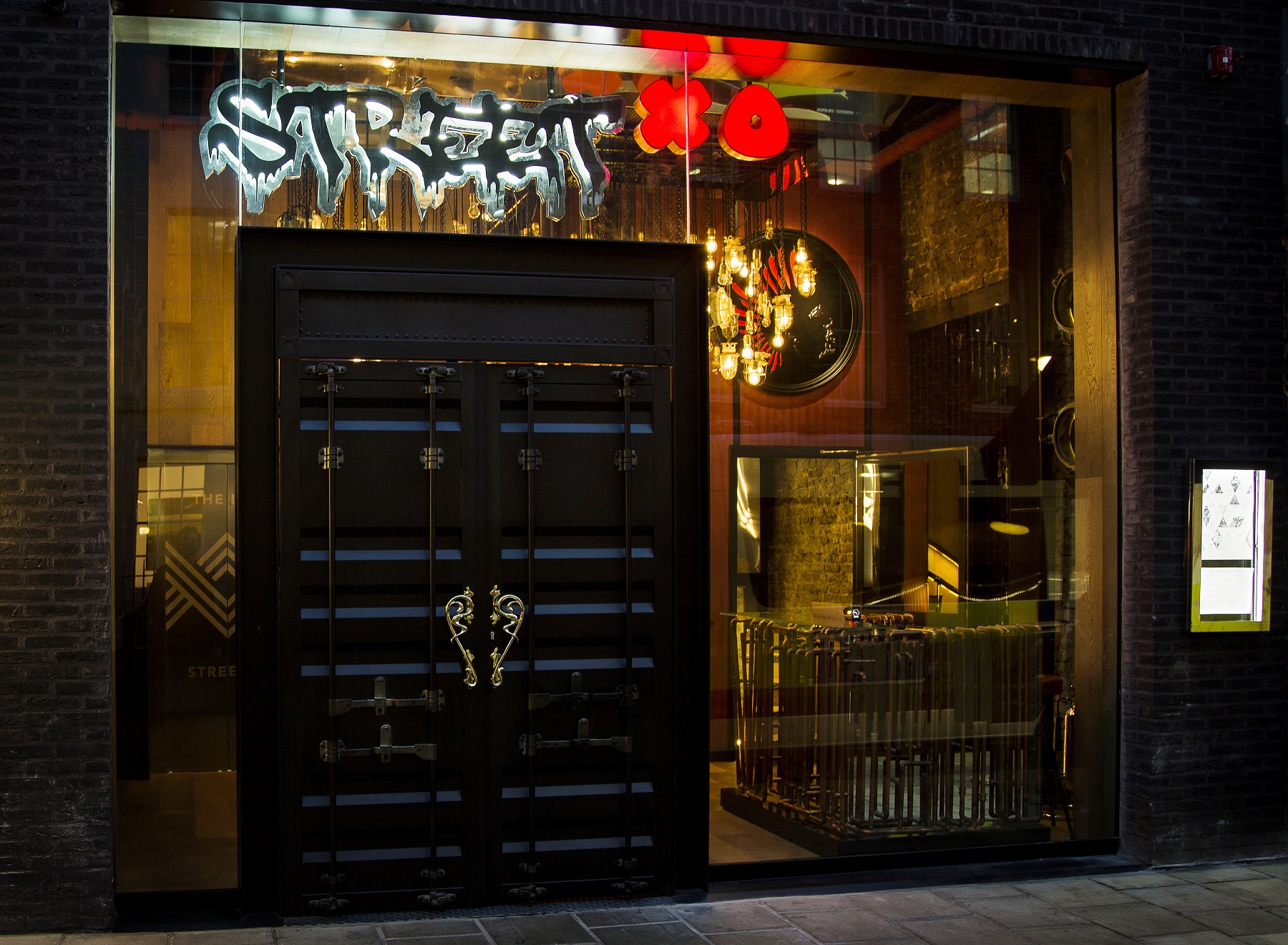 If ever a restaurant design showcased a chef's personality then we present Street XO. Street XO London is Chef Dabiz Munoz's high-octane restaurant located in the heart of London's Mayfair. Dabiz has been described as the enfant terrible of Spanish gastronomy, a superchef in his own right, having earned three Michelin stars for Diver XO in Spain – Madrid's only three Michelin-starred restaurant. Following its success, Street XO London opened October 2016. It saw another collaboration with Barcelona based designer, Lázaro Rosa-Violán, creating a crazy mix of neon visuals in a darkly-lit subterranean setting, producing an urban, gritty, street market effect that would fit comfortably in a side street in Hong Kong. So, take this setting, mix with loud (but not uncomfortable) house music soundtracks and amazing tasting dishes, with fusion and flavour from around the world.  Stellar combination to challenge all your senses and sensibilities.
A Luxury Restaurant Club location. Download free app and see offer.
– ᴸᴿᴳ –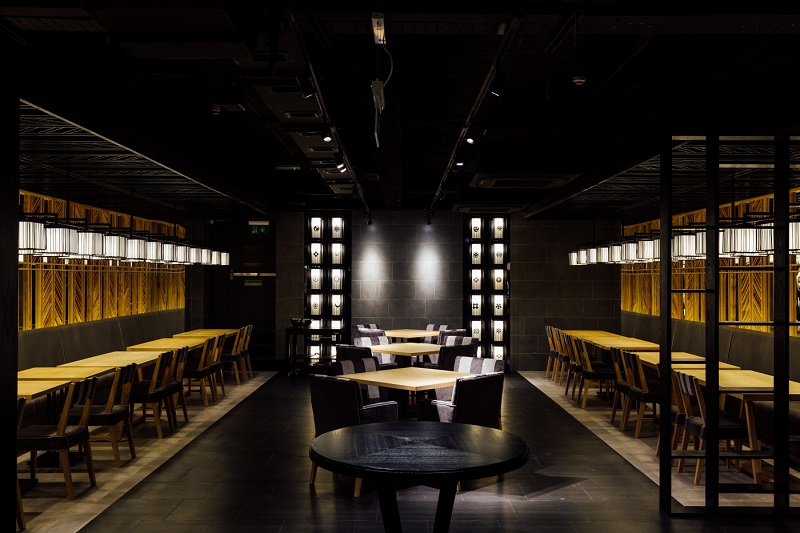 From the bustling streets of Tokyo to the heart of London comes Onodera's highly fashionable London outpost. Others include Paris, Los Angeles, Shanghai and Hawaii. 
The main restaurant fuses traditional Japanese minimalism with modern dramatic detailing, courtesy of renowned Japanese design house Yosai Kiyono. Wall-fitted mirroring, wooden partitions and polished concrete flooring echo the clean, precision of Onodera's dishes. As you would expect, the quality of the sushi and sashimi is unrivaled, or for a truly interactive experience, take a seat at the counter and watch as sensational sashimi is sliced, the freshest seafood is shelled and individual pieces are expertly made to order. The bar is complete with statement low-hanging lighting, the decadent first-floor marble-topped cocktail bar exudes understated glamour.
A Luxury Restaurant Club location. Download free app and see offer.
Design by Yosai Kiyono
– ᴸᴿᴳ –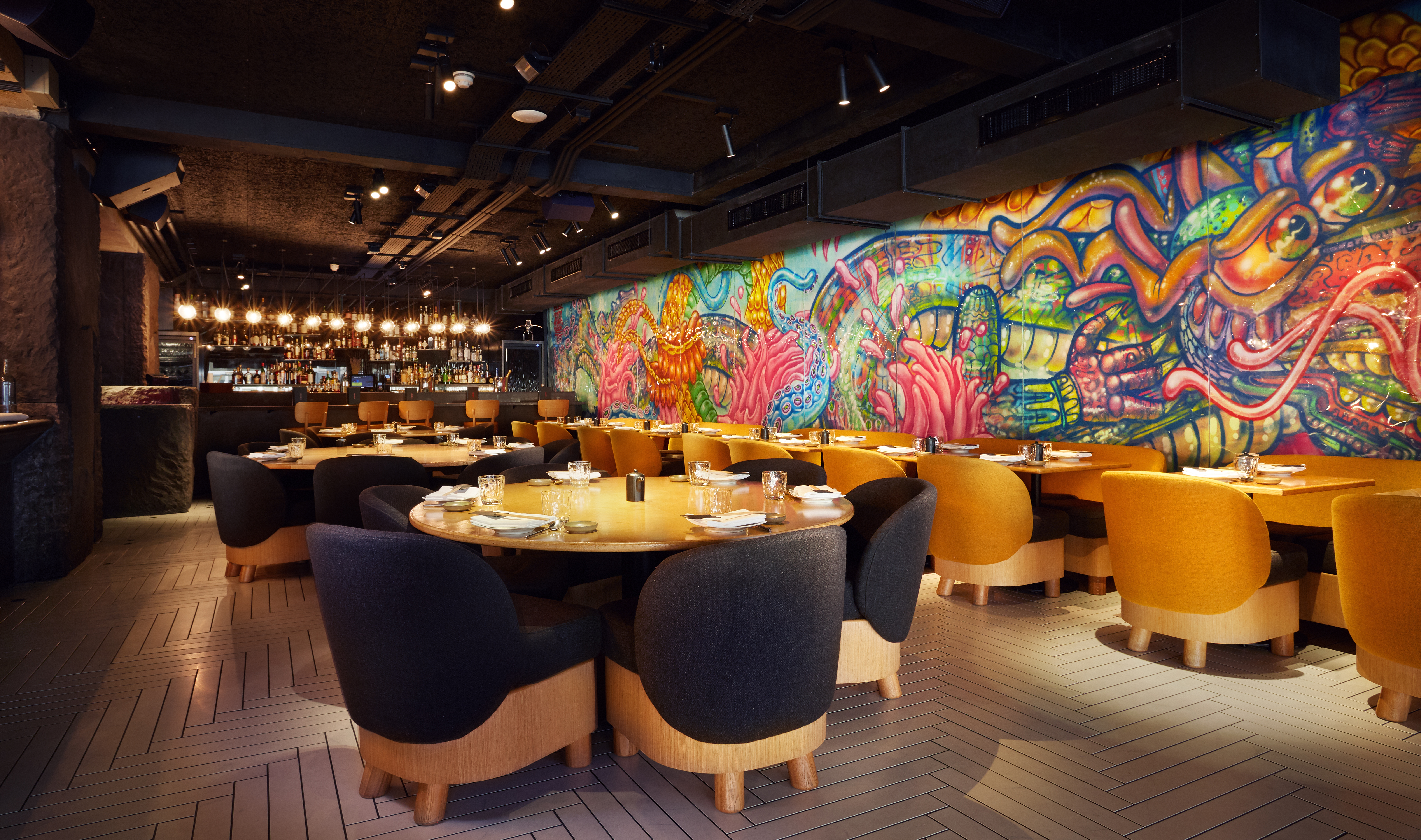 The bold eye-catching natural colours and mouth watering tastes of the food are perfectly in tune with this environment. Nikkei cuisine, which is a mix of Japanese and Peruvian, is all about quality ingredients and flavours, and the brief to match given to the design team was to be very individual. The result is a hybrid of sophistication and slightly ʻunderground', spread over 3 floors and 6 distinct areas. The interiors are designed to evoke a sense of modern day Tokyo, offering guests a multi-layered experience that blurs the boundaries between modern and traditional aesthetics. Andy Martin's striking design fuses both natural materials such as lava stone and burnt cedar, with art inspired by Tokyo's contemporary urban culture. Houxo Que, a Tokyo based painter and graffiti artist, has created a large-scale graphic illuminated by UV light that spreads across the lower hallway. The upper two floors are accented by the work of Tom Blackford – a local, London based graffiti artist, adorning the upper floors.
– ᴸᴿᴳ –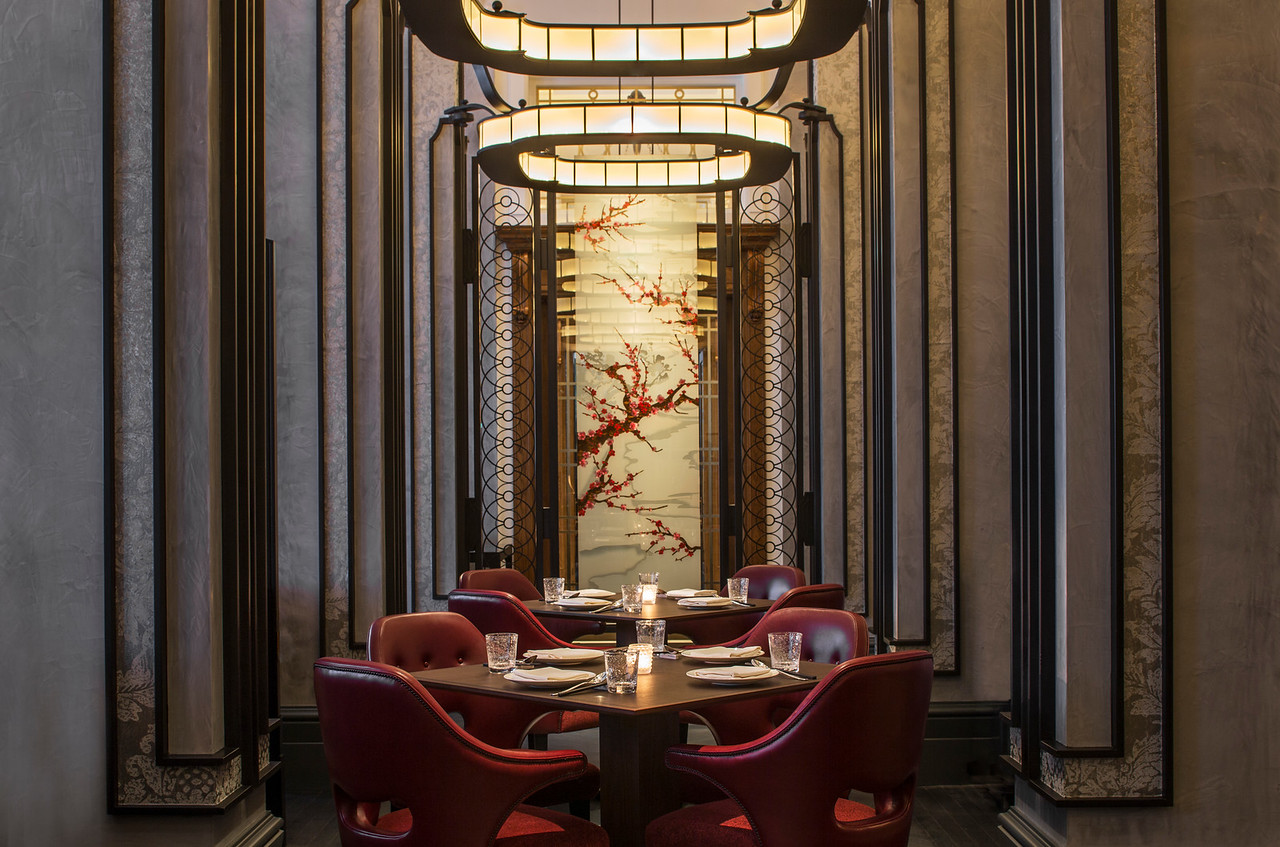 Hong Kong-based design firm AB Concept's first London project was Mei Ume Restaurant at the Four Seasons Hotel on London's Ten Trinity Square. The restaurant, located in the 1922 headquarters of the Port of London Authority, features a balance of Eastern and Western design styles, though its name is firmly Eastern being derived from the Chinese and Japanese words for plum blossom. In addition to the fusion of cultural designs, the firm incorporated into the narrative as much of the building's rich history as possible. Originally built for traders from the East, the building gave the team an opportunity to 'keep its legacy alive' but to 'reinvent it with new spirit and purpose', said AB Concept co-founder Ed Ng. On entering the restaurant, guests will immediately notice the colourful plum blossoms painted on a glass screen at the reception. The strategically placed screen works to invite guests to notice the other restaurant decor, from the main dining room's bold red accents to the metal motifs constructed on the original 1922 columns. Be transported by the unique blend of Orient and Occident, which continues throughout the restaurant, bar and private dining space. Fittingly, the kitchen, run by chef Tony Truong,  features authentic dishes from China and Japan accompanied by a contemporary cocktail menu inspired by the four key elements of Chinese astronomy.
A Luxury Restaurant Club location. Download free app and see offer.
– ᴸᴿᴳ –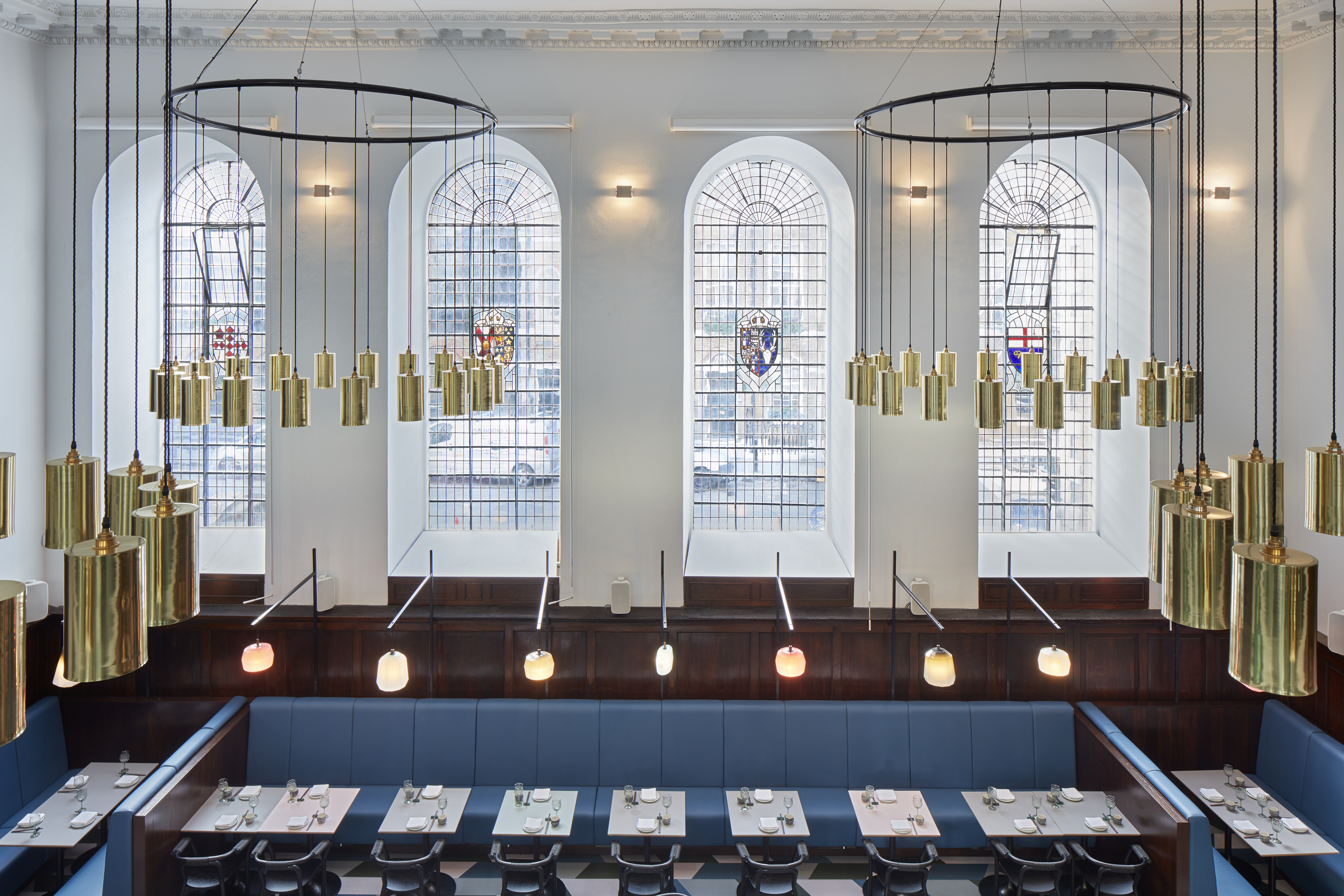 Duddell's Hong Kong is known as a dining destination for people who love art and culture, so when they opened their first London outpost last year it came with high expectation for its Michelin-starred Cantonese food and its design. Michaelis Boyd studio has done wonders with the brief at the Grade II listed St Thomas Church. A modern aesthetic inspired by traditional 1960's Hong Kong tea houses; set over two levels, bold green and blue-grey leather banquettes, original dark timber wall paneling, geometric rubber flooring and a tiled central bar, illuminated beautifully by the high stained-glass windows.
– ᴸᴿᴳ –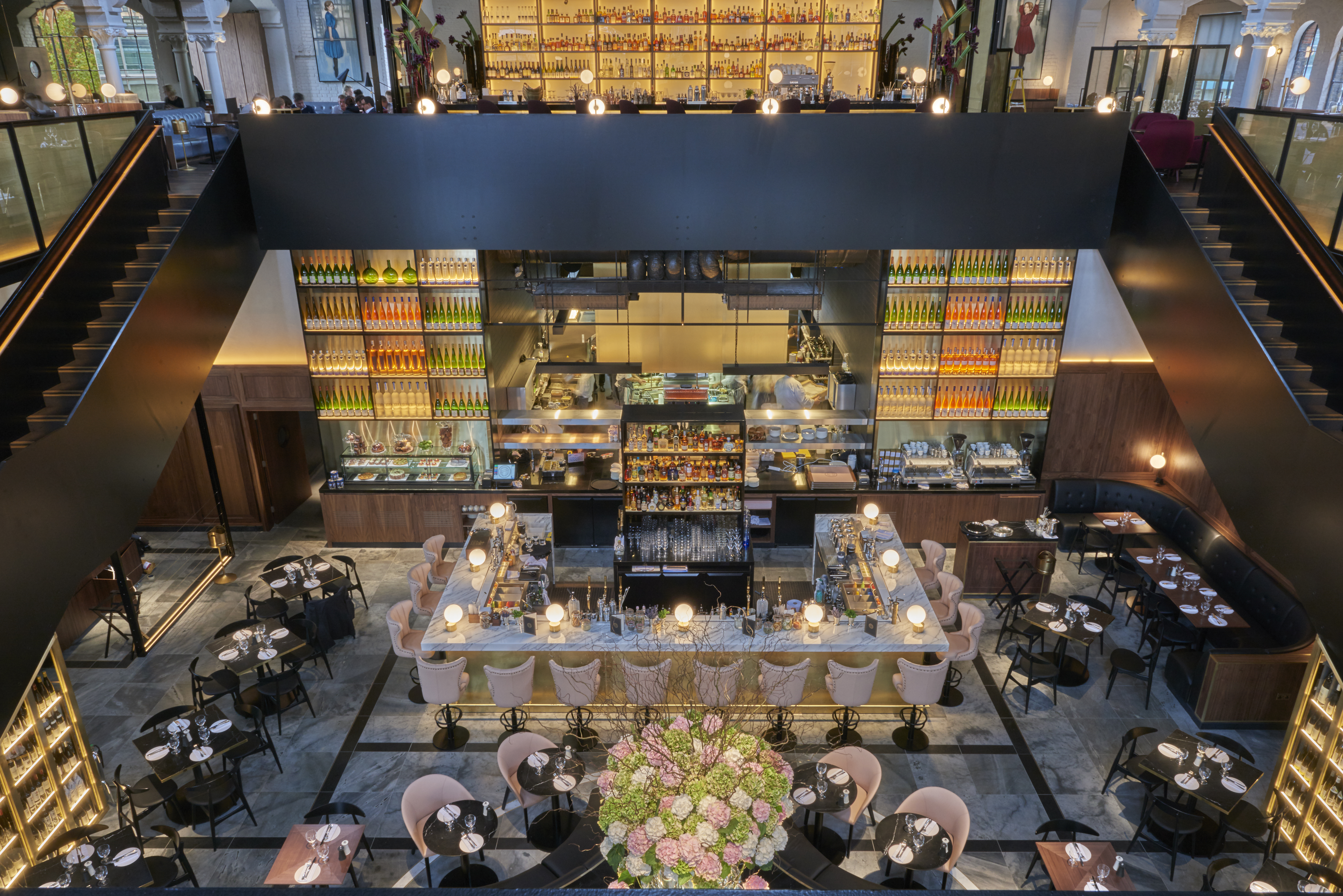 German Gymnasium won the Restaurant Bar and Design Awards in 2016 as the Best UK Restaurant. Designed by architect Edward Gruning in 1864, this beautiful building in King's Cross was the first purpose-built gymnasium in England. In 1866, it played host to the first-ever indoor Olympic Games – but the space now houses an outdoor terrace, patisserie counter, all-day Grand Café and bar, and is part of the D&D restaurant group.The food is described as "Mittel-European" (the German phrase for "central Europe"): think grilled sausages, potato dumplings and apple strudel.
– ᴸᴿᴳ –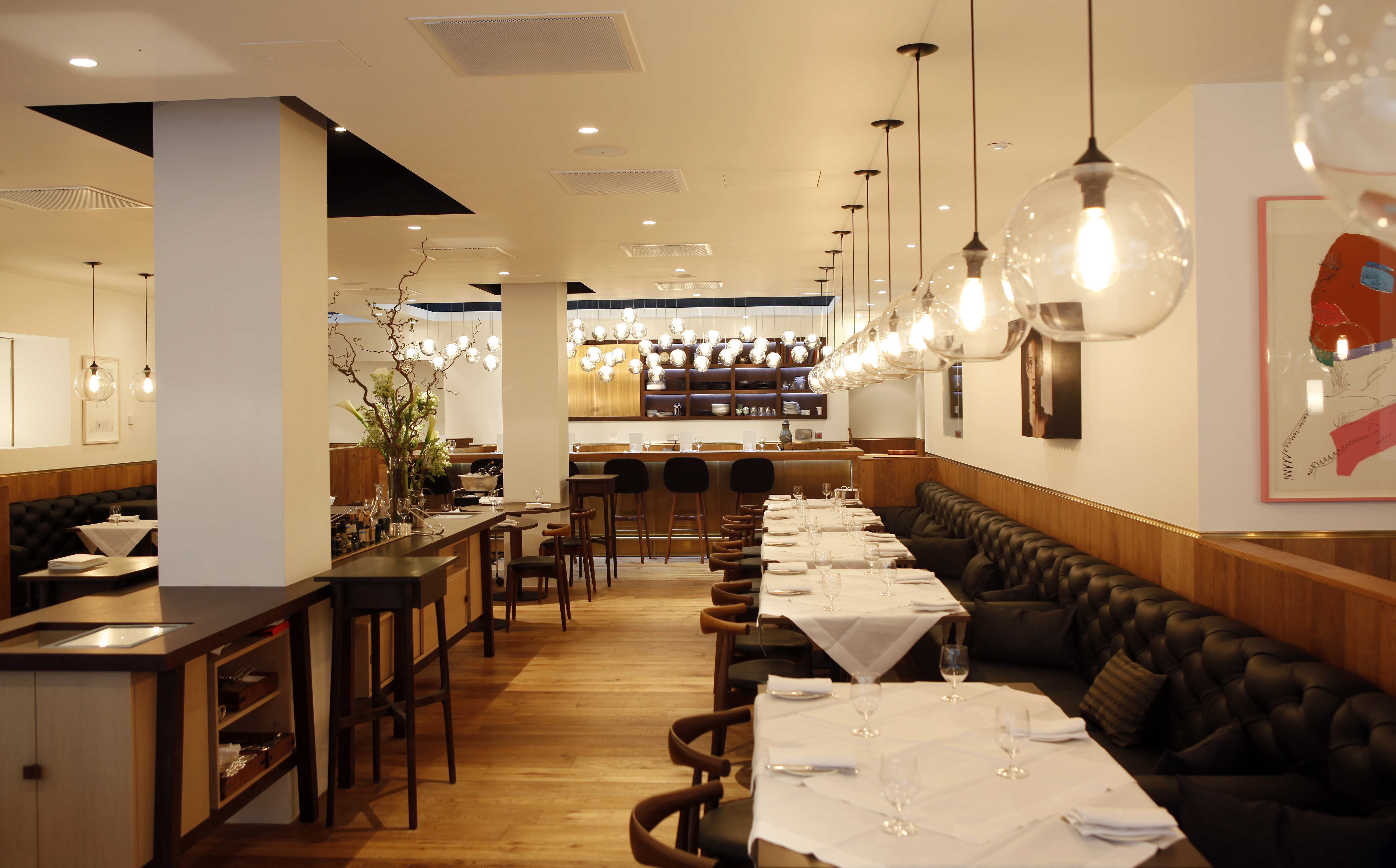 Pollen Street Social, completed in April 2011, was Jason Atherton's first independent restaurant, and also Shanghai-based architectural firm Neri & Hu's first completed project in London.
Their design concept for Michelin-starred Pollen Street Social was to examine the notion of "social" as dynamic energies of human interaction. Within the confined basement and ground floor spaces of two disjointed historic buildings, the architects have woven a series of social spatial experiences, from the Bar to the Main Dining Room, or Private Dining Room to Atherton's signature Dessert Bar. The restaurant's façade is a nod to the historic structures surrounding the site. A series of blackened bronze metal frames act as a stitching strategy, redefining the restaurant's threshold with a modern touch while maintaining the proportions and details of the existing façade. Within these frames, a combination of transparent and translucent glass ensures visual continuity between diners and the life of the street beyond. Neri & Hu's design, custom furniture and accessories have captured the vibrancy of a social dining atmosphere as envisioned by Chef Atherton.
– ᴸᴿᴳ –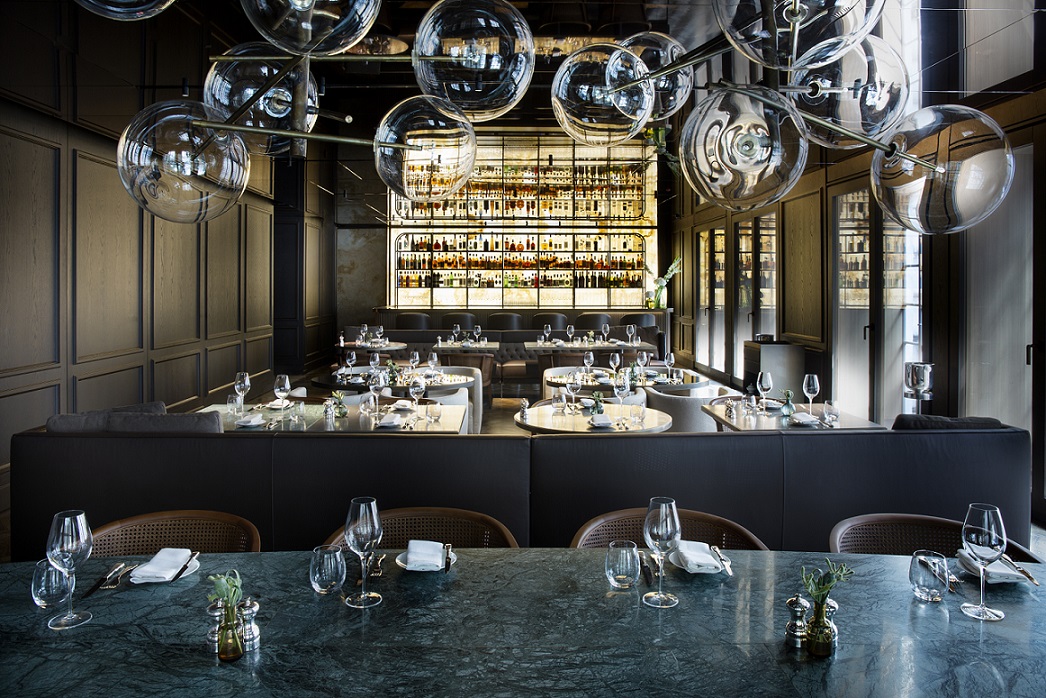 Opening next week is the new Grill & Sushi Bar, Laurent at Café Royal by internationally renowned chef Laurent Tourondel. Following previous residences by world-class chefs, including Albert Adria, the Roca brothers, Paco Roncero amongst others, the hotel is excited to announce that chef Tourondel will hold court on the redesigned first floor of Hotel Café Royal. Redesigned by contemporary Italian architect and designer Piero Lissoni, the 110 seat restaurant is located on the first floor of the hotel, where an extensive refurbishment has created an entirely new space. Lissoni has transformed not only the restaurant space but the main entrance to the hotel as well. The transformation of these historical spaces, part of the original Café Royal built in 1926, is a sensitive yet striking one, a hallmark of Lissoni's work. Diners arriving through the Air Street entrance will experience a grand double height lobby, featuring a Murano glass chandelier made by the legendary Italian glassmaker Vistosi, which can be viewed from the main restaurant. The restaurant features different areas including booths and views of Regent Street and the grand new lobby. In addition guests will enjoy a sushi bar, open kitchen and new cocktail bar, creating an informal yet sophisticated atmosphere.
– ᴸᴿᴳ –
Or if you prefer a more traditional dine, see The UK's Finest Hotels of Great Historical Importance.