Heritage Tomatoes with Burrata by Hélène Darroze at The Connaught
The British tomato season runs from June to October so now is a great time to try out this gorgeous recipe from Hélène Darroze – and for those unfamiliar with this ingredient, Burrata is a fresh italian cheese made from mozzarella and cream.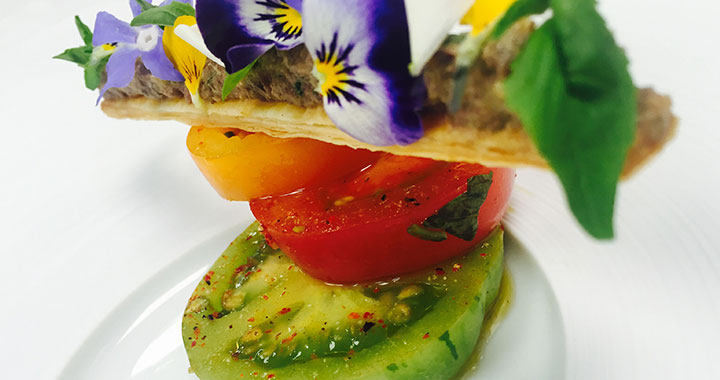 Serves 10
Ingredients
500g of burrata (2 large)
Greek olive oil
2 large green copia tomatoes
2 large pineapple tomatoes
2 large bull's heart tomatoes
1 large Black Krim tomatoes
Puff pastry, enough for 10 14cm x 1.5cm sticks
For the marinade
80ml Greek olive oil
20ml Xerez vinegar
1 large shallot
12 leaves of green basil
Fleur de sel
Espelette pepper
For the tapenade
200g Taggiasca olives, blanched
40g hard-boiled egg yolks (approximately 2 yolks)
40g anchovies
30g capers
The lemon zest from half a lemon
5g garlic
3g parsley
For the garnish
Baby Mexican tarragon
Baby red basil
Mixed flower petals: cornflowers, verbena, marigold, blue borage etc.
Preheat the oven to 170 degrees.
Remove the skin from the burrata and keep the inside (stracciatella), if the pieces are big chop them a little with a knife. Mix this with a little olive oil.
To make the marinade thinly slice the shallots and tear up the basil leaves. Mix all of the ingredients together with a generous pinch of fleur de sel and Espelette pepper.
Cut the tomatoes into wedges or slices, as desired to obtain approximately 10 pieces of each tomato variety.
Arrange the tomatoes in one layer on a tray and cover with the marinade, leave these to infuse for at least 1 hour at room temperature.
To make the tapenade blend all of the ingredients apart from the parsley. Chop the parsley by hand and mix this into the blended mixture.
Cut the puff pastry into 10 sticks measuring 14cm x 1.5cm.
Arrange these in a tray lined with a sheet of baking paper both underneath and on top. Place another tray on top, this should be lightly resting and not pressing down heavily, and then bake for 8-10 minutes in the preheated oven.
To finish, remove the excess marinade from the tomatoes and place a piece of each tomato onto the plate, try to achieve some height.
Put a line of tapenade on the puff pastry and cover with the herbs and flowers, do this at the last minute so the pastry stays crispy.
Serve with a spoonful of burrata on the side to spoon over the tomatoes.
The Chef: Hélène Darroze
Darroze is a fourth generation chef and grew up working in her family's restaurant. After a spell with Alain Ducasse, she opened her own restaurant in Paris, gaining a Michelin star in her own right in 2001 and picking up a second in 2003. In 2008 she took over as head chef at The Connaught in London, replacing Angela Hartnett and was awarded two Michelin stars in 2011. She now alternates her time between London and Paris and her two restaurants.
"Each day, Hélène selects the very best and freshest ingredients from the network of suppliers she has spent a lifetime gathering, and cooks them with precision, honesty and passion. The resulting menu celebrates the tastes and textures of the most stunning individual produce, prepared in a way that allows each ingredient to shine."
The Restaurant: Hélène Darroze at The Connaught, Carlos Place, Mayfair, London W1K2AL | 0203 147 7200 | www.the-connaught.co.uk/mayfair-restaurants/helene-darroze/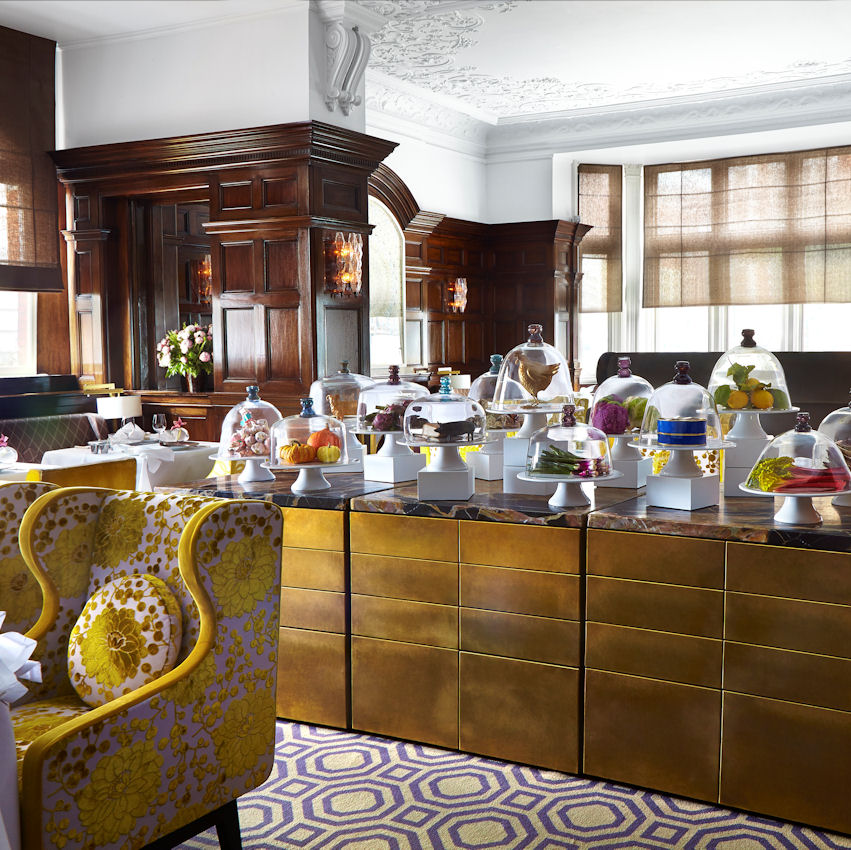 A thrilling expression of French culinary craft, delivered with a contemporary flourish, enjoyed in a truly elegant setting. India Mahdavi's calm, sophisticated interior and a specially commissioned glasswork installation celebrating the visual beauty of the ingredients found in Hélène's cooking complete what is a feast for the eyes and nourishment for the soul.
The Offer: Members and their guests receive a complimentary glass of Brut Rosé, Eric Rodez Grand Cru Ambonnay Champagne when having lunch or dinner Monday to Friday. Click here for more details.
Please advise of membership booking on reservation and in comments if booking via the website.