Chef's Recipe: Viper Gin Cured Trout with a Horseradish Crème Fraiche & Rye Crisps
Fresh from Executive Chef Matthew Street and the kitchen of The Eastbury in Sherborne, Dorset – a dish that pays homage to Matthew's ethos of using as much as he can from natural surroundings. Curing is a fantastic way to add incredible flavour to a dish and what better ingredient than Gin to cure with. This dish makes use of the amazing mix of ten carefully selected botanicals in Dorset's handcrafted and lovingly distilled Viper Gin.
Skill level 3 (1 simple to 5 being complex and challenging) 
INGREDIENTS
Viper Gin Cured Trout
75g salt
75g caster sugar
1 teaspoon grated lime zest plus ½  lime juice
½ teaspoon pink peppercorns
1 cinnamon stick
2 teaspoons coriander seeds
1 teaspoon cumin seeds
1 teaspoon juniper, lightly crushed
60ml Viper Gin
1 Cucumber
1 tablespoon mint leaves
5 sugar snap peas
Extra virgin olive oil
2 tablespoons Creme Fraiche
Teaspoon of fresh horseradish
Rye crisps
125g Rye
75g water
Pinch of salt
METHOD
Step 1
Combine salt, sugar, zest, pink peppercorns, spices, juniper berries and Viper Gin. Spread half the spice mixture in a glass or ceramic dish. Add fish, skin-side down, and cover with remaining spice mixture. Cover with clingfilm and chill overnight, turning fish after 12 hours and spooning any liquid in the dish over the top. Remove trout from the dish, reserving any liquid, and rinse. Pat dry with paper towel.
Step 2
Mix together the ingredients for the rye crisps so it's in a dough. Roll it out. Place on a thin tray and bake at 170 * for 8 – 10 minutes. Take out of the oven and rest.
Step 3
Very thinly slice cucumbers lengthways (a mandolin is ideal) and marinate in the reserved liquid for 10 minutes. Drain off excess liquid.
Step 4
Very thinly slice trout on the diagonal, discarding skin. Mix crème fraîche with the fresh horseradish and spoon onto the plate. Arrange the sliced trout on top of the horseradish crème fraîche. Scatter with cucumber, squeeze of lime, mint and sugar snap peas. Drizzle with olive oil and serve with rye crisps.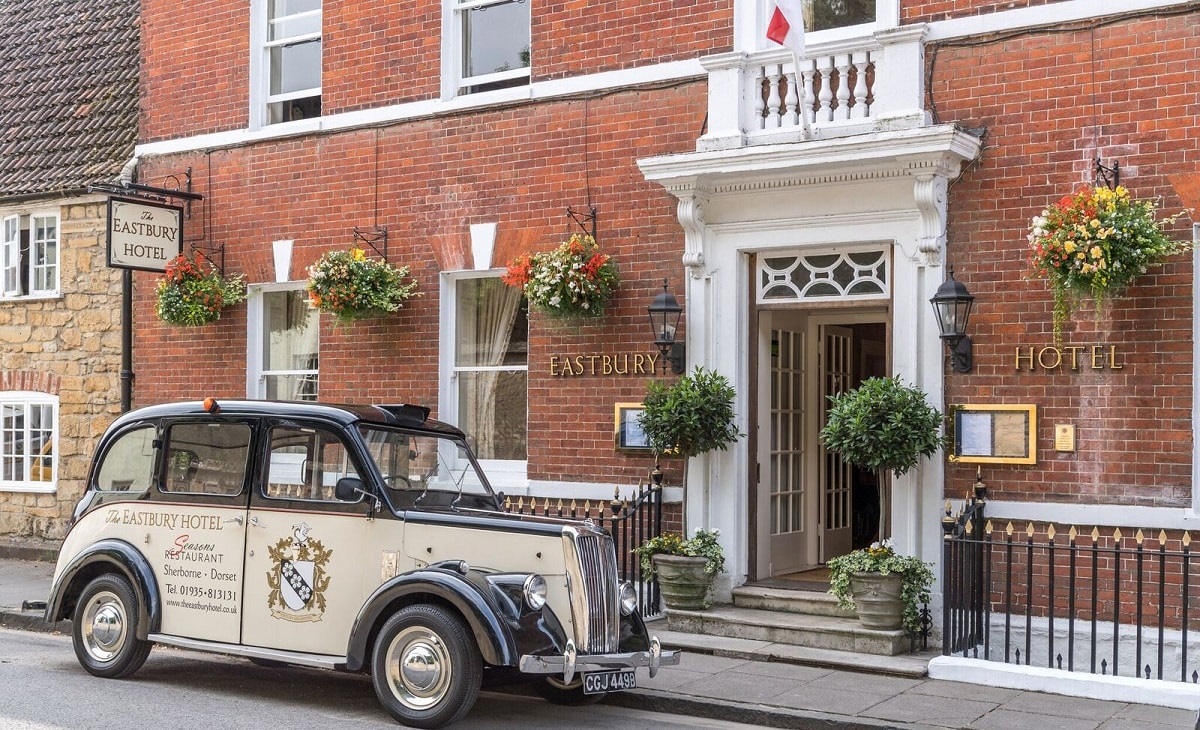 Alternatively, book a table in Season Restaurant at The Eastbury Hotel and dine with the Luxury Restaurant Club and enjoy a complimentary glass of Prosecco on arrival and a 10% reduction from the total food bill, see details. 
Download the Luxury Restaurant Guide FREE APP HERE and follow steps to join club.