Chefs Recipe – Tea Smoked Mackerel by Andrew Jones of Chamberlains EC3
The opening, in 2001, of Chamberlain's restaurant in the City of London's Leadenhall Market, was a natural progression for this family enterprise; one whose premium seafood wholesale business was already supplying the very best fish to many of London's finest hotels, clubs and renowned institutions.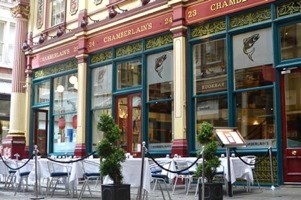 Previously a private members' dining room, the restaurant opening had to be delayed for a few months as builders doing restorations had to stop work when Roman remains were found! Inside, it is stylish, contemporary, with original features such as the hooks for hanging poultry, carefully retained … 'modern meets gentleman's club'.
Executive Chef, Andrew Jones, describes his style of cooking as 'Yin and Yang', with classic and contemporary meeting in the middle.  He is always happy to serve the classic dishes that champion British produce, and present them not only with flair, but a nod to modern tastes and fashion.  He is not afraid to embrace new cooking techniques but in order to do so, feels that they need to be better than classical.
Everything is produced in-house – even the smoking of the eels and making of
the puff pastry is done in Chamberlain's kitchens. A range of breads is freshly baked each day from three different doughs, including, for example, Armenian bread, focaccia, sour dough, brioche, wholemeal épi ficelle and soda bread.
The smoked salmon is Scottish, and prepared by an exclusive method of curing, only used for Chamberlain and Thelwell.  Vinegars, beer (for fish and chips) and wine, are homemade and the cheeseboard is British.
The menu changes seasonally, four times a year and as well as fish and seafood, includes a good selection of vegetarian and meat dishes, the latter all prepared from animals raised in a natural, healthy environment.  Ethical sourcing is paramount and this strict ethos runs through the whole business, including its events catering operation.
Here chef Andrew Jones shares his recipe for Tea Smoked Mackerel with us.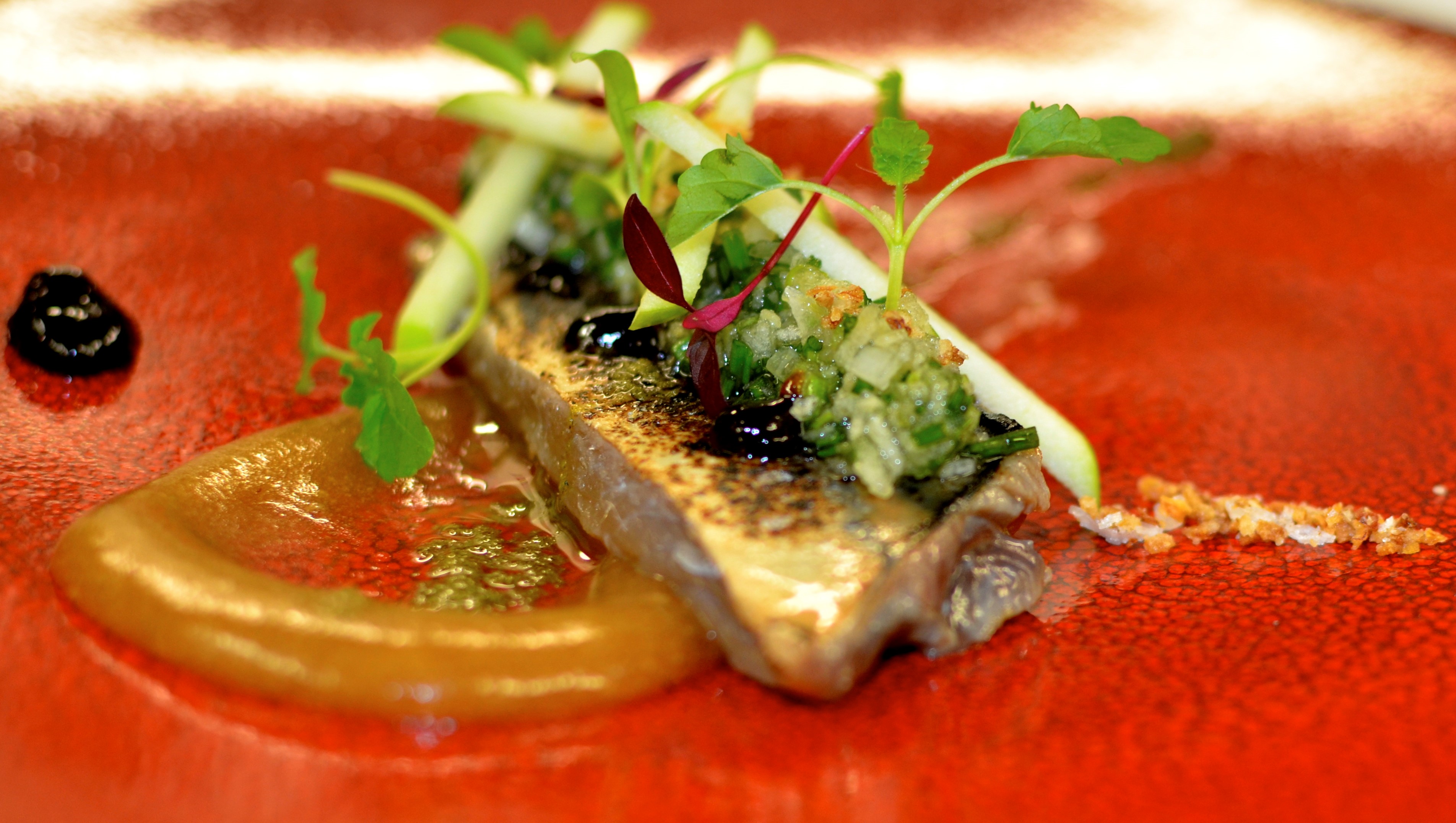 INGREDIENTS
For mackerel
4 fillets of fresh mackerel pin-boned (ask your fishmonger to do this)
2tsp dark soy sauce
1tsp runny honey
2 Darjeeling tea bags
Salt
Freshly ground pepper
40ml sunflower oil
½ lemon
For apple purée
1 Bramley apple peeled and diced
2tsp caster sugar
1 clove
For apple salad
100g finely diced green apple
30g peeled and finely diced celery
20g candied stem ginger finely diced
10g chopped chives
2tsp of stem ginger syrup
For crispy shallots (you can cheat and buy these from supermarkets)
1 shallot sliced finely
1L vegetable oil to fry
To finish
Micro cress or small salad leaves or some shredded spring onions
METHOD
Mix soy and honey and coat mackerel with it, leave for at least 1 hour or, if you can, overnight.
Pat fish dry on kitchen paper and place on greaseproof paper, skin side up, in a steamer basket.
Put the loose tea leaves in the base of a dry pan and put steamer basket on top. Put on a high heat until you can see the smoke starting to come out. Remove from the heat and allow to stand for approximately 15 minutes. (tip: if using a bamboo steamer basket soak it in warm water for 30 mins before to prevent it burning.)
Transfer mackerel to a lightly oiled grill tray, skin side up (these steps can be done the day before and refrigerated until ready to serve.)
Put the Bramley apple, sugar and clove in a pan with a couple of tsp of water and cook on a medium heat until soft enough to blitz with a liquidiser or hand blender until smooth. Allow to cool and adjust the consistency with a little more water if it is too stiff.
Mix the diced green apple, celery, ginger, chives and ginger syrup together, season with salt and pepper to taste.
Heat the oil in a pan to 150 deg C. Add sliced shallots and cook until golden and crisp. Drain on kitchen paper to remove excess oil.
Mix sunflower oil with the juice of the ½ lemon and season to taste.
TO FINISH, AND SERVE
Place mackerel under a hot grill until skin is crisp and slightly charred, and flesh is cooked through.
Put a spoonful of the purée on each plate and sit the mackerel on top. Spoon the apple salad down the back of the fish and then spoon over the lemon dressing. Dress the crisp shallot and salad leaves over the diced salad and serve.
Chef – Andrew Jones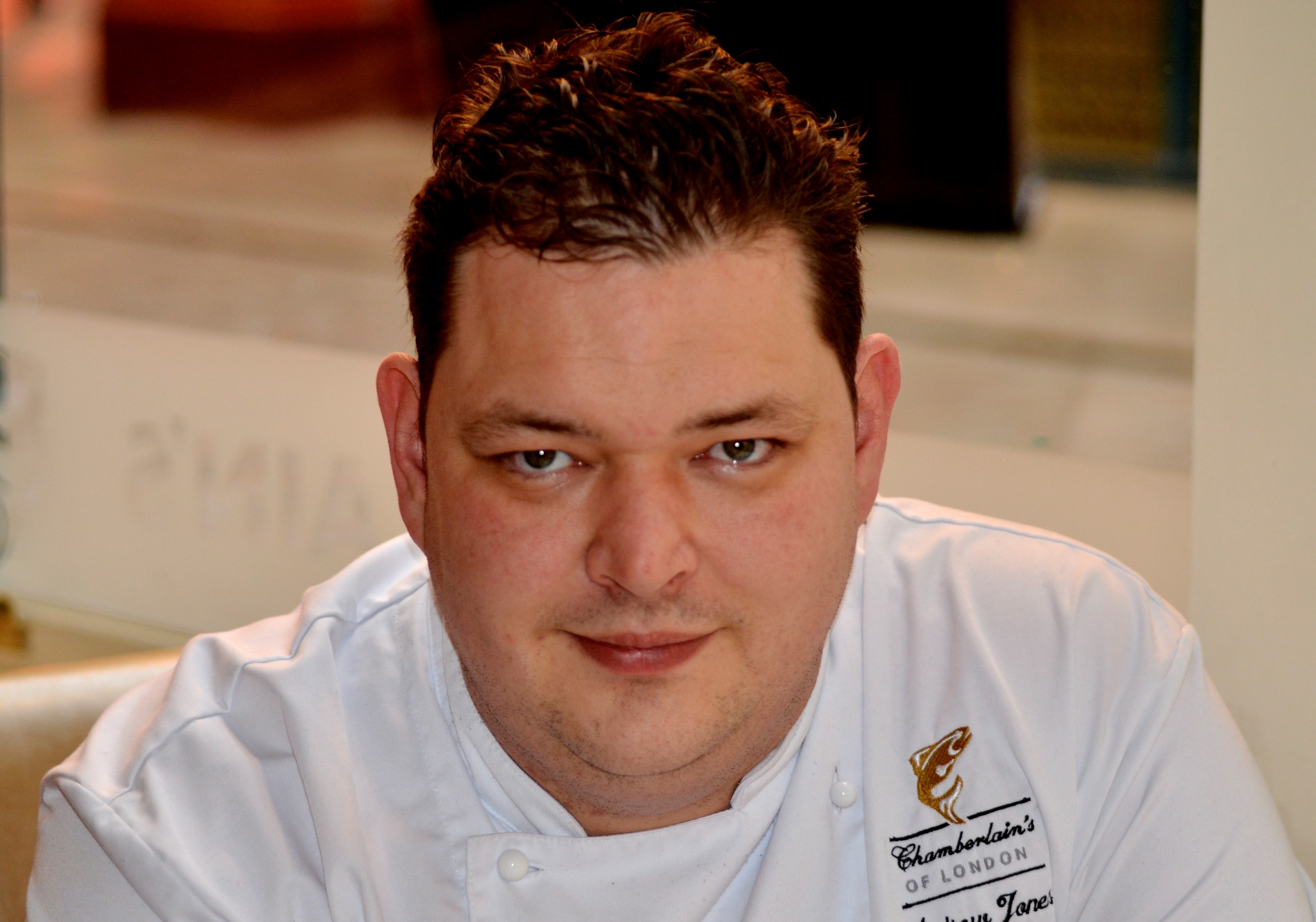 Classically trained, Andrew Jones has honed his culinary skills in some of the finest kitchens, including three Michelin-starred Michel Bras in Laguiole, France, part of his prize for winning the 2004 Roux Scholarship, one of the UK hospitality industry's premier competitions.
As Executive Chef at the five-star Westbury Hotel in Bond Street, he not only ran the hotel's fine dining restaurant Artisan, but oversaw a  £1million redevelopment of the kitchens while also running the Polo Bar, a newly opened Sushi Restaurant and the Private Events operation that catered for exclusive events such as The Cartier Polo Tournament.
He joined Chamberlain's in 2011, since when he has brought his extensive organisational and creative skills to bear on the restaurant, the catering business and the menus.  He is now a director and shareholder in Chamberlain's of London.
Club Offer – Member exclusively dines complimentary when dining with one or more guests for dinner Monday to Friday. Click here for more details.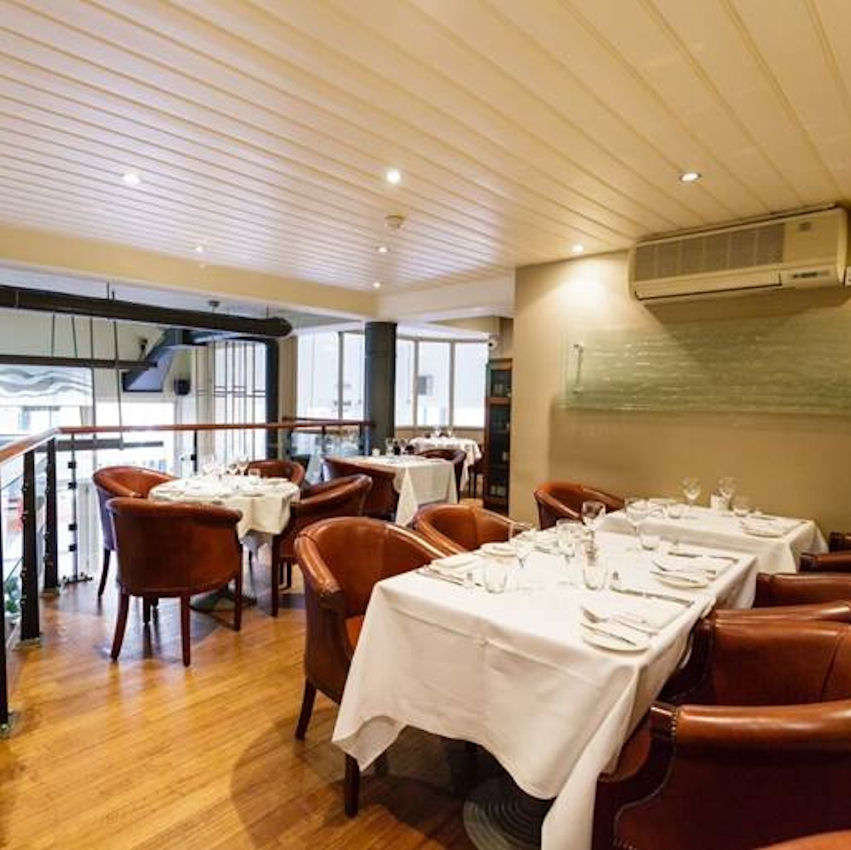 Not a member? Why not treat yourself to a year of dining in luxury and enjoy these and other tantalizing offers – all for just £95.00 for 12 months. Find out more here.