Restaurant Review – The Dining Room at The Goring Hotel, Beeston Place, SW1
I happened to find myself in need of a lunch venue last week, due mainly to a terrible lack of decisiveness. The indecision in question was on that of Brexit – should we stay or should we go now? To help decide, Mr R and I had booked to attend The Spectator Events Brexit debate – 2,200 people at the London Palladium waiting to hear with baited breath whether Cleggy or Farage had the answer. More of that later.
As the debate was an early evening start we decided a good lunch was in order. We had promised eldest daughter a genuine HM The Queens 90th Birthday Tea Cup and Saucer from the Buckingham Palace shop so royal favourite, The Goring right next door, seemed like an excellent idea.
The family-owned Goring closed to guests for the very first time in its 105-year old history last year while it refurbished it's front hall and restaurant lobby area. The space has at once, both been both returned to former glory with original marble floors, while adding a transformative new touch with hand-painted Fromental wallpaper. The paper has the history of the Goring family woven through it. In fact The Duchess of Cambridge put her own unique final brush stroke to the wallpaper (she stayed at The Goring the night before her wedding to Prince William).
The Dining Room is an impressive triumph of Edwardian style and fittings merged with quirky touches like the Swarovski chandeliers and the stripes on the backs of the chairs matching the waiting staff's uniforms. The floor to ceiling windows on two sides ensure that even on the darkest of April days the room is light and airy and the tables all super-spaced. Interesting fact – the corridors in The Goring have unusually wide hall-ways – said to have been designed to allow ladies in full skirted ball gowns to pass freely.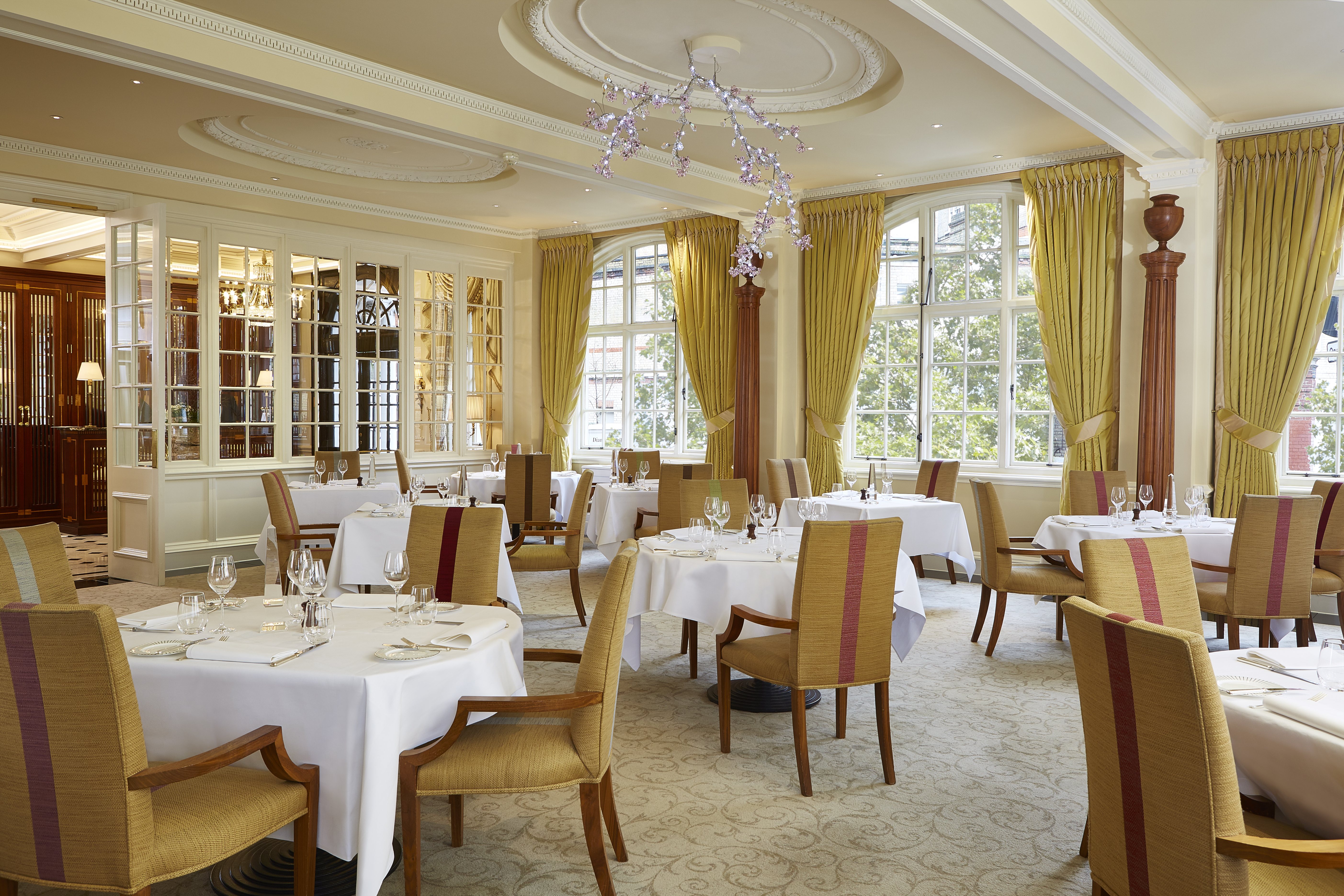 No such space required for Mr R and myself as we settled to peruse the menu with a refreshing glass of bubbles – it is the Queen's Birthday season after all. The Goring were awarded a Michelin star in the latest awards, under Chef Shay Cooper (previously of The Bingham in Richmond).  I was delighted to see The Queen Mother's favourite dish (she was a regular at The Goring) remains on the menu with just a subtle update from Chef Cooper. Eggs Drumkilbo it was then!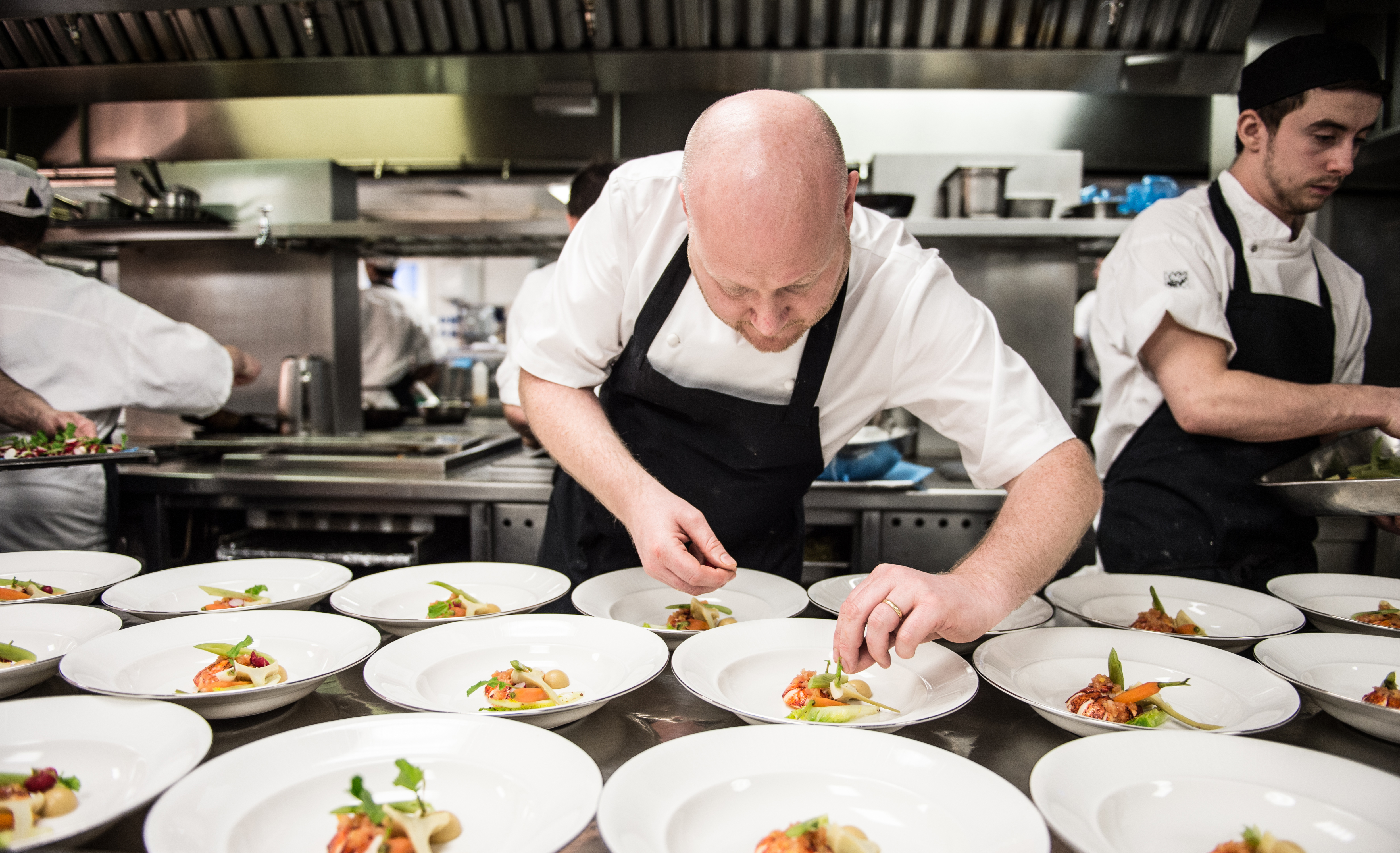 This is one of the those dishes that really does hark back to a time of luxury and involved pretty much all the most expensive ingredients of the day. It originated due to a hastily thrown together supper dish for some unexpected guests arriving at the stately home in Drumkilbo belonging to Lord Elphinstone. He happened to be a nephew of The Queen Mother who allegedly fell in love at first bite and gave the recipe to her own chef.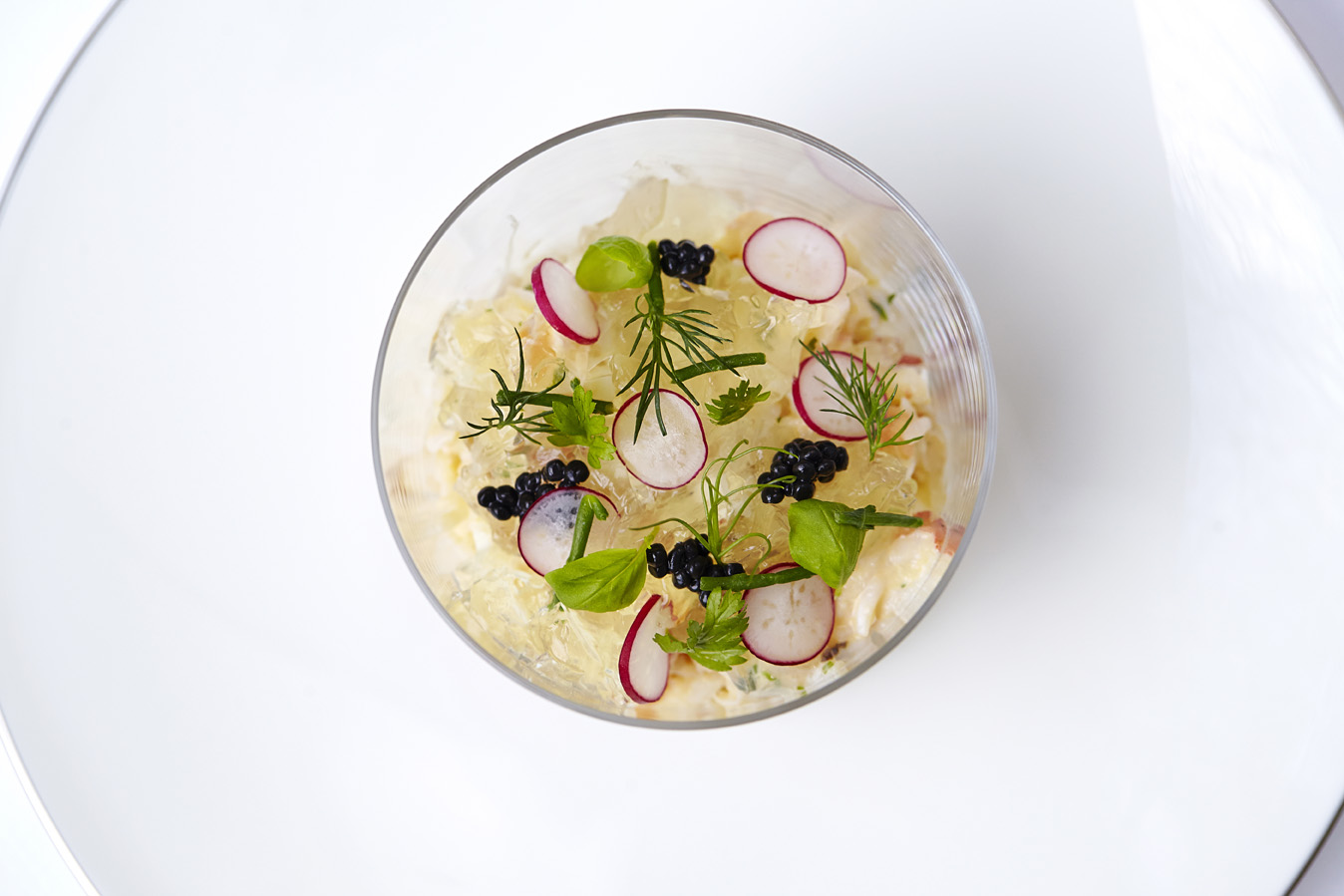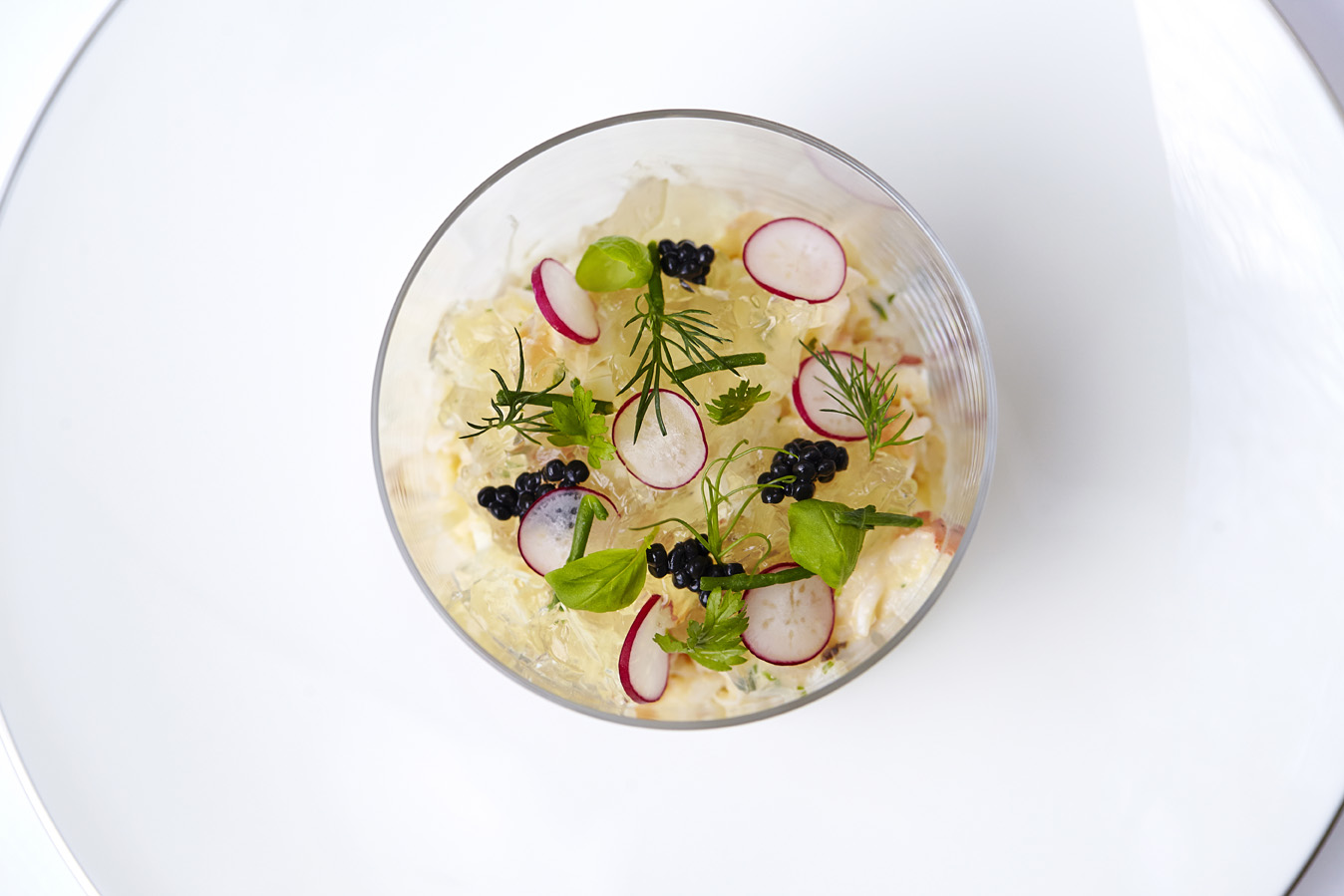 Chef Coopers version uses Dorset Crab and the melding of king prawns, mayo, sun dried tomatoes topped with burford brown egg and Nacarri caviar on top of a tomato consommé is filling yet delicate. The raddish lends crunch and the consomme is warming – I can see why the recipe was kept.
Mr R had the confit egg yolk, crispy chicken wings, caramelised cauliflower, Iberico Ham. Knowing Shay Cooper from his Bingham days, this dish has his creativity all over it. The cauliflower added a subtle bitter bite to the salty ham and crispy crumbed chicken and the pheasants egg was a rich custardy jewel in the middle of it all. Yum.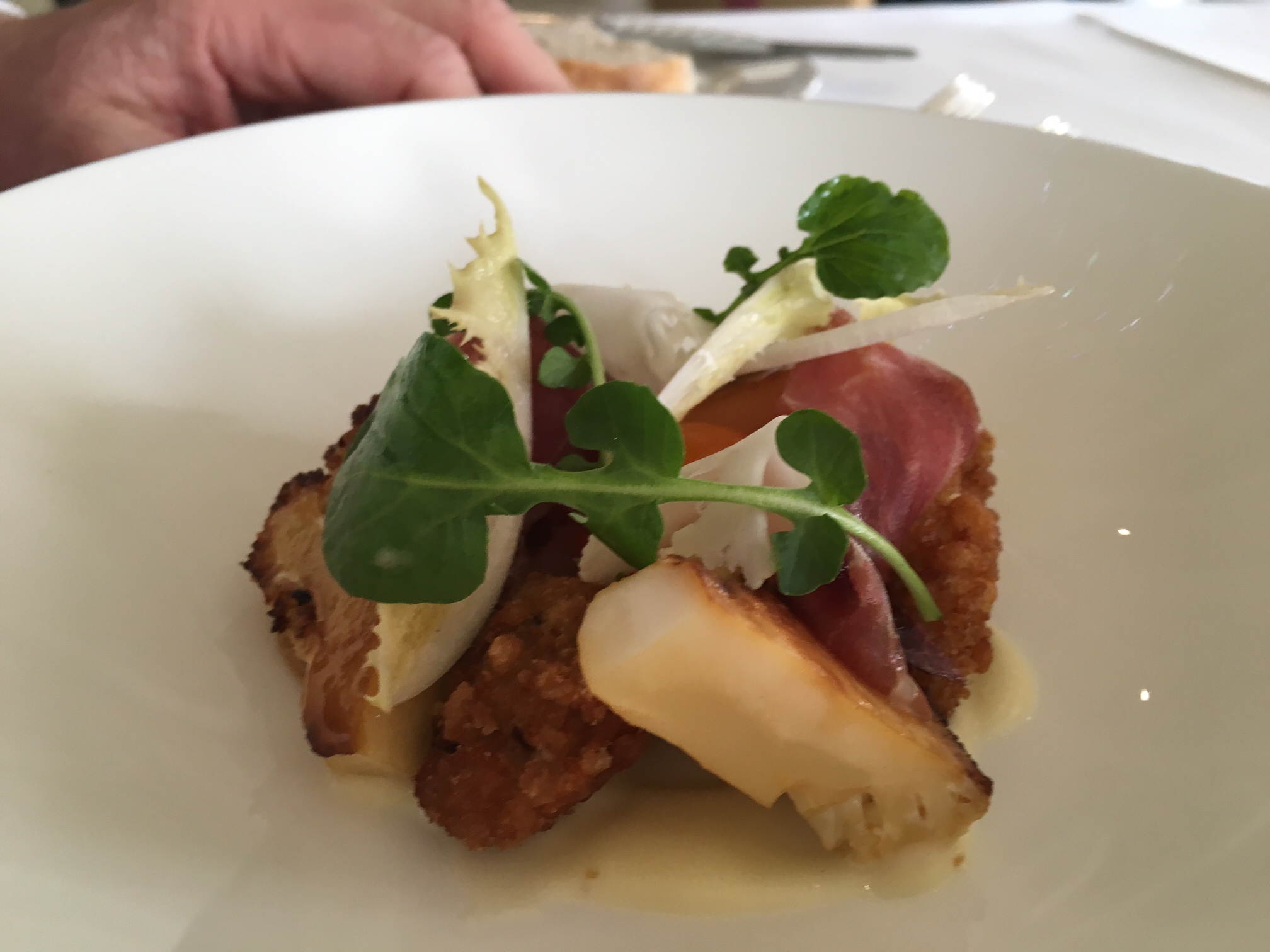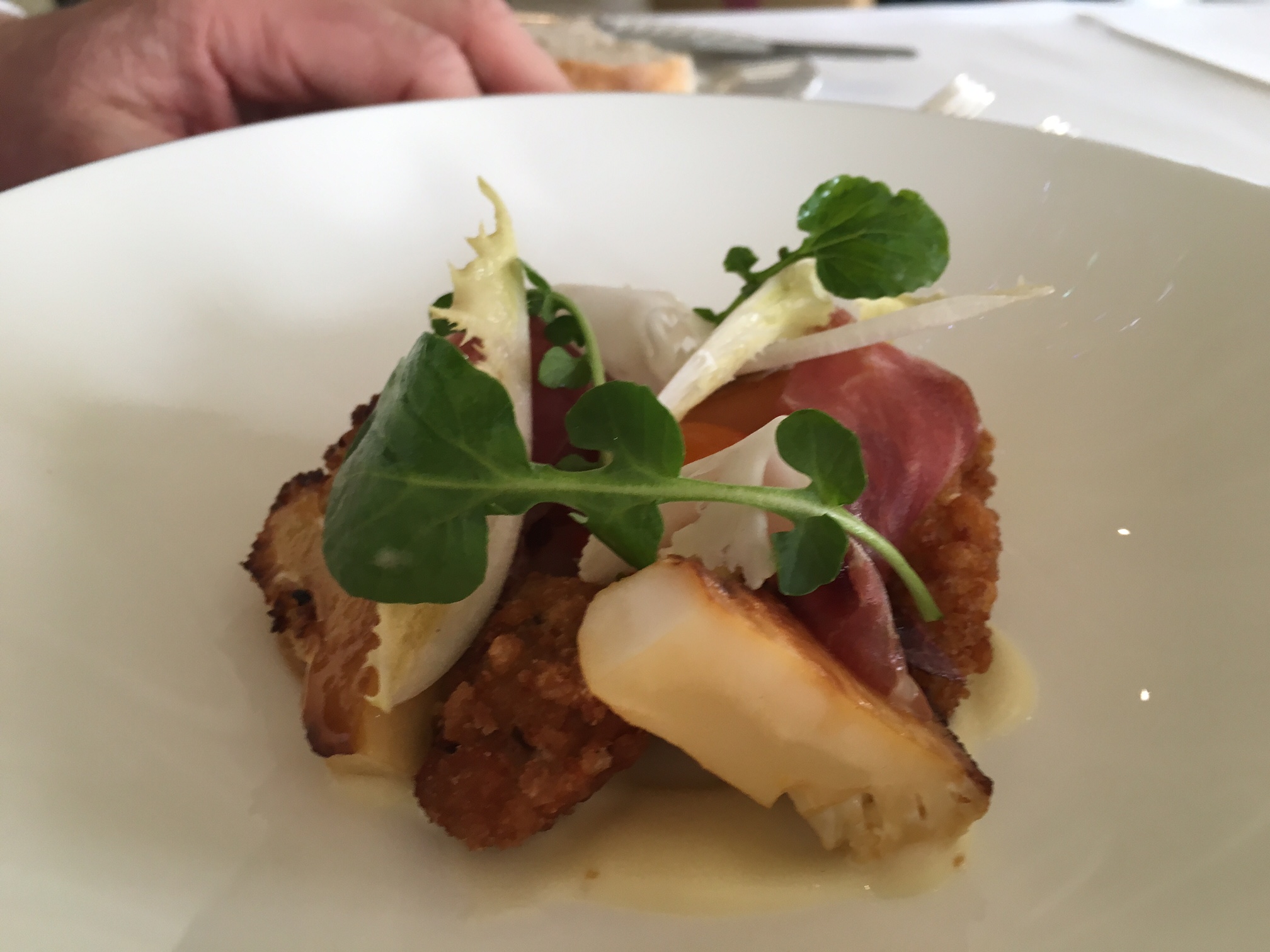 For my main course I chose to remain fishy with Roast Cornish Cod, deep fried oyster, horseradish, and cucumber with parsley oil. All I can remember is that oyster. Oh lord – they say oysters have 'special qualities' that make you more 'amenable'?  Well this little crunch of lushness is not something you would be amenable to sharing with anyone – ever!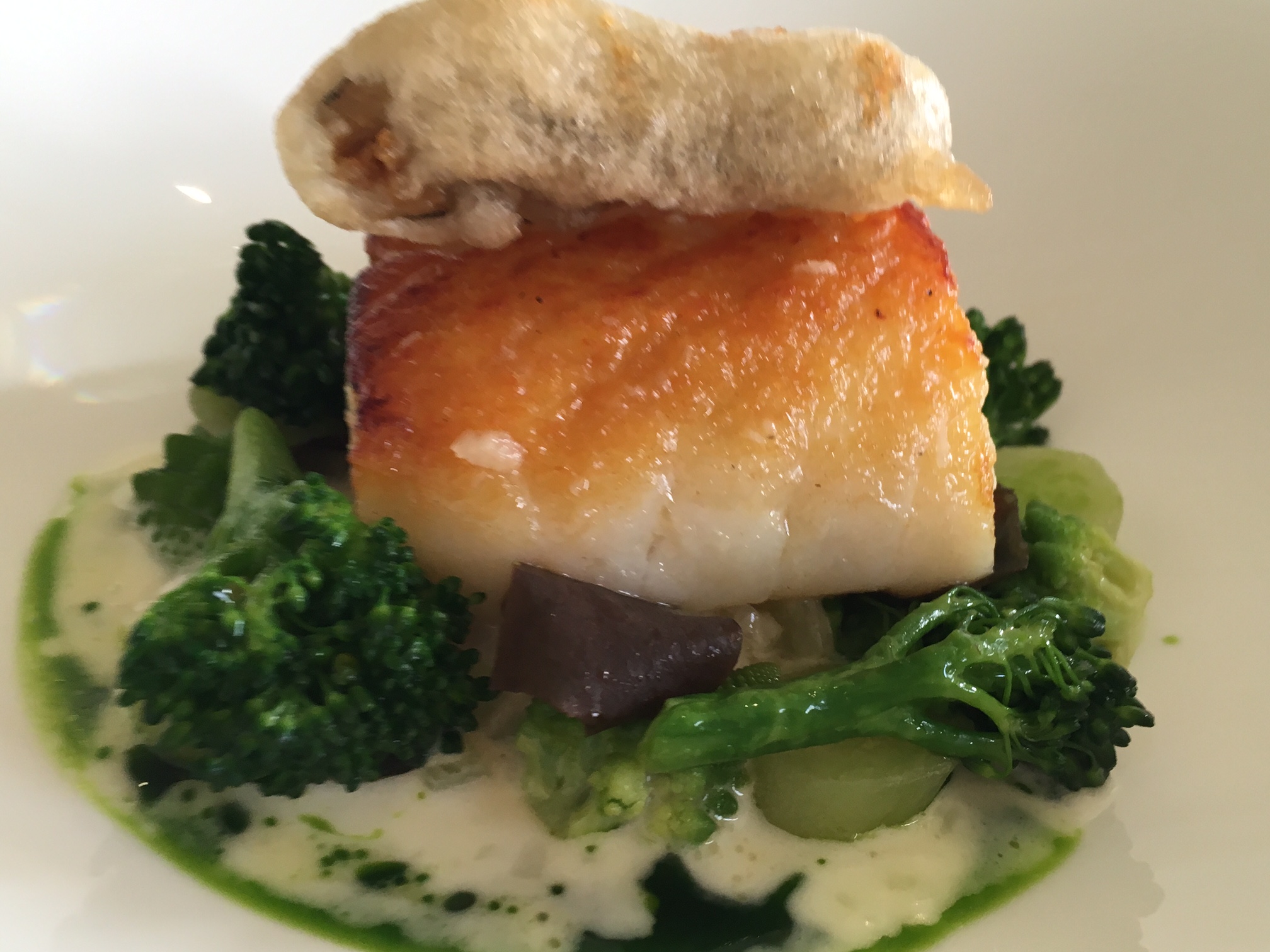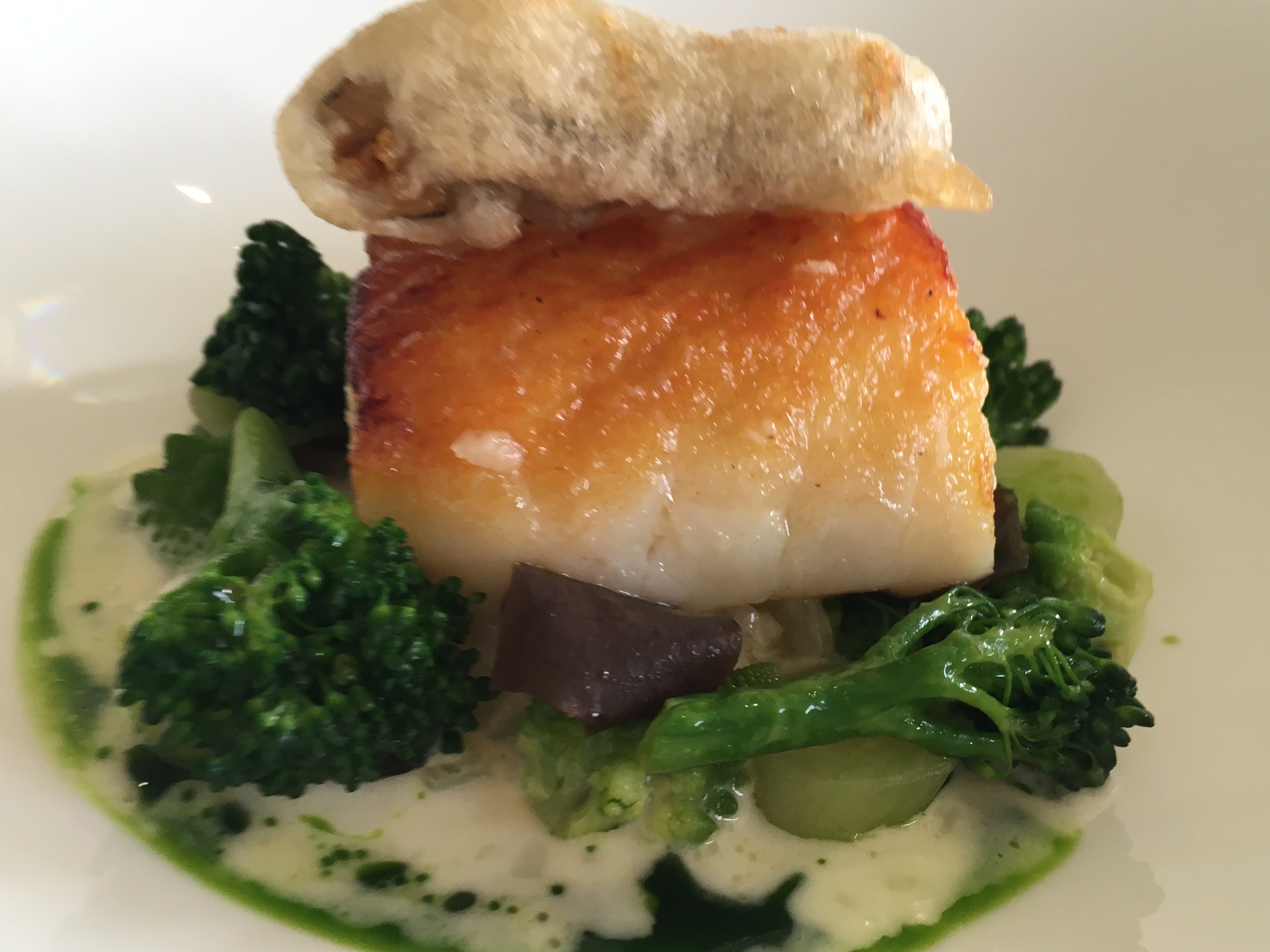 Mr R's eye meanwhile had been following round the 'Dish of the Day', housed within a great silver dome topped trolley which looked like a family heirloom. This particular Tuesday it contained Roast leg of Salt Marsh lamb with rosemary jus. I love that they have a daily dish – possibly kept on as The Goring attracts many regulars who lunch several times a week.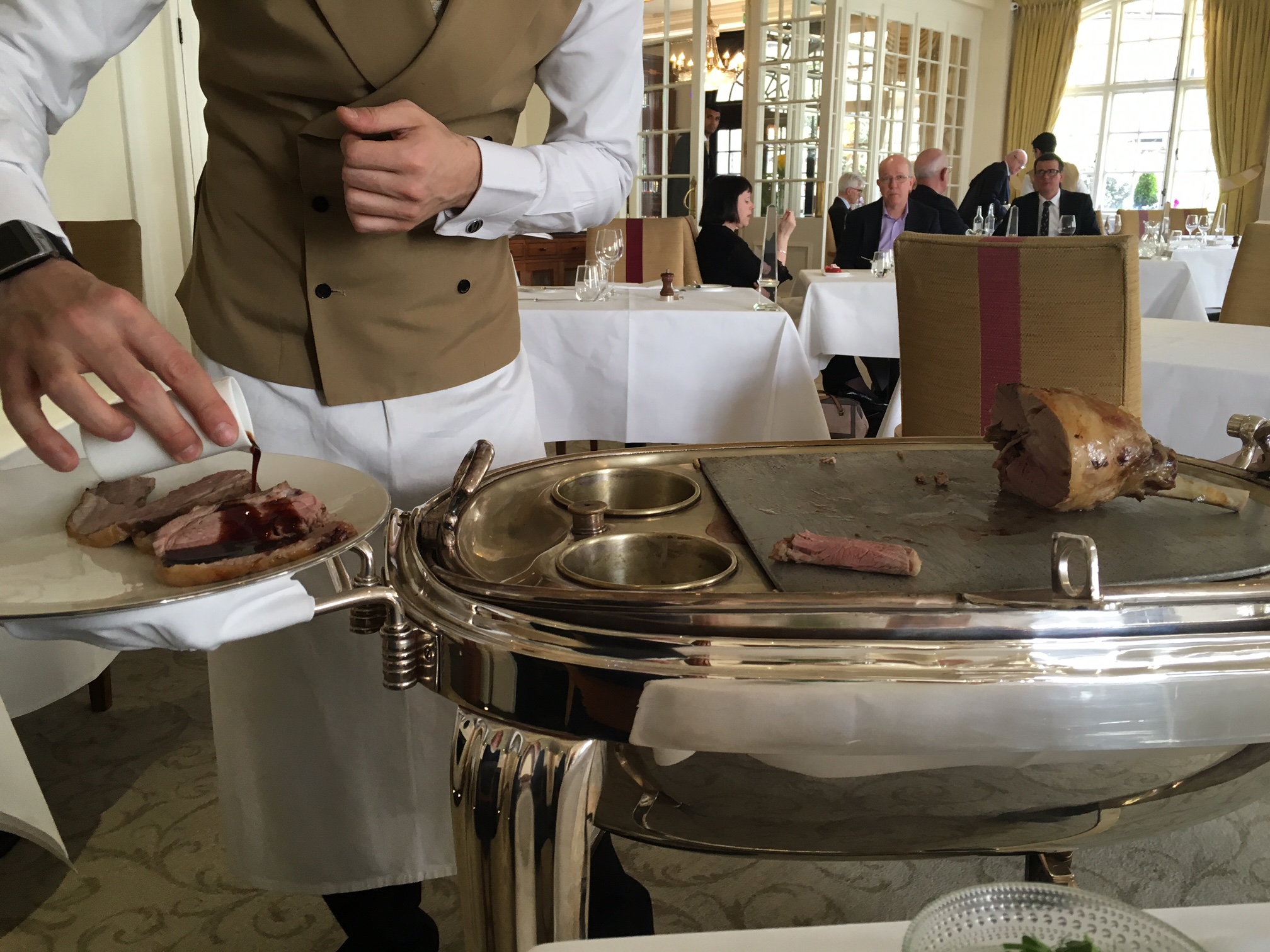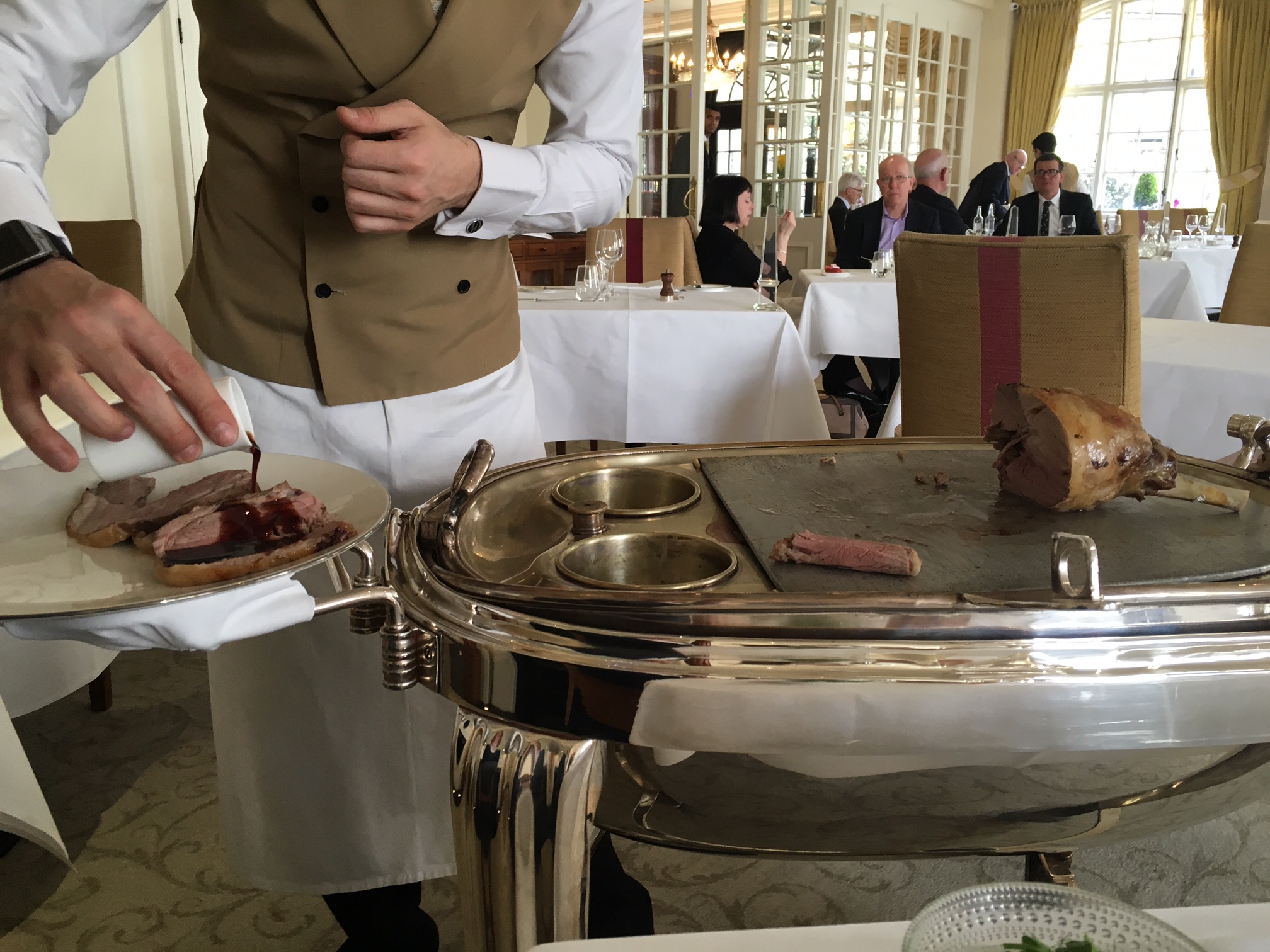 Mr R was not disappointed – he eats a lot of lamb and declared it amongst the best he'd ever tasted. The lamb came with a side of rich shepherds pie and peas which tasted like they had literally just been picked – and the jus was divine.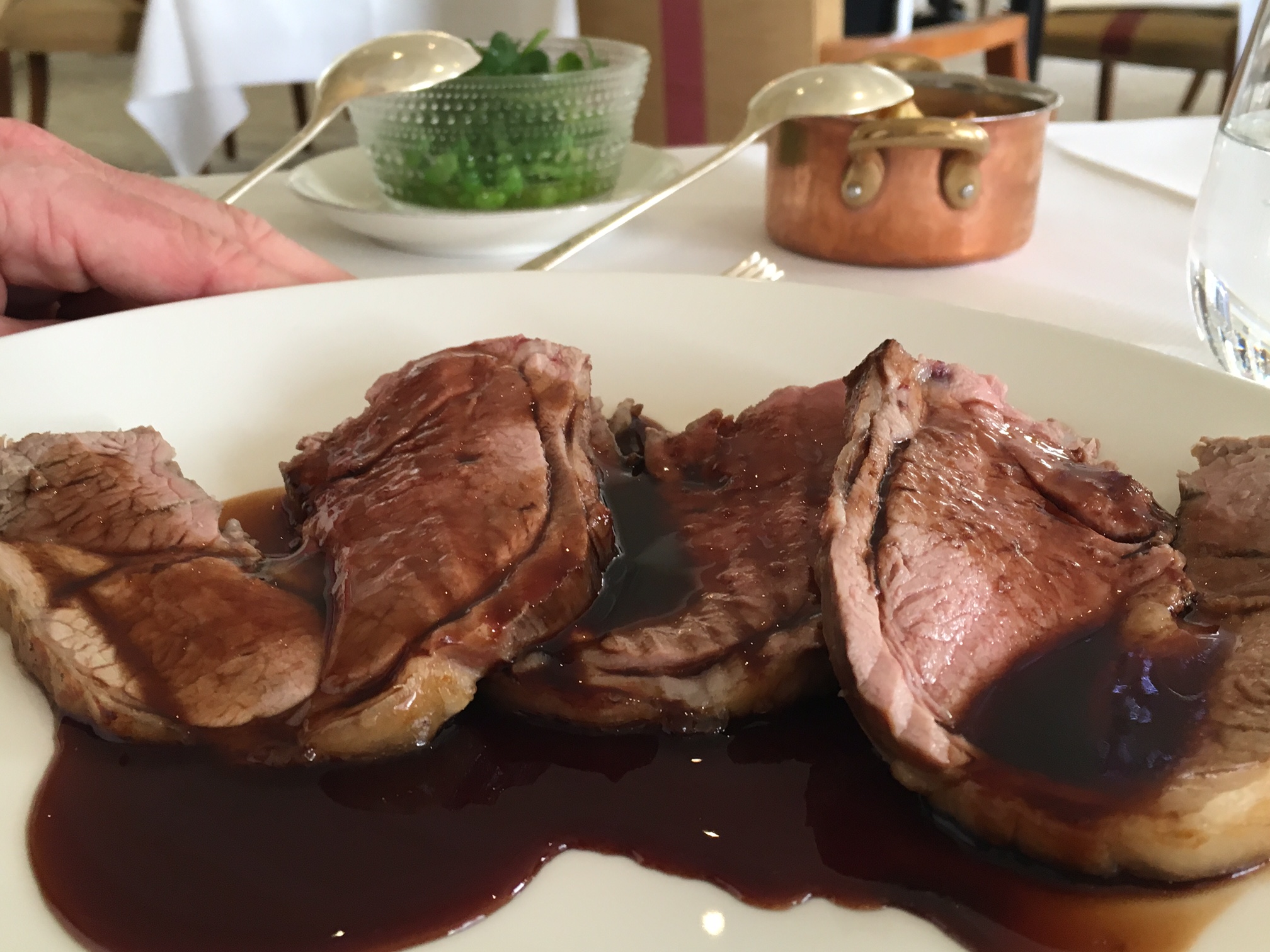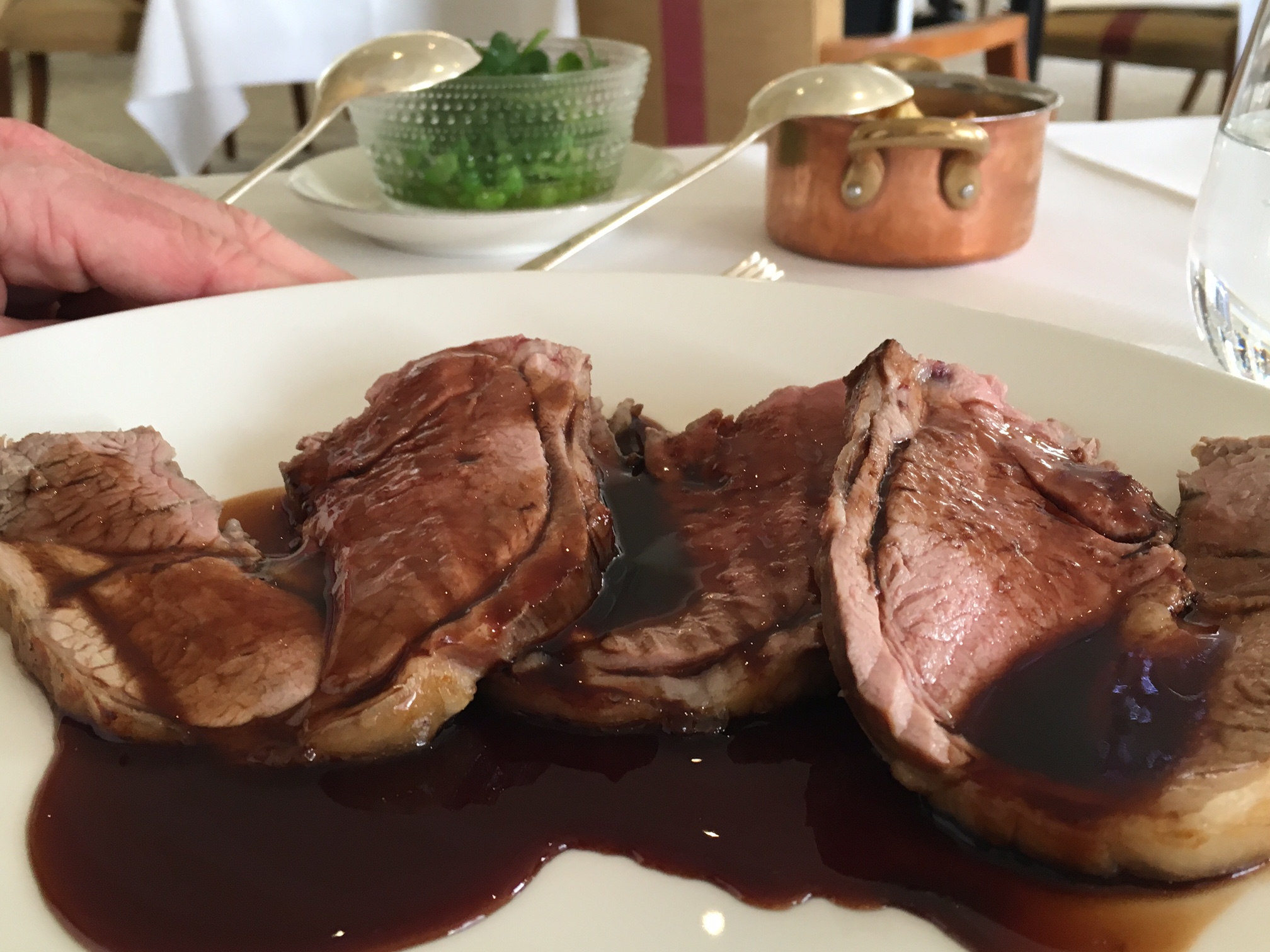 For pudding we negotiated a deal between us, clotted cream mousse for me if Mr R had cheese and we would swap. He likes to finish on sweet and I like to finish on savory. It's a Brexit thing. The desert once again showed the deft touch of Shay Cooper – clotted cream mousse, apple sorbet, caramelized hazelnut, crumble.
This dish literally had every element of pudding that I love all on one plate – creamy light fluffy mousse, sharp apple sorbet, sweet apple curd with nutty caramel. If it were not for the magnificent selection of cheese Mr R had chosen I would have reneged on our deal. Sometimes however we are better working together. As I said, it's a Brexit thing.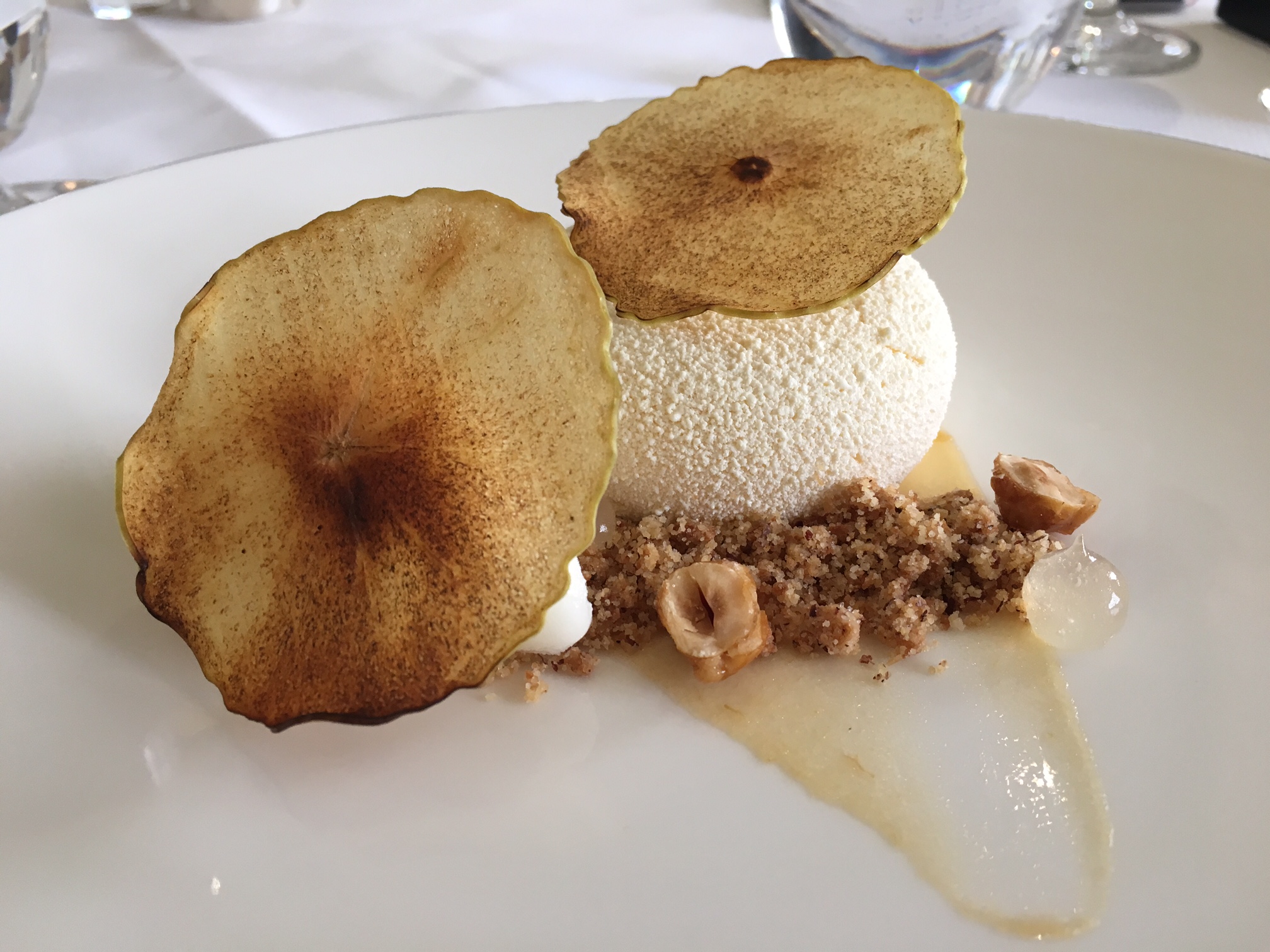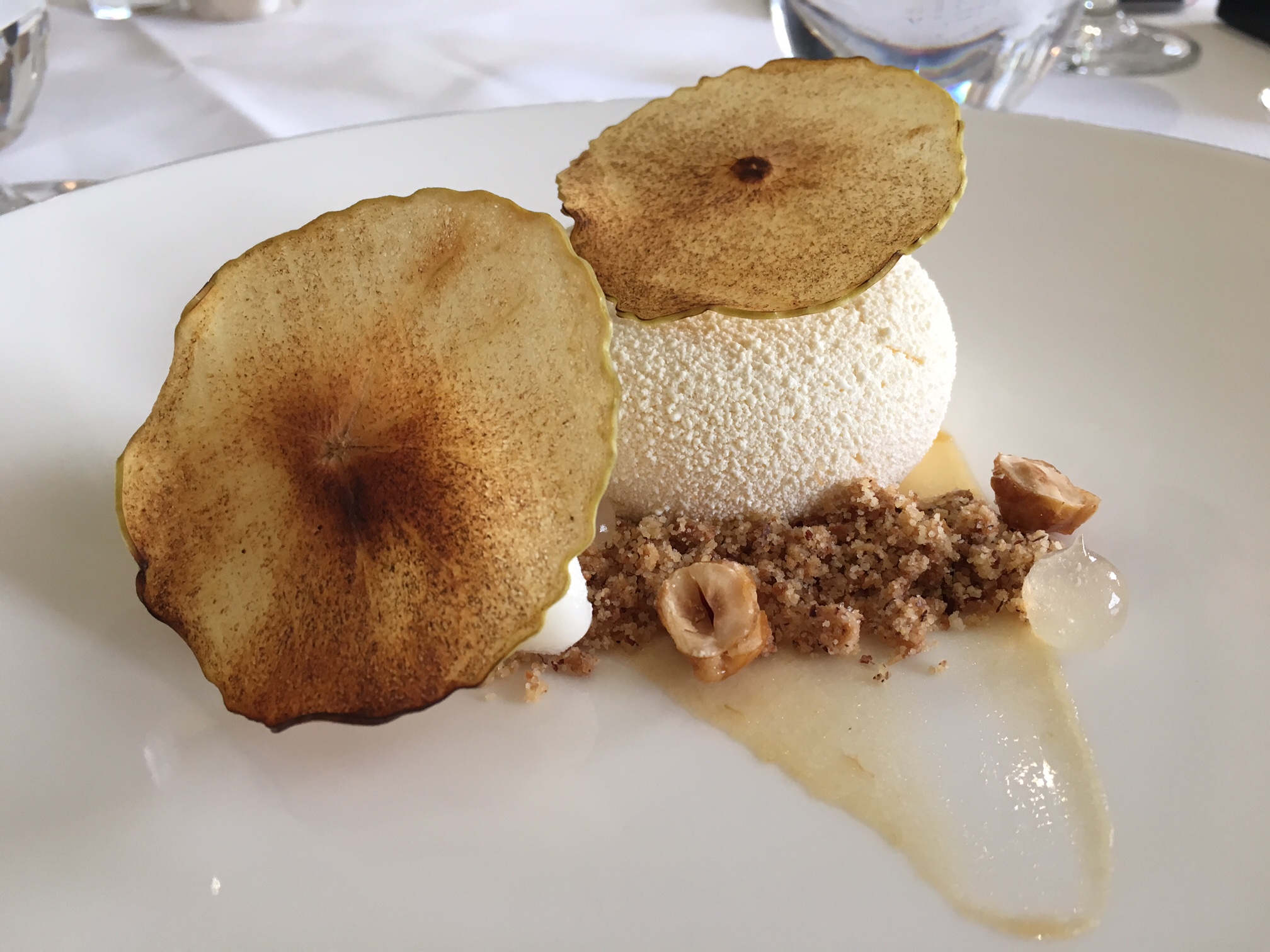 The cheese trolley is vast and portions generous. Stand out for me was the Oxford Isis. A washed rind cheese with a powerfully pungent tang it is triple dipped in honey mead, resulting in a sweet crystally rind and its elastic quality was additive. Mr R was taken with two cheddars, one from the Isle of Mann which had a great closed texture and crumbly Keens Cheddar from the west country.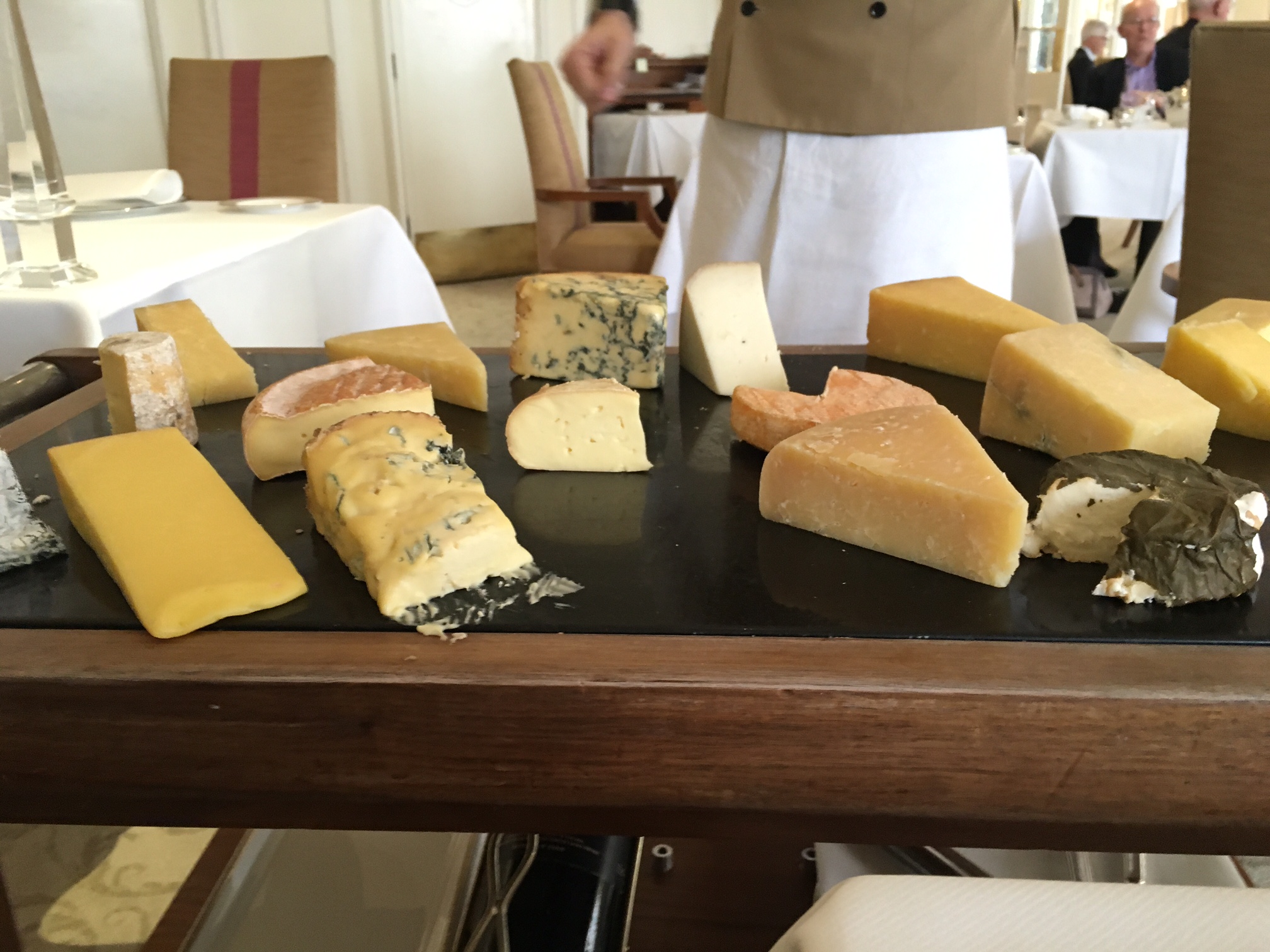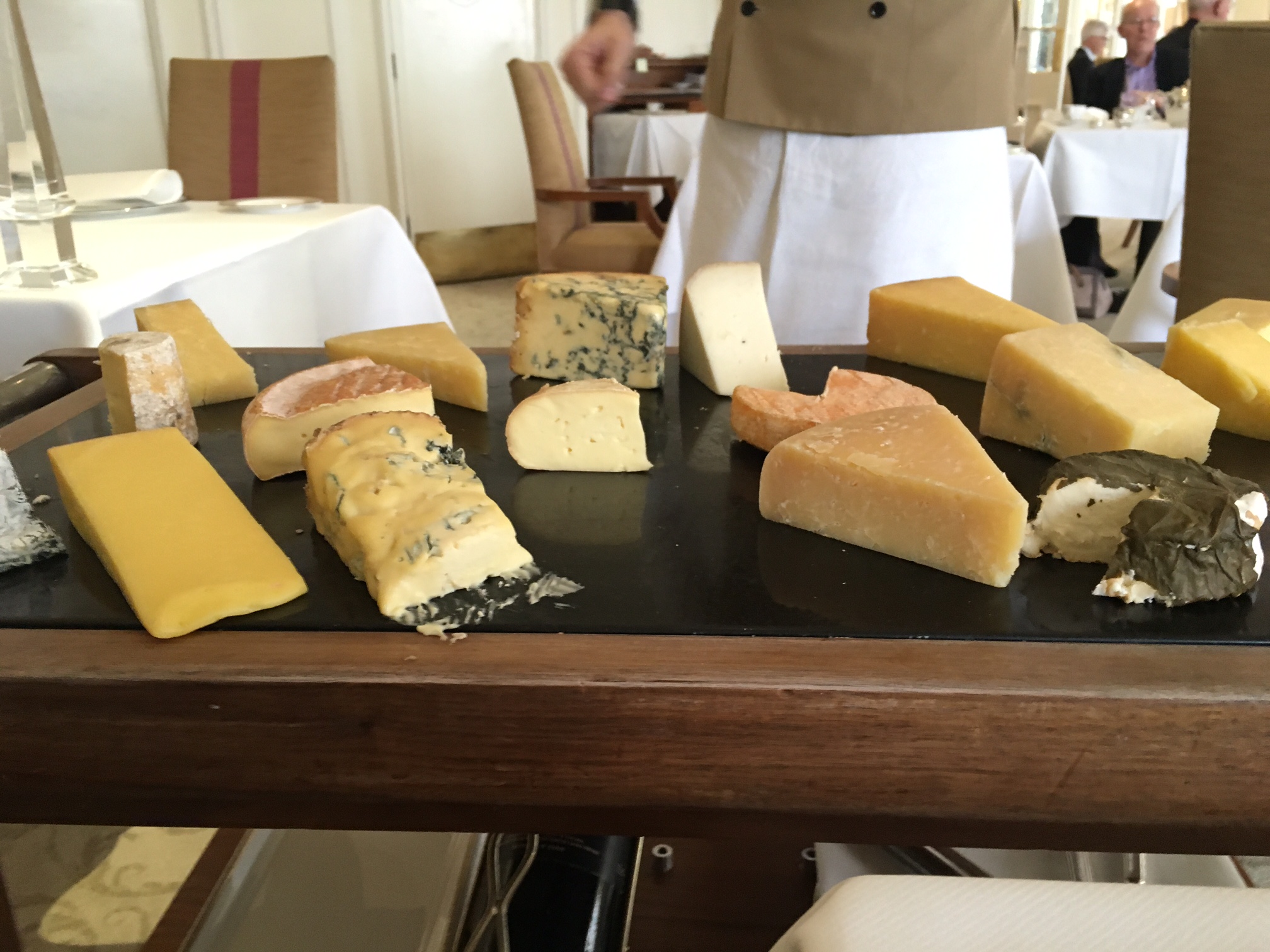 A word now about our accompanying wine – our lovely sommelier, Antoine, made a couple of cracking choices which matched so well with our menu we both stayed with the same throughout the meal. Mr R was red all the way and taken out of his comfort zone with a Lebanese Chateau Marsyas 2009. A powerful deep Cabernet with rich currant and plum notes it was perfectly able to cope with lamb and cheddar.
For my white wine Antoine recommended an Alamos Torrontes 2014 from Argentina which was spookily spot on for me as I adore well-perfumed floral wines. With intense citrus, grapefruit and mandarin orange notes it literally transported me directly into summer and paired just as well with the clotted cream desert as it did with my fish dishes. I do admit to stealing a slurp of Mr R's Cabernet when enjoying the cheese however.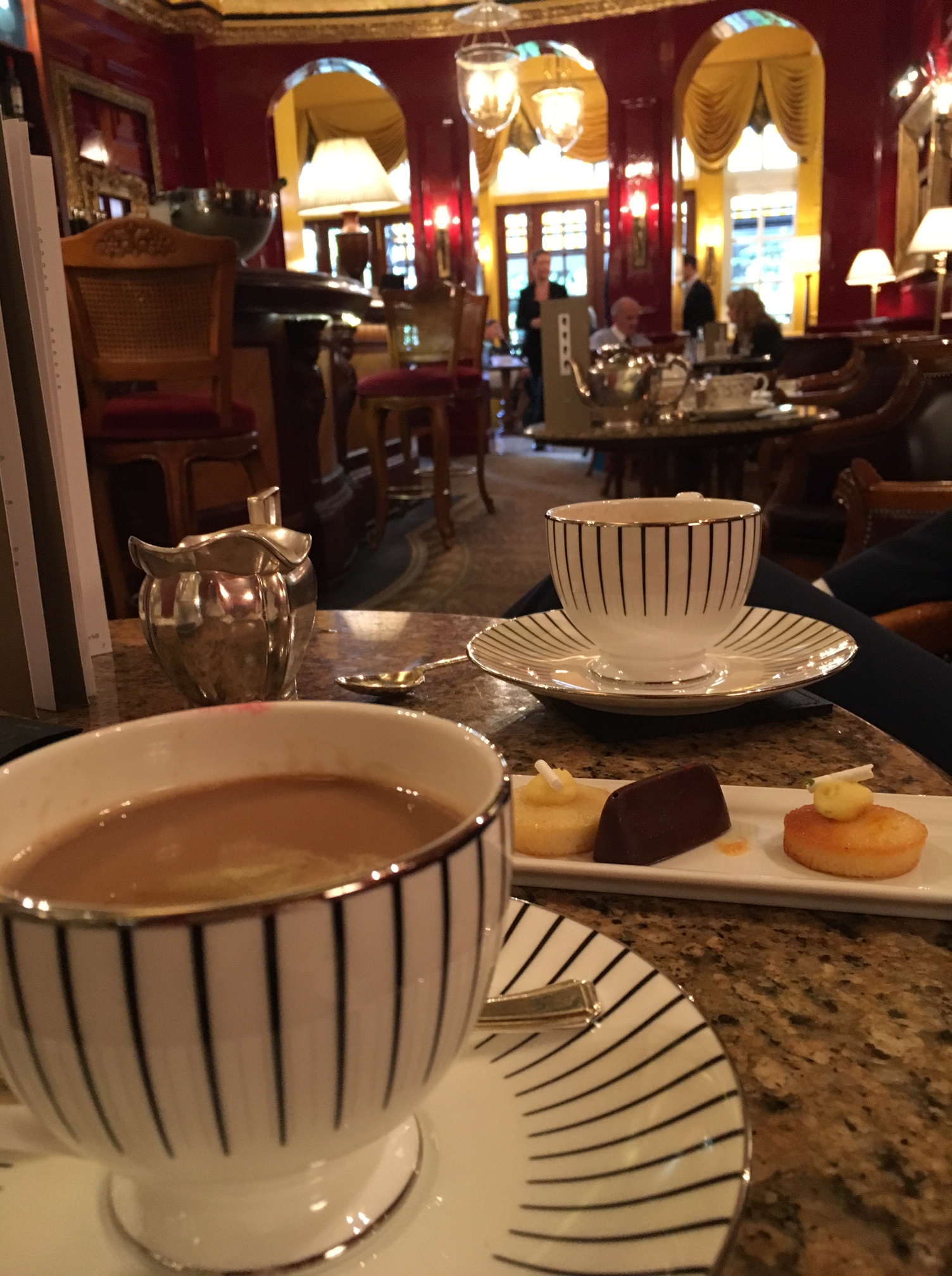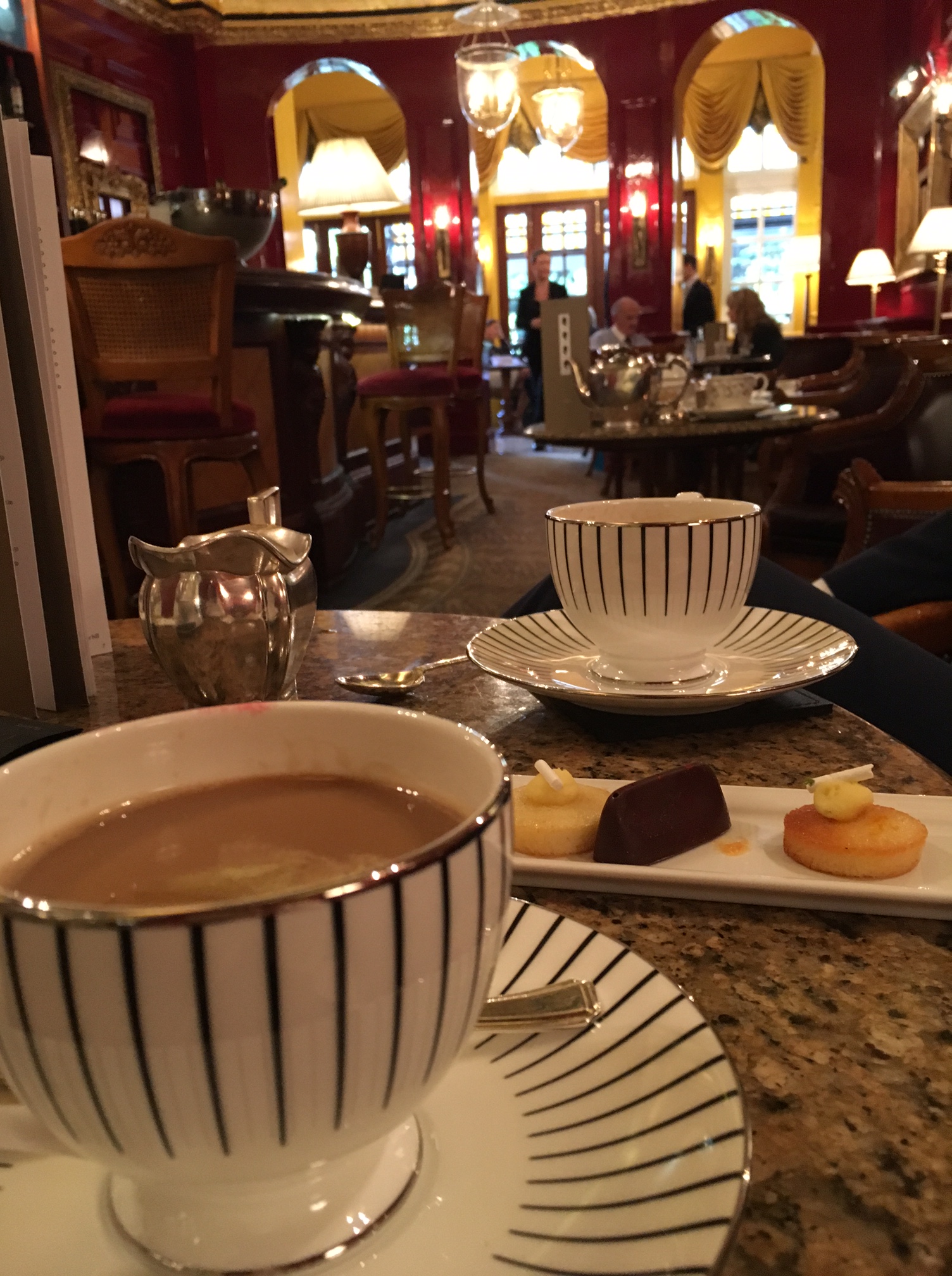 We decided to take coffee in the lounge for a change of pace and to wake ourselves up a little and it was lively for a Tuesday afternoon. Service was exceptional throughout our meal and carried on into the lounge (some waiting staff tend to forget you once you have left the restaurant) where our waiter Mirean delivered some exquisite petit fours.
Though still intimate, grand splendour and heritage exudes from all aspects of The Goring. You can't help but straighten your back and hold your chin a little higher when you leave – they really do treat everyone like royalty.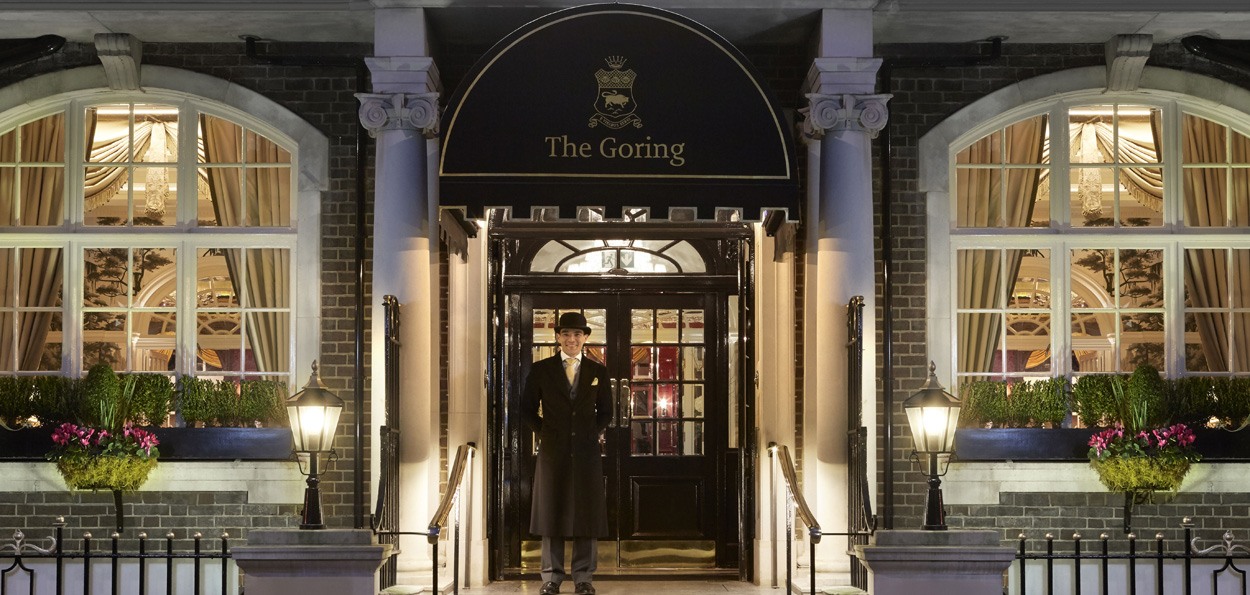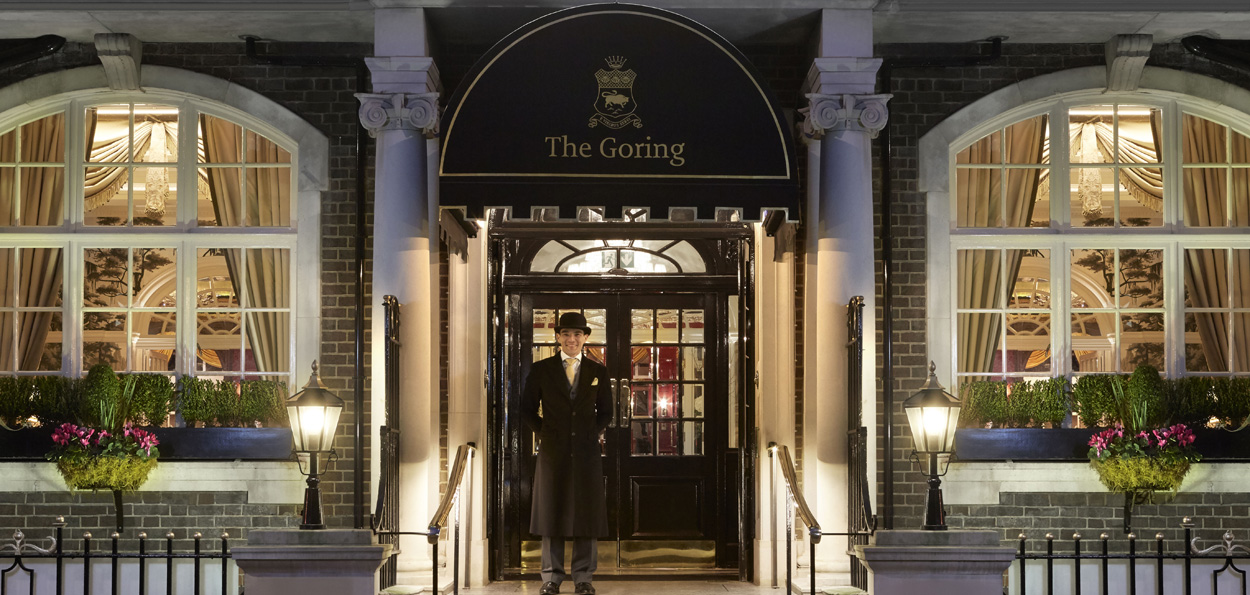 The feeling remained with us all the way to the London Palladium –  perhaps not the most objective basis on which to make a decision between economics or sovereignty. Interestingly however it was a feeling that our fellow attendees seemed to share – at the end of the debate the majority decisively held up vote cards stating OUT. I'll leave that with you.
Meantime if you are planning a trip to Buck House or its vicinity this summer do treat yourself to a taste of what it feels like to be truly royal – if only for an afternoon.
Mr and Mrs Robinson were guests of The Goring
The Restaurant – The Goring Dining Room | Beeston Place, Grosvenor Gardens, London, SW1W 0JW | 0207 396 9000 | www.thegoring.com
Club Offer –  Members and their guests receive a complimentary glass of Champagne when dining for lunch Sunday to Friday or dinner Sunday to Thursday. Click here for more details.
Not a member? Why not treat yourself to a year of dining in luxury and enjoy these and other tantalizing offers – all for just £95.00 for 12 months. Find out more here.