Atul Kochhar Interview: What it's like to open a new restaurant during a pandemic
Asian Cuisine
,
covid
,
Covid-19
,
Featured
,
Luxury Restaurant Guide Loves
,
Member offers
,
New
,
New Openings
,
News
,
Offers
,
Recommendations
,
Restaurant news
,
Review
,
Special Report
,
Uncategorised
30th Oct 2020
Michelin-starred chef Atul Kochhar opened his second restaurant in Marlow, Vaasu, on 26th October 2020. Despite being perhaps one of the most famous Indian chefs in the world, having been the first ever to attain Michelin status back in 2001, it surely still takes nerves of steel to open a restaurant at the height of a pandemic. We take a visit to his new restaurant to find out the story behind the opening. This is his story:
Q: Atul, firstly, can you tell us about Vaasu, what's the inspiration behind the restaurant.
Atul: Vaasu is about creating another gastronomic discovery. Each one of my restaurants brings a different style of cooking from India. You know, it shouldn't really be known as Indian cuisine but more the cuisines of India, because the different regions are really like chalk and cheese – like comparing Nordic to southern Italian. Vaasu was about me following my passions to re-open a northern India restaurant. My first job in the UK was northern India cuisine at Tamarind, which obviously got recognised by Michelin, and since then they have all been different – Sindhu at The Compleat Angler in Marlow is southern Indian; Kanishka in Mayfair is north eastern, Hawkyns in Amersham is Pan-Asian, and Indian Essence in Petts Wood is a great all-rounder British Indian local. So Vaasu is like a journey for me. One back in time where I am digging into my family recipes from my dad, mum and grandparents.
Q: So how long has Vaasu been in the making, were plans delayed at all?
Atul: I had been thinking about it for a while, and when I spotted this site I thought it was a great opportunity. I bought it and got the keys on the 25th February. The plan was to turn it around for April. We had the builders and the designers in straightaway. Then suddenly it was total lockdown. I couldn't get the builders back until June but luckily we were then able to open in July for takeaway service only.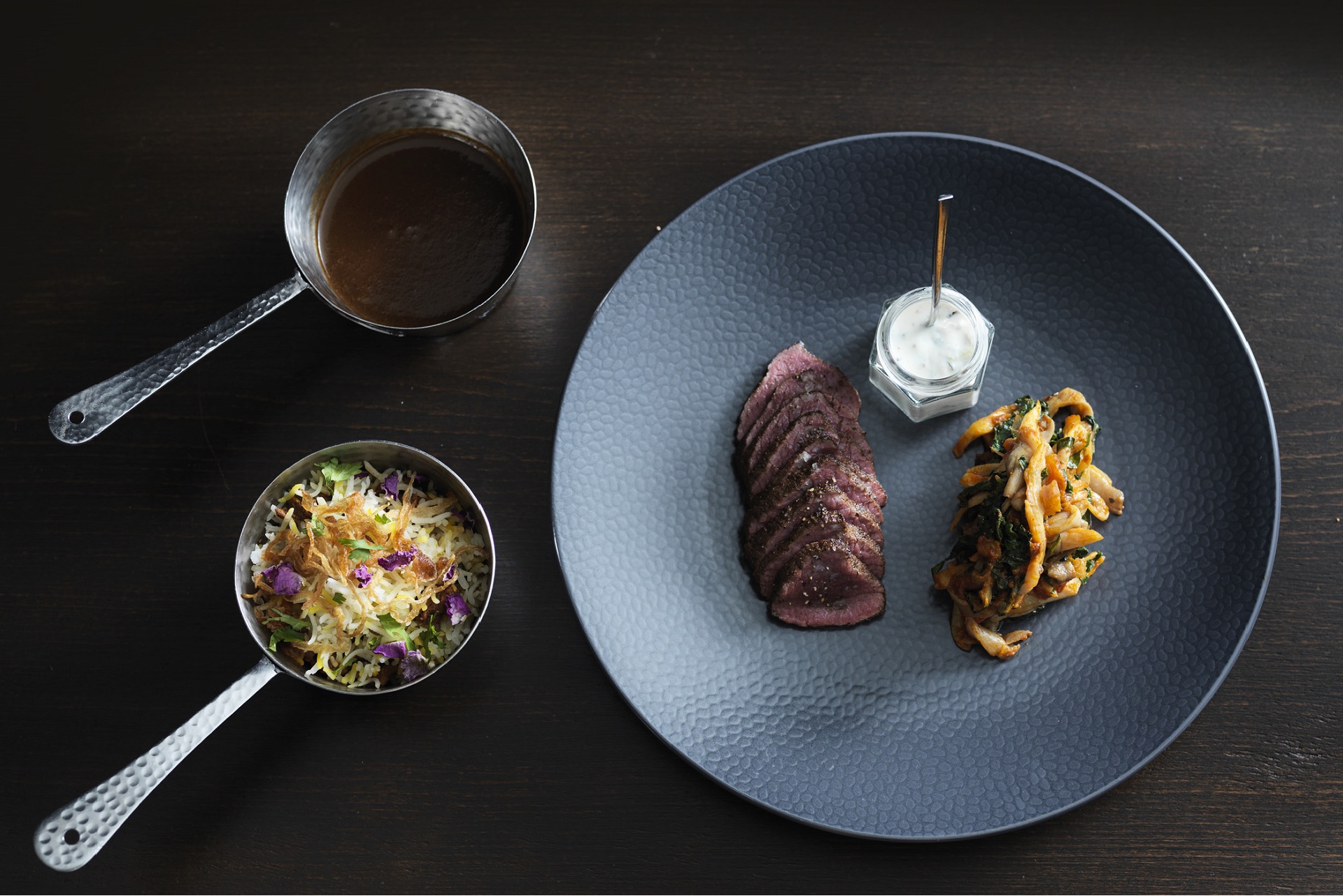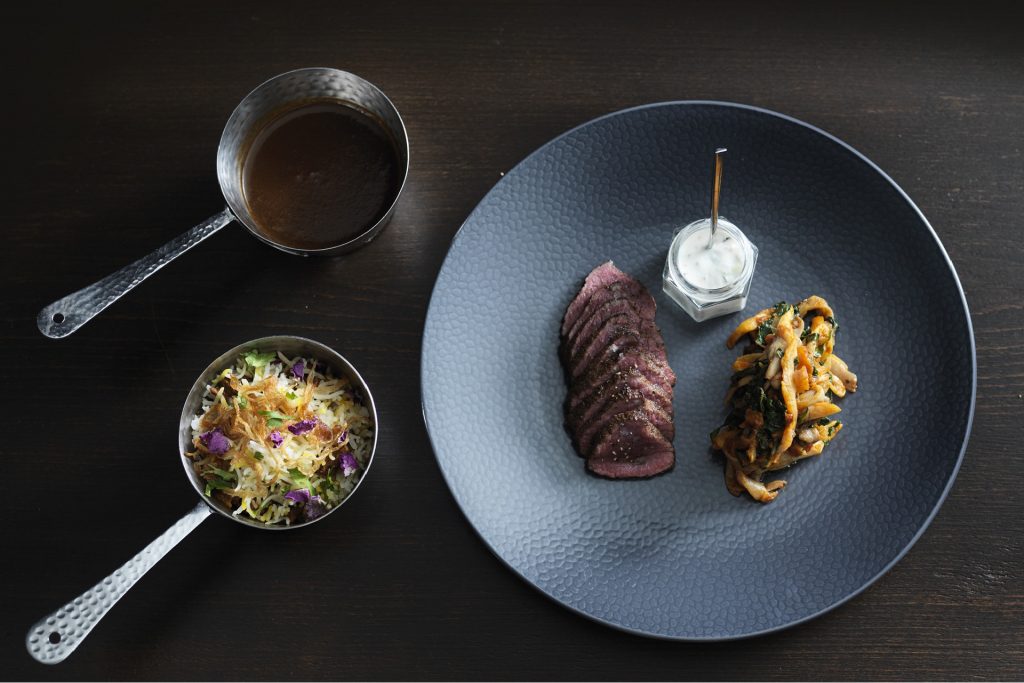 Q: It must have been worrying times for you with all the uncertainty?
Atul: The initial shock was quite strong, right at the beginning for about two weeks or so. But the worry was more around catching Covid itself. Back then we were thinking even if stepped outside you would catch it. But then I took stock and we managed to reopen all restaurants, except for Sindhu being in a hotel, which was still closed, for takeaway and delivery services.
Q: How about the team you must have already had for Vaasu; did you have to make many changes?
Atul: Well I'm very passionate about my team, and one of the reason we did takeaway was not to make money but to keep everyone employed – rotating 30 people, so we could all stick together and maintain livelihoods.
Q: Did you have to make many changes to the restaurant to fit with the new Covid-19 measures?
Atul: No not really. The restaurant prior was originally an 80 plus covers, but I had always wanted it to be more pristine and had a self-imposed 40 cover rule. Fortunately my layout and the dynamics worked perfectly with the new measures.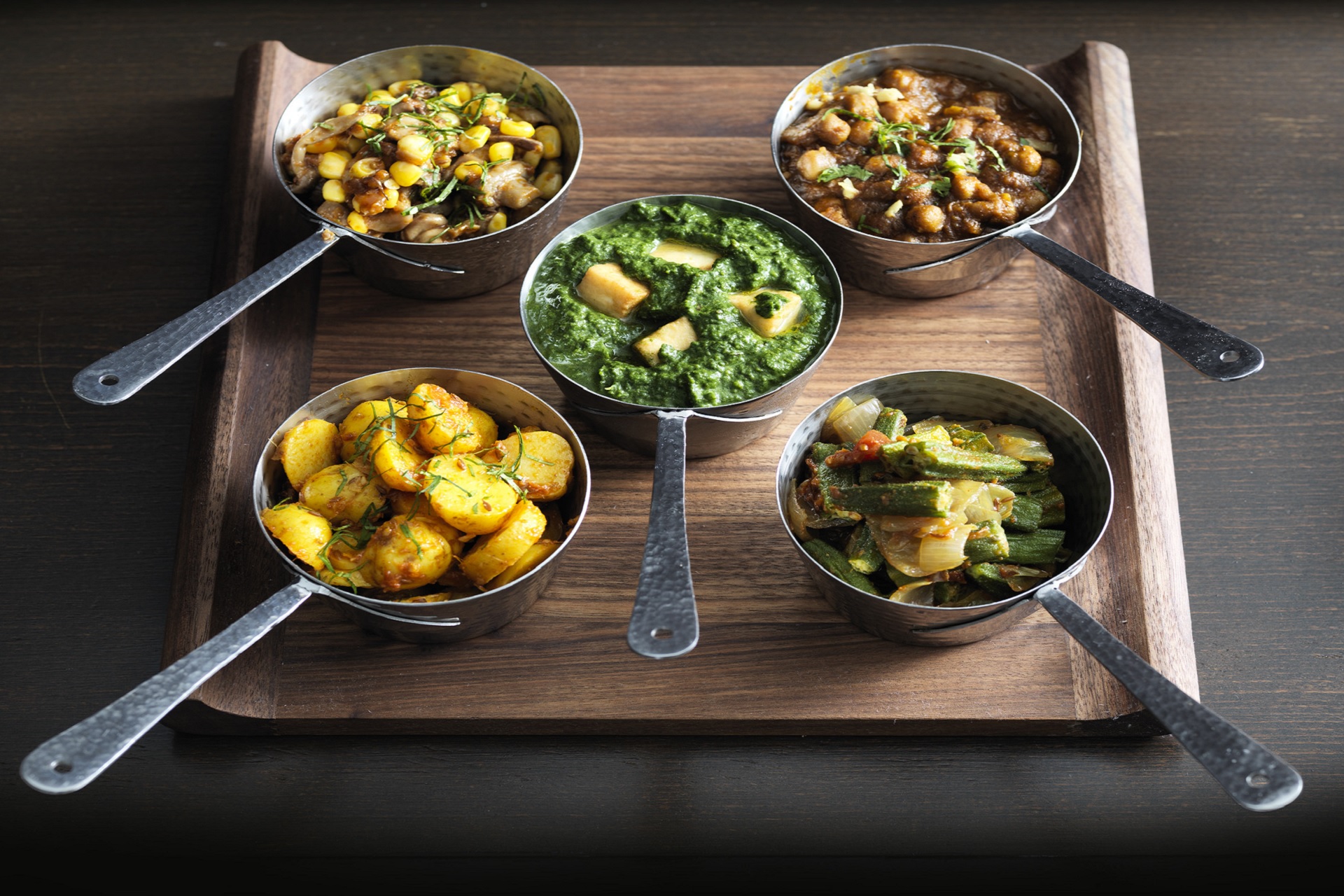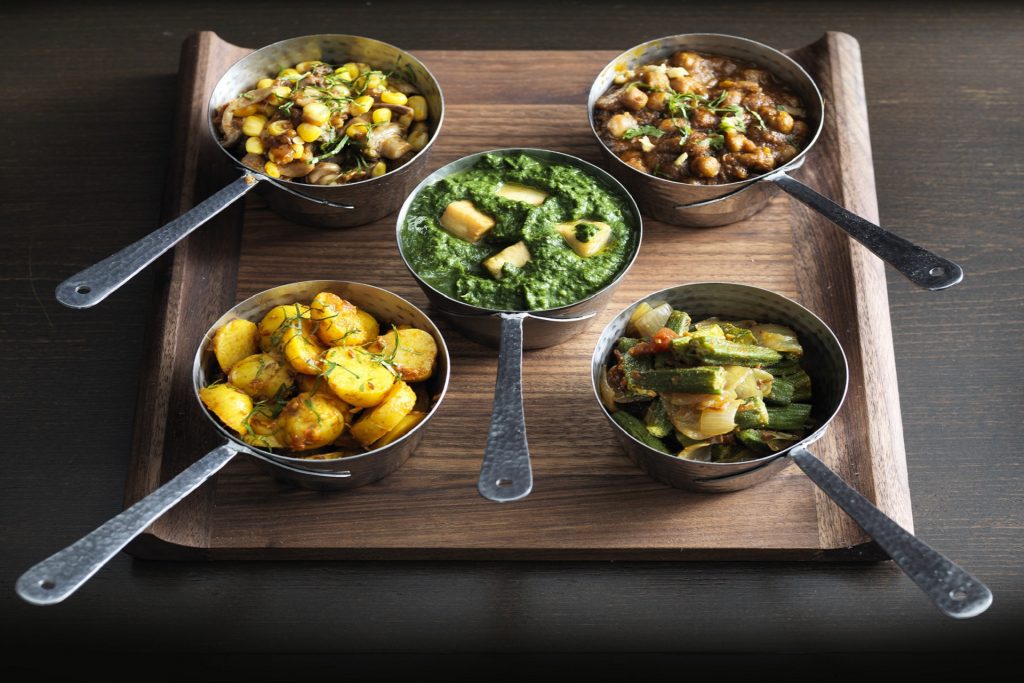 Q: What has been the most challenging aspect during this last year?
Atul: Covid gave us enough challenges to worry about this year – just in health terms. So for me I took the opportunity to take a step back and be more philosophical. I just kept coming back to the thought that whatever happens, happens for a reason. Someone put a big spanner in the works; the world was happening way too fast and we've all been working far too hard. If I look back on what I should have done this year it really was crazy. I was booked to fly here, there and everywhere – Australia, Hong Kong, Middle East. But the time spent with my family and kids just made me think what was I doing it all for. The more I did, the more it took me further away from them. And for why? Sometimes you have to say enough is enough.
Q: So this year has given you a new outlook?
Atul: Yes definitely. Time to restock about what's important. I will continue to explore, and continue to keep pushing boundaries, but for me that is to keep producing great food. Not for a guide's purposes; I am cooking for my customers. Making sure everyone who comes through the door leaves very happy.
Q: Does that mean no more restaurants or cuisines of India?
Atul: No, I am still keen to explore more styles in the UK. Another cuisine I really want to do is around the huge influence Muslim food has on Indian food, with the influences from Pakistan and Bangladesh. Someone once said to me: Why do you keep do different styles, as you could easily have a chain by now, but I just say that if I had 5 children I would want them all to have different names!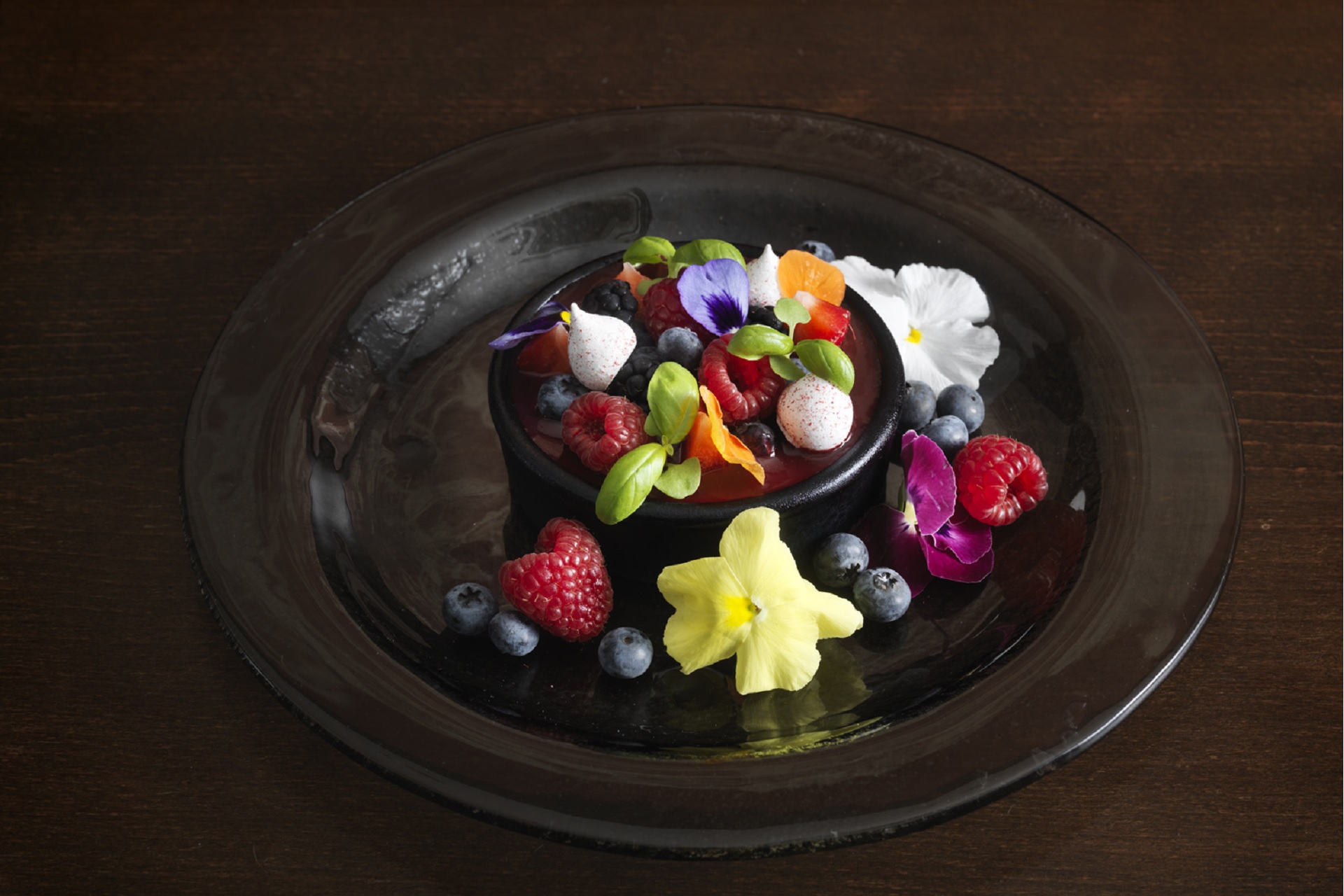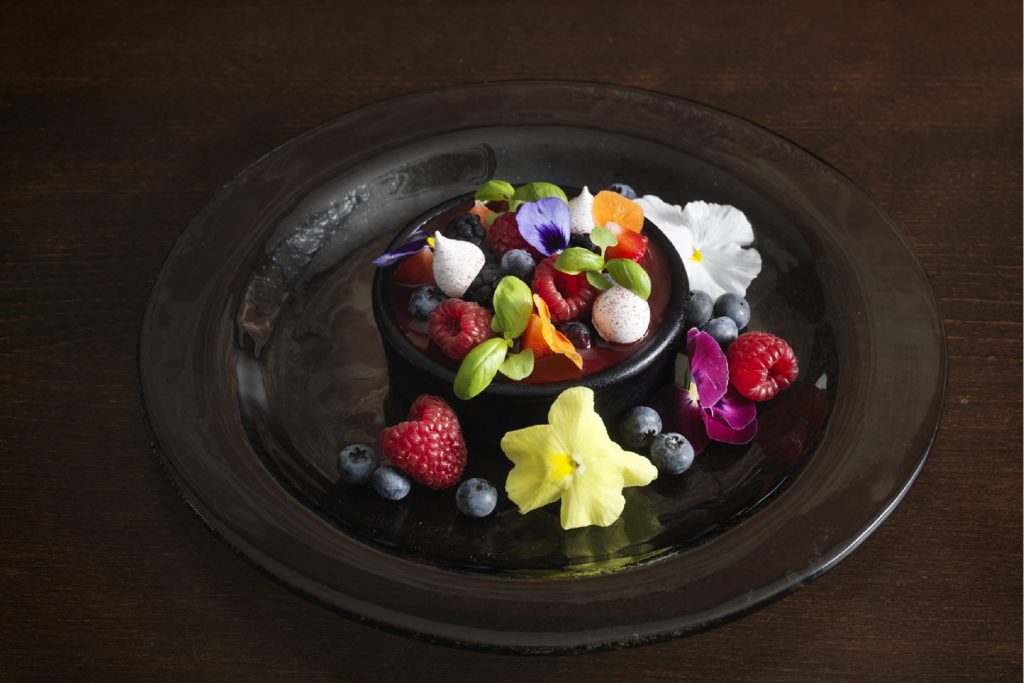 Q: But do you think the UK's palette is sophisticated enough to tell the difference in styles?
Atul: You'd be surprised how sophisticated it is. People are far more learned and better travelled than just 20 years ago. For instance Kanishka continues going from strength to strength. The cuisine's region, being north eastern, is heavily influenced by its neighbours – China, Burma, Bangladesh and Bhutan. So lots of different techniques from fermentation to smoked; dumplings, noodles, stir fries and curries. When ordering some dishes, you'll get chop sticks there.  People don't expect that in an Indian. But the restaurant is in the top ratings on TripAdvisor, 275th  in London out of 20,000 restaurants, and it's new. That's good when you consider a nearby well established Michelin starred Indian restaurant is always around the 600's. I guess that says it all. Here at Vaasu the dishes pay particular homage to the mouth-watering flavours of Punjab, Delhi and Rajasthan, and uses the traditional cooking techniques like the tandoor oven and tawa griddle. And all accompanied by a great selection of wines, cocktails and drink. 
About Vaasu
Enjoy set lunch menu, à la carte and seven-course tasting menus. Prices: starters from £12; mains from £20 and sides £9; Tasting menu £65, and with matching wines £48. Tasting menu also comes as vegan, vegetarian and pescatarian. Luxury Restaurant Guide has tried and highly recommends the value of tasting menus with matching wines. See menus.
Highlights:
Appetisers such as Murg Bemisaal (free-range chicken Tikka, chutney grilled, crispy wing) and Changezi Chaapein (smoked Kashmiri chilli, marinated Tandoori lamb cutlet, aubergine chutney and Feta cheese).   
Main courses from shellfish and seafood such as Ajwaini Jhinga Aur Machhi Patialashahi (roasted prawns and monkfish with Spanish peppers, tomato Tawa Masala, vermicelli), to chicken, including Purani Dilliwala Tandoori Murg Aur Makhani (Old Delhi-style classic Tandoori chicken supreme, butter chicken, corn salad and mint chutney) and lamb, such as Mewari Khaas Maas 'Classic and Contemporary' (roasted rump of Lake District lamb, Masala turnips, clove-smoked shoulder curry).
Vaasu sides and accompaniments such as Khatta Meetha Kadoo (sweet and sour pumpkin with Punch Phoran); Bataun Da Bharta (Tandoori-smoked aubergine with green peas) and the delightful Ma Di Daal (Mama Kochhar's signature black or tempered yellow lentils).
Opening hours Monday – Saturday: 12pm – 2:15pm | 5pm – 10pm and Sunday 12pm to 8pm