Cherry Clafoutis by Raymond Blanc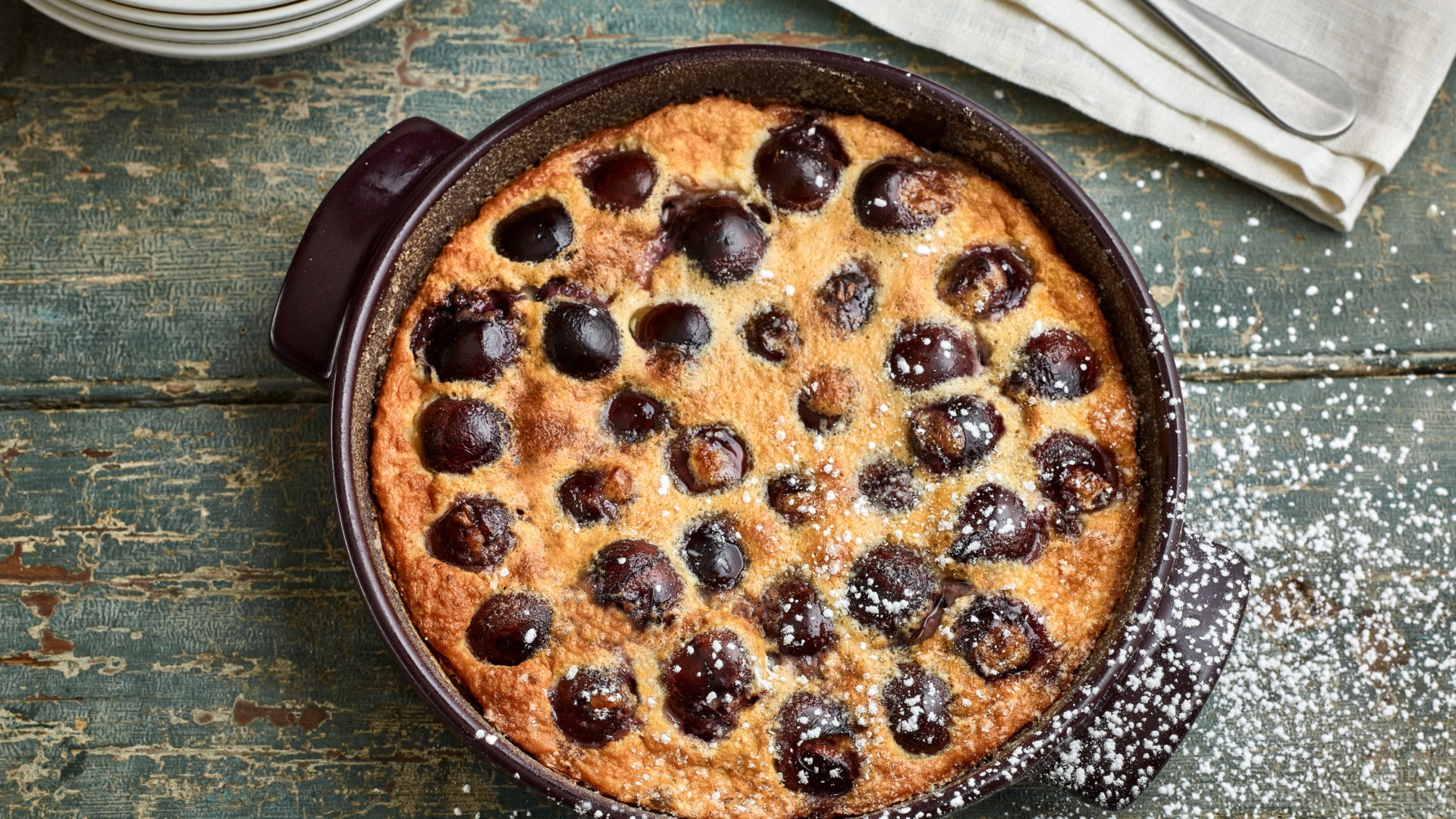 Cook at Home
Clafoutis is so beloved by our guests that it frequently features on our menus at Le Manoir and also in Brasserie Blanc. A clafoutis is a baked dessert featuring a thick batter over fruit. Traditionally, the fruit should be black cherries, but other stone fruits, such as peaches, plums, apricots or figs, work well too.

Raymond Blanc
Ingredients
For the cherries
For the cherries
450g best-quality ripe cherries (such as Montmorency or Morello), stoned
50g caster sugar
2–3 tbsp kirsch, to taste (optional)
---
For preparing the dish
10g unsalted butter, melted
30gcaster sugar, plus extra to finish (optional)
---
For the batter
2 organic/free-range medium eggs
45g caster sugar
½ tsp vanilla extract or vanilla syrup
20g unsalted butter
20g plain flour
50ml whole milk
75ml whipping cream
1 pinch sea salt
---
Method
To make the cherries
Gently mix the cherries, sugar and kirsch, if using, in a bowl.
Cover and leave to macerate for 2 hours.
While macerating, the sugar slowly permeates the fruit and intensifies the taste.
Preheat the oven to 180°C/Gas 4
To prepare the dish
Brush the inside with the melted butter.
Add the sugar and tilt the dish to coat the sides and base evenly; shake out the excess.
To make the clafoutis (this can be prepared a day in advance)
In a large bowl, whisk the eggs, caster sugar and vanilla together until creamy.
Meanwhile, melt the butter in a small pan and cook to a beurre noisette – the foaming butter will turn a hazelnut colour at 150–155°C. This butter will lend a wonderful roundness and nutty flavour to the clafoutis.
Add the flour to the egg and sugar mixture and whisk until smooth, then slowly incorporate the milk, cream, salt and beurre noisette.
Stir in the cherries with their juice and then pour into the prepared baking dish.
To cook the clafoutis
Bake for 30–35 minutes until the clafoutis is lightly risen and a knife inserted into the middle comes out clean.
The centre is always the last part to cook, so you must test it. Note that a dip in the middle suggests the clafoutis is undercooked.
Leave to stand for about 10 minutes.
Sprinkle with caster sugar if using and serve just warm.
Extract from www.raymondblanc.com
Belmond Le Manoir Aux Quat'Saisons, Church Road, Great Milton, Oxfordshire, OX44 7PD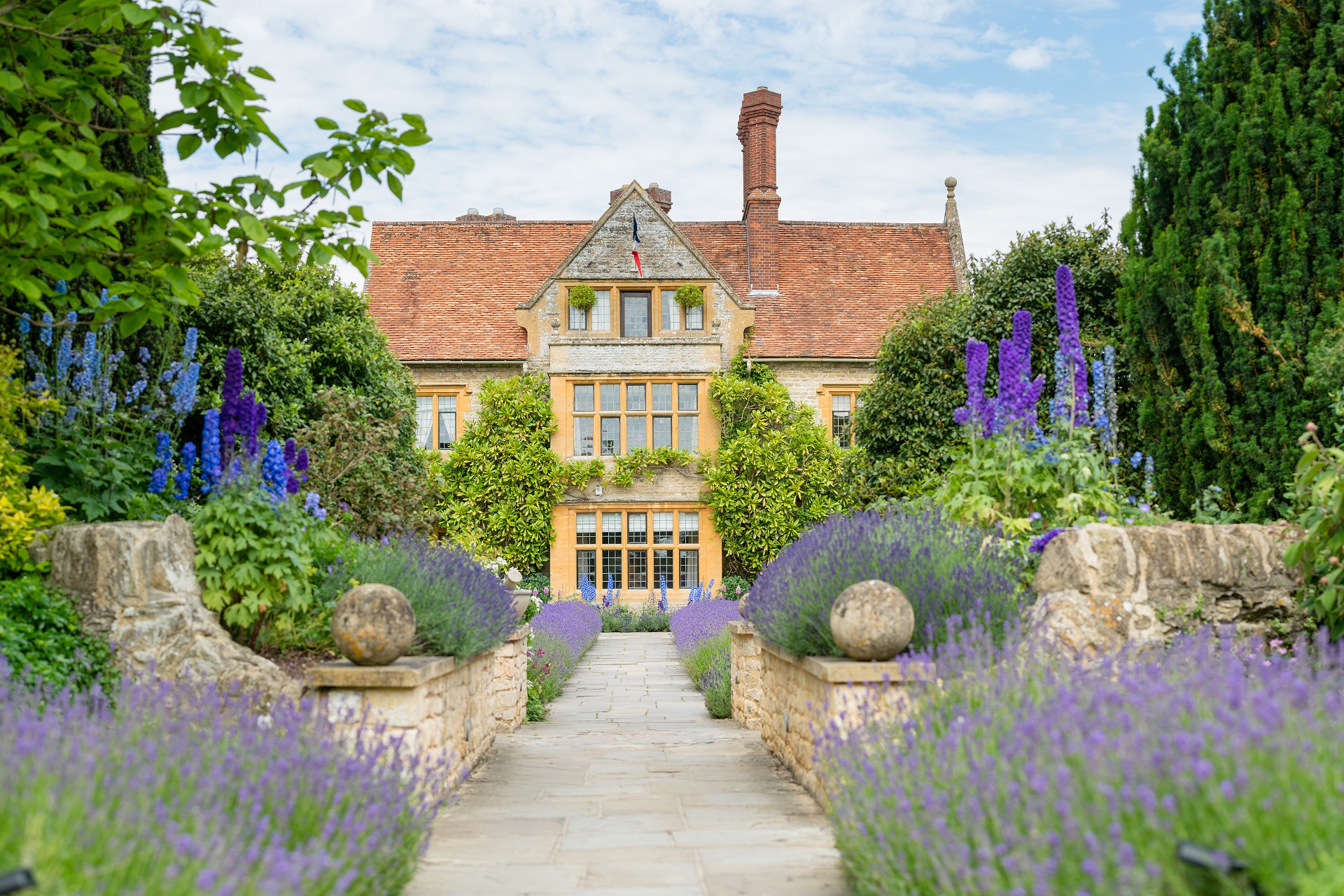 Cook at Home – Dine at Home – Dine at Restaurant
with the Luxury Restaurant Club
Not a member? Become a Luxury Restaurant Club Member to gain exclusive privileges at the UK's most awarded restaurants, from £8 per month