Ten of London's Best Secret Summer Terraces
Get fedora ready as we go in search of the best London outdoor terraces for great dining or pre-dinner drinks in the prettiest outdoor settings – and many with Luxury Restaurant Club dining offers:
The Summer Terrace at the Green Bar has partnered with Veuve Clicquot to create a superb space. An elegant retreat in the heart of London, with a new take on summer cocktails featuring Veuve Clicquot Champagne paired with a selection of light dishes and new sushi creations. Open daily from 12pm to 10pm until September 2019. Luxury Restaurant Club members receive a complimentary glass of Veuve Clicquot when ordering two small dishes from The Summer Terrace menu, see details. Download free app to join club.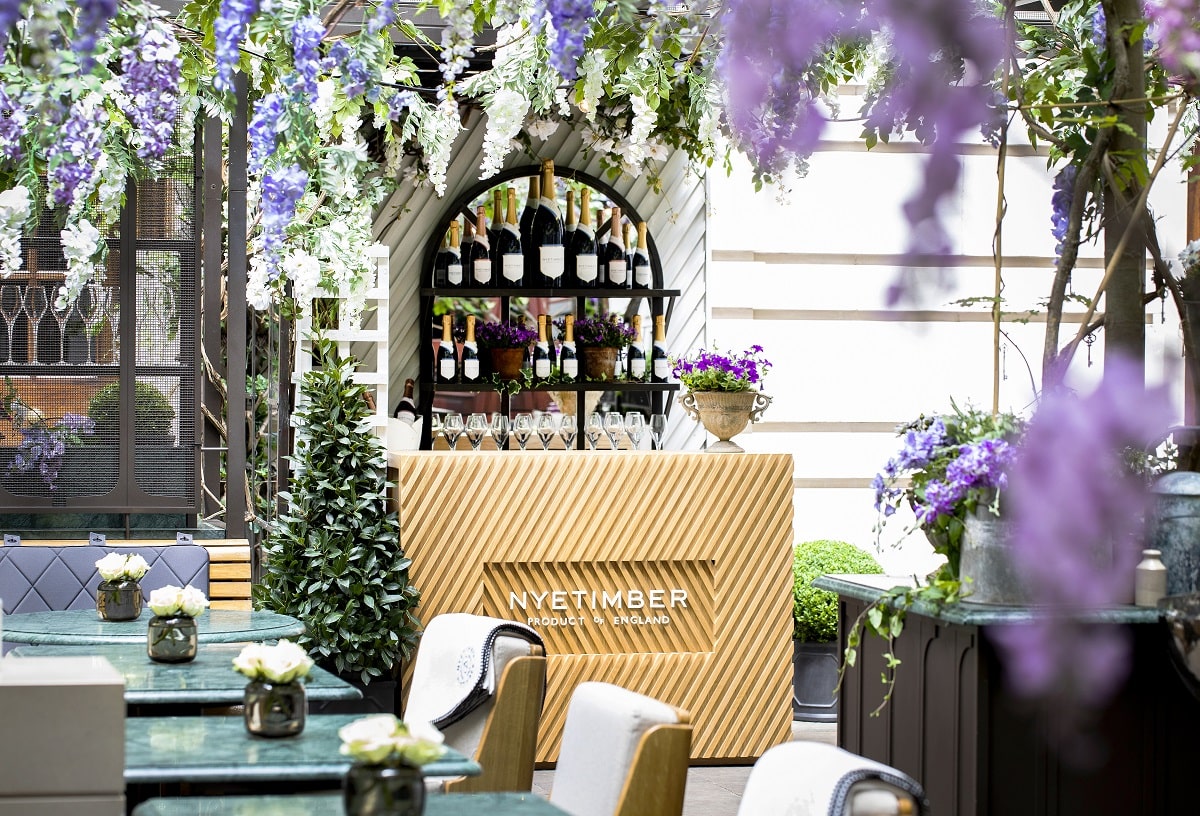 Rosewood London has created a Secret Garden in association with Nyetimber, one of England's finest sparkling wines. The elegant and immersive summer terrace is available until 29th September 2019 in the hotel's historic Edwardian courtyard. Floral archways  adorn the pathways to the secret garden, and guests are invited to enter the experience via a wrought iron gate. Inside, the terrace has been transformed into a verdant haven adorned with colourful wisteria, luscious green plants and delicate lighting – the perfect setting for a refreshing summer beverage. Guests have the opportunity to experience Nyetimber's prestige range of English sparkling wines both by the glass and by the bottle. A selection of other wines, cocktails and non-alcoholic beverages are also available. The hotel's Holborn Dining Room's Executive Head Chef, Calum Franklin, has created a special menu of dishes that are perfectly paired with a refreshing glass of Nyetimber. Luxury Restaurant Club members do not receive benefits in the Secret Garden, but can do so in The Holborn Dining Room and The Mirror Room. Download free app to join club.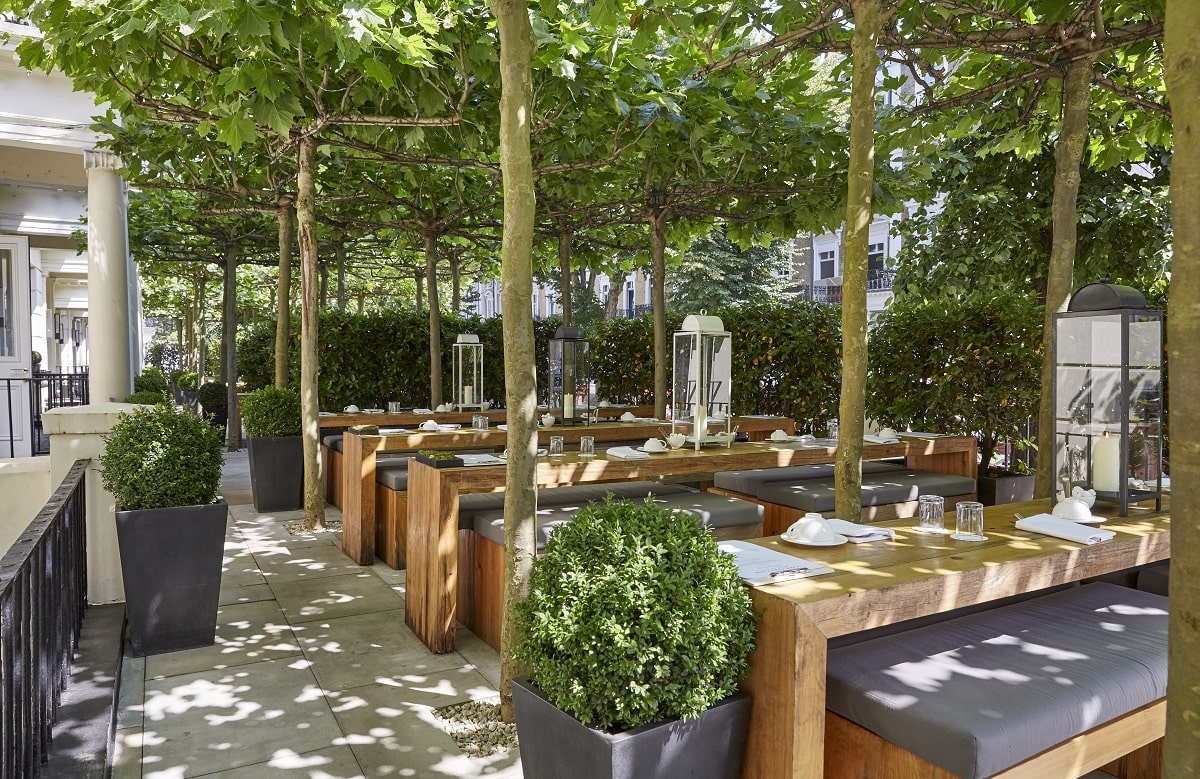 If you are a fan of Zen styling and partial to vegan/ vegetarian cuisine, La Suite West is your utopia. Styled by Anouska Hempel, the boutique hotel is on a quiet tree lined street on the edge of London's magnificent Hyde Park. Café Forty One, the only restaurant at La Suite West, offers a unique plant-based dining experience showcasing delicious and inspired British, Italian and Japanese influenced cuisine that defies the stereotypes surrounding plant-based food. Café Forty One, and terrace shown, offers a deliciously unique twist on classic favourites that cater for everyone not just vegans. Its menus focus on seasonal, healthy, fresh and sustainable ingredients for Breakfast, Lunch, All-Day Desserts and Afternoon Tea. Luxury Restaurant Club members enjoy a 10% reduction from food and beverage bills, see details. Download free app to join club.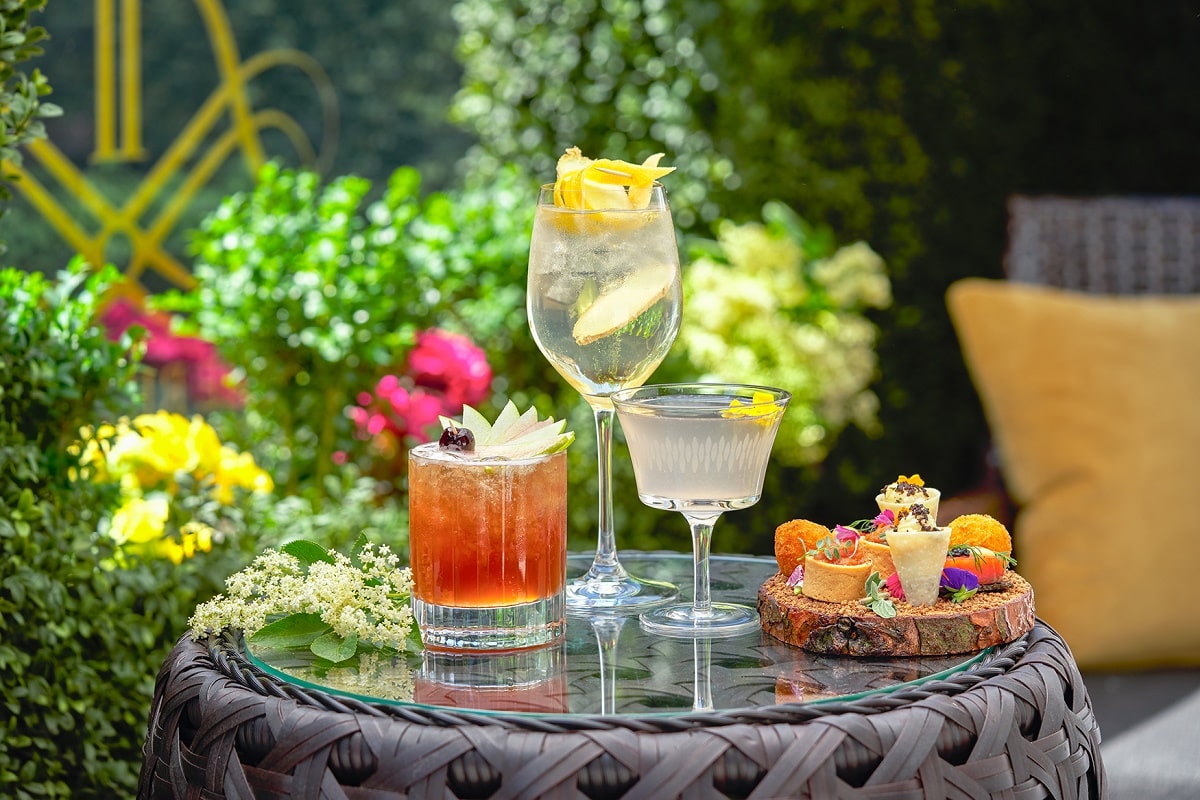 The Rib Room Bar and Restaurant has transformed its outdoor terrace into a floral haven in collaboration with St-Germain elderflower liqueur. Featuring fabulous florals, comfy cushions, cosy blankets for cooler evenings and a menu of specially created cocktails and canapes. Open until 31 August from 12pm daily. Luxury Restaurant Club members enjoy 15% off the food and beverage bill when dining in The Rib Room Restaurant from the a la carte menu, see details. Download free app to join club.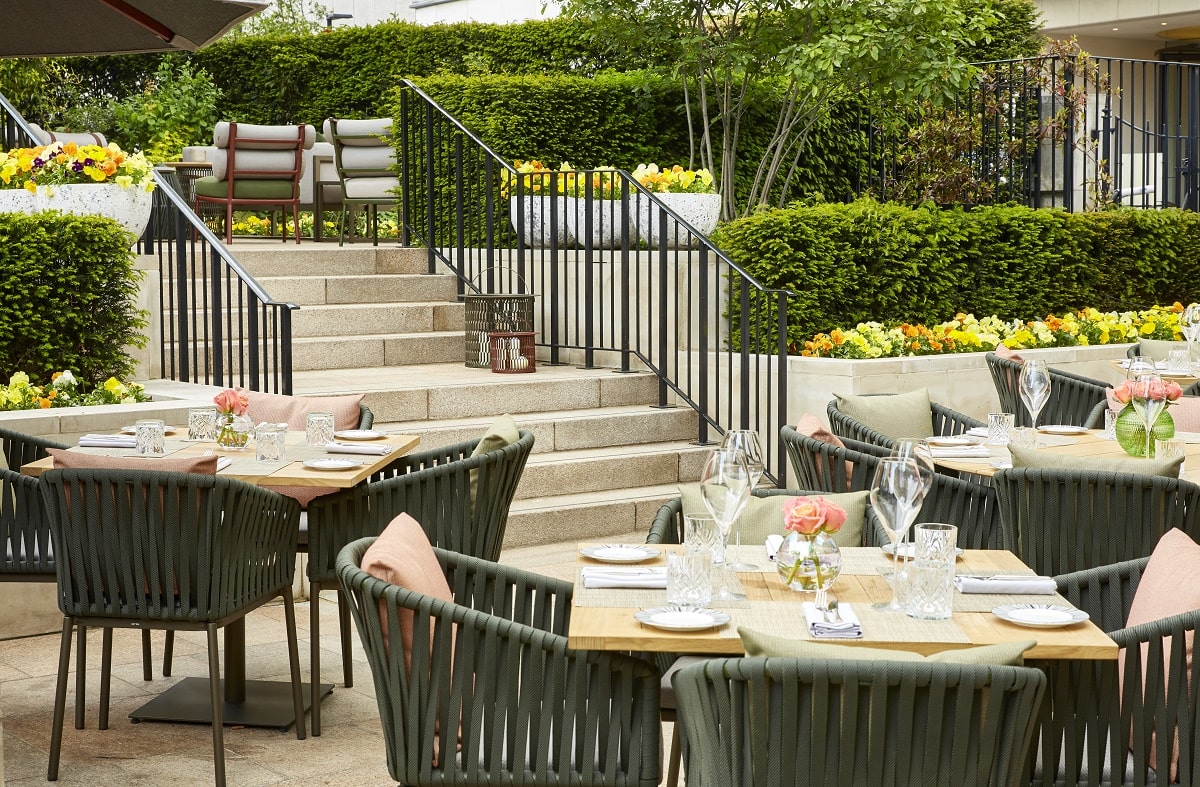 The Terrace at Four Seasons Hotel London at Park Lane has been beautifully re-created this year so guests can experience a taste of "Italia" in the heart of Mayfair. The exclusive hideaway, just steps from Park Lane and Piccadilly, is split over two levels, where you can languor over the course of an afternoon or evening, whilst enjoying The Terrace's new Apericena menu, in conjunction with Bar Manager, Ivan Arena's specially curated cocktail list. The Terrace is open from 07:30am to 10pm, seven days a week, with Apericena served 5pm to 8pm.  Luxury Restaurant Club benefits to follow shortly. Please sign up to the free app to receive more information on The Terrace when available.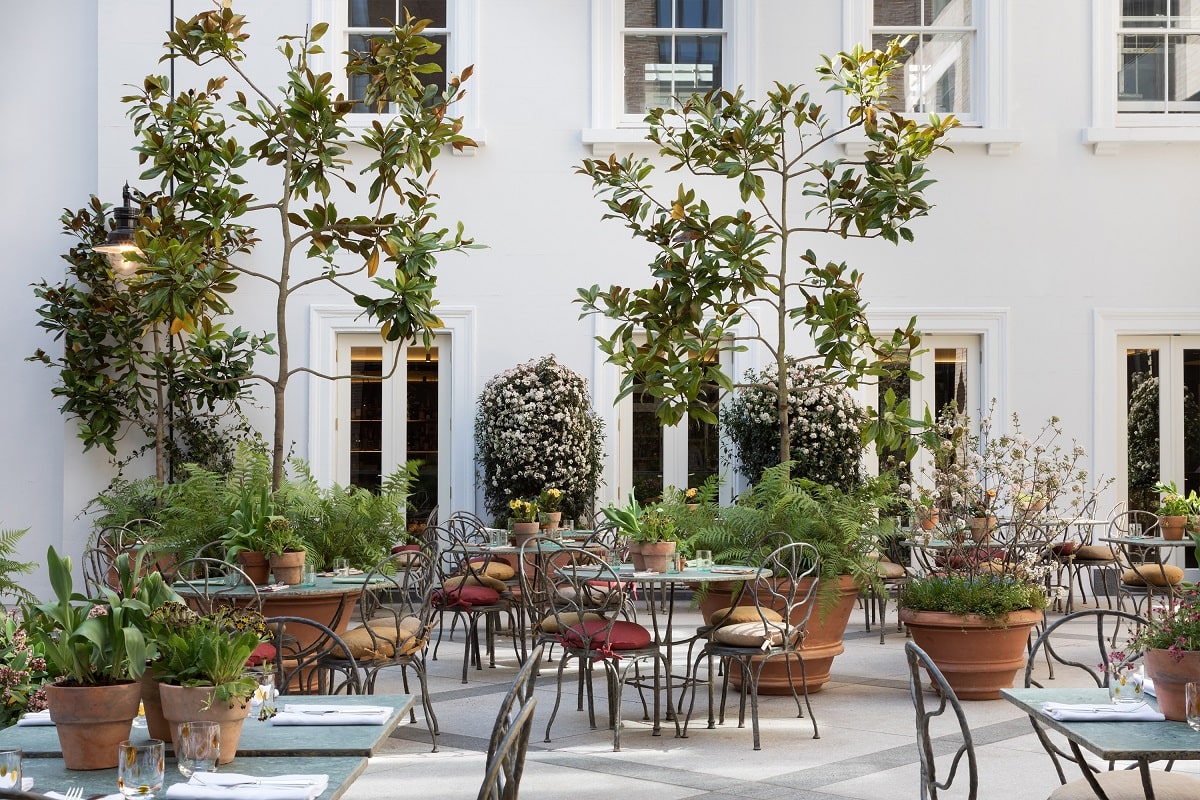 Right at the heart of Petersham Nurseries in Covent Garden is the Floral Court. It connects the Shop, Florist, Delicatessen and Cellar with the Petersham Restaurant and La Goccia, and is true to the Petersham Nurseries ethos of English country charm with Italian elegance. Italian terracotta pots handcrafted by artisans in Tuscany, brim with colourful and fragrant displays of seasonal plants and flowers, using the signature style that has become so renowned at the original Richmond Petersham Nurseries. There are no current Luxury Restaurant Club benefits here, but one we highly recommend. See other locations and offers by downloading the free app and joining the club.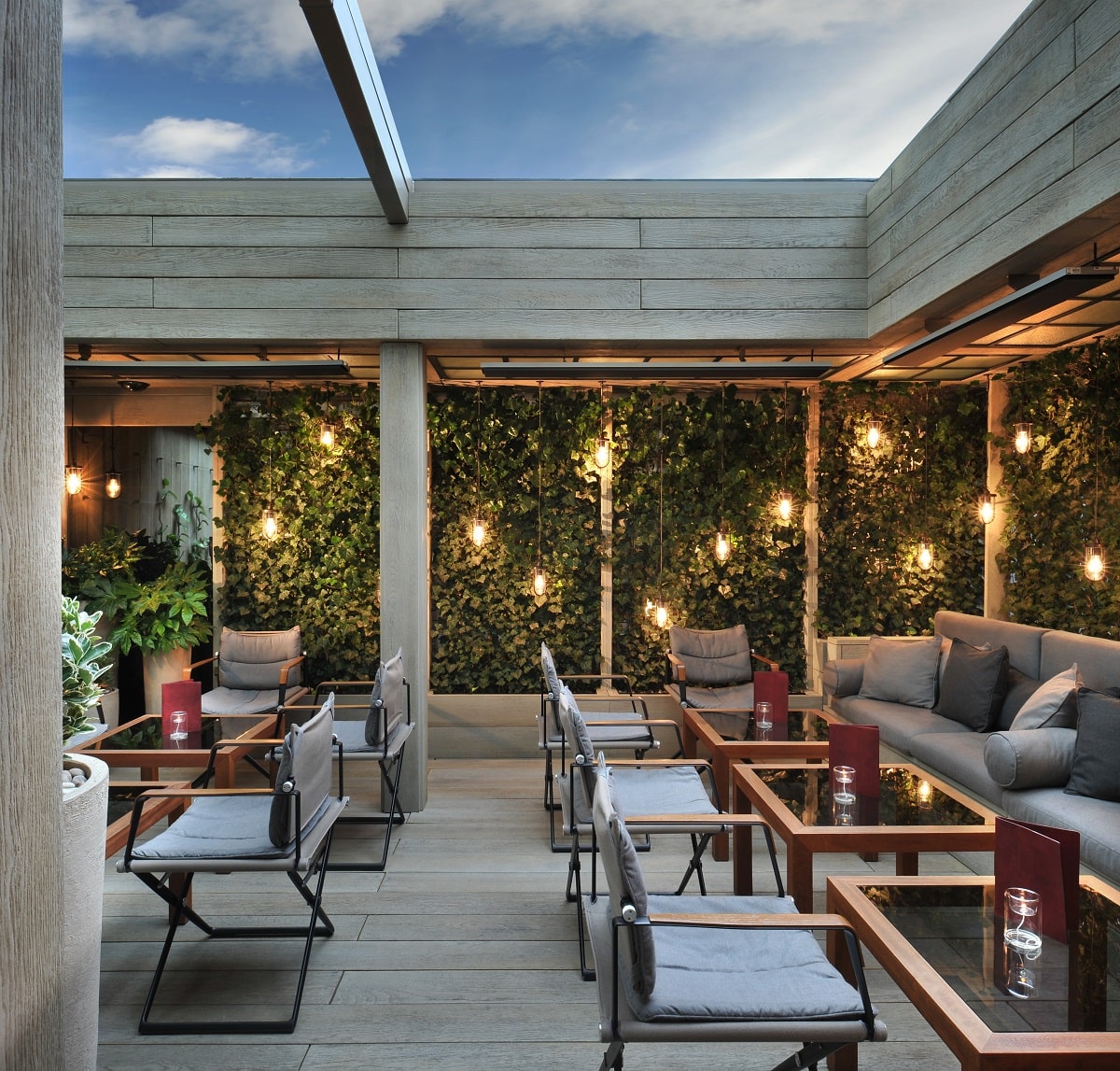 The Hari's alfresco Garden Terrace is Belgravia's best kept secret. Surrounded by crawling ivy, it is an ideal location for a morning meeting, afternoon coffee or a pre-dinner cocktail with a celestial touch. Complete with a retractable roof, the terrace is open from 9.00am to 11.00pm year round, and fitted with heaters to keep guests warm in cooler months. The Hari is currently running a pop-up until the end of June on the Garden Terrace in partnership with Moët & Chandon, where visitors can enjoy a glass of Moët Rosé Imperial with a selection of sweet or savoury tapas-style dishes. Luxury Restaurant Club members enjoy a complimentary glass of Prosecco when ordering any two courses from the menu in Il Pampero or two dishes from the menu on The Hari Garden Terrace, see details. Download free app to join club.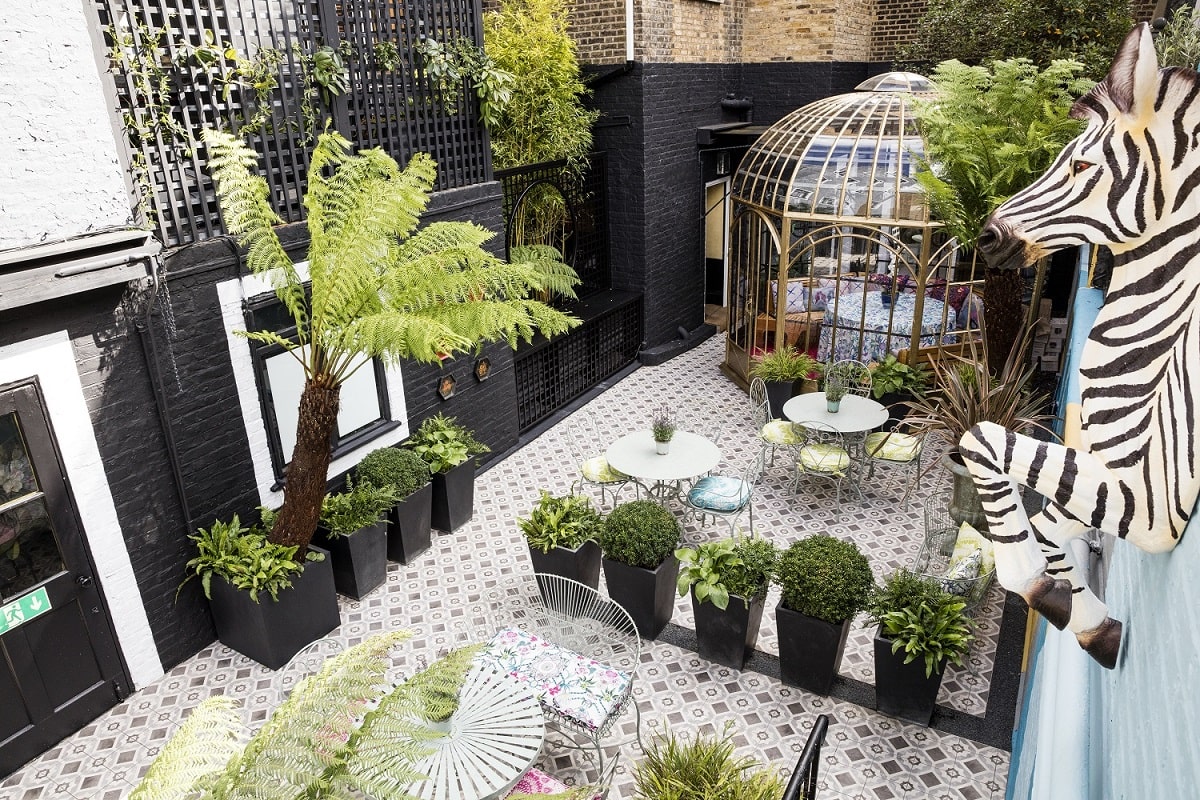 Blakes Courtyard is one of London's great secret escapes – a stunning bohemian oasis between the hotel and the hotel's mews house. It is the perfect tranquil spot for privacy and comfort to enjoy breakfast, lunch or an early evening cocktail with friends. The courtyard is open all year from 8am to 8pm daily. Luxury Restaurant Club members enjoy complimentary drinks for breakfast, 10% for lunch, or champagne when dining for dinner in Blakes Restaurant, see details. Download free app to join club.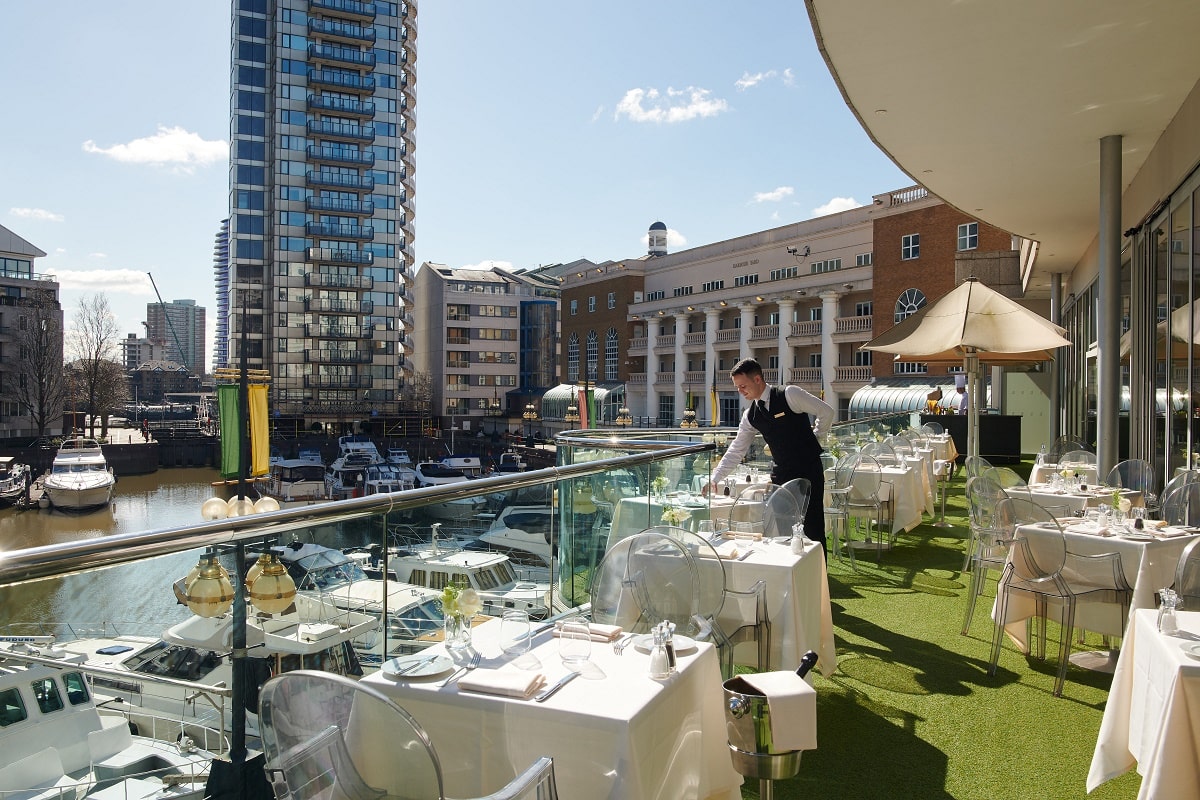 Take a seat on the terrace at Chelsea Harbour Hotel and take in the spectacular harbour view at one of London's most picturesque al fresco dining and drinking spots. The Harbour Bar & Terrace in Chelsea has both indoor and outdoor informal dining throughout the day, with an Italian-inspired menu. Also including their own stone-baked pizzas cooked the traditional way with fresh authentic Italian ingredients. The Harbour Bar & Terrace lends itself well to a working lunch with a view, or catch up over early evening cocktails with friends in Chelsea. Luxury Restaurant Club members enjoy 20% reduction from food and drinks from the a la carte menu, see details.  Download free app to join club.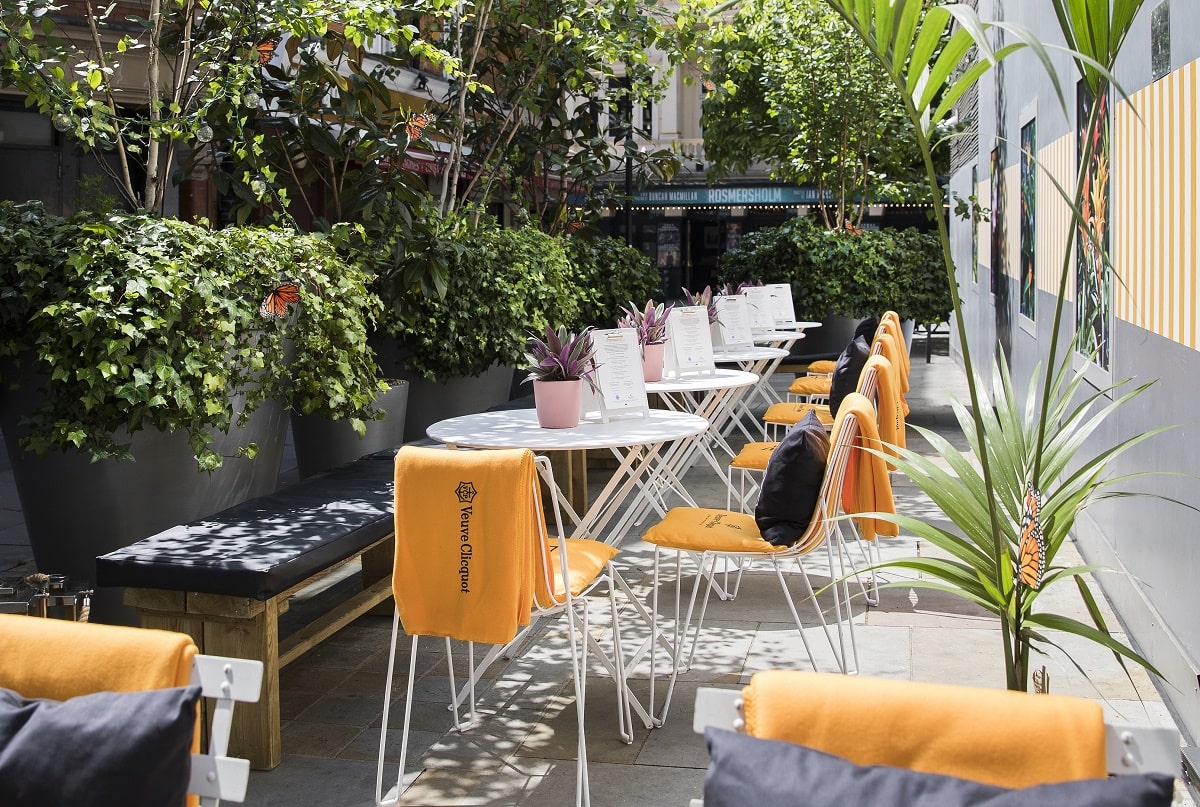 Ready for summer, St Martins Lane hotel has transformed The Den and its exclusive outdoor terrace into a tropical jungle oasis in partnership with Veuve Clicquot's much-loved Yellow Label and artisan ice cream creators Ruby Violet. It has become a palm-filled, sunny paradise in the heart of Covent Garden, perfect for a refreshing drink where Veuve Clicquot is served by the glass and by the bottle, perfectly complemented by luscious additions to The Den's menu including Nduja Sliders with goat's curd and rocket, and Tuna tartare with avocado and wonton. Luxury Restaurant Club members enjoy 15% when dining inside in the main restaurant St Martins Lane Kitchen, so please try The Den for pre-dinner drinks, see details. Download free app to join club.