Heavenly Hotel Hampers for Luxury Picnic Days in the UK
They say good things come in small packages and, when it comes to the quintessential luxury picnic hamper, fully stocked with summery spread, bone china and crystal glassware, never a truer word was said. Luxury hotels are increasingly doing picnics for non-resident, so if you fancy a five star hamper, packed and ready-to-go, in glorious grounds, here are some of the best picnic days out you can do by foot, bike, horse or boat: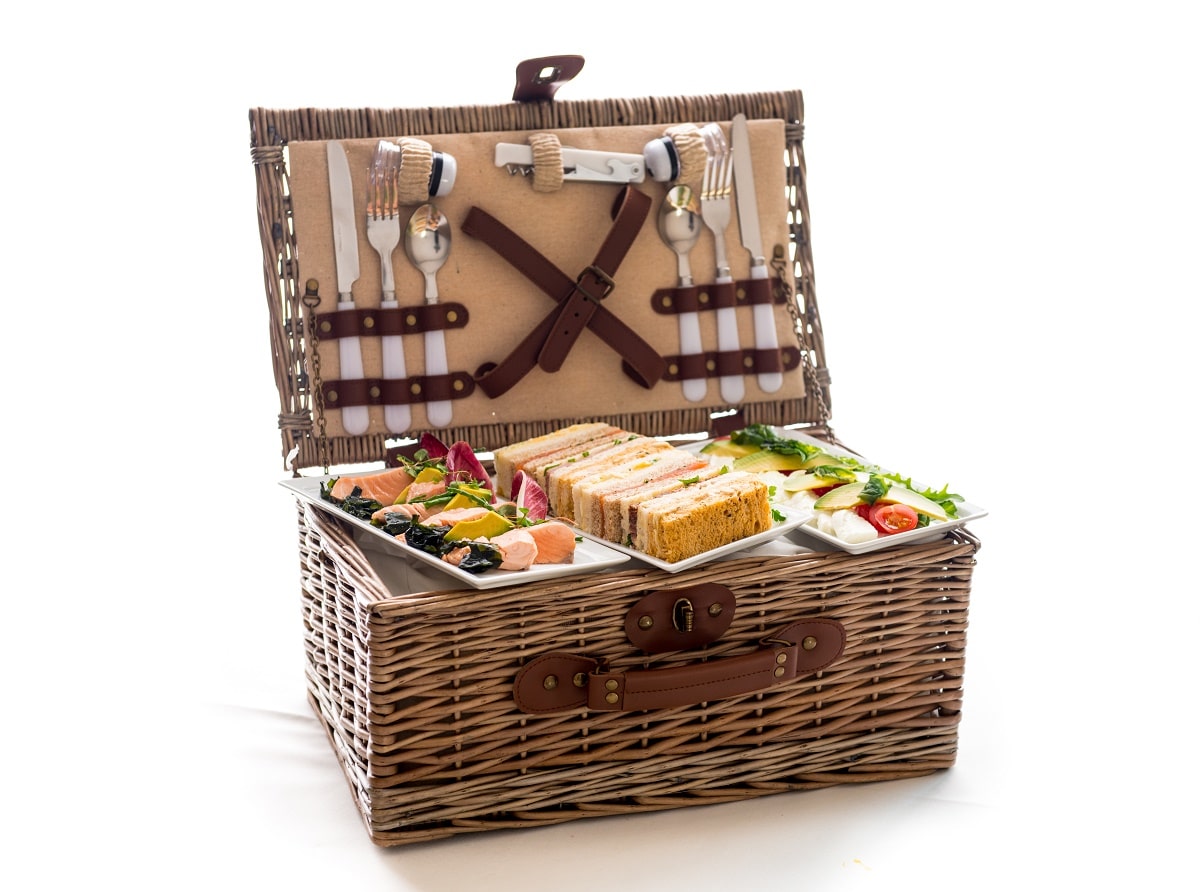 Coworth Park's 240 acres are packed with picnic possibilities: There's two polo fields, managed by Guard Polo Club, so if you time it right you might see the odd chukka or two sat by the lake; An equestrian centre if you fancy a canter or chilled ride around the grounds first; Gardens full of award-winning sculptures; Wild meadows; Sun terraces; and it borders onto Windsor Great Park. There are four great picnic options:
Coworth Park Deluxe Picnic £80 pp and requires minimum 48 hours notice. Includes half bottle of champagne pp, soft drinks and water, starters, bagels, variety of salads, cheese and biscuits, and various desserts.
Coworth Park Sandwich Picnic £45 pp and requires 48 hours notice. Includes traditional finger sandwiches with crisps, cold cut meats, smoked salmon, various salads, cheese and biscuits, bread, cookies, scones and fruit selection.
Coworth Park Afternoon Tea Picnic £35 pp and requires four hours' notice. Includes a selection of finger sandwiches, plain and fruit scones with homemade compote and clotted cream and delicate pastries.
Coworth Park Kids' Picnic £18 pp and requires four hours' notice. Includes ham and cheese sandwiches , potato crisps, carrot and cucumber sticks with houmous, grape and melon pot with yoghurt, flapjacks, cookies, water and orange juice.
To book, call 01344 756 784
☼ ☼ ☼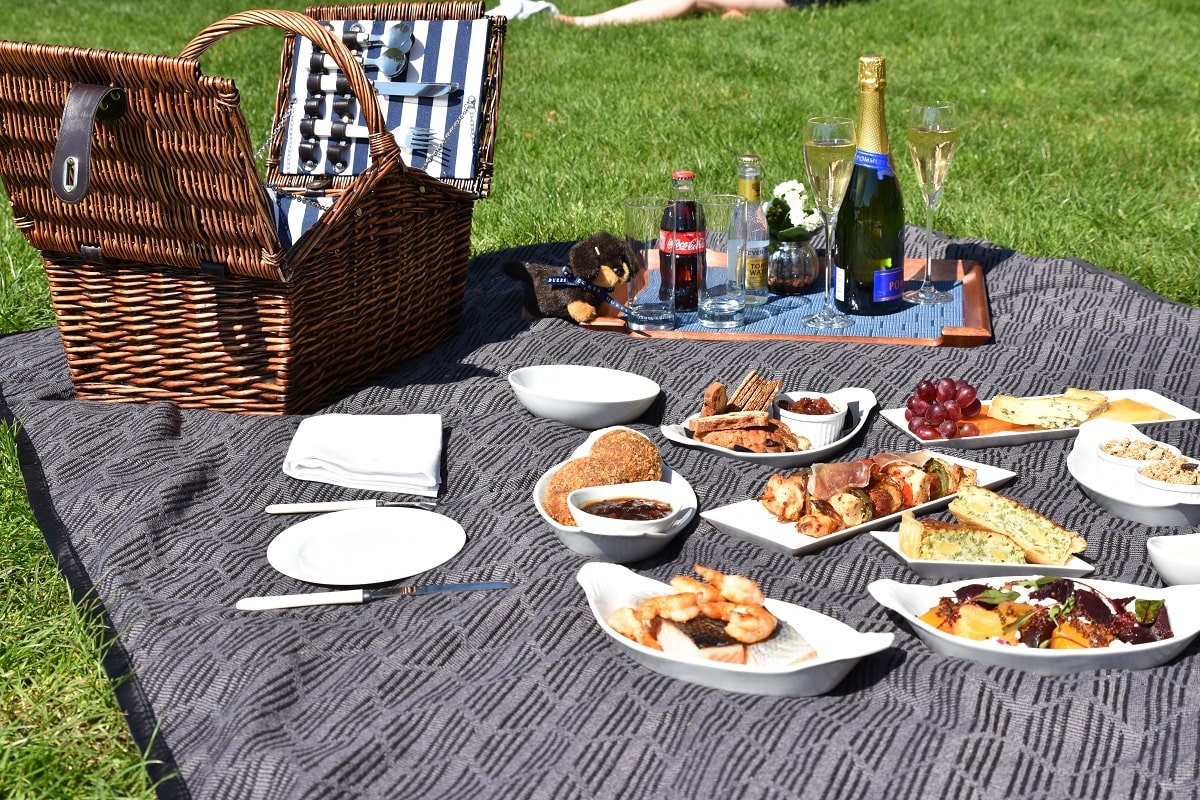 Dukes London's picnics in the park have become rather a thing in the rarefied surrounds of Green Park and St. James's Park, especially if you opt to have a butler set it up and serve. There's a choice of menus: classic, vegetarian, vegan, and new for this year, a doggy and childrens menu.
Classic Picnic and Vegetarian Picnic £39.50 pp
Vegan Picnic £35 pp
Childrens Picnic £17 pp
Doggy Picnic (including toys) £15 pp
If you want it set up for you, it's £25 on top, or with a butler it's another £75. For more details see https://www.dukeshotel.com/offer/picnic-in-the-park/. 24 hours notice is required for bookings. To book, call 0207 318 6574 or email events@dukeshotel.com 
☼ ☼ ☼
Chewton Glen, Christchurch Road, New Milton, Hampshire BH25 6QS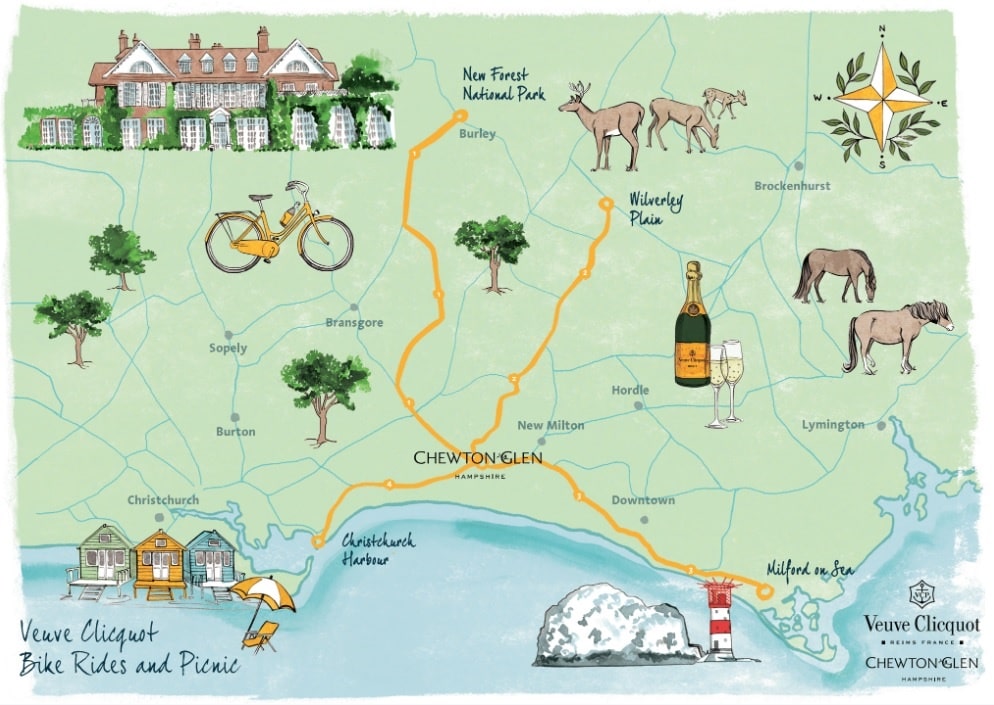 Veuve Clicquot Picnic Bike Ride with Chewton Glen £95 per couple (but you have to be resident at the hotel for this one). Forget Boris Bikes, the one to have is a Veuve Clicquot bike. Chewton Glen has partnered with Veuve Clicquot for a special picnic series, where you get a map with four routes, bike and picnic to enjoy your travel around the New Forest and the Dorset and Hampshire coastline. What's more, the bike comes equipped with a basket, a freshly prepared picnic, soft blanket and half a bottle of champagne. See picnic menu here. Pre-booking essential, but don't forget, you must be a hotel guest on this one…so book a night! Now if only Veuve Clicquot would do bikes in London!!
☼ ☼ ☼
Lainston House, 
Woodman Lane, Sparsholt, Winchester SO21 2LT
Lainston House Picnic £35 pp. Pick up your hamper and enjoy this view from the back of Lainston, down their avenue of lime trees, or unwind and relax with way-marked walks in the 63 acres.  There are two options for picnic – a full wicker picnic basket with cutlery and blanket, which requires a £50 returnable deposit, or a throw-away version. Your picnic comes fully laden with cured meats and pickles, cheeses, salmon, salads, sourdough bread, cakes, strawberries and cream and still and sparkling water. Please note, a three days notice period is required.
☼ ☼ ☼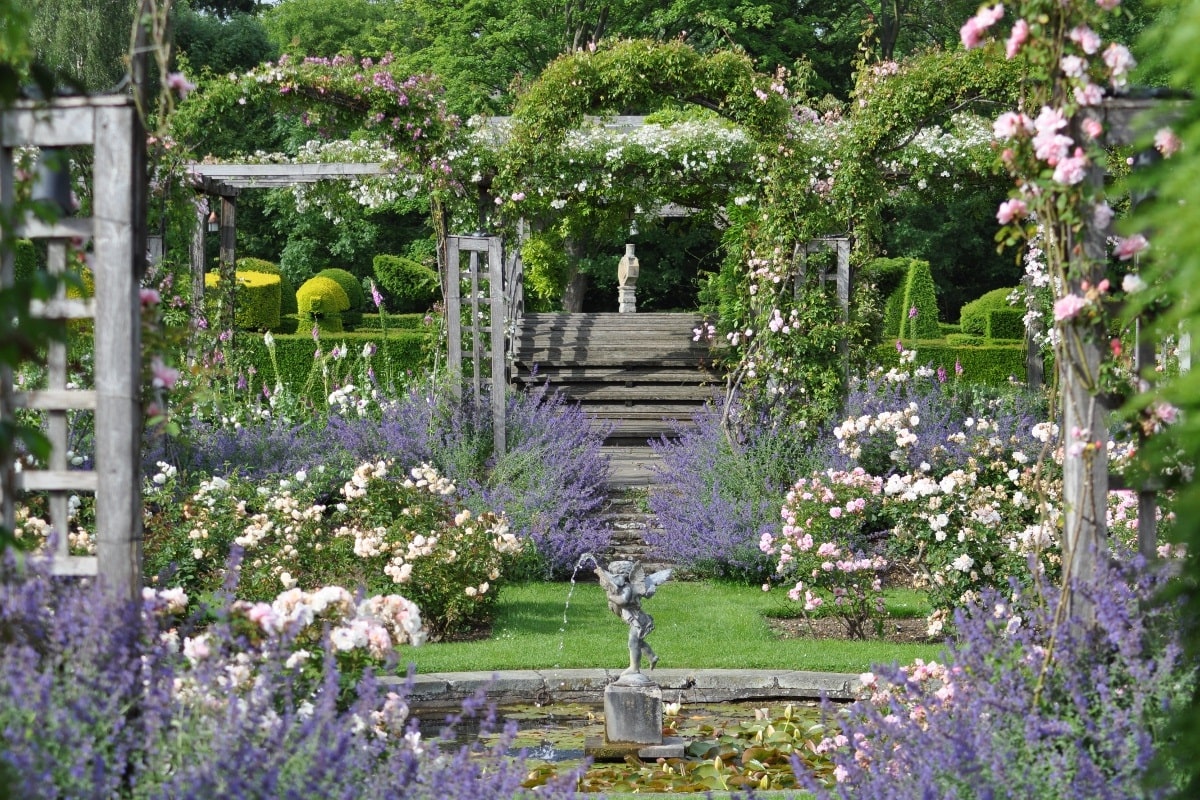 Great Fosters Picnic from £60 per couple. From July, you will be able to experience garden picnics in the stunning grounds of Great Fosters, with each hamper packed with delightful and delectable homemade offerings that have been hand-sourced locally. There will only be a limited number of hampers offered each day, and with 50 acres of beautifully landscaped gardens and parkland to explore picnic-lovers will never be crowded at this blissful retreat. See https://www.alexanderhotels.co.uk/summer-picnics
To book for July onwards, call 01784 433822
☼ ☼ ☼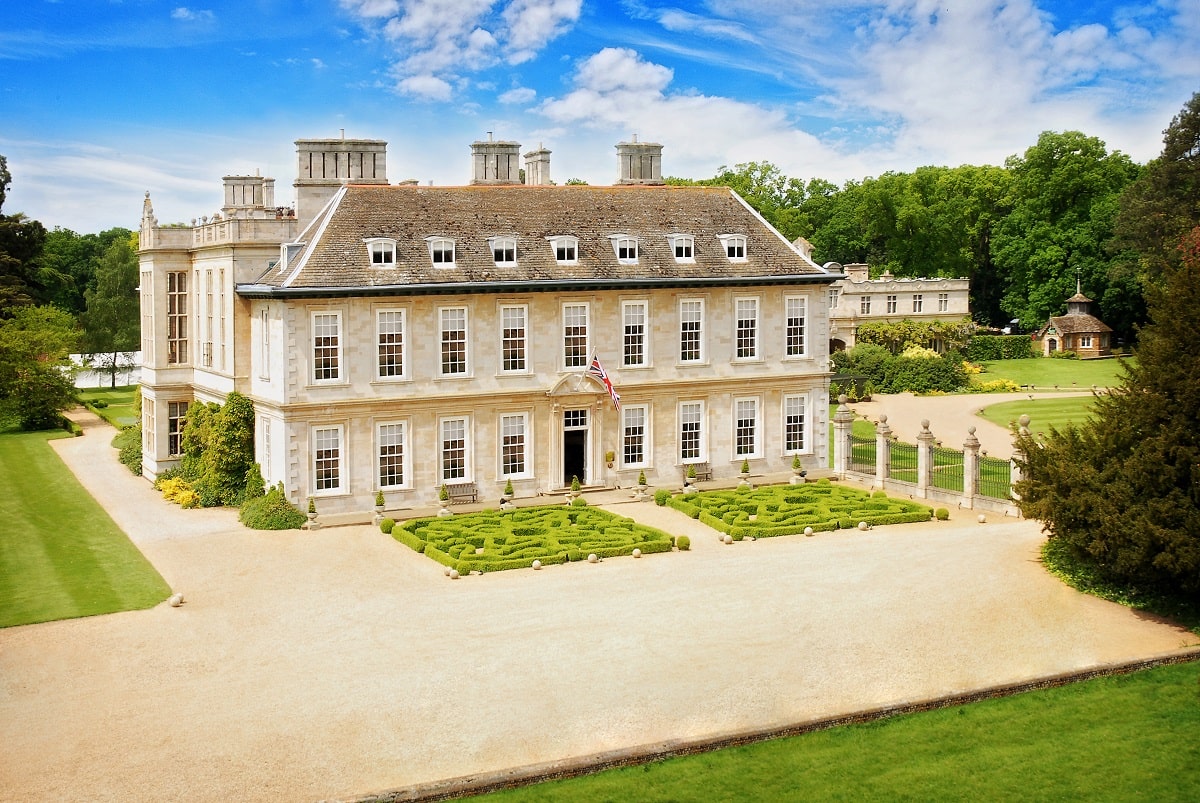 Stapleford Picnic Music Event on Saturday 21st July 14.00: £27.50 per adult, £12.50 per child (aged 5-12) , under 5's free. 
Stapleford Park, one of the most magnificent country house hotels and sporting estates in the UK is staging a picnic music event this summer on Saturday 21st July. Listen to Replay Live playing soft acoustic classics whilst you relax in the warm summer sun and enjoy a Stapleford Park traditional picnic hamper. Arrive from 1.45 – 2.30pm, collect your blanket, Pimms & lemonade, find your spot on the lawn in the (hopefully beautiful sun-soaked) grounds designed by Capability Brown. Your Hamper will be delivered to your blanket during the event. Picnic menu includes Rubens sandwich (pastrami, mustard mayonnaise, gherkin, sauerkraut), Mini scotch egg, Charcuterie selection, olives & pickles, Tasting of salmon – smoked, beetroot cured, Roast asparagus & cucumber, Tomato, bocconcini mozzarella & prosciutto skewers, Quinoa, feta & pomegranate salad,Orzo pasta, roasted tomato, lemon & parsley salad, Dill pickle potato salad, Fruit Salad, Carrot Cake, Crunchy fruit & nut bars and Cup cakes, Vegetarian picnic also available.
To book call, 01572 898580
☼ ☼ ☼
Life doesn't come much better than a relaxing cruise, the sun's out, it's really warm, you have a delicious picnic full of surprises, and chilled champagne – heaven. At Cliveden you can enjoy this in some of the most beautiful National Trust gardens in the UK, together with the hotel's own boat flotilla of lovingly maintained vintage launches. A jaunt down the river with a picnic is the perfect choice for effortless enjoyment. You can either join a river cruise at £60 each (excludes picnic, but includes a glass of champagne), or hire your own boat where there is a choice of two – one for up to four guests, and one for up to ten, from £195 per hour.  Now for the picnic – you book this separately and can take this as part of the cruise (£25 supplement for taking afternoon tea on a cruise on top of afternoon tea costs below), or just enjoy the tea exploring the gardens only.
Cliveden Afternoon Tea Picnic £38 pp. Requires minimum 48 hour notice. Cliveden picnic pack includes finger sandwiches, cakes and pastries, plain and fruit scones with clotted cream and strawberry jam and a selection of fresh fruit.
The Cliveden Picnic £40 pp. Requires a minimum 48 hour notice. Cliveden picnic pack includes a quiche, sausage rolls, smoked salmon and cucumber baguette, Caesar salad, brownies, clotted cream, mini muffins, smoked almonds and mineral water.
To book, call 01628 607107
☼ ☼ ☼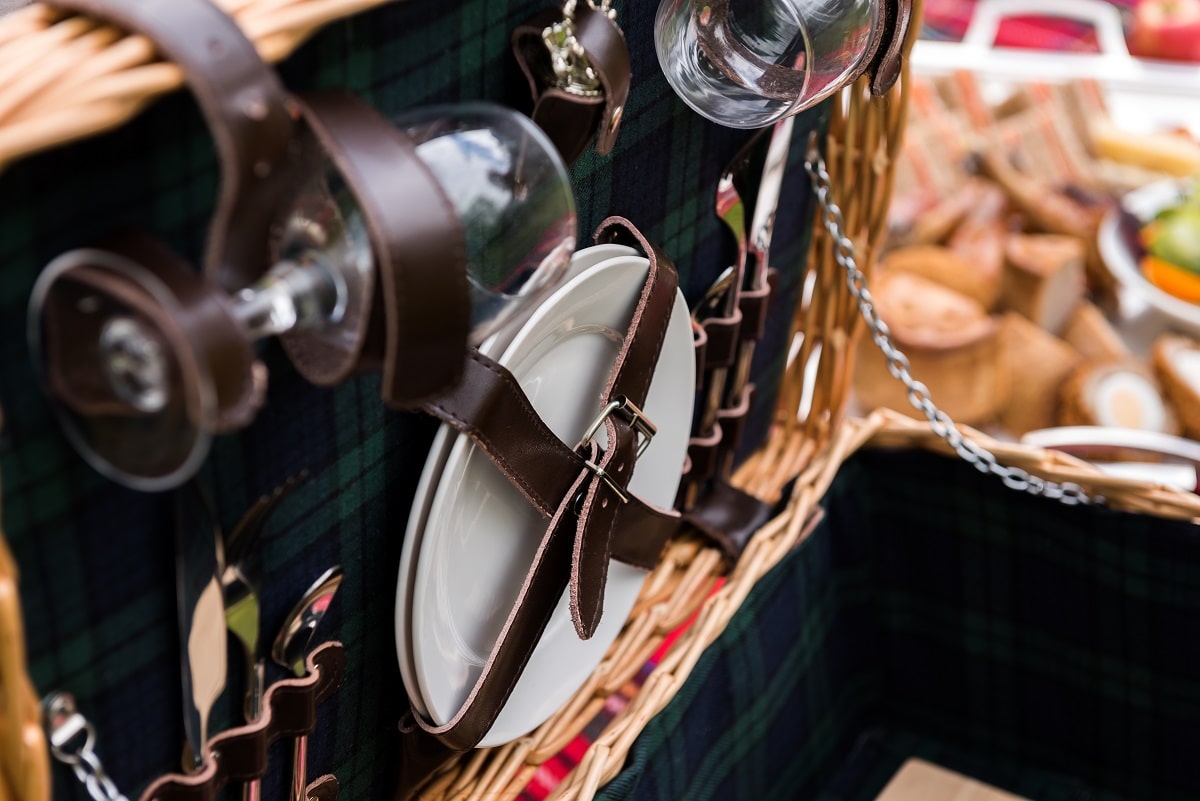 Summer Lodge a la carte picnic menu. Requires 24 hour notice. One of the great attractions of an English country house hotel is a beautiful and restful garden, and Summer Lodge is certainly no exception. Within the hotel's meticulously tended grounds you'll find a spectacular water feature, the produce garden which provides fresh fruit, herbs and seasonal vegetables for the kitchen, wide green lawns, croquet lawn, and plenty of shaded nooks for lazing around with a picnic or a cooling drink on warm summer days. The picnic contents are bespoke to the guest but usually it contains, champagne, pork pies, salads, freshly baked breads, scotch eggs, tarts, sandwiches, cheese, chutneys. The picnic menu is available on request from the hotel on 01935 482000.
☼ ☼ ☼