Special Delivery – Michelin Star food to your door
Published June 2018
To think, prior to October 2010, John Lewis didn't offer online shopping. And even then, they were early adopters of the so called new 'multi-channel' selling approach. At the time it was considered brave when they had one of the strongest store presences. The internal disruptions it caused to the business were monumental, not that the customer would have known – but then again it wasn't launched because it suited the business, it was launched because the customers wanted it, such is John Lewis customer services.
WHAT'S THIS GOT TO DO WITH FINE DINING: Restaurants, well good ones, are known for their service, but not for take-out or deliveries. Why's that: Is it that diners are not interested in quality home food delivery; or that restaurants reject it on the basis of the mechanics of maintaining high-quality food standards, which can be unobtainable when transported; or that service levels make it impractical?
QUALITY ISSUES HAD SCUPPERED FINE DINING HOME DELIVERY: Chefs producing food to Michelin level could find it all be wasted if the temperature isn't right, jostled about, or its 'sweated' on its way to you. Delivery is key. Right now, the food delivery industry is worth well over £5 bn per annum in London alone, and growing at a rate of 7% annually, but don't expect top-notch quality, until now. There's also another little-known-about reason why not every restaurant can do deliveries, but we'll share this insider snippet at the end of the blog. 
ENTER A GAME CHANGER: SUPPER. A start-up business that launched in summer 2015 by a former derivatives trader Peter Georgiou, 47, who, having spent time in New York, was surprised by the lack of dining-in options on his return to one of the world's great food capitals. SUPPER, whose mantra is 'Exceptional food delivered', is currently the only Michelin-star trusted delivery service operating in the non-chain top-tier arena. It has over 60 quality restaurants on its books and is constantly 'on-boarding' new ones as they win over former naysayers in the business. With over 30,000 deliveries under their belts, restaurant owners are taking note.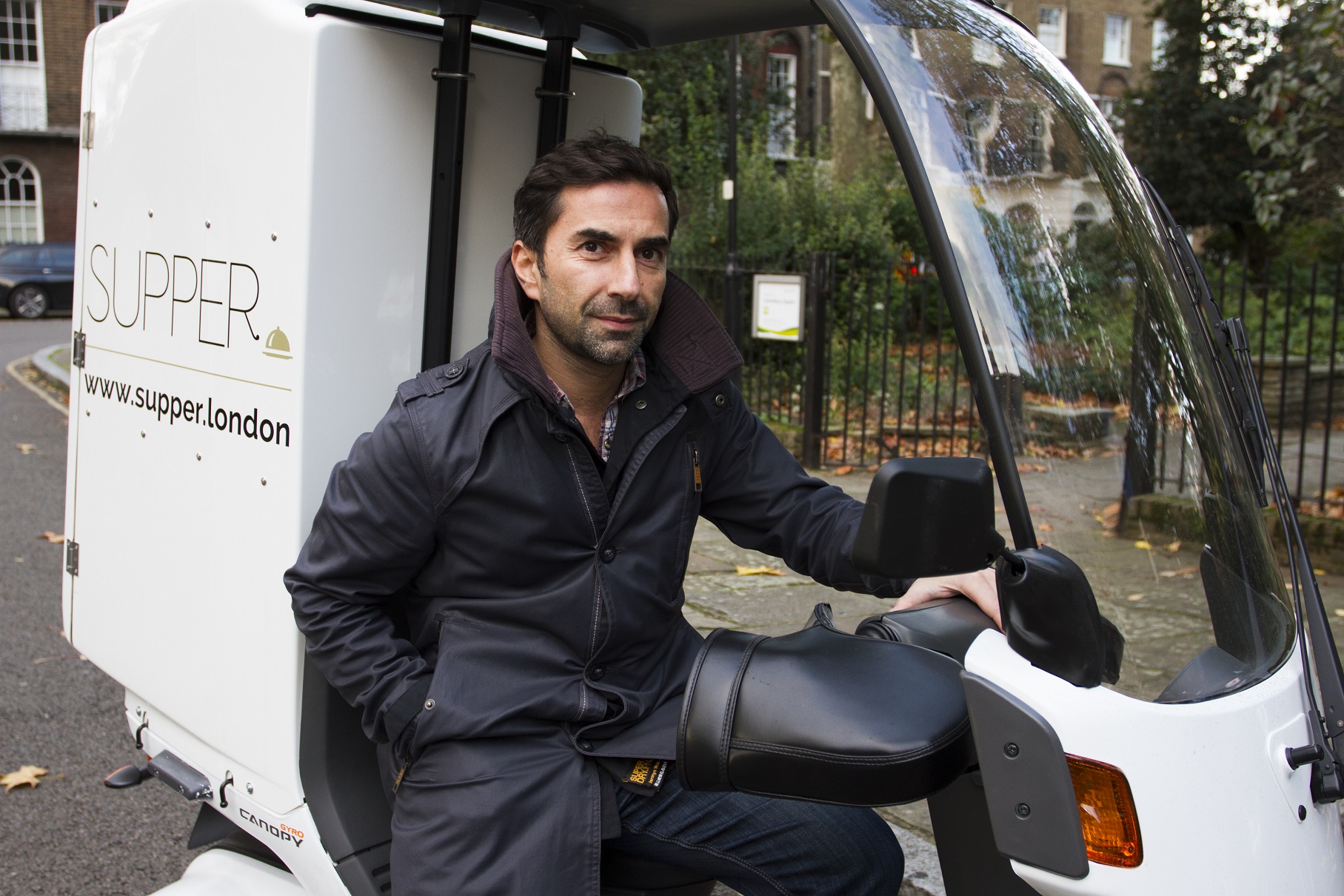 WHAT MAKES IT A SPECIAL DELIVERY: The company invested over £1 million in custom-made bikes and tech. The bikes have regulated built-in temperature boxes with stabilising systems and thermal linings, keeping the food in the best possible shape – in fact, Peter Georgiou vows the food will arrive with customers in exactly the same form in which it left the restaurant, and at the same temperature.  Whether the food is required hot, cold or ambient, the bikes special insulating materials ensure this. Drivers are directly employed by the firm, wear smartly branded uniforms, and although Peter's idea was that they would also serve the food, the lawyers quickly put a kibosh on this as it becomes a whole other insurance risk nightmare if drivers enter homes.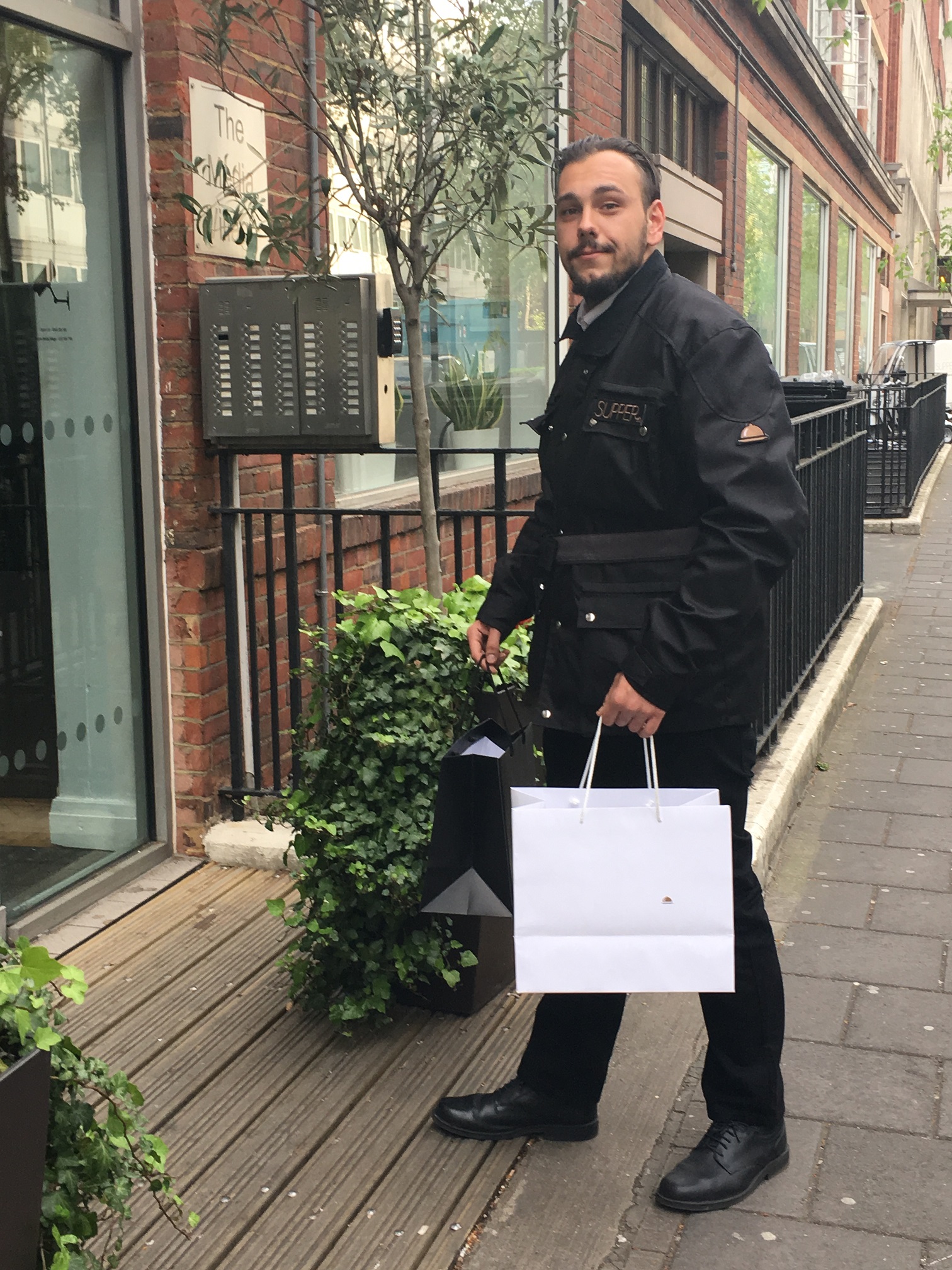 SIGN-IN, SEALED AND DELIVERED: The majority of customers are bright successful 29 – 38 year old Londoners, plus businesses wanting to cater for up to 30 covers from one bike – yes, you don't have to deal with a line of different delivery drivers at the door for large orders. Customers simply have to sign-up and log-in to Supper.London. Then, like any home shopping delivery service, once they've tried it and enjoyed the convenience, they're normally hooked, re-ordering 5.6 times per customer per year. Considering many order from the same restaurant, this is higher than if they were dining in (or do we mean out). Order prices are way above the industry average too, usually they're under £21 but here they're £57 – £60 per delivery, and Peter says there's a great niche market of around 5% ordering take-outs straight to their Mayfair hotel rooms. You can order in advance, up to 6 days, for a specific time, or order on-the-go and get an ETA, plus ability to track your order.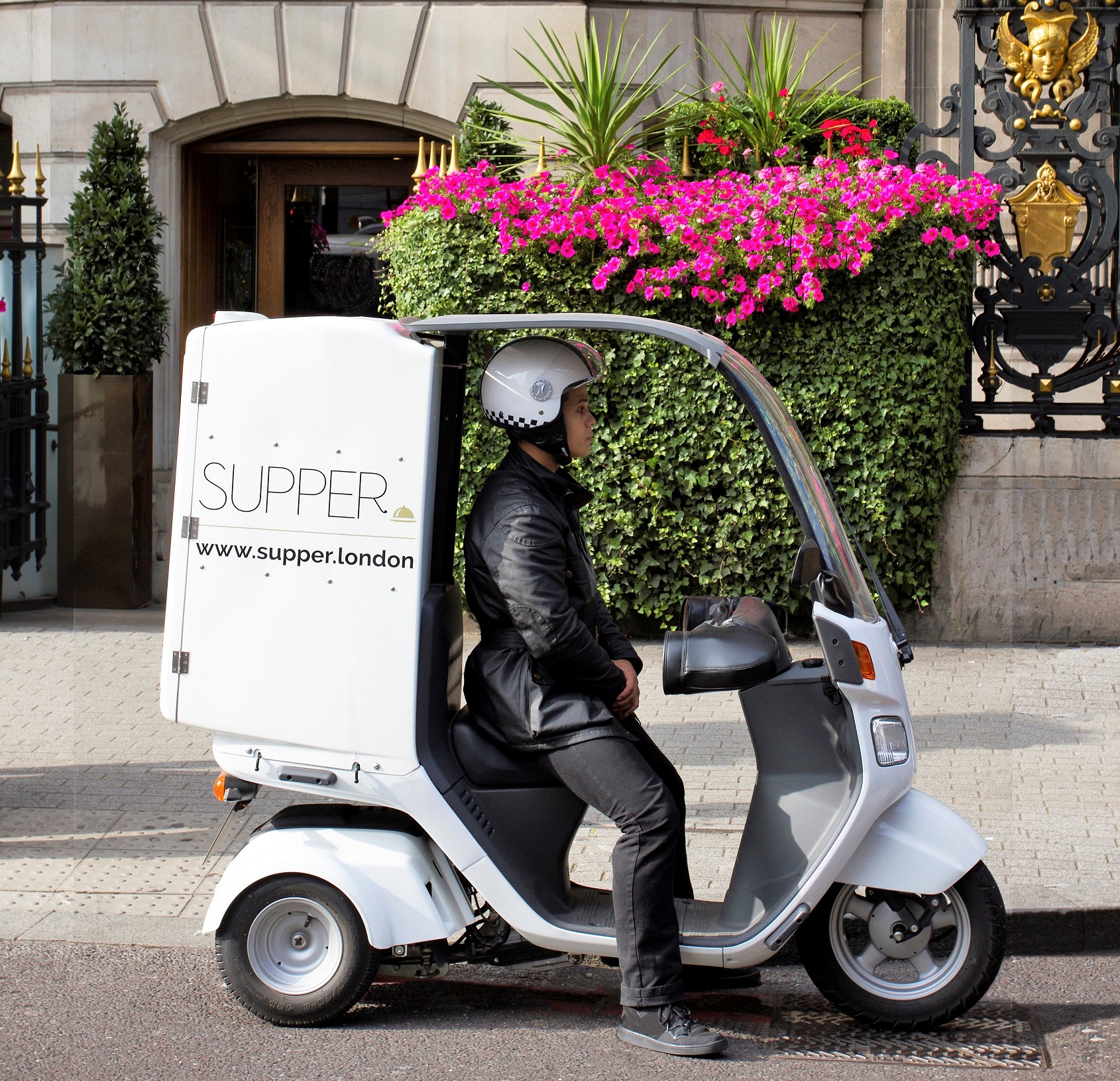 COMING TO A CITY NEAR YOU? Not yet, unfortunately. The lucky ones are those in London from Zone 1 to 3. SUPPER operates 30 bikes currently and more are planned for later this year, but the concentration will probably remain major cities only.  That said, we hear the company is getting enquiries and undertaking some white-labelled services both in and out of London.
THERE'S A FLY IN THE OINTMENT: Tier 2 visas to be more precise. Non-EU chefs will need one as according to UK immigration rules, if a chef works at a restaurant which provides a takeaway service, he is less skilled than one working in a restaurant that doesn't. Which means, many of the nations favourite take-out cuisines – Indian and Chinese, together with our love of the new exotics such as Peruvian, Japanese and Vietnamese, cannot be offered as a service, regardless, unless all the chefs earn over a certain amount (£35,000) and have been in the country over 2 years. Brexit is also likely to take its toll.
THE SILVER LINING: It's early days for fine dining deliveries, but just as John Lewis was ahead of the curve and now their online sales make up over a quarter of group sales – the same could be seen for restaurants too. When chef/ owners consider their home audience, gauged against potential over-expansion and high rents, you may just see more of them taking it up. Perhaps. Assuming of course, demand.
TRY IT OUT: Luxury Restaurant Club members can enjoy £5 off their first order through SUPPER. Go to https://supper.london and use promo code: LRG2018 (please note, this code is now expired)
We hope you enjoy…let us know your feedback
***
Reading this blog and not familiar with The Luxury Restaurant Guide? Download the Luxury Restaurant Guide FREE app to discover all the best places to dine in the UK and gourmet insider news.