Dining from a Small Island – 15 best restaurants on islands in the UK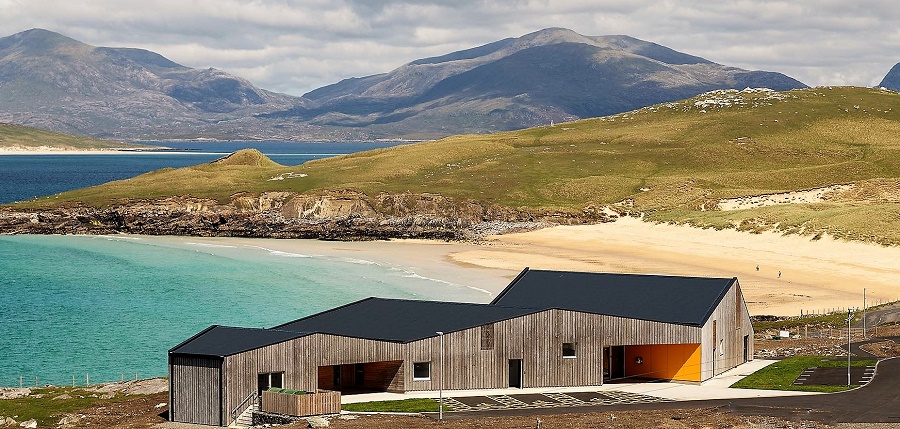 When American Bill Bryson's love for this side of the pond was humorously told in Notes from a Small Island, one of the best-selling travel books of all time, it recorded his observations of travelling on public transport from John O'Groats to the Outer Hebrides, dining in pubs and cafes en-route. That was 23 years ago, and those pubs are probably all now known as restaurants-with-rooms, and the self deprecating, ordinary people he adored are now partaking in second home ownership, Facebook tagging and selfie taking, and he'll probably need Uber for replacement train services. To capture those idiosyncrasies again he would probably need to navigate more smaller isles of the UK. Naturally, we recommend using the Luxury Restaurant Guide's free geo-location app to find the best dining locations around. Here's our guide to the best small islands for adventurous dining around the UK: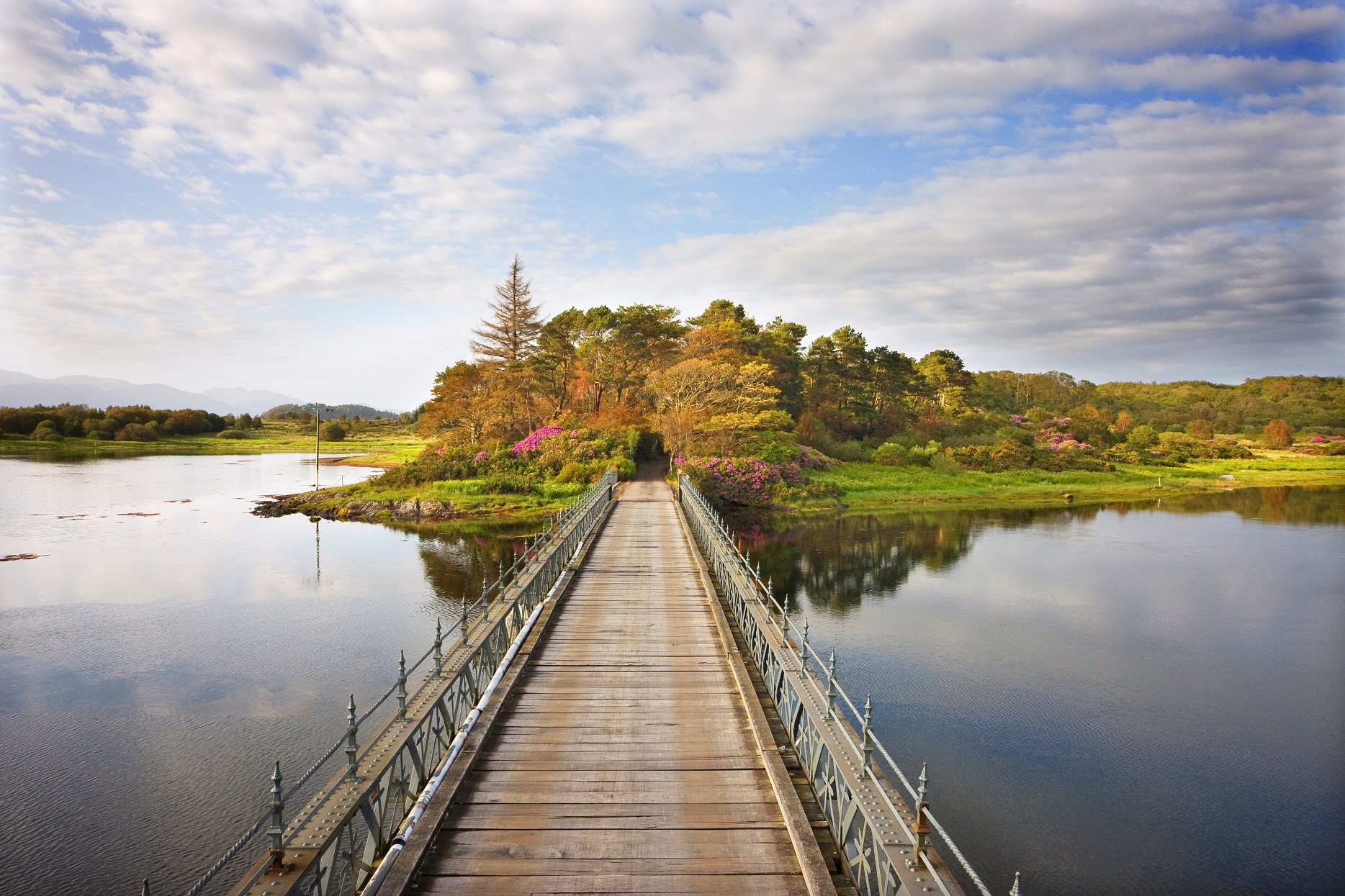 Mountains, islands, lochs, inlets, wilderness: the view from Eriska has it all. This gourmet luxury and spa resort is on its own island, off the west coast of Scotland.  You could be at the ends of the earth, yet Eriska is less than two hours from Glasgow International Airport. As well as a fine dining restaurant famed for its local ingredients, there is a spa, golf course and accommodation.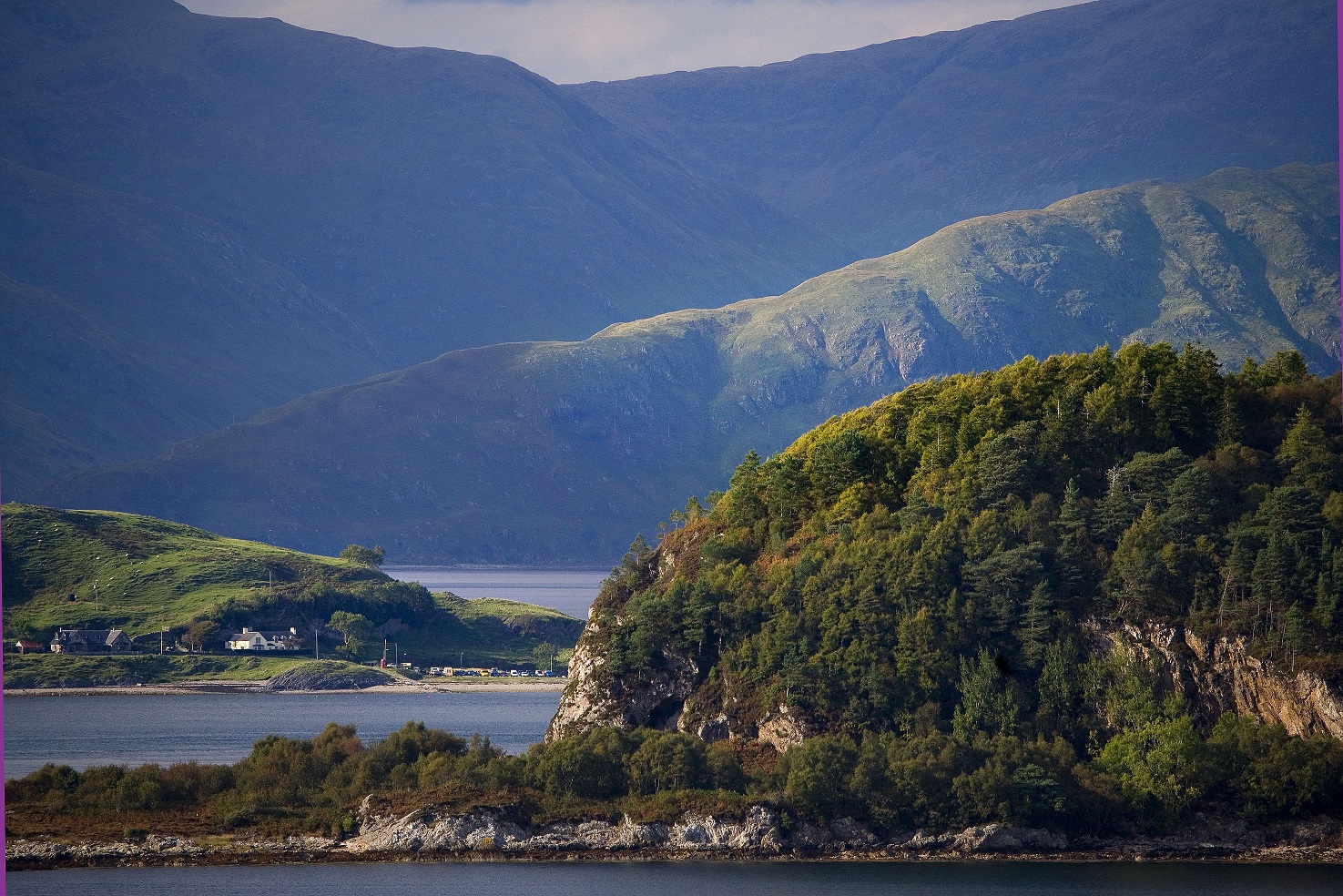 The Restaurant at Isle of Eriska is available for non-residents to enjoy evening dining, served between 6.30pm and 9pm each evening and subject to availability. Pre-booking is essential.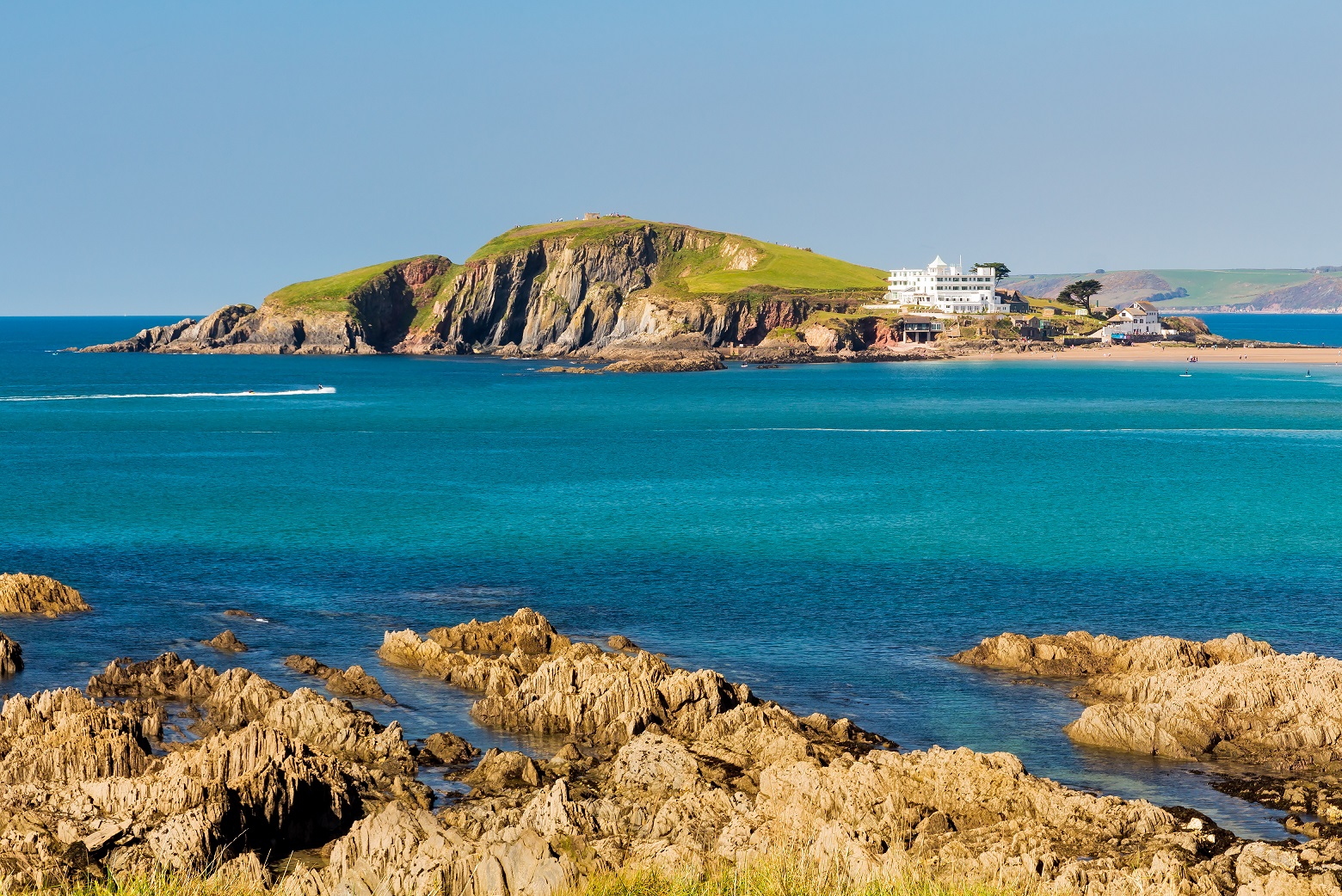 Burgh Island Hotel is an iconic Devon landmark on its own tidal island and surrounded by golden beaches and silver seas. Built in 1929 extended in 1932 and now restored to its '30s glamour, step back in time for a retreat like no other.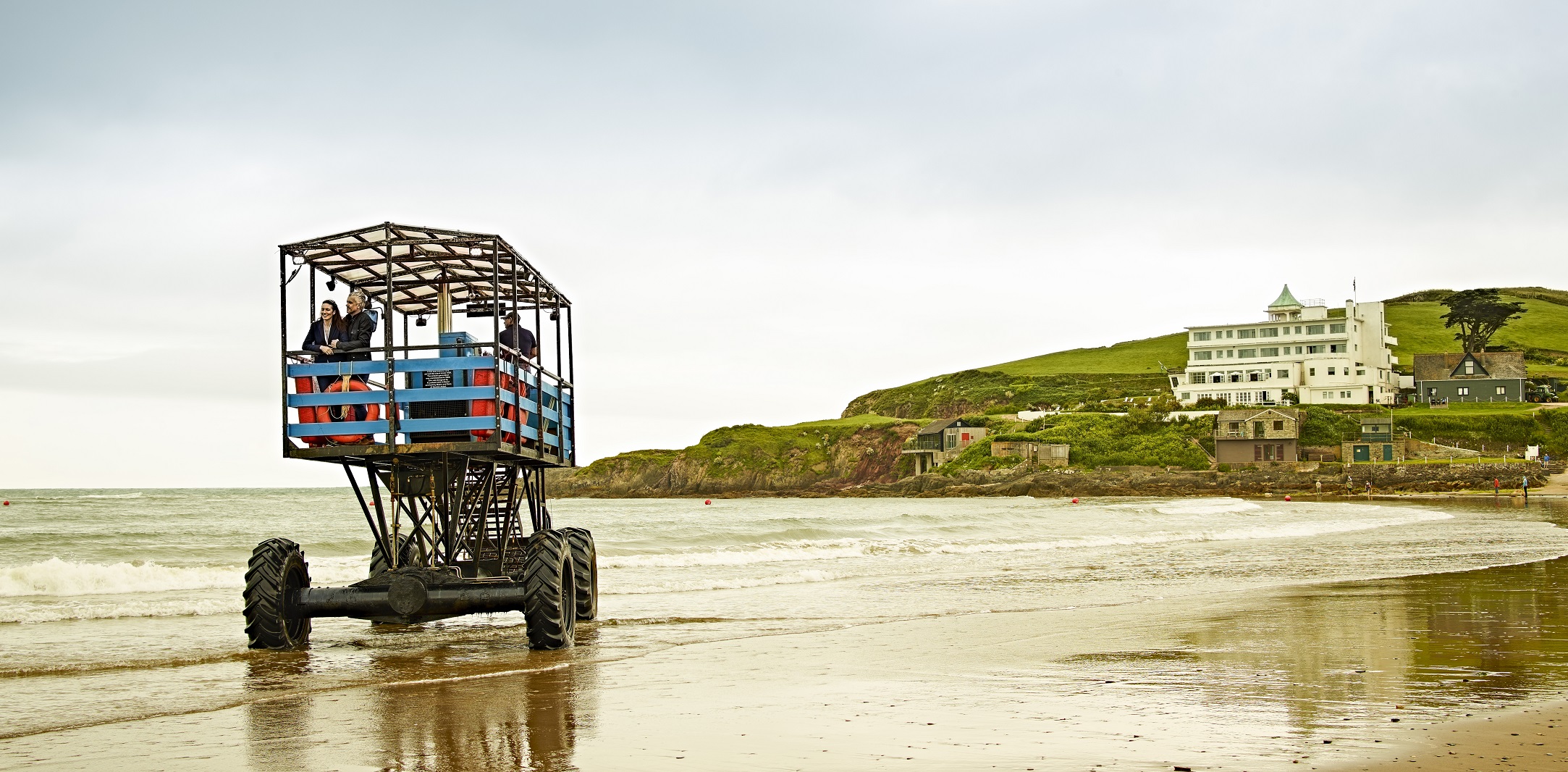 Burgh Island is widely regarded as one of the foremost places to see and experience Art Deco in Europe. You may also recognise this as the film location from Agatha Christie's 'And Then There Were None' and the Hercule Poirot mystery 'Evil Under the Sun'.  Everywhere you look you will see the influence of Art Deco styling.
Non-resident guests are most welcome to take a trip over and join for dining in The Ballroom for a black tie three-course evening meal or Sunday lunch. Alternatively you are welcome to soak up the views with a fresh baguette and a pint at the Pilchard Inn.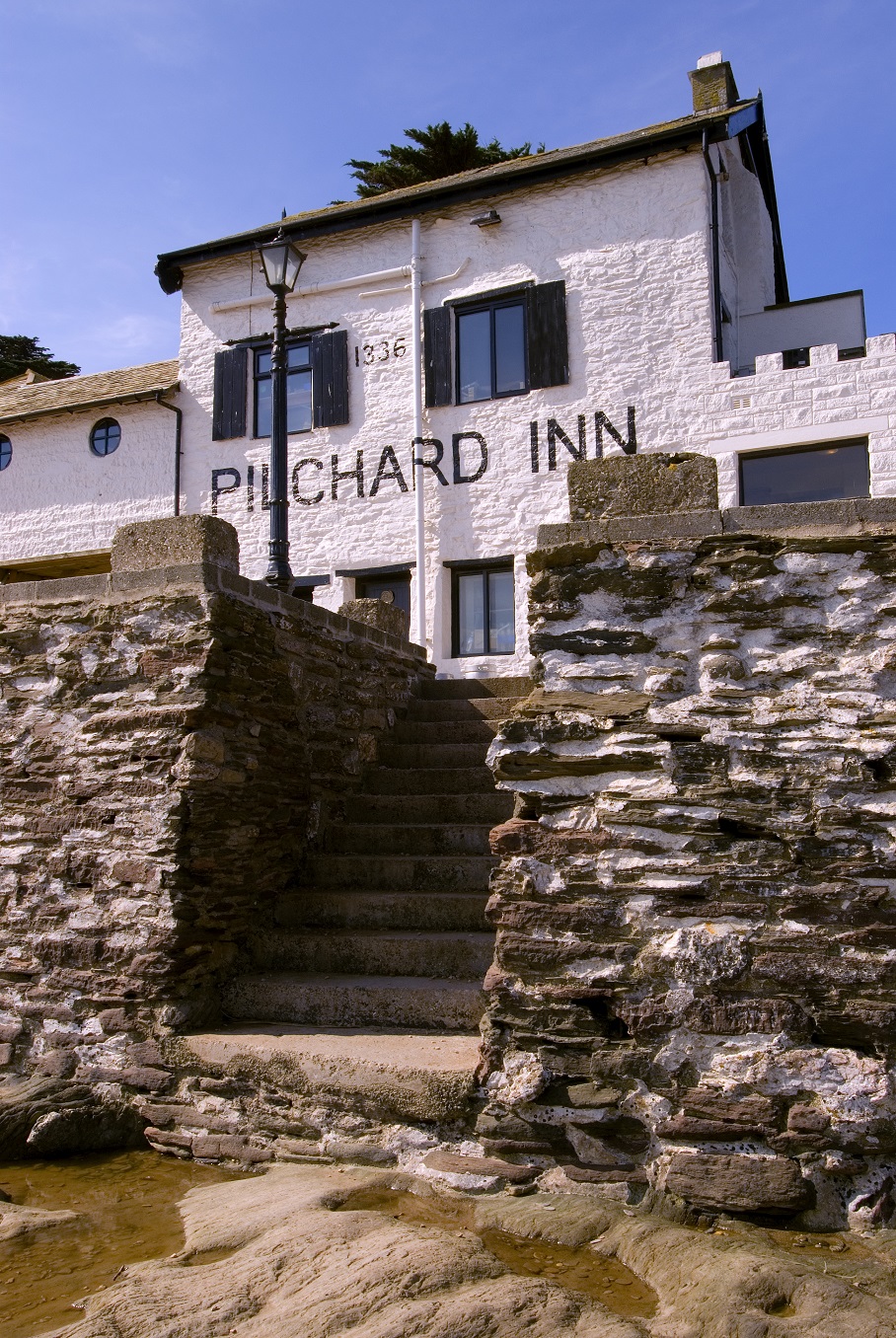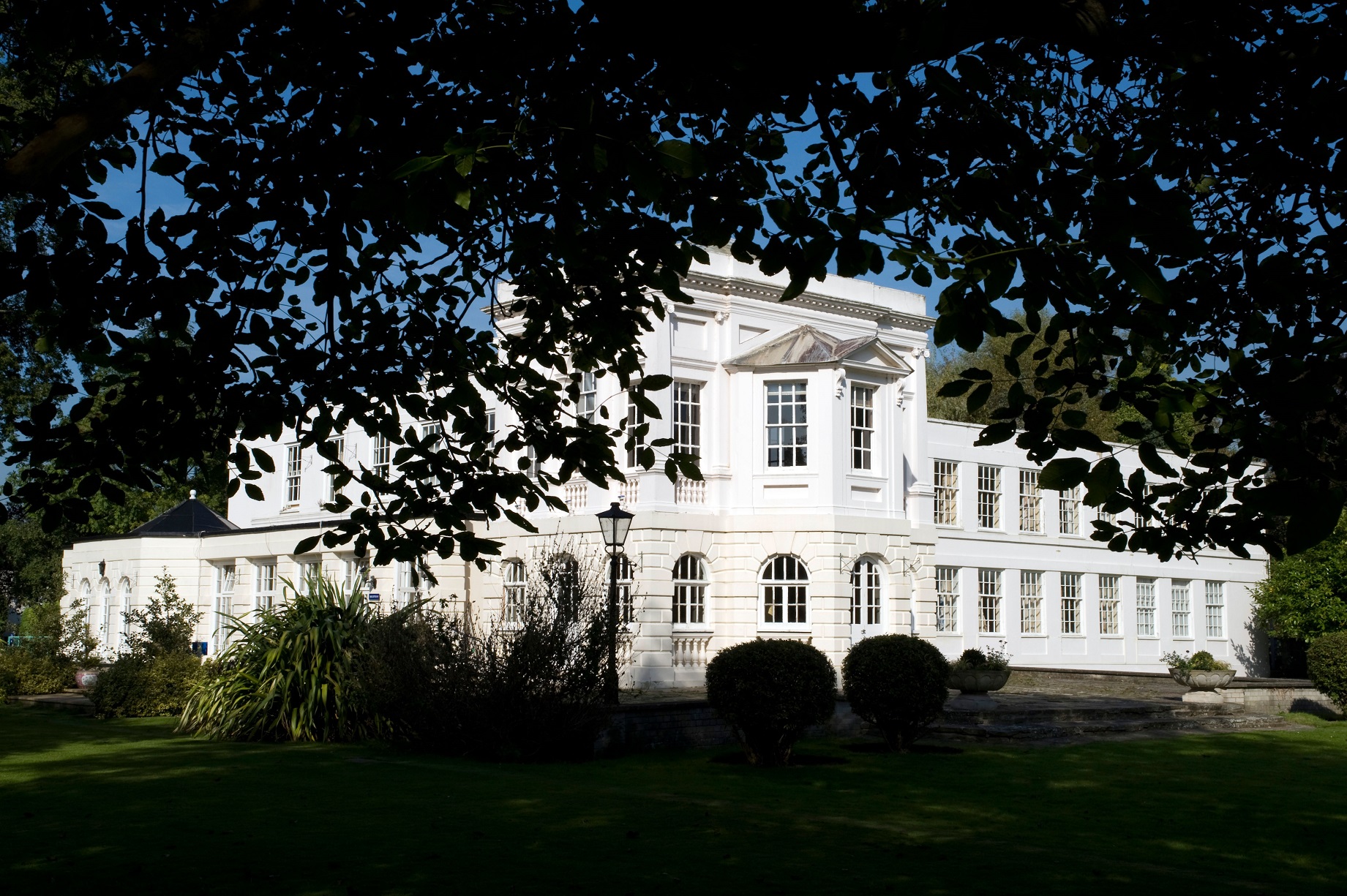 Set for opening in one month's time in July 2018, the historically famous Monkey Island Estate will once again offer guests their very own private countryside escape, following extensive renovations by new owners YTL Hotels. A Grade I listed property on a small island in the River Thames near Bray, it holds an intriguing history dating back 800 years; it has been the haunt of monarchs, aristocrats and artists, along with writers, famous performers and Berkshire locals.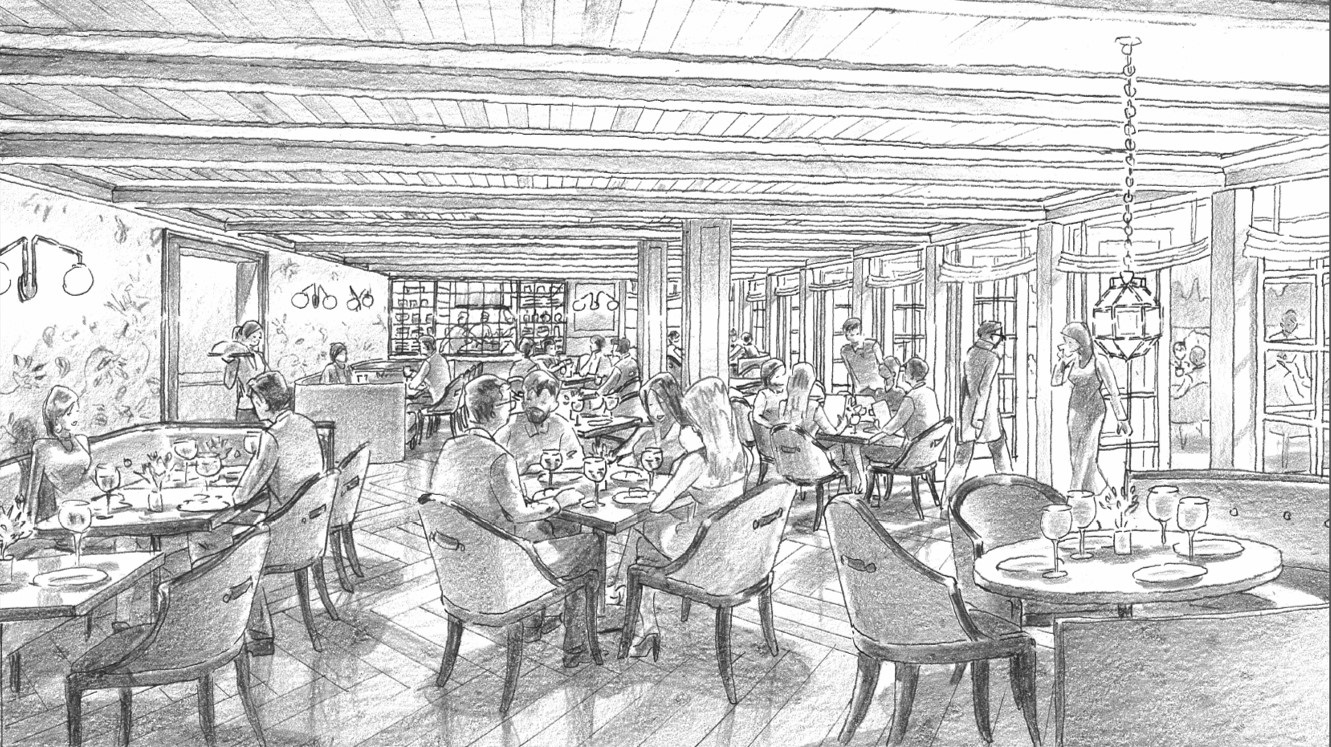 Monkey Island Estate is set across seven acres and will consist of 38 bedrooms and three deluxe suites, all designed by the award-winning New York-based Champalimaud Design. Chef Will Hemming has been announced as Executive Chef of Monkey Island Estate where it will offer guests and locals alike a sophisticated yet casual dining experience on the river in The Monkey Island Brasserie. More details to follow nearer opening day.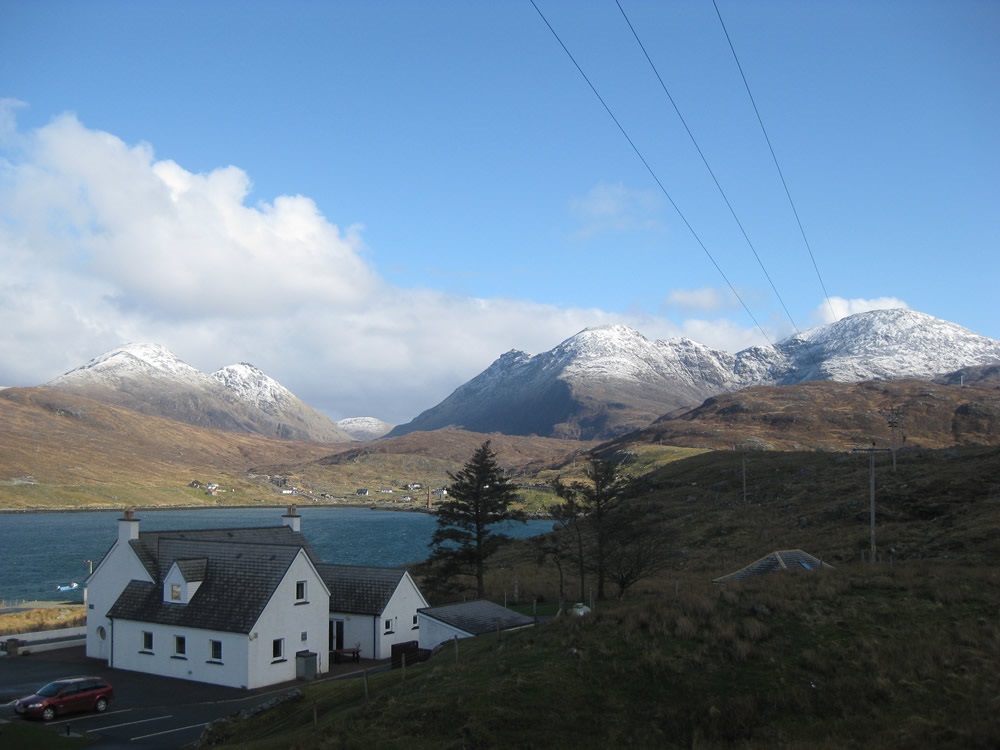 Ardhasaig House is an award-winning small hotel on the beautiful Isle of Harris and has been recommended by the Michelin Guide for the last 12 years. Set against the rugged backdrop of the Harris Hills, with stunning views across West Loch Tarbert to Ben Luskentyre and Taransay, it is the perfect place to unwind. Ardhasaig is steeped in Hebridean fishing and whaling history, remnants still seen today. The fine food, luxurious accommodation and exceptional service are the hallmarks of Ardhasaig House. The head chef uses local fishermen and butchers for the freshest source of ingredients whenever possible; daily bespoke menus are created with all dietary requirements catered for guests. With award winning breakfasts and dinner. All evening meals (there is no lunch service) must be booked in advance.
The Machair Kitchen restaurant opened in March 2017 and is operated from Talla na Mara Community Enterprise Centre by Hotel Hebrides. Talla na Mara Community Enterprise Centre is owned and managed by the residents of West Harris. Translated from Gaelic, Talla na Mara means the centre by the sea. Overlooking the golden sands of Niseaboist Beach and the sound of Taransay, the Centre boasts one of the most photographed locations in the Outer Hebrides of Scotland.
The Isle of Harris is known for its sandy beaches on the west coast, rugged mountains to the north and the east coast being more isolated with some of the oldest rocks in the world being dated at some three hundred million years old. What a destination!
Back to Machair Kitchen, Chef Sam Barnes has carefully considered every element of the menu, which contains a mixture of light bites, more substantial options and melt in your mouth cakes. Provenance of ingredients and the mixture of cuisine and culture is its USP. The venue hosts music events with award winning traditional/folk musicians, local artists/photographers, movie nights and more. Visit the Talla Na Mara Facebook page for their full schedule.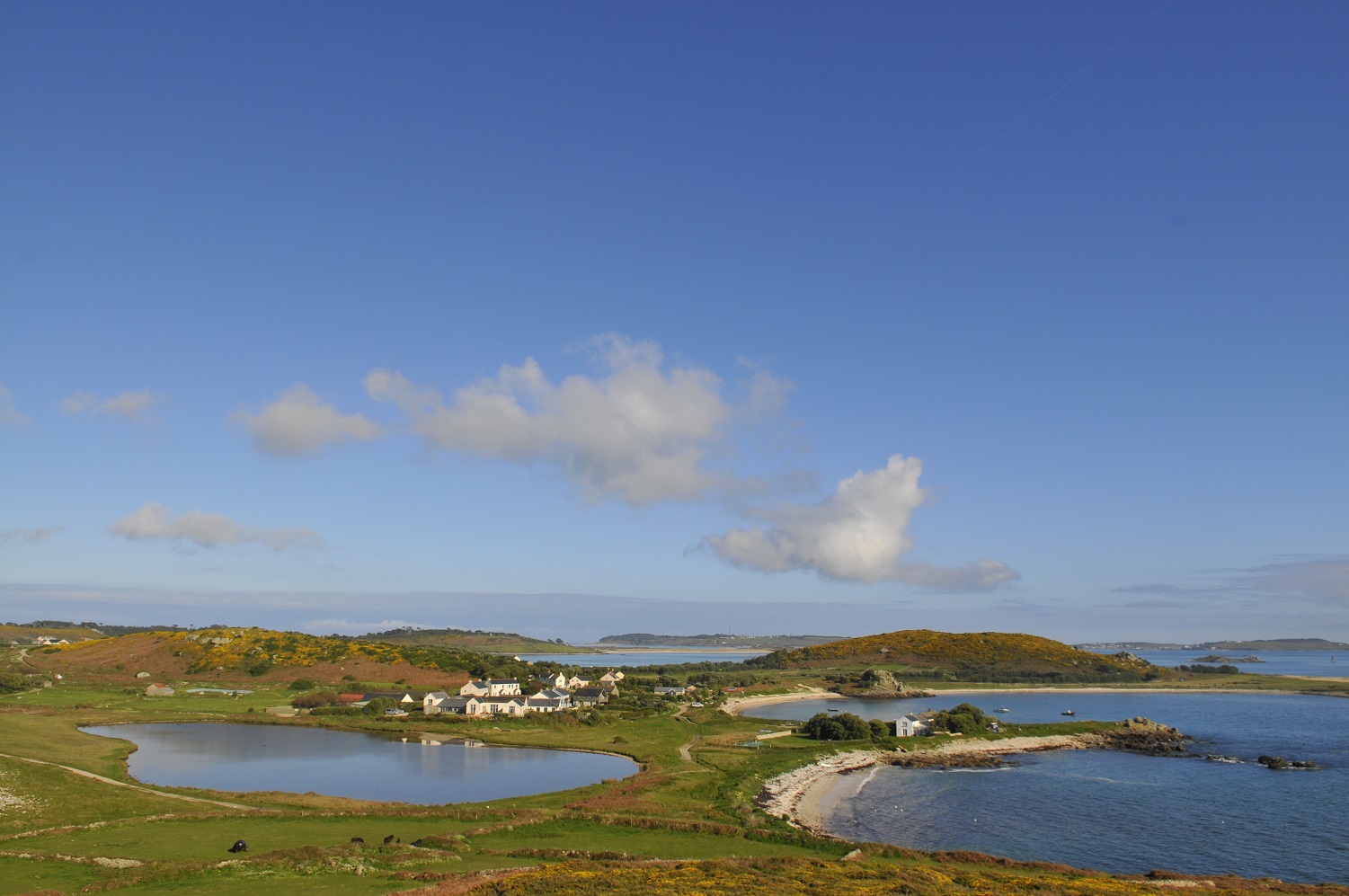 Hell Bay Hotel is a luxurious hideaway on the tiny island of Bryher, 30 miles off the coast of Cornwall in the Isles of Scilly. It is a New England style oasis with unspoilt Atlantic Ocean views. It lays claim to being England's most westerly hotel and is Bryher's sole hotel. The hotel exudes a laidback luxury with award-winning cuisine using the abundance of fresh ingredients available from the Scilly's.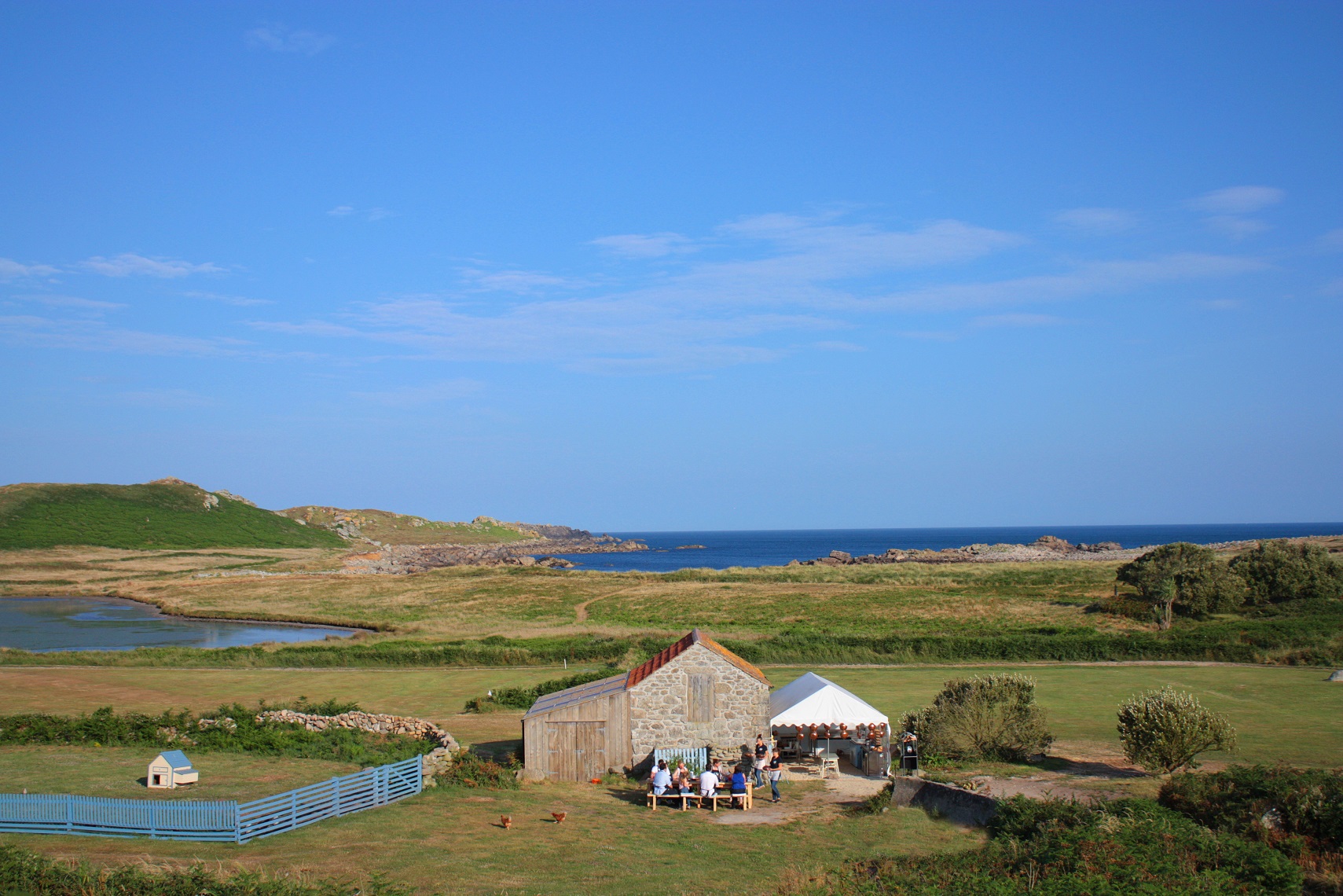 During summer months, from May to September, visitors can also experience the hotel's pop-up 'Crab Shack' – a former barn is transformed to hold four-weekly claw-cracking feasts. A rustic banquet, popular with islanders and visitors alike, offers crab, mussels and scallops fresh from the surrounding waters. Hearty chunks of fresh bread, fries and salad are served to make up the feast. Aprons, shell-cracking tools, shelling demonstrations and making friends at the communal tables are all part of the experience!

Hambleton Hall, privately owned for 37 years by Tim and Stefa Hart, is a 'location perfect' Victorian mansion, lovingly converted into the prestigious hotel as we know it today. It is nestled on top of a hill, on an outcrop of land surrounded by Europe's largest man-made lake in the beautiful and picturesque village of Oakham. Interior design remains traditional and fully in keeping.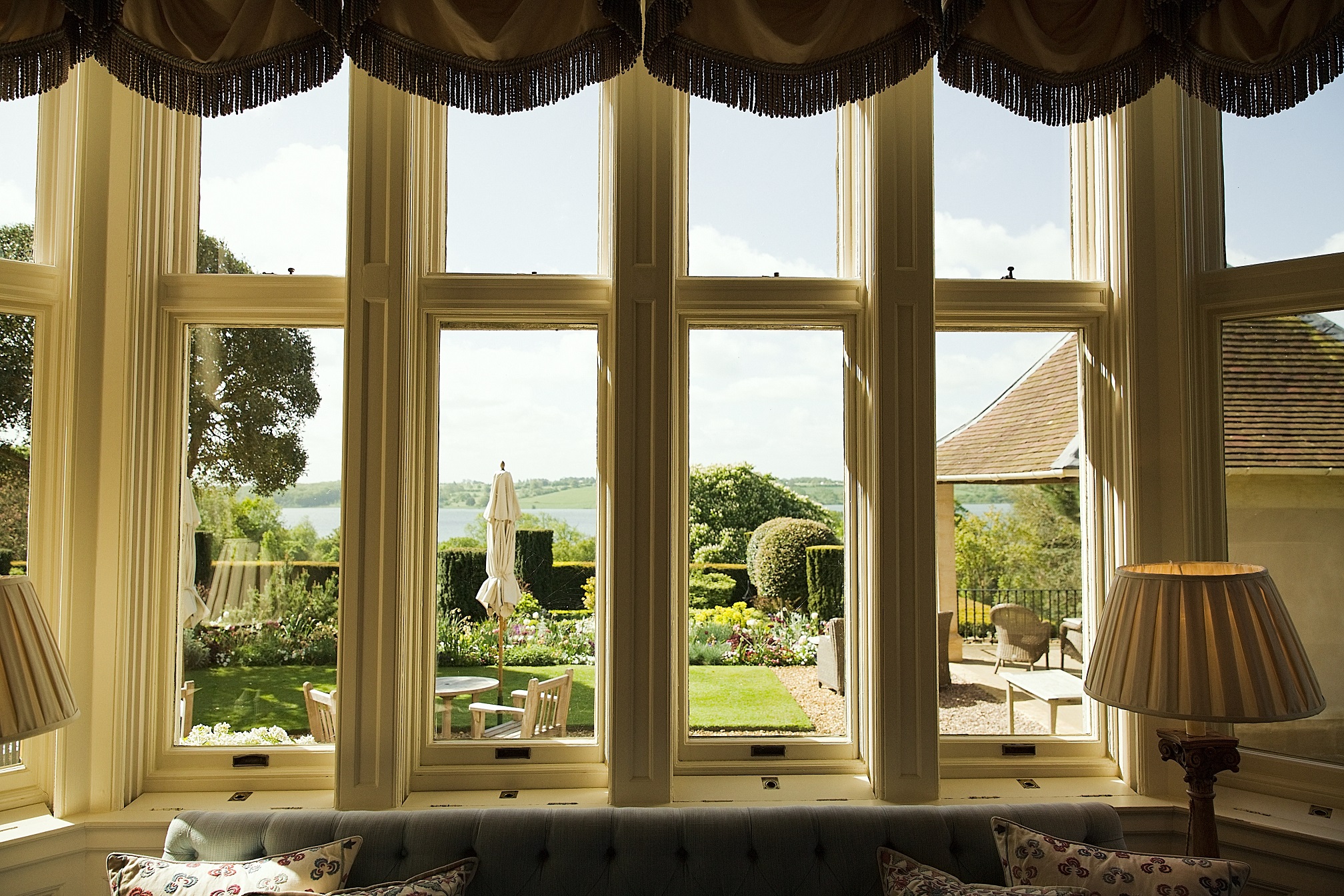 The restaurant is proud to say that it has the longest-retained single Michelin star in the UK, celebrating 35 years in 2017, and offers exceptional dining experiences worthy of a journey to Hambleton. Michelin star Head Chef, Aaron Patterson and his highly skilled team, use the best local produce for seasonal dishes, and are renowned for producing award-winning game dishes such as grouse, partridge and woodcock. They are also very proud of Hambleton Bakery on site which produces all breads and pastries for the restaurant.
The Luxury Restaurant Guide recommends the tasting menu at lunch followed by a walk around the lake for a truly memorable luncheon. Dining offers available as a Club member.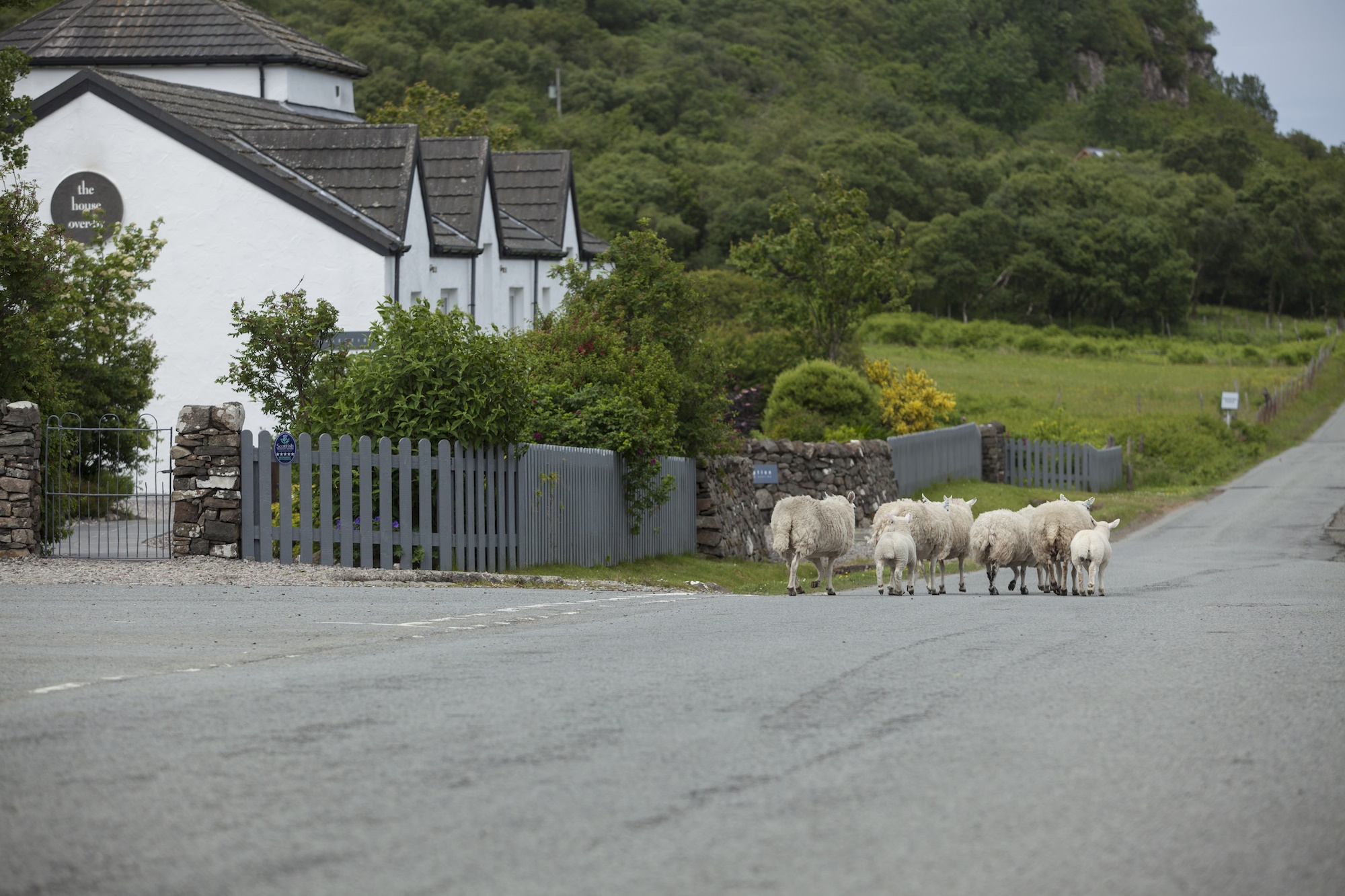 A jewel of beautiful simplicity lies on the Isle of Skye. The purity of the local food, the dexterity of the accomplished cooking, the lovely old stones of the building, all come together to create a tranquil, almost fey atmosphere.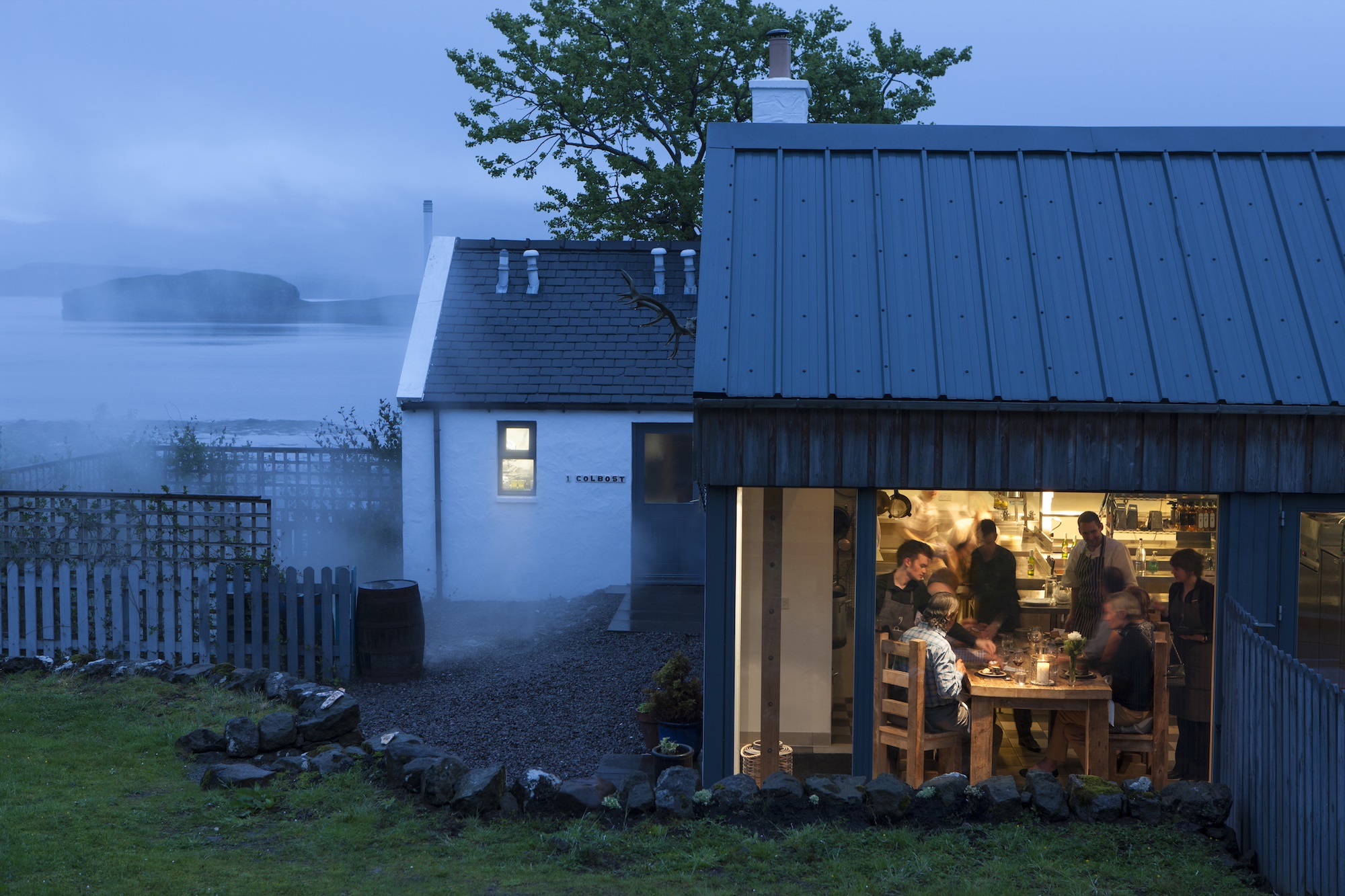 The freshness of the food is almost shocking to the jaded modern palate and its quality sings of the sea, hills and sky. The restaurant has received a great deal of international acclaim for over two decades – Restaurant Magazine included it in their list of the 'World's Top 50 Restaurants'. Utterly magical.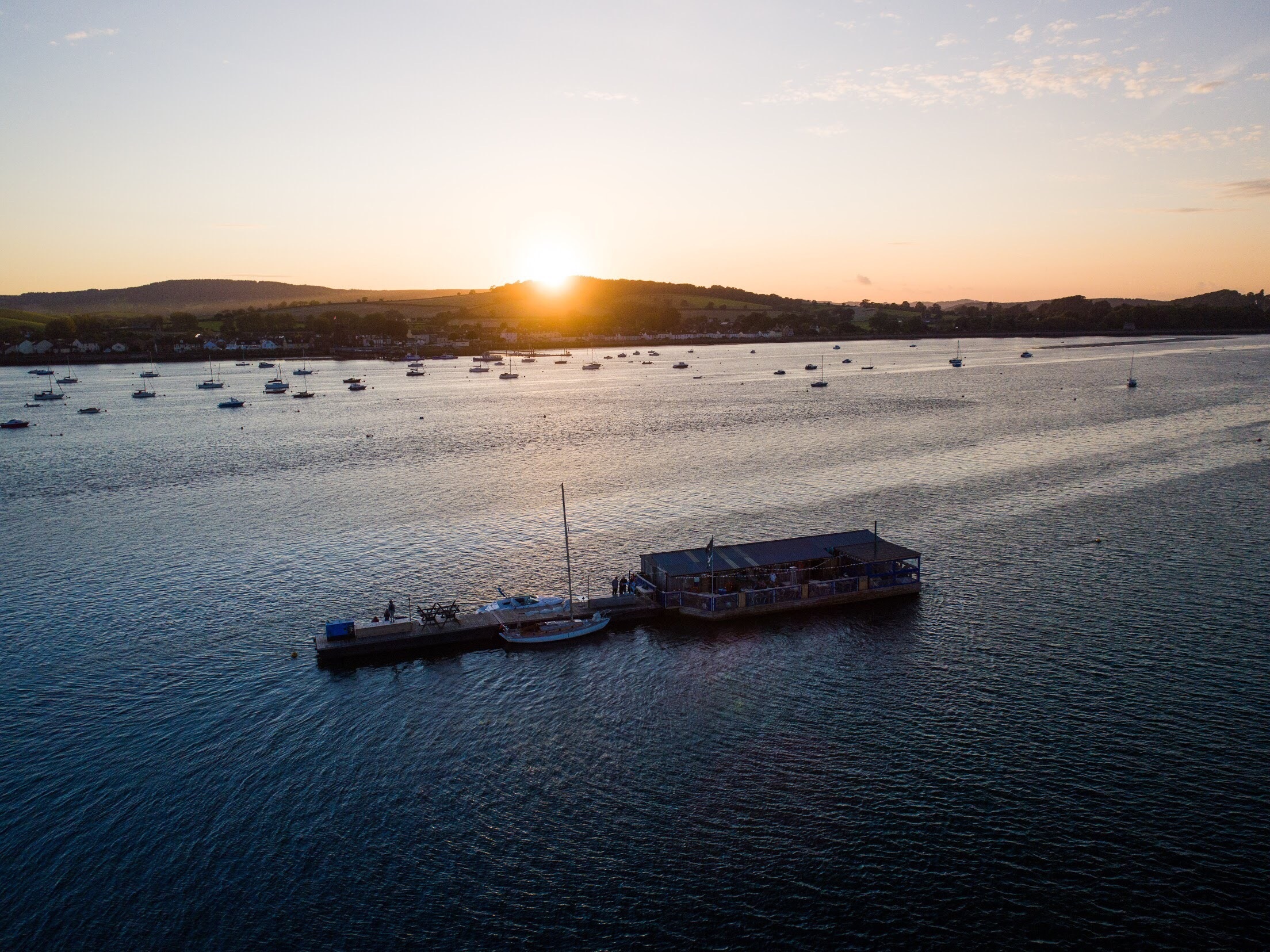 River Exe Cafe is open from 1st April until the 30th September each year. It is a custom built barge that floats well off shore in the Exe Estuary. The Restaurant offers a wide range of locally-sourced food and is surrounded by amazing views. River Exe Cafe can only be accessed by boat, either a Puffin Water Taxi from Exmouth Marina, or on your own boat. The restaurant was also recently featured on 'Hidden Restaurants' with Michel Roux Jr in March 2018 where head chef Chris (featured) showcased the café's range of seafood.
Michel Roux said: "The café is built from 4 flatbed barges and an over-grown shed, but it offers unparalleled views of the estuary and an escape from the pressures of life on land."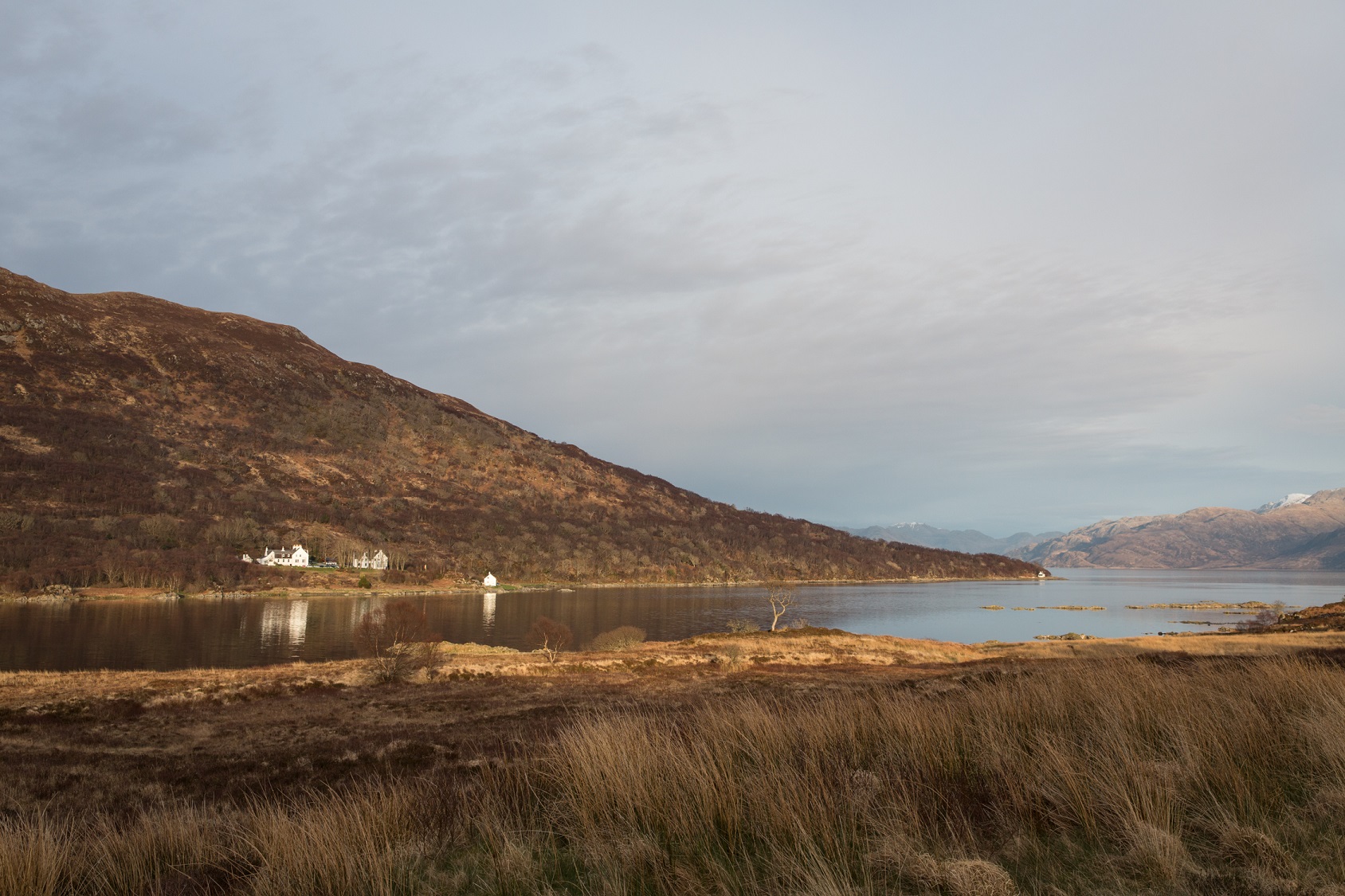 Down a long drive, on the shore of Loch-Na-Dal, foodies flock to Kinloch; hardly surprising, since it belongs to the cook and food writer, Lady Claire Macdonald, and her husband, Lord Godfrey, who until recently lived here. Their reputation for the best highland hospitality continues as their charming daughter, Isabella, now runs the hotel while chef-director for over a decade, Marcello Tully has kept Kinloch's culinary reputation thriving.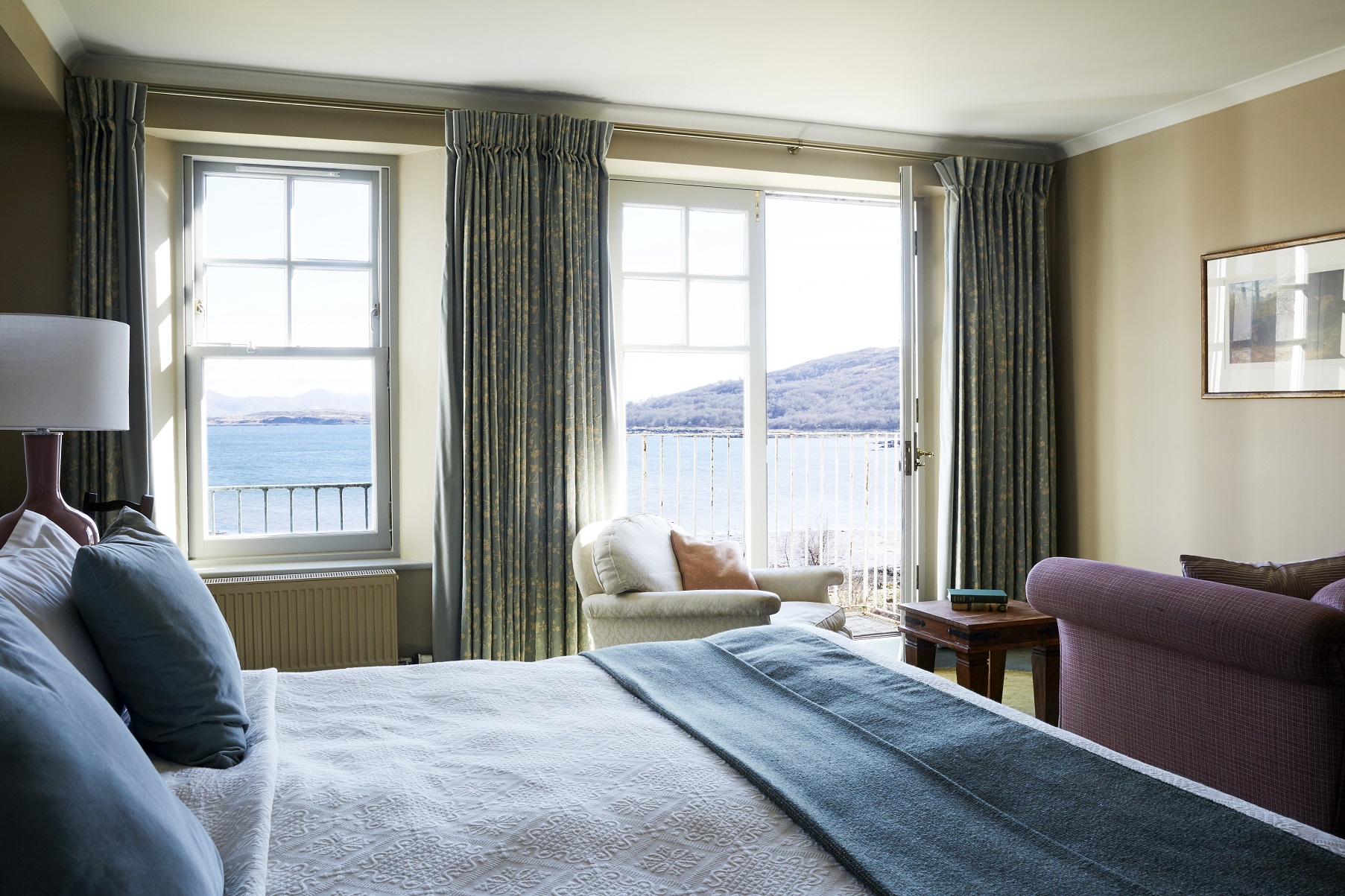 Recently refurbished, the style is charming country-house chic. Guests say, being at Kinloch feels like staying with old friends; comfortable, special and unique. Fittingly, given it started life in the 17th century as a hunting lodge, Kinloch can offer the services of its own Ghillie for fishing, foraging, stalking and Wild Walks.
A family-run 'restaurant with rooms', offering one of the best dining experiences in Orkney and a comfortable base from which to explore the unspoilt splendour of Orkney. The hotel is named after the village the original owners came from in mainland east coast Scotland, and later named their then farmhouse after in the 1800's. Enjoy floor to ceiling windows, or terrace views over the Scapa Flow and the south islands. Guests can return at the end of the day to one of their eight comfortable en-suite rooms and enjoy great local food prepared and presented by award-winning Chef/owner Paul Doull and his team.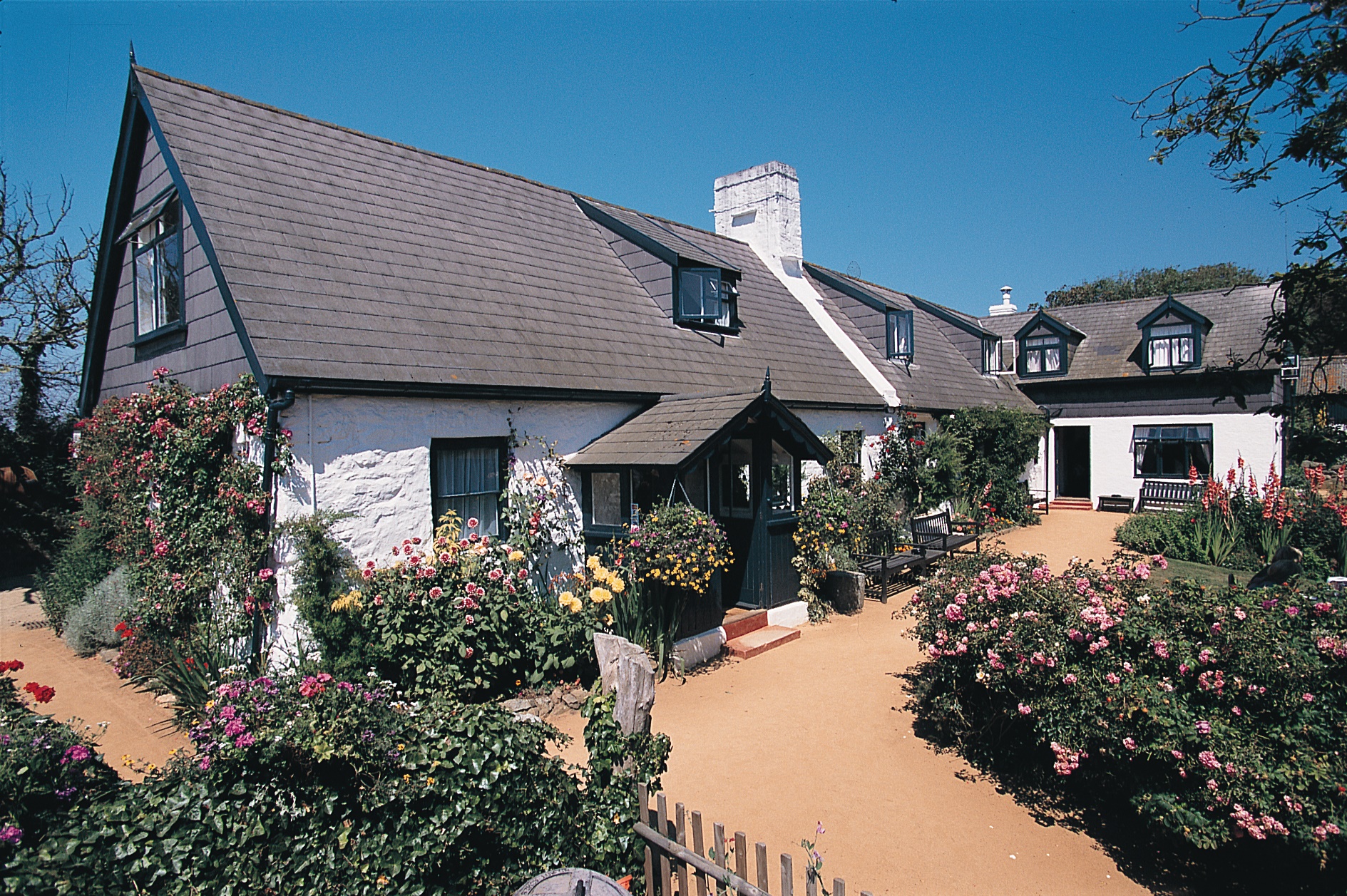 La Sablonnerie is an hotel of rare quality situated in a time warp of simplicity on the tiny, idyllic Channel Island of Sark, where no motor cars are allowed and life ambles along at a peaceful, unhurried pace. The hotel has a collection of awards, most recent being Michelin 2018 Best Address in the Channel Islands and The Good Hotel Guide's Most Romantic Hotel 2018.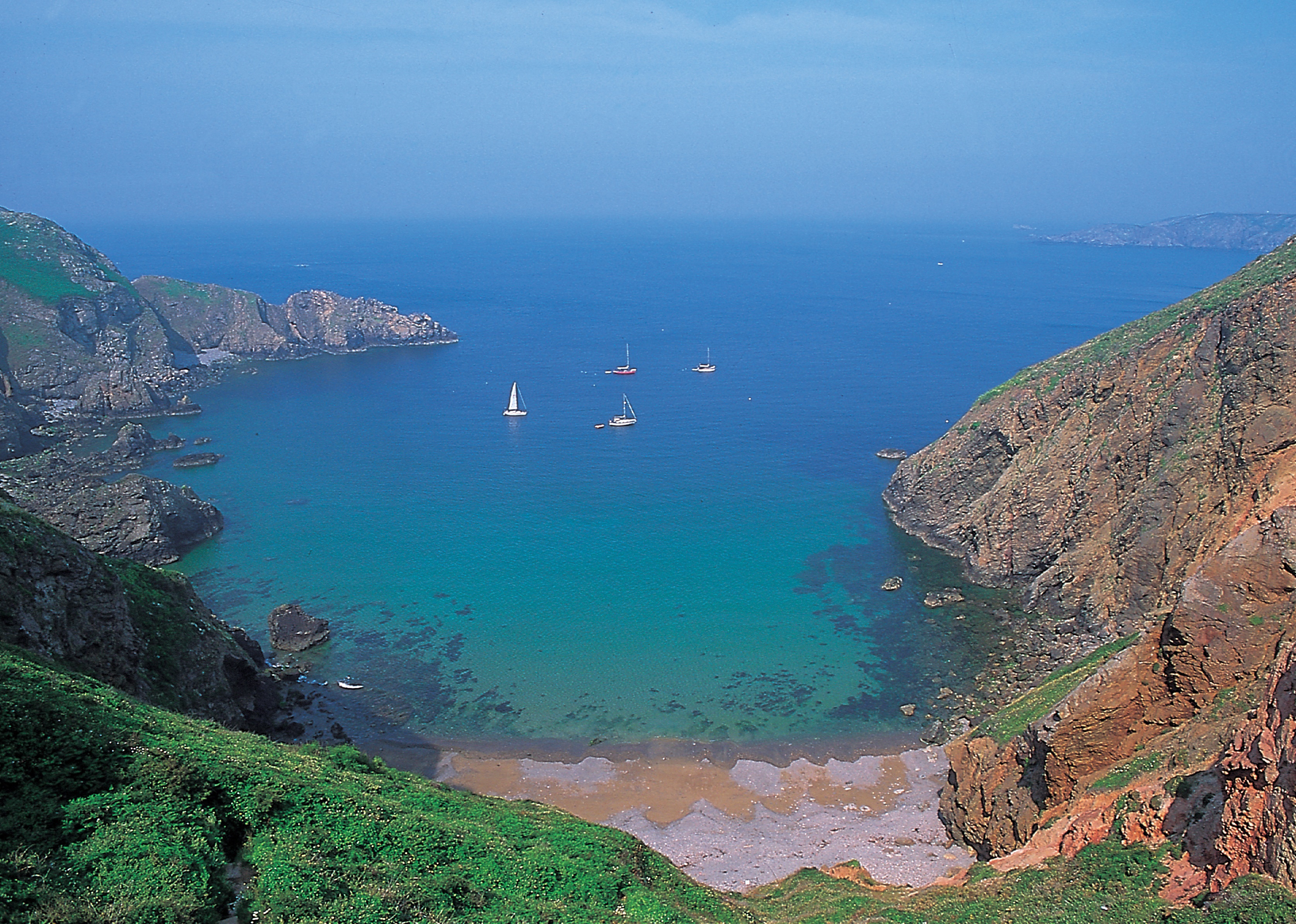 The hotel has an enviable reputation for its superb food and wines; local butter, fresh cream, meat, fruit and vegetables which, where possible, are sourced from the hotel's own farm and gardens. Of course being so close to the sea, freshly caught fish and famous Sark lobster are popular specialities of the hotel.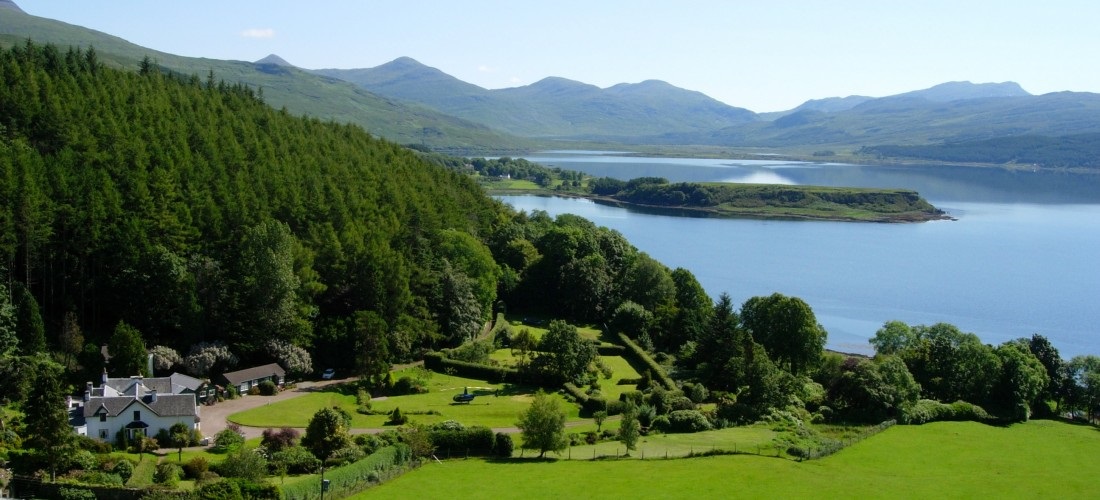 Tiroran House is the only Country House Hotel on the Isle of Mull, and is set within its own beautiful shorelined estate. An 1850 shooting lodge with breathtaking loch and landscape scenery, manicured lawns leading you directly to woodland walks beside a tumbling burn, waterfalls, an old Victorian trout pond lead onto the hotels private beach. This truly is a special place and an oasis of tranquility – romantic, genuinely hospitable and family friendly.  It is 35 minutes from the Craignure ferry, one hour to Tobermory (north) and Iona (south) and on the doorstep of 'Burg' and 'The Wilderness' – a uniquely beautiful coastal place and one of the most fantastic wildlife locations, not just on Mull but within all of Scotland.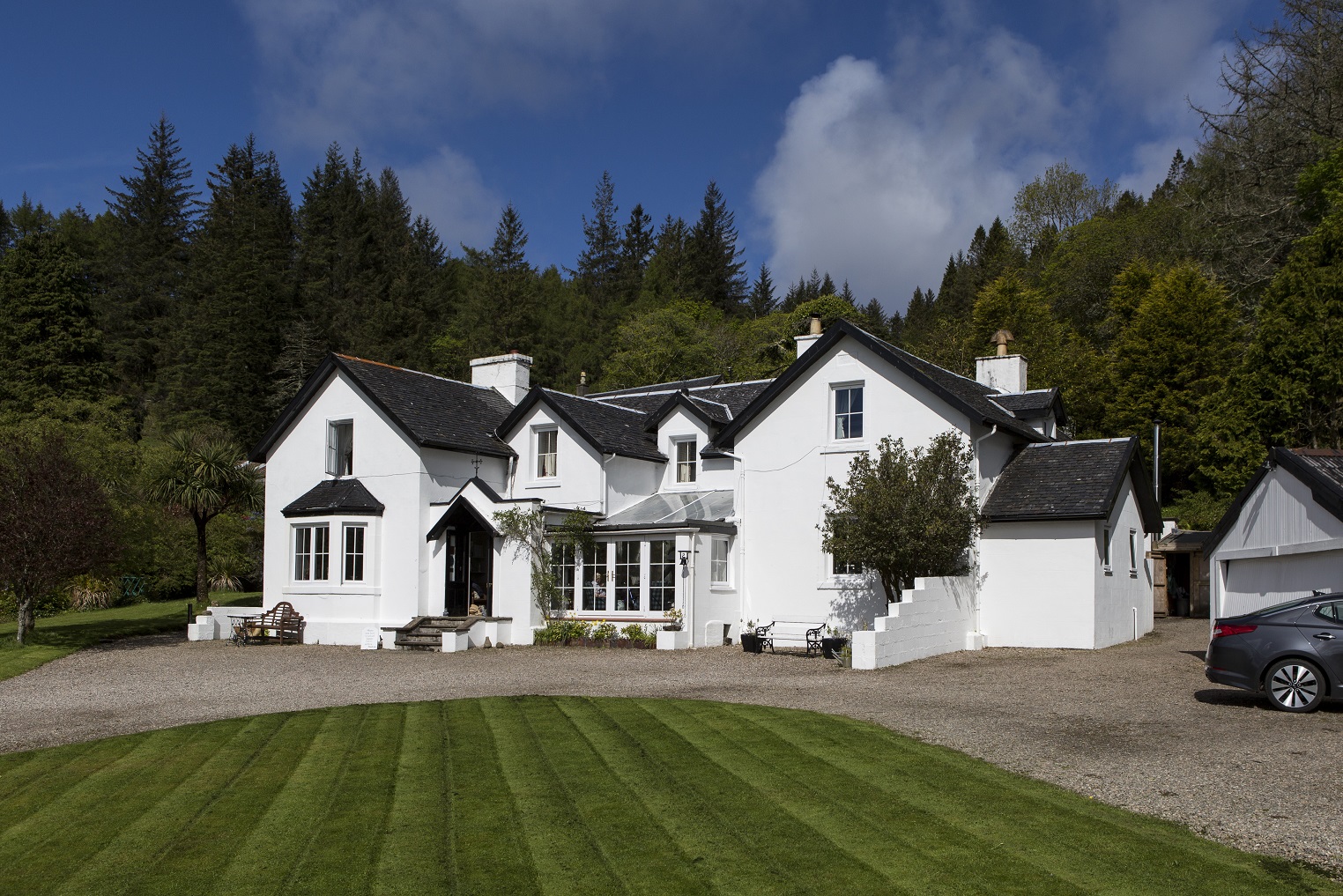 Katie (the owner) is Cordon-Bleu trained and is steadfast in her approach to overseeing that the kitchen serves the best local, seasonal and Scottish produce – With the exception of local and exquisitely prepared island salmon, cheeses and ice creams, everything on the menu at Tiroran is freshly prepared in their kitchen. The conservatory and bar restaurant areas are open for dinner reservations (bookings for non residents are essential – please call 01681 705232)
Also, behind the lodge is the Whitetail Retail, tea and Coffee Shop, where visitors can enjoy a warm welcome with free sample tastings of the islands very first gin, Whitetail Gin (now also selling in Selfridges), and lots of little goodies like wine, groceries, gifts and fresh home-baking.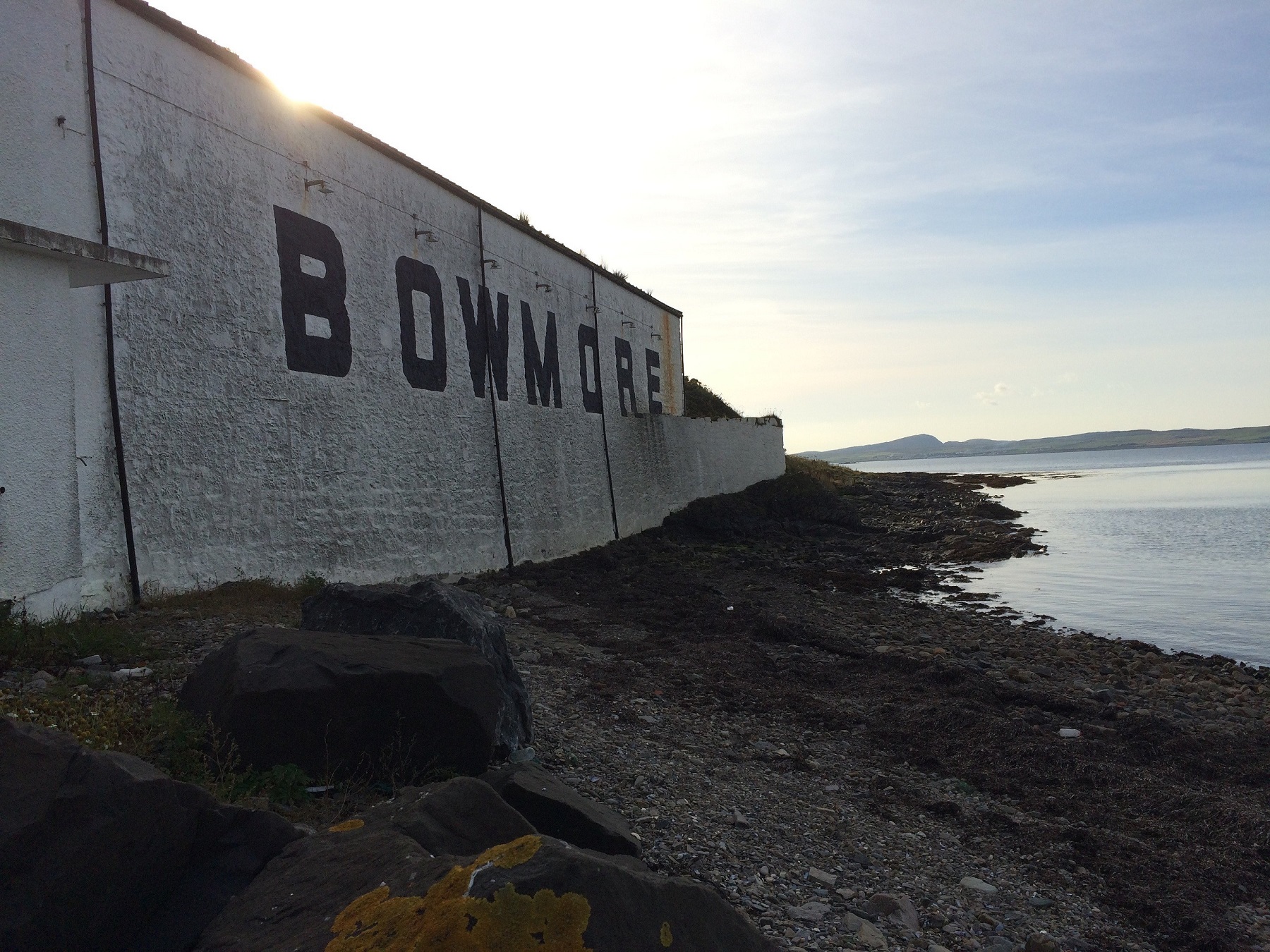 The Harbour Inn and Restaurant sits in the heart of the town of Bowmore, across the road from their own distillery. This old and charming whitewashed inn overlooks the stone-built harbour, and offers seven spacious en-suite bedrooms and dining, with spectacular views out towards the Isle of Jura.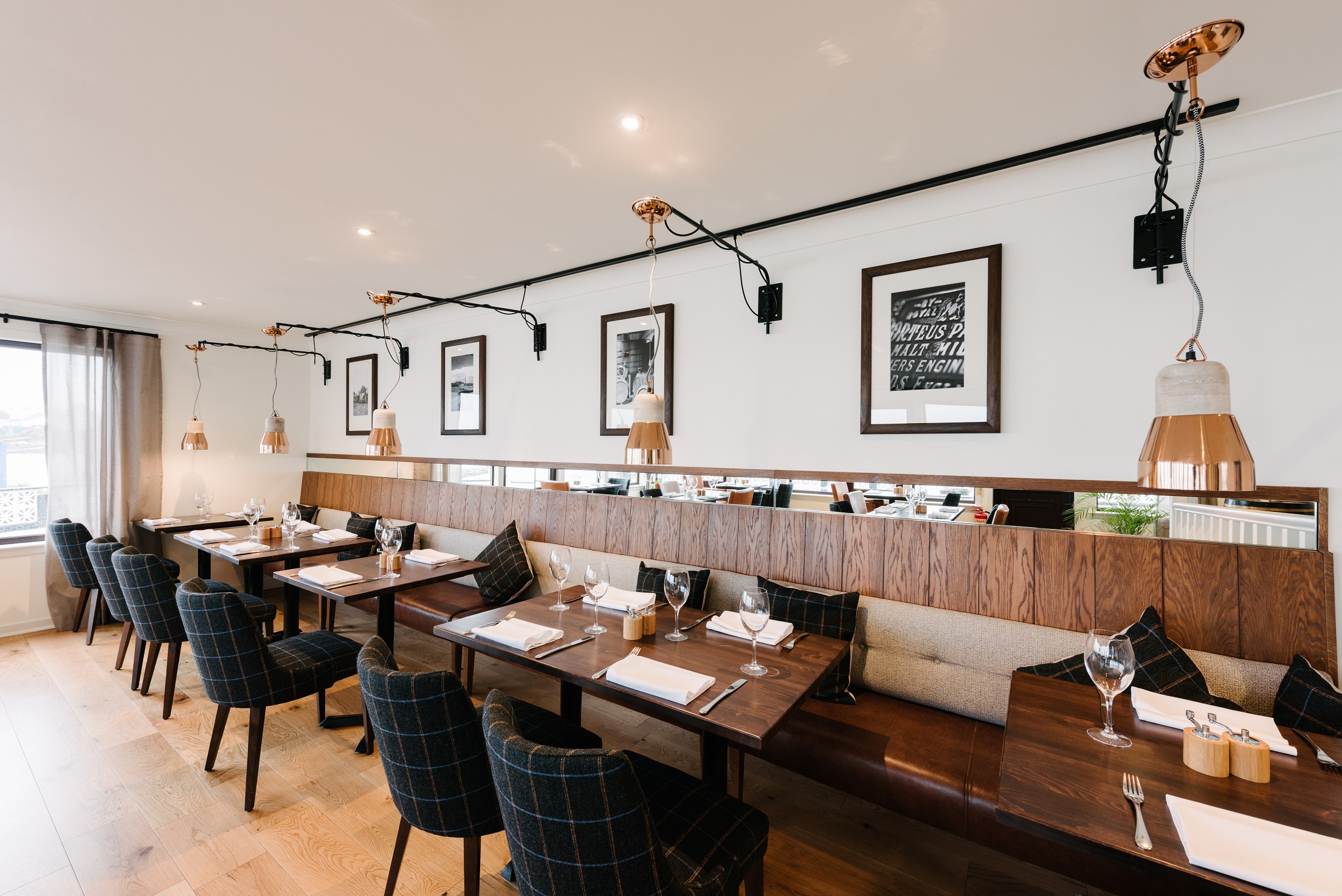 The award-winning Harbour Inn Restaurant boasts an incredible à la carte menu that incorporates seasonal dishes using fresh and locally sourced produce of the highest quality. No matter the occasion, we strongly recommend you finish your meal with a dram of Bowmore!

For the curious to the whisky connoisseurs there are some great tours of their Bowmore and Laphroaig distilleries on the island. Ranging from 2 hours to 4.5 and from £70 to £125 pp where you can enjoy a tour of the local water source, be guided through the whisky making process and finally enjoy a tasting experience which is carefully curated to complement a delicious antipasti board.
Loch Bay Restaurant is a contemporary Scottish Michelin-starred restaurant with classic French influences brought to you by Chef Patron Michael Smith, his wife Laurence and front of house team led by Graeme Creamer.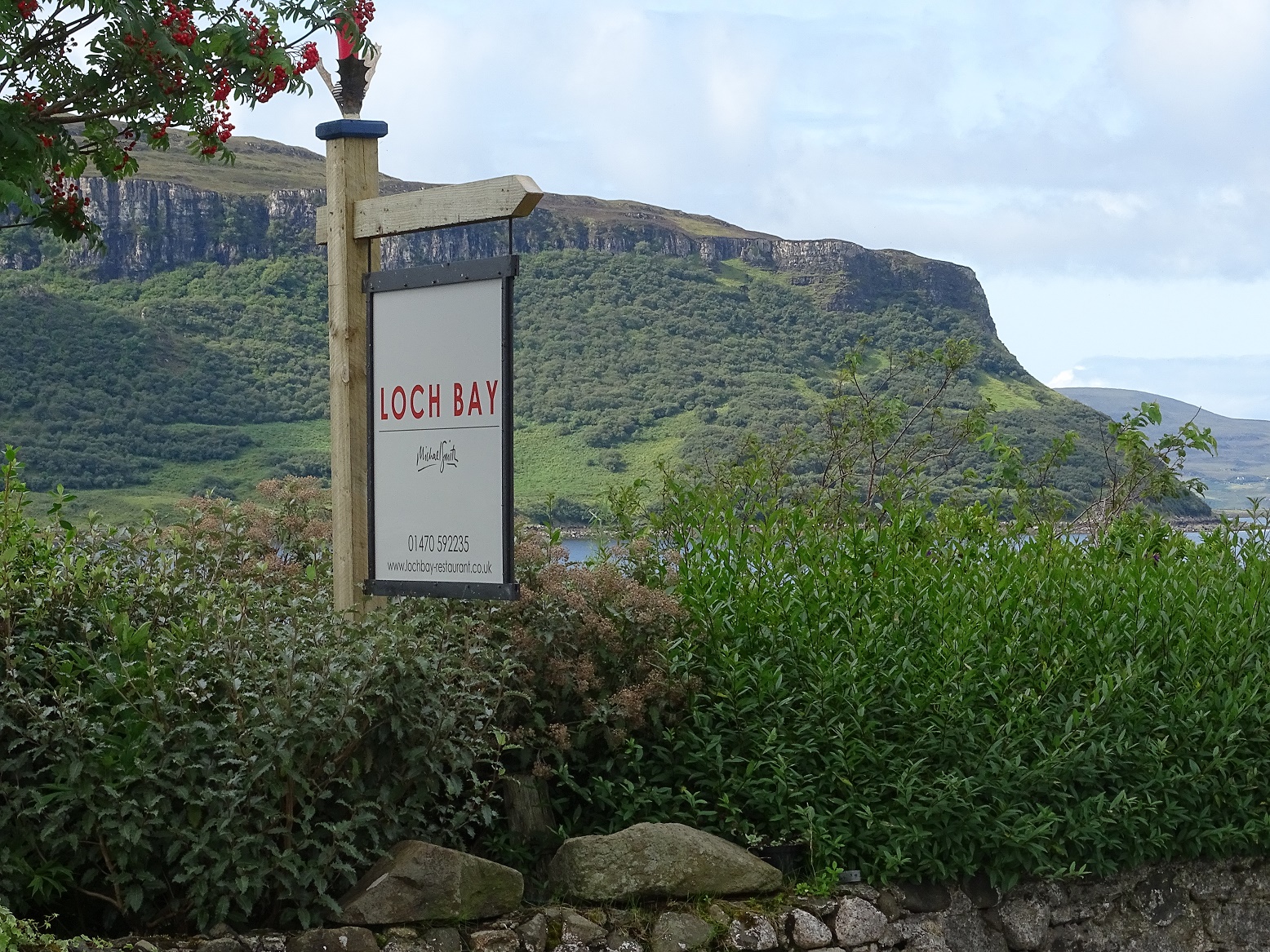 The restaurant is based in Stein, an old fishing village on the scenic north west Waternish peninsula on the Isle of Skye. It is set in an old crofter's cottage in a pretty hamlet serving amazing, skillfully prepared Scottish cuisine.
***
We are all about finding the best places to dine, wherever you are – use our geo-location finder app to locate the very best dining near you
LUXURY RESTAURANT GUIDE APP HERE
TO DISCOVER ALL THE BEST UK DINING