Seeing Red – The Best Restaurants to celebrate Chinese New Year
Paint the town red on Chinese New Year by celebrating this jubilant occasion dining in one of the finest Chinese restaurants in the UK. This year, the lunar calendar event occurs on February 16th, marking the start of The Year of the Dog. As the most important of holidays in China it is always a colourful and decadent event to enjoy dining out, which ever country you are in. Also known as the Spring Festival, it signifies the end of the coldest days in China, a time for fresh starts and new beginnings.
Join millions around the world blessing New Year good fortunes with "Gong Hei Fat Choy" (congratulations on your fortune) dining in The Best UK Chinese Restaurants:
Yauatcha, a Chinese dim sum teahouse has two restaurants in London – one in the heart of Soho and the other in the City, offering an all-day grazing experience. The Soho branch launched in 2004, gaining immediate critical acclaim and a Michelin star within a year of opening which it continues to maintain. Yauatcha City opened in May 2015.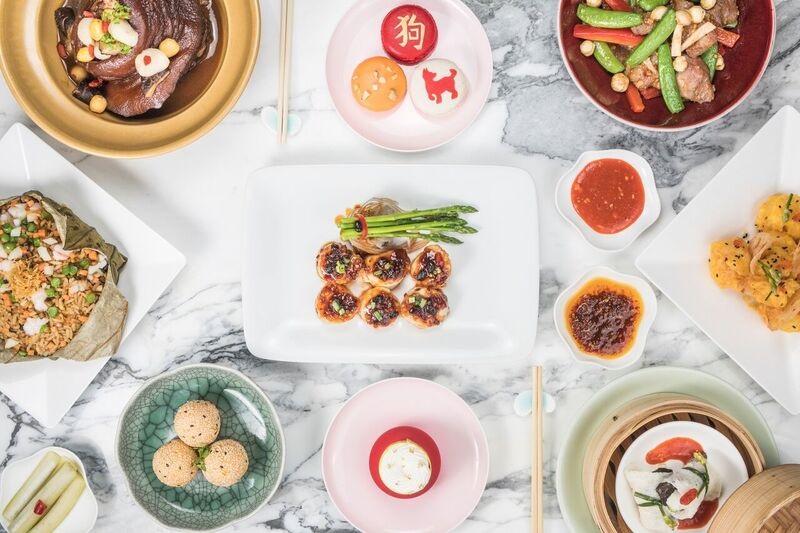 Yauatcha provides a unique dining experience, offering authentic dim sum with a contemporary influence. The renowned menu includes a wide selection of dim sum and a list of over 24 types of tea. The design by Christian Liagre offers a full view of the kitchens allowing passers-by to witness the preparation of the expertly made dishes.
Yauatcha is celebrating Chinese New Year by commissioning two leading London artists to create innovative Chinese lantern art installations for its restaurants from London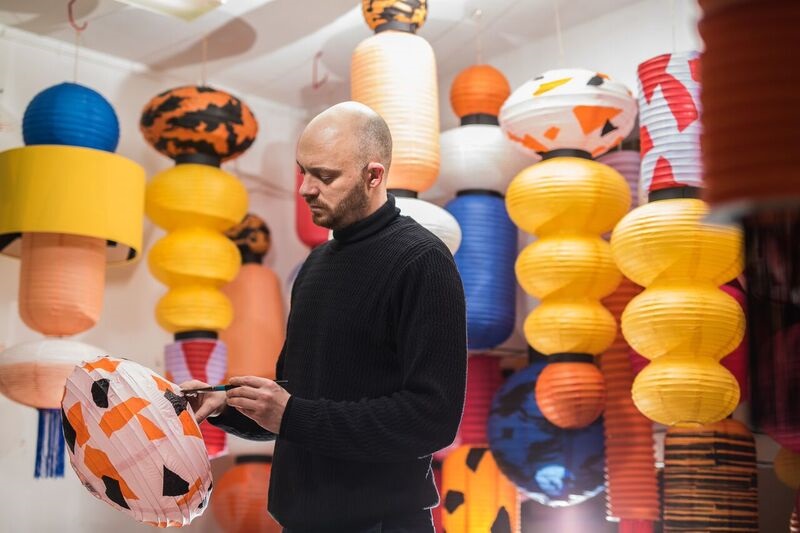 Also, from 5th February 2018, both Yauatcha London locations will serve a celebratory Chinese New Year menu with dishes inspired by the annual celebration and featuring ingredients which are traditionally believed to bring good fortune. The menu will offer two dim sum dishes; salted egg yolk custard sesame ball (representing togetherness) and Chilean sea bass roll (symbolising financial prosperity). Main dishes will include golden fortune prawn in lime sauce (for seafood has connotations of good luck) and braised pork shank with lotus seed and mushroom.
In a nod to the art, guests will enjoy the Haoyun Lantern petit gâteau dessert with soy caramel and mandarin (eating citrus is believed to bring luck whilst 'haoyun' translates as 'lucky'). A number of limited edition macarons will also be available, in flavours including vanilla orchid, a lucky flower for 2018, and raspberry Szechuan, vibrant red in colour to reflect Chinese New Year celebrations.
Yauatcha is a part of Hakkasan Group.
☺ ☺ ☺
One of the most opulent of high-end Chinese restaurants with elegant live music, beautifully complex dishes and lavish service. Chinese New Year will be celebrated in style at Park Chinois, with an array of performances and special events, dedicated to the celebration of the Earth Dog.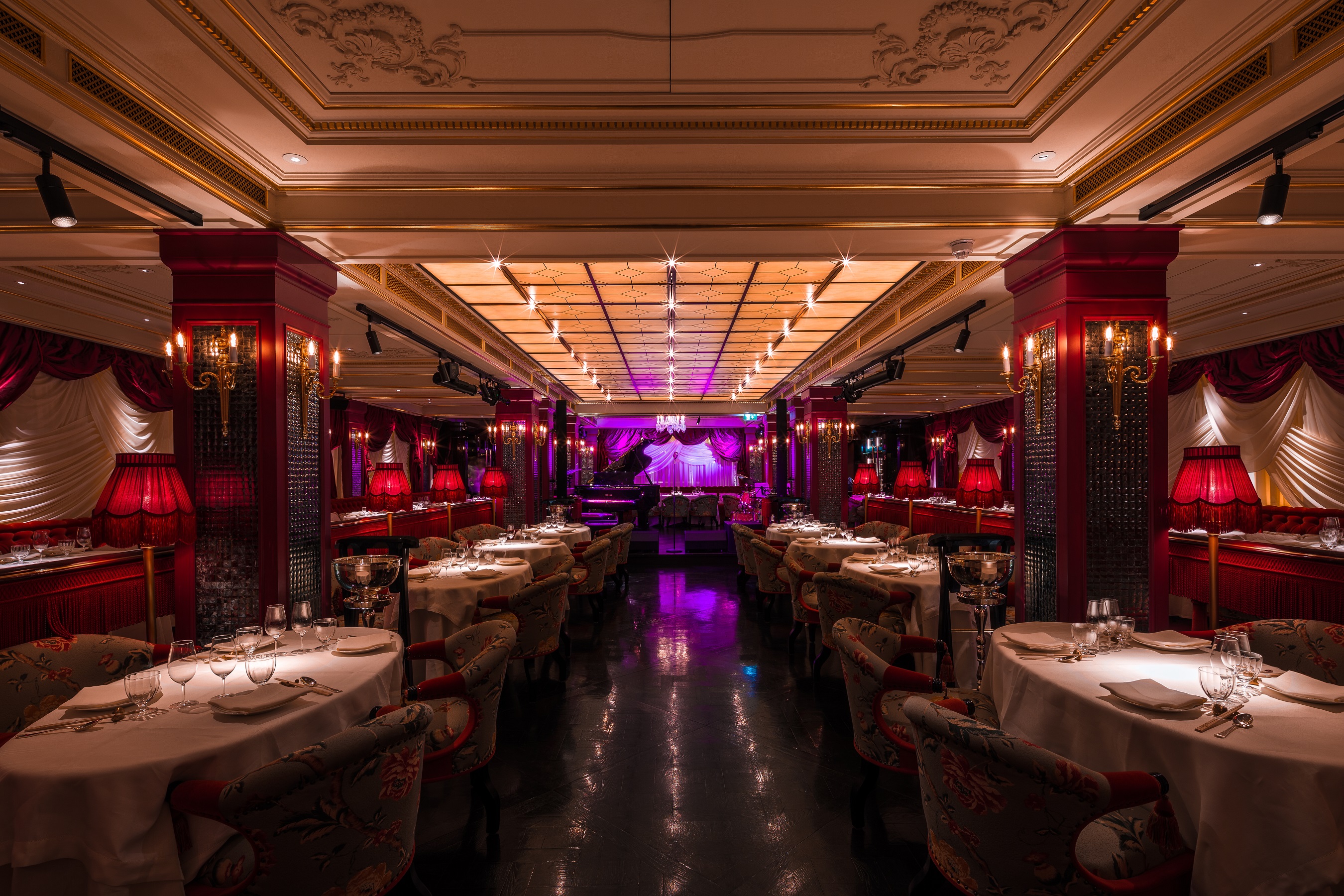 This year they introduce the Park Chinois Dog of Good Fortune who will make predictions of prosperity for the forthcoming year. There will be an impressive selection of Chinese favourites such as the traditional Face Change Dance and Bei Bei Chinese Drum, as well as the Lion Dance. These special performances will be complemented by Park Chinois in-house troupe, who will produce a spectacular theatrical showcase of cabaret performances in Club Chinois. In the Salon de Chine guests will be entertained by London's most talented Diva's performing contemporary and classic swing ballads reminiscent of old Shanghai.
| | | | |
| --- | --- | --- | --- |
| DATE | LION DANCE | SALON DE CHINE | CLUB CHINOIS |
| Thu 15th Feb | Dinner 19.30 | Ella Chi & Trip The Light | Bei Bei Drummer, Face Change Dance, Park Chinois Troupe |
| Fri 16th Feb | Dinner 19.30 | Charlotte Queen of The Night | Bei Bei Drummer, Face Change Dance, Park Chinois Troupe |
| Sat 17th Feb | Lunch 14.00/ Dinner 19.30 | Danusia | Bei Bei Drummer, Face Change Dance. Park Chinois Troupe |
| Sun 18th Feb | Lunch 14.00/ Dinner 19.30 | Stella & The Old Fashioned Band | Bei Bei Drummer, Face Change Dance, Park Chinois Troupe |
| Mon 19th Feb | Dinner 19.30 | The Emma Smith Band | Bei Bei Drummer, Face Change Dance, Park Chinois Troupe |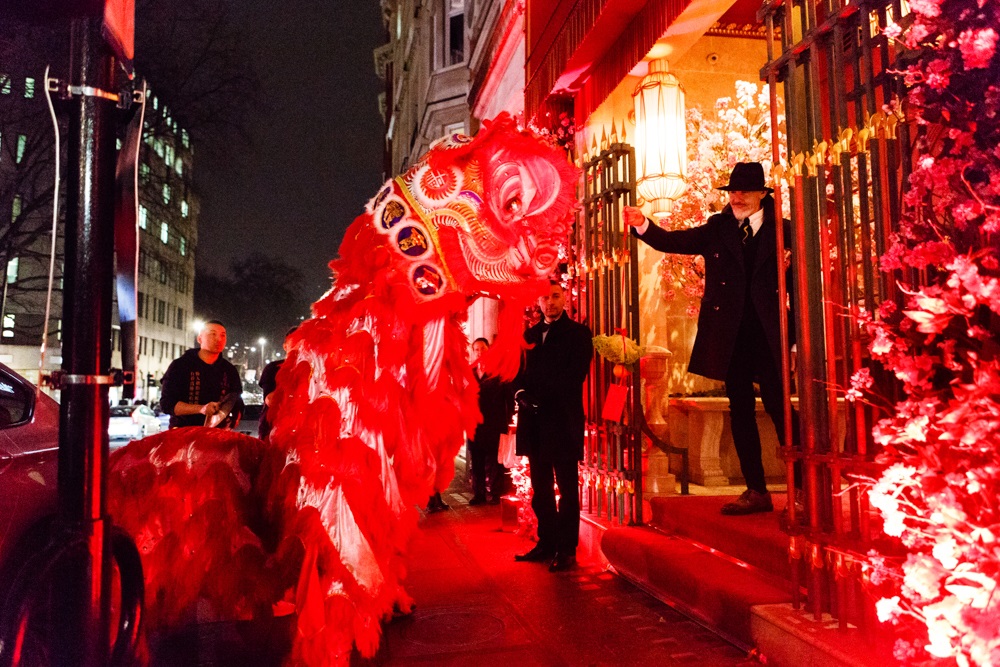 Various menus are available but the magnificent Chinese New Year menu is available for £150 pp and highly recommended.
☺☺☺
Opened in June 2017, Mei Ume is an exciting new Asian concept bring together some of the best Chinese and Japanese chefs.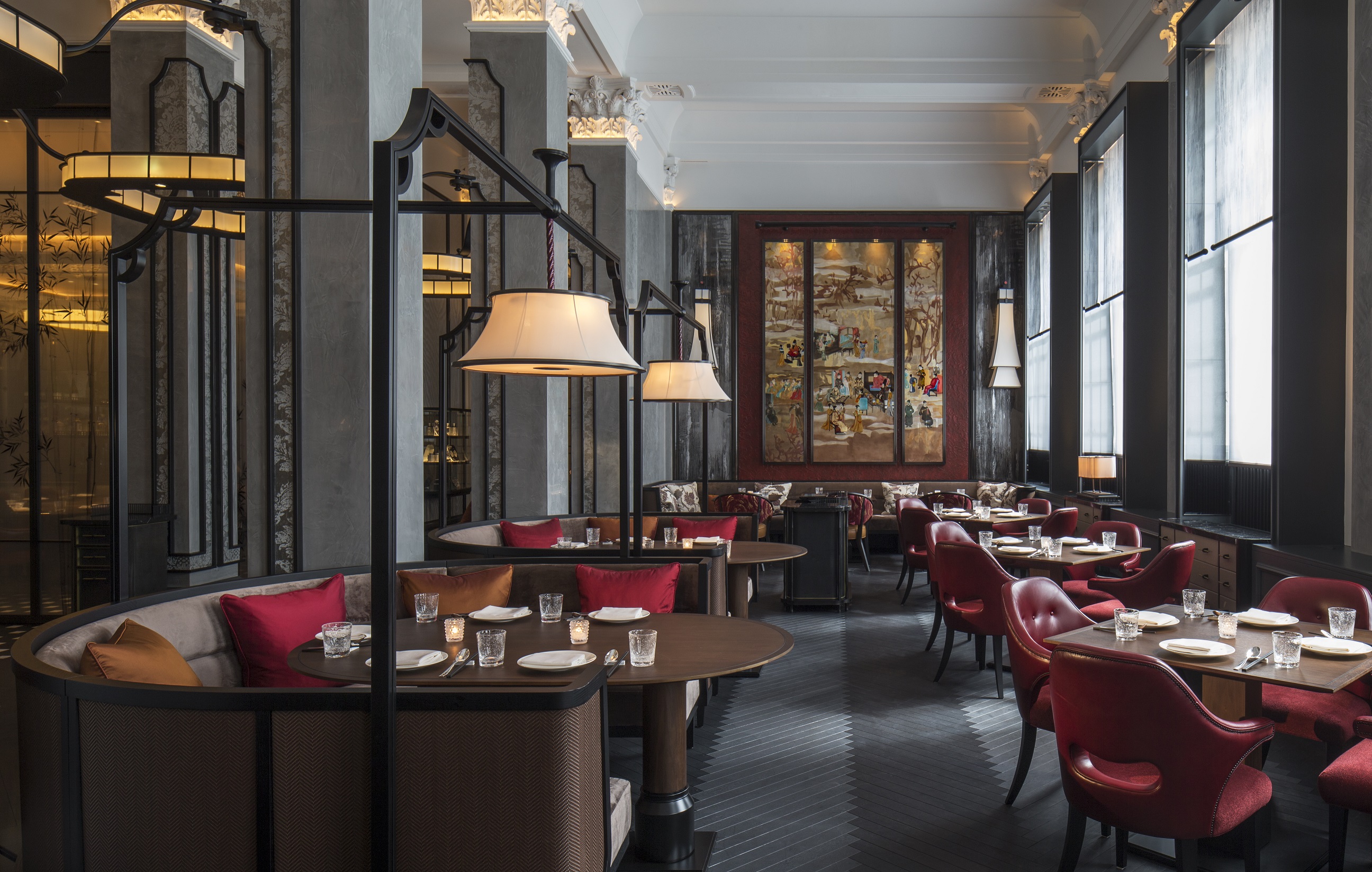 The interiors of Mei Ume work harmoniously with the stunning architectural features of the Ten Trinity Square five star hotel. Ornate pillars running through the centre of the room create a subtle division between the 10-seat bar and lounge area and the 48 cover dining room and suspended between the first two pillars as guests enter the restaurant, is a panel featuring enamel paintwork on glass, inspired by Chinese and Japanese plum flowers – fusing the two worlds into one as a common language.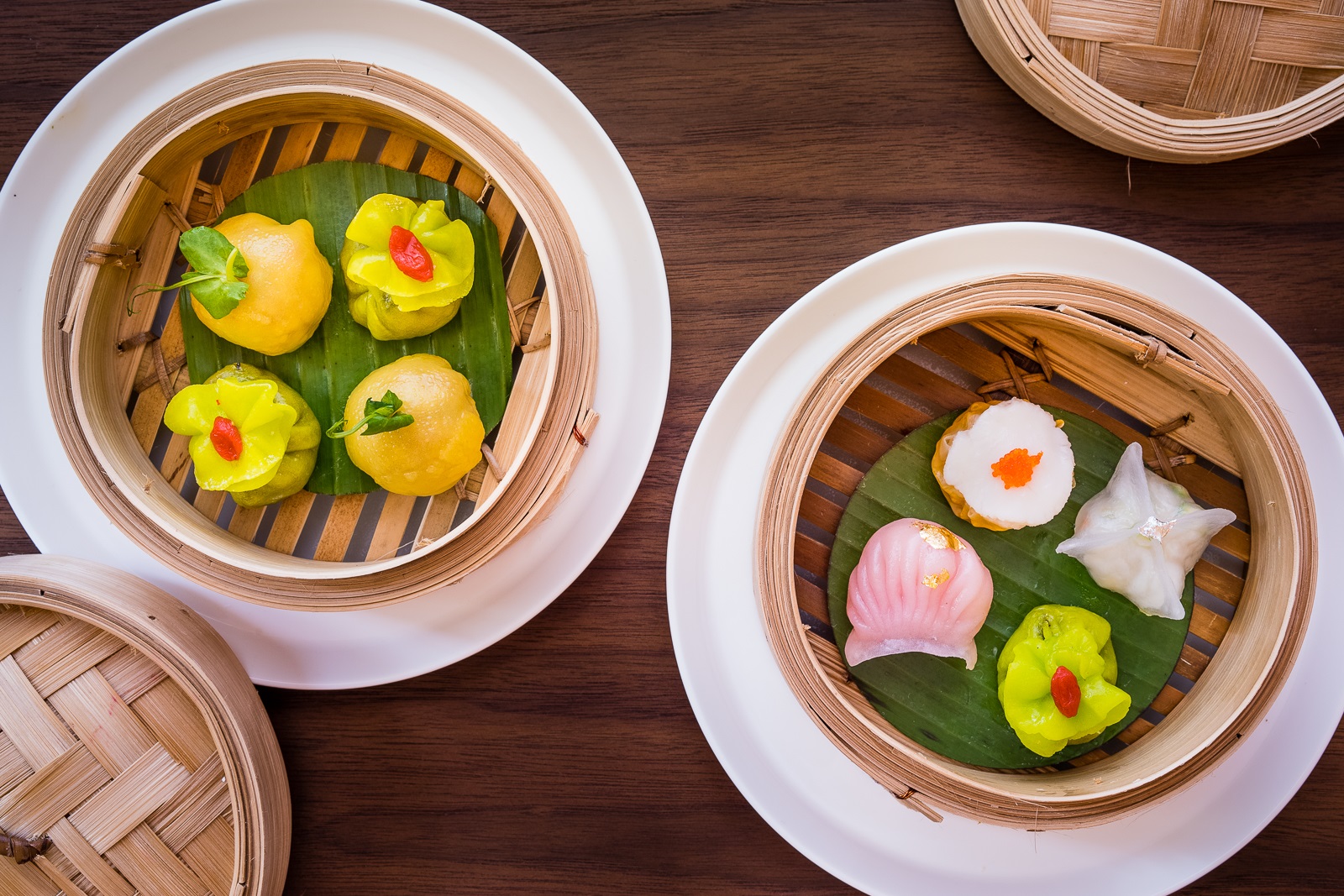 Mei Ume offers a Chinese New Year menu, available for lunch and dinner from the 1st February until 28th February (excluding 14th February) for £88 pp. See menu details.  A Luxury Restaurant Club recommended location providing club privileges.
☺☺☺
China Tang was conceived by Sir David Tang, the founder of China Clubs in Hong Kong, Peking and Singapore, as well as the lifestyle brand, "Shanghai Tang", China Tang offers some of the best and most authentic Cantonese food outside China.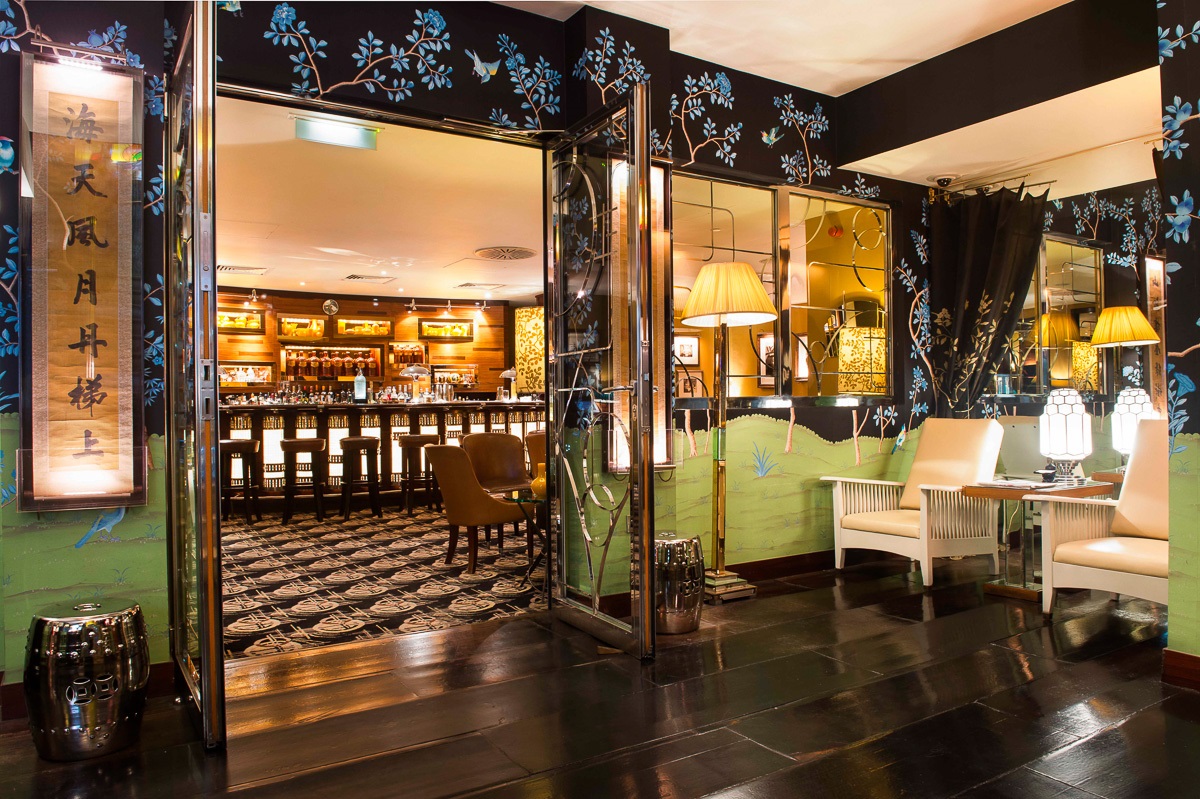 The iconic, art-deco interior is designed to evoke the romanticism of the Thirties – as well as the quirky objets d'arts, the restaurant also showcases a collection of traditional and contemporary Chinese art, all personally chosen by Sir David Tang.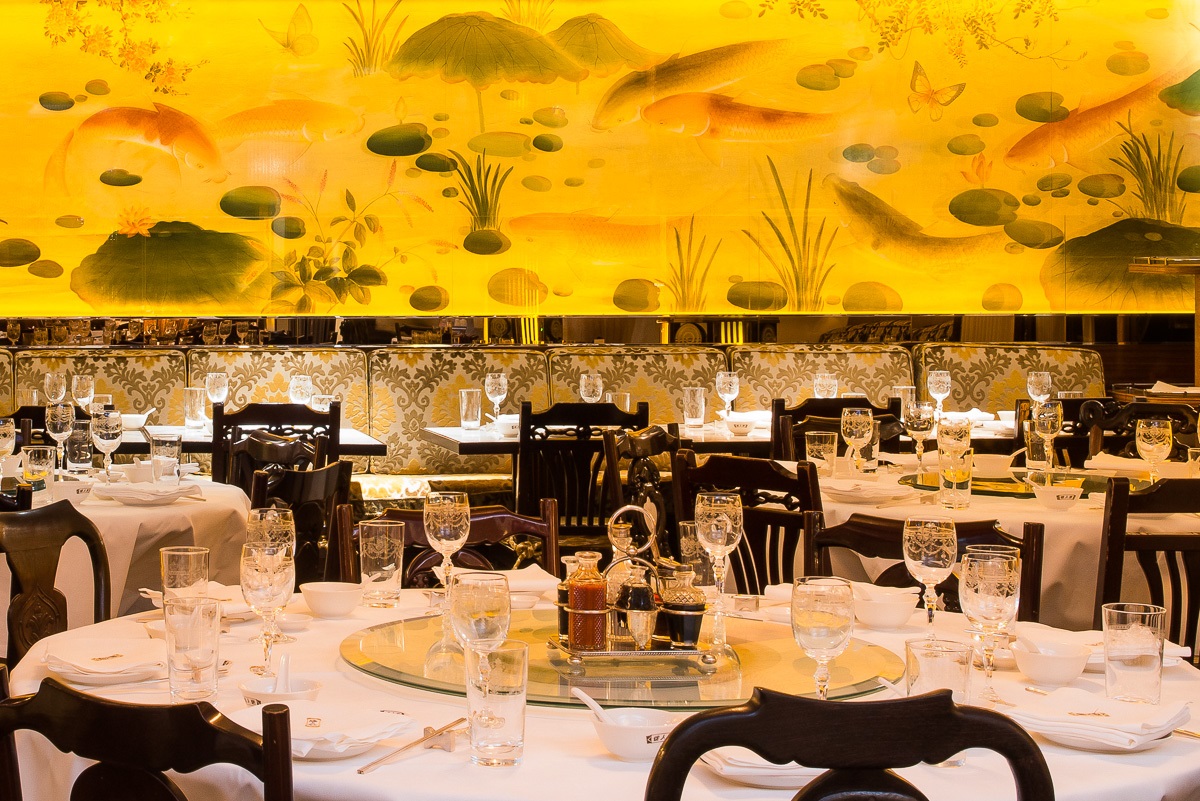 The menus at China Tang do not compromise on classical recipes and all dishes, including the signature Peking duck, are prepared with the freshest ingredients and traditional spices and flavouring.  China Tang offers a Set Lunch menu at £30 pp,
Chinese New Year A la Carte menu
, A la Carte menu and a Dim Sum menu.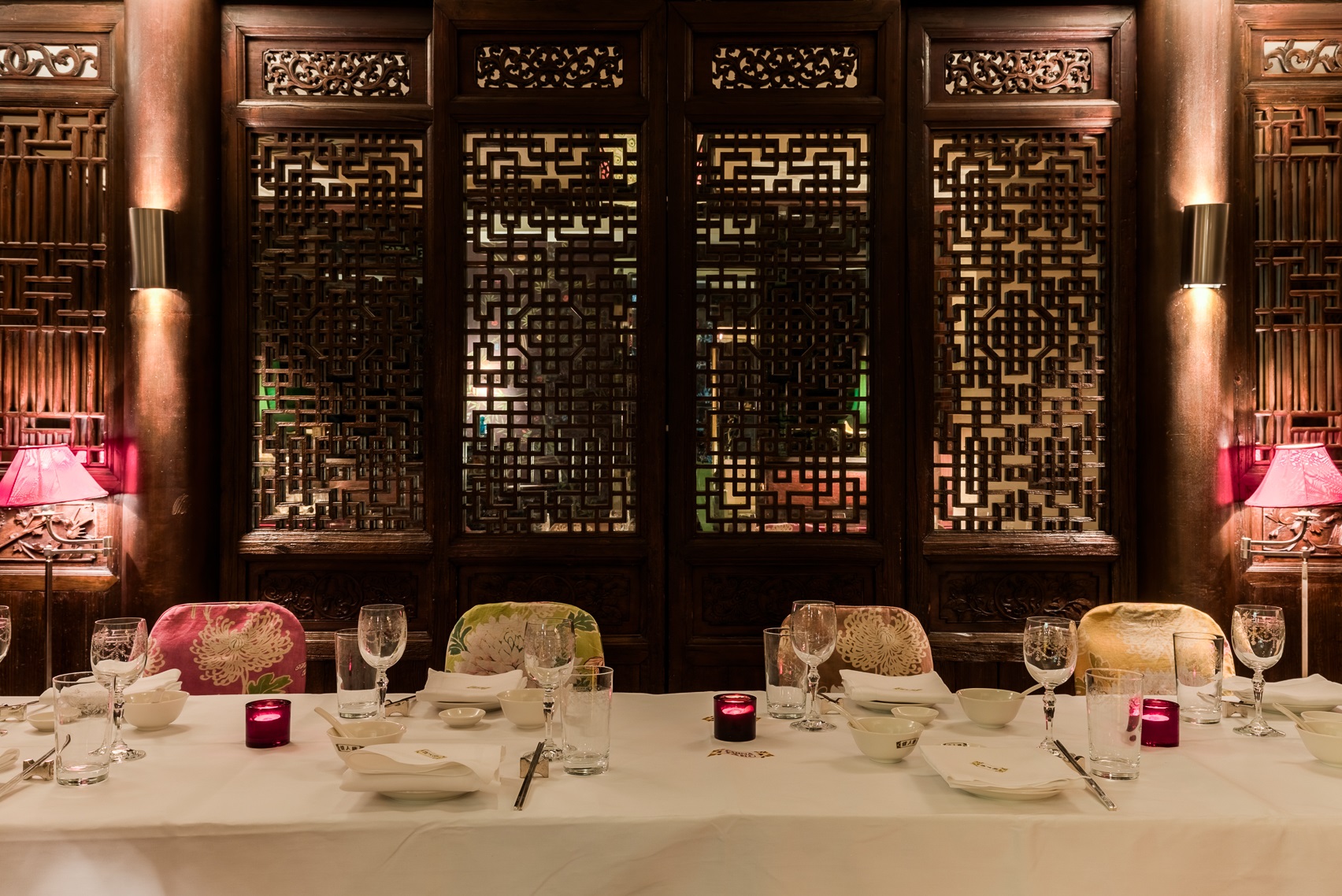 China Tang is a Luxury Restaurant Club recommended location providing club privileges.
☺☺☺
Let A Wong take you on a Michelin-starred culinary journey, with a menu that celebrates Chinese food heritage, historical recipes, and kitchen craft evolved over 4000 years.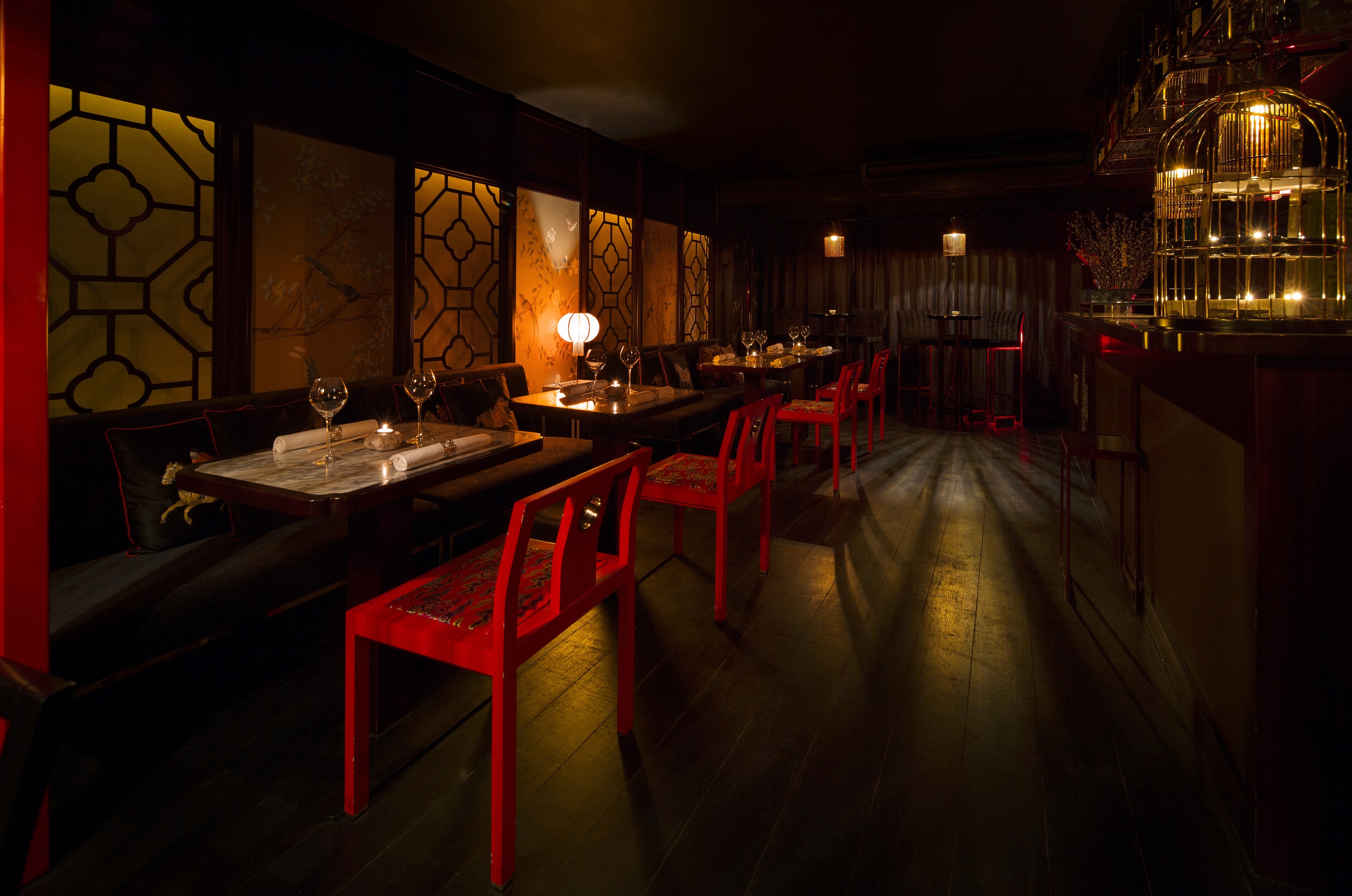 It offers a Dim Sum and Evening menu and a 10-course 'Taste of China menu' –  where each course is inspired by a specific region of China's 14 international borders – which we recommend for your Chinese New Year celebrations and is priced at £75 pp.
The premises of A.Wong have been in Andrew's family since the 80's, previously run by his parents as a traditional Cantonese restaurant – Kym's. In 2011 Andrew took over the restaurant and re-launched. As well as changing the name, he set about to broaden and restore its cuisine in a bid to alter the typical British perception of Chinese food.
☺☺☺
Duddell's opened its first restaurant outside of Hong Kong in London in November 2017. Based in St Thomas' Church in London Bridge on the doorstep of The Shard, here you will be offered a more relaxed take on Cantonese cuisine. Featuring both recognized and re-interpreted classics as well as Duddell's signature dim sum symphony which is more delicate and intricate than traditional dim sum, showcasing the team's folding prowess.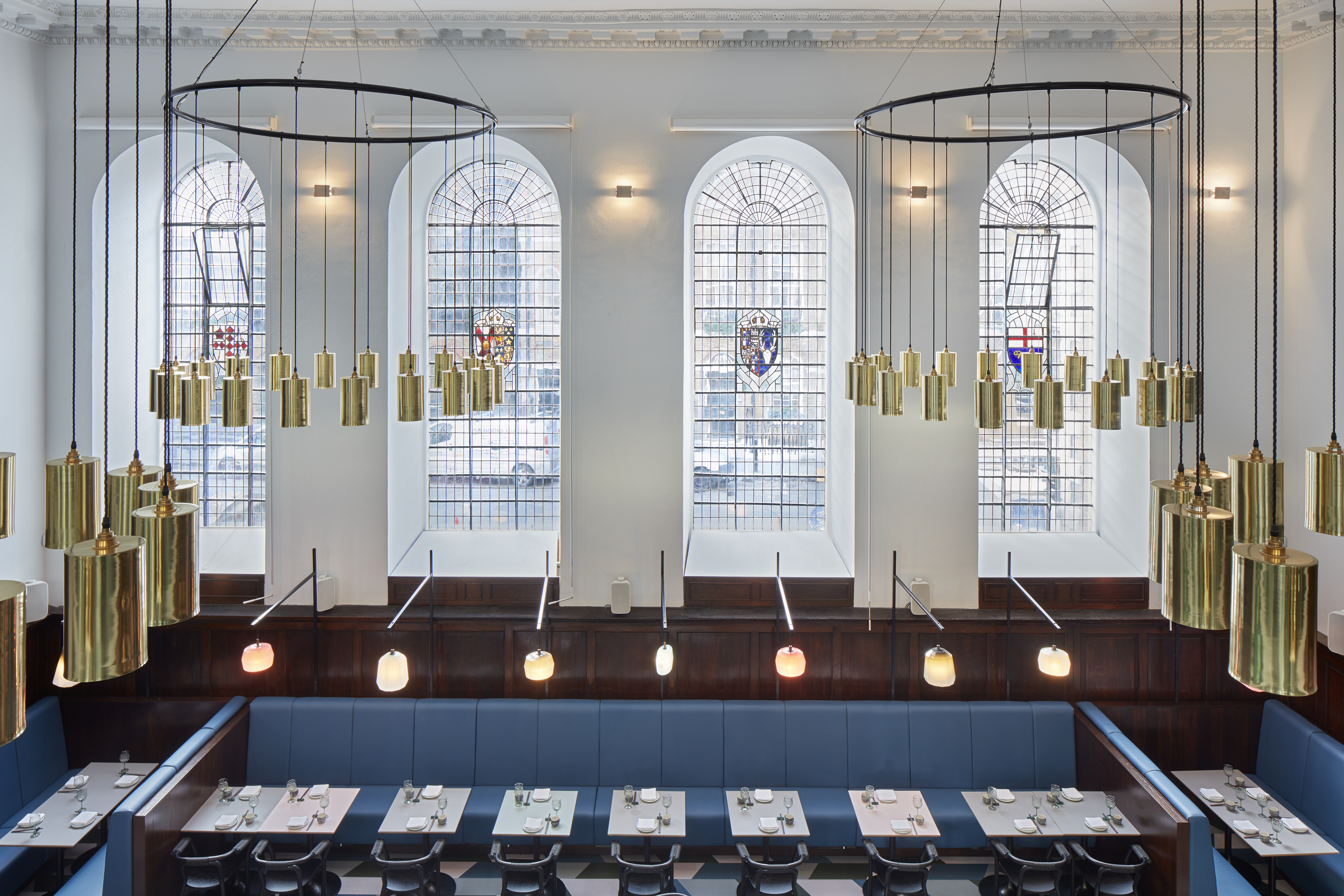 Heading up the kitchen is Chef Daren Liew who was previously Executive Sous Chef with the Hakkasan Group and comes with over 20 years of experience in Cantonese cuisine. The menu will highlight the skill behind processes such as steaming and stir-frying, focusing on dishes that use minimal ingredients with flavours that bring out the texture, technique and freshness of Cantonese cuisine.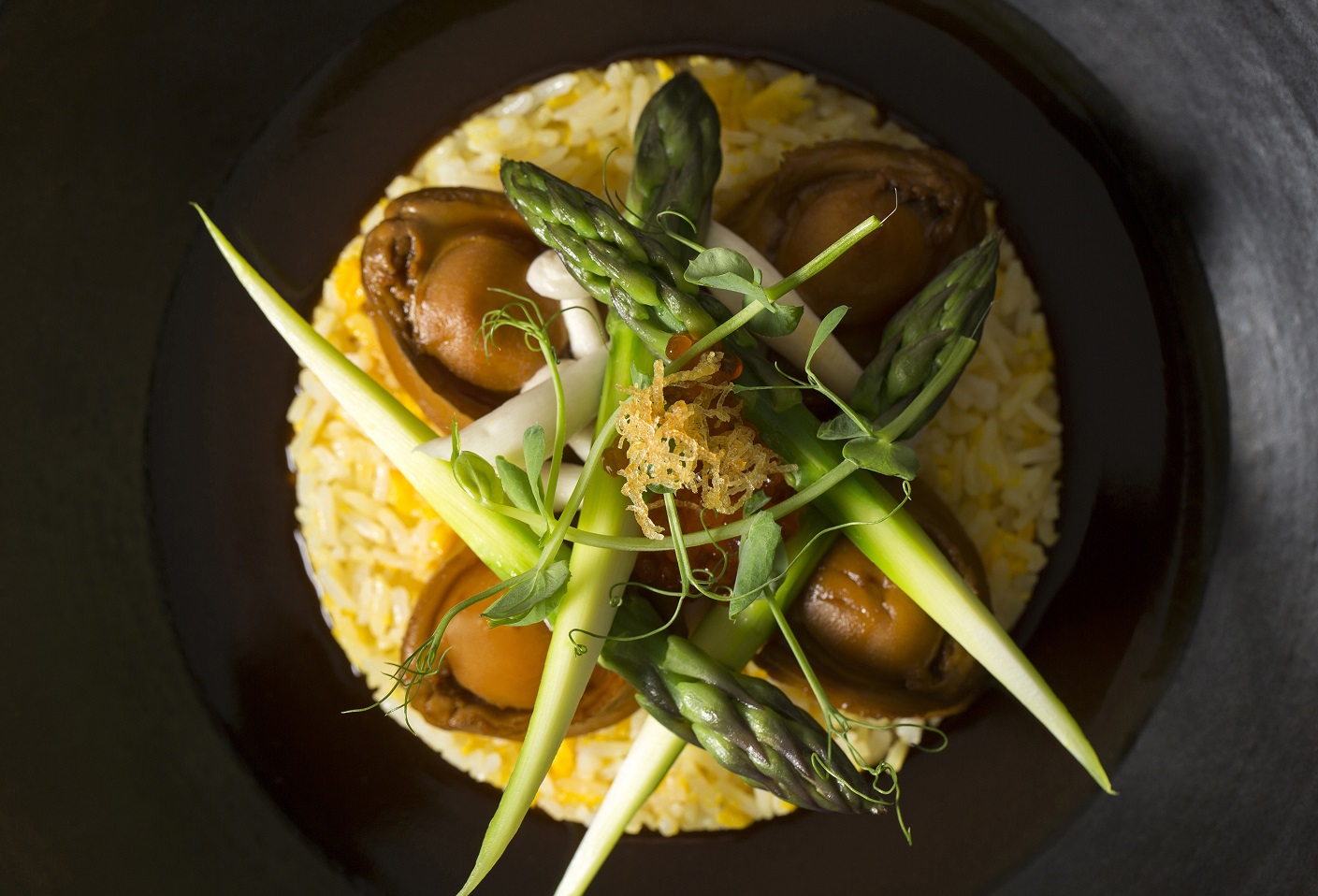 Duddell's offers a
Lunar New Year menu
available at £88 pp. This runs alongside their A la Carte menu.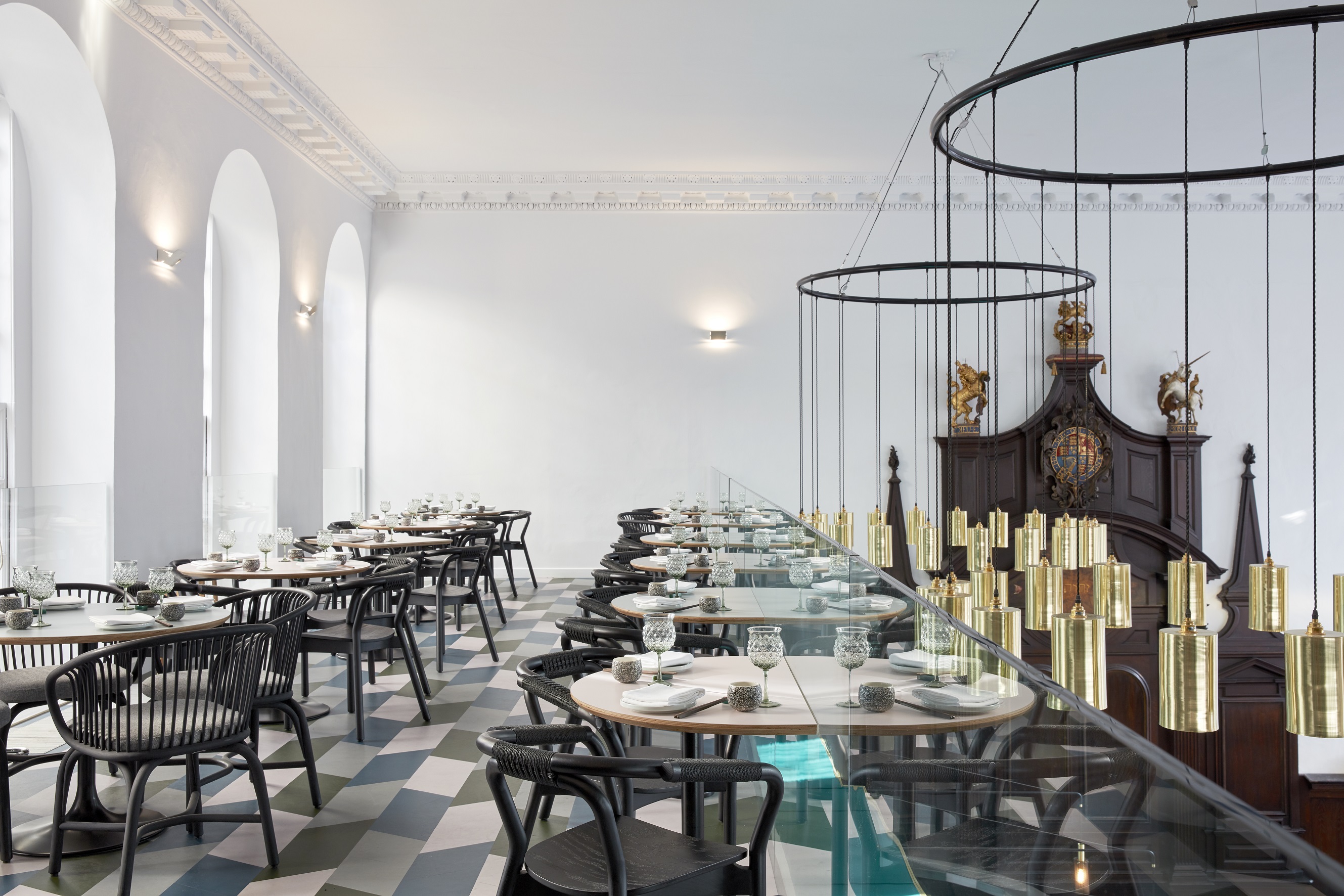 Like the Hong Kong Central original, Duddell's London is a multi-functional venue playing host to many cultural events, striving to provide an inspiring backdrop of art with regularly changing exhibitions of museum-quality works.
☺☺☺
This restaurant comes with one of the best views in London. The superlative vista of Kensington Gardens combines with a calmly welcoming décor and attentive staff to make a serenely happy visit.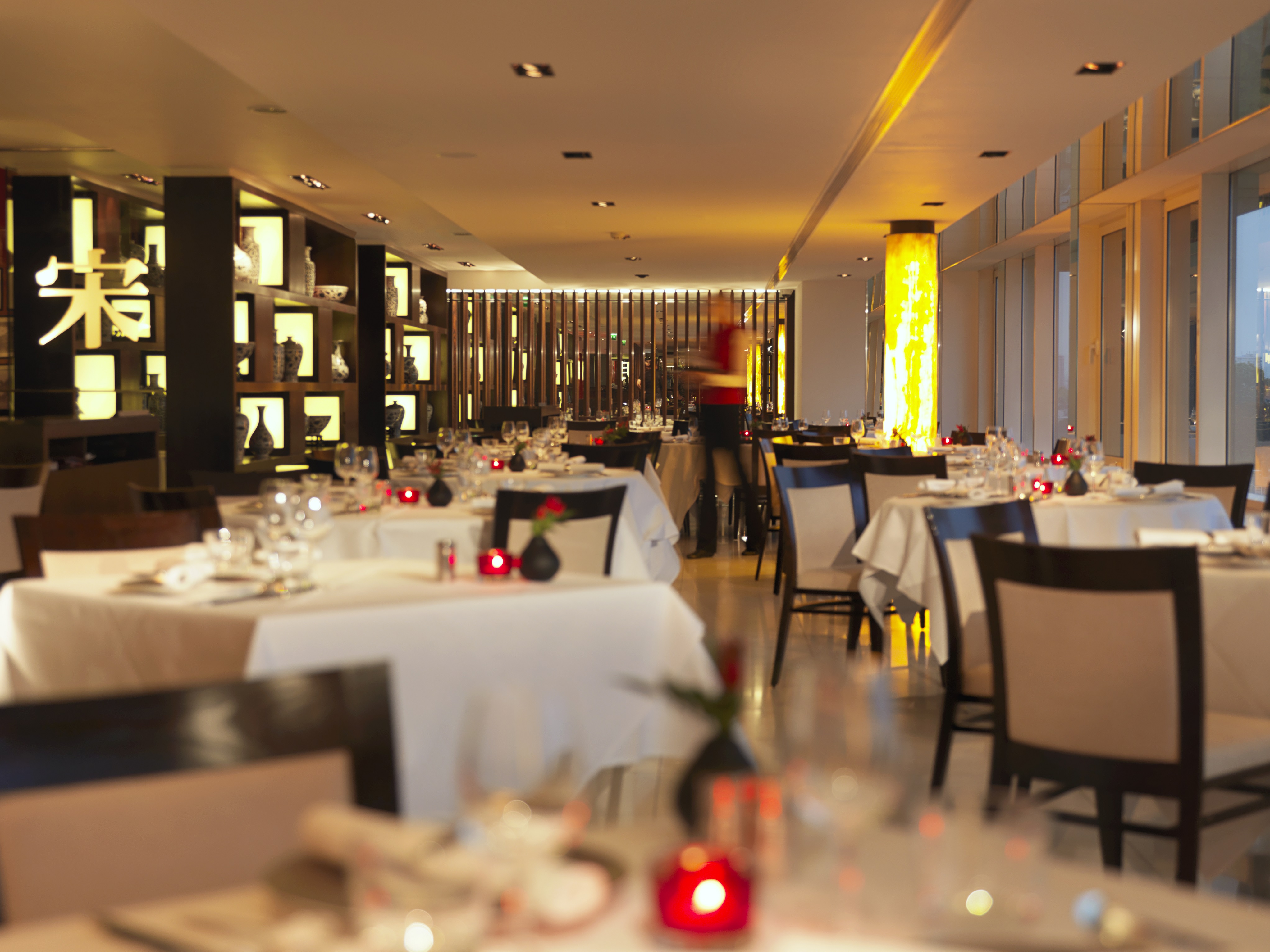 The restaurant's own version of Beijing duck is rightly famous – a dish not to be missed by a first-time visitor. The menu also features Sichuan classics such as double-cooked pork with celery, and spicy clay pot venison, as well as luxury ingredients like lobster and abalone. The food combines with the exquisite view to make for a joyful dining experience.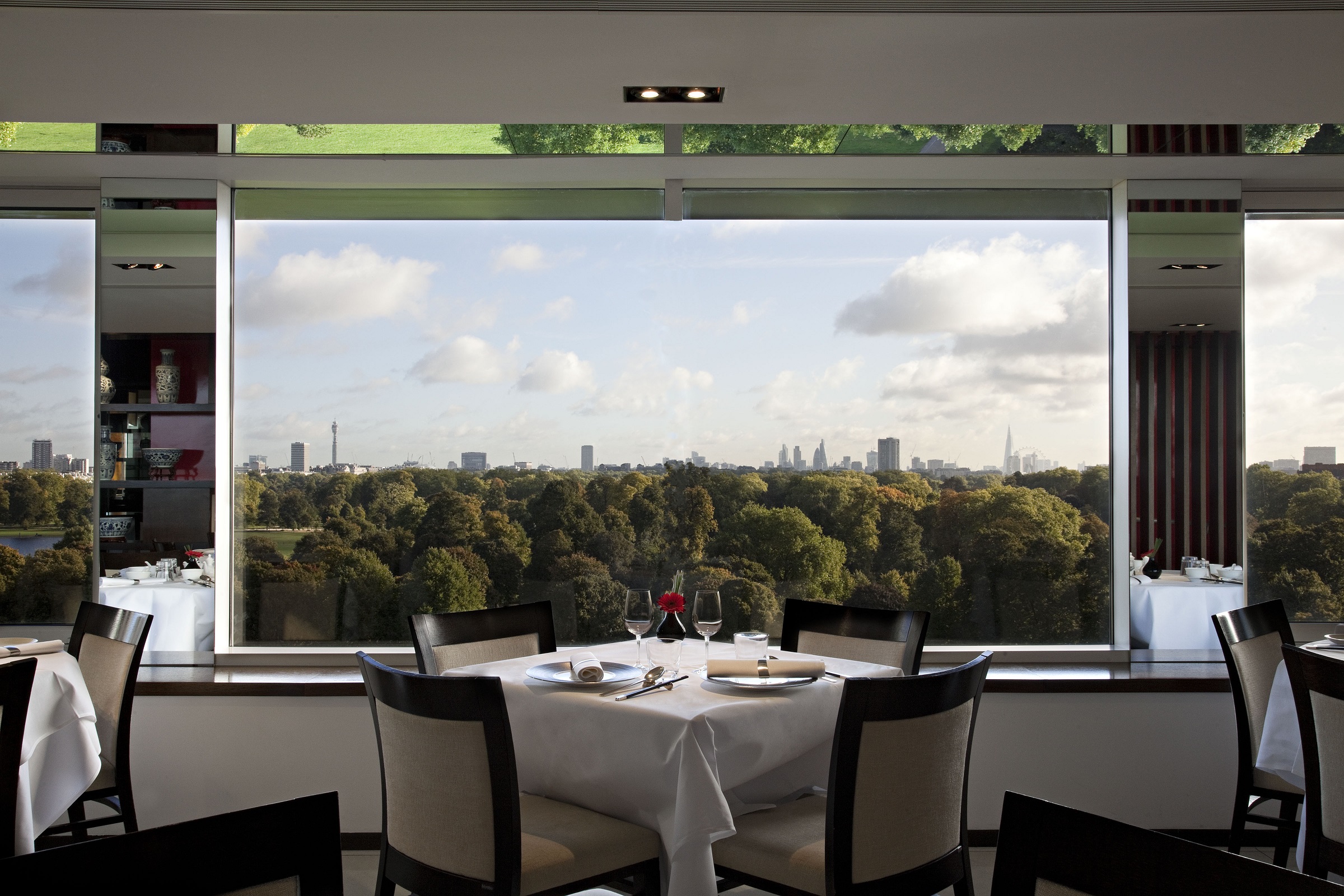 Min Jiang has two menus on offer to celebrate the Year of the Dog. Both menus are very similar with the second containing an additional course of delicious Bi Feng Tang lobster with a mango roll. The menus – Menu 1 is £98 pp, and Menu 2 is £110 pp – are available until 03rd March. Their legendary Bejing duck is available as an additional course if it's ordered in advance at £35 for half duck or £65 for a whole duck.
☺☺☺
Situated on level 33 of The Shard, Hutong serves the fascinating and diverse cuisines of Northern China. With panoramic views over the London skyline, Hutong is based on the much-loved restaurant of the same name in Hong Kong.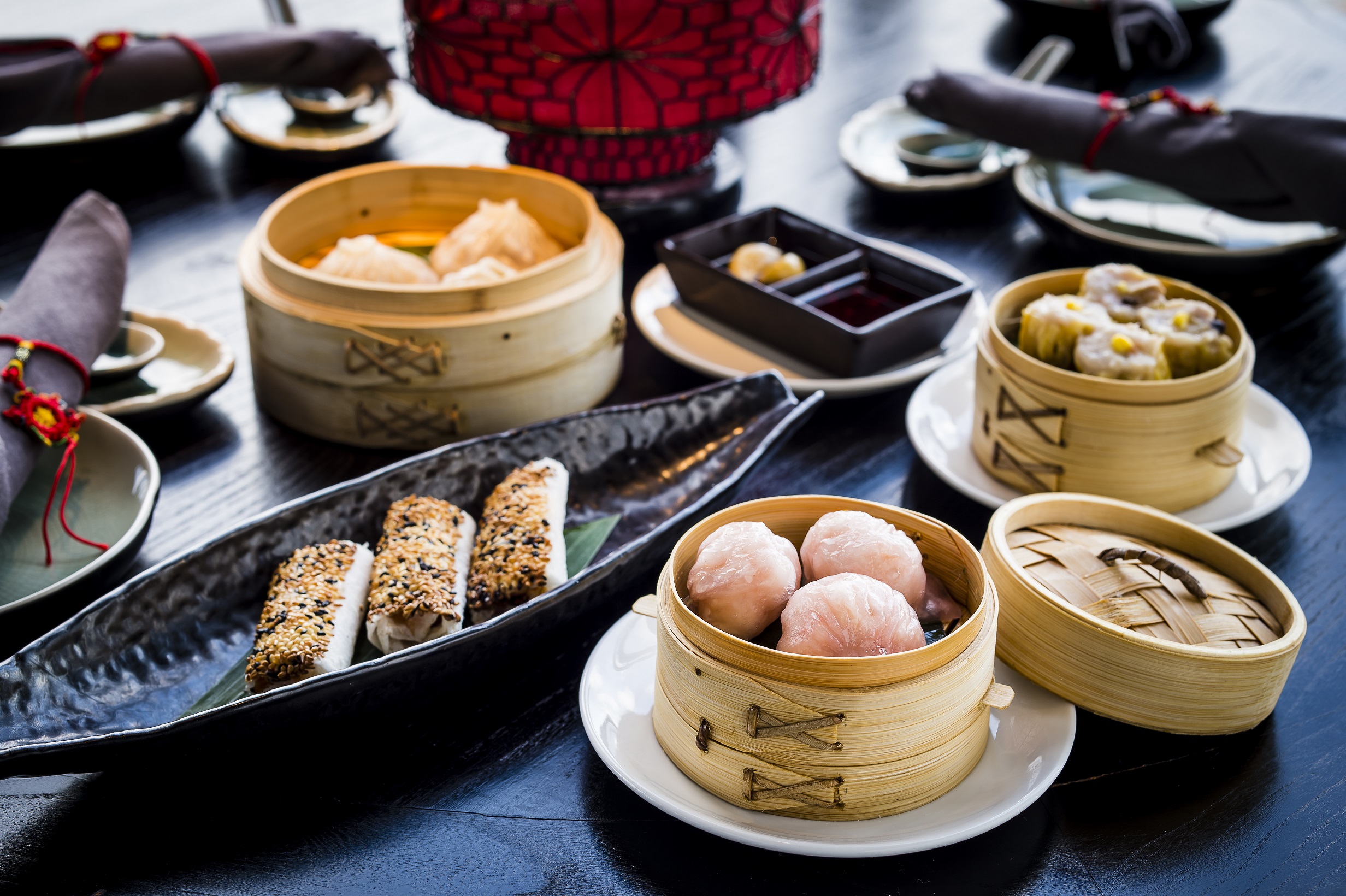 Hutong's cuisine takes its inspiration from the dishes served in the imperial palaces of what was then Peking. Based on the 'Lu school' of cuisine of Shandong Province, renowned for its seafood and vinegars and with influences form Sichuan Province, famous for its fiery spices and peppers, the menu at Hutong artfully captures the subtlety and surprises of Northern Chinese cooking. The Shanghai Bar features Chinese wines and a cocktail selection inspired by ingredients used in traditional Chinese medicine.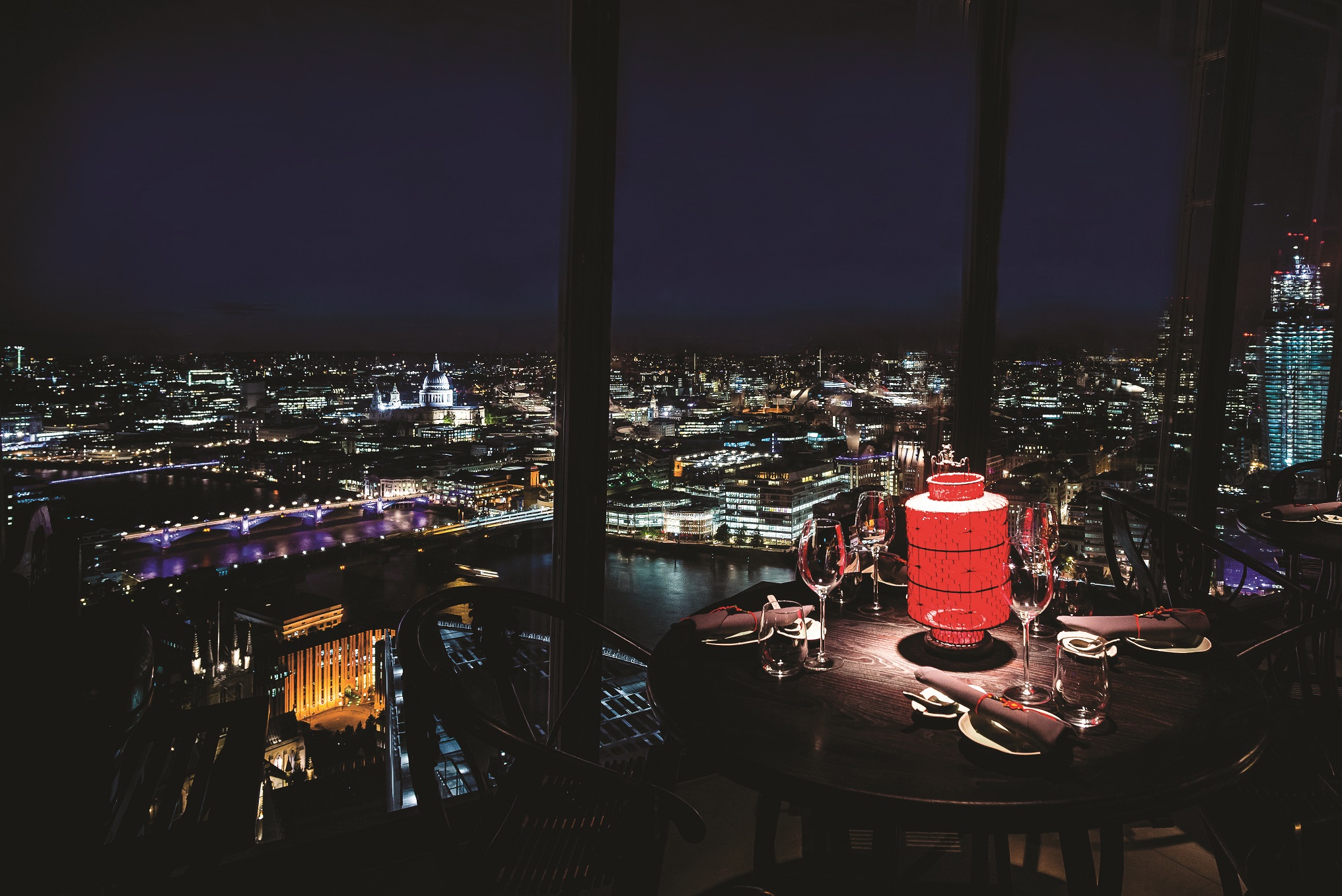 It offers an Experience Lunch Menu, Signature Menu and A la Carte menu, and from the 5th to the 25th February a special
Chinese New Year Menu
also, priced at £88 pp. Please note that on the 16th February (CNY) the special menu will be the only menu available.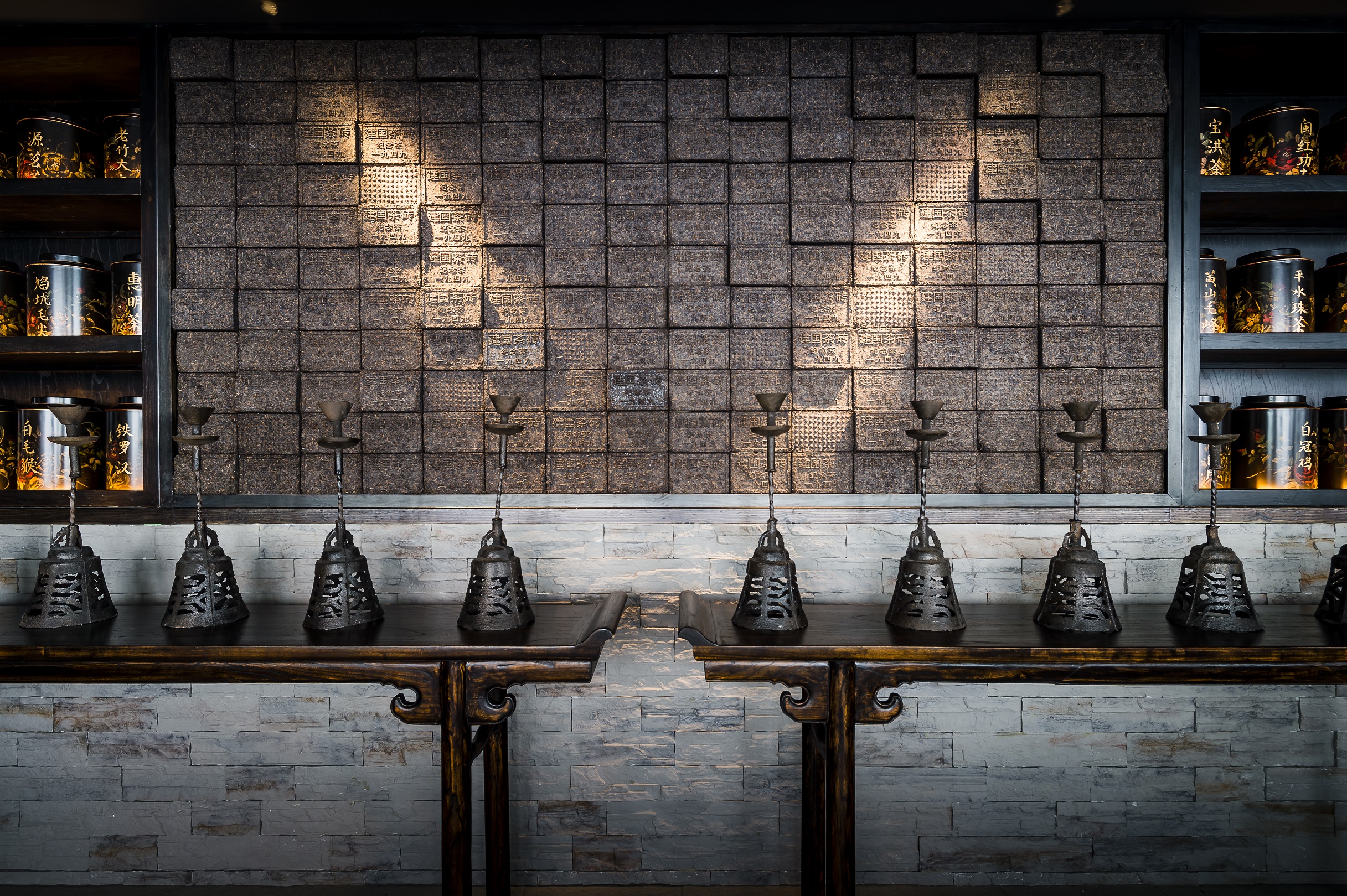 The 16th February will be a very special day with new red lanterns being hung, signifying a new start and bringing good luck. During the celebratory dinner, guests will be entertained by a traditional lion dance and traditional red packet envelopes containing gifts and treats will be distributed. A Chinese calligrapher will also be on hand to create personal mementos for guests to take away.
☺☺☺
In celebration of Chinese New Year 2018, Michelin-starred Hakkasan, the brand known for its modern interpretation of authentic Cantonese cuisine, will welcome guests with a limited edition signature menu created by Hakkasan chefs from London, USA, the Middle East and Asia. The exclusive menu will be available at Hakkasan Hanway Place and Hakkasan Mayfair from 29th January to 4th March 2018.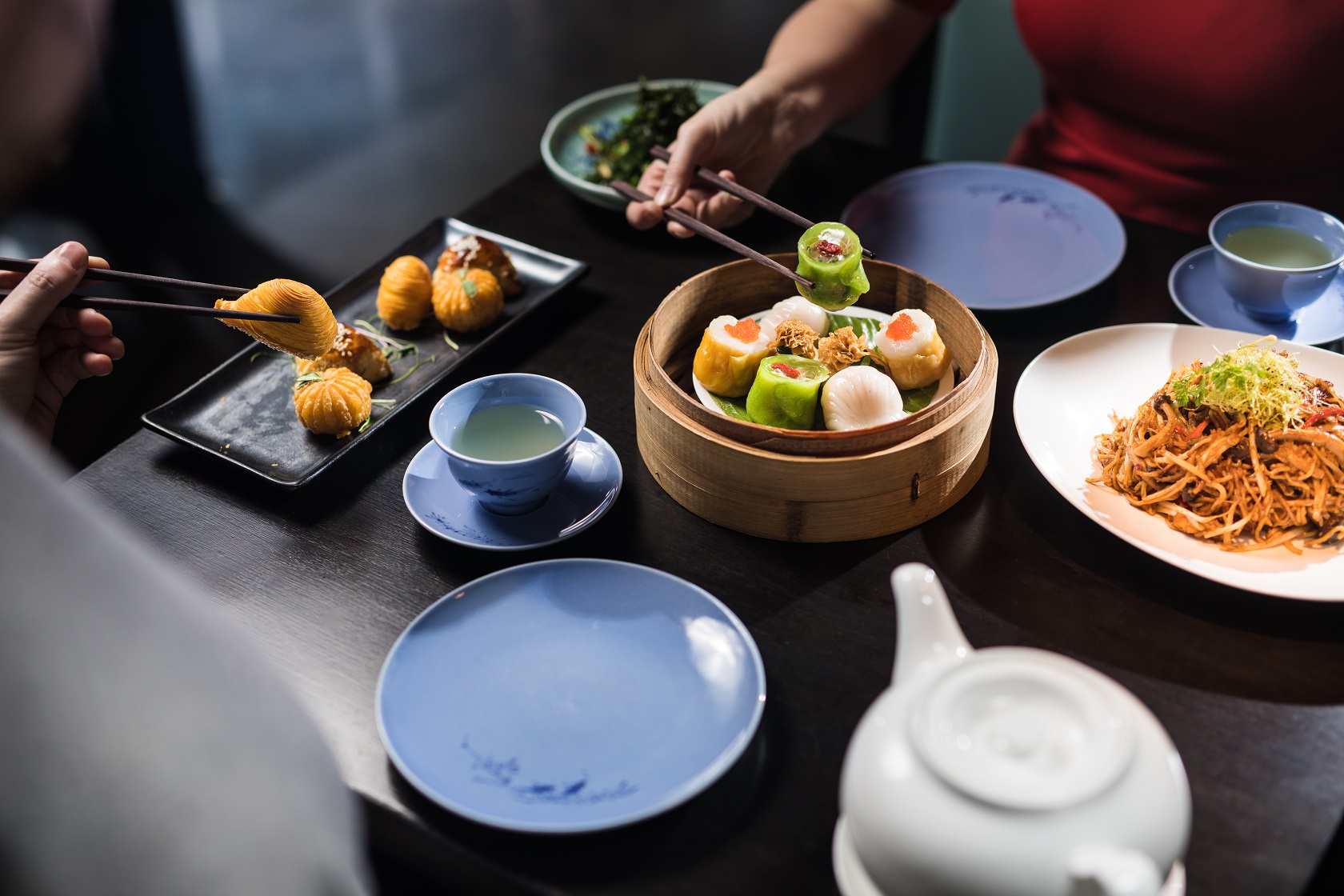 Priced at £88 per person, guests opting for the menu will enjoy dishes using ingredients believed to bring good luck and prosperity for the coming year, starting with Szechuan oyster with lotus root and crispy rice in mantau, the oyster traditionally symbolising fortune and good luck. Other small eat dishes include Braised beef tongue and caramelised walnut with asparagus and mint and Crispy scallop in sweet plum sauce with mango in a golden cup.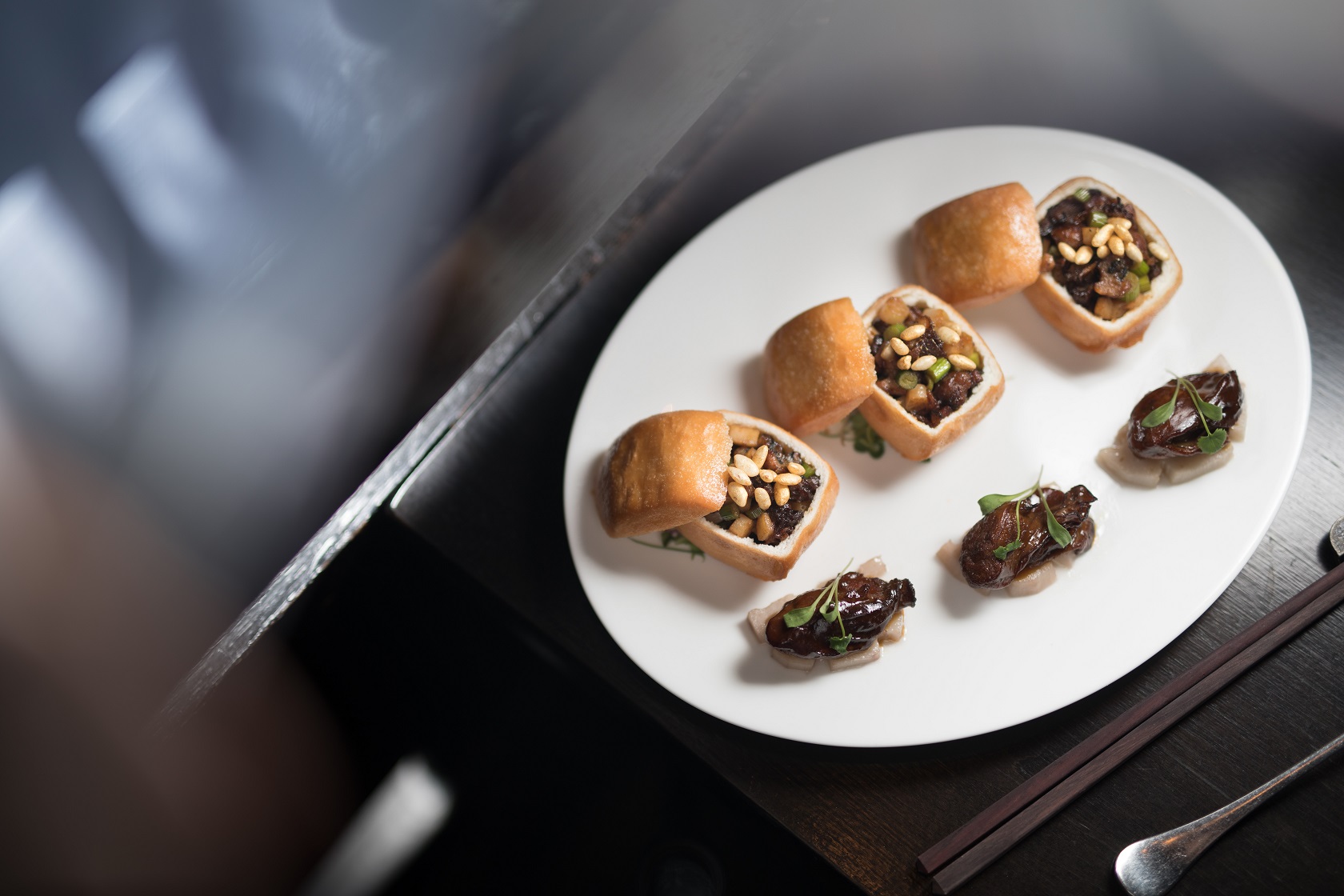 Main dishes include Baked Chilean sea bass with kumquat glaze, as eating fish at Chinese New Year is said to bring increased prosperity. Abalone fried rice in bean curd wrap with Chinese sausage and shiitake mushroom contains fai cai (fat choy), an ingredient which in Chinese means to 'get rich and grow wealth'. Wok-fry native lobster in superior stock with edamame and caviar and Rhug estate organic lamb in seaweed soy with celery and enoki mushroom complete the main course dishes.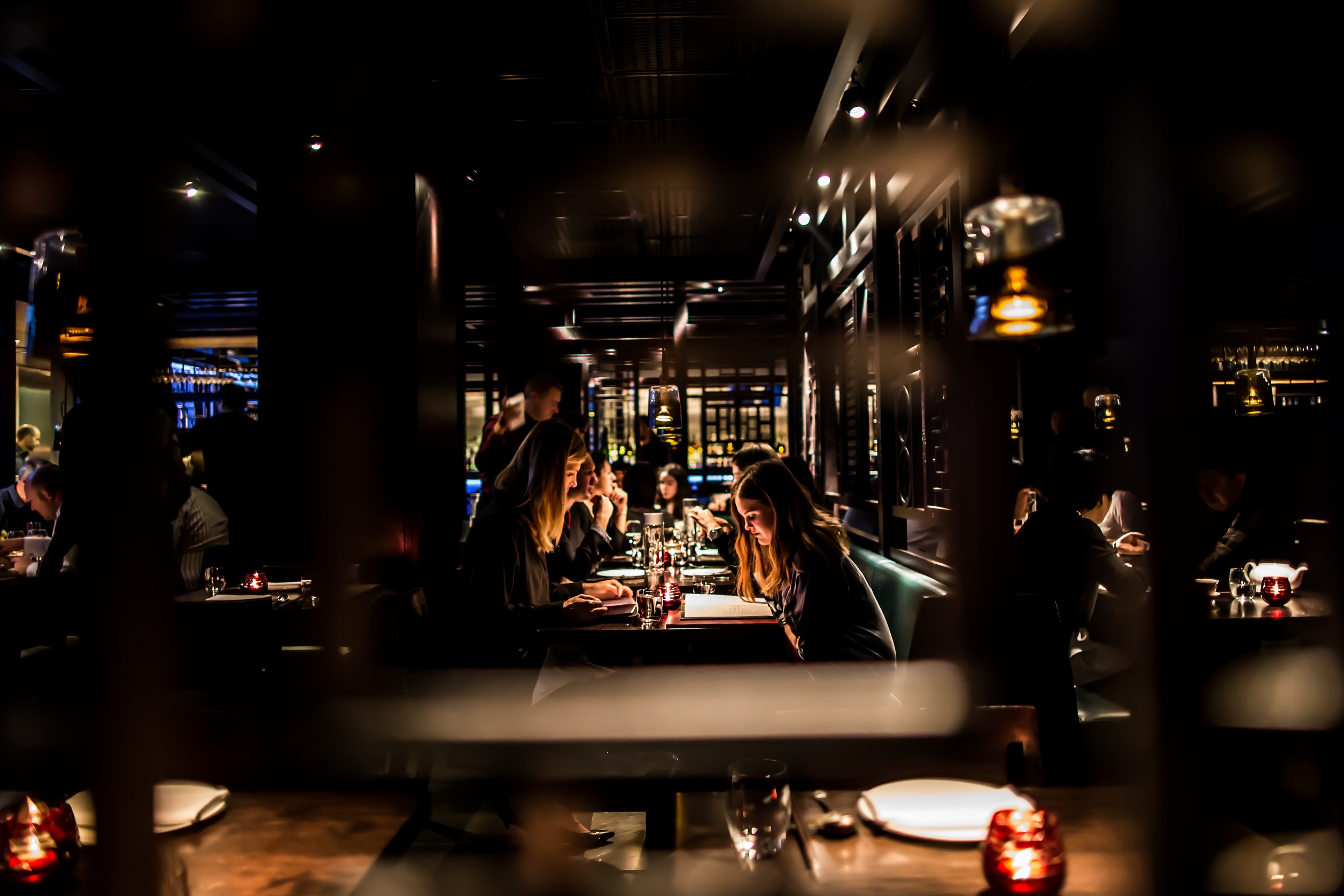 To finish, guests will indulge in the Golden Fortune dessert with ginger caramel, roasted macadamia nuts and lemongrass. A special cocktail has been created by Group Head of Bar, Eder Neto, to mark the festival: the Happy Daisy comprises Tanqueray No.10 gin, Chartreuse Yellow, lemon, spiced mandarin jam, egg white and soda water.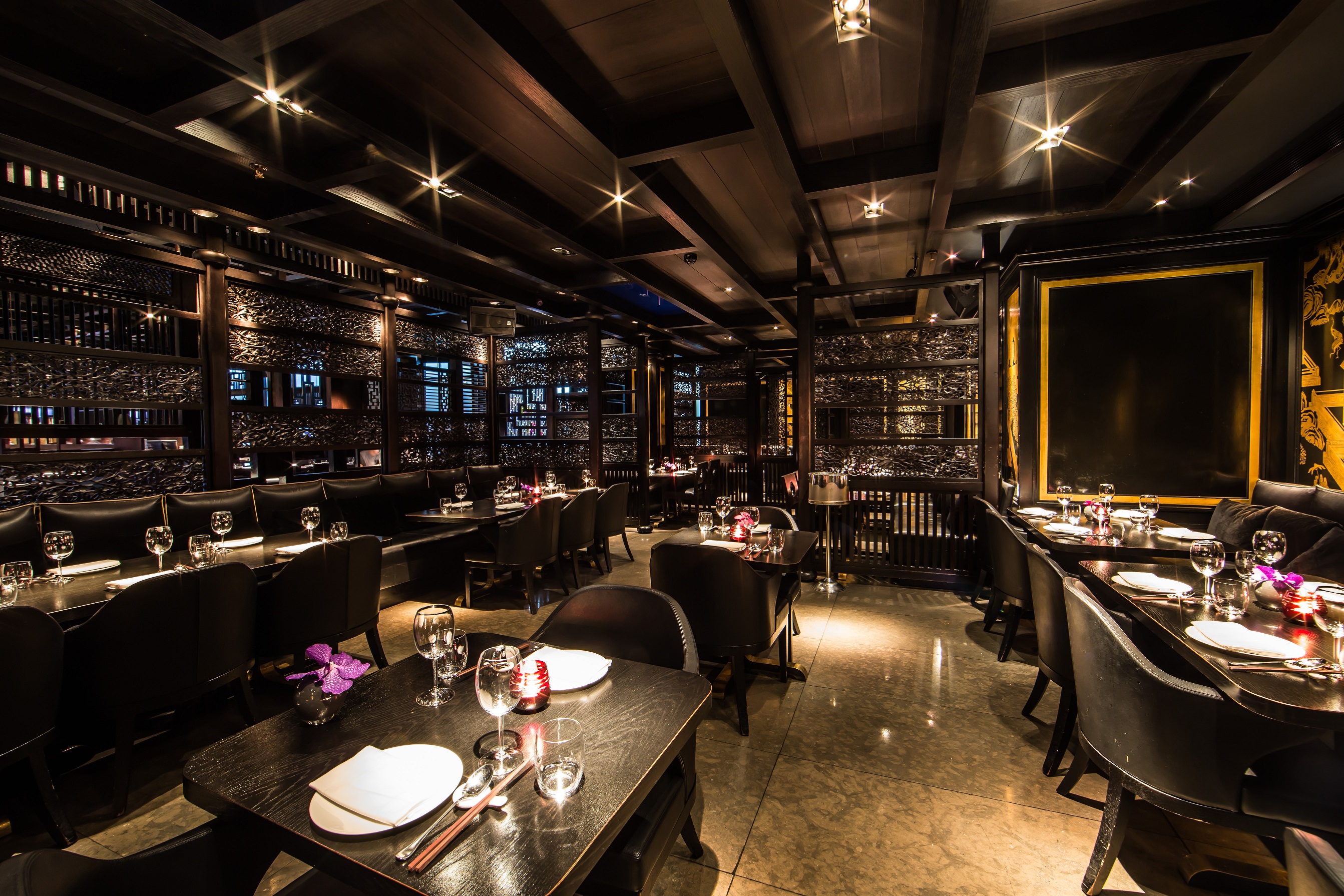 During the celebrations, Hakkasan will honour auspicious traditions to see in the Year of the Dog. Authentic Chinese lion dancers will perform at Hakkasan Hanway Place on 18th February and Hakkasan Mayfair on 25th February. These high energy, mesmerising performances offer symbolic expressions of luck, prosperity and good fortune.
As part of the festivities, Hakkasan will continue their annual wishing tree tradition by inviting guests to write their wishes on red ribbons that will be hung around the dining areas. This custom is said to have begun hundreds of years ago in Lam Tsuen, Hong Kong.  During Chinese New Year, villagers would travel for miles to visit the sacred Lam Tsuen Wishing Trees (two ancient banyan trees) and hang notes on the branches using red ribbon.  These notes contained wishes for the year ahead and it was believed that the wishes that were successfully hung on the trees would come true.
☺☺☺
Kai Mayfair is possibly one of the most elegant Chinese restaurants available today. Since its opening in 1993, and retaining a Michelin star since 2009, it has been decorated by numerous magazines, guides and surveys as one of the Best Chinese Restaurants.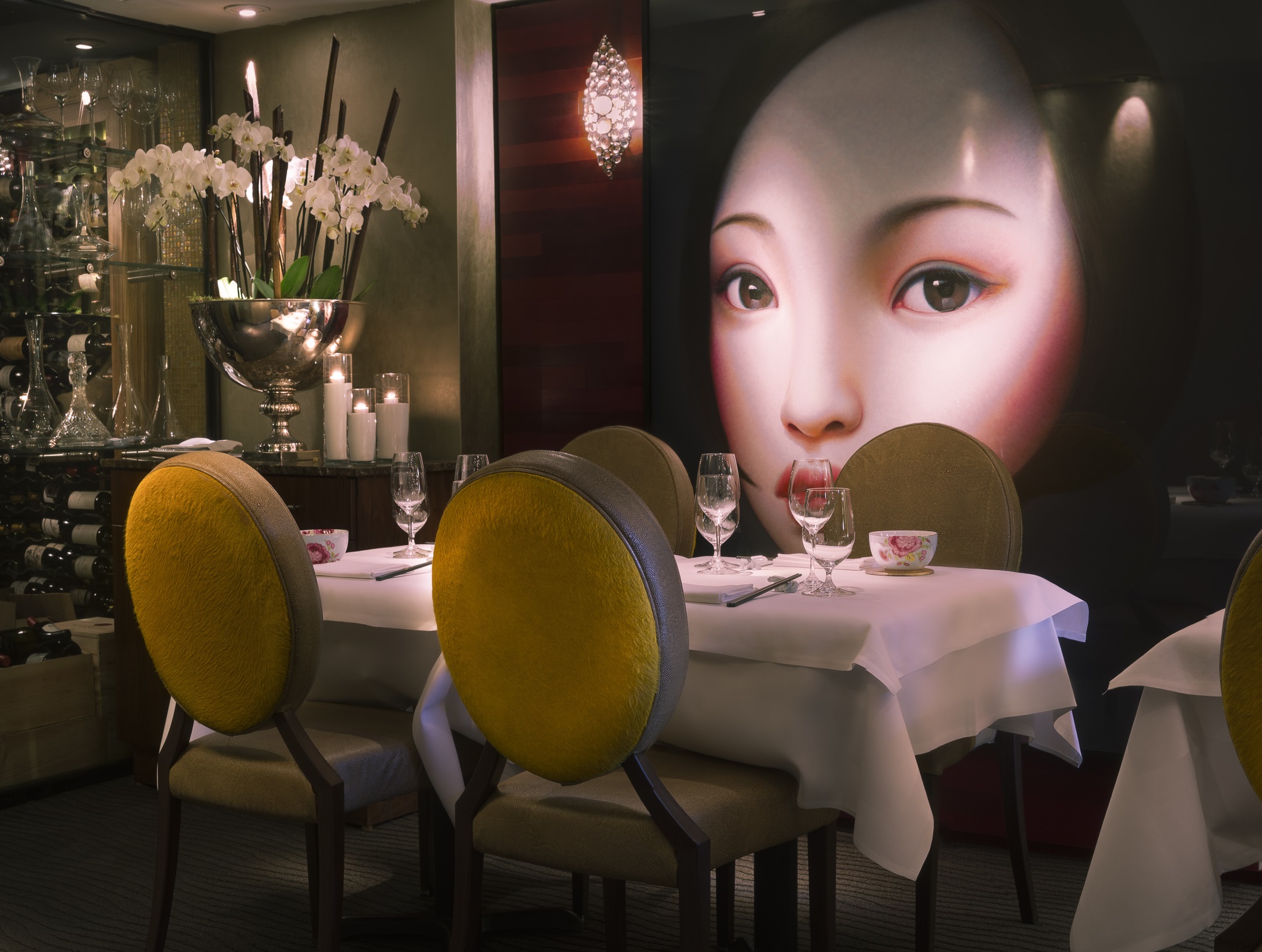 It is set over two beautiful floors, with ultra sleek, comfortable and stylish decor, illuminated by arty wall hangings and off-set by the classic staple starched white table linen. The staff are faultlessly attentive yet the epitome of discretion, but it is the food that makes the biggest statement here.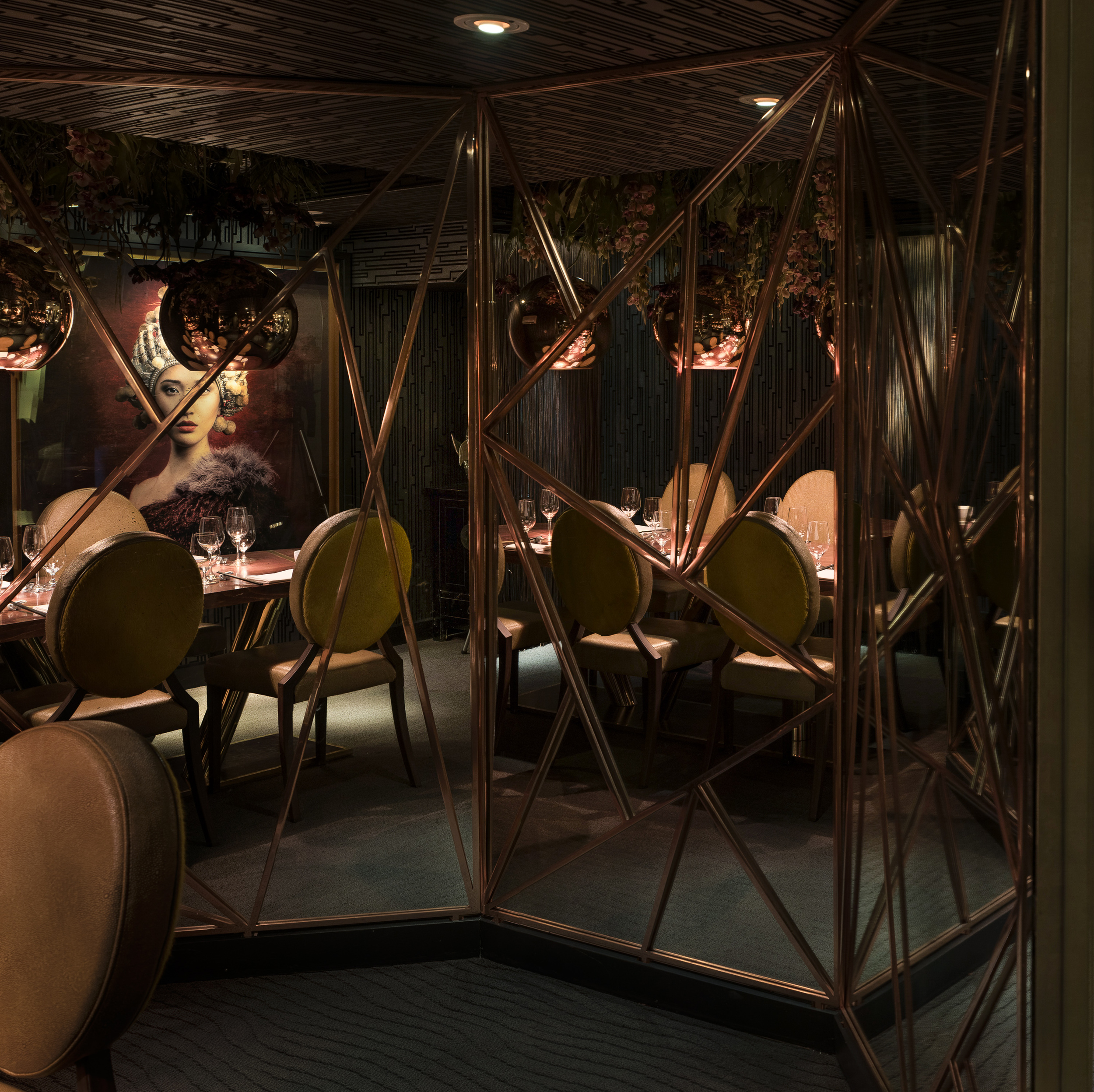 Chef Alex Chow produces classic Cantonese dishes with traditional roots, alongside exciting new experimental creations almost begging to be sampled. This Chinese New Year an additional A la Carte menu is available to the Little Plates Lunch, A la Carte, or a Set Menu option for 6+ persons from £75 pp.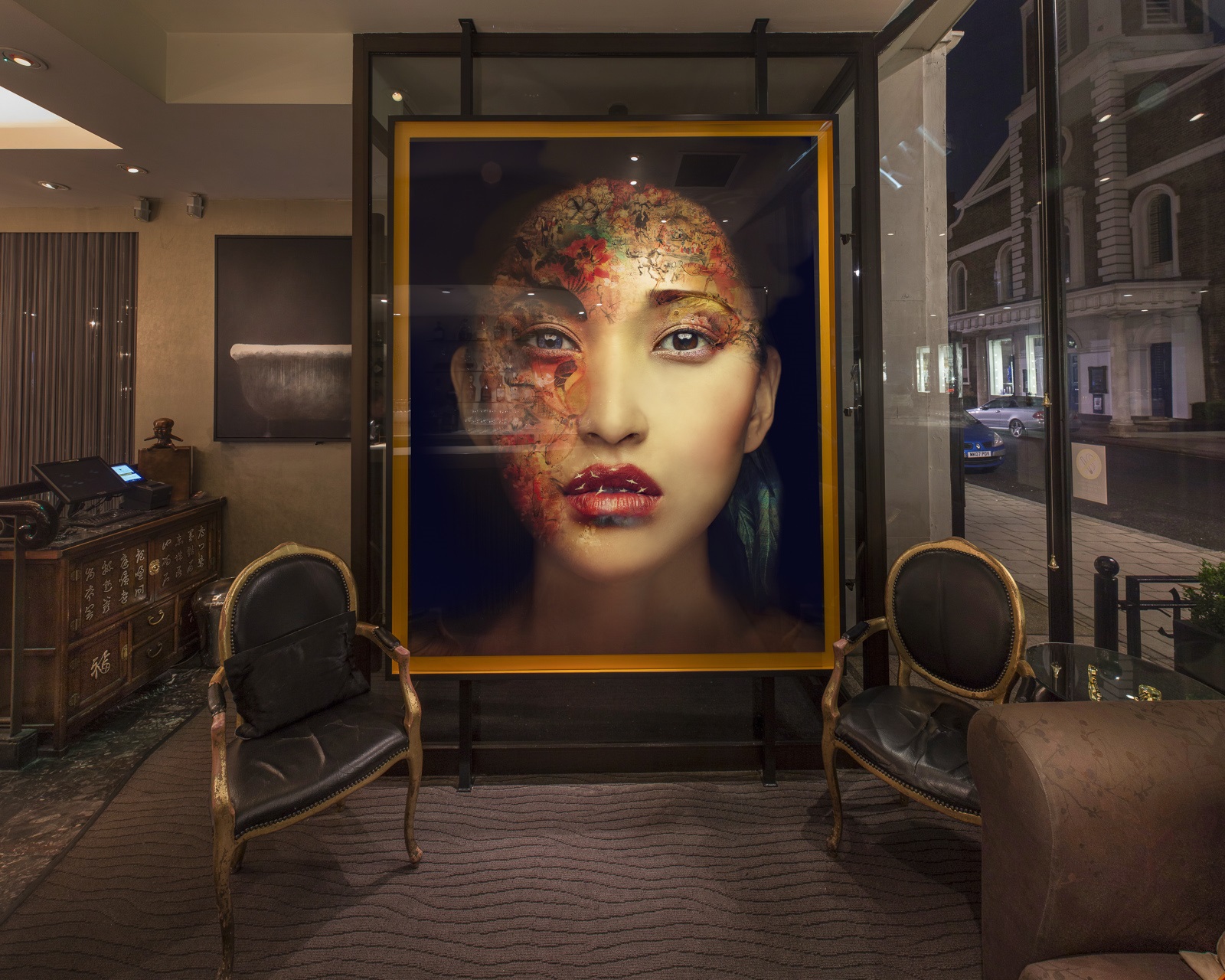 Owner Bernand Yeoh magically manages to ensure Kai always retains that welcoming neighbourhood restaurant feel, even if that just happens to be the finest area of Mayfair.
 ☺☺☺
Tucked shyly into the depths of Pimlico lies this veritable emperor of dining – but yet relatively low-key. In Hunan, you are not offered a choice, other than having your dislikes, allergies and spice preference queried.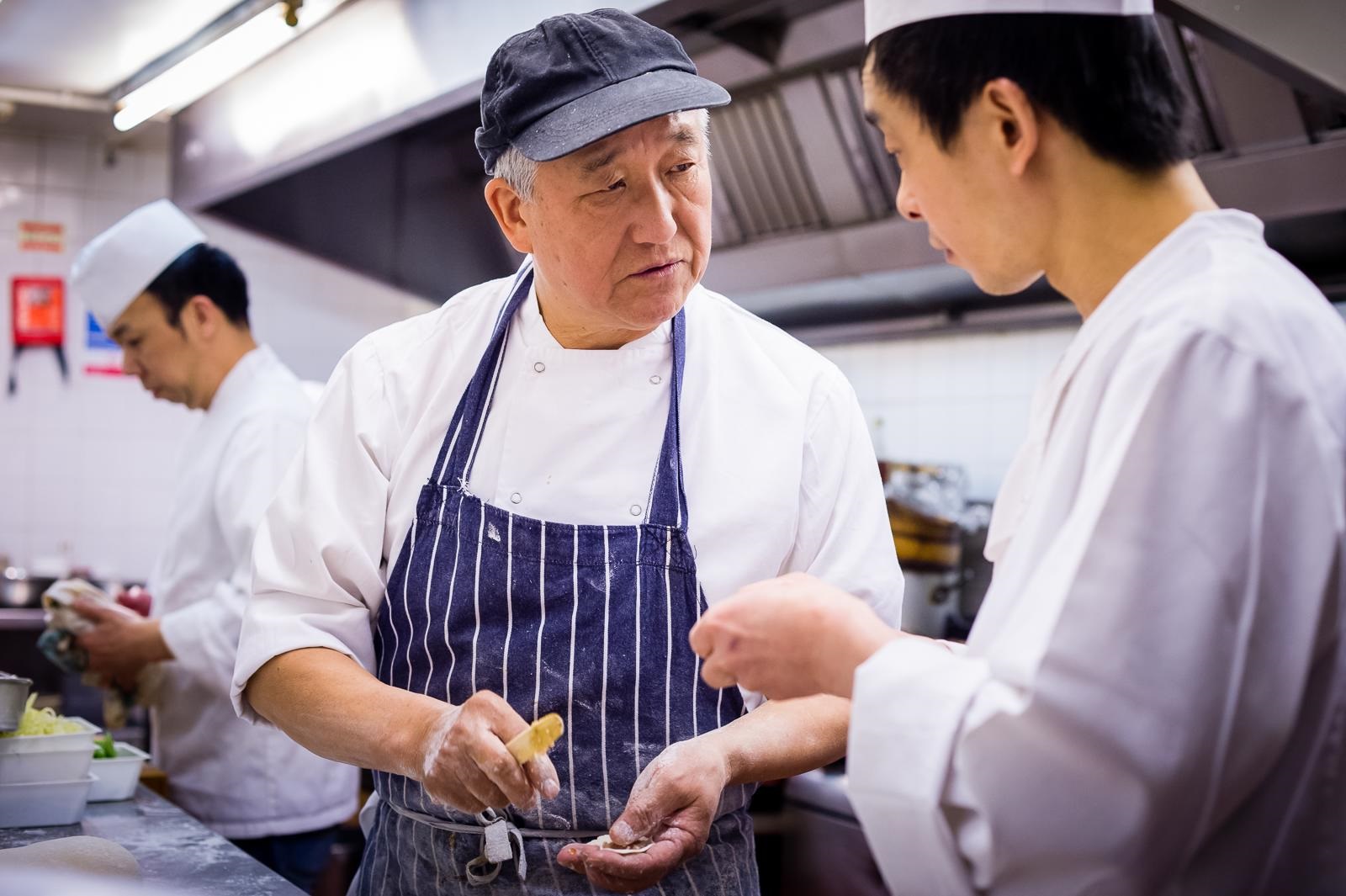 Here you just have to sit back and let the experts do their stuff. February menu is lunch at £45.80 pp and dinner at £67.80 pp.  They serve small tapas-size portions of food with the emphasis on sharing many courses. It's like having your own personal chef – and the result is a unique meal experience.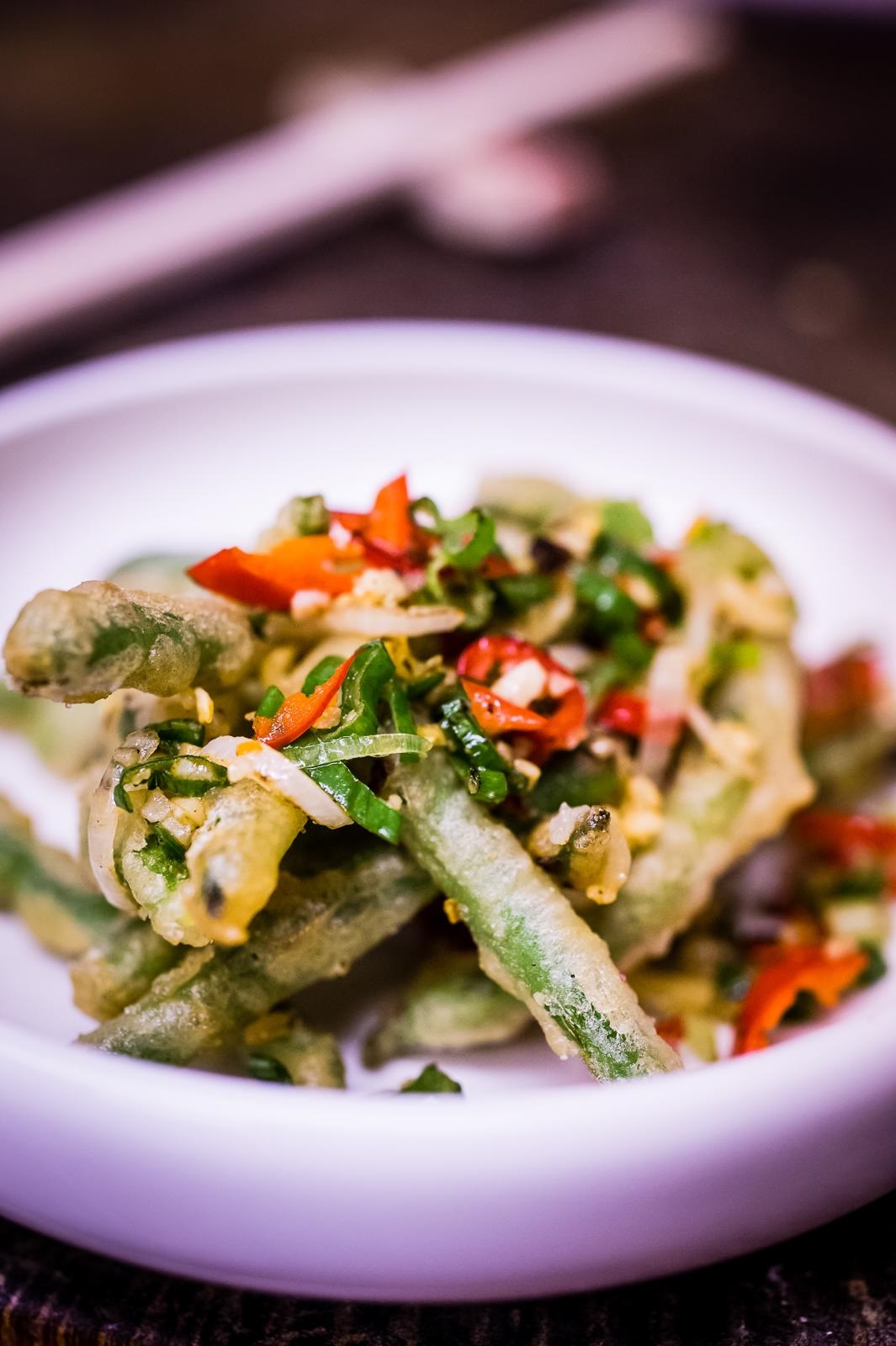 Hunan is also known for its carefully-composed wine list. There's a focus on Bordeaux, Burgundy and the New World (Australia, California, Argentina), but Italy, Austria, Germany and Spain are also represented. Fine wine at a fair price is the aim. An emphasis on half-bottles rather than single glasses also ensures every wine is served in tip-top condition. Giles Coren once said whilst writing for The Times about Hunan, 'I have long accepted that it may be the best Chinese restaurant in the world.'
☺☺☺
HAPPY CHINESE NEW YEAR TO ALL
֍֍֍֍֍֍֍
DISCOVER THE FINEST RESTAURANTS IN THE UK
THE LUXURY RESTAURANT GUIDE