Restaurant Review – The Estate Grill at Great Fosters Hotel, Egham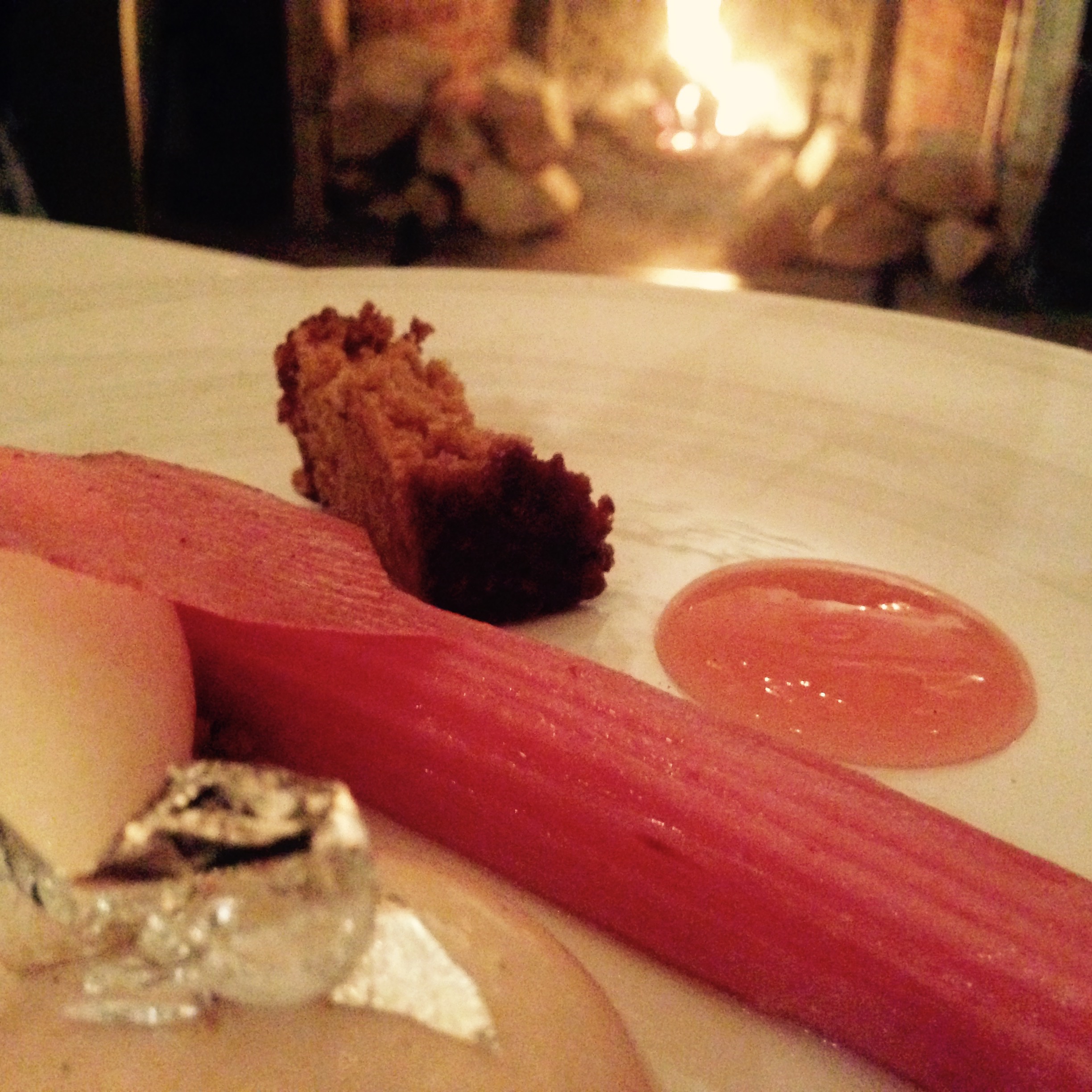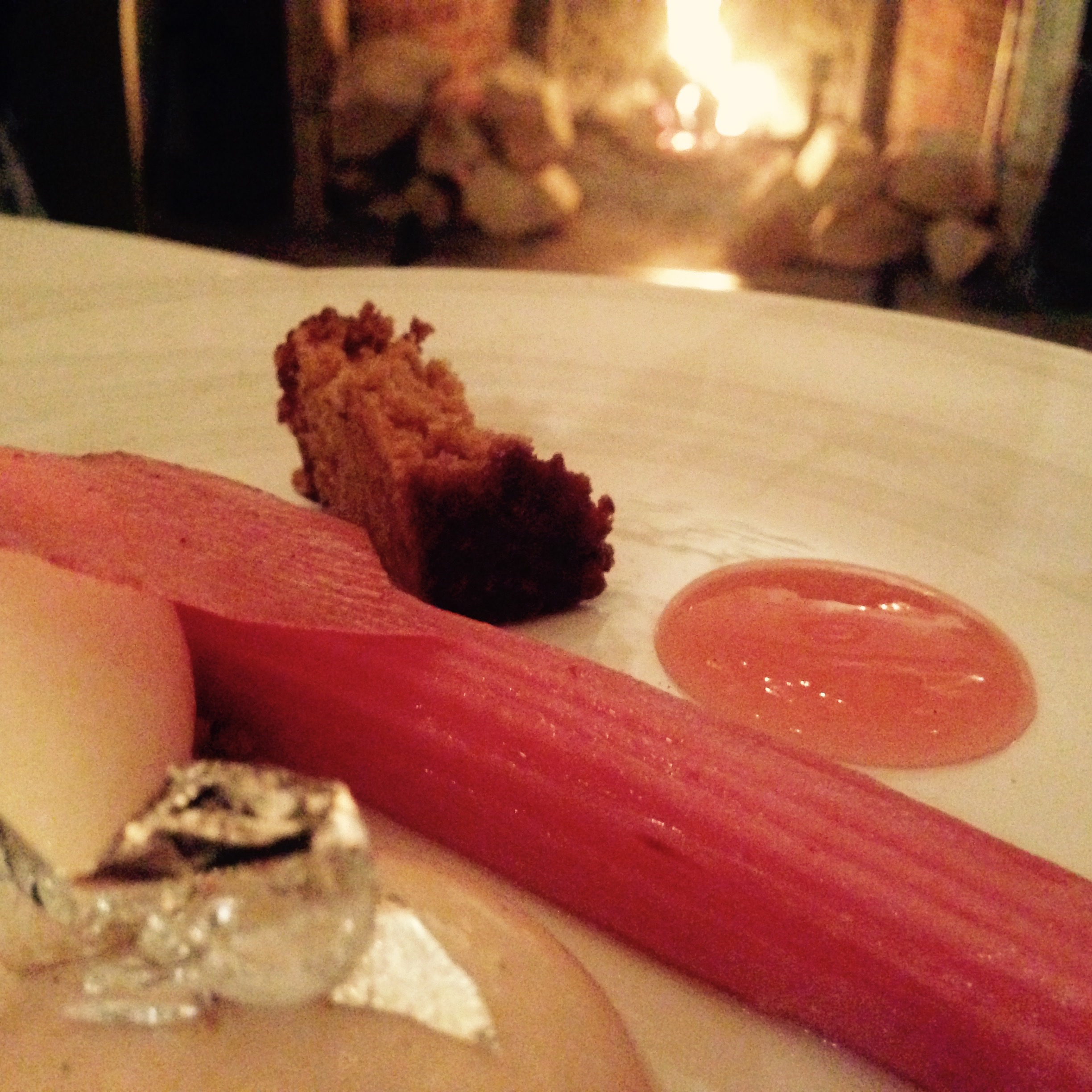 Team DR were in the enviable position last week of trying out the new spring menu in the Estate Grill at Great Fosters as guests of its' charming General Manager, Richard Young. The Estate Grill is currently going from strength to strength. Using outstanding ingredients, many grown on the Great Fosters estate and freshly picked, the menu takes a simple approach to food, adding attentive service and great culinary flair bringing the best of the season.
One of the first things we did after arriving was storm the kitchen to check out the hot new chefs heading up the team. No, no sorry I meant we were checking out the hot Josper grill and happened across the talented young chefs heading up the kitchen, ahem. Executive Chef Marc Hardiman and Head Chef Douglas Balish are keen as mustard to make their mark on both the Estate Grill and Tudor Room and both come with great experience from restaurants at properties such as Bovey Castle and Whateley Manor.
Having settled ourselves back in the restaurant in front of the log fire we turned to the menu which offers fish and vegetarian options alongside the delights of the grill.  For starters Duck Liver  – Whipped Livers with Hazelnut Crumble and Toffee Apple was ooed and ahhed over, as was the Langoustine and Mackerel. Veggies can enjoy Parsnip with Walnut Praline and Goats Curd or Homemade Baba Ganoush. The menu is updated frequently to reflect The Estate's seasonal offerings.
As to the main courses – steaks were a very popular choice from the Josper – hard to deny when we had been introduced to the legendary grill up close and personal. Fillet, Rib Eye, Bavette, Sirloin and Chateaubriand are served with choice of sauces. 100% Rump Steak Burger is also available and for a real treat choose Half or Whole Lobster Thermidor. However, the star of this current menu has to be the 'Butchers block'  – Selection of our estate reared pig, caramelised apple, gravy £49 for two. This is truly creative cooking and presentation using the Estates own, hand reared pigs. A selection of the most exquisite scotch eggs, sticky braised ox cheek, the poshest sausage roll, melt in your mouth pork belly and also crackling as light as popcorn with rich gravy and sharp apple. For lovers of pork this is a treat of the highest order!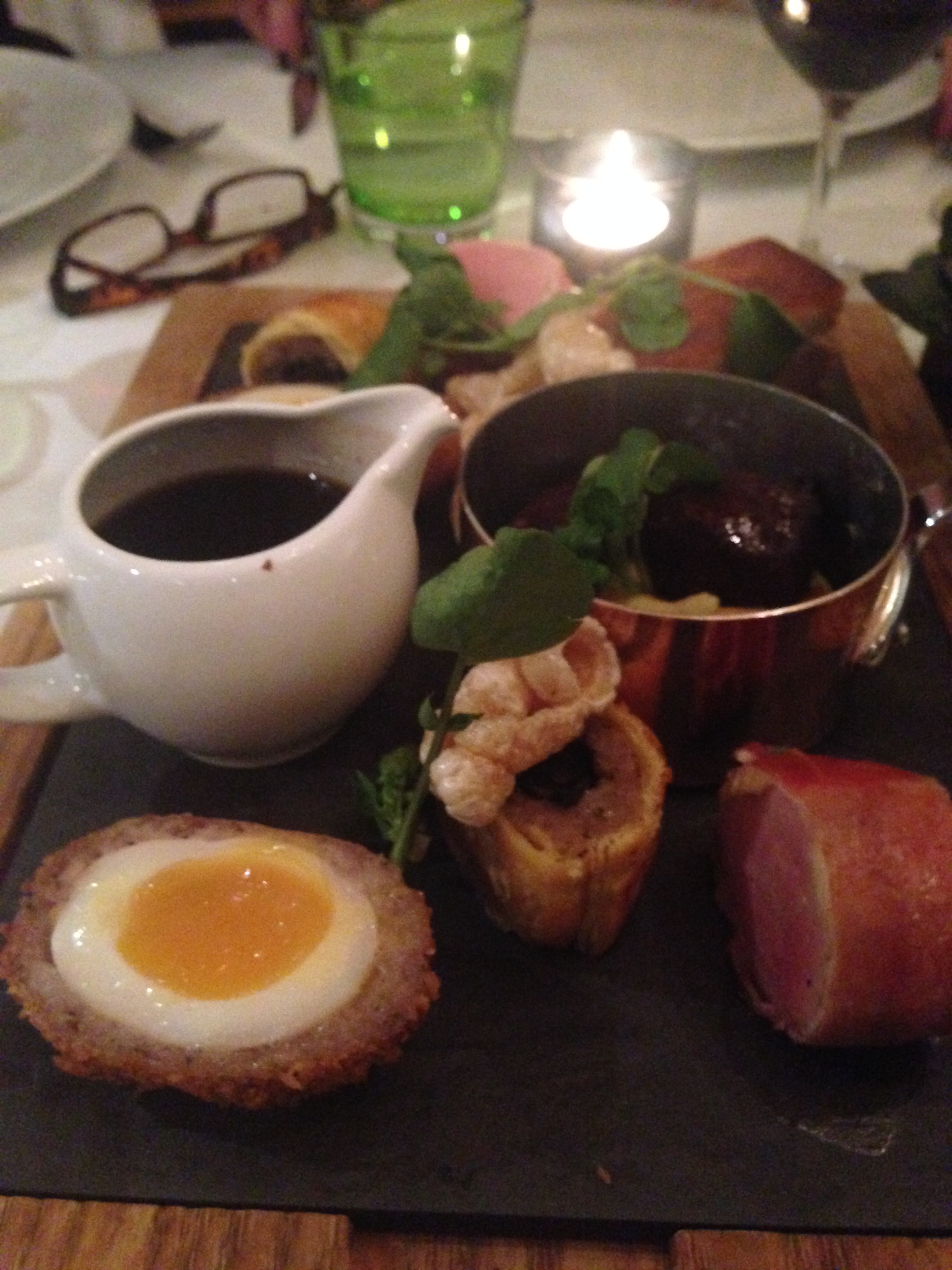 Our table was comprised of all carnivores but we did note that vegetarians had a choice of two dishes including Tart Tatin of Jerusalem Artichokes, Caramelised Onion, Cobnuts and Goats Cheese.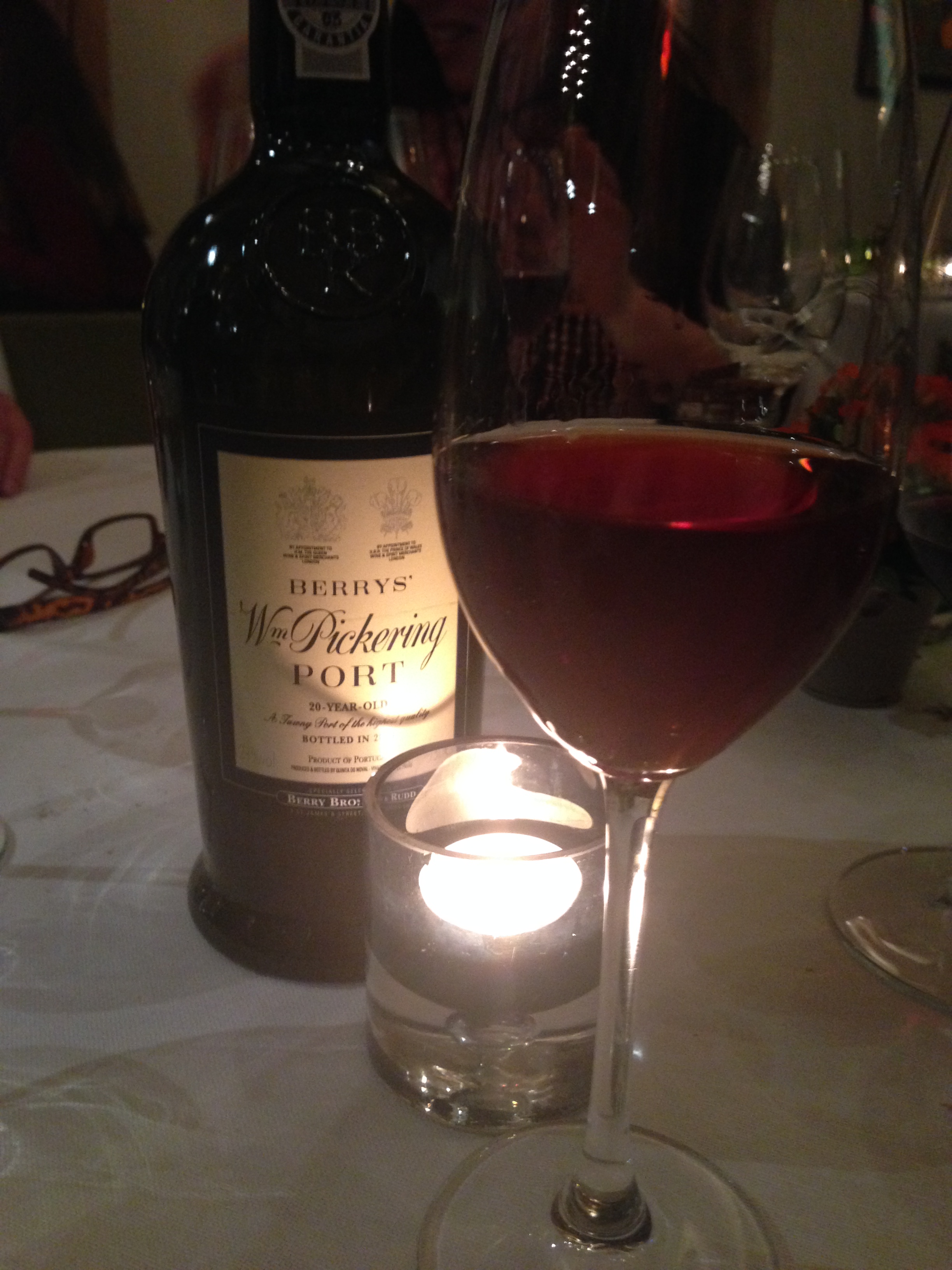 Highlights of the sides for us were definitely the Triple Cooked Chips with Rosemary Salt – no matter what dish you order these are a must to try with their heavenly light crunch and fluffy middle. Fantastic with the Butchers block was the Creamed Mash Potato with Truffle Shavings – wonderfully pungent (so don't order if you are adverse to strong smells). Also raved about by all the team was the Garden Kale, with Confit Shallot and Nutmeg.
After lively chatter commenting on the new still life paintings that currently adorn the Estate Grill walls (for details of current exhibition go to Life – The Gallery) we turned to the important decision of pudding. The cheese selection was,  frankly, awesome. We tried some May Hill Green – a wonderfully, sticky sister cheese to Stinking Bishop,  accompanied by fig chutney and a rather wonderful glass of 20 year old William Pickering Port, before indulging in desert. White Chocolate and Coffee, Green Tea and Sesame held a secret (no we're not telling!). The Rhubarb as featured in the main picture was a wonderful collection of textures and the Petits Fours served with Mozzo Coffee or Jing Tea were adorable.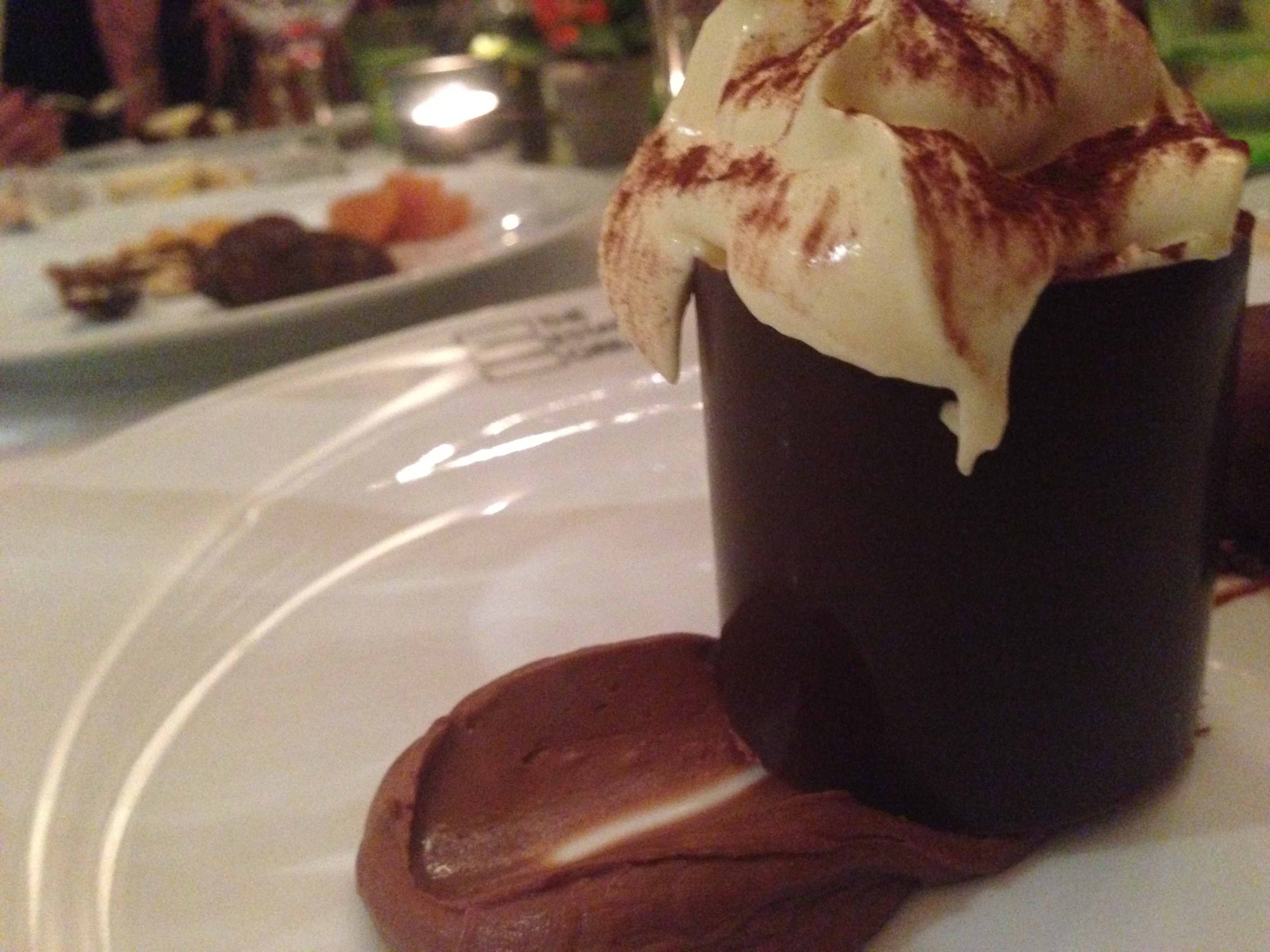 After a thoroughly enjoyable meal we just had time for a quick look at The Tudor Room restaurant, the fine dining restaurant next door to The Estate Grill which is due to open 9th April and will be serving dinner on Thursday, lunch and dinner on Friday and dinner on Saturday. Having experienced the chefs' version of more 'casual' dining we cannot wait to see what happens when they really unleash their creative mojos!
Club Offers:
Members dine complimentary in The Estate Grill when dining with one or more guests when having lunch or dinner Monday to Friday. For booking details click here. 
Members receive 10% off total food and beverage bill in The Tudor Room when having dinner Thursday, lunch and dinner Friday and dinner on Saturday from April 9th. Booking details coming soon but you can advance book by calling the hotel on 01784 433 822.
Not a member? For Design Restaurants Fine Dining Membership click here and for details on Great Fosters own VIP Club Membership (which includes a Design Restaurants Membership) click here.