Halloween Haute Cuisine – Luxury Trick & Treats
Want to have some grown-up eerie fun this weekend, or somewhere to take the kids trick or treating with unearthly panache? A few restaurants go the extra ghoulish mile having fun with unnerving potion (sorry, menu) descriptions or fabulously freaky entertainment. Whereas pumpkin may be on most menus (the flesh can be mashed like potato, and adds sweetness to soups), how about bloodcurdling cocktails, scary drag queens and zombie waiters. It may not be eye of newt, and toe of frog, but there's howling fun to be had: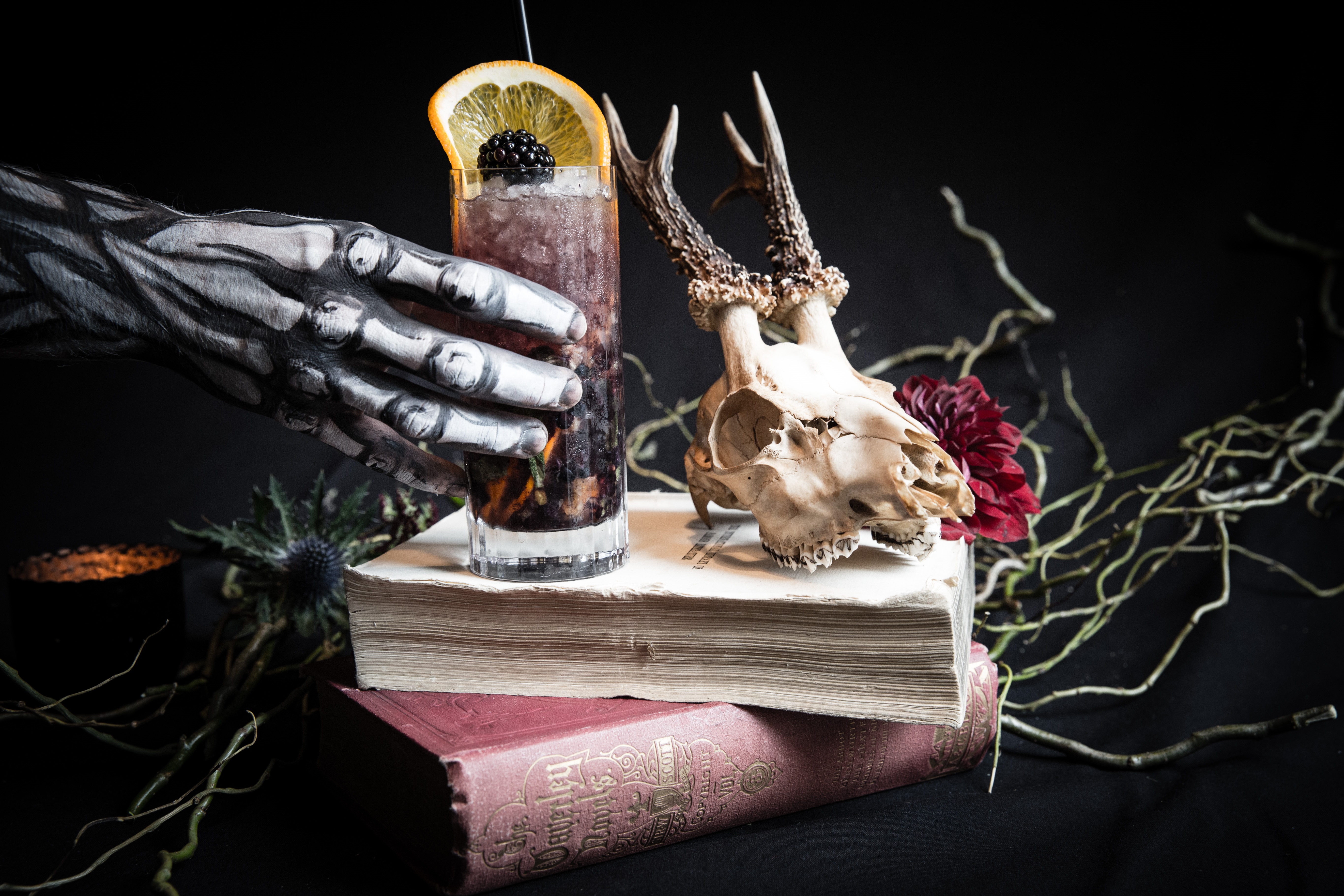 Cross Over To The Dark Side
Discover Heddon Street Kitchen (image main and above shot), but not as you know it. Cross over to the dark side this Halloween with supernatural Kitchen Table experiences, other worldly dining tables and damnable drinks.
Thrill seekers can experience sensational dining experience from 27 – 31 October with a  backdrop of macabre flowers and pumpkins, Heddon Street Kitchen's Kitchen Table will serve a banquet of autumnal wild mushroom arancini to start and a stunning whole roast suckling pig to share with friends and family. Available for lunch and dinner sittings.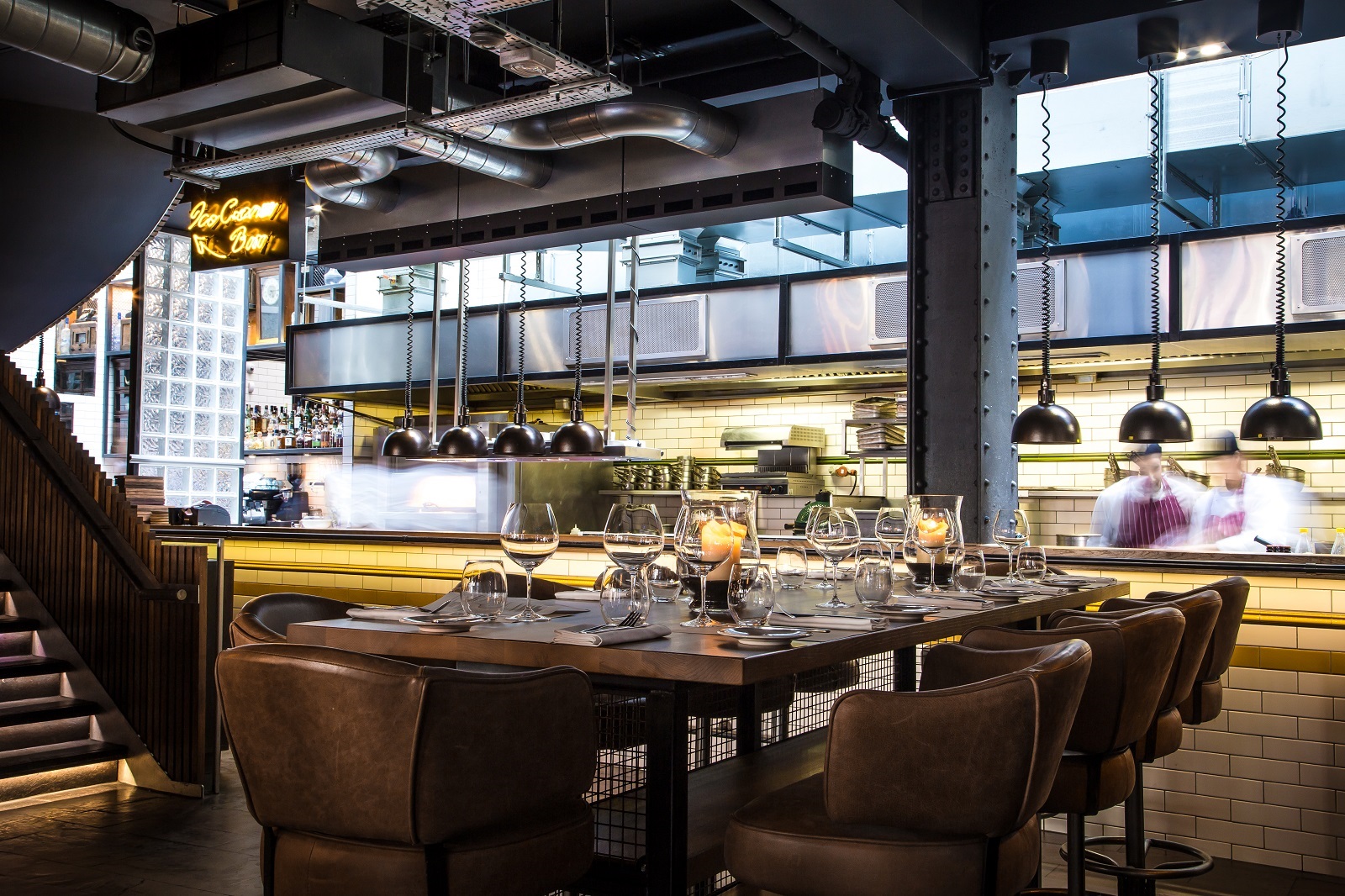 An experience for the family, kids are also invited to the Heddon Street Kitchen pumpkin carving competition on 28th and 29th October with dinner for 2* as prize for the winning pumpkin! *Terms & conditions apply
Luxury Restaurant Club members enjoy a glass of fizz for each adult.
The Dog Gets It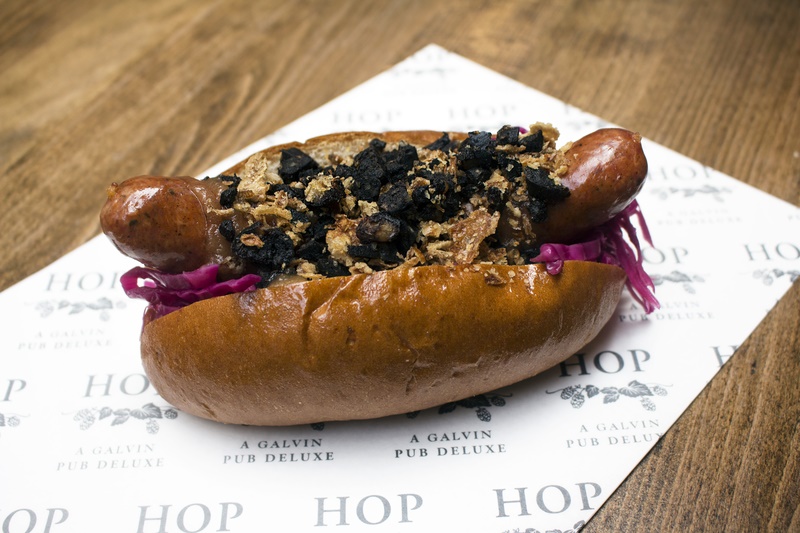 Hot dogs are all the rage so why not have one for Halloween. It may not be quite fine dining but we love the Galvin Brothers and include their tasty Halloween menu in case you fancy a naughty bite:
STARTERS: Devilled scampi and tartar sauce £9.50;  Snails in garlic butter roasted in the wood oven £8.95 MAINS: Fiery Dorset Naga chilli con carne with braised rice & garlic bread £13; Galvin HOP Halloween Dog (Blood sausage, pickled red cabbage, spiced apple compote, crispy black pudding and bacon) £12.50 DESSERT Pumpkin pie with chestnut Chantilly £6
Halloween Cocktail Blood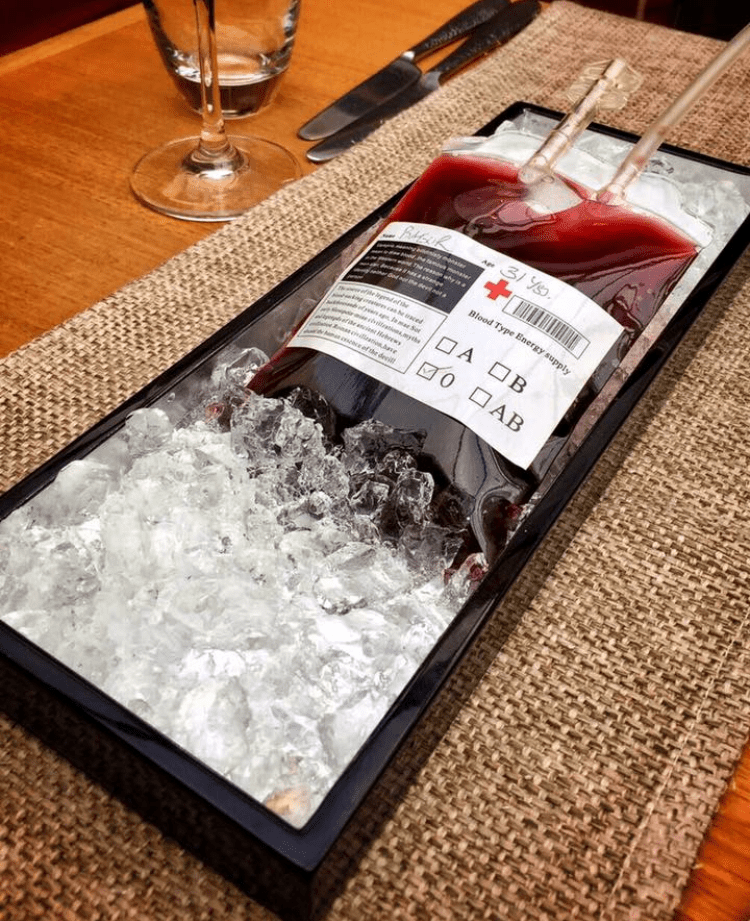 If you are of a nervous disposition you should not even think of ordering this concoction… Babur have made a concoction of all blood groups to make a drink that suits a thirsty vampire… ABOAB Absolute Vodka, Campari, pomegranate puree, lychee liquor and fresh lime. You have been warned. £8.95. This is by far our scariest shot!
Black Magic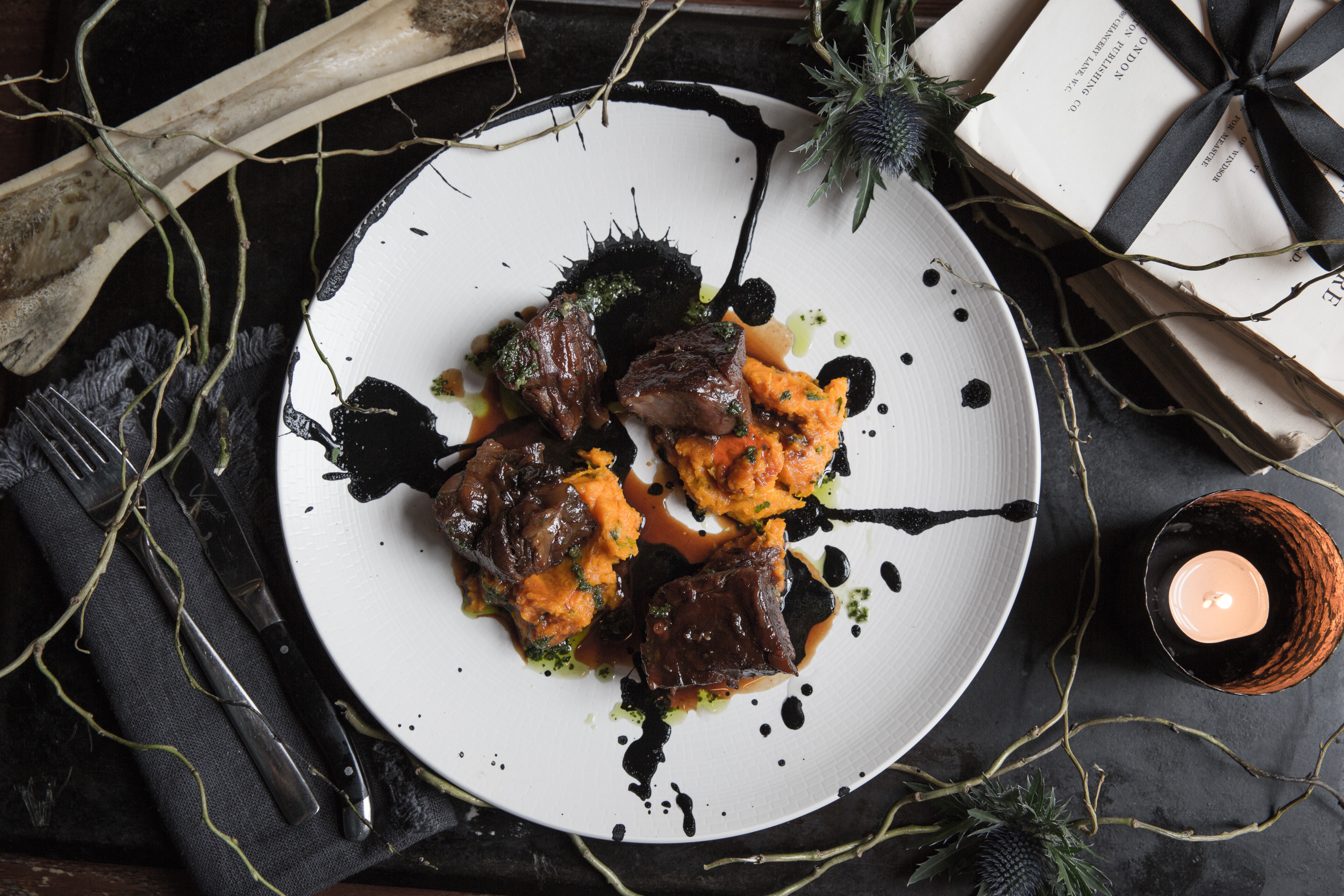 Gordon Ramsay Restaurants – Bread Street, goes very dark indeed this Halloween with supernatural Kitchen Table experiences from 27 – 31 October, other worldly dining tables and damnable drinks.
Take a seat at the our communal table for the sensational Bread Street Kitchen Halloween Dining Experience: an extraordinary 5-course menu with a cheeky nod to the bizarre plus sip on kooky cocktails including the Devil's Night and Corpse Reviver, distilled with Bacardi spirits and Fever-Tree mixers.
For kids, unlock the mysteries of the olive spider pizza with the special edition Halloween-themed masterclass on 29 October at Bread Street Kitchen, plus, kids are encouraged to don their best Halloween attire with prizes for the best costume.
Luxury Restaurant Club members enjoy a glass of fizz per adult guest.
Ghostbusters: Film Screening with Champagne & Dinner | £55 per person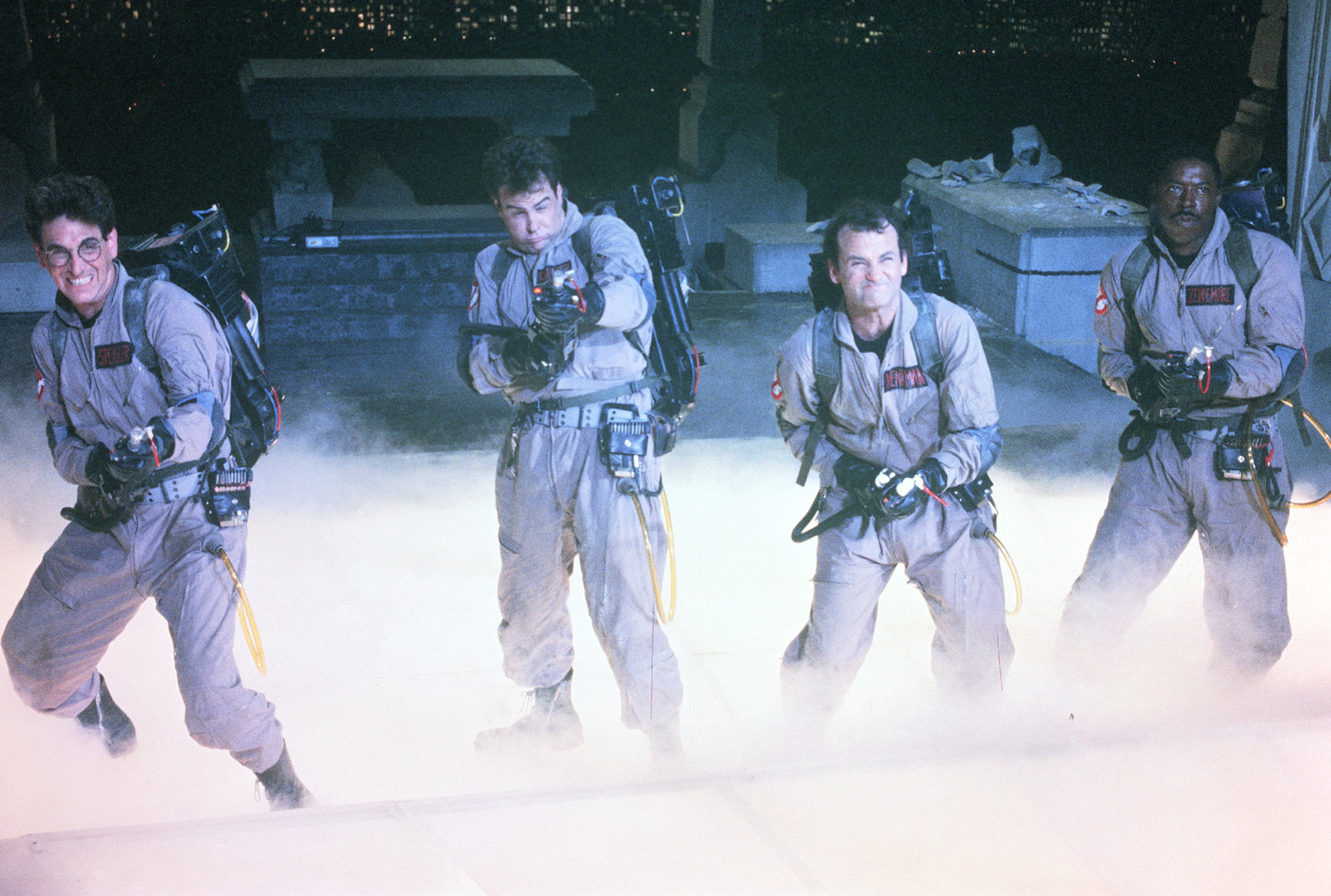 Enjoy a Halloween screening of the spooky classic Ghostbusters in the luxurious 30-seat private screening room, with a chilled glass of Lallier Champagne and a three-course dinner at Indigo.
The Story: In the original 1984 version, after recently being fired from a New York University, three parapsychologists establish a paranormal investigation and elimination service known as 'Ghostbusters'. In an attempt to save the city from complete destruction, the team stumble across a gateway to another dimension whilst facing an epic battle with the supernatural. Starring Bill Murray and Dan Ackroyd.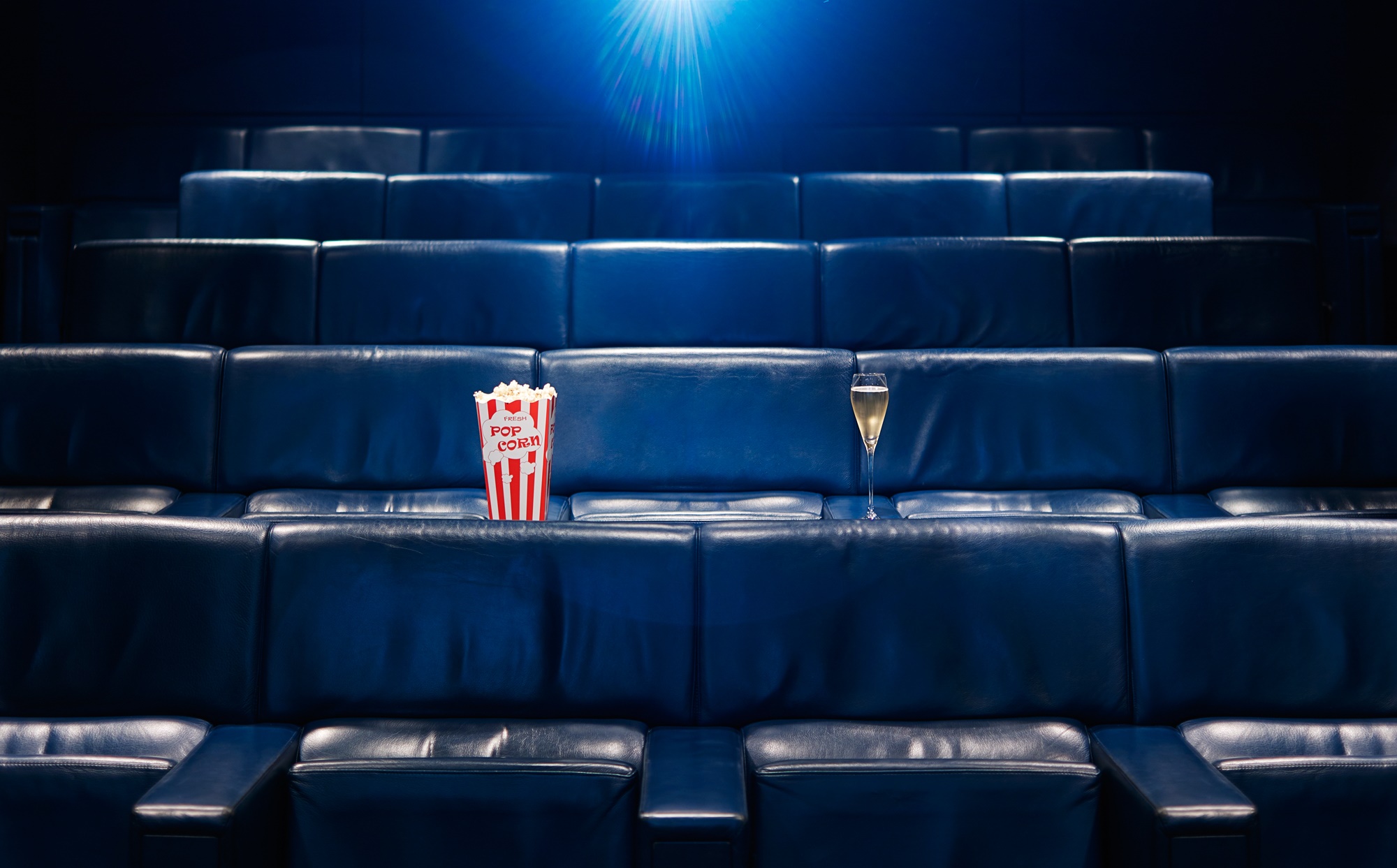 Dinner:  Showcasing innovative and thoughtful food, courtesy of Executive Chef Dominic Teague, the Indigo menu incorporates the finest seasonal ingredients carefully sourced from the British Isles, and both the lunch and dinner menus also happen to be entirely gluten and dairy-free.  See a sample menu
Sunday 29 October 
4.30pm Film Screening, Champagne & Dinner | £55 per person
Tuesday 31 October
6.30pm Film Screening, Champagne & Dinner | £55 per person
Halloween Spooktacular Afternoon Tea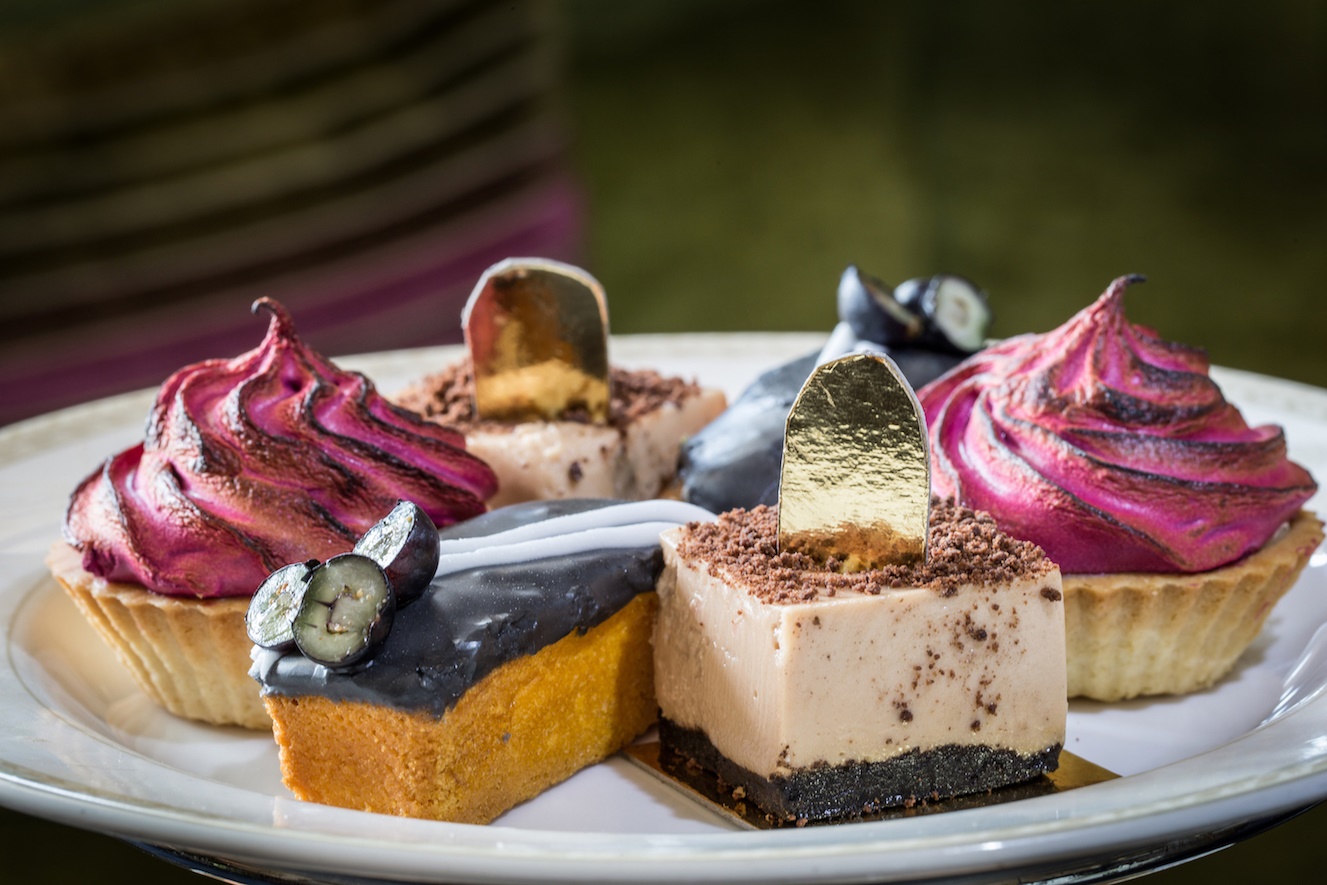 Down Hall Hotel & Spa is hosting a spooktacular afternoon tea, perfect for witches, ghouls and little pumpkins to get together for some frightful fun! Located in Bishop's
Stortford on the Hertfordshire/Essex border, Down Hall is situated on 110 acres of thriving gardens and woodland, making it the ideal retreat this Hollow's Eve.
The Halloween Afternoon Tea, served in the Ibbetson's Tea Lounge, includes a selection of savoury bites, with sourdough finger sandwiches, followed by scones served with Devonshire clotted cream and Tiptree preserves, but it's the sweet course where things start to get seriously spooky. With chocolate brownie coffins and blood orange custard, you're sure to be licking your lips like a zombie. Vampires, or other non blood-thirsty adults, costs £25 per person while little bats are £12.50. A homemade alcoholic punch is
available as an add on for £3.
The Halloween Afternoon Tea is available from the 21st – 31st of October between 1pm – 5pm.
Breakfast Croissant Treat at Papillon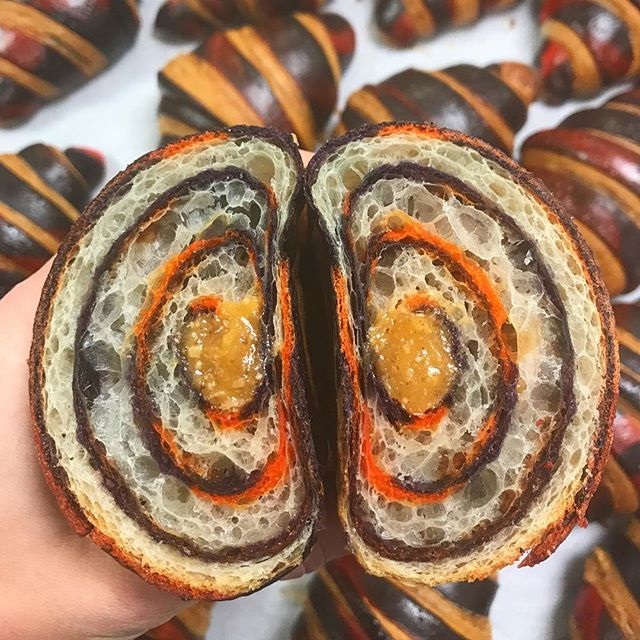 Get into the Halloween party mode from the get-go with Halloween croissants from Papillon at Hotel Cafe Royal. They are filled with pumpkin spice and pecan. Yummie. Luxury Restaurant Club members receive 20% on advance bookings quoting LRG mem ID.
 Cupcakes with Halloween Toppers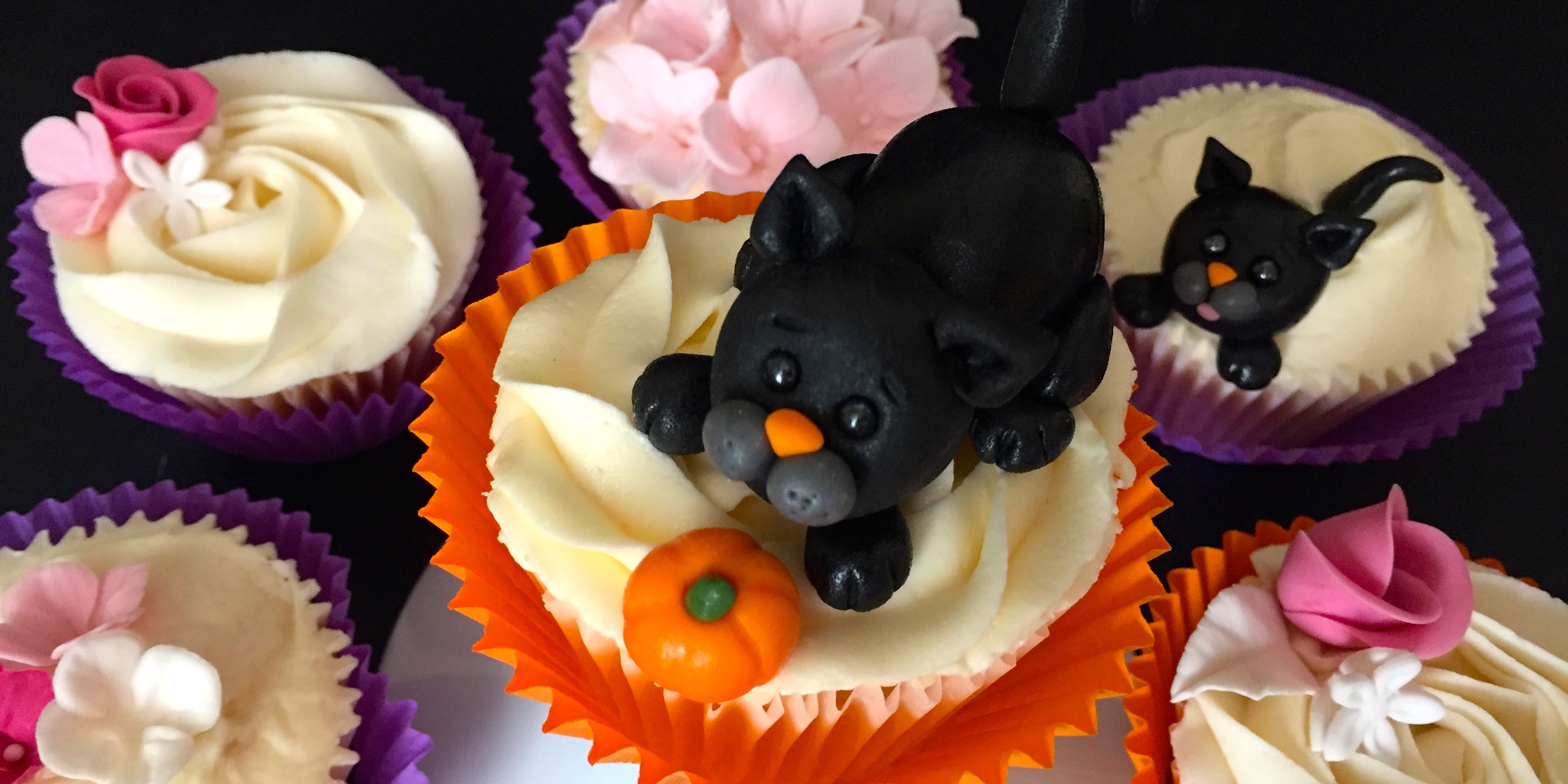 Have a fun Halloween trying out the new state-of-the-art cookery school founded by acclaimed Michelin-starred chef John Campbell learning: All About Cupcakes Including Halloween Toppers on Tuesday 31 October from 9.30 to 1.30pm. Luxury Restaurant Club members enjoy 10% off the £70 rate per person. Call to book on: 01635 265075 quoting your LRG id.
Murder Mystery Night & Pumpkin Design Competition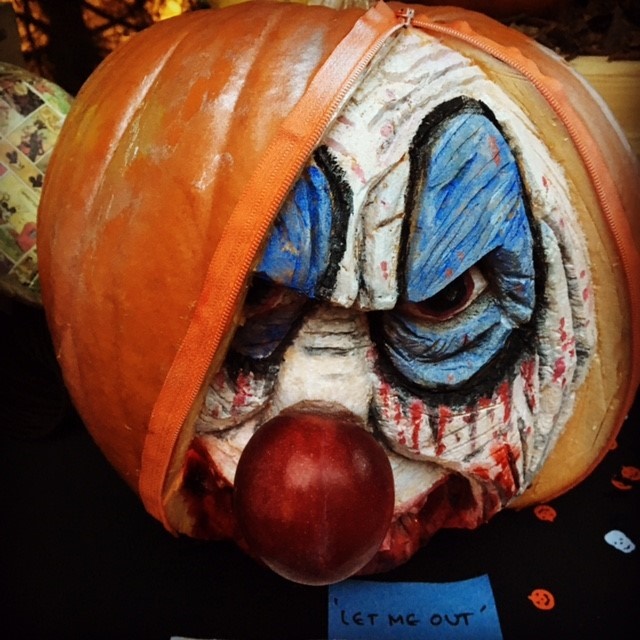 Harts's have two events going on for Halloween:
A Murder Mystery Night: Enjoy a three course set dinner and watch a murder mystery to challenge the grey cells. Join Belle as she skips and innocently trots into the dark castle only to be met by a creature so horrific, she mistakes him for a maths teacher. But before she can escape – there's an ear piercing scream and a body hits the floor. £59 per person includes welcome drink, 3 course set dinner and professional actors to entertain you. Seating on shared tables.
Pumpkin design competition: Free entry. Design and sculpt your pumpkin and bring it to the hotel by midday Sunday. At 5pm there will be an exhibition and judging by Ezekial Bone who will choose two winners – one adult and one child at 5.45pm. In addition there will be a child's fancy dress competition. Winning prizes at the hotel.  Phone for details.
Halloween Afternoon with Pumpkin Carving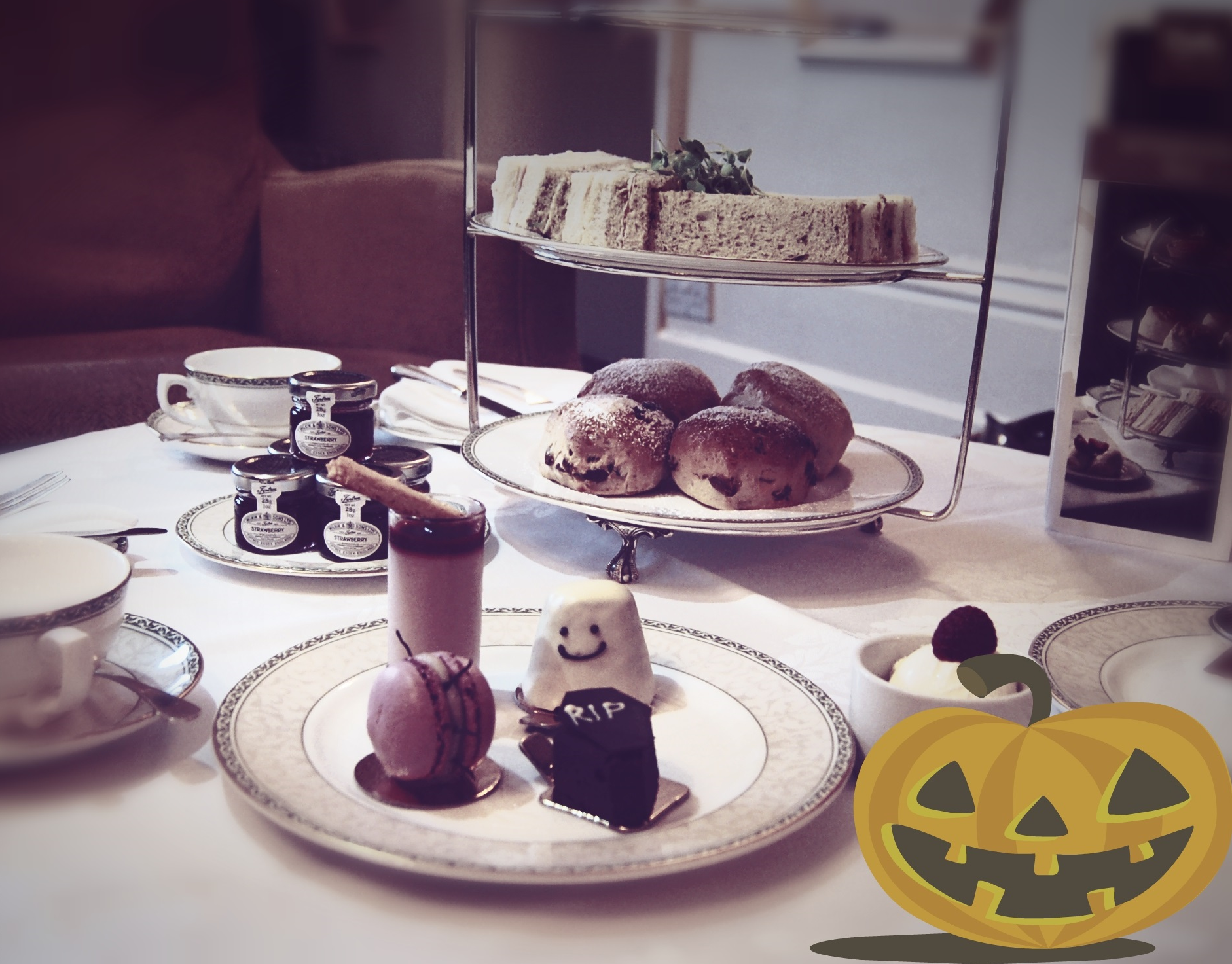 Sunday 29th Oct – 2.00pm | £15.00 per person
This fantastic Halloween afternoon is perfect for all. Spend an afternoon with family and friends enjoying pumpkin carving, spooky cake decorating with professional instruction from Ashdown's Head Pastry Chef and a specially crafted Halloween Afternoon Tea will be available too for children and adults. Adult: £25.00 per adult. Children: £15.00 per child. At least 1 accompanying adult per 3 children is required.
Ivy Soho Brasserie – 26-28 Broadwick St, Soho, London W1F 8JB T: 020 3301 1166
Drag-tastic and Bomb-astic
Back by popular demand, The Ivy Soho Brasserie Drag Queens dining experience is returning for one day only this Halloween! Guests who dine for dinner at the Ivy Soho Brasserie on the 31st October will be hosted by two fabulous drag queens – Tiffaney Wells and Adora Dix. The entertainment and outfits that will be on show throughout the evening are sure to provide a spook-tacular experience. The Ivy Soho Brasserie is the only place to hide from the cold, dark night of all Hallows eve this year.
** Happy Halloween from the Luxury Restaurant Guide **
P.s Don't forget to download our FREE app
– for smarter dining out year round!