Fine Dining Trends for the iGeneration
Innovative, socially connected, technology dependent. This is the iGeneration.
Hungry to fulfil their taste buds with different flavours of dining; all to be explored through social media. Whether it's posting the latest location they've visited on Instagram, or spotting the trendiest place to be; the immense speed at which new ways of discovering restaurants is moving is phenomenal, to the point where the industry itself is being left behind!
In order to put this into perspective, Sophie Albrow, our intern for the week from the sixth form at our local school, has conducted a sample survey of 50 young people between the ages of 17-30 to understand their usage of fine dining.
Some of the results found were highly unexpected.
How often do you spend over £20 per person on food only in a restaurant when you dine out?
42% said that they 'occasionally' spend over £20 per person on food
32% said that they spend over £20 per person on food a few times a month
This data seemed fair seeing as £20 per person would pay for more than a drink and a main meal.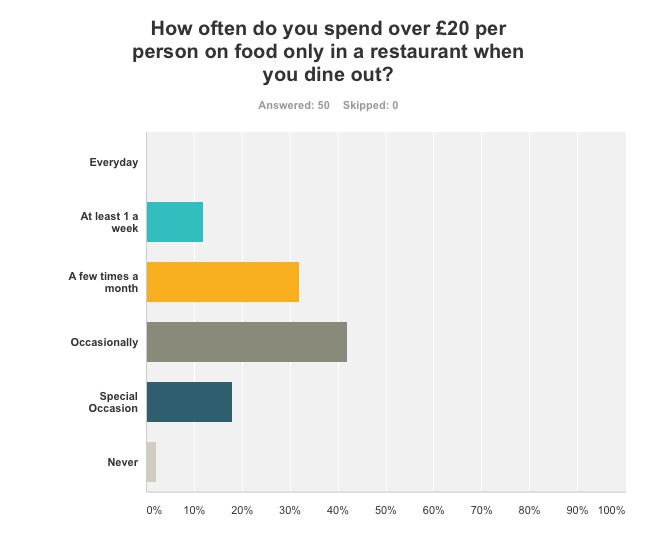 How important are loyalty, rewards and offers to you?
28% often use voucher sites/ codes (mainly students)
46% occasionally use direct offers/ promotions
36% infrequently use loyalty cards
28% use Dining Clubs
What is the most important factor when dining out?
58% said that food quality was the most important factor when dining out
32% said that value for the money was the most important factor
30% said that service and recognition was the most important factor
Restaurant ambience (14%) and whichever restaurant is popular culture (10%) were the two least valued factors when deciding importance. This is surprising seeing as Instagram is so rich in users who post images and discover trends. This leads to the question as to whether Instagram use is really all about the popular culture, or instead about exploring restaurants based on the quality of the food in posts?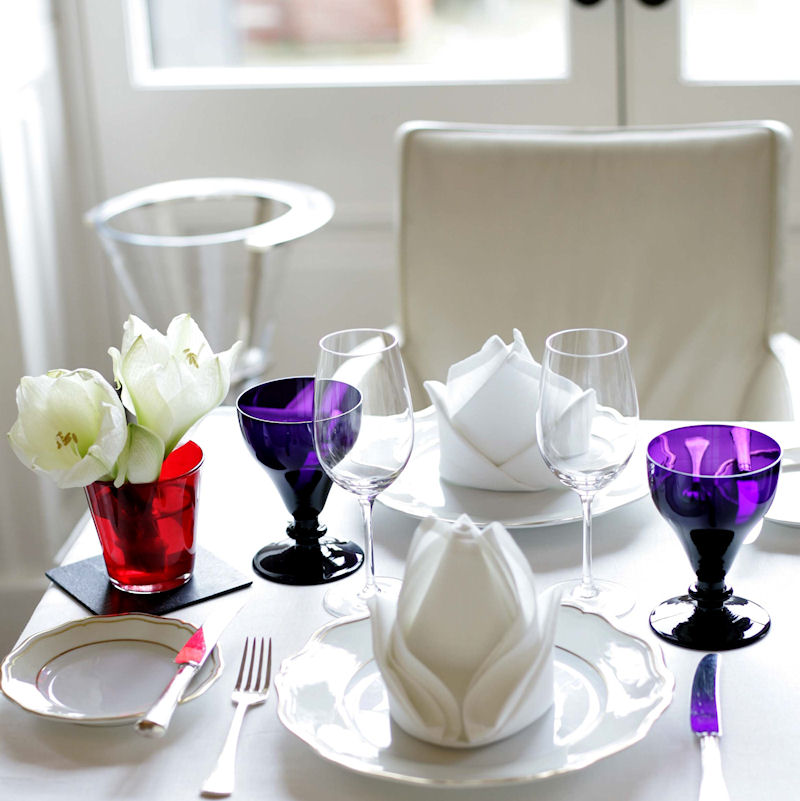 What are your main reasons for dining out?
67% said that it is often for social reasons
59% stating that they often dine out for special occasions
47% occasionally dine out for 'discovery'
What is your preferred cuisine?
Italian – 42%
Asian – 33%
French – 10%
Pub – 8%
Fusion – 6%
Brasserie – 2%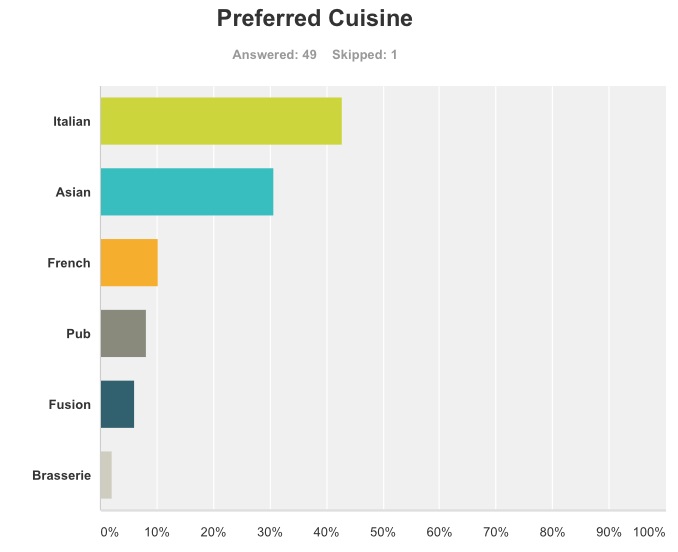 How do you select your restaurants?
38% said that they select their restaurant based on where their parents have visited, however a staggering 80% said that they trusted their friends' recommendations. Others said that they preferred online sites and guides such as the Luxury Restaurant Guide, Tripadvisor etc. Being a generation where social media is so powerful, the fact that this option only came third int he overall ratings seems a little strange. However, this suggests that young people still make decisions face to face instead of just what they have read online.
With regards to technology, online search and selection was the most popular (55%) with online bookings just behind at 47%. This suggests that we much prefer to be made aware of the restaurant before we make a visit.
Use of guides online seems to be often for inspiration in making your future choice, rather than booking there and then.
Nowadays, documenting life on social media, sharing memories, and keeping friends and followers up-to-date daily is crucial. After analysing 50 young people's results, social media without a doubt is pivotal when sharing locations and photos of their fine dining experiences. When asked which platforms they would immediately share their posts on 66% stated that Instagram was their 'go to' app, with Snapchat following a close second at 60%.
How far are you prepared to travel to your 'Fine Dining' restaurant?
56% said that they were prepared to travel between 30 minutes – 1 hour to a fine dining restaurant but only 16% were prepared to travel over an hour to a venue.
After looking at the statistics, I decided to discuss the results with fellow colleagues. Their reaction to my findings caused a debate, as many of them (even those with children) thought social influence and trend would be a higher priority.
In conclusion from this taster sample, it would appear that although the youth of today are driven by an experience economy, trusted sources for recommendations (such as friends and family) far outweigh social media platforms.
It is comforting to know that tradition and old-fashioned guidance still remain in high regard. Personally, I am still at the stage of broadening my dining horizons and just love discovering new places and cuisines!
Article by Sophie Albrow (17 yrs) 31.03.2017
Not a member? Join now to take advantage of this and other fantastic club benefits. Click here to join club online
The Luxury Restaurant Guide is best way to discover and book the finest restaurants in the UK. Let us inspire your booking choices with our comprehensive and visual list of all award-winning restaurants from Michelin, AA and Sunday Times Top 100 to the best new openings.