Chefs Recipe – Spiced Apple Crumble Slice by Marcus Wareing
Apple season is in full swing and this spiced apple crumble recipe from Marcus Wareing features the beautiful combination of cinnamon, ginger and nutmeg in the crumble mix. The buttery shortbread base this crumble is served on is simple to make and matches the tartness of Granny Smith apples quite well. Serve the spiced apple crumble slice with ice cream, as shown here, or with custard, if you prefer.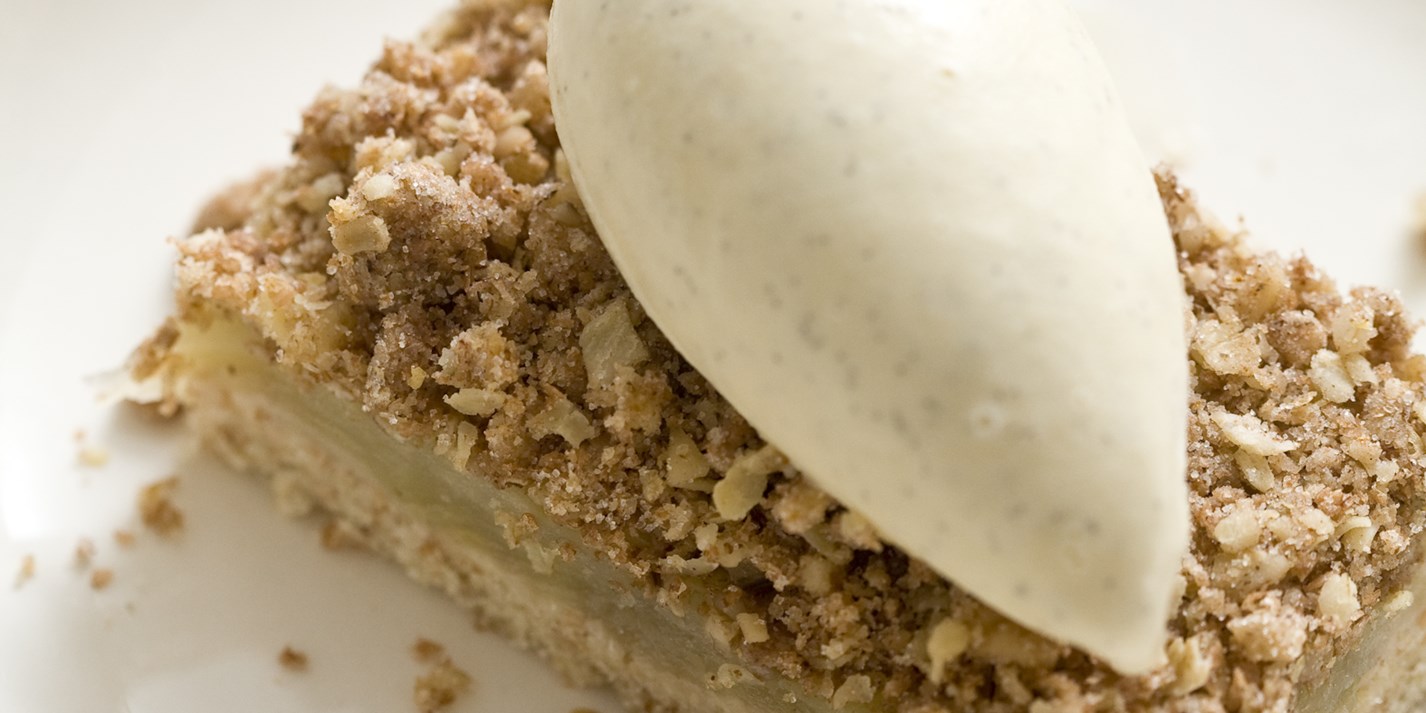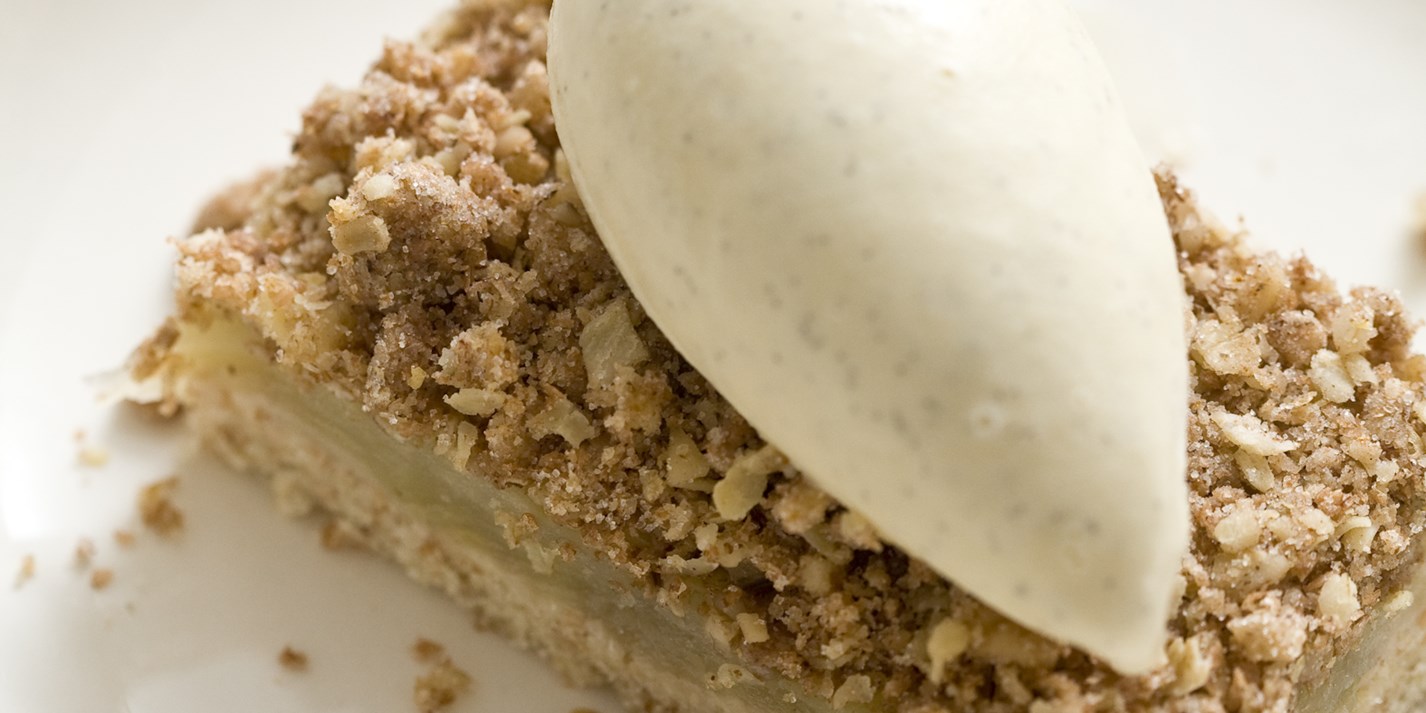 Ingredients
Apples
6 Granny Smith apples, peeled, cored and sliced
100g of caster sugar
Shortbread base
75g of unsalted butter, softened, plus extra for greasing
1 free-range egg, beaten
40g of caster sugar
2 tbsp of semi skimmed milk
75g of plain flour
50g of wholemeal flour
25g of wheatgerm
1/2 tsp baking powder
Crumble
50g of oats, rolled
40g of wholemeal flour
50g of walnuts, chopped
15g of wheatgerm
1 pinch of salt
50g of caster sugar
1 tsp ground cinnamon
1/2 tsp ground ginger
1/2 nutmeg, freshly grated
60g of unsalted butter
To plate
1 tub of vanilla ice cream
Method
Place the apples in a saucepan with the sugar. Cover and set over a low heat until the juice begins to come out of the apples. Slightly increase the heat and cook until the apples are soft, then set aside to cool
Preheat the oven to 165°C/ 325° F/ gas mark 3
For the shortbread base, cream together the butter and sugar, add the egg and milk, then mix in the flours, baking powder and wheatgerm. Spread over the bottom of a greased cake tin (approximately 20cm x 20cm x 5cm) and bake in the oven for 10 minutes. Leave to cool in the tin
Make the crumble by mixing all the dry ingredients together, ie. everything except the butter. Put the butter in a small saucepan, melt over a moderate heat, then pour it over the dry ingredients and mix together
Spread the apple over the shortbread base, then sprinkle the crumble mix over the top. Bake for 10-15 minutes until lightly golden
Serve the apple crumble slice warm with a quenelle of vanilla ice cream
Member Offer at Marcus:
After an extensive refurbishment the former Marcus Wareing at The Berkeley has reopened as Marcus. Members receive a complimentary glass of chilled champagne on arrival and kitchen tour to meet the team when dining from the A La Carte or Tasting menu for lunch from Monday to Thursday. Please reserve in advance and quote membership number. Valid on A La Carte & Tasting menus.
Not a member? Find out how to join for just £95.00 at www.luxuyrestaurantguide.com/join
Recipe courtesy of www.greatbritishchefs.com