Chefs Recipe: Smoked Beef Brisket & Pulled Pork from SEASON at Lainston House + Cookery School Competition and Offer
Situated in the stunning grounds of Exclusive Hotel's Lainston House, SEASON Cookery School is a fun, relaxed yet professional setting to embrace your passion for food and hunger for knowledge.
Learn to barbeque the right way and expand your grill repertoire with the following excellent course running on 25th June – and scroll down for two barbeque recipes from the course to inspire you, along with exclusive member discount offer and competition!
The Art of BBQ with Joe Hibberd
Join Joe and learn how to prepare, cure , marinate and cook different cuts of meat from brisket, ribs, pulled pork to smoking your own trout from the river test. You will also learn how grill the perfect steak! You will also prepare your very own salads and sauces and learn how to grill, smoke and cook dirty, traditional vegetables into something very special. This course will leave you smelling and cooking like a Pitt master!
Full day £185 per person | 25 June 2017
Exclusive Member Offer – Save 25% off all courses (including this one) booked by 31st July 2017 – please call 01962 776088 and quote 'Luxury Restaurant Guide Offer'. Click here for full list of courses and further information
Smoked Beef Brisket
Ingredients
2kg x 28-day grass fed aged brisket (from the top of the brisket with ½ inch of fat left on top)
spice mix
50g sea salt
50g cracked black pepper
10g garlic powder
Method :
Mix all spices together. Trim any excess fat from brisket, sprinkle over the spice mix and rub in.
Set BBQ up for indirect cooking 140c with a few hickory woods chunks on top.
Place brisket on BBQ with a drip tray underneath.
Check brisket and coal levels and BBQ Temperature every 1-2 hours.
The brisket will take 6 – 8 hours to reach 60c once you've reached 60c and have a good bark on the brisket, wrap in 4 layers of tin foil tightly and place back onto BBQ.
When the Brisket hits 70c it will stop rising in temperature for a long time this is called the STALL do not panic!
The stall can last between 2 – 3 hours continue to check every 1 – 2 hours.
Monitor the brisket until it reaches 80c – 85c in the centre.
Take the brisket off and leave to rest for at least 1 hour.
Slice the brisket against the grain and serve.
Pulled Pork
Ingredients
2kg pork shoulder (bone in skin off ½ inch of fat left)
2kg water
80g sea salt
 50g English mustard
60 g soft brown sugar
30 g caster sugar
30g smoked paprika
30g sea salt
12g cracked black pepper
6g ground ginger
12g garlic powder
6g cayenne pepper
Mix salt and water together and immerse the pork shoulder into brine and leave in fridge for 2 days.
Take pork out of brine and pat dry with a tea towel. Smother the shoulder in mustard.
Apply the spice mix and rub in.
Set up BBQ for offset cooking 140c with a few chunks of cherry wood on while pork is marinating.
Place pork on BBQ fat side up with a drip tray underneath check the pork every 1-2 hours. Make sure you are checking charcoal levels as well and spray meat with cider vinegar.
The shoulder should take between 8 – 10 hours. If shoulder is getting to dark wrap in tin foil.
Once the internal temperature has reached 90c, leave to rested in tin foil for at least 1 hour.
Serve by leaving whole and pulling apart or pull it and mix with sauce.
Competition  – Win a full day cookery course for two people at SEASON Cookery School.
*Choose from the list of tantalising classes including:
Japanese Masterclass with Fabricio Cano
Chocolate Masterclass with Mark Tilling
Art of French Cooking with Sylvain Gachot
Summer Season with Steven Edwards
Dishes from the Sea with Jamie Brown – click here for full list of courses
*Subject to availability
To enter simply answer the following question – Which Lainston House Chef teaches the Art of BBQ Course on 25th June?
Is it a) Joe Hibberd b) Sylvain Gachot c) Steven Edwards
Email your answer, with the subject line 'SEASON Cookery Course Competition' and your name, address and membership number to claire@luxuryrestaurantguide.com by noon on Monday 19th June 2017. For full terms and conditions click here.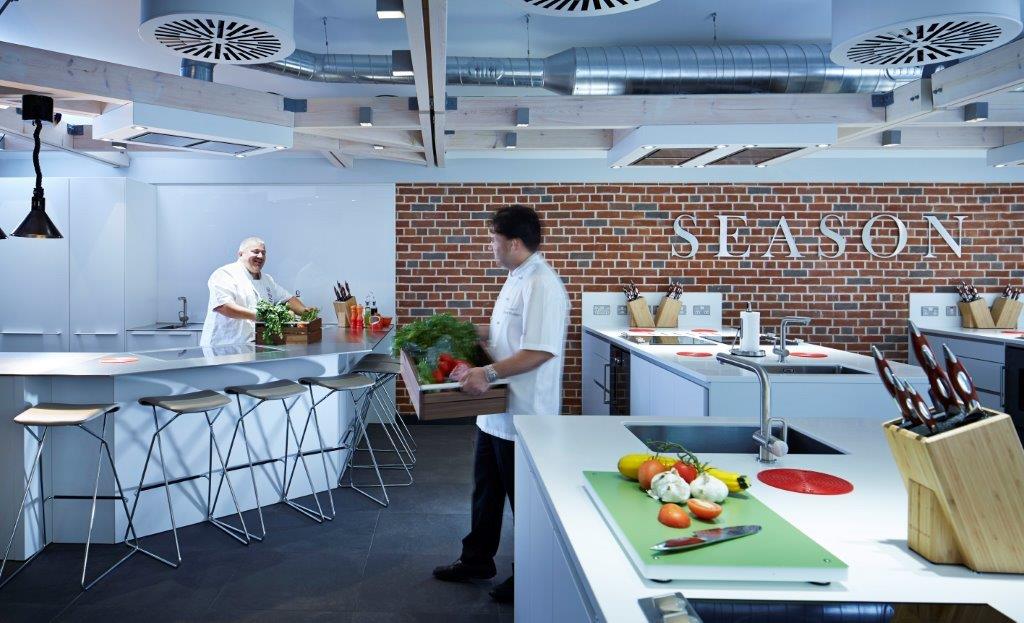 The Restaurant: Lainston House – The Avenue Restaurant, Sparsholt, Winchester, Hampshire, SO21 2LT
Club Offer: Luxury Restaurant Club members receive a 20% reduction from the total bill when dining for lunch, afternoon tea and dinner selected meal periods. Click here for further details.
Not a member? Join now to take advantage of this and other fantastic club benefits. Click here to join club online