10 Great Tasting Menus of The UK
Why settle for one amazing dish when you can sample ALL of them? And why have the stress of indecision when faced with an astonishing menu when all you need to do is let the chef send out course after course of his own excellent choice? Behold the delicious extravagance of The Tasting Menu – here is a curation of ten of our favourites.
1. Alyn Williams at The Westbury
1 Michelin star, 4 AA Rosettes
The recipient of a Michelin star, Alyn Williams at The Westbury is an understated establishment with spotless presentations and superb service. Only the best seasonal ingredients are prepared with straightforward techniques and contemporary touches.
Sample Vegetarian Tasting Menu
Homemade feta- apple, kohl rabi, cucumber, grape
Wye valley asparagus – hazelnuts, crips potato
Tofu taco – chipotle mayo, dirty guacamole, green gazpacho
(As seen on Masterchef – £10 supplement)
Leek & onion tortellini – horseradish, toasted nigella seeds
Cauliflower cheese – sourdough croutons, Périgord truffle
Shitake & kale omelette – kombu, Japanese vegetable & pear salad
Cheese selection (Optional £15 supplement)
Passion fruit – espresso, white chocolate, saffron
English strawberries – pavlova, sweet cicely
£80 per person
With matching wines £140
With prestige selection £205
With matching beers £125
The Restaurant: The Westbury Hotel, Bond Street, Mayfair, London, W1S 2YF | www.alynwilliams.com | 0207 183 6426
Member Club Benefit available – click here for details
2. Tudor Room at Great Fosters, Egham
One Michelin star and 3 AA Rosettes
Awarded a Michelin star and three AA Rosettes in October 2016, The Tudor Room at Great Fosters demonstrates a passion for simple cookery with intense flavours. The Kitchen garden at Great Fosters also plays a major part in providing fresh, organic ingredients for the menu.
Sample Tasting Menu
Canapes
Jerusalem Artichoke – tendon, onion, truffle
Scallop – broccoli, truffle, hazelnut
Langoustine tea
Himalayan salt aged Venison – turnip, chanterelles, blackberry
Cucumber, pineapple, lime
Valrhona Chocolate – caramel, tonka beans, feuilletine
Cheese – five British cheeses, truffled honey, fig chutney, apple, pecan
£65 per person
With additional wine flight £130 per person
The Restaurant: Great Fosters, Stroude Road, Virginia Water, Egham, Surrey | www.greatfosters.co.uk | 01784 433822
Member Club Benefit available – click here for details
3. Pied a Terre, London
1 Michelin star
Since opening is doors in 1991, the restaurant has won some of the highest accolades possible and continues to impress diners with beautifully crafted culinary treats and Michelin star service. Pied a Terre offers no less than 5 tasting menus, including a vegan menu. We are showcasing the chefs menu which is a list of sheer culinary magic!
Chef's Tasting Menu
Pembrokeshire Crab, Avocado, Tokyo Turnip, Ponzu
Seared and Poached Foie Gras in a Sauternes Consommé with Haricot Beans and Charred Onions
John Dory, Grapefruit, Miso, Black Quinoa, Brassicas
Richard Vaughan's Suckling Pig, Carrot, Buckthorn, Walnut
Lavinton Lamb, "Ratatouille"
Cheese Board
Gariguette Strawberries, Buttermilk, Lemon, Vanilla
Chocolate, Mandarin, Honeycomb, Stem Ginger
Coffee and Petits Fours
£145 per person
With Sommeliers Wine Flight £244
The Restaurant: 34 Charlotte Street, Fitzrovia, London, W1T 2NH | www.pied-a-terre.co.uk | 0207 636 1178
Member Club Benefit available – click here for details
4. Lympstone Manor, Exmouth, Devon
Lympstone Manor is a newly opened contemporary country house hotel overlooking the Exe Estuary with acclaimed fine dining by two Michelin star Michael Caines. Able to fully express his vision of modern British cuisine that is fresh and seasonal, he freely utilises the bounty of the Exe Estuary, East Devon and the Southwest. Two tasting menus are offered, The Signature menu and the Estuary menu.
Tasting Menu – Taste of the Estuary
Warm salad of lobster mango and cardamom vinaigrette, curried mayonnaise
Brixham scallop tomato concassé with tapenade, tomato and aubergine caviar vinaigrette
Poached Lyme Bay lemon sole onion and lemon thyme confit, Wye Valley asparagus, white wine sauce and tarragon oil
Braised turbot River Exe mussels and cockles with tomato and basil sauce
Cornish sea bass roasted with anise spice, pan roasted langoustine and bouillabaisse
Apple mousse vanilla foam, green apple sorbet
Coconut panna cotta exotic fruit salad, coconut foam, passion fruit sorbet
£130 per person
The Restaurant: Lympstone Manor, Courtlands Lane, Exmouth, Devon, EX8 3NZ | lympstonemanor.co.uk | 01395 200920
Member Club Benefit available – click here for details
5. Sketch – The Lecture Room & Library, Mayfair
2 Michelin stars, 5 AA Rosettes
The Lecture Room & Library are where the culmination of Pierre Gagnaire's Paris experience is showcased in a sophisticated, exclusive and luxurious dining room. There is attention to detail in every aspect of the experience, from the intricate food through to the impressive wine list and professional service.
Feuilletes
Spring
Garden Pea Cream with Verbena, ham and parmesan, sweet wine jelly, spring onions
Grilled green asparagus, Dorset crab with grapefruit
Rye bread toast with bone marrow and Oscietra caviar, smoked asparagus
Fera
Fera from 'Lac Leman' poached in Savagnin, Pascaline
Menuiere butter with fresh herbs, sorrel with raspberries
Bellion
Pan-fried foie gras, red mullet, whelks, fennel,
Spring cabbage, cauliflower
Bouillbaisse
Shellfish
Spiky artichoke with mint, sea almonds and verni clams
New potato gnocchi, parmesan cream
Corn-fed Chicken
Fillet of free range chicken perfumed with sage and confit lemon, aubergine veloute with white miso
Broad beans, rocket, chorizo, green pepper
Pierre Gagnaire's Grand Dessert
A combination of six minature desserts in two services
Petits Fours
£110 per person
The Restaurant: Sketch, 9 Conduit Street, Mayfair, London, W1S 2XG | sketch.london/ | 0207 659 4500
Member Club Benefit available (complimentary dining) Click here for details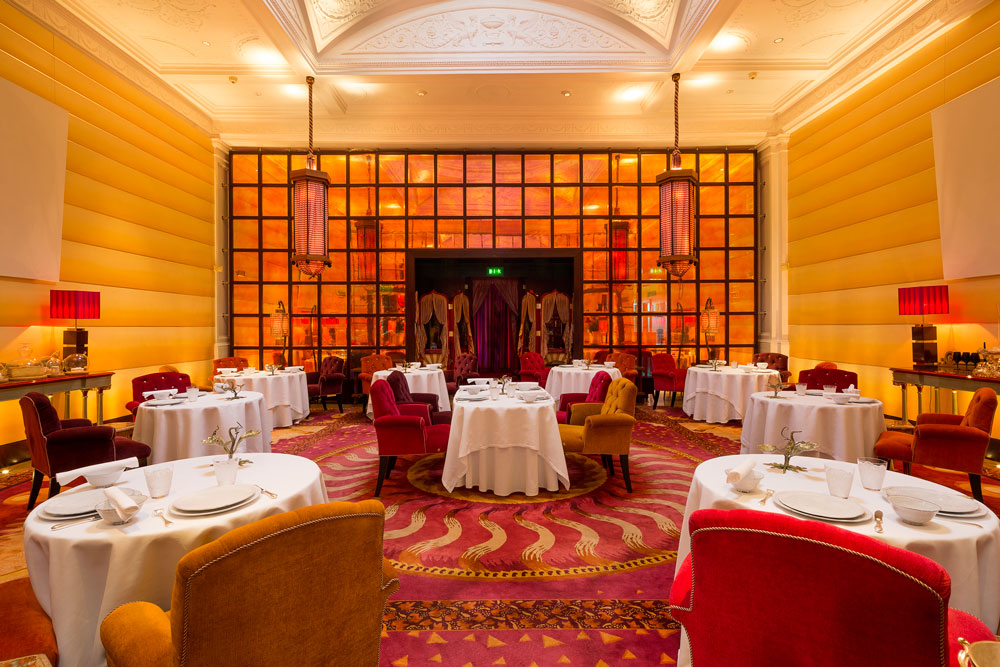 6. The Pass at South Lodge, Horsham, West Sussex
3 AA Rosettes
Taking the 'Chef's Table' concept and exquisitely developing it, diners at the 26 cover 3AA Rosette restaurant are closely involved in the kitchen drama.  Make your choice of tasting menus bursting with dishes of unique flavour combinations and ingredients before watching the creations of Head Chef, Ian Swainson unfold right in front of you.
Ten course tasting menu
Japanese painting – smoked eel, oyster pearl, dashi
Geometics – celeriac, tarragon mayonnaise, sherry, hazelnut
Black – black rice paella with aioli
Deer in the wood – venison tartare, shitake ketchup and woodland consomme
New Italian classic – gorgonzola spaghetti, truffle pasta water
Untitled no 2 – red mullet with harrissa, bisque and grapefruit
Seeing Red – boasted mallard breast, beetroot, red cabbage, duck liver
Cheeseboard (£12 supplement)
The sky is falling!… blueberry, passion fruit and rose
Aromas of the c-word – pine custard, cranberries, basil and pine granite
A little heaven in hell – walnut, muscovado, coffee, chocolate
£90 per person
Discover wine pairing additional £80
Prestige wine pairing additional  £120
Juices for drivers and minders additional £37.50
The Restaurant: The Pass at South Lodge Hotel, Brighton Road, Horsham, West Sussex, RH13 6PS | www.southlodgehotel.co.uk | 01403 891711
Member Club Benefit available – click here for details
7. The Greenhouse, London
2 Michelin stars
One of only four restaurants in the world to win the Wine Spectator Grand Award, The Greenhouse in the heart of Mayfair is set in an oasis of calm. Arnaud Bignon's exquisite French cuisine has won The Greenhouse a position as one of London's most highly acclaimed restaurants. Along with the tasting menu, The Greenhouse also offers 'Arnaud Bignon's Discovery' menu.
Tasting Menu Example
Dorset Crab, mint, cauliflower, Granny Smith apple, curry
Smoked eel, beetroot, dill pumpernickel
Foie gras 'domaine de Rouilly', seared, mara des bois strawberry, aloe vera, mizuna
Monkfish, onion, banana, Kaffir lime, dukkah
Welsh organic lamb 'Rhug estate, aubergine, gomasio, harissa, soya
or
Veal, ossetra imperial caviar, Hispi cabbage, dulce seaweed (£20 supplement)
Wild strawberry, rhubarb, elderflower
£125 per person
The Restaurant: The Greenhouse, 27a Hays's Mews, London W1J 5NY | greenhouserestaurant.co.uk | 0207 499 3331
Member Club Benefit available – click here for details
8. Paris House, Woburn, Milton Keynes
3 AA Rosettes
Set in 22 acres of stunning parkland, Michelin recommended Paris House in Bedfordshire is located on the Duke of Bedford's Estate in Woburn. The restaurant blends modern culinary techniques with the finest in seasonal produce. Offering three tasting menus VI, VIII and X showcasing the number of courses in the title, they are constructed with natural flavour combination.
Tasting Menu X
Leche de Tigre – Hamachi, Chilli & Sweet Potato
Asparagus – confit hens eggs, seasonal mushrooms and wild garlic
Mackerel – apple, horseradish and yuzu
Lamb and Pea – crispy lamb's tongue, petits pois and oregano
Tom Khlong – braised octopus, kimchi, prawn har gow, and monks beard
Anjou pigeon – almond, tenderstem and black quinoa
Artisan cheese (£12 supplement)
Passion Fruit, sherbet and vanilla vodka
Lychee, rose and pistachio
Carrot, white chocolate, dill and mascarpone and ginger
Mandarin trifle, black bean, coriander and sake
£109 per person
8 glass wine flight £65 per person
10 glass wine flight £77 per person
The Restaurant: Paris House, Woburn Park, London Road, Woburn, Milton Keynes, MK17 9QP | www.parishouse.co.uk | 01525 290692
Member Club Benefit available – click here for details
9. Vineet Bhatia London
Housed inside a splendid Georgian townhouse off the Kings Road, guests enjoy a tasting menu experience like no other: a freewheeling expedition into the culinary imagination of Vineet Bhatia, one of the world's foremost chef restaurateurs. Inspired by his Mumbai heritage, global travels and British residence, Vineet Bhatia's cuisine is as daring as it is thoughtful; precise as it is generous.
Sample Tasting Menu
Lime soup – smoked prawn chaat
Amritsari haddock – raan uttapam
Beef foie gras
Chilli cod
Duck korma
Patiala chicken
Glazed pork chop
Chocolate cure
Clementine kulfi
Ginger-rose jubub, coconut crisp, chai fudge
Chocomosa, almond shard, rose petal milk chocolate
£105 per person
£175 per person with wine flight
The Restaurant: Vineet Bhatia London, 10 Lincoln Street, London, SW3 2YS | www.vineetbhatia.london | 0207 225 1881
Member Club Benefit available – click here for details
10. Hambleton Hall Restaurant, Rutland
The restaurant is proud to say that it has the longest-retained single Michelin star in the UK, celebrating 35 years in 2017, and offers exceptional dining experiences worthy of a journey to Hambleton. Michelin star Head Chef, Aaron Patterson and his highly skilled team use the best local produce for seasonal dishes, and is renowned for producing award-winning game dishes such as grouse, partridge and woodcock.
Sample Tasting Menu
A taste of mushroom, hen of the woods
Terrine of Heritage carrots, tarragon, spiced carrot ice cream
Ballotine of foie gras, kumquat and Seville orange marmalade, toasted sourdough
Fillet of turbot, clams, sea vegetables, wasabi and cucumber sauce
Fillet of Lavinton farm lamb, piperade, rosemary sauce
Coffee and walnut souffle, clotted cream ice cream
Coffee and chocolates
£92 per person
Five glass wine flight available for additional £50
The Restaurant: Hambleton, Oakham, Rutland, Leicestershire, LE15 8TH | www.hambletonhall.com | 01572 756991
Member Club Benefit available – click here for details
Find out more about the Luxury Restaurant Club – the UK's largest fine dining club, where you can subscribe to enjoy instant rewards, invitations and insights from over 500 of the finest restaurants in the UK. Find out more here.