Chef's Recipe: Shepherd's Pie by Nigel Mendham at GBR
Nigel Mendham has been earning critical acclaim for his refined British cuisine at GBR (Great British Restaurant) at Dukes Hotel since its opening in May 2017. Prior, he earned his first Michelin star whilst at The Samling in Windermere and previously honed his skills at The Lygon Arms in Broadway, South Lodge nr. Horsham and The Randolph in Oxford. What better chef to turn to for a perfect Shepherd's Pie recipe.
Shepherd's Pie  –  Serves 4
Skill level 2
Ingredients & Method – Rack of Lamb
2 x 6 bone racks of lamb French trimmed and bones clean
Sprig of thyme
100g unsalted butter
In a hot pan seal off the lamb rack on all sides. Add the thyme and butter to the pan and put in a pre-heated (185 degrees) oven for 7-9 minutes. Remove from the pan and allow to rest. After 5 minutes resting cut the rack of lamb into cutlets and season with a pinch of salt.
Ingredients & Method – Shepherd's Pie
800g small diced lamb shoulder
3 carrots (peeled and diced)
5 shallots (finely diced)
25ml Worcestershire sauce
200ml red wine
40g tomato puree
Sprig of thyme
2 litres lamb stock
In a heavy-based pan seal off the diced lamb shoulder until golden brown. Once brown remove from the pan and set aside. In the same pan cook the shallots until soft. Add the carrot and cook for 3-4 minutes. Return the sealed lamb shoulder to the pan and cook for 2 minutes. Add tomato puree and cook for 1 minute to release the oils. Add red wine and reduce by ¾. Add lamb stock and thyme. Bring to the boil then simmer for 1 hour 30. Season with salt and lemon juice.
Take 4 metal cutters (6cm in diameter). 3/4 fill with the lamb mixture and pipe on top the mashed potato. Put into a preheated oven (180 degrees) for 6-8 minutes or until golden brown.
Ingredients & Method – Mash potato
1 kilo of good quality mashing potato
60g unsalted butter
Peal the potatoes and cut into 4, wash well. Place into cold water and add a pinch of salt, then bring to the boil and simmer for 20-25 minutes. Pour the potatoes into a colander and shake well to remove excess water, the potatoes should look fluffy.
Rub the potatoes through a fine mesh sieve and season with salt and ground white pepper, and add butter. Place into a piping bag ready for use.
Ingredients & Method – Hispi Cabbage
1 hispi cabbage
Oil
100g unsalted butter
Remove the outer leaves of the cabbage  and cut into 4, removing any excess core. Colour in a hot pan, add the butter and roast in the oven at 185 degrees for 8 minutes turning occasionally. Remove and drain on kitchen paper.
Plate and serve.
Alternatively, join the Luxury Restaurant Club and dine complimentary when dining with one or more guests. See details here. Club membership from £10.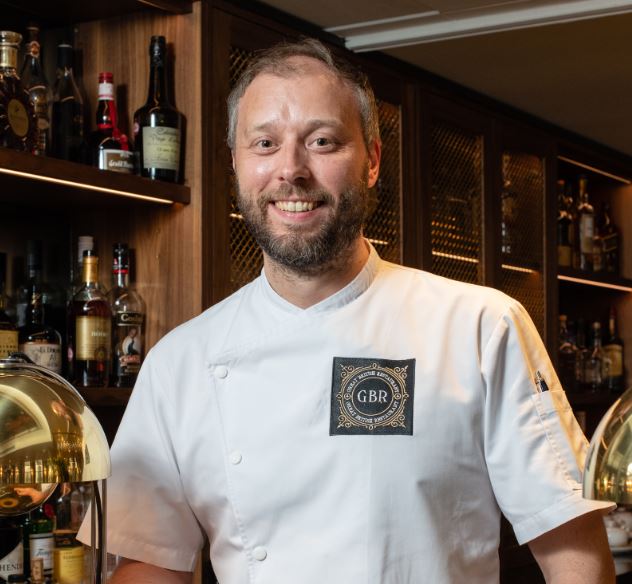 Recipe from Chef Nigel Mendham, his good old Shepherd's pie – served at GBR priced £24.50 (price for two if member of Luxury Restaurant Club).
To make a booking at GBR call 020 7491 4840 or visit www.gbrrestaurantslondon.com
Discover the finest restaurants with the free Luxury Restaurant Guide app. Download here.