Chef's Recipe : Butternut Squash, Adlestrop and Cavalo Nero Crumble from Daylesford Organic Farm
To celebrate Organic September, a month-long celebration of all things organic, our recipe comes from Daylesford Organic Farm which scores five stars (top accolade) from The Soil Association's new rating system. This top accolade means 95-100% of the menu is organic.
Why not try making their Butternut Squash, Adlestrop and Cavalo Nero Crumble
Bold enough to be served as a standalone lunch or supper dish, this recipe is also a great accompaniment to roast chicken, pork or lamb. Although we use Butternut in this recipe, it will work beautifully with any variety of sweet autumn squash or pumpkin.
Ingredients
1 butternut squash (1kg) halved and de-seeded
For the crumble
55g oats
25g hazelnuts, roughly chopped
15g pumpin seeds, roughly chopped
Salt and pepper
1 tbsp honey
120g Cavalo Nero leaves
50g Adlestop cheese, crumbled
For the sauce
25g butter
1 onion, finely sliced
1 clove garlic, crushed
2 sprigs thyme, leaves only
1 bay leaf
100ml white wine
250ml vegetable stock
250ml double cream
Squeeze of lemon juice
Salt and pepper
Preheat the over to 200 degrees Centigrade.
Halve the squash lengthways and cut into slices about ½ an inch thick. Toss in a little oil, salt and pepper and roast on a tray for 20-25 minutes until just tender.
Next start to make your sauce. Melt the butter in a small saucepan and add the sliced onion. Cook gently for 2 minutes before adding the crushed garlic, thyme and bay leaf. Sweat gently for a further 10 minutes until the onion is soft and translucent. Pour in the wine and reduce until syrupy. Pour in the stock and reduce by half and then finally pour in the double cream. Simmer for 2-3 minutes to thicken the sauce, stirring to stop the sauce sticking or burning. Season with salt, pepper and a squeeze of lemon juice and set aside.
To make the crumble topping, simply combine the oats, chopped nuts and seeds in a bowl. Add a good pinch of salt and pepper, add the honey and mix together well with your hands.
Bring a pan of salted water to the boil and blanch the cavalo nero. Drain well, squeeze out any excess water and roughly chop. Once the squash is tender, tip it into an ovenproof dish or skillet, along with the chopped cavalo nero, distributing evenly in the dish. Spoon the onion sauce over the squash, stirring a little to cover everything evenly. Scatter over the crumbled Adlestrop cheese, followed by the crumble topping.
Bake at 190 degrees Centigrade for 20 minutes until piping hot and lightly golden brown on top.
Alternatively, dine in: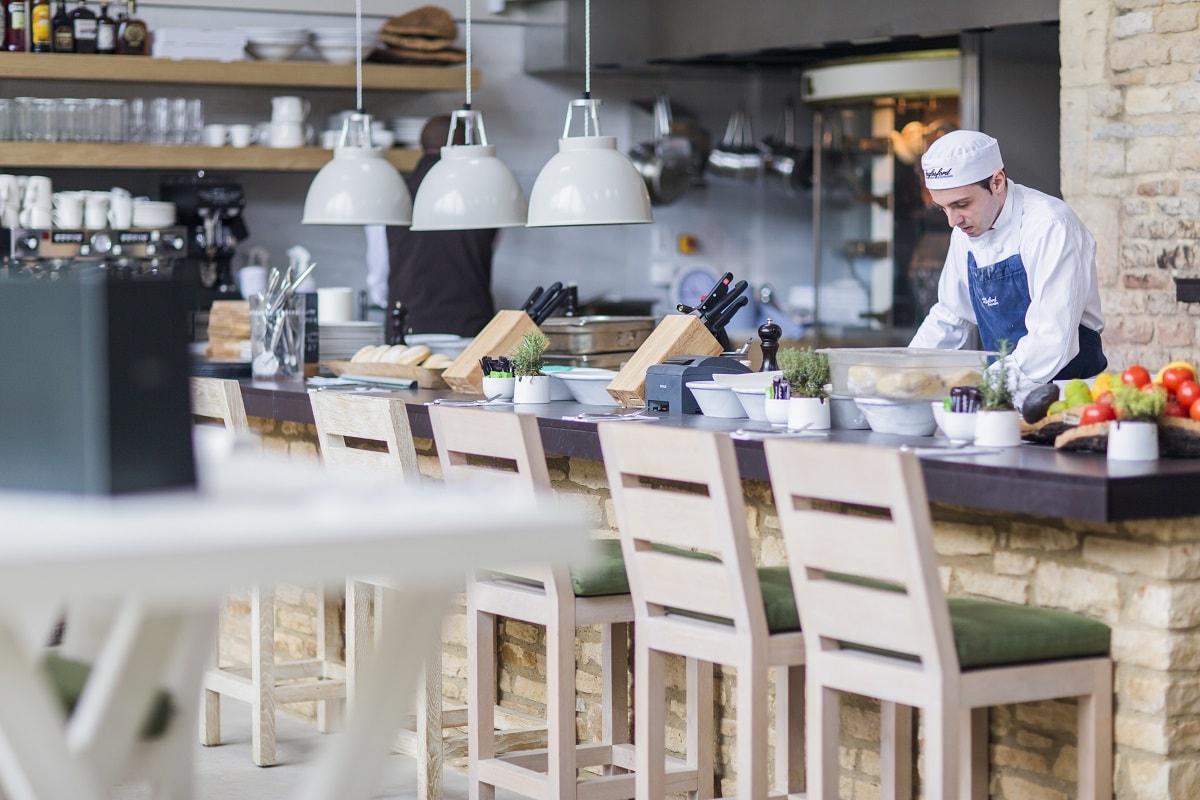 Daylesford Organic Farm, Daylesford, Nr. Kingham, Gloucestershire GL56 0YG
At Daylesford's iconic farm shop it takes full advantage of its location:  Vegetables, fruit and herbs are picked each morning from the market garden and travel a few yards into the shop and to their chefs in their award-winning restaurants. Next door is their dairy and creamery, their farm kitchens and their organic animals, who roam freely on the surrounding organic pastures.
Download the Luxury Restaurant Guide app here FREE to discover all the best restaurants where ever you are.