The Finest London Restaurants in Bloom
Design
,
Events
,
Featured
,
Lifestyle Articles
,
Lists
,
Luxury Restaurant Guide Loves
,
Member offers
,
Miscellaneous
,
News
,
Research
,
Special Report
,
The Best of
16th May 2019
Everywhere is coming up roses…and daisies, delphiniums, foxgloves and lilies. The Luxury Restaurant Guide pays homage to the best London floral restaurant displays this season: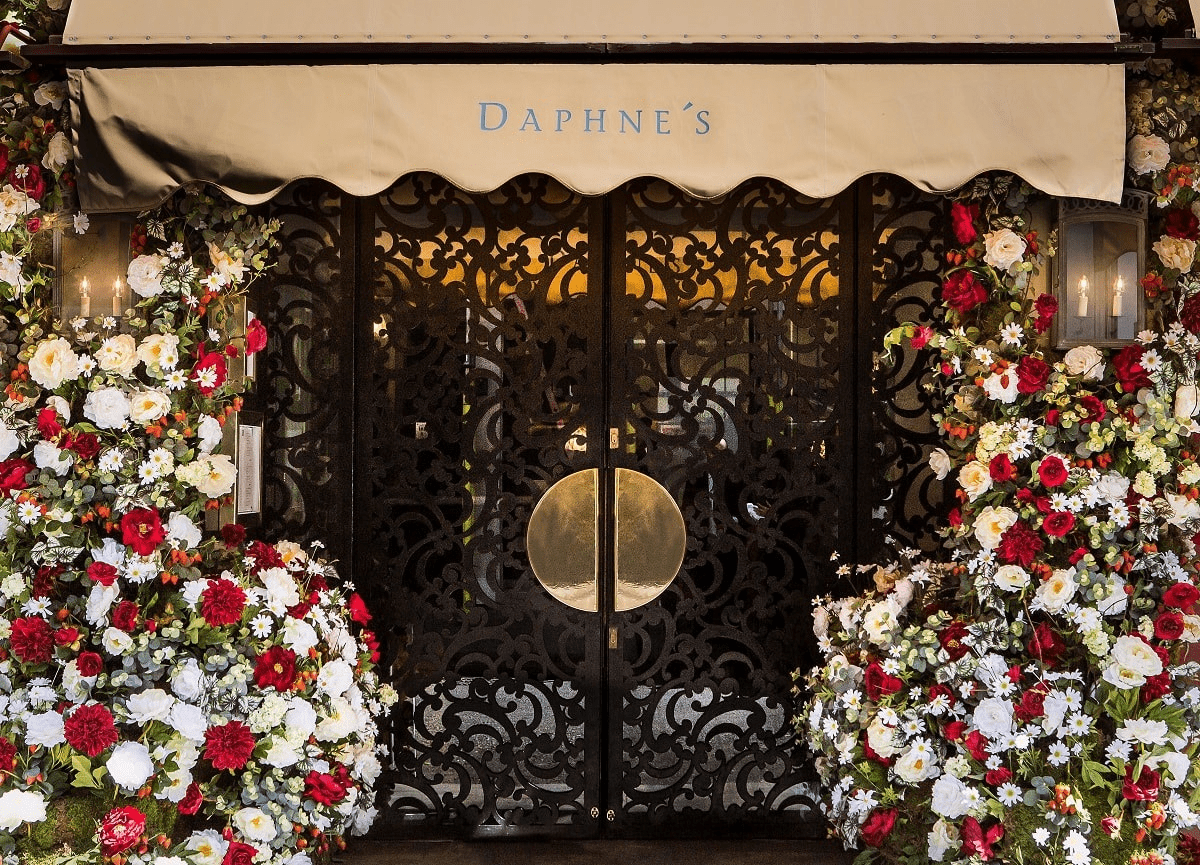 London is in bloom with its various boroughs teaming up with the Royal Horticultural Society to encourage their streets, squares, shops and restaurants to celebrate the season.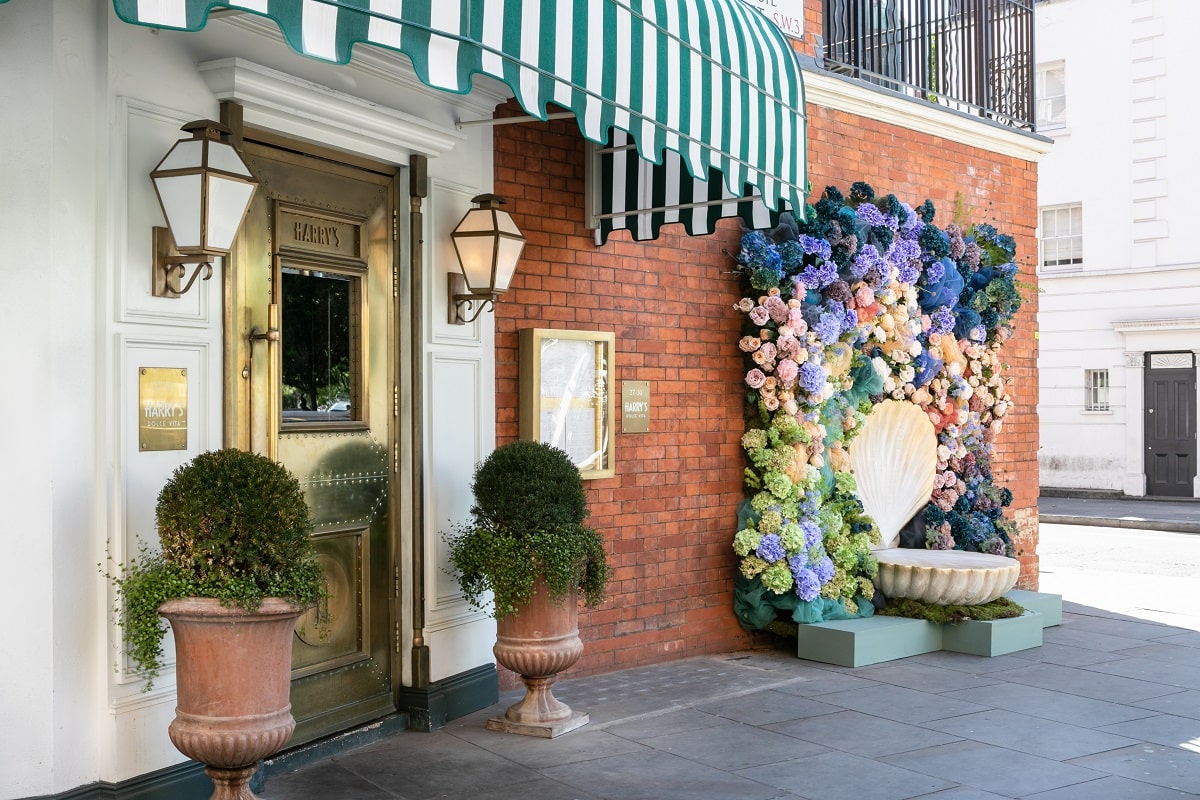 Visitors to London will enjoy magnificent floral art displays of multicoloured exuberance with flowers and foliage cascading across facades and over entrances and windows onto the pavements in various locations across the capital.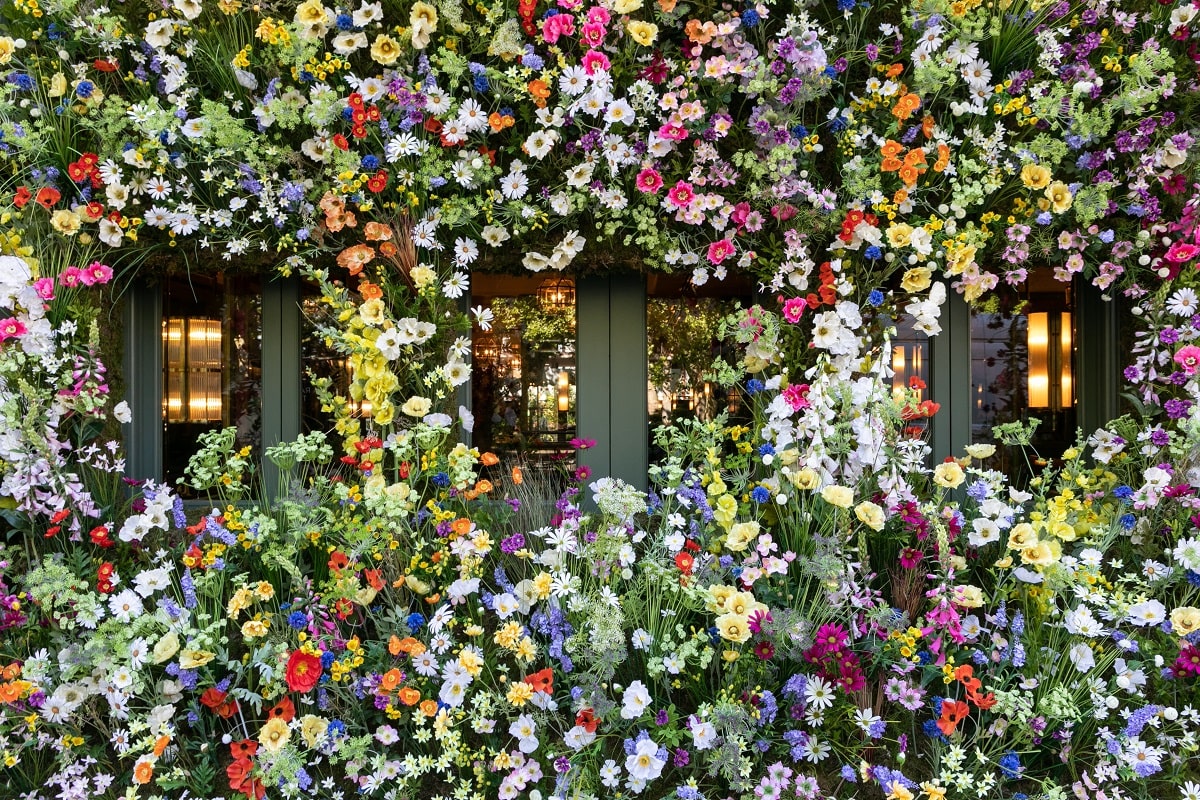 With Chelsea Flower Show set to open Tuesday 21st May to Saturday 25th May 2019, expect beautiful and bonkers displays, especially with 'Chelsea in Bloom' festival, but it is definitely not just limited to this region.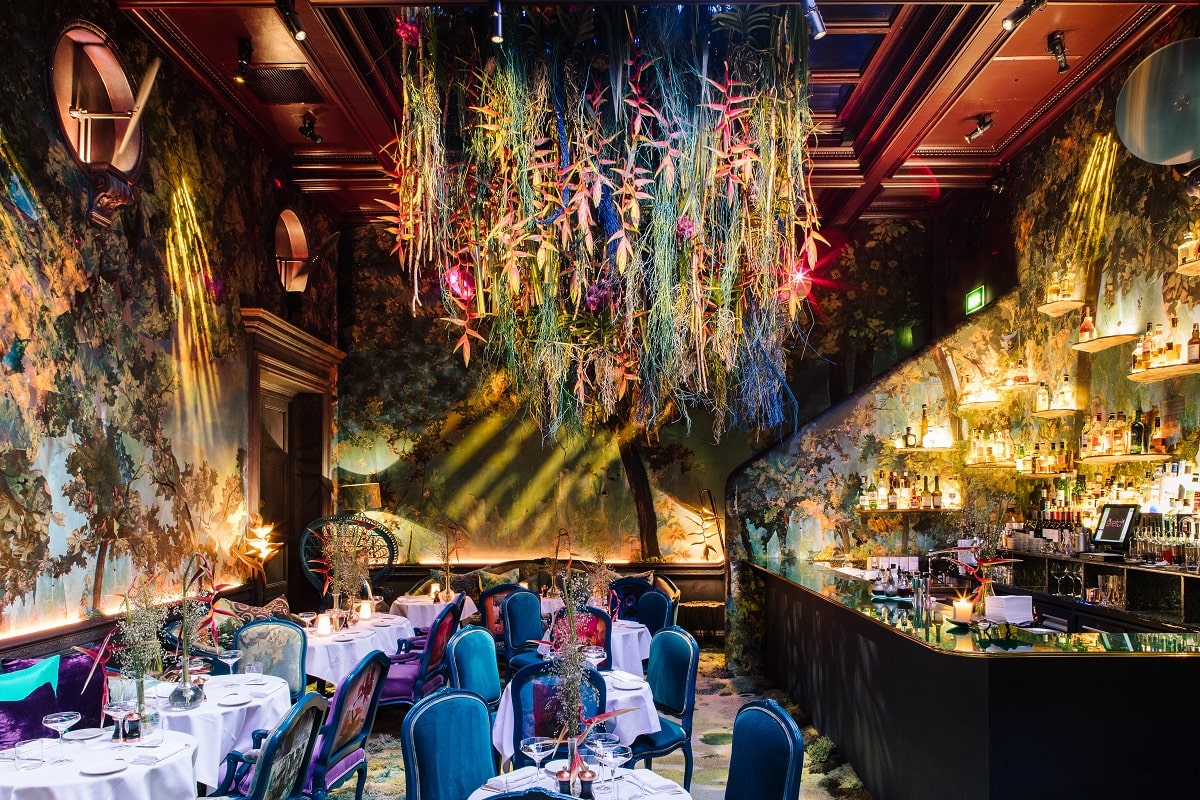 In fact, with such showcases of creativity, colour and even outrageous design, there is perhaps never a better time to dine out, especially at the restaurants who have gone blooming over the top!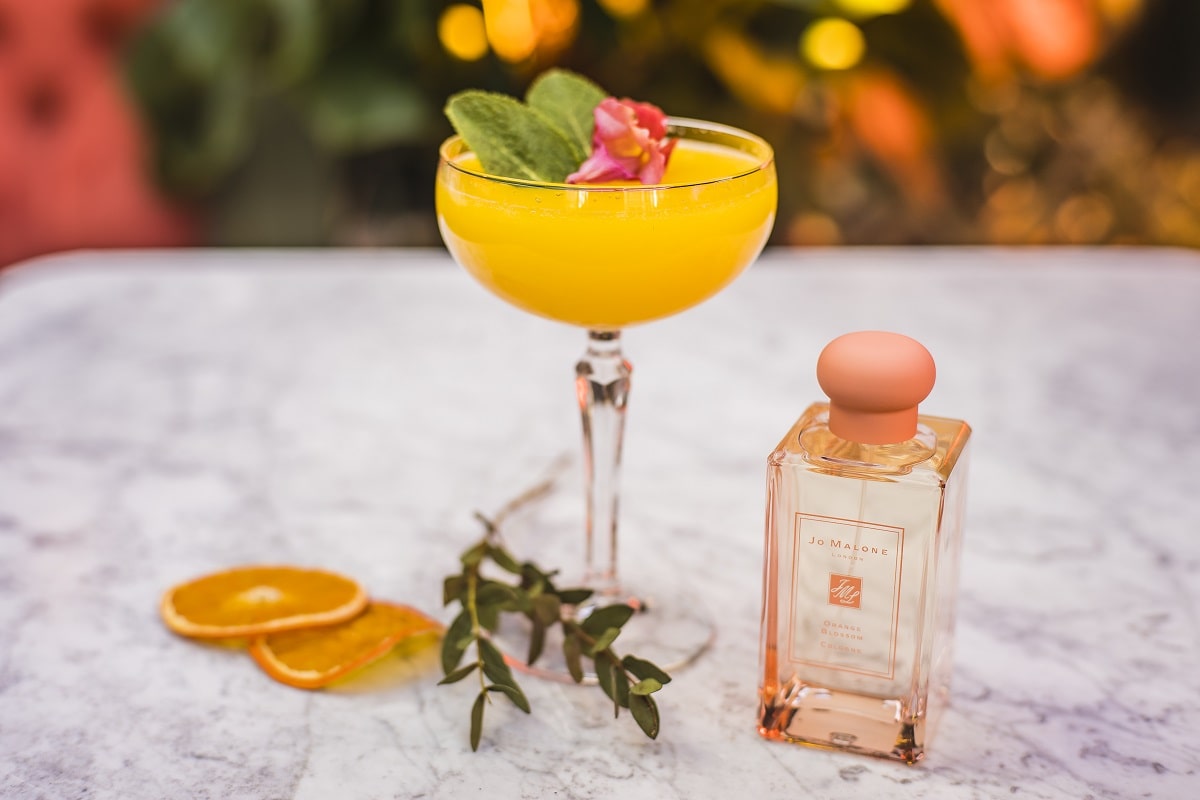 And it's not just the breathtaking installations attracting the passers-by, but bespoke fresh and floral cocktail creations and show-stopping dishes.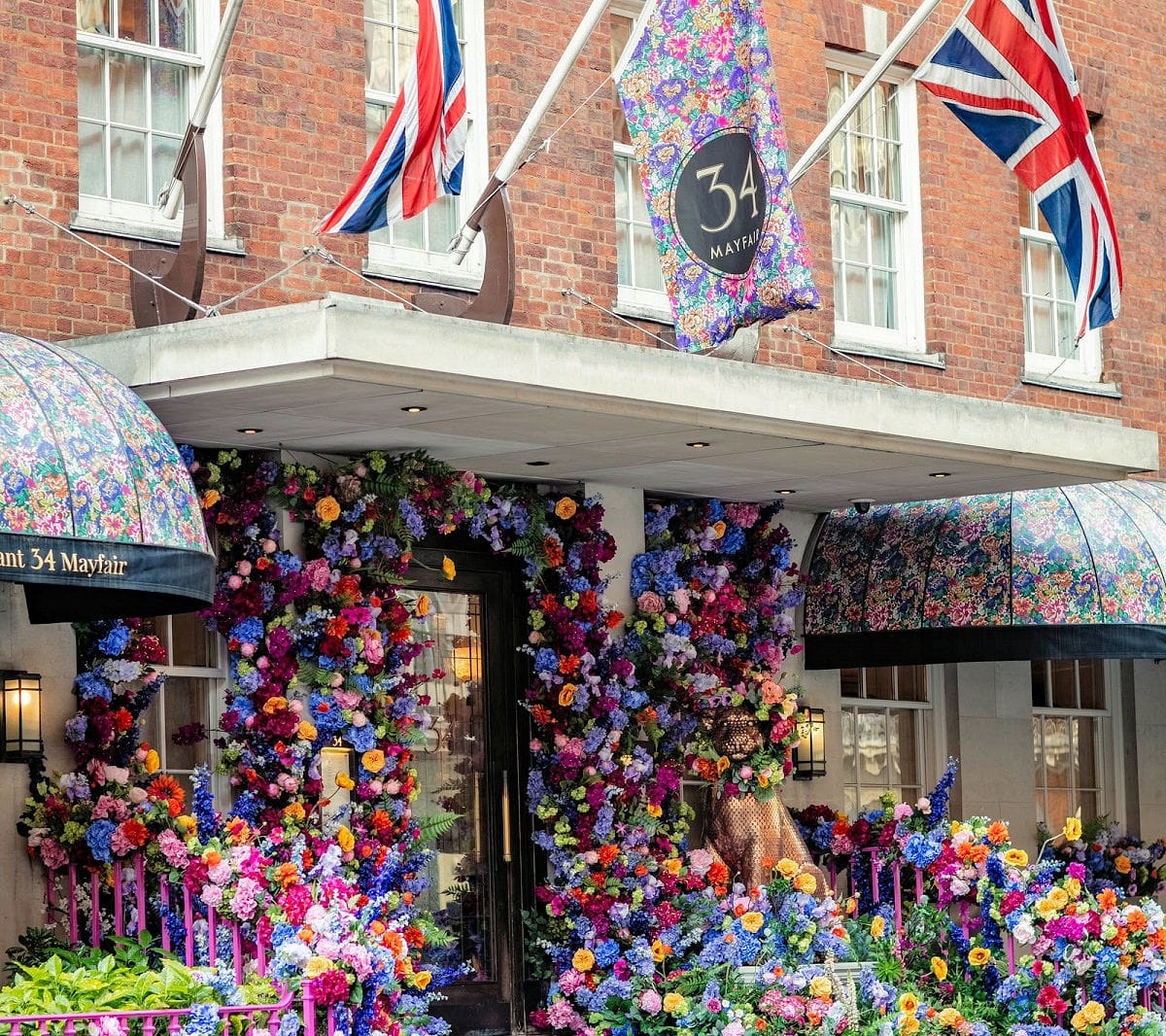 Here are the Luxury Restaurant Guide's highly recommended blooming marvellous restaurants who are brightening up their local neighbourhoods, and some with floral inspired dining offers for you.
Sketch has partnered with Hendricks, Champagne Pommery and St Germain, to transform the entirety of 9 Conduit Street with the artists visions of florists, giving them complete 'carte blanche'. Members and their guests enjoy a complimentary glass of champagne in The Glade when taking breakfast all week, from Friday 17th May to Monday 27th May 2019.
34 Mayfair has collaborated with royal florist, Philippa Craddock to create an abundant display featuring a mixture of window boxes and flowers cascading down the railings, painted pink for the occasion, in vibrant hues of purple, red, pink, blue and orange. Members and their guests enjoy a complimentary glass of Moët et Chandon or Chelsea Flower Show cocktail when enjoying a minimum of two courses, valid during the Chelsea Flower Show from Tuesday 21st May to Saturday 25th May 2019.
11 Cadogan Gardens is going underwater with their floral display. What fun. Check it out from Monday 20th May. Members enjoy 10% reduction from the afternoon tea menu when dining Monday to Thursday.
Together with their hotel, 11 Cadogan Gardens, Hans' Bar & Grill is embracing the underwater theme with an abundant display to the façade and an installation in association with Veuve Clicquot in the bar – all going live on Monday 20th May. We hear jellyfish are involved. Members enjoy 10% reduction off the total food and beverage bill when dining for breakfast, lunch or dinner from Monday to Thursday.
Daphne's have teamed up with lauded china and porcelain company, Wedgewood, to create a stunning installation celebrating its Wild Strawberry design and the Wedgewood Garden at the Chelsea Flower Show. The floral installation is covering Daphne's Draycott Avenue façade and suspended above the bar. It will remain in place throughout the summer months. Members enjoy a complimentary glass of Perrier Jouët Rosé Blason NV Champagne when dining from the Chelsea Flower Show set menu which is served from 12pm to 6pm, from now until Saturday 25th May 2019.
No member offer but The Ivy Chelsea Garden has one of the most spectacularly amazing displays, transforming the façade into a wildflower meadow.
Harry's Dolce Vita, 
27-31, Basil St, Knightsbridge, London SW3 1BB
No member offer but you must go see their beautiful 'Birth of Venus' themed floral installation on its Basil Street façade, as well as a series of limited-edition menu items.
No member offer, however, The Ivy Market Grill has collaborated with neighbouring Jo Malone London in celebration of this year's Covent Garden in Bloom. Taking inspiration from Jo Malone London's new Blossoms Collection, guests of the restaurant will be able to enjoy a beautiful external installation and duo of floral-inspired cocktails from Wednesday 15th May to Wednesday 5th June 2019.
For restaurants or businesses wishing to get involved in gardening and horticulture and show London at it's best, check out www.londoninbloom.co.uk.