Restaurant Openings to look forward to: game changers for Q3 & Q4 2018
This summer and beyond has some of the most hotly anticipated new restaurant and hotel launches. Make a diary note and get yourself wait-listed nearer the opening dates to be one of the first to enjoy. Here's Luxury Restaurant Guide's scene-stealing list for restaurant openings for 3Q and 4Q 2018, and one to look forward to 2019: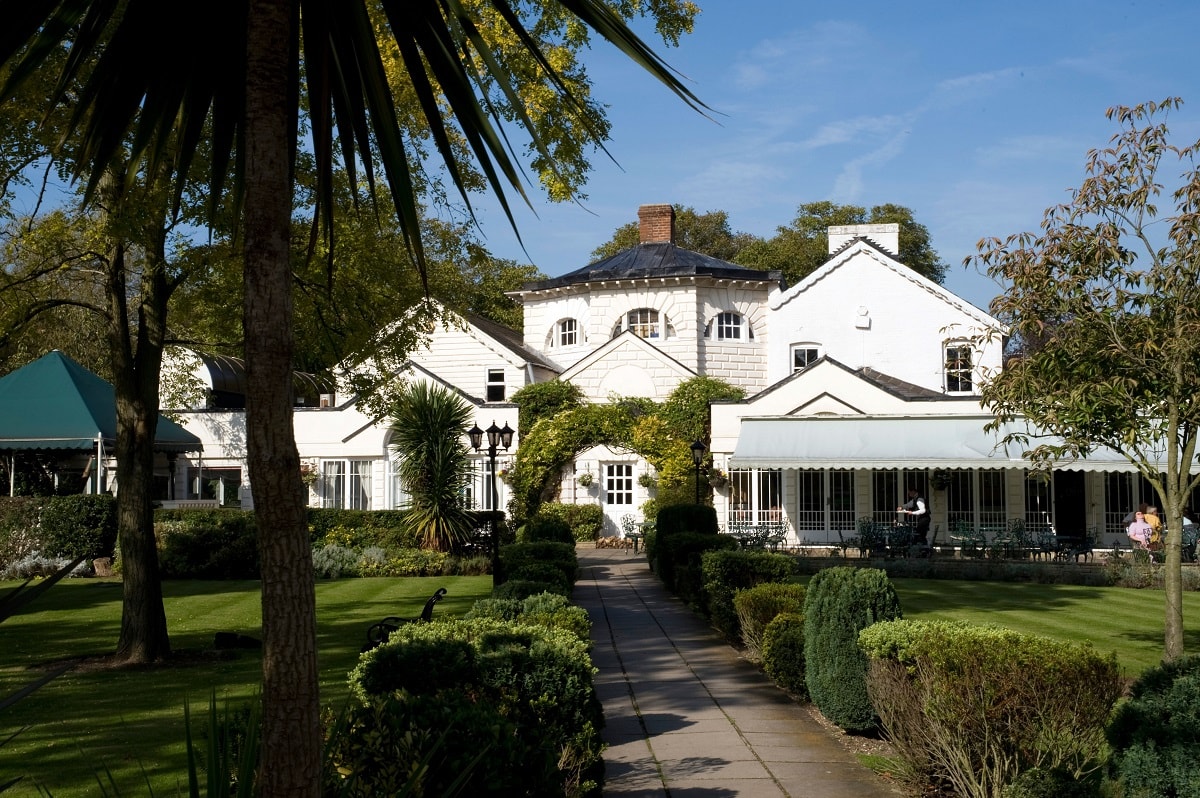 Expected opening date: 23 August 2018
YTL Hotels, known for their prestigious resorts, hotels and boutiques, and spa villages, have taken over the Monkey Island Estate in the historic village of Bray. This intriguing seven acre island, which is only accessible by footbridge or by boat, has been the haunt of monarchs, aristos, celebrities and writers over its 800 year history, and it embarks on a new chapter at the end of August. Closed for the last 2.5 years the extensive refurbishment has been undertaken by award-winning New York-based Champalimaud Design. The hotel will house the Monkey Island Brasserie, serving modern British cuisine and a great addition to the culinary excellence Bray village is known for.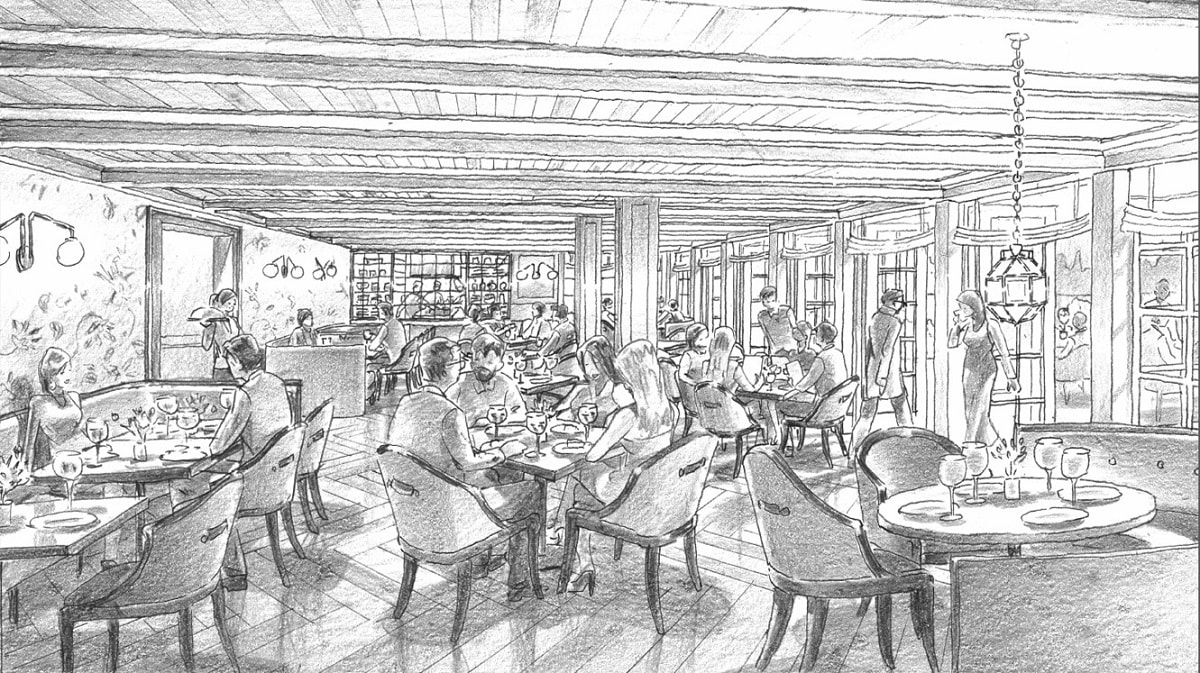 To manage the food operation they have acquired the perfect expertise of William Hemming as Executive Chef, previously Head Chef of Simpson's on the Strand. There will also be a Monkey Bar and Lounge, as well as a 'floating spa' on a barge in the River Thames. The restaurant booking lines will not be open until the day before opening so be prepared although we suspect walk-ins on the day will be fine.
____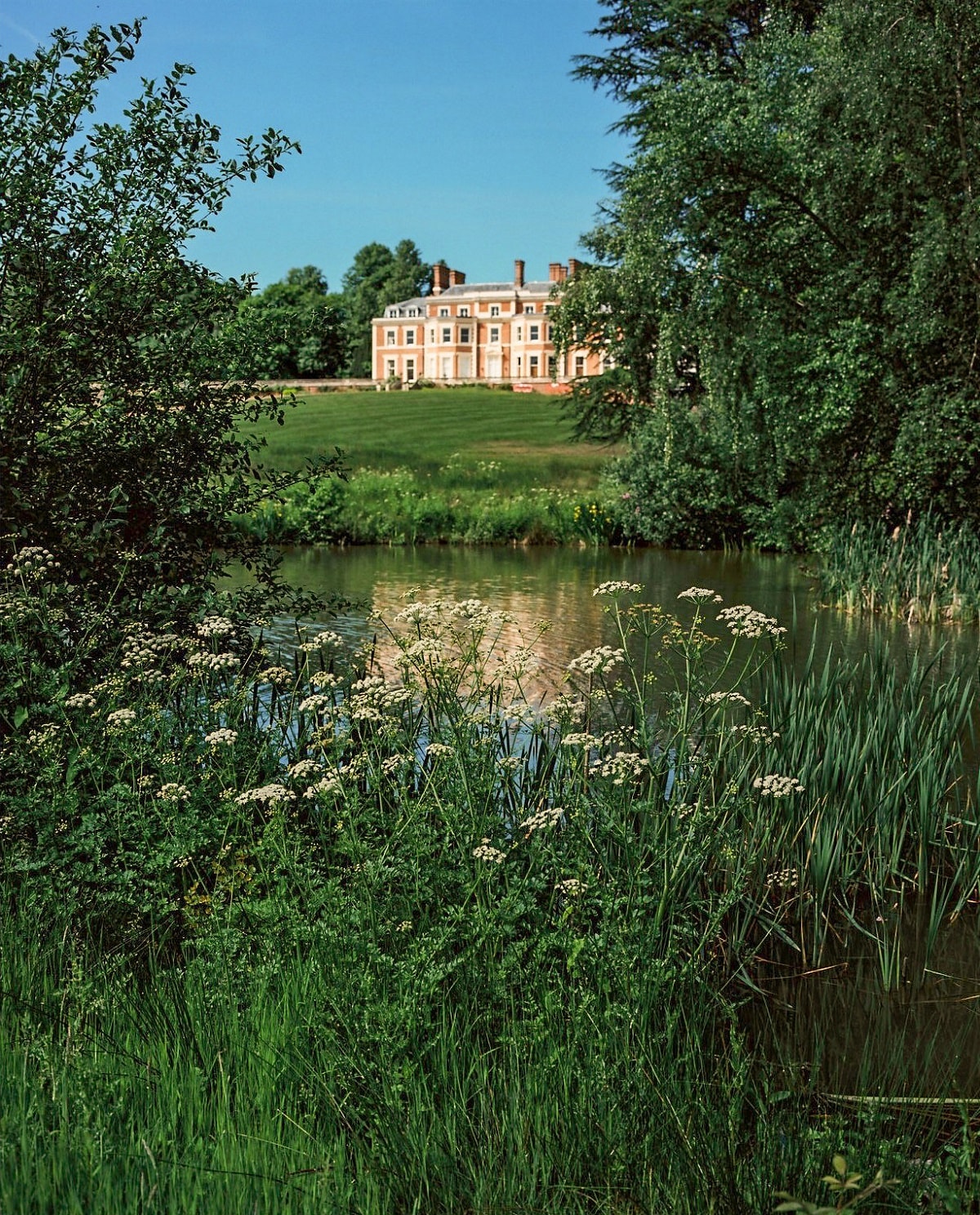 Expected opening date: 01 September 2018
It's six years after the expected original opening date of April 2012, so naturally there is huge anticipation surrounding the chic luxury country house hotel near Hook in Hampshire, originally heralded to be 'world-beating'. This beautiful Georgian family home is being lovingly restored to its historic origins with the house, gardens and Home Farm being carefully pieced back together. Lucky then that it is owned by billionaire Gerald Chan with a fastidious eye for detail.
It sits in a stunning 400-acre estate, where the design supports it being "a living place, resolutely natural and centred on sustainability and onward thinking". It follows quite naturally then that Skye Gyngell, of Spring and Petersham Nurseries acclaim, is the Culinary Director.  There will be two restaurants, Marle and Hearth. Marle will offer the best tasting food which is locally and bio-dynamically grown, using a pared back style of cooking which allows diners to experience the excitement and immediacy of food served straight from the earth. Hearth is centred around an open fire and focuses on classic cooking methods, again locally sourced. There is also the Moon Bar.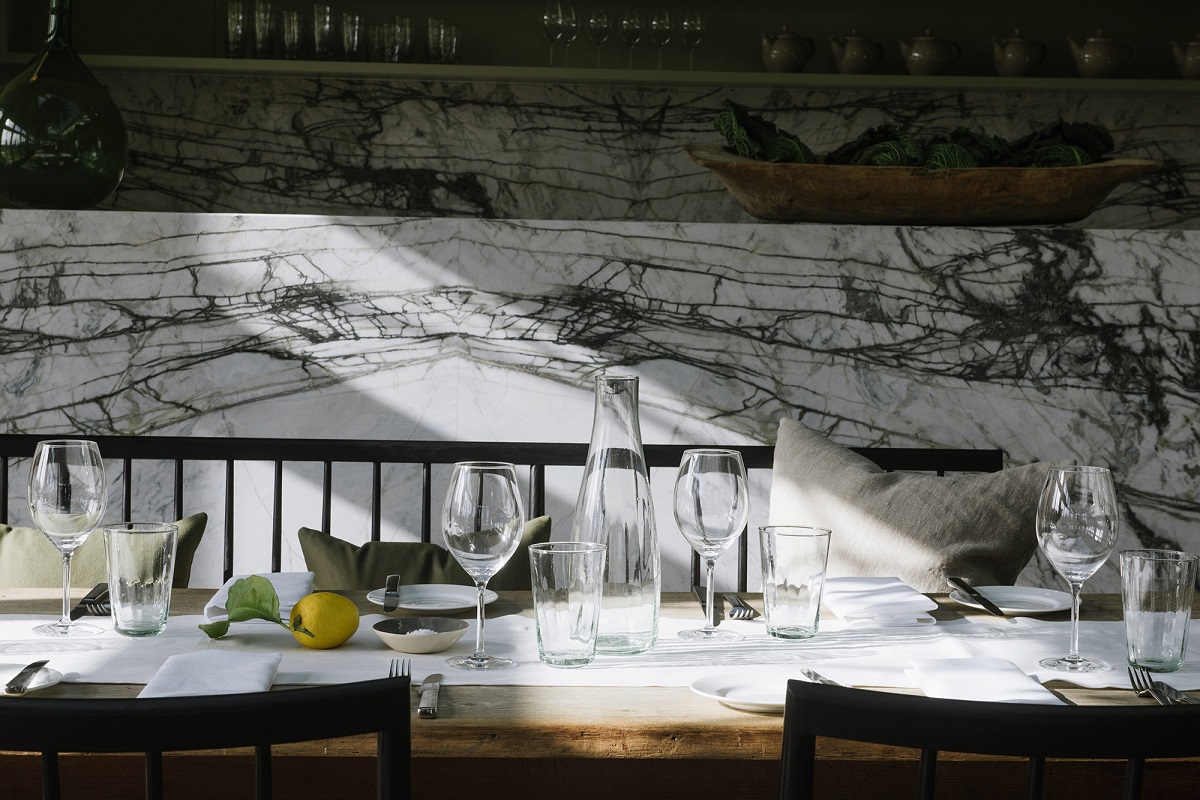 The Heckfield Place design brief has been led by Ben Thompson who honours the House's roots while introducing updates that lend an inviting, organic and elegantly contemporary feel.  Aside from the two restaurants, it will offer 45 bedrooms, a spa – The Little Bothy, and a myriad of outdoor pursuits.
Booking lines for the restaurant are not officially open yet but add yourself to the wait-list on +44 (0) 118 932 6868
_____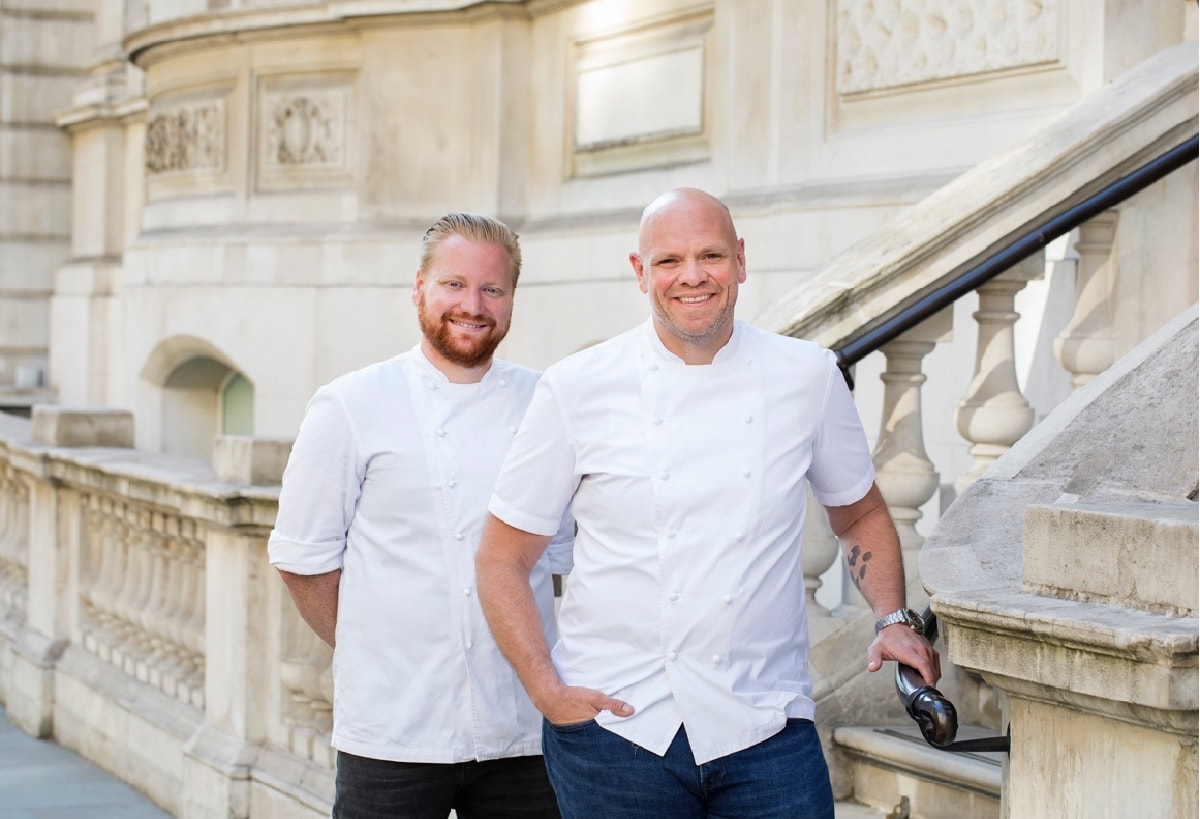 Expected opening date: September 2018
Tom Kerridge's much awaited first London restaurant, Kerridge's Bar & Grill will be opening at the Corinthia Hotel London. Tom, who has the two Michelin-starred Hand and Flowers and one Michelin star The Coach, both in Marlow, will be taking over what was Massimo restaurant on the ground floor, and it will also benefit from having its own entrance off Northumberland Avenue.  We can't show any interiors yet but expect this to be uber-chic as they've retained the services of market leading interior designers, David Collins Studio. The grand, high-ceilinged restaurant space will seat 90 covers and be furnished with a mixture of leather upholstered dining chairs and deep button-backed banquettes with a dark green and burgundy colour palette. Within the main restaurant space there will be a striking rotisserie bar which will roast large joints of meat, fish and some root vegetables in front of diners. Inspired by the menu at The Coach in Marlow, the rotisserie will have a daily changing dish on the menu. Veggies beware, some of the walls of the main restaurant will feature fridges showcasing hanging meat supplied by Tom's own butchers, The Butcher's Tap in Marlow. The room will be decorated with an assortment of beautiful and personally selected art work, to be revealed at a later date.
The bar area will be divided from the dining room by a partition of antique mirror panels – very much a destination in itself. There will be seating in the form of curved banquettes and large lounge seats finished in burgundy leather, as well as the option of taking a selection of high stools at the marble bar. The bar will serve cocktails along with an extensive list of English wines, Champagnes and of course ales and lagers on tap, which will be visible in a bespoke glass cellar as you enter the restaurant. There will also be a menu of diverse and interesting bar snacks.
_____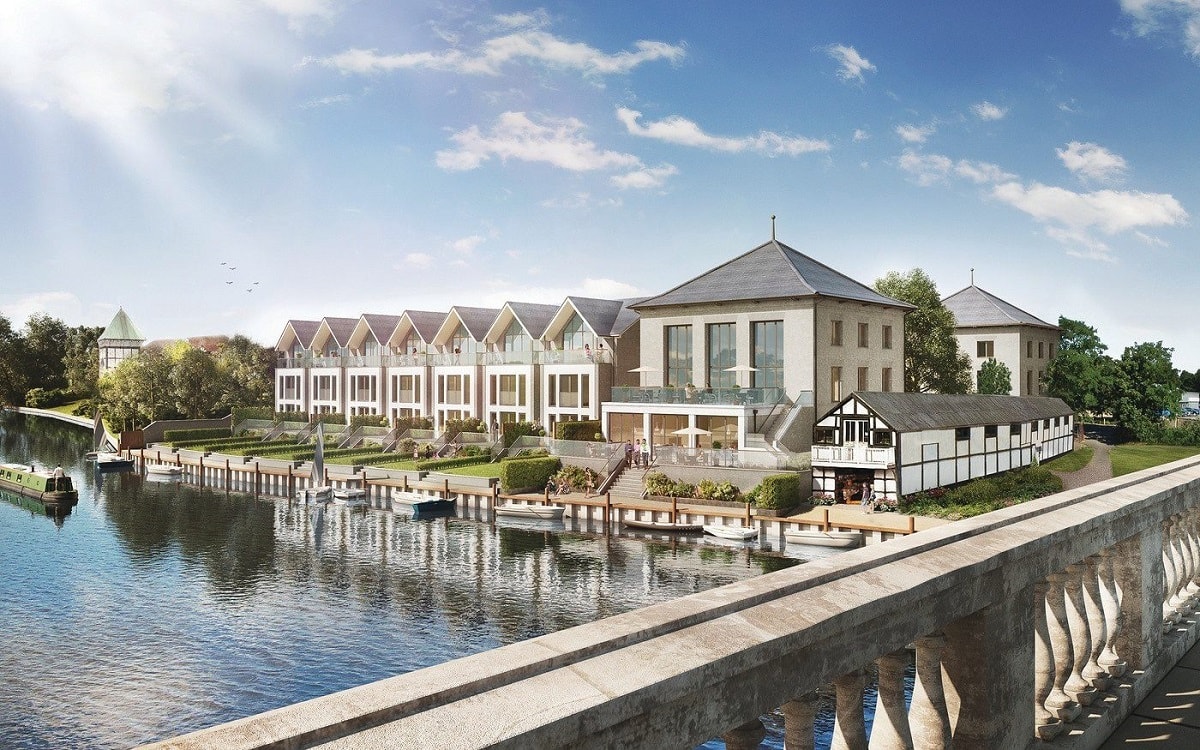 Expected opening date: mid September to early October 2018
We are so excited to hear of another restaurant concept coming from the three Michelin- starred Waterside Inn. Just up the road, on the site of the iconic Skindles Hotel overlooking the Thames by Maidenhead bridge, will be the all new Roux at Skindles. Brought to you by Michel and son, Alain Roux, it will be a French inspired, friendly local hub, where everybody is welcome. It will feature an all-day menu across the brasserie and cocktail bar with an intimate private dining option.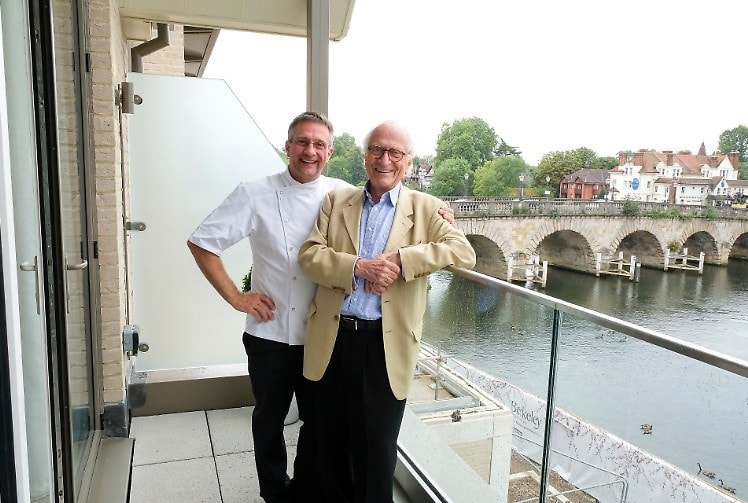 The classic modern French brasserie menu ranges from breakfast through to lunch and dinner including sharing plates at the bar, sandwiches and afternoon tea. Whether you just fancy coffee, to share drinks, a casual bite with friends and colleagues, linger over a meal, host a wedding, party or business meeting, Roux at Skindles could be just the right treat.
_____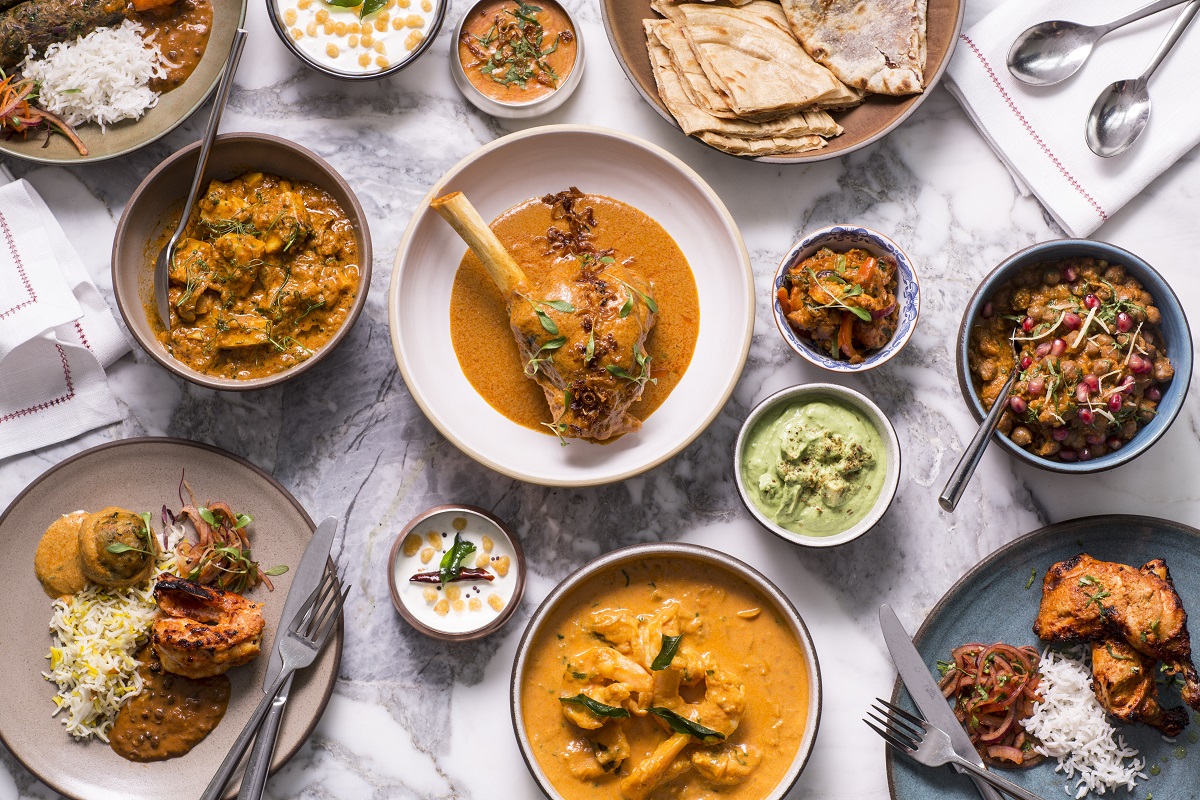 Expected re-opening date: October 2018
It's a change of guard at Tamarind as they appoint highly esteemed Chefs Karunesh Khanna and Manav Talli, Executive Chef from the Michelin-starred Amaya and Head Chef of Chutney Mary respectively, to lead the much-anticipated re-opening of Tamarind, after extensive refurbishment.
The vision is to redefine the existing perception of Indian cuisine and bring a new dimension. For lunch the menu will focus on light, sharing dishes with thoughtful use of subtle and delicate flavours. They will be using the finest ingredients such as Scottish Orkney Scallops, Native Oysters, Chilean Sea Bass and Madagascan Prawns, every element of the menu meticulously sourced. Tamarind Collection have also enlisted highly respected Sagrada, of Arts' Club fame, to lead the interior design.
_____
Caractère by Emily Roux, 209 Westbourne Park Road, Notting Hill, London W11 1EA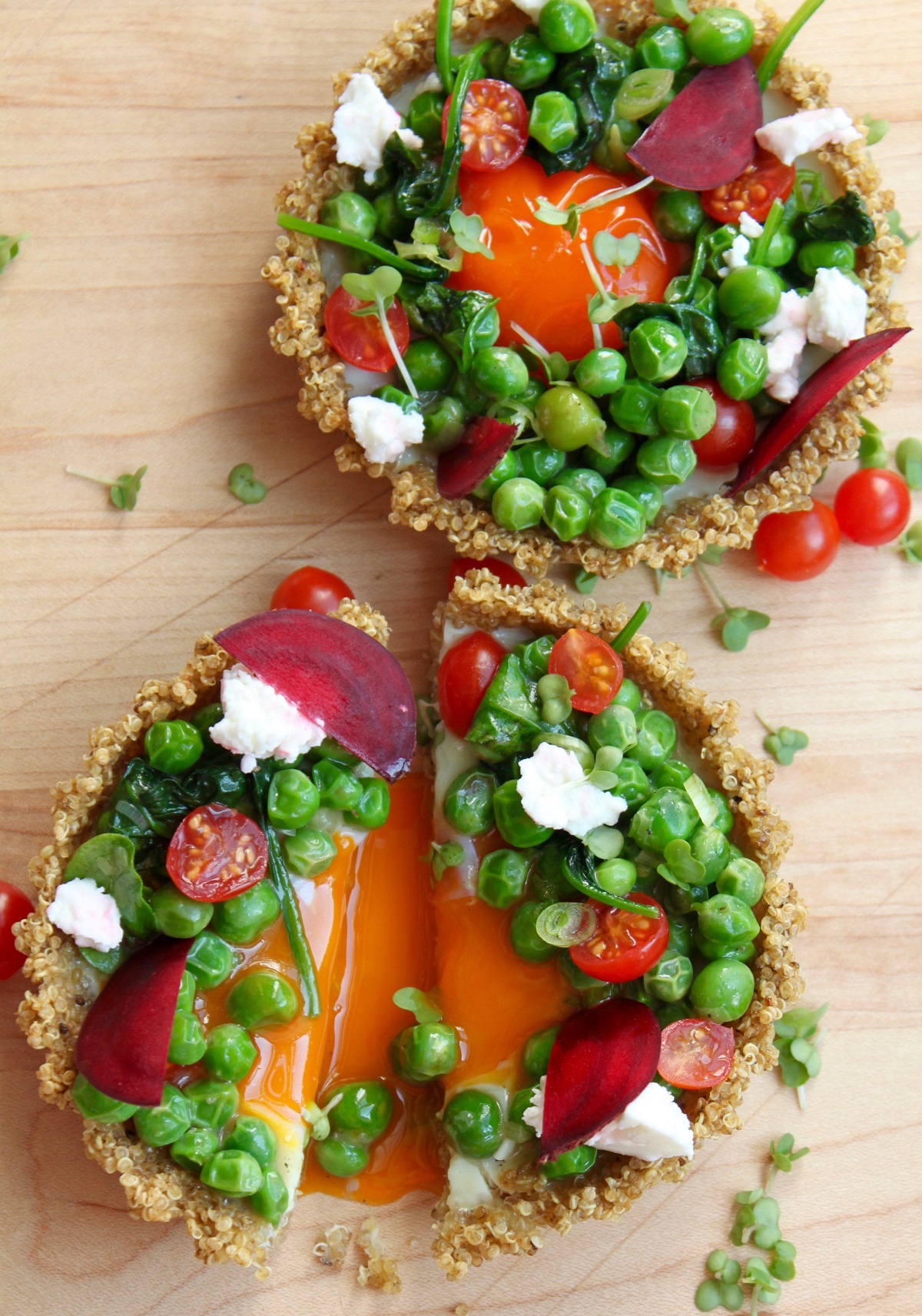 Expected opening date: October 2018
Emily Roux of the UK's most influential and respected restaurant dynasty, and her husband Chef Diego Ferrari, currently head chef at Le Gavroche, will open their first restaurant together in Notting Hill. Called Caractère, the restaurant name is a play on both chefs' unique and strong characters, their family influences, and their cooking and eating experiences, which will be reflected both in the menu and the décor. The food will focus on simple and delicious French and Italian dishes, stemming from both chefs' heritage and expertise.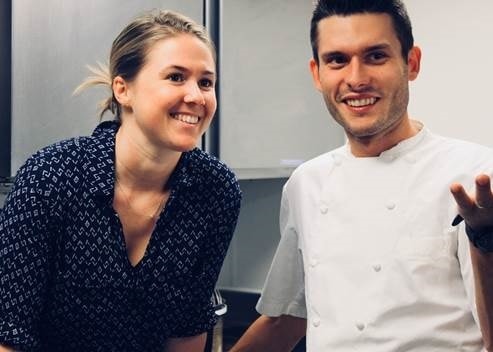 "My background and my training is of course Classic French fine dining, but I've always been so in love with Italian food. Then I found love with Italian-born Diego when we were both working in Monaco at Alain Ducasse's three Michelin starred restaurant, Le Louis XV. Since we've been together, he has taught me so much about Italian food. Our new restaurant brings together our story, and our menu will always be a reflection of the food we love to cook and love to eat," says Emily Roux.
Each season the menu will change, and diners will also have the opportunity choose from the daily specials. The wine list will offer both French and Italian wines, and will predominantly feature smaller winemakers.
"We are incredibly excited about opening our first restaurant together. Caractère is the manifestation of everything we love, and we cannot wait to share it." – Diego Ferrari
_____
Kym's by Andrew Wong, Bloomberg Arcade, London EC4N 8AR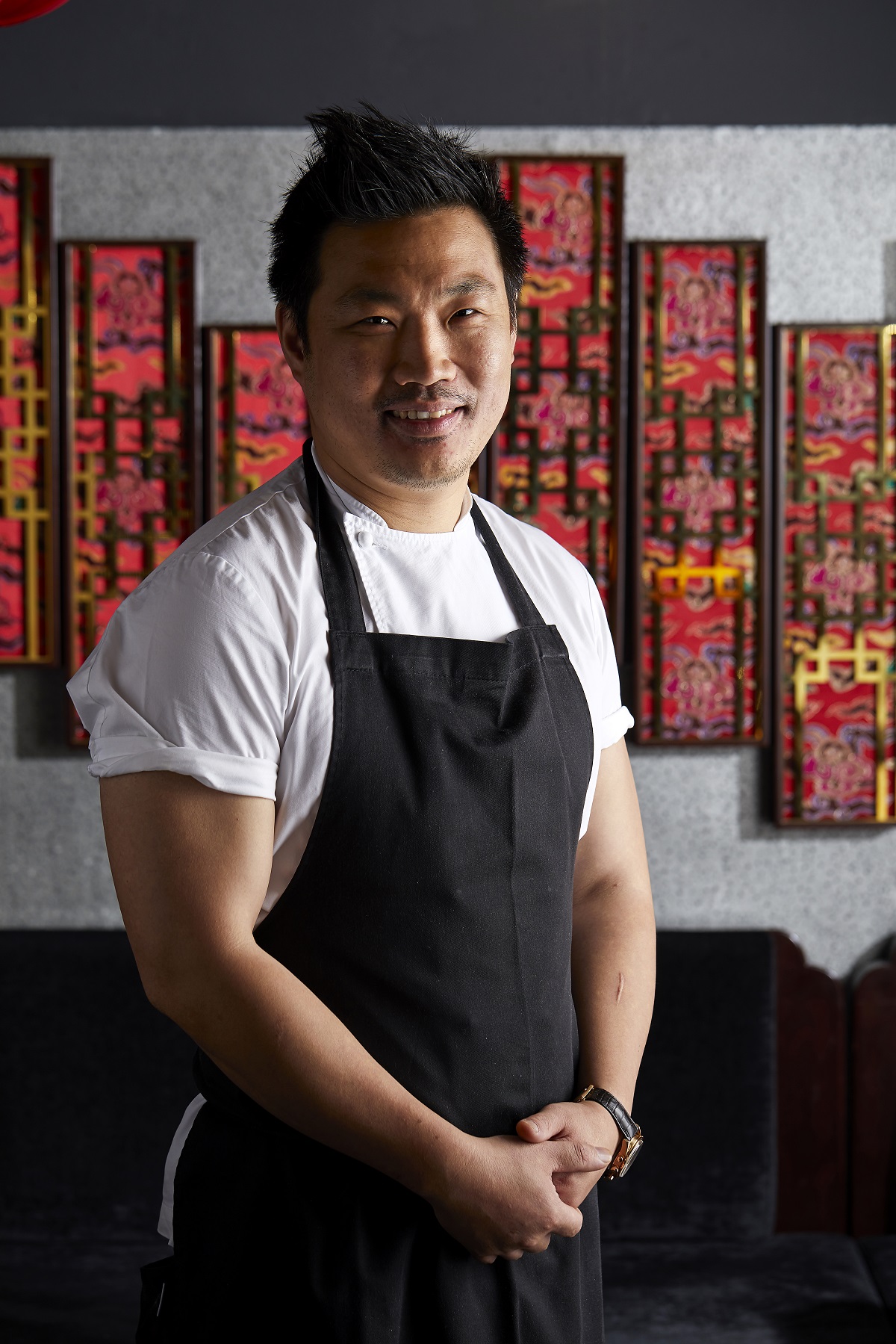 Expected opening early September 2018
Chef Andrew Wong's latest restaurant Kym's is set to open its doors September 2018, with date to be confirmed. It will be located in the Bloomberg Arcade, at Bloomberg's new European headquarters in the City of London, and will offer a modern premium casual Chinese restaurant with a relaxed and comfortable interior. He's named the restaurant after his parents' restaurant from 1965 in Victoria and where Andrew spent his childhood, so the restaurant itself feels deeply personal. That same restaurant is now the site of A.Wong, his eponymous restaurant which he has since been awarded with a Michelin star.
Kym's menus will feature a selection of small bites such as Yunnanese lemongrass salad, peanuts, lettuce, chilli, lime, sharing platters of Crispy duck, pancakes, plum sauce and classics such as Slow poached soy chicken, ginger relish, rice. Desserts too will feature such as 'Chinatown' pineapple bun with custard. Perfect for the city workers, it will also offer a smaller 'grab and go' menu during lunch service. The restaurant will be over two levels, seat 120, and have access from street level via a statement circular entrance bar that will accommodate up to 30 guests. Interiors have been created by Michaelis Boyd, featuring a soft colour palette of pale pinks and greens, with accents of copper, deep blue and plum and a mix of dark wood and terrazzo flooring.  The restaurant will be open Monday to Saturday lunch from 12 noon to 3pm and 5pm to 11pm for dinner, and a Sunday Roast Menu from 12 noon to 9pm.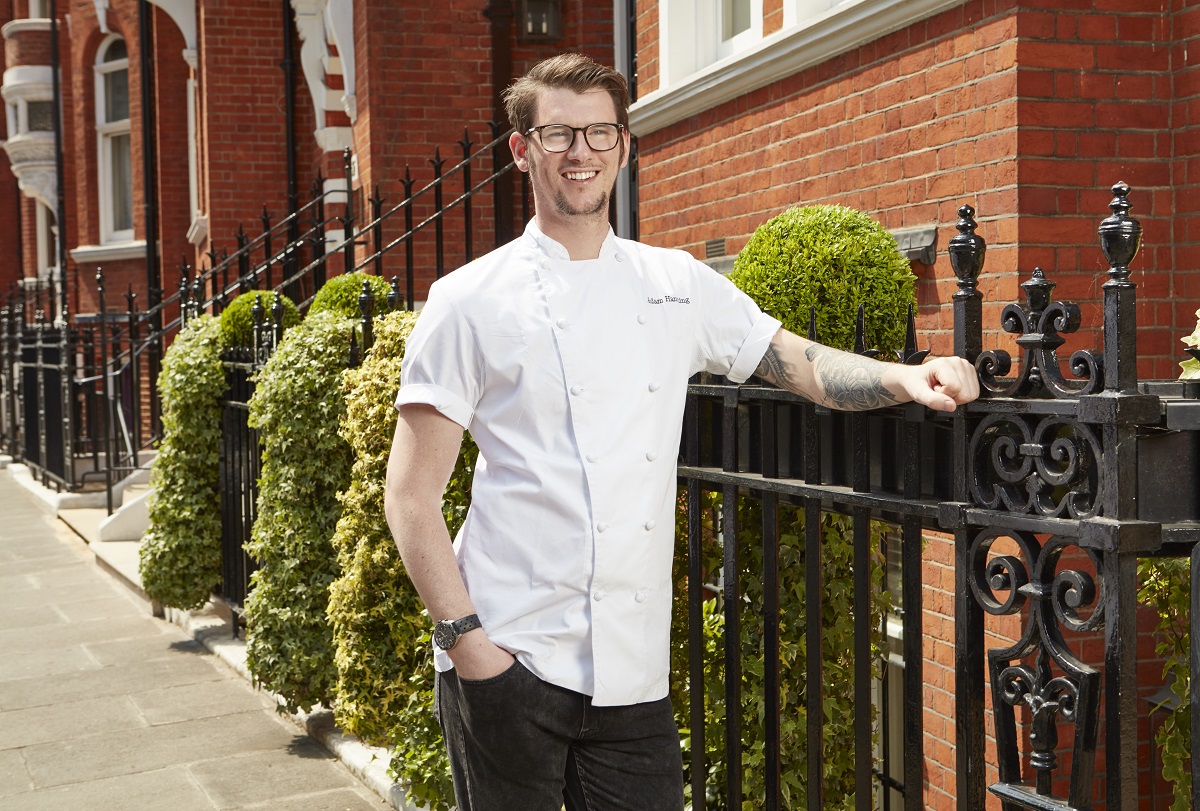 Expected opening: Winter 2018
We look forward to seeing the transformation of one of our favourite boutique London hotels, The Cadogan, as it becomes the Belmond Cadogan Hotel. This will be the Belmond group's trophy London landmark which also counts Belmond Le Manoir aux Quat'Saisons as its other UK property, outside of its luxury train interest. The Cadogan Hotel closed way back in July 2014 for a reported USD 48 million investment project, to undertake a complete refurbishment of the public areas and reduce the rooms from 64 to 54 to ensure they excel for luxury travellers.
They've opted for young emerging top talent in appointing Adam Handling as Executive Chef, chosen for his incredible passion for curating the ultimate fine dining experience. Adam uses his great energy and passion in producing traditional British cuisine with a modern twist, and places sustainability and zero waste at the core of his philosophy. Adam will continue to operate the Adam Handling restaurant group alongside the hotel with his team; this includes The Frog in Shoreditch and Frog by Adam Handling in Covent Garden.
_____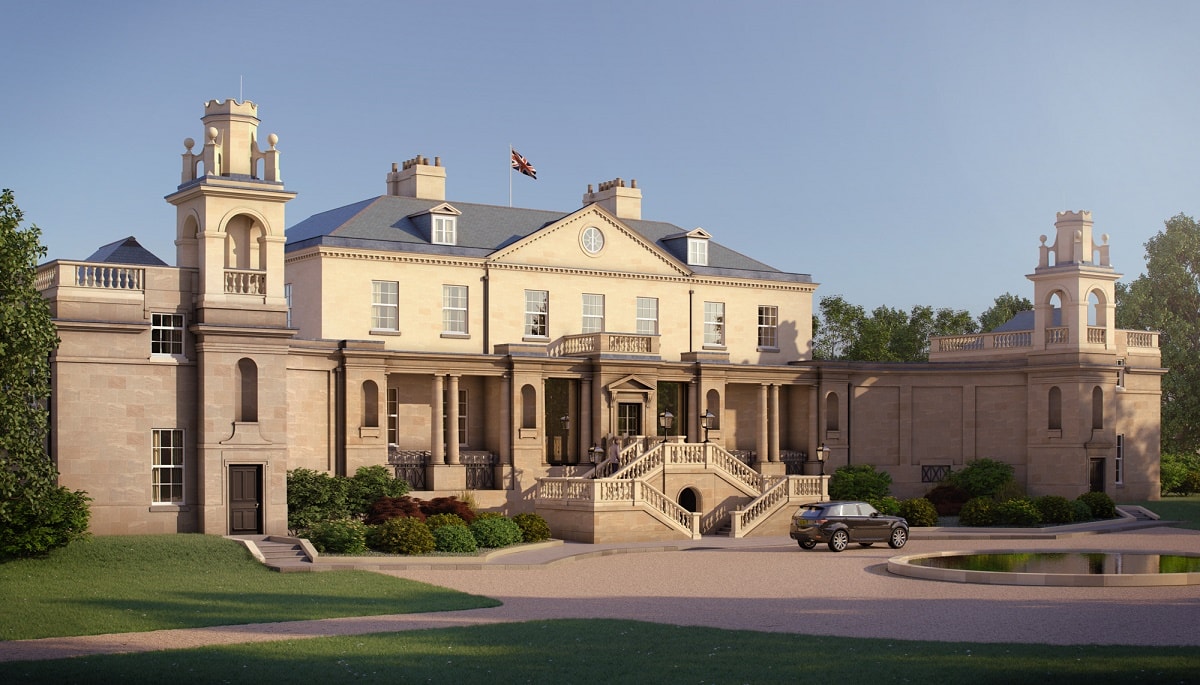 Expected opening date: Winter 2018 (update due in August for actual date)
The former country estate of the third Duke of Marlborough, The Langley is set to open soon as a luxury hotel and spa, set in the heart of the Buckinghamshire countryside. Sitting in a former royal hunting ground and with landscaping originally designed by England's greatest gardener, Lancelot 'Capability' Brown, the setting of this grand country manor amidst acres of formal gardens and parklands, including an English Heritage listed Lebanon cedar tree, offers a great escape, yet close to London and near to Pinewood Studios.
The hotel have yet to release details of their restaurant and its chef, but we can tell you it will be modern European, seasonal with contemporary British touches. We have been lucky enough to have a sneak preview of the site and where the restaurant is to be located, and the room, windows and views are stunning with a substantial terrace. The hotel will also have a selection of 41 exquisite rooms and suites, designed by Dennis Irvine Studio, which are very sophisticated and refined and divided between the main house and a Grade II listed 18th century outbuilding. We hear there will also be an intimate bar specialising in the finest cognac and cigars, and The Langley Spa, a world-class wellness centre will feature an indoor and outdoor pool, thermal area, five expansive treatment rooms, and a specially designed fitness suite by leading personal trainer and author, Matt Roberts.
_____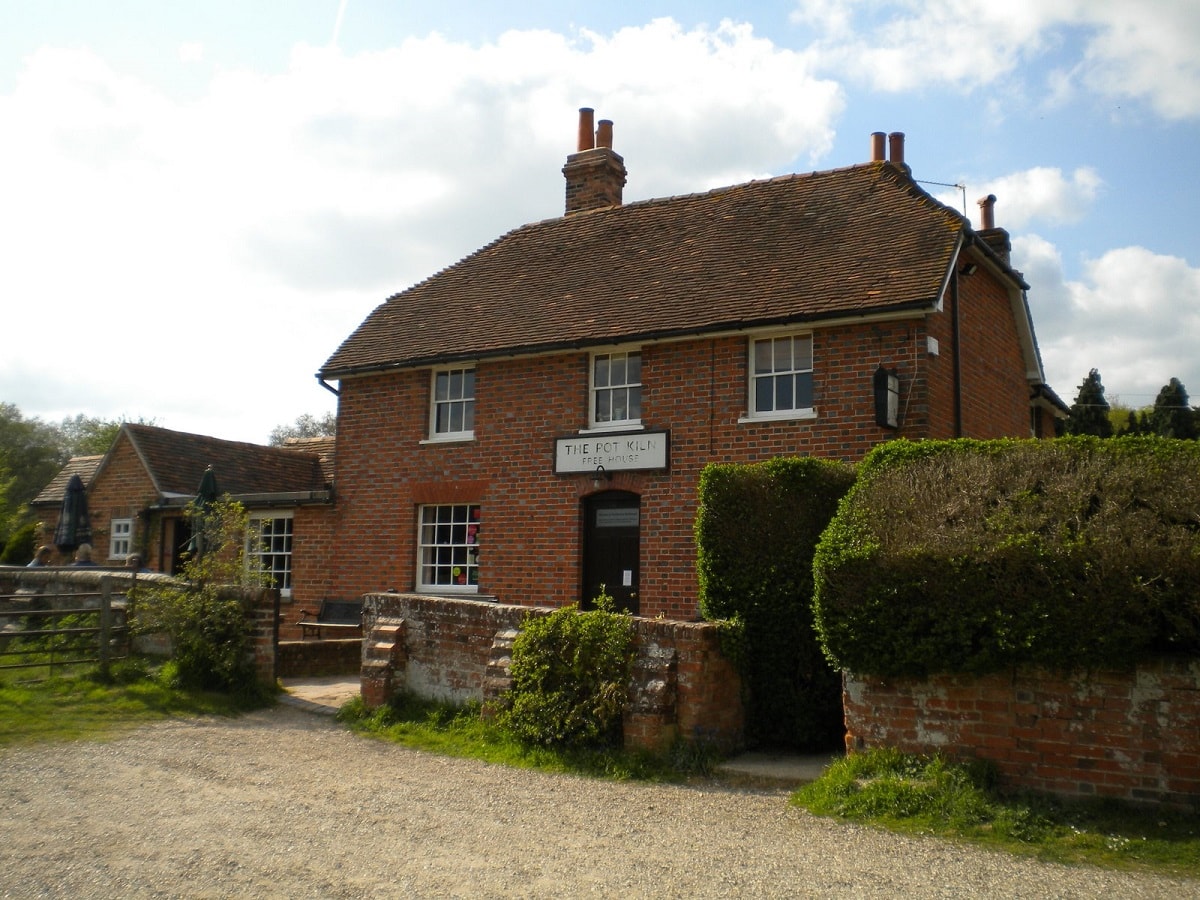 Expected re-opening date: TBA
The much loved Pot Kiln is about to undergo a major development to its 400 year old site – billed as "a 'rural chic' and 'public' Country Club of culinary and cultural distinction for Wild Food, Craft Beverages, Rural Activity Courses, Live Entertainment and the Visual Arts."
It's been a long time in the planning stages to perfect, probably due to it sitting in a beautiful conservation area within the 9,000 acre Yattendon Estate. The plans include adding 10 guest rooms, increased dining by 20 covers, new kitchens and landscaping for rustic weddings. Big news is that TV favourite, French chef Daniel Galmiche will be joining for the re-launch to evolve the dining. Daniel has a long history of Michelin starred establishments under his belt, including Cliveden, Knockinaam Lodge, L'Ortolan and Harveys Bristol Restaurant. The Pot Kiln, as it stands today, is still open (prior to works) but expected to close late August or September. At time of going to print we did not have the re-launch date – we will update as soon as we do.
_____
Discover the finest restaurants and enjoy exclusive insights and savings with The Luxury Restaurant Guide's APP. Download for FREE here.