In A World Of Their Own – The Best Private Dining Spaces For All Occasions
Dining à deux may be wonderful, but if you hanker for more social interaction then a bubble-party may be for you – plainly speaking, a private dining affair. There are some great hidden private sanctuaries for entertaining within restaurants and hotels, most you would never see unless you have used them. Here are Luxury Restaurant Guide's 15 recommended locations for extra special private dining:
We'll let Gordon explain from his Instagram this week:
But, we'll say…York & Albany has three lovely dining rooms for families, friends and small groups to enjoy lunch and dinner in their own cosy room, complete with private bathroom facilities etc. Rooms are: Open Air, Regent's Park or The Regency Room – seating from 2 up to 6, 8 and 24 guests respectively. Each room is designed to be a home from home, enabling you to relax and enjoy a meal in the comfort of your space. Food is as per the a la carte menus on Y&A site.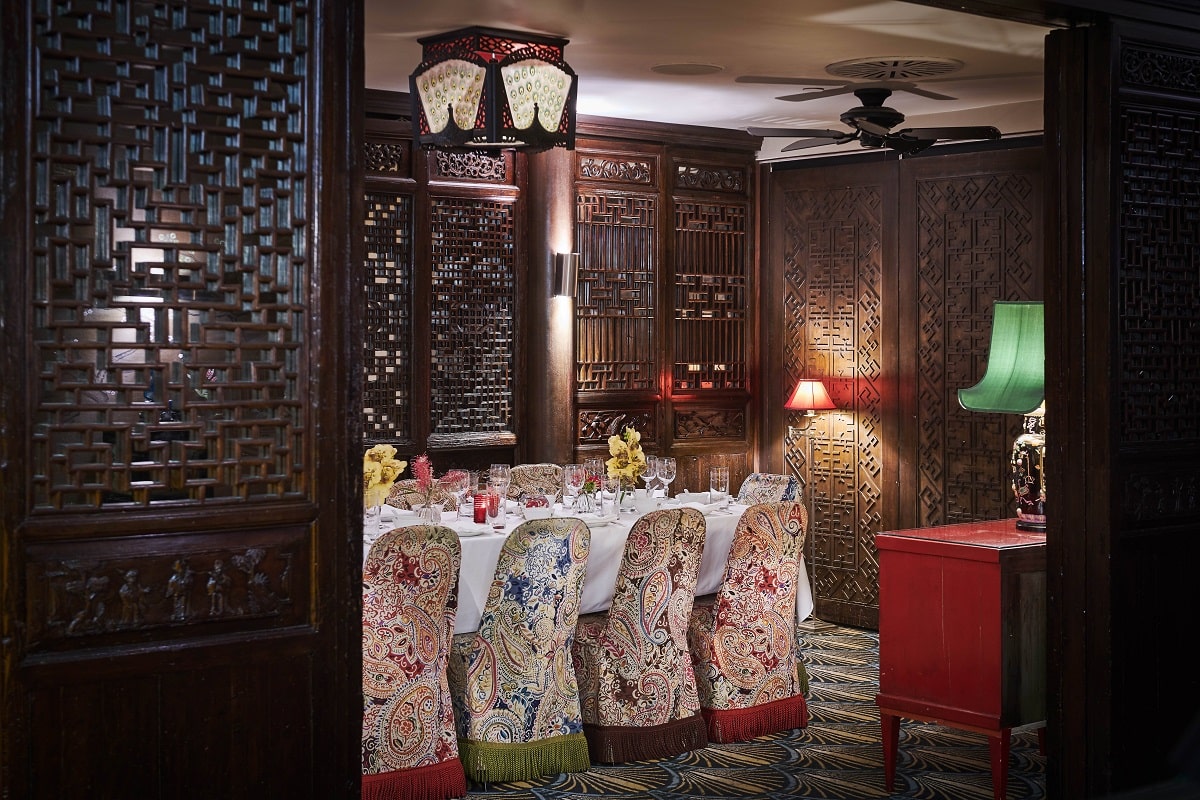 China Tang at The Dorchester transports you back to rich 1930's splendour. Three rooms to choose from, the gloriously named: Ping, Pang & Pong seating up to 22 in Ping or 18 in Pang and Pong. Ping, Pang & Pong can combine to accommodate up to 80 guests in normalised times, so if you are looking for unrivaled opulence and decadence in the future, bookmark here for larger events, or capacity for around 30 now. Phew!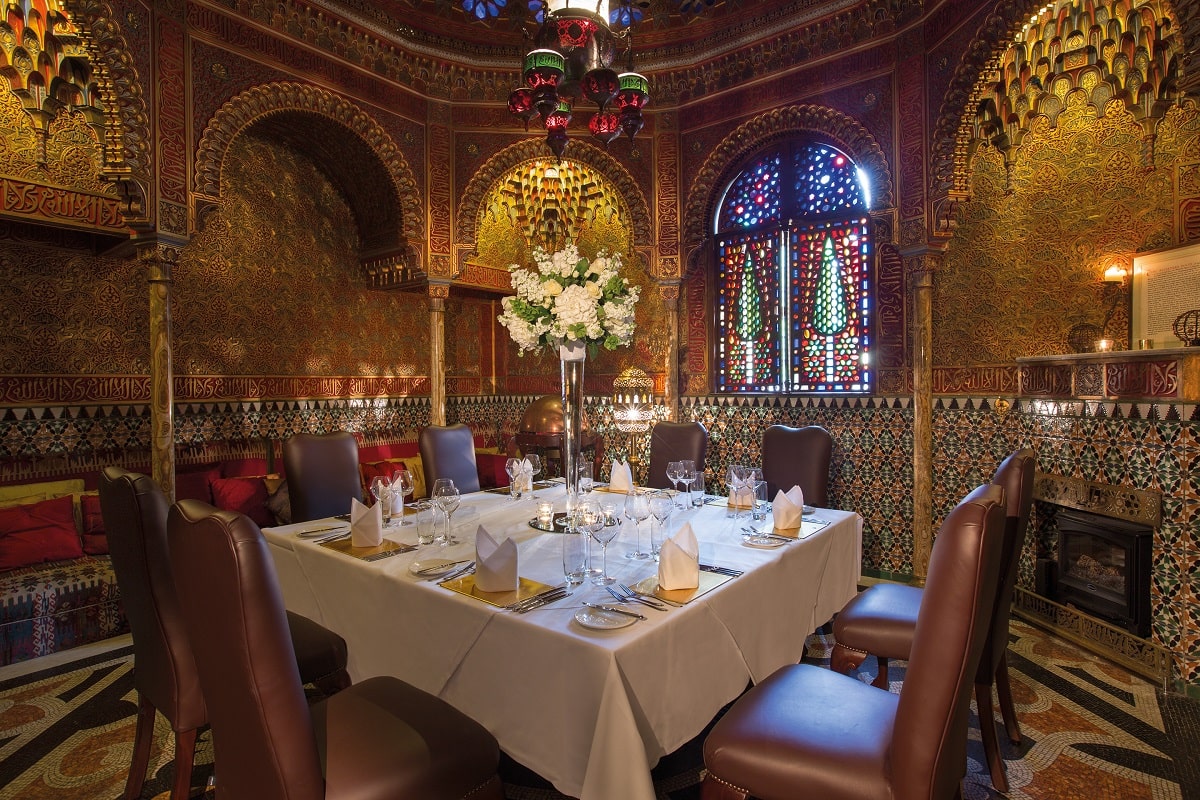 The breathtaking Alhambra Room is an exact copy of the Alhambra Palace in Granada, lovingly recreated by the house's previous owner, using rare materials like the onyx pillars from Persia and the hand-cut wall tiles, and skilled coppersmiths of Moorish origin. In the dome, beautiful stars in the Venetian glass form the Star of David, while below is an elegant bronze grille. There are religious inscriptions on the beaten copper walls, and a striking mosaic floor which tells of how Caliph Harmoum Al Rashid of Baghdad rescued his twin daughters from the clutches of Ahnzar the Devil, who had turned them into flamingos. In fact every detail tells a story from the magnificent copper and bronze lantern to the brass inlaid doors leading to the room. Today the Alhambra Room is used as a show-stopping venue for private dining experiences seating 14 people, no matter what the occasion. Whether it be afternoon tea, Sunday lunch, a celebration lunch or dinner or a romantic proposal dinner.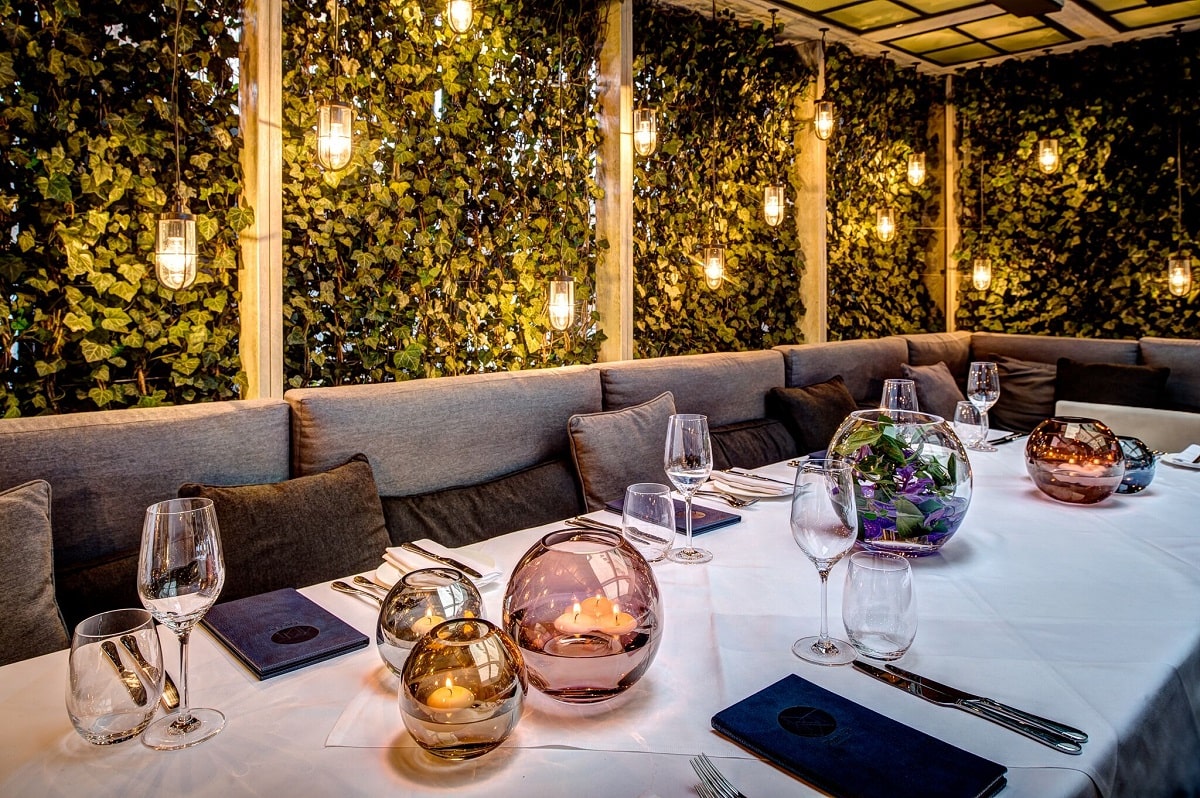 The Garden Terrace at The Hari is described as an urban oasis with living walls, and comes with a handy retractable roof and heaters. It's size, location in a cool spot in Belgravia, indoor-outdoor credentials, and laid-back chic design gives ultimate appeal for a number of intimate stylish events of up to 15 people dining.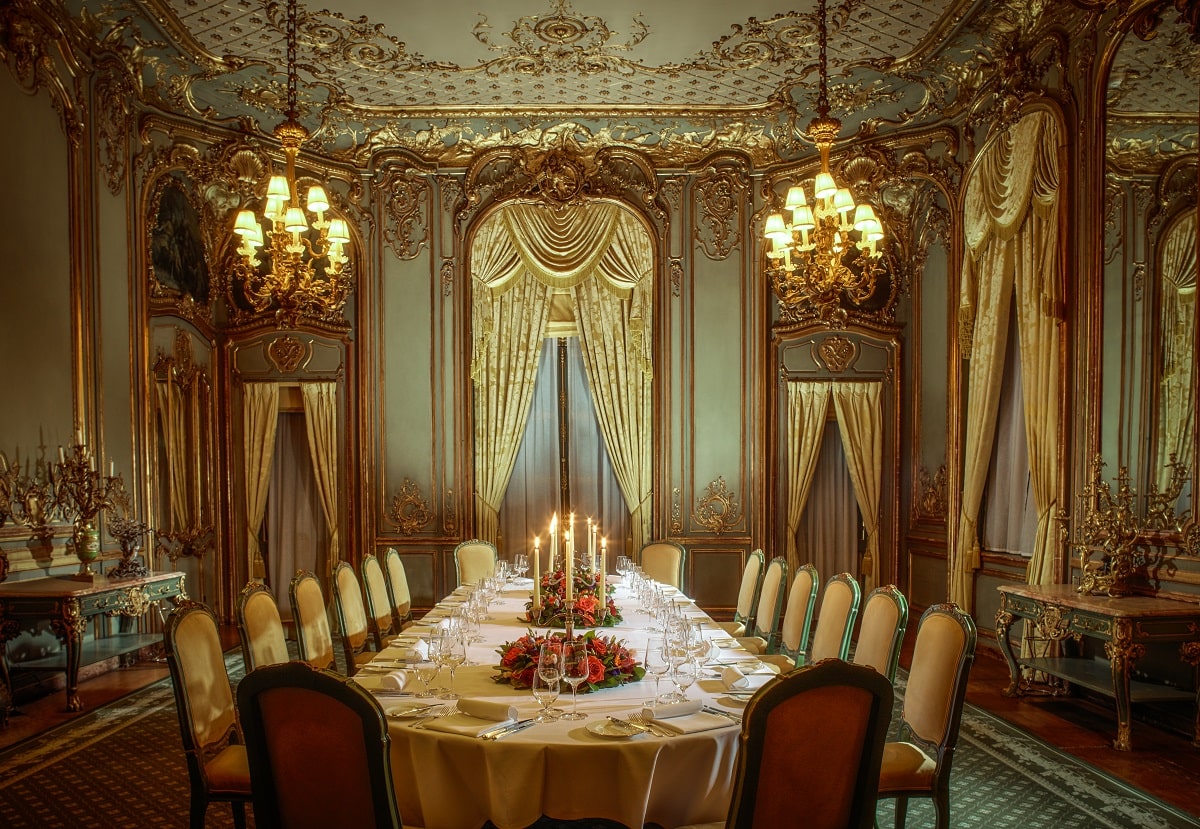 The French Dining Room at Cliveden has the original panelling from Madame de Pompadour's 18th century dining room at the Château d'Asnières, imported by William Waldorf Astor after a trip to Paris in 1897. A Rocco masterpiece with views of the river and surrounding Berkshire countryside, it seats 25 to 60 guests.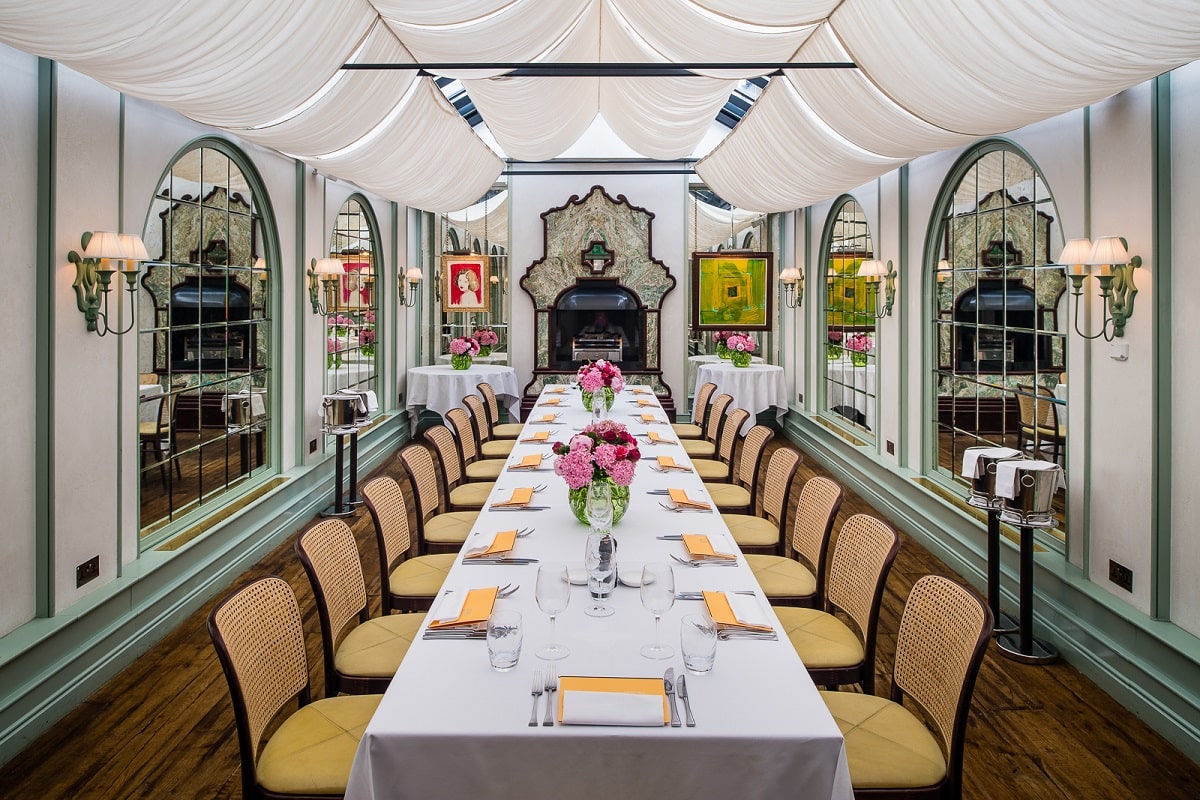 Brompton Cross, near South Kensington, has always attracted some of London's most discerning visitors, and the warmth, intimacy and charm of Daphne's is at the heart of its appeal. Daphne's seasonal Italian country cooking, sourced with exceptional attention to detail, is justly famed around the world. Its Conservatory, warmed by an open fire in winter and cooled by its retractable roof in summer, makes an ideal setting for a private party. Seat from 20 to 40 guests for a sit down lunch or dinner.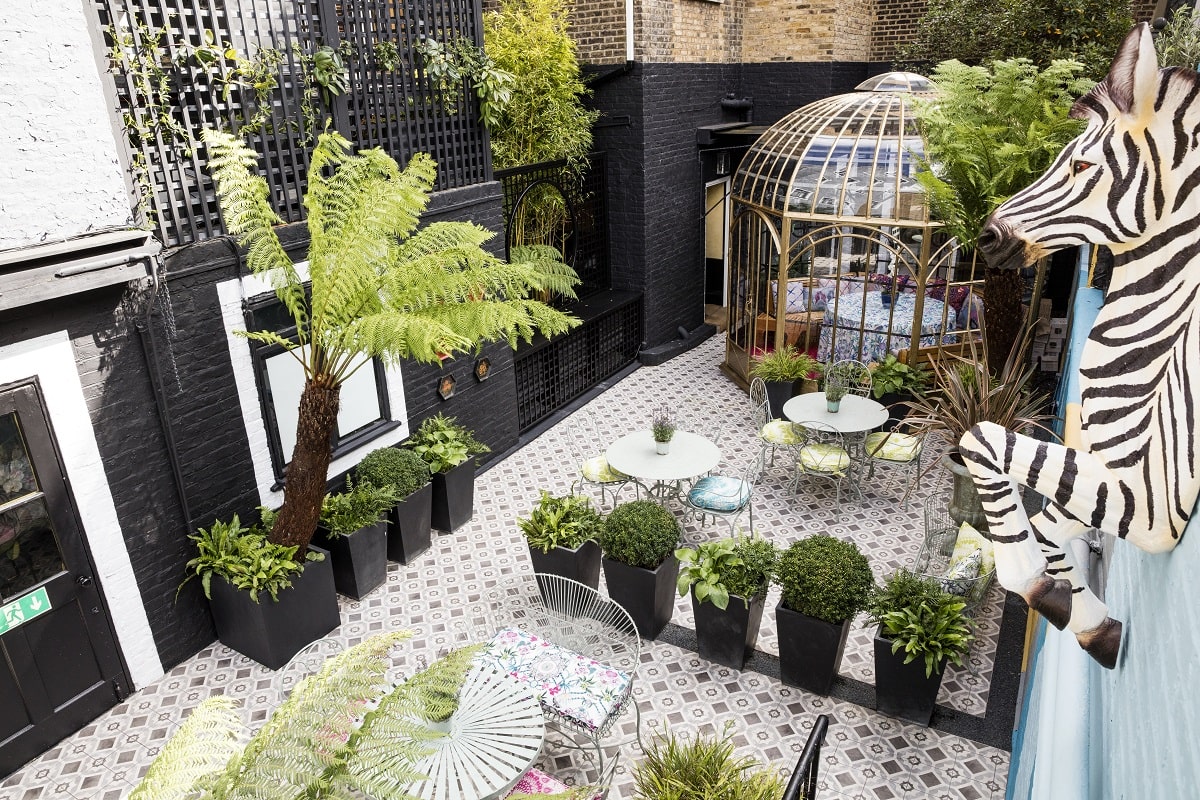 A perfect spot can be found in the Matthew Williamson designed courtyard at Blakes, which will be re-opening its doors from August 31st. The lavish domed birdcage has been refreshed with an antique gold exterior and deep magenta flooring. It has a decadently sumptuous feel for an escape from the elements or a magical night under the stars for year round dining. Caters for 2 to 12 diners.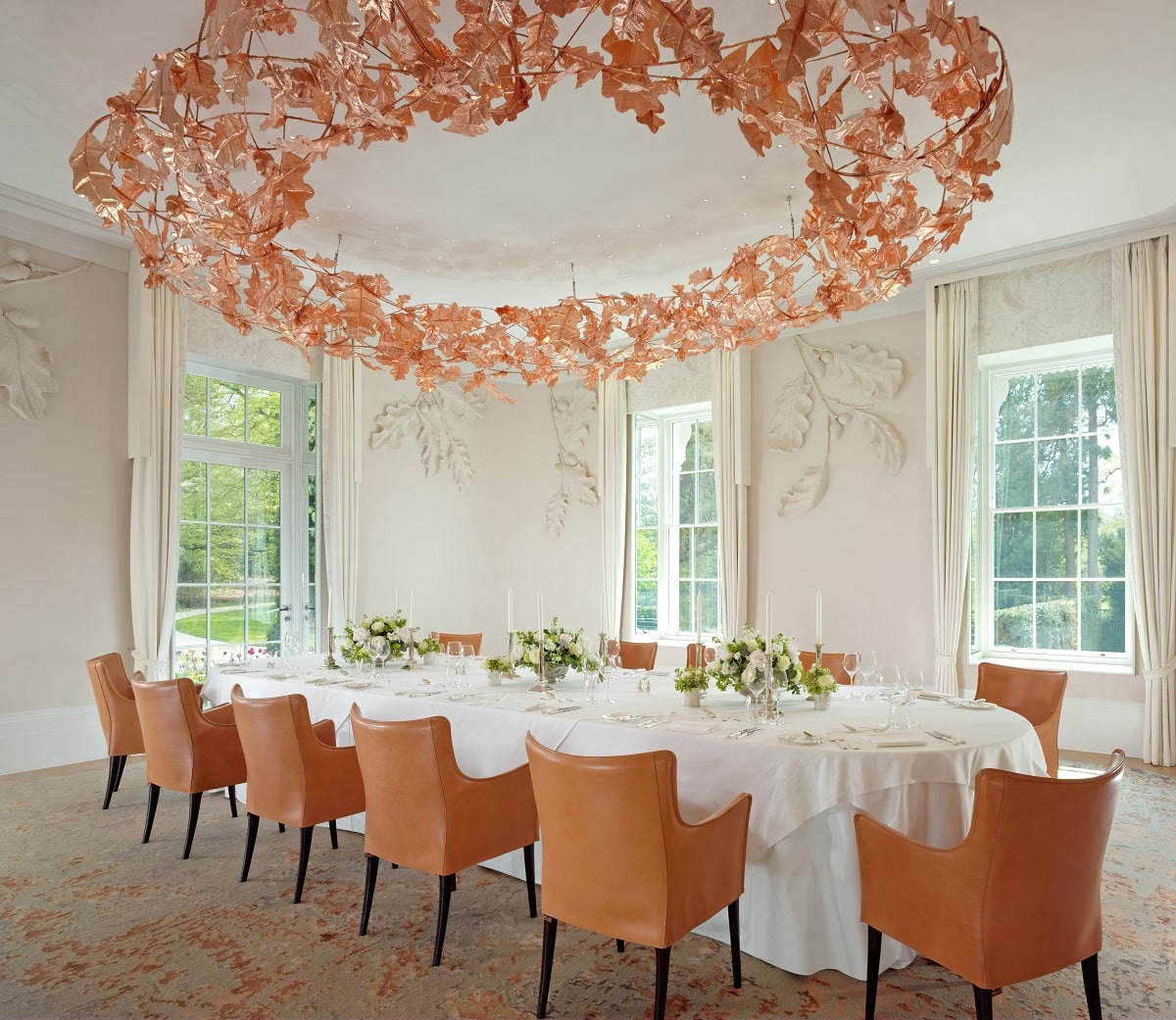 The Oak Room at Coworth Park, we would describe as being truly majestic, befitting of the most genteel of occasions. Classical in Georgian design but bright, dual aspect windows providing fresh natural daylight, and a hanging sculpture of copper oak leaves adds modernity, warmth and a striking touch. Perfect for private dining functions for 12 to 18 guests.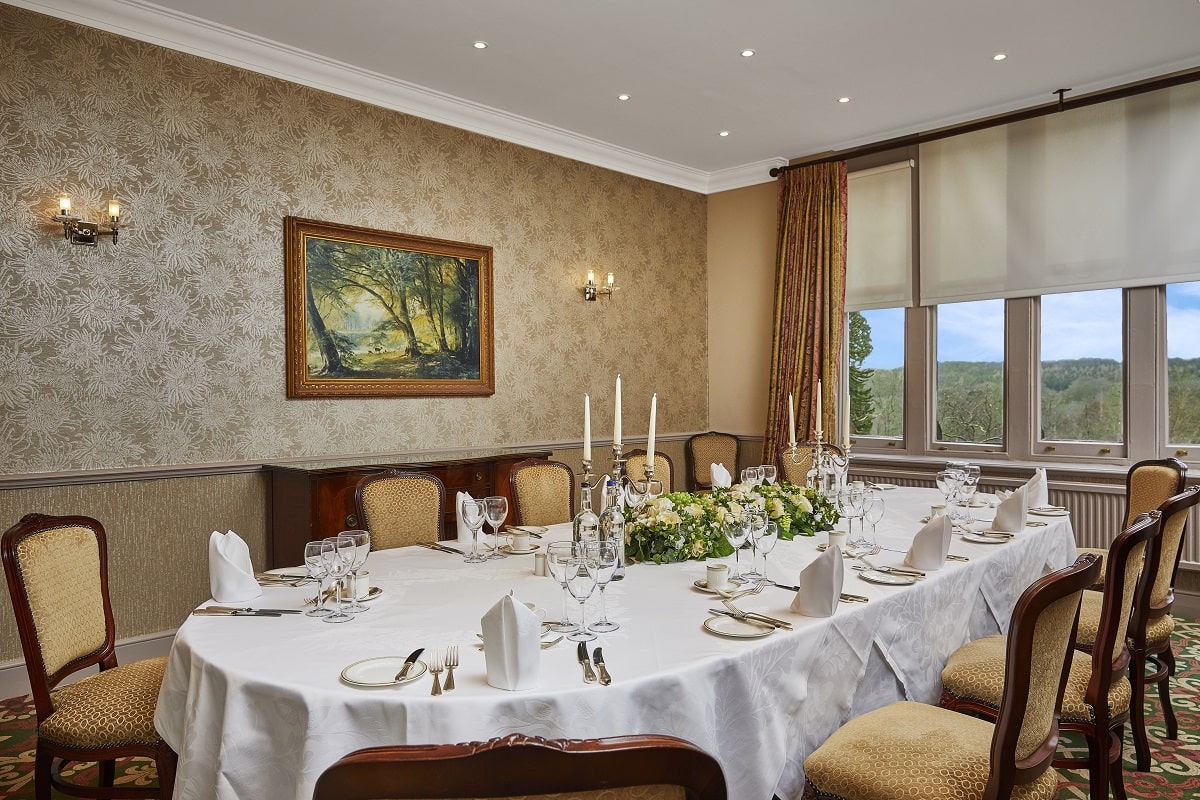 For views alone the Richard De Wych private room at Ashdown Park will win hands down, offering private dining and looking out upon lawns and lakes in its own pocket of 186 acres amidst Ashdown Forest. The function room, one of several available, is in the main house of Elite Hotels five star Ashdown Park Hotel & Country Club, itself a magnificent 19th century neo-gothic mansion. Seats up to 18, or there are two smaller rooms offering ideal space for 6, or larger ones for up to 40, going all the way to 150 available in more normalised times.

With glamorous contemporary interiors by David Collins Studio, Postillion at Roux at the Landau is an exquisitely appointed room, with high ceilings and large windows making the most of natural light and charming views of All Souls Church. Perfect for lunches and dinners for 18 people, it offers privacy in elegant surroundings, with menu's devised by the Roux at The Landau restaurant.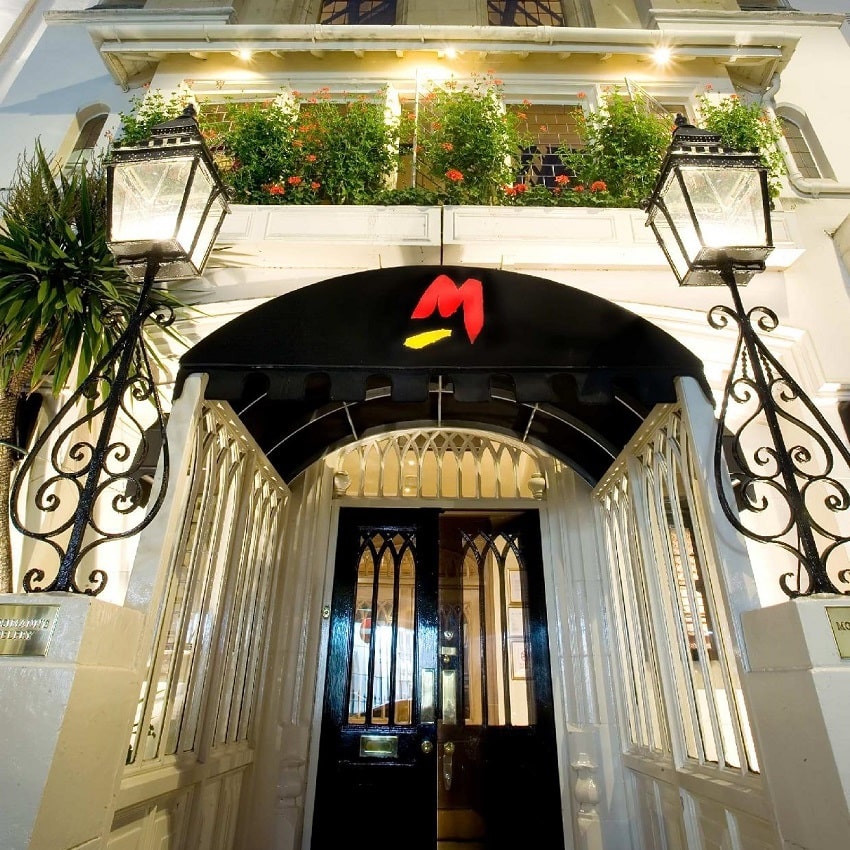 One of the most prestigious private dining clubs in the world, Mosimann's has seven private dining rooms, all highly individual and sponsored by distinguished marques including Lalique, Montblanc, Davidoff and Garrard. Luxury Restaurant Club members are invited to book spaces, from the world's smallest private dining room for two – to the Garrard Room seating up to 50 guests – again in normalised times.
One of the nicest rooms for Indian private dining is at Jamavar. Their Private Dining Room is at the end of the main dining room on the ground floor and can accommodate up to eight guests. It comes with its own wine vitrine and views of a beautifully planted private garden. The charming space is a tribute to the rich heritage of natural indigo dyes of India, and its royal blue hues add luxurious warmth to the setting.
Four Seasons Trinity Square reopens from September 1st, and our fingers are crossed Mei Ume will open the same time, as this is one of our favourite rooms in this part of town. The Private Dining Room at Mei Ume seats up to 14 and offers a menu of authentic dishes from China and Japan with a modern approach. Seating is around a large central table, perfect for group dinners, corporate or leisure events. It is separated from the main restaurant by bamboo screen panels, providing privacy whilst also retaining the atmosphere of the restaurant. It also didn't have a room hire charge, just a minimum spend amount. Let's hope it reopens soon.
The first floor of Notting Hill's hugely popular Casa Cruz restaurant can seat from eighteen up to thirty-six guests on round table formats or one long table. Booking the first floor includes the terrace for pre and post dinner drinks. Perfect for a stylish occasion with a private members club feel.
Claridge's reopens tomorrow, August 15th…and a safe welcome return for a team that have been working hard supporting the front line workers during the pandemic. The Foyer Private Dining Room will then be once again available for private hire in the surroundings of the grand art deco Foyer. This space offers a private magical dining room in the heart of Claridge's. One long table can accommodate between 10 and 20 guests for Lunch or Dinner. Guests will be served The Foyer Private Dining Room menu. The above image shows the entrance into the private dining room.
___________________________________________________
August 14, 2020
Government Guidance on Private Dining and Indoor Entertaining
Government regulation for private dining and social bubbles for indoor private events is a tad confusing, so a roundup is below, although we welcome you to interpret yourself from the government site direct here.
A maximum number of 6 guests if from any number of households
Although some operate on a maximum of 6 guests per table with no restriction on number of households
Or, maximum of two households per private dining room, irrespective of number of guests
How many households can vary pending local restrictions; see https://www.gov.uk/government/collections/local-restrictions-areas-with-an-outbreak-of-coronavirus-covid-19
A maximum of 30 guests per room for dining and standing events
Up to 40 guests per room with guests seated 6 per table, but most will just accept 30!
Usually the venue does not check on how many households guests come from, placing the onus on guests to act within the law
…And, naturally this is all changeable 
In short, just call the venue!