Great British Curry Restaurants – The Luxury Edit
The great British curry has undergone somewhat of a makeover: From the high street evening staple to the present, with all day brasserie-style diners. The transformation has changed perceptions by using refined ingredients, keeping authenticity, use of healthy cooking techniques and modern presentation. Today, this delicious cuisine is more versatile and unique and perfectly suitable for lunch and dinner, and breakfast if you wish.
Since Tamarind delivered the first Michelin star Indian restaurant in the world back in 2001, and Chutney Mary before this creating an esteemed dining environment, the accolades are now coming. There are currently 7 Indian Michelin restaurants in the UK and this looks set to thrive as chefs emerge from these great kitchens to start their own diners, and the finest chefs from around the world make their move on the UK market. See the Indian restaurants changing the industry today, from Michelin to exciting new openings:
Michelin-starred Indian Restaurant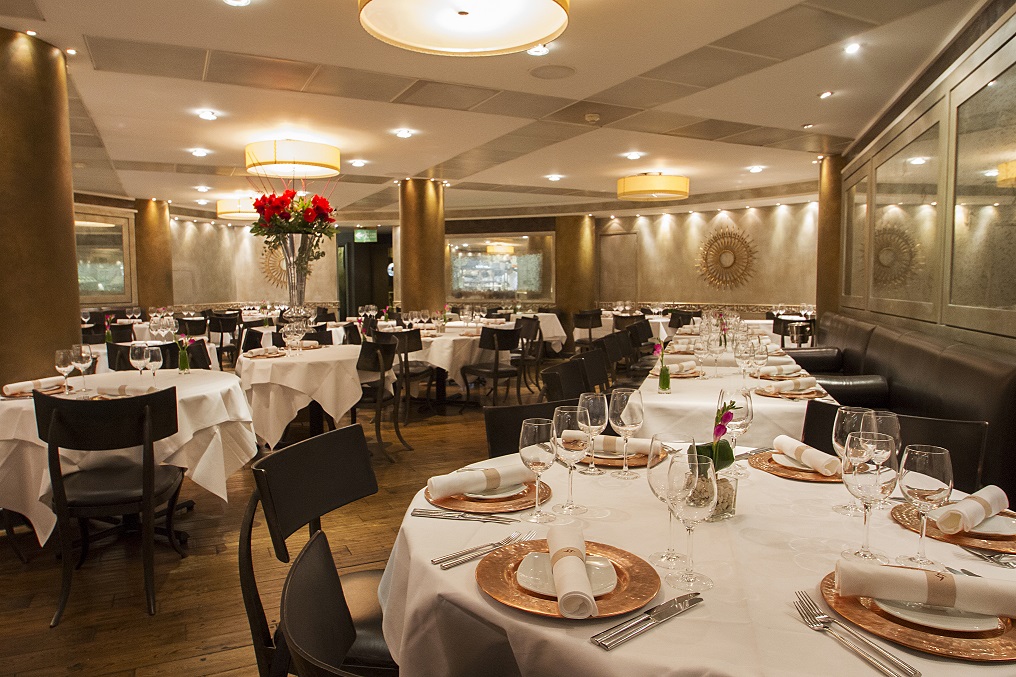 FIRST AWARDED A MICHELIN STAR IN 2001
Tamarind started it all off back 2001. Under the then 31-year-old chef, Atul Kocchar, it became the first Indian restaurant in the world to be awarded Michelin status.
It first opened its doors in 1995, quickly building a stellar reputation among London diners and redefining notions of Indian cuisine – and starting the careers of many great chefs. Tamarind of Mayfair retains its star-quality (and Michelin star) to this day. Now under Chef Peter Joseph, it offers lavish dishes inspired by the Moghul fare of North-West India, where fish, meat and game ingredients are typically cooked in a Tandoor oven, while interiors and service remain as refined and welcoming as ever.
Enjoy exclusive benefits here with the Luxury Restaurant Club.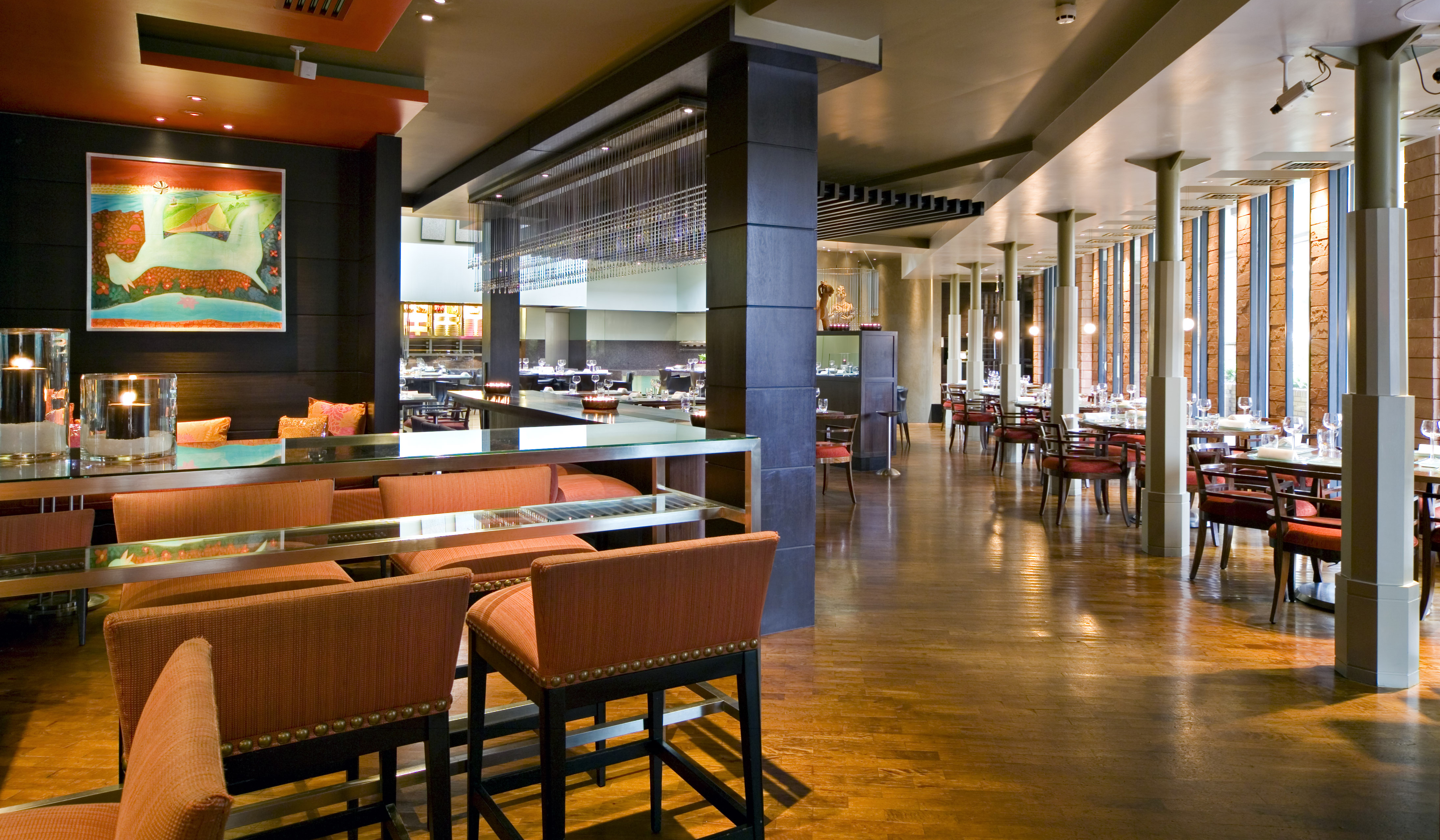 FIRST AWARDED A MICHELIN STAR IN 2006
Amaya has been the king of Indian restaurants of Belgravia, Knightsbridge and beyond since opening in 2004. Under chef Karunesh Khanna, who gained culinary grounding in Continental cuisine before moving into Indian, applying Continental ideas and technique to Indian food.
He moved to England in 2004 to open Amaya, having previously trained at the Dorchester, the Four Seasons, the Ritz and Claridge's. Amaya uses a theatrical tandoor (a really hot clay oven), set within the room, Sigri (cooking over a coal flame) and Tawa (searing and griddling on a very hot plate) to serve contemporary Indian food. Owned by the same group as Chutney Mary.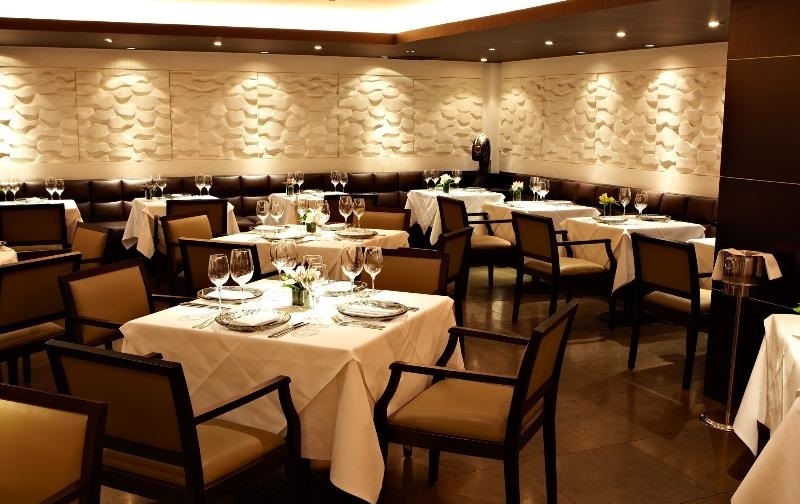 FIRST AWARDED A MICHELIN STAR IN 2007
Chef-patron Atul Kocchar opened Benares in 2003 having previously won a Michelin star for Tamarind as Executive Chef, therein becoming the first ever Michelin-starred Indian chef. He gained his own star in 2007.
It is in a true prime location in Berkeley Square and has striking interiors, with discrete lighting, lily ponds and highly trained staff. It also offers one of the largest private dining rooms in Mayfair, seating 80 people.
Enjoy exclusive benefits here with the Luxury Restaurant Club.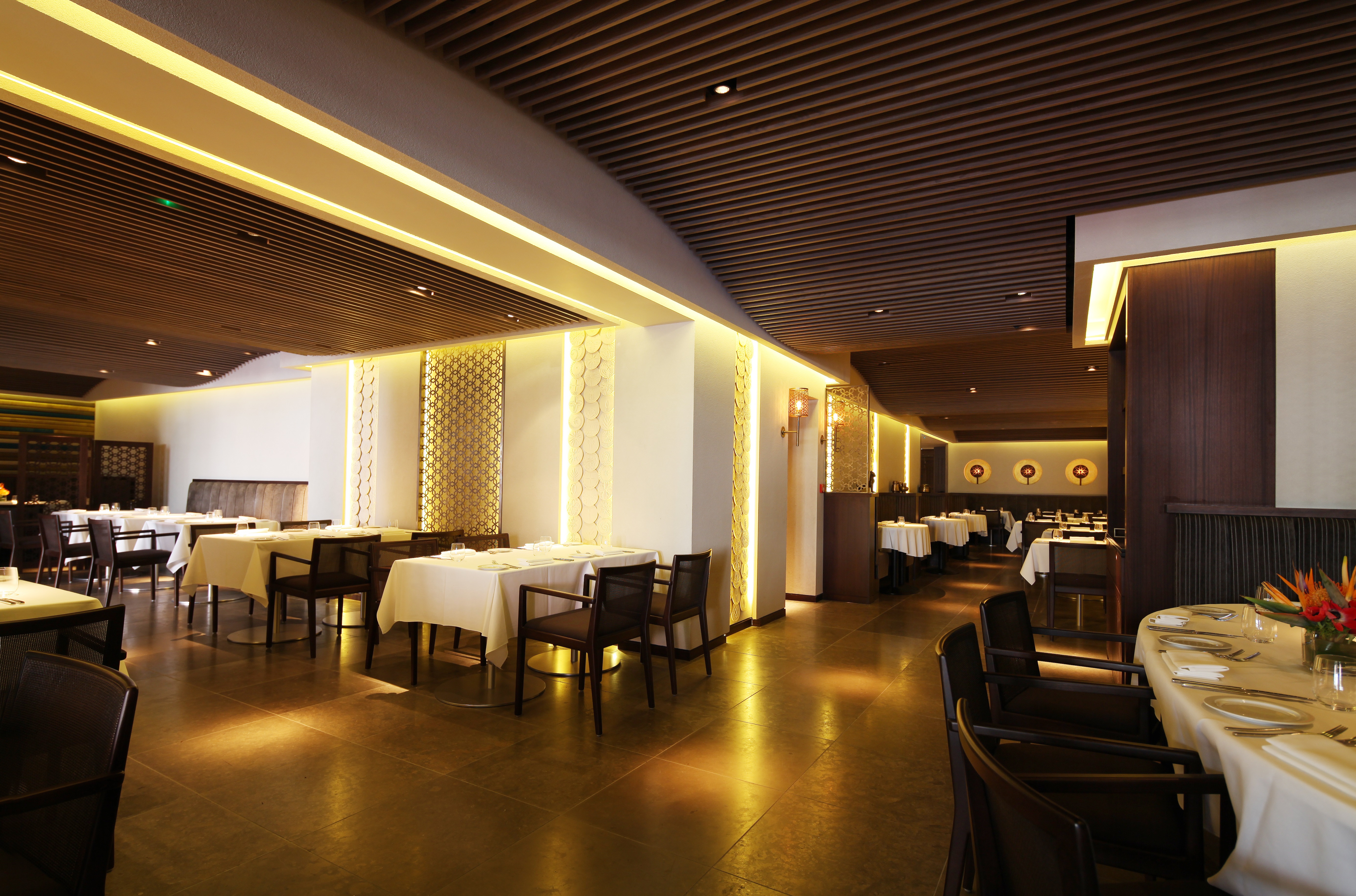 FIRST AWARDED MICHELIN STAR IN 2008
Quilon opened in 1999 under chef Sriram Aylur in Westminster (2 mins stroll from Buckingham Palace) in the TAJ Hotel in Buckingham Gate. It quickly established South-west coastal Indian cuisine on the international food-lovers map and won a Michelin star in 2008 which it has have retained ever since.
The menu embodies a unique blend of ethnic and progressive dishes with seafood at its heart but also offering meat, poultry and vegetarian dishes, mostly designed for sharing.
Enjoy exclusive benefits here with the Luxury Restaurant Club.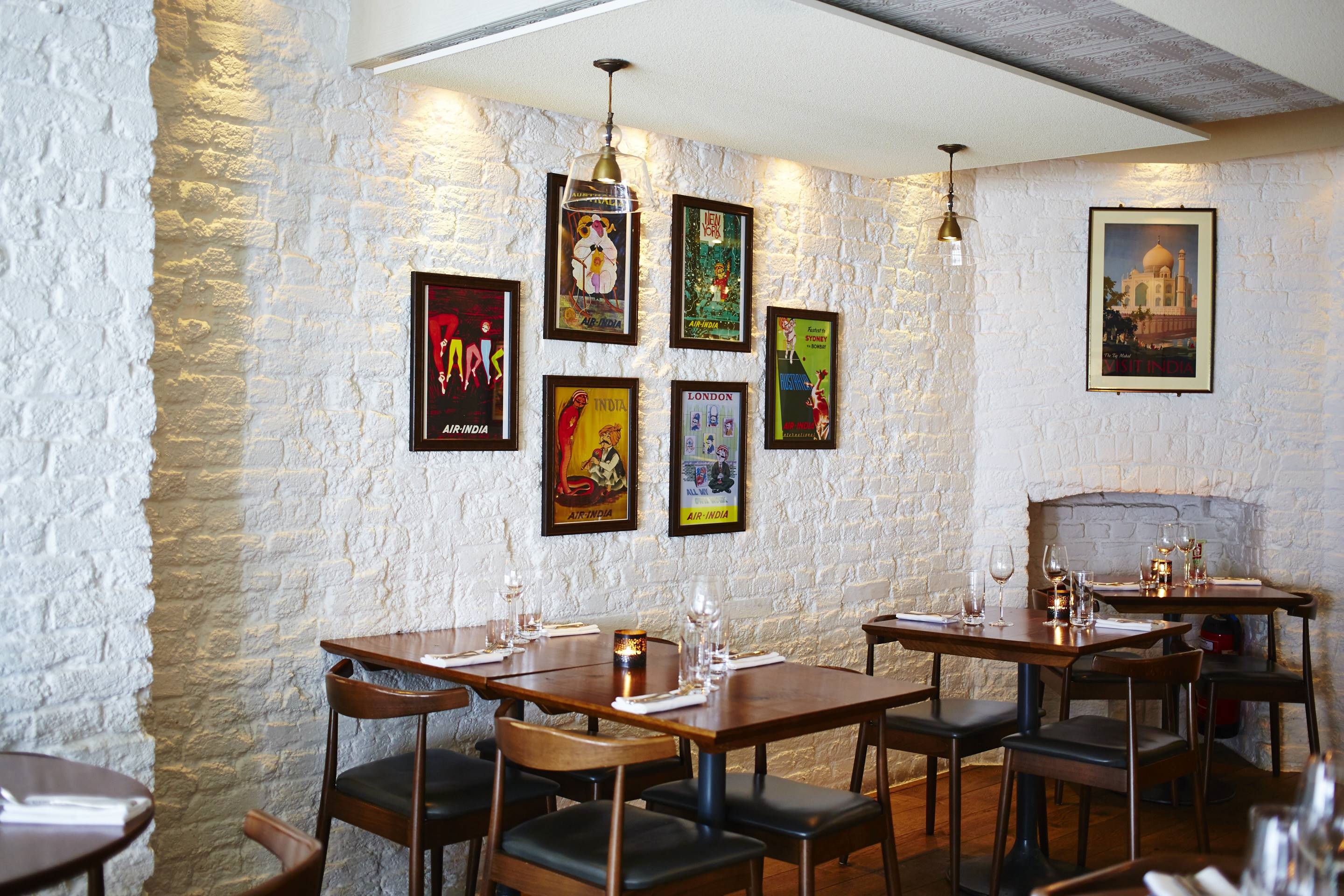 FIRST AWARDED MICHELIN STAR IN 2012
Located in the heart of London's Marylebone Village, Trishna delivers a contemporary taste of Indian coastal cuisine, and an extensive wine list that focuses on emerging regions and fine wines from niche producers and boutique wineries from all over the world. Created by chef Karam Sethi with his brother Jyotin, they also own Gymkhana and Hoppers (Sri Lankan food).
Trishna's informal and pared back aesthetic of the interiors, offset with antique mirrors, marble table tops and original wooden panelling offers a sociable neighbourhood dining atmosphere. Terrace doors open onto Blandford Street, creating a semi-alfresco ambience throughout the restaurant with the buzz of Marylebone.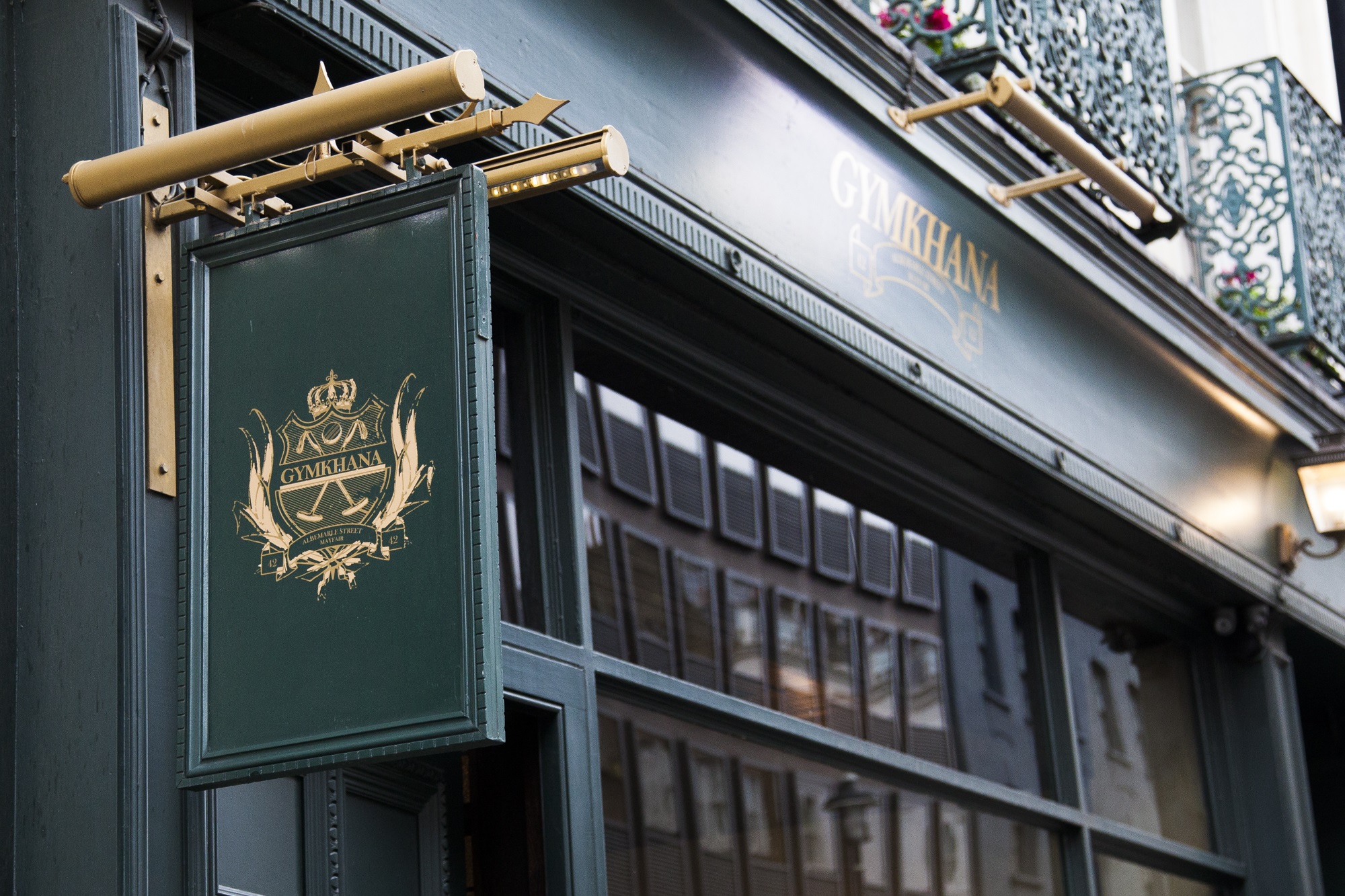 FIRST AWARDED MICHELIN STAR IN 2014
Located in Mayfair, Gymkhana opened following the success of Trishna by Karam Sethi and is inspired by the colonial British-Indian 'gymkhana' clubs. The restaurant serves contemporary Indian cuisine using seasonal British ingredients with a strong focus on the tandoori oven and chatpatta sharing dishes in a convivial environment.
The bar at Gymkhana specialises in classic Indian punches and cocktails – fusing spices with Indian spirits and a carefully selected gin and tonic list.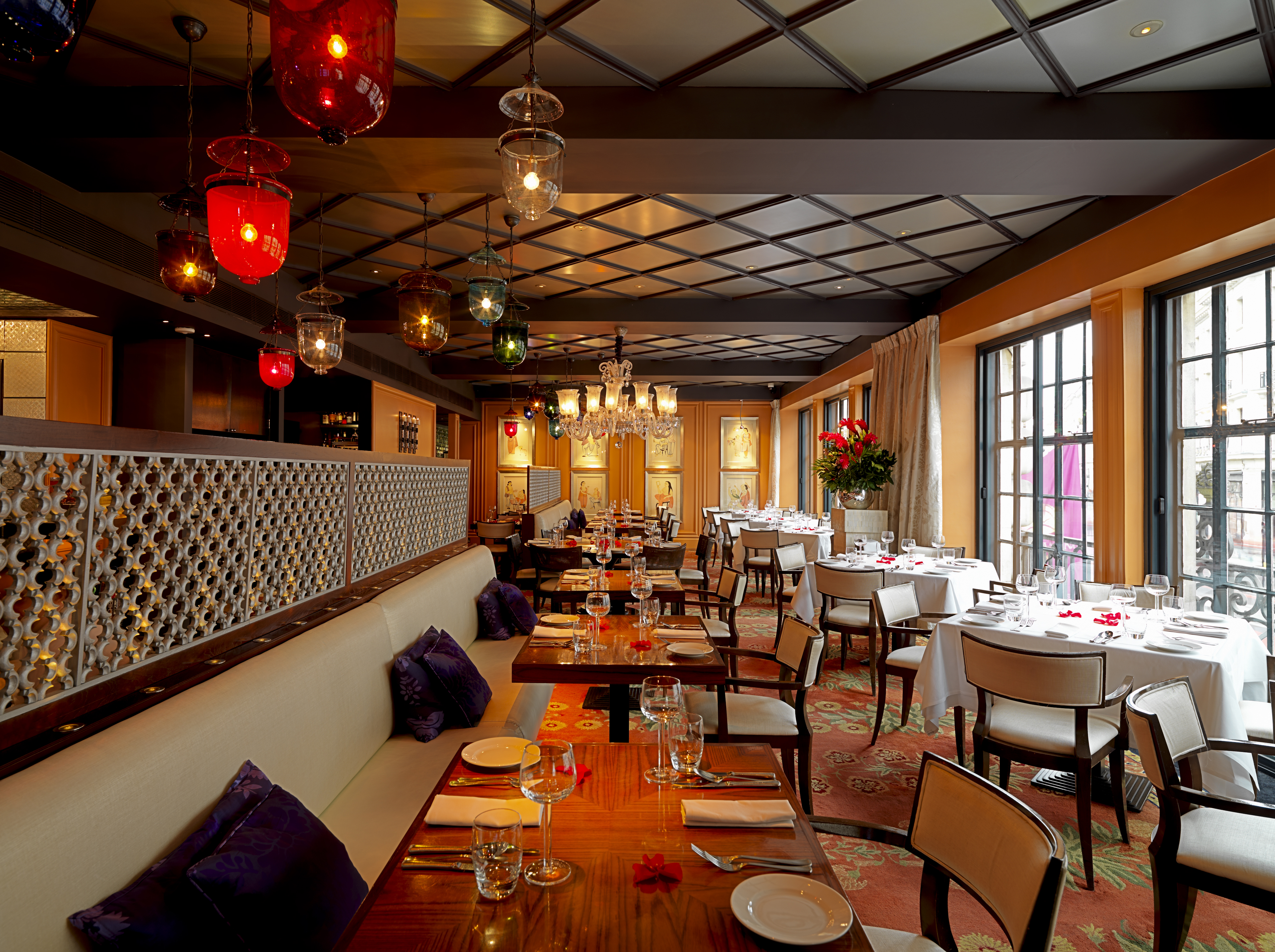 FIRST AWARDED MICHELIN STAR IN 2016
Veeraswamy is the oldest surviving Indian restaurant in the UK. It opened in 1926 by Edward Palmer, a retired Indian Army officer and the grandson of an English general and an Indian princess. In its early years, Veeraswamy served Anglo-Indian cuisine, but in recent decades, based on the popularity of authentic Indian food in the UK, has served a menu of regional Indian cuisine, including dishes from Punjab, Lucknow, Kashmir, and Goa.
Initially, it was spelt Veerasawmy, it became Veeraswamy because of a printing error. Owned by the same company as Chutney Mary (MW Eat Group).
FIRST AWARDED MICHELIN STAR IN 2017
Jamavar London showcases a wide array of flavours from across India. The kitchen team is headed up by Rohit Ghai, former group executive chef at Michelin-starred sites Gymkhana and Trishna. On the menu are dishes from the Royal Kitchens of the North along with succulent options form the shores of the South.
Dishes uncover the unique flavours and secret recipes from different parts of India, ranging from the Royal Kitchens of the North to succulent options of the Southern shores. The menu offers a series of fun tasting plates.
Classic Indian Restaurants
The original Zaika site, just off the Fulham Road in South Kensington, was the second Indian restaurant to attain a Michelin star in the same year as Tamarind under their then chef Vineet Bhatia. It held a Michelin star from 2001 to 2004. During this time it moved to High Street Kensington and was subsequently purchased by the Tamarind Group in 2012.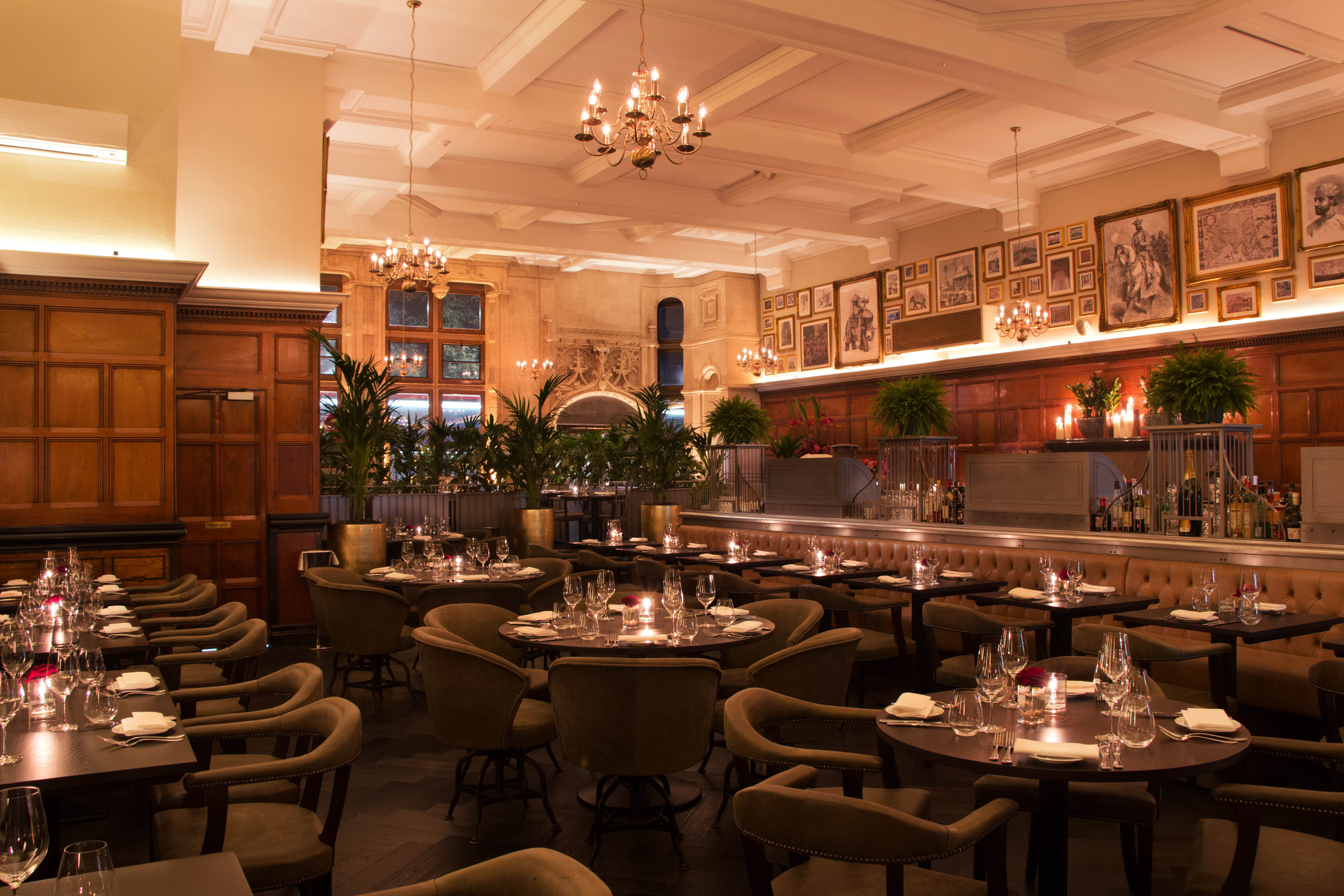 Inspired by the feasting traditions of Awadhi aristocrats and using Nawab and Moghul cooking techniques such as Dum Pukht, the chefs concoct timeless North Indian dishes; perfect for sharing and exquisite in their mastery of spice and flavour.
Enjoy exclusive benefits here with the Luxury Restaurant Club.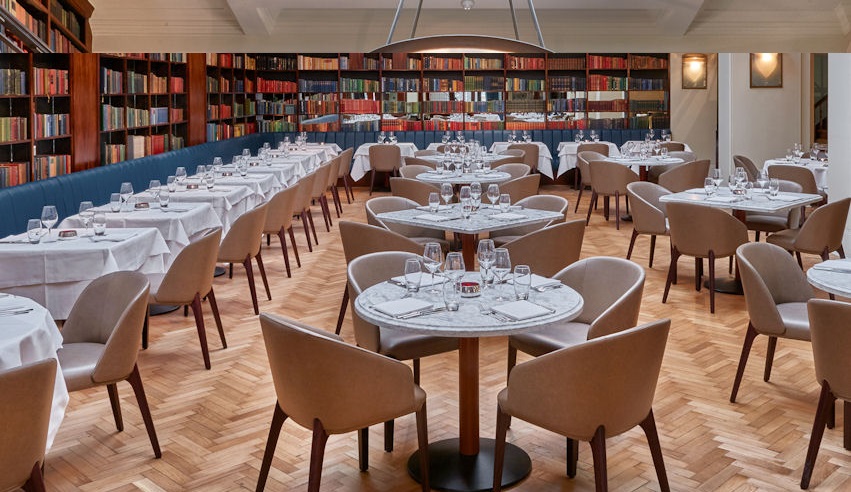 Set in the historic grade II listed former Westminster Library, The Cinnamon Club is an institution in the world of Indian fine dining, opened in 2001. One of the original modern Indian restaurants in London, The Cinnamon Club has a long history of serving innovative and creative Indian cuisine in a magnificently majestic setting.  Opened by Executive Chef and now media personality Vivek Singh following a stellar career at the best locations in India.
It re-opened in 2015 following a major refurbishment. Vivek and Head Chef Rakesh Ravindran Nair have developed a stunning new menu that combines The Cinnamon Club's signatures with new dishes and celebratory platters.
Enjoy exclusive benefits here with the Luxury Restaurant Club.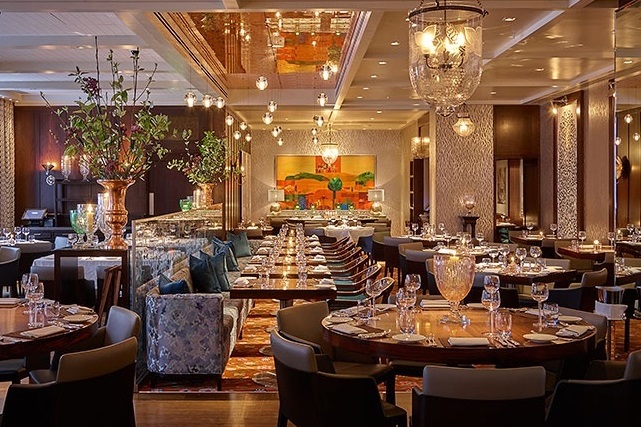 Chutney Mary's was founded in 1990 by Ranjit Mathrani and Namita Panjab. Its' original site was Kings Road before moving to St James's in 2015. It is renowned as one of the original trailblazers for sophisticated, reworked dishes of British India. The glamorous and stylish restaurant is now well-established as well as being one of London's most famous Indian restaurants, and deservedly so.
Dishoom – Edinburgh, Shoreditch, Kings Cross, Kingly St W1, Covent Garden and Kensington
The original Dishoom opened in 2010, and now totals five locations in London and one in Edinburgh. The latest, in Barkers in Kensington, is due to open later this month.  The group is owned by Shamil and Kavi Thakrar, two scions of the Tilda rice family. Dishoom are more casual dining spaces, although each one very distinctive,  which serve an all-day menu. Their breakfasts are especially renowned for a bacon naan roll, Bombay omelette or sausage and egg naan roll.
New Top Indian Restaurant Openings
Kricket – 12 Denman Street, London W1D 7HH  T: 020 7734 5612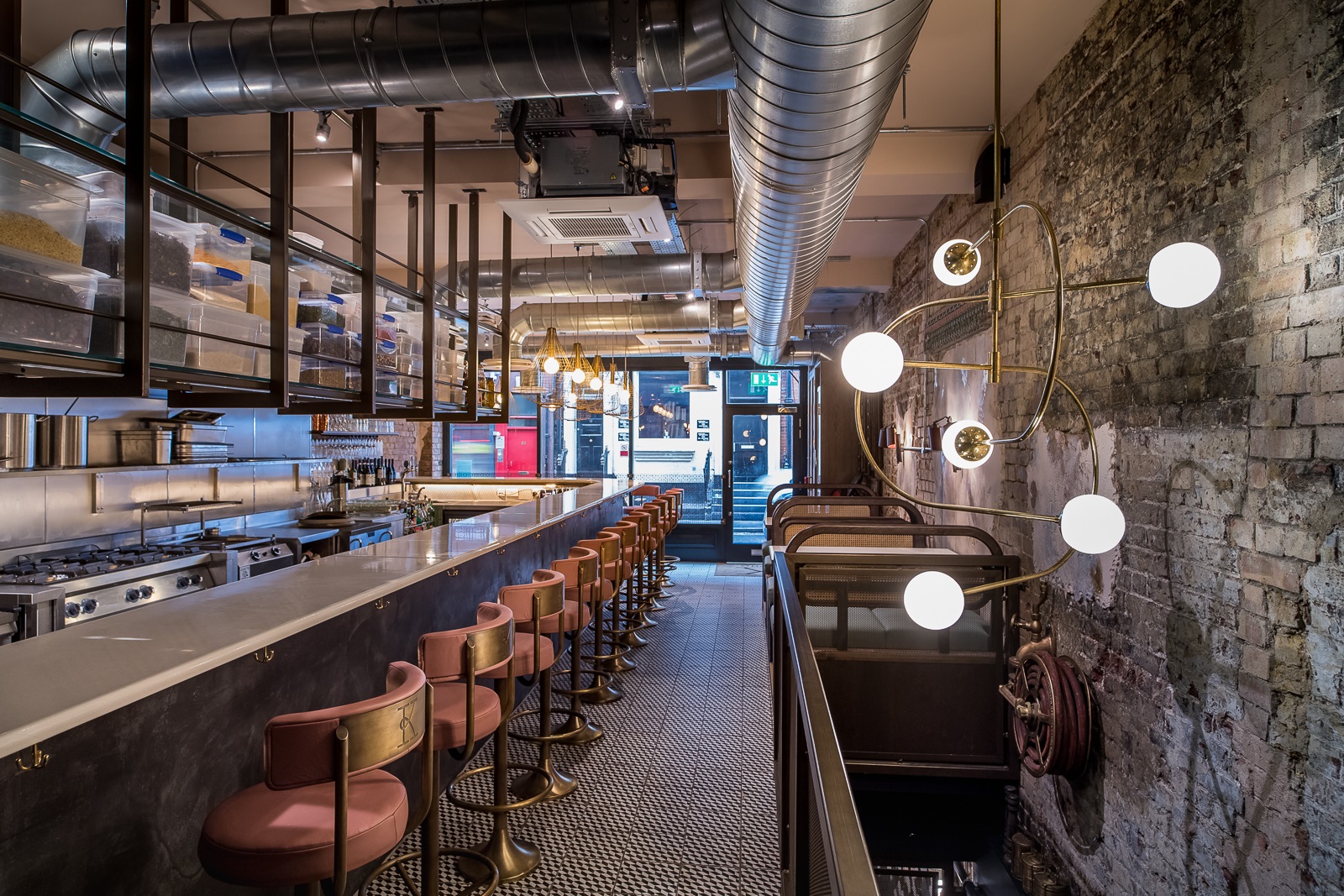 OPENED JANUARY 2017
Originally a successful pop-up from Brixton in 2015 in a tiny 20-seat shipping container. In 2017 it opened its first permanent restaurant in Soho. Spread over two floors, Kricket Soho features an open kitchen with counter dining, a dedicated cocktail den and large communal tables available for reservations of four or more. The restaurant is a modern memoir of time spent living and working in Mumbai for its owners.
Combining British ingredients with the authentic flavours, aromas and spices of India, their focus from the start has been to create seasonal, modern Indian plates and drinks, served in a relaxed more casual dining space.
Indian Restaurants Opening Soon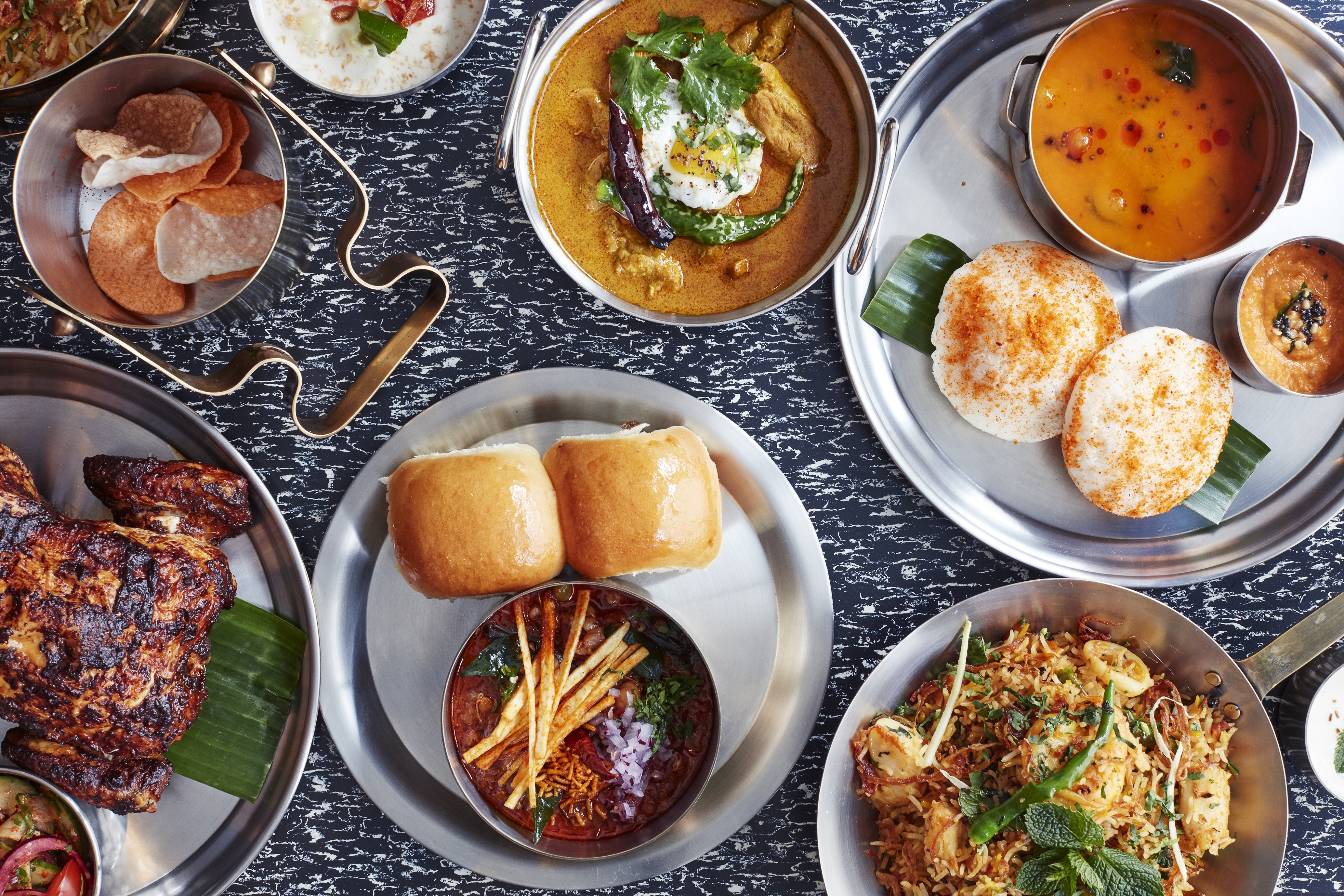 OPENING 17TH NOVEMBER 2017
Samyukta Nair and Rohit Ghai, Co-Founder and Executive Chef of Mayfair's Michelin-starred Jamavar, will launch their new restaurant, Bombay Bustle on Maddox Street. Originally penned to open as Dabbawala, the restaurant will now open under a new name due to an existing restaurant being similarly named. Still inspired by the Dabbawalas, the institution of men who use Mumbai's famed local railway to deliver home-cooked meals across the city, Bombay Bustle will pay homage to the culture and people, whose expanse of origins from across India have influenced its culinary history.
Indian Accent – 16 Albermarle Street, Mayfair, London W1S 4HW
OPENING EARLY DECEMBER 2017
We, at the Luxury Restaurant Guide, hold high hopes for Indian Accent. Its' sister restaurant in New Delhi is ranked #1 in India, #2 in Asia, #19 in the World by TripAdvisor and its New York restaurant was ranked Best Indian Restaurant and Runner Up Best New Restaurant by Zagat. One to watch.
Closed Great Indian Restaurants in 2017
CLOSED OCTOBER 2017
We have to mention Restaurant Vineet Bhatia, the eponymous restaurant in Chelsea, which closed one week after receiving its first Michelin star in October 2017. Vineet is no stranger to Michelin stars having been the second Indian chef to receive the accolade for Zaika in the same year as Tamarind became the first Indian restaurant in the world to receive the accolade. He went on to set up Michelin-starred Rasoi and Restaurant Vineet Bhatia in an exquisite Chelsea townhouse setting. We hope to see Vineet, one of the finest Indian chefs, back on the scene soon.
DOWNLOAD OUR FREE LUXURY RESTAURANT GUIDE APP HERE
TO FIND ALL LEADING RESTAURANTS IN THE UK