Dining, Club Class – Private Members Clubs with notable restaurants
Wherever you dine out you should, of course, enjoy it. But would your enjoyment be piqued if the restaurant could guarantee the following: Be a place you can forge professional relationships; have automatic kin-ship with fellow clientele; enjoy a home-away-from-home; perhaps a place to quietly work on your laptop at the same time as spending it in company; have room stay rates a mere snip of usual hotel rates, enjoy club events and activities; and, give you a feeling of exclusivity.  If these are qualities you like, then joining a private members club with the same ideologies as you, would be a worthy investment. These private member clubs won't appear in restaurant ratings guides, yet they will certainly be on a par with the very best establishments around – and so they should, you will after all be paying for the privilege.
See our selection of the finest Private Members Clubs across the country offering the most notable dining facilities:
HARRY'S BAR, 26 South Audley Street, Mayfair, London W1K 2PD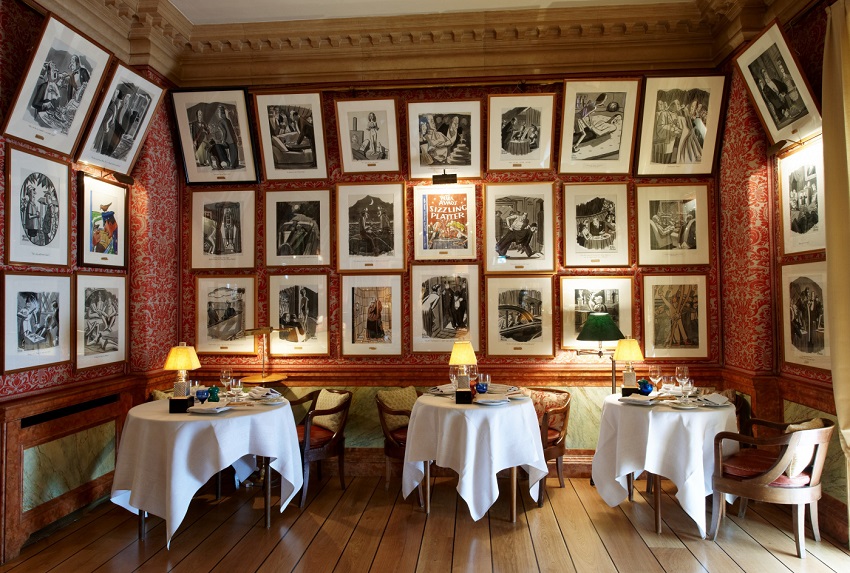 Harry's Bar is a private members' restaurant and bar with an air of classic Italian elegance, famed for both the beauty of its décor and the quality of its food. Venetian chandeliers and Fortuny fabrics, Murano glassware and a polished wood floor create an atmosphere of relaxed luxury reinforced by the knowledgeable and attentive service. The Italian menu has delighted members for over 35 years, its impeccably sourced ingredients – from Alba truffles to beautifully cured Prosciutto di Parma – matched only by the care and skill given to their preparation. Given more to socialising than business, Harry's Bar has a lightness of touch that belies the care and devotion of its staff.
Vetting and Membership: Membership fee on application. Candidates must be proposed and seconded by two existing Members of the Club. Application forms should be submitted with a letter explaining why the applicant wishes to join as well as with letters of support from their proposer and seconder. For further information, please contact the Membership Office on T. +44 (0)20 7629 2350. Part of Birley Clubs. Access to the Club is strictly as a member of Harry's Bar.
__________
MORTON'S, 28 Berkeley Square, Mayfair, London W1J 6EN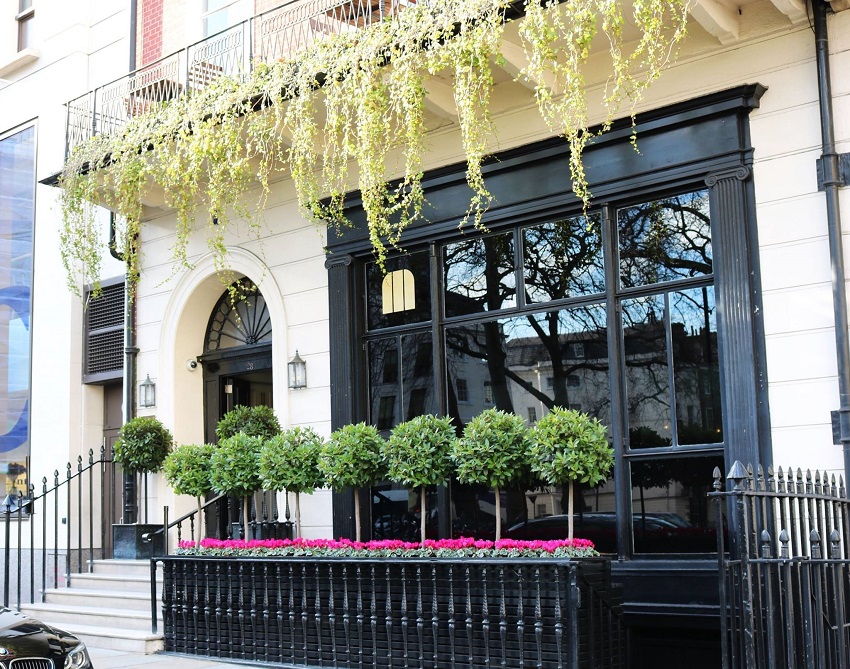 28 Berkeley Square has been at the very heart of the Mayfair social scene for a number of generations, from the roaring 20's where the infamous Bentley Boys could be found frequenting the dining room, through the war years where the Club was home to a pioneering photographer Madame Yevonde who played host to the high society of the day, before the more familiar set-up that we see today, with the inception of Morton's Club in the early 70's.
The restaurant holds a special place in the heart of members and guests, not only for its history and beautiful views over Berkeley Square but for the gastronomy and service that the Club has become synonymous with. Bright fresh Mediterranean flavours painstakingly created for the most discerning of palates yet served in a relaxed and warmly welcoming environment, surrounded by some contemporary masterpieces from Sir Howard Hodgkins, Fiona Rae and more. There is also a Night Lounge on the lower ground floor with DJ's and a Club Room on the second floor, a home-away-from-home which is also available for private hire.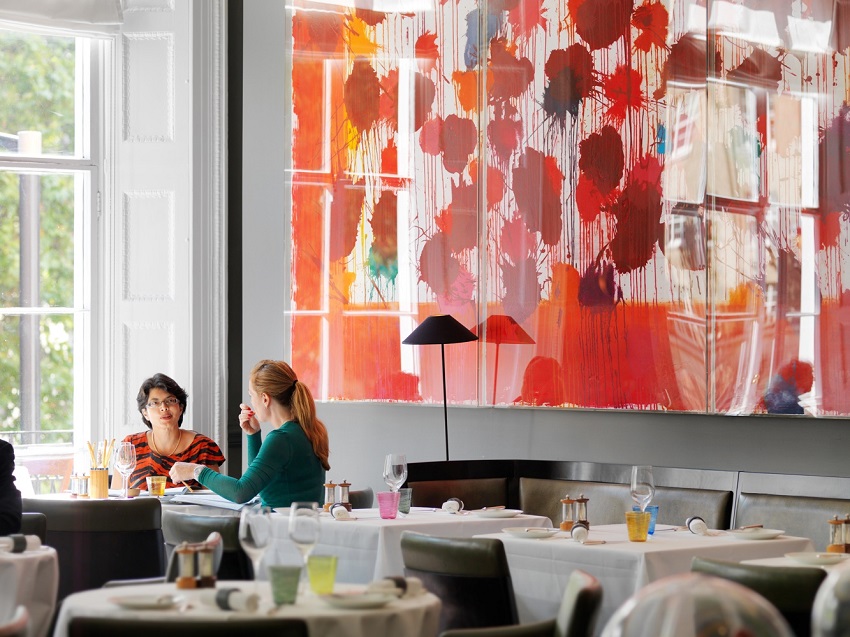 Vetting and Membership: Morton's membership does require a proposal from an existing member however those without are encouraged to contact Stephen Howard, Head of Membership who is always happy to meet and discuss options. Full UK membership is £1,000 per year with a one-off £500 joining fee. To apply for membership see here. Luxury Restaurant Club members may enjoy access to the restaurant at Morton's when dining as follows.
__________
THE CLUB AT THE IVY, 9 West Street, London WC2H 9NE
The Club at The Ivy opened in September 2008. Set over three floors above The Ivy, it is a club that draws a wide array of successful individuals from London's Arts, Business and Media communities, providing a place to work, relax and socialise in the heart of London's West End. Designer Martin Brudnizki created a fresh and imaginative Art Deco take on The Ivy's décor, with three separate but integrated floors that reflect the restaurant's unique atmosphere, combining comfort and style with form and function.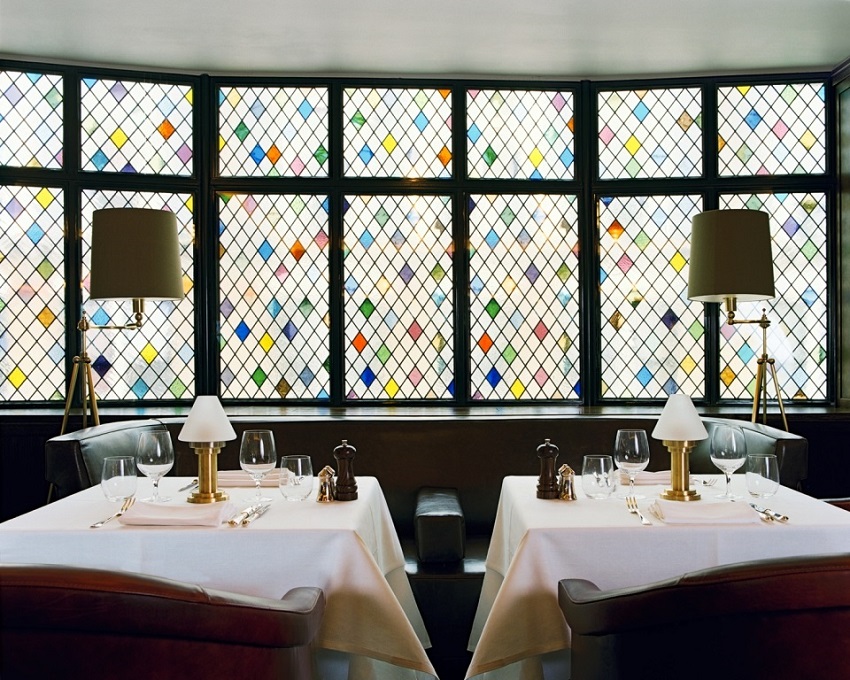 The Piano Bar is a relaxed bar with an all-day menu and a much lauded cocktail list and live jazz on Fridays; The Drawing Room is an extremely comfortable dining space accommodating an Arts library and offering a menu reflective of The Ivy's food heritage; The Loft is an open area with a bar and informal menu, ideal for casual meetings and work. The Loft is also the venue for many of the Club's popular member events which include comedy nights, fireside chats with famous people, business breakfast briefings, quizzes, parties and other opportunities to meet members. There is a smoking terrace on the top floor of the building. The Club has reciprocal arrangements with sixteen exclusive private members clubs around the world and fields a cricket team in the summer months.
Vetting and Membership: Membership is generally by introduction. Membership costs £1,250 per year. Joining Fee £500. 'After Eight Membership' is a Joining Fee of £250 and costs £500 per year. This allows access after 8pm on midweek evenings and full access from Friday-Monday. For membership enquiries please complete form here.  Access is strictly by Ivy Club membership only.
__________
ANNABEL'S, 46 Berkeley Square, Mayfair, London W1J 5AT (Currently 44 Berkeley Square, London W1J 5QB)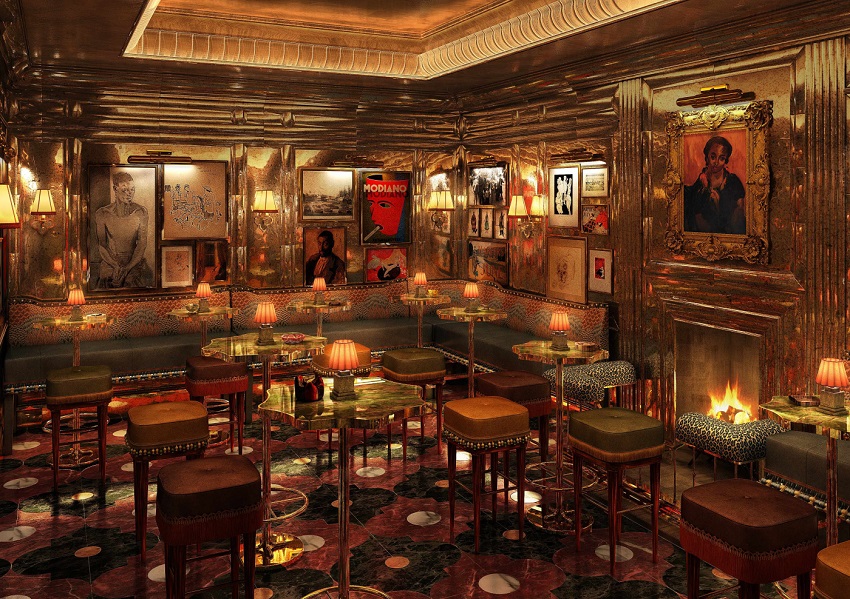 2018 is set to be the most exciting year for the world renowned Annabel's, as it transports the Club in Spring to a magnificent new Grade I listed Georgian home at 46, Berkeley Square from 44, Berkeley Square.
In this splendid new setting, Annabel's will offer an all-day and all-night experience for the very first time. At 26,000 square feet, this beautiful building will comprise considerably more space to include a collection of four restaurants and seven bars, two private dining rooms, a cigar salon and workspace, housed over four spacious floors. Outside, a generously proportioned terraced garden will be covered with a spectacular glass roof to offer year-round dining for 120 covers. The garden leads to a health and well-being spa, which will be discreetly housed in the refurbished mews house with its own separate entrance. The nightclub will be located in the basement and will pay homage to the decadence and abundant energy of the original Annabel's. The top floor will be the only area where laptops and mobile phones are to be used during the day. In the evening the room will become an additional bar/lounge space.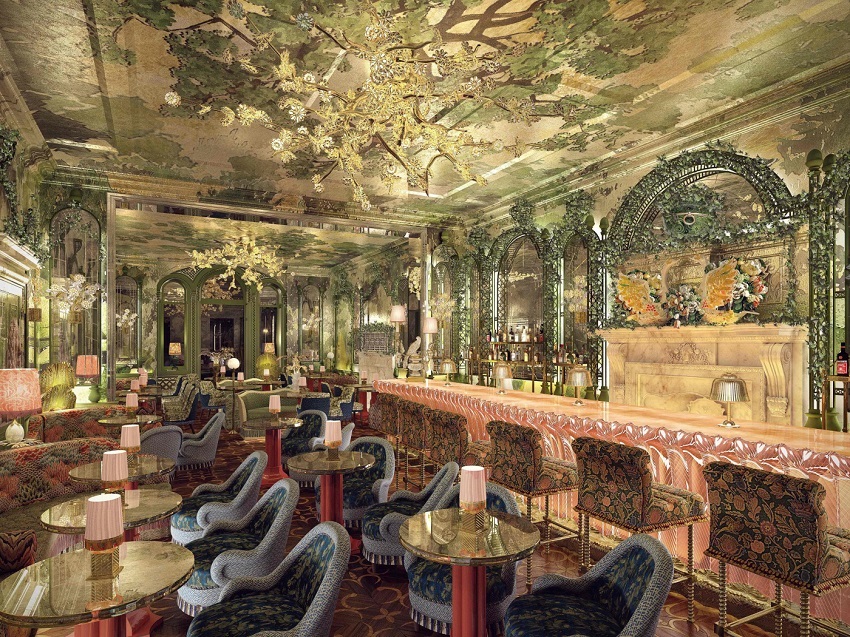 In terms of restaurant offerings it will include a French-style brasserie on the ground floor, Asian inspired on the middle floor and a Mexican/Latin on the third floor paired with the largest collection of tequila and mescal in the world (600 bottles).
Vetting and Membership: Membership fee on request. Please contact memberships@annabels.co.uk for further information. Membership application is still open and new candidates for membership will require a proposer and seconder and election will be strictly by committee. Existing Annabel's members will not require a proposer or seconder but election will remain subject to strict Committee approval. Please note 44 Berkeley Square remains open until the new Annabel's opens. Part of Birley Clubs. Access to the Club is strictly by becoming a member of Annabel's only.
__________
THE DEVONSHIRE CLUB, 
5 Devonshire Square, London EC2M 4YD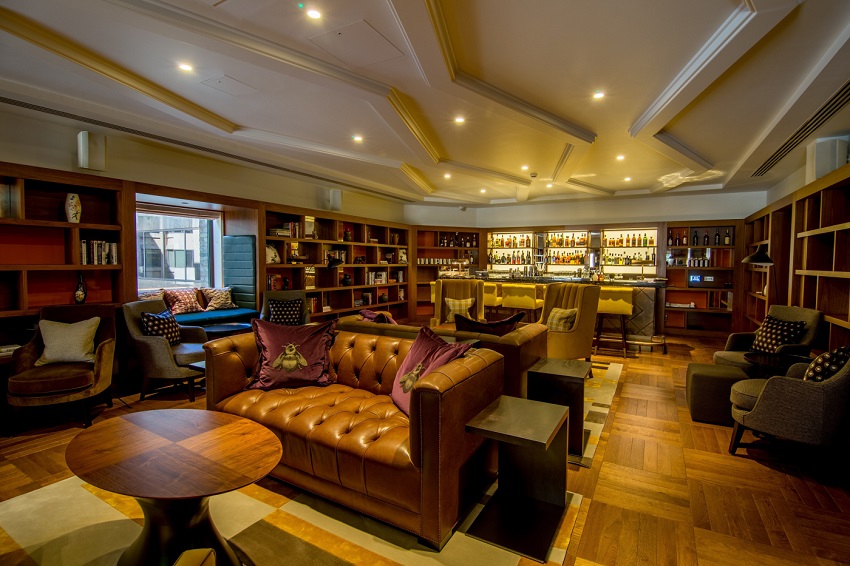 The Devonshire Club is an exclusive private members club in the heart of the city, just two minutes walk away from Liverpool Street, yet nestled in a quiet pedestrian square.
The Club is in a spacious building in an 18th Century former East India Company warehouse and a large Georgian townhouse. The main building houses the principal rooms of the Devonshire Club and it also has its own boutique hotel with 68 bedrooms and suites. Spread over 5 floors, at the heart of the club is the stunning 110 seat brasserie with a huge marbled seafood counter. A Champagne bar leads into a wonderful Garden Room and the Club has its own secret garden. On the first floor is the Library, the elegant Causerie, and Cocktail Bar. There are four private meeting/dining rooms. The Georgian building houses a well-equipped gym, weights room and yoga studio. Members enjoy a curated cultural programme of events and entertainment.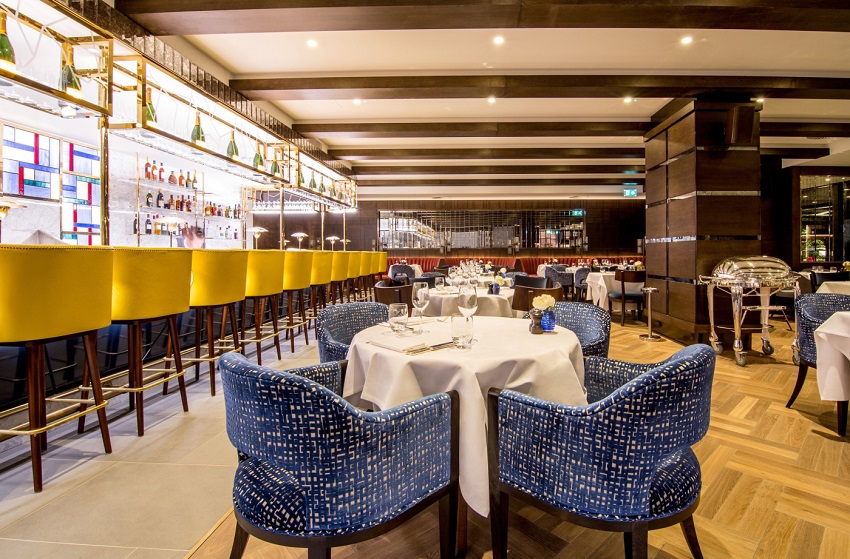 Vetting and Membership: Membership is by application. Annual individual membership to The Devonshire Club is available from £2,400. Luxury Restaurant Club members can apply to join the club at exclusive corporate rates. To enquire, please contact Mrs Sinai Pedreschi  on email sinai@devonshireclub.com. Luxury Restaurant Club members are also invited to visit and dine at The Devonshire Club in consideration of joining the club, providing access to the dining facilities until 31 March 2018. Advance bookings are required in order to dine and must be sent by email to Sinai as above, with your Luxury Restaurant Club membership number included with your reservation request.
__________
THE ARTS CLUB, 
40 Dover St, Mayfair, London W1S 4NP
The Arts Club was founded in 1863 by men of vision in order to provide a haven for those people who had professional or amateur relationships with the Arts, Literature or Sciences. The Club has provided this hospitality and friendship ever since, having survived two world wars, as well as political and economic anomalies over the years.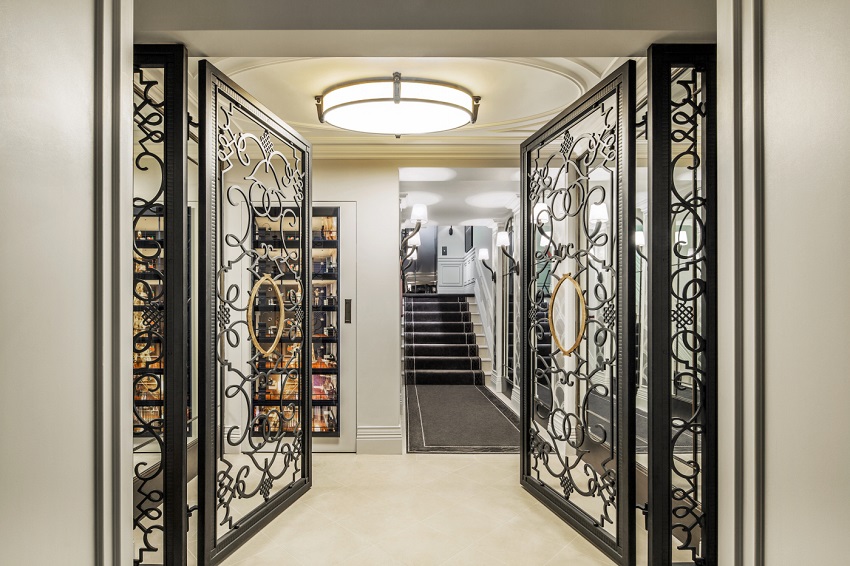 It is one of the most notable Mayfair locations for fine dining across a selection of sublime restaurants, coveted Art collections and exhibitions, and hosting exceptional guest speakers including Sir Stephen Hawking, Richard Curtis, Joanna Lumley and Stephen Fry. While it has always had an affinity for music and nurturing new talent, The Club has recently opened a new supperclub, Leo's, with Jessie Ware and Zak Abel due to perform on February 7th for a night of dinner and dancing to launch 2018.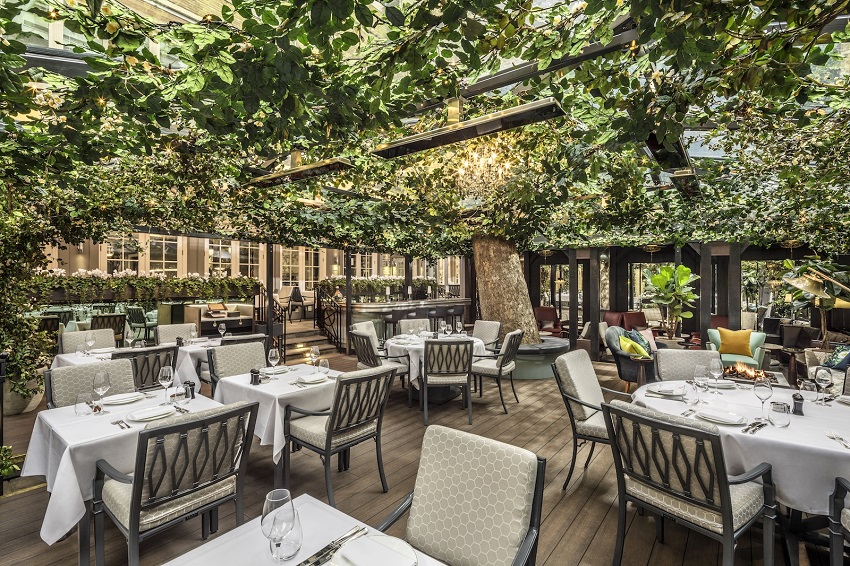 Vetting and Membership: The principal areas of interest amongst the current members of The Arts Club are: art, architecture, fashion, film, literature, music, performance, photography, science, theatre and TV/media. Full Annual Membership is £2,000 with £2,000 joining fee; a secondary member with same address as primary is £1,250 with no joining fee. An under 30's membership is available and Annual Membership is £1,000 with £1,000 joining fee. If you are interested in becoming a member, please contact the Membership Secretary on +44 (0) 20 7499 8581 or email membership@theartsclub.co.uk.  Access to the Club is strictly by membership to The Arts Club only.
__________
GEORGE, 87/88 Mount Street, London W1K 2SR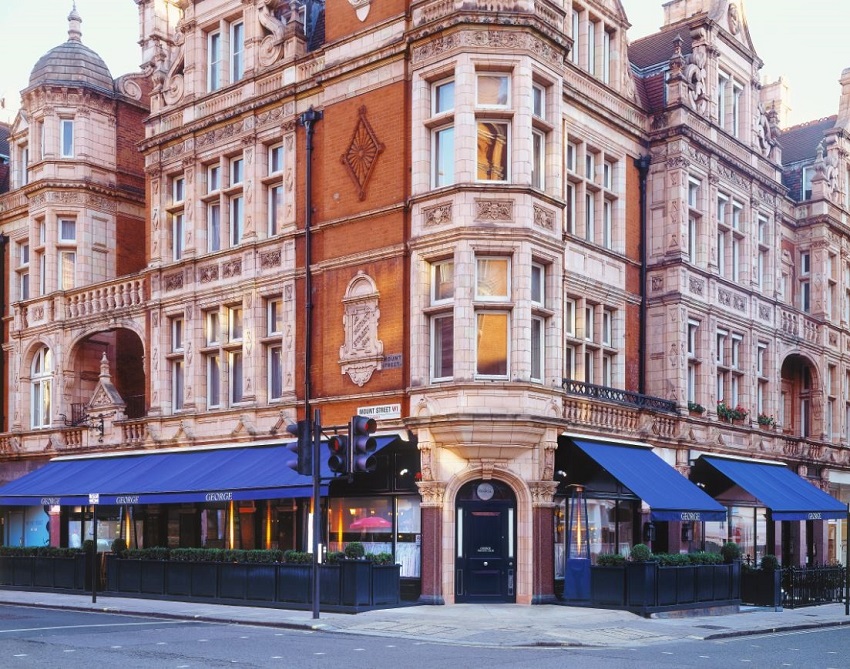 Founded in 2001, George is a contemporary members' restaurant and bar. The ground-floor dining room, designed with the clean lines of the Nantucket style and hung with works by David Hockney, seats 80, with canopied decking outside. The menu emphasises seasonal, wild and organic ingredients, its open kitchen creating classic brasserie dishes with an Asian influence.
At breakfast (open to all Birley Club members) and lunch, George hosts central London's powerbrokers, while evening visits tend to be of a more relaxed nature. The downstairs bar, an Art Deco delight, comes into its own at this point, its nooks and corners creating endless opportunities for socialising on any scale from tête-à-tête to party.
Vetting and Membership: Membership fee on request. To become a Member of George, the candidate must be proposed and seconded by two existing Members of the Club. Application forms should be submitted with a letter explaining why the applicant wishes to join as well as with letters of support from their proposer and seconder. There are two tiers of Membership available, full Membership and George Bar Membership. For further information, please contact the Membership Office on: 020 7629 2350. Access to the Club as by membership to George or a Birley Club only.
__________
MARK'S CLUB, 46 Charles Street, Mayfair, London W1J 5EJ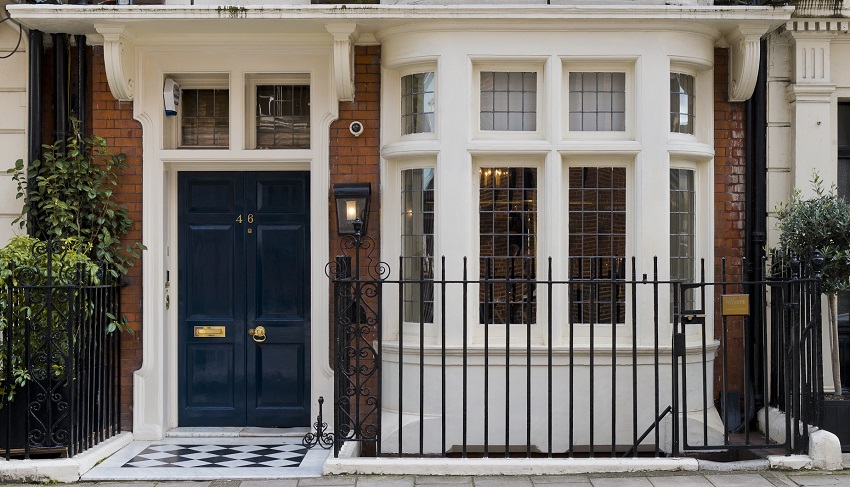 Mark's Club opened in 1973 by Mark Birley as an alternative to the St James's gentlemen's clubs. Situated in a beautiful Mayfair townhouse, it is indeed a home from home for Members, perhaps an ideal one. Here, timelessly traditional décor, perfect comfort and attentive service create a peaceful retreat far removed from the bustle of city life. Members can dine on British and French favourites, take tea or drinks around the open fire in the Drawing Room, enjoy a cigar on the covered terrace or entertain in The Indian Room and Circus Room. Mark's Club is a haven fiercely cherished by its Members. In the summer of 2015 Mark's Club underwent a delicate refurbishment by Parisian interior designer, Tino Zervudachi of Mlinaric Henry & Zervudachi.
Overseeing the launch of the kitchen following refurbishment, Nicolas Laridan joined Mark's Club in September 2015 as Head Chef. Nicolas creates classic British dishes with traditional French and Italian influences, with member favourites including: Cheese Soufflé, Crab with Avocado and Veal Chop served from the daily carving trolley.
Prior to joining the team at Mark's Club, Nicolas was at the House of Roux training and was Head Chef of Le Gavroche at just 27 years old. He oversaw the two Michelin starred institution for a further seven years with Chef Owner Michel Roux Jr. It was through this experience Nicolas learnt the importance of creating the right atmosphere, with personal interaction playing a pivotal role, a moto which he has carried to his position at Mark's Club. In 2014, Nicolas was honoured with becoming a Disciples of Escoffier, which he counts as one his proudest career highlights to date.
Club Director, Darius Namdar, is steering the Club into the 21st century, whilst carefully preserving its heritage. Mark's Club have launched an under 35 membership for weekend use of the Club to attract a younger wave of members.
Vetting and Membership: Membership fee on request. To become a Member of Mark's Club, the candidate must be proposed and seconded by two existing Members of the Club. Application forms should be submitted with a letter explaining why the applicant wishes to join as well as with letters of support from their proposer and seconder. For further information, please contact the Membership Office on T. +44 (0)20 7629 2350. Access to the Club is strictly by membership to Mark's Club only.
__________
MOSIMANN'S, 11B West Halkin Street, Belgravia, London SW1X 8JL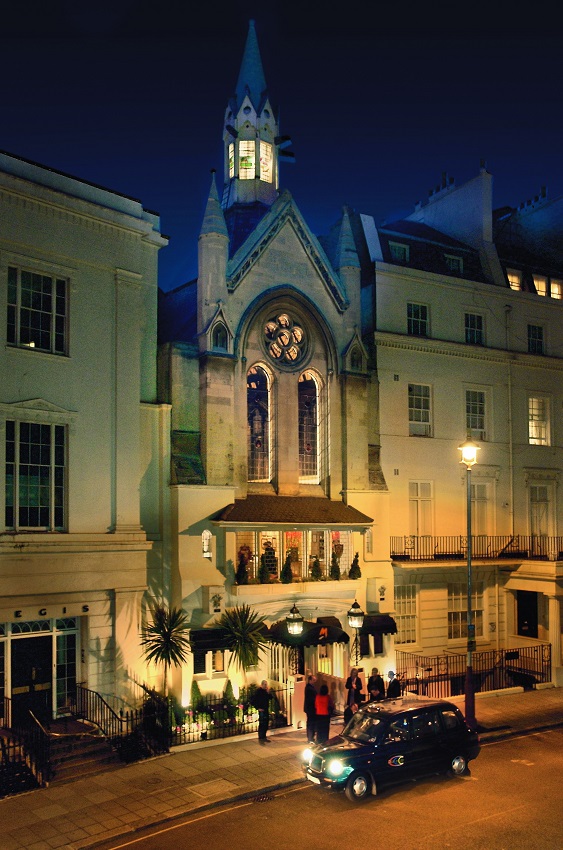 Headed up by Anton Mosimann OBE, it has been a family run business for over 30 years and holder of a Royal Warrant by Appointment to HRH The Prince of Wales of Cooking Services since 2000.
As a member of Mosimann's Club you gain access to one of the most exclusive and prestigious private dining clubs in the world. Members and their partners can bring guests to dine for lunch or dinner at the Club, use the mezzanine bar to enjoy a glass of Mosimann's Grand Cru champagne or an after-dinner drink, or book a place on any of the special events in their calendar.
Vetting and Membership: Membership is by application and one proposer from the club. Full membership annual fee is £700 and a joining fee of £250. Individual lunch membership is £200 annually. Corporate and under 30's memberships also available. For enquiries please email membership@mosimann.com. Access to the Club is strictly for Mosimann's Club members only.
__________
HOME HOUSE, 20 Portman Square, Marylebone, London W1H 6LW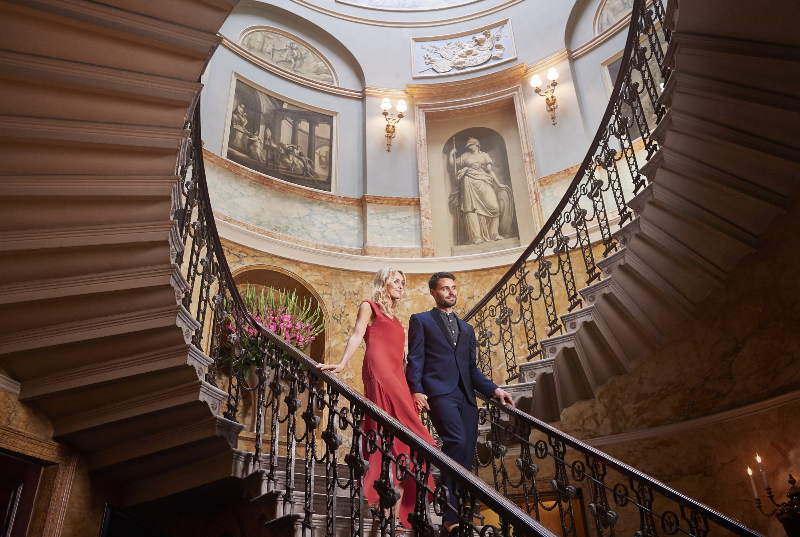 Home House private members club has welcomed and accommodated a wealth of aristocracy and guests over the centuries since its creation for Elizabeth, Countess of Home in the late eighteenth century. Located across three Georgian town houses at 19, 20 and 21 Portman Square, Home House offers its members the dramatic fusion of the old and the new. Designed by James Wyatt in 1773 with Robert Adam interiors, the elegance and grandeur of the Club is perfectly juxtaposed with cutting-edge minimalist interiors at '21' with an edgy bar and reception area, designed by internationally renowned architect, Zaha Hadid and finished in sumptuous detail by the celebrated Candy & Candy team.
Home House will be celebrating their 20th anniversary throughout 2018 with a plethora of decadent parties and soirees. The House is a veritable 'Pleasure Palace' with restaurants, bars, opulent party rooms, an intimate garden, boutique gym, spa and suites fit for royalty. For members, the best bit is probably that there are no stuffy rules – in fact there really aren't any rules at all. Well, just one: "Nudity is discouraged". Naughtiness, on the other hand, is de rigueur.
For dining it really is a temple of entertaining – with the finest range of wholesome and fresh breakfasts, nourishing mid-morning snacks, brunches for entrepreneurs who graze, power lunches, champagne afternoon teas, elegant dining and al fresco in the summer months.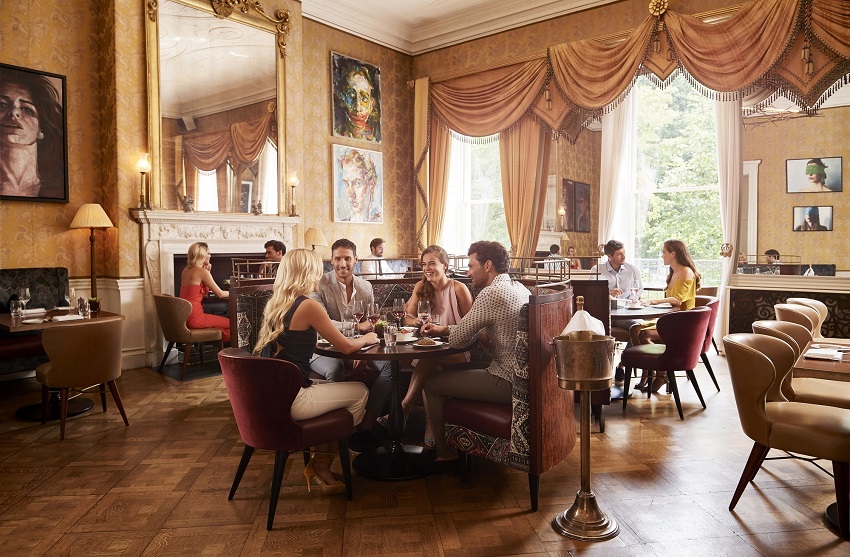 The main restaurant is set in stunning Georgian rooms with views across leafy Portman Square are home to brasserie-style dining at its best. Members can enjoy a chilled glass of champagne at the crustacea bar along with oysters and seafood classics before sampling the finest British produce from the latest modern European menu. The daily changing Pre-Theatre menu is available every day (except Sunday) in The Restaurant between 6pm and 7.30pm and includes two courses for £25 or three courses for £32.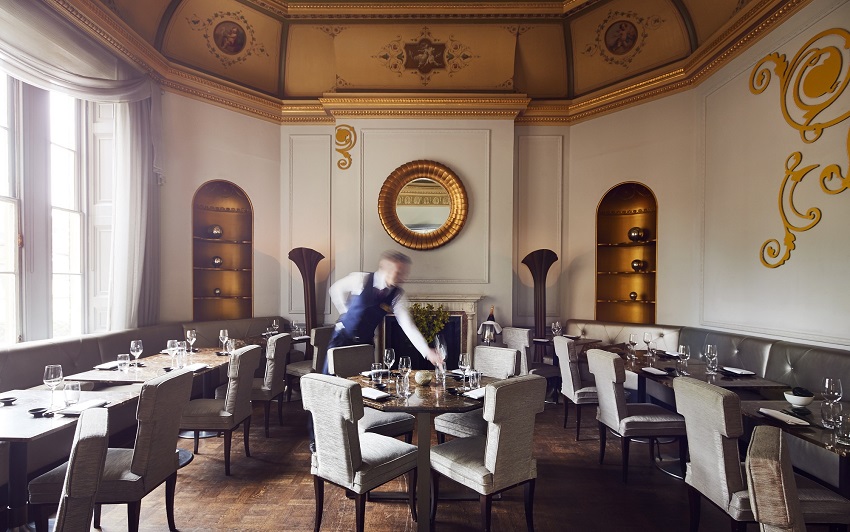 The Octagon Dining Room is a vibrant restaurant beautifully combining contemporary décor with a stunning 1820's ceiling. Similarly, the menu offers an elegant fusion of flavours, drawing its influences from across Asia. Combine delicious Far Eastern treats with something from the tempting Asian-themed cocktail list.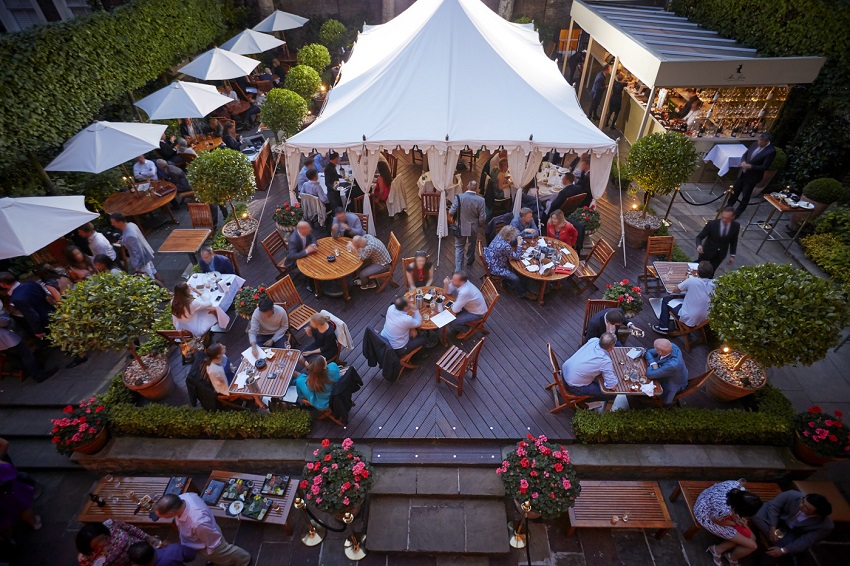 The Garden Restaurant is a verdant, green oasis, set within the walled courtyard of the House. It is a real hidden gem with seasonal flowers, a striking Raj tent, parasol tables and a Moët and Chandon champagne bar and grill creating a relaxed space for members to enjoy drinks and dining during the summer months. The Garden is open from April until September. There are two menus, the ALC menu for dining under the Raj tent or the all-day menu for the parasol tables. The Garden also hosts the popular BBQ on Sundays which is the place to be seen on sunny London days.
Vetting and Membership: Membership is by application. All memberships carry a £295 joining fee and Annual Membership for over 35's is £1,940, under 35's £1,275, or Social Membership is £890 which is for Mon to Fri after 6pm access only and no gym use included. For enquiries please complete form here. Access to the Club is strictly by membership to Home House only.
__________
10 CASTLE STREET, 10 Castle St, Cranborne, Wimborne BH21 5PZ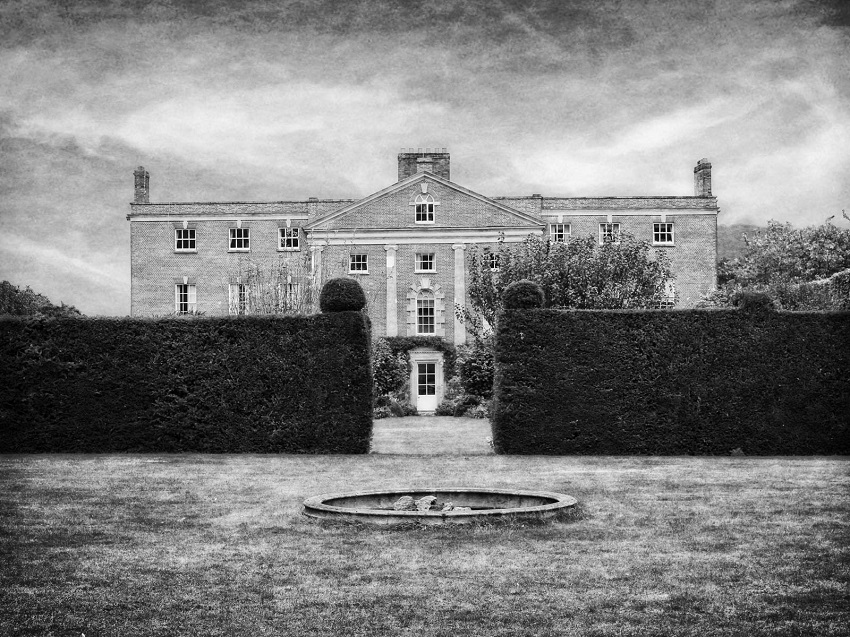 10 Castle Street has been created to provide its members with a community: a hub from which to base both their social and professional lives, and they are invited to a wide range of events from private viewings to a number of exclusive parties hosted by select partners and there is a forum for all members to network. The restaurant is open to non members but club rooms, billiard rooms, Eagle Bar are members use only. Members also enjoy member-only rates.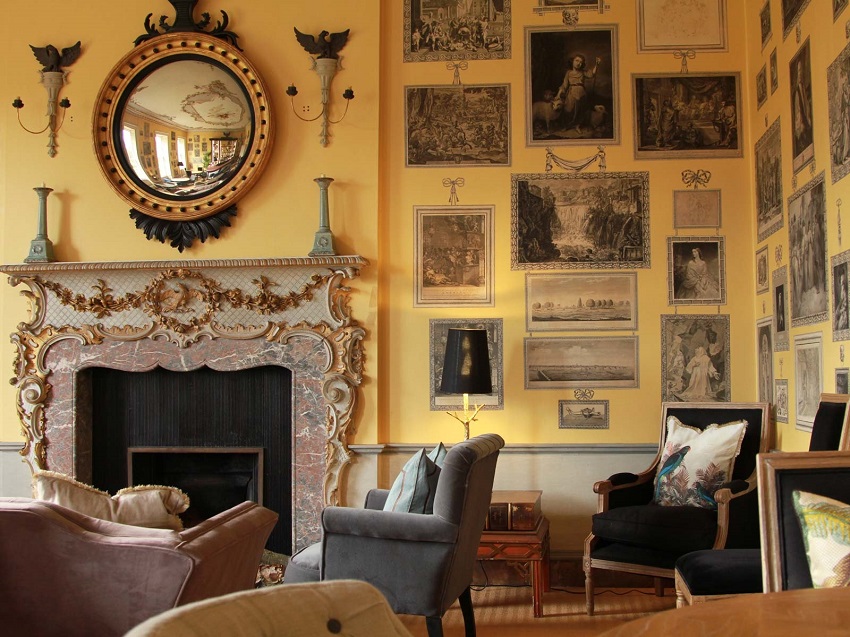 Shortly there will be a phase two to the House membership with a planned spa and fitness centre, when separate fees will apply.
Vetting and Membership: Membership is by application. All memberships carry a £200 joining fee, although this is waived for members of the Luxury Restaurant Club until 31 March 2018. Individual Country Membership £550 per annum, Joint £750 per annum, or Individual Town Membership £850. For enquiries email members@10castlestreet.com. Luxury Restaurant Club members can use dining facilities, see details here.
__________
THE CARNEGIE CLUB, Skibo Castle, Clashmore, Dornoch, Scotland IV25 3RQ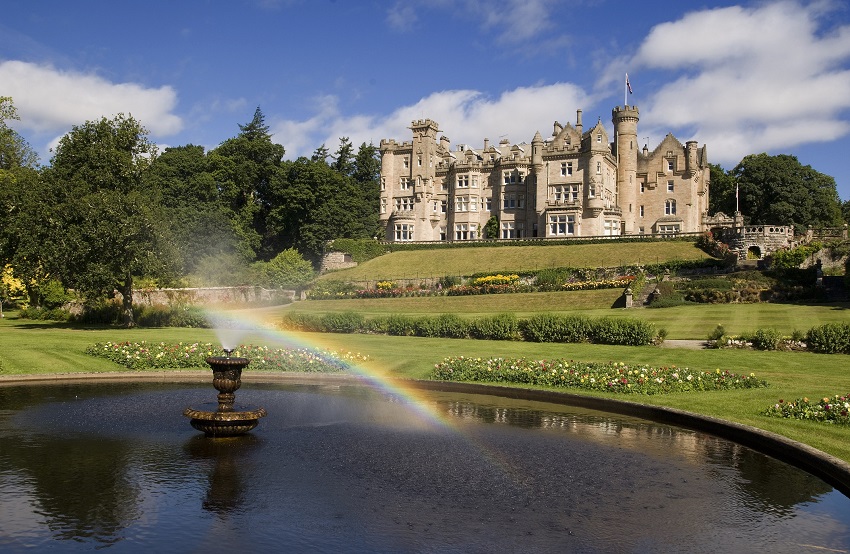 Executive Chef Craig Rowland, recently invested as a Fellow of the prestigious Royal Academy of Culinary Arts, oversees a team of talented professionals committed to offering Carnegie Club members world-class cuisine. Dependent on the season and their preference, members can enjoy a relaxed brasserie-style dinner at the Clubhouse, with its floor to ceiling windows, offering outstanding views of the Dornoch Firth.  Alternatively, members gather in the castle's drawing room for cocktails before enjoying a house-party style dinner in Mr Carnegie's dining room, hosted by a member of the club's staff.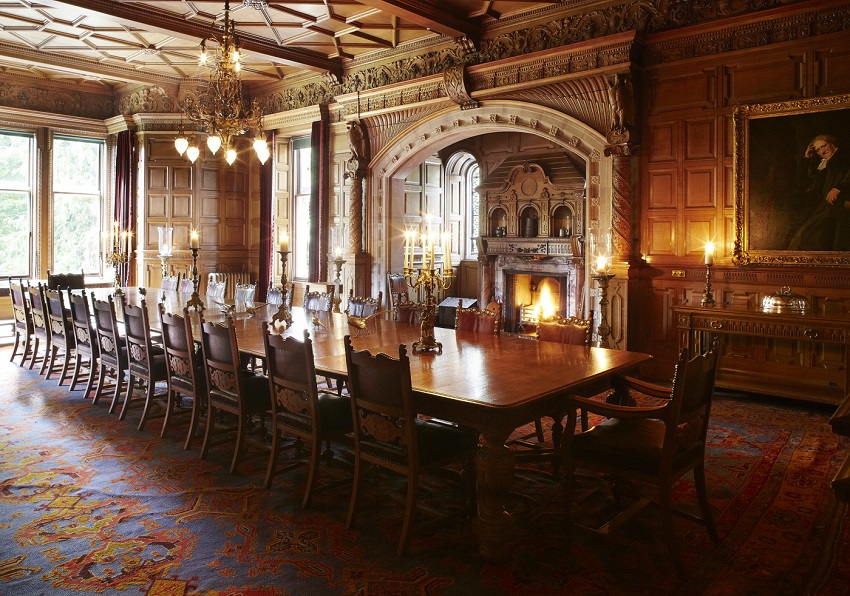 Vetting and Membership Fees: There are currently a limited number of memberships available for The Carnegie Club. Members pay a joining fee of £25,000 and an annual membership fee of £8,000. A daily rate is also available and includes accommodation, all food, all drinks including teas, coffees, wines, champagne and spirits by the glass and most of the activities on the estate including golf, clay shooting, archery, tennis, swimming, gym, falconry and cycling. Single day rates from £860 and double day rates from £1,290.
All those wishing to apply for membership are asked to stay as a potential member for an initial visit, after which they would submit an application to the club's committee. This will require sponsorship by either an existing member or one of the club's committee members. For enquiries email membership@carnegieclub.co.uk or telephone 01862 894 600.
 __________
67 PALL MALL, 67 Pall Mall, London SW1Y 5ES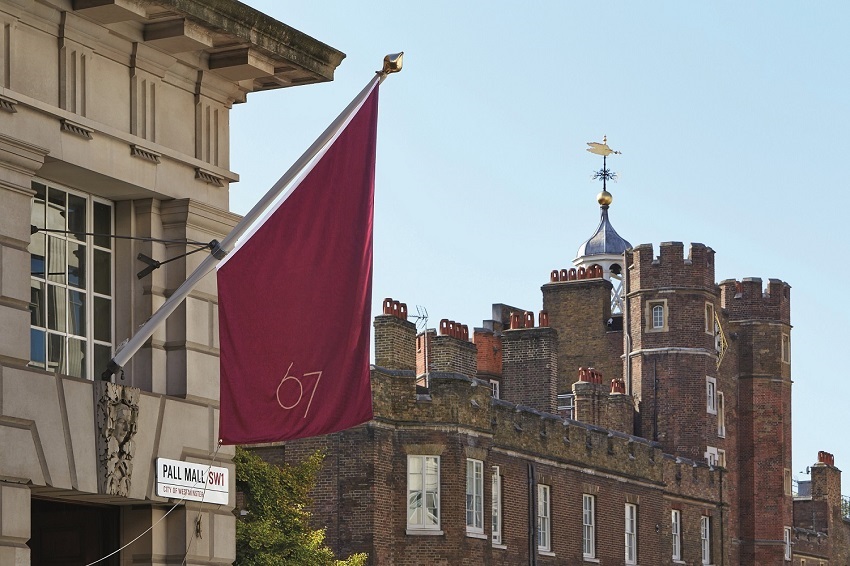 67 Pall Mall is a private Members' Club, founded by wine lovers, for wine lovers. A Club in the heart of historic St James's and housed within Sir Edwin Lutyens' beautiful Grade II listed building, 67 Pall Mall allows members to share interest in the world's finest wines with like-minded people.
Unlike most wine lists in the Capital, 67 Pall Mall works on the basis of a small cash mark-up, rather than a multiple of the cost price. Their mission is to entice members to pull the cork and discover a new wine facilitated by the Club's proficient team, who offer faultless service and immeasurable knowledge. They feature over 800 wines by the glass spread across two floors, and a collection of 4,000 bottles. Their extensive sub-basement cellars hold thousands of cases of the finest and rarest wines in the world in addition to offer personal cellars on the premises.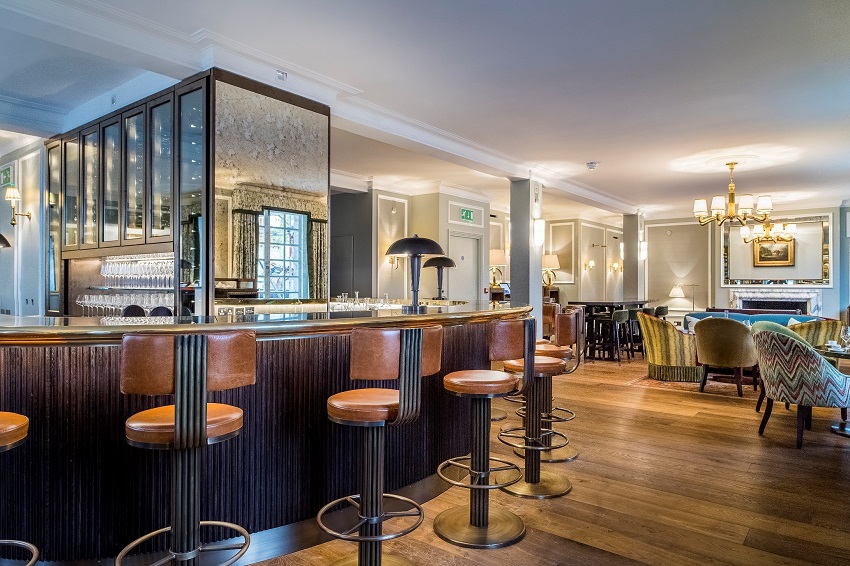 The restaurant is open for breakfast, lunch and dinner. Head Chef, Marcus Verberne, and his team have created a 'modern European' menu featuring an ever changing range of seasonal, locally sourced produce to complement the extensive wine list.
Vetting and Membership: Membership is by application. Annual membership is £1,500 and a joining fee of £1,500. Country memberships, under 30's and under 35's memberships are available also. For enquiries email natacha@67pallmall.co.uk. Access to the Club is strictly by membership to 67 Pall Mall only.
__________
L'ESCARGOT, 48 Greek Street, Soho, London W1D 4EF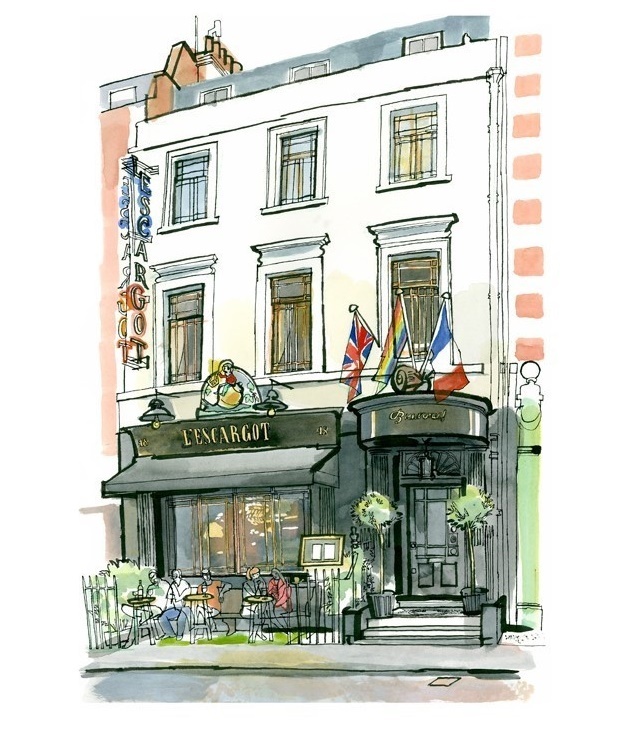 L'Escargot has been a famous Soho landmark since 1927 and reigns as one of the best and most well-known French restaurants in London. Perhaps not so well-known is its Upstairs Club which occupies six salons in the upper two floors of the Georgian townhouse.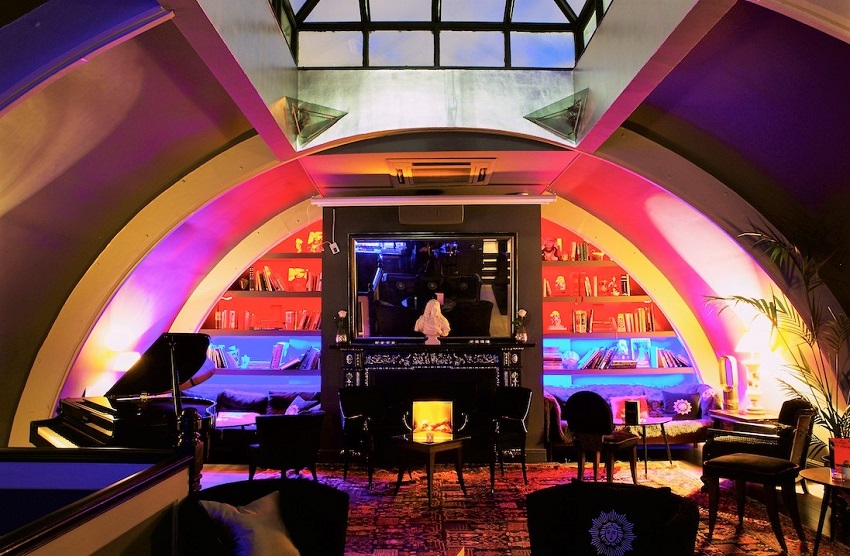 The owners say they wanted to create "somewhere to hide from the hurly burly" of the capital that does not pander exclusively to the young and beautiful. Perfect for a nice a drink, somewhere to quietly enjoy, have nice food, or go for gentle music that doesn't require you have to shout over to chat with companions and is open until 1am.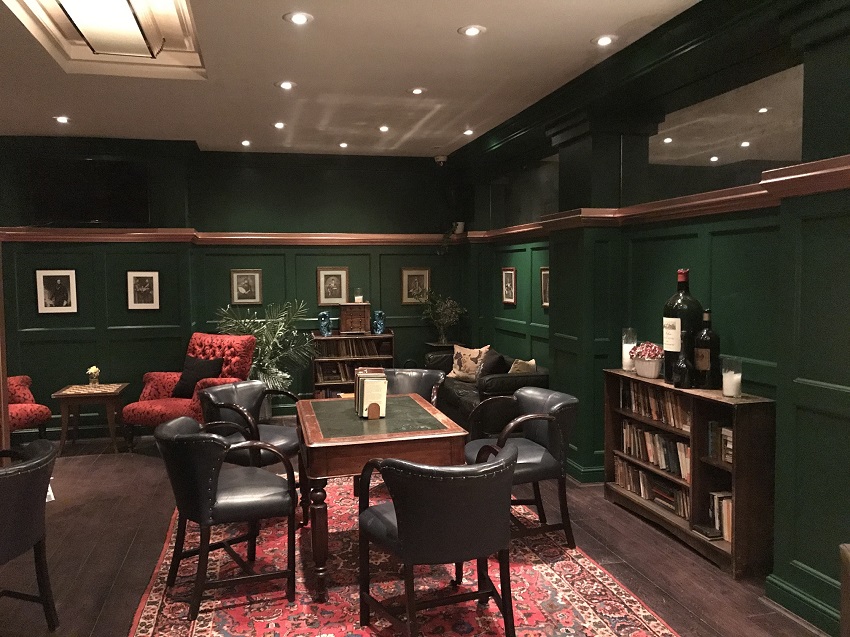 Naturally, the menu in the restaurant at L'Escargot is based on typical French cuisine, bourgeois in style, featuring some of the finest French delicacies including Lobster bisque, chicken liver parfait, steak Tartare, Chateaubriand and of course Les Escargots. The profiteroles are legendary as is the Grand Marnier Souffle.
Vetting and Membership: Membership is by application. Full annual membership is £450 and under 25's is £250. If you do not have a proposer the Club asks that you to visit them first to meet with one of the membership team for a drink and a brief introduction. Diners may use the restaurant at any time but Upstairs Club access is by membership to L'Escargot Club only.
__________
TO DISCOVER THE FINEST RESTAURANTS WITH
THE LUXURY RESTAURANT GUIDE
DOWNLOAD FREE APP HERE