Chefs Recipe: Seasonal Vegetable and Crème Fraiche Linguini by The Cookery School at Lucknam Park
It's that time of year when 'growing your own' really pays off and those lucky enough to have a veg patch or allotment are reaping natures reward with a glut of delicious veg. What to do with them all though? If you are looking for ideas of what to do with your crop – or have received overflow from family and friends – the Cookery School at Lucknam Park have sent us this wonderful adaptable recipe.
For the pasta
275gm pasta flour 'type 00'
3 egg yolks
2 whole egg
Pinch of salt
15gm extra virgin olive oil
For the seasonal vegetable mixture
(You can use any vegetables you have in the fridge. The given vegetables are just a guide line.)
1 medium red pepper, cut into small dice
1 medium red onion, peeled and cut into small dice
50g peas
50g fine green beans
100gm spinach, washed, dried and shredded
5 asparagus spears, peeled and trimmed
1/4th bunch parsley, washed, dried and finely chopped
3cloves garlic, peeled and finely chopped
15ml vegetable oil
15ml extra virgin olive oil
100gm crème fraîche
Drizzle of lemon juice
Salt and pepper to taste
Prepare the pasta by mixing the salt, extra virgin olive oil and the pasta flour in a medium size mixing bowl.
Make a well in the centre. Add the eggs and knead to a smooth dough. Cover with cling-film and allow to rest for at least 30 minutes before using.
After the pasta is rested, roll as thin as possible so that the pasta can easily pass through the pasta rolling machine.
Start on a highest setting and pass the pasta through the pasta roller once. Fold the pasta so that the width corresponds to the width of the pasta roller.
Then, start rolling the pasta by reducing the pasta roller setting until you reach no.6 on the roller. Pass the rolled sheets through the linguini cutter. Flour them well and leave on the side to rest (you can use shop bought linguini but home-made is much nicer).
Boil water in a stock pan, sprinkle rock salt and some extra virgin olive oil. Blanch the linguini for maximum 30 seconds (3-7 minutes for shop bought) and refresh in ice water or very cold water. Drain and drizzle more olive oil to prevent the linguini from sticking to each other.
Take a large sauté pan, heat the vegetable and extra virgin olive oil. Add onions and pepper and quickly sauté for a minute.
Add the chopped garlic, toss well. Add a cube of butter and about 20ml of water then add the spinach, asparagus, peas and green beans. Season with salt and pepper and cook for 1 minute.
Add the linguini and toss and then finish with crème fraiche and drizzle of lemon juice. Check for the seasoning. Sprinkle parsley and serve.
You can grate parmesan or cheddar cheese on the top for extra flavour, drizzle some more extra virgin olive oil if preferred.
The Cookery School: 
The Cookery School is located in a small house on the estate, just a short walk from the hotel. The kitchen is designed by renowned kitchen designer Stephen Graver, and the state of the art appliances are supplied by De Dietrich and Fhiaba.
The School is open Monday to Saturday and day courses run from 08:30am to approx 4:30pm. Half day courses run from 9.30am to 2pm.
Each full day course is £185 per person inclusive of: coffee and pastries on arrival, all ingredients, lunch, course folder, Cookery School bag and use of apron and chef jacket throughout the day.
Half day courses are £95 per person  inclusive of: coffee and pastries on arrival, all ingredients, lunch, course folder, Cookery School bag and use of apron and chef jacket throughout the day.
Changing facilities are available at the Cookery School for all participants – click here to see courses available
Join Luxury Restaurant Club today for just £105 for 12 months and receive a £25 Gift Voucher to present against any full day cookery class at Lucknam Park Cookery School – call 01276 850581 to find out more.
The Restaurant: Hywel Jones by Lucknam Park, Colerne, Nr. Bath, Chippenham, Wiltshire, SN14 8Az | 01225 742777 | www.lucknampark.co.uk
Member Club Offer: Members receive 10% off the total bill when having dinner Wednesday, Thursday and Sunday – click here for more details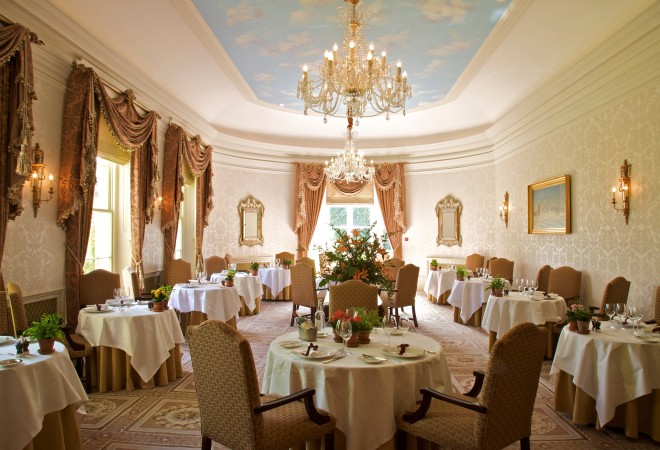 Find out more about the Luxury Restaurant Club – the UK's largest fine dining club, where you can subscribe to enjoy instant rewards, invitations and insights from over 500 of the finest restaurants in the UK. Find out more here.