Chefs Recipe: Pea and Wild Garlic Soup with Quail Scotch Egg from Lucknam Park
Wild garlic is such a versatile ingredient and it is used to perfection in this vibrant recipe from Lucknam Park in Wiltshire. Along with the delightful mini scotch egg this will dish will delight young and old alike.
Thanks also to everyone who entered our Lucknam Park Cookery School competition last week. The winner has now been drawn and contacted. Members interested in booking a course please go to www.lucknampark.co.uk/cookery-school/cookery-courses/ for full details.
Soup
500g frozen peas
1 Small white onion, diced
500mls chicken stock
200ml double cream
20 wild garlic leaves
Salt and sugar to taste
Scotch egg
4 quail eggs
200g sausage meat
½ hand Chopped coriander
1 egg, beaten
50g flour
50g panko breadcrumbs
Soup:
For the soup, finely chop the onion then sweat down in a little butter until soft. Add peas and cook for 2-3 minutes. Cover with the stock, bring to a boil then simmer briefly for 3-4 minutes.
Add the cream and wild garlic, then blend to a smooth purée. Pass through a fine sieve.
Adjust the seasoning with salt and sugar. Keep hot.
Scotch egg:
Bring a pan of water to the boil and drop in the quail eggs, simmer them for exactly 2 ½ minutes then put them straight into chilled water and refresh them for 5 minutes. Peel the eggs carefully once cold.
Mix the sausage meat and coriander then season with salt and pepper.
Roll the meat out in between 2 sheets of grease-proof paper, using non-stick grease spray on them first to ensure the meat does not stick.
Once the meat is about 2-3mm thick roll around the eggs to coat all the egg evenly.
Roll the scotch eggs first in the flour, then the beaten egg and finally the breadcrumb to coat them fully and evenly.
Deep fry when needed for about 1 ½ minutes at 190˚c or till golden and crisp.
Drain on kitchen towel and serve.
The Restaurant: Hywel Jones by Lucknam Park, Colerne, Nr. Bath, Chippenham, Wiltshire, SN14 8Az | 01225 742777 | www.lucknampark.co.uk
Member Club Offer: Members receive 10% off the total bill when having dinner Wednesday, Thursday and Sunday – click here for more details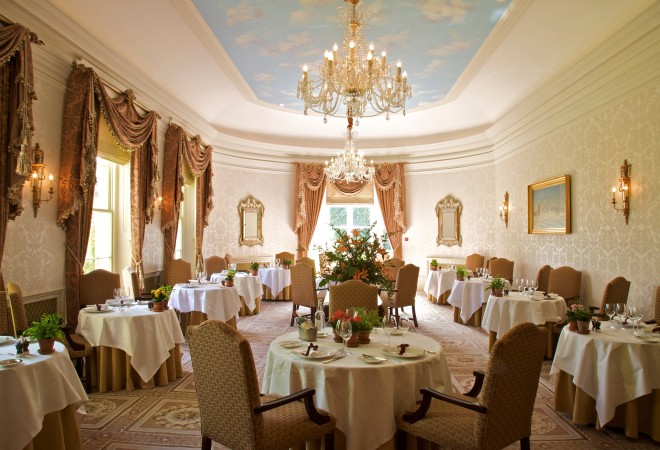 Not a member? Why not treat yourself to a year of dining in luxury and enjoy benefits, treats and tantalizing offers in the UK's best restaurants – all for just £95.00 for 12 months. Find out more here.