Chefs Q & A: Tom Aikens and Tom's Seven Hour Braised Lamb Recipe
The Luxury Restaurant Guide is delighted to have started working this year with award-winning chef Tom Aikens and his unique collection of restaurants, Tom's Kitchen. Working with passionate suppliers, farmers and chefs Tom's Kitchen can be found across central London, in addition to outposts in Birmingham, Istanbul and Dubai.
We caught up with the very busy man himself this week, to put to him some questions from our members and facebook followers, along with some of the team in the LRG office. Here's what he told us… (Also scroll below for a rather special recipe you won't want to miss!).
LRG:  Are you more inclined to put food on your menu that you would like to eat, or food you think that your customers would like to eat?
Tom: I would never put food on my menus that I wouldn't eat myself, you need to be proud of the food you serve to customers, I couldn't be proud if I knew I didn't even enjoy it.
LRG:  What would be the one thing you would love to eat that you wouldn't dare put on your menu?
Tom: I love Asian food, however Tom's Kitchen is all about the best of British, therefore I wouldn't put strong Asian dishes on the menu. You can take inspiration from these dishes and flavours, but I like to stick to British classics and produce for Tom's Kitchen. I'm lucky as I can experiment with Asian ingredients and dishes at The Pawn, my restaurant in Hong Kong.
LRG:  What and where in your opinion is the best plate of food you have ever prepared?
Tom: I have done many and that's an impossible question to answer I am afraid, I did many at Pied a Terre and also at Tom Aikens…
LRG:  What is your earliest cooking memory?
Tom: It was when I was probably the age of 8 or so – my twin brother and I were helping out in the kitchen with my mother. She would involve us in making cakes and home baking, or just weighing things out, but we were always on hand to help to lick out the occasional sticky raw cake mix that was left in the bottom of the bowl. I have a great memory of her making milk bread, the smell was so incredible. Living in Norfolk, we had a large back garden where we grew a lot of our own fruit and vegetables. As a result, from an early age I got to learn about seasonality and how to grow and cook great produce. We grew lots of soft fruits from strawberries, gooseberries, blackberries and so on, which were mostly turned into jams, which my mother kept in a large larder full of things that we made.
LRG: Who are the Chefs who have had most influence in your own style of cooking?
Tom: I've been fortunate enough to work alongside some of the world's best chefs and many of them were French such as Joel Robuchon and Pierre Koffman. They have both been real inspirations to my cooking and certainly have influenced my style. I also admire chefs like Paul Bocuse, Alain Ducasse and the Roux brothers. Not only have they revolutionised the industry with their cooking, but they are also great businessmen.
LRG:  You became the youngest chef to win two Michelin Stars (age 26yr) Would you say you have ticked the Michelin box now?
Tom: I think I've ticked a box, but never say never. I love Michelin cooking but I do think the industry has changed dramatically and people are more aware of the vast array of food and restaurants – you no longer have to go to a Michelin restaurant to enjoy the best meal of your life and people know that.
LRG: If you were to eat three courses in one of your (Tom's Kitchen) restaurants today what would your order be?
Tom: It would have to be our classic Spicy Crab Cake, followed by Seven Hour Lamb, and finished with the Chocolate and Peanut Putter Fondant.
LRG: Where would you choose to eat for a special occasion?
Tom: Clove Club, Story, The Typing Room, Noma, Frantzen, Faviken, Osteria Francescana in Modena to name but a few!!
LRG: You are renowned for your passion for fish and work with the fishing industry – what is your favourite fish to prepare and eat?
Tom: I love a very simple dish of really fresh Mackerel but it would not be cooked but as a Tartar as I love the clean flavour & taste.
LRG: What is the most unusual cooking challenge you have faced?
Tom: Cooking for 2,500 people for the final big fundraising dinner for the BOA …. That was more than challenging and now I have total respect for banquet chefs.
LRG:  You now have six Tom's Kitchen's – is the plan to continue to expand? If so any clue as to where you are opening next?
Tom: We have lots of exciting plans but that's all I'm saying – watch this space!
Seven Hour Braised Shoulder of Lamb
This hearty lamb shoulder recipe, with its creamy mashed potato pairing, makes a wonderful and rustic lamb dinner. Slowly braising the lamb in a rich sauce ensures that the meat's full, immense flavour is drawn out.
You can either slice or shred the meat from the bone to serve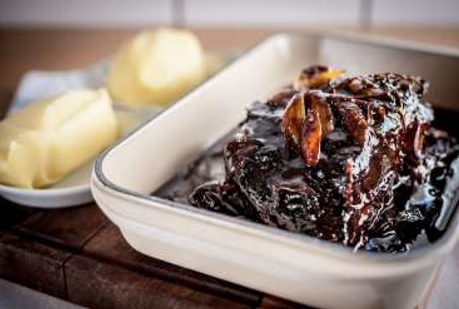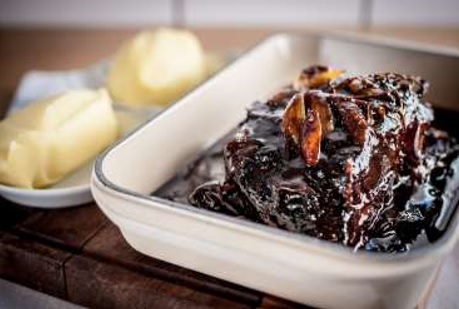 Serves 4
Ingredients
Braised Shoulder of Lamb
1 shoulder of lamb, around 2.5kg in weight
150ml olive oil
20g fresh thyme
2 garlic bulbs, peeled cloves
sea salt and black pepper
8 medium onions, peeled
350ml balsamic vinegar
Mashed Potato
2l water
12g salt
200g butter
150ml milk
600g peeled potato, cut in 1/4's
12 turns of milled black pepper
Method
Place a large casserole pot onto a medium gas, adding the oil.
Season the lamb and place the shoulder into the pot once the oil is hot (be careful adding the lamb as it could spit). Colour for 3-4 minutes each side until nicely caramelised and then remove the lamb and put to one side.
Add the onions and colour for 4-5 minutes still on a medium heat, stirring now and again. Add the garlic and thyme then place the lamb back on top.
Place into the oven at 110°c and cover with a lid cooking for 2-2.5 hours, then take out the onions once they are soft. Carry on cooking the lamb for another 2.5-3 hours.
Add the vinegar and carry on cooking without the lid so the vinegar reduces as the lamb cooks, basting the lamb every 30 minutes, being careful not to reduce it too much.
Cook for a total of 6-7 hours until the lamb is nice and tender then add the onions and garlic back at the end and reduce the vinegar to a nice thick consistency.
Place the cut potato into the cold water with 10g salt in a pan, place on to the heat and bring to a simmer turn the heat down and simmer for 30 minutes then tip the potatoes into a colander to drain really well.
Place the potato back in the pan and dry out on a low heat for 1 minute then add the butter, salt, pepper and the warm milk while you mash the potato.
Our thanks to Tom and his team for this article and recipe.
Exclusive Club Member Offer: Members and their guests receive a complimentary glass of Champagne when dining for lunch or dinner Monday to Friday in Tom's Kitchen Birmingham, Canary Wharf, Chelsea and St Katherines Dock. Click here for booking information and more details.
Not a member? Join now to take advantage of this and other fantastic club benefits. Click here to join club online
The Luxury Restaurant Guide is best way to discover and book the finest restaurants in the UK. Let us inspire your booking choices with our comprehensive and visual list of all award-winning restaurants from Michelin, AA and Sunday Times Top 100 to the best new openings.