5 of The Best: London Alfresco Restaurants and Terraces
Make the most of the sun when dining out in the capital this summer with our pick of five of the best restaurants with outside spaces.
1. Veuve Clicquot Secret Garden at Four Seasons, Mayfair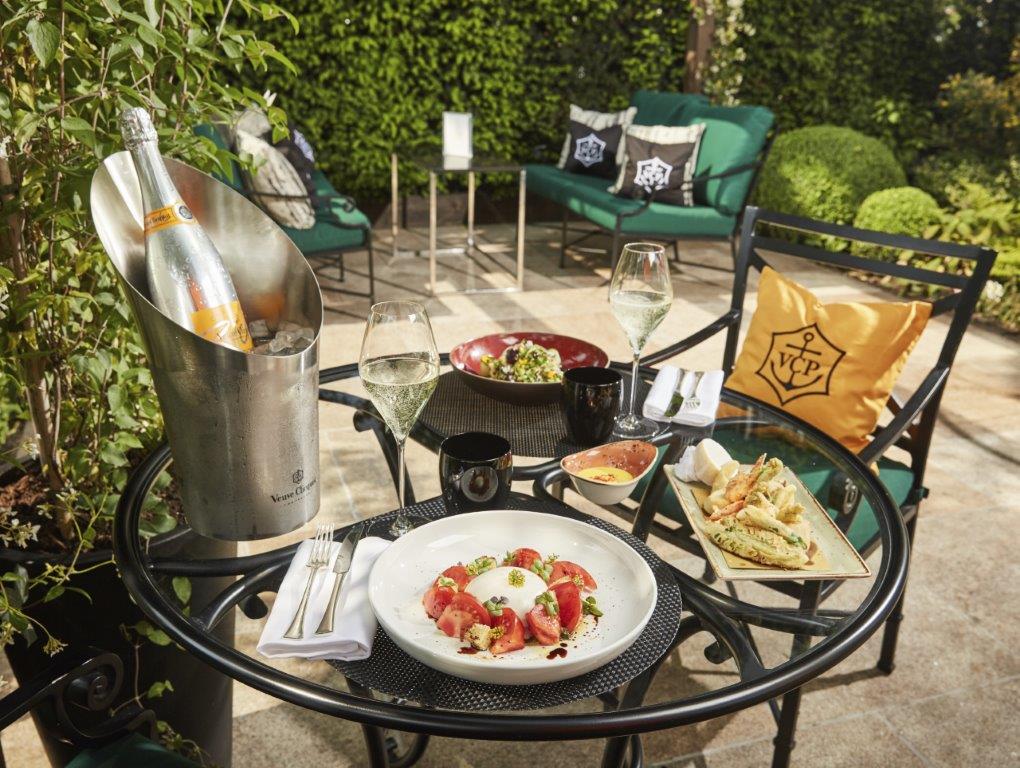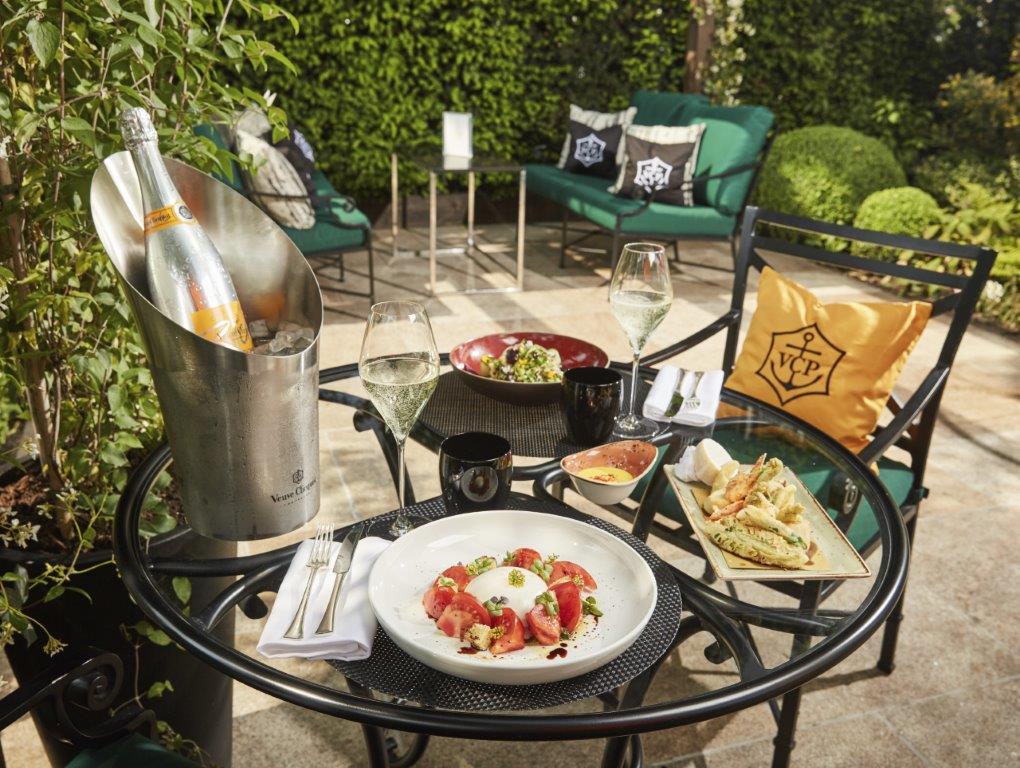 Four Seasons Hotel London at Park Lane is celebrating summer in style with the launch of Veuve Clicquot 'The Secret Garden', the only outdoor space in Mayfair where you can enjoy 'Veuve Clicquot RICH', the new versatile Champagne served on ice, with a choice of garnish.
Guests can escape the hustle and bustle of the city in this resident-style terrace, designed with a bespoke 'RICH' bar, and surrounded by an array of begonias, clematis, salvias and scented jasmine with accents of Veuve Clicquot inspired lantana, geums and poppies designed by Four Seasons' very own florist, Rosalind Ackerley. Guests can sip on Champagne and enjoy a new all-day summer menu from Executive Chef Romuald Feger.
Club offer: Members and their guest receive a complimentary glass of Champagne when having lunch Monday to Thursday. See Veuve Clicquot Secret Gardens for details.
Please note that 'The Secret Garden' operates a no-booking policy.
Members benefits are also available in Amaranto Restaurant at Four Seasons Park Lane at this property. See Amaranto Restaurant for details.
2. Babylon at Kensington Roof Gardens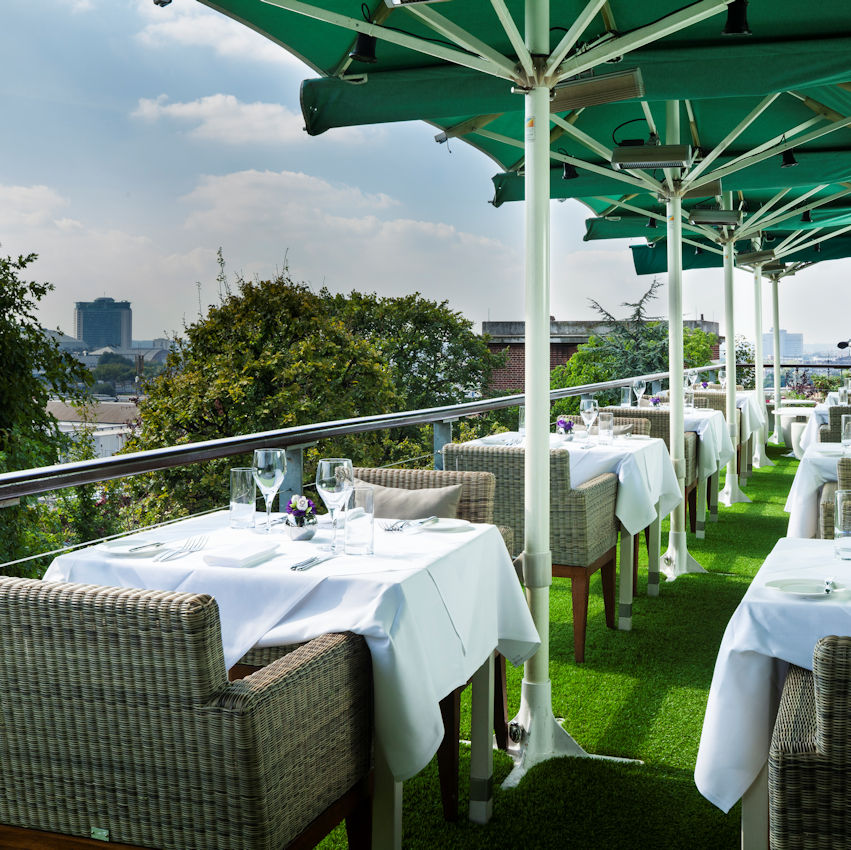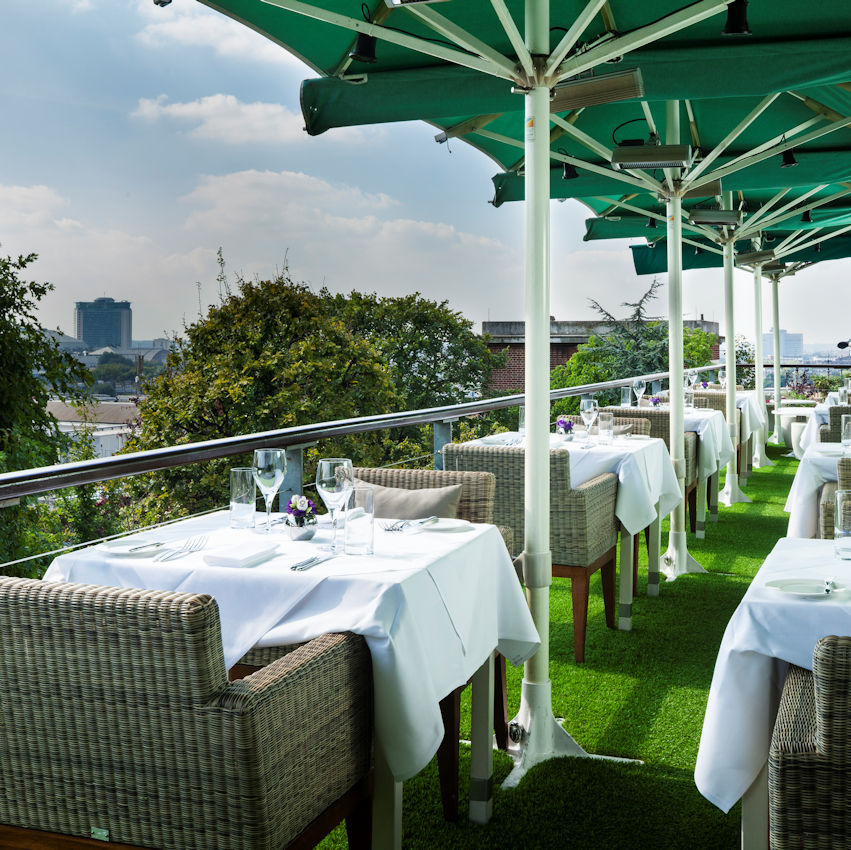 Perched on the seventh floor, high above Kensington we of course had to include the glamorous and exotic Babylon at the Roof Gardens.
Babylon promises exquisite cuisine, fantastic service and spectacular views of London's city skyline. When the weather is right, guests can enjoy a seafood and champagne bar on the terrace overlooking the flamingo pond and make the most of those magnificent views.
Club offer: Members receive a 15% reduction from the total food bill when having lunch Monday to Friday. Click here for more details.
3. The River Cafe, Hammersmith, W6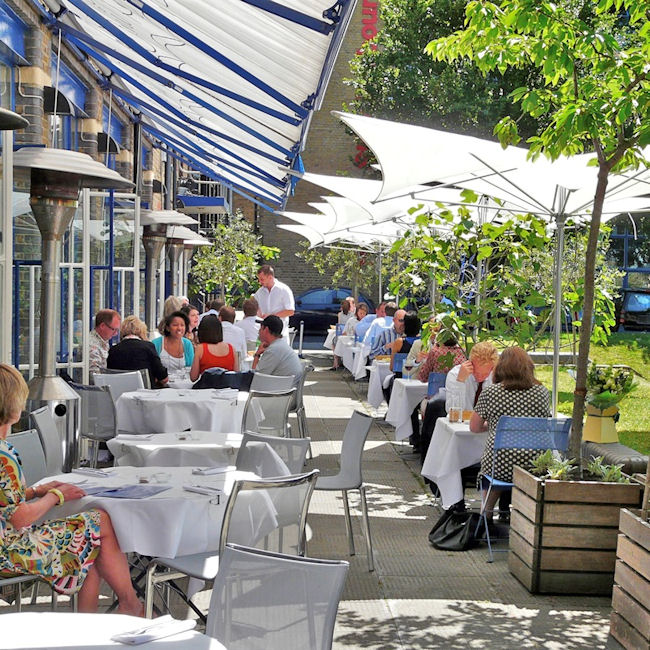 The River Cafe is a must destination for anyone who knows anything about food, and for those who just simply enjoy it! This world famous eatery has been a training ground for many a chef and is known to be the kitchen where Jamie Oliver was discovered.  The dining room is contemporary, light, bright and airy with ceiling to floor windows leading out on to a beautiful terrace for summer al fresco dining.
The menu here changes twice daily and focuses on the types of Classic Italian dishes that everyone loves to enjoy.
Recommended only – no club offer currently available. For booking details click here.
4. Aqua Nueva, Argyll Street, W1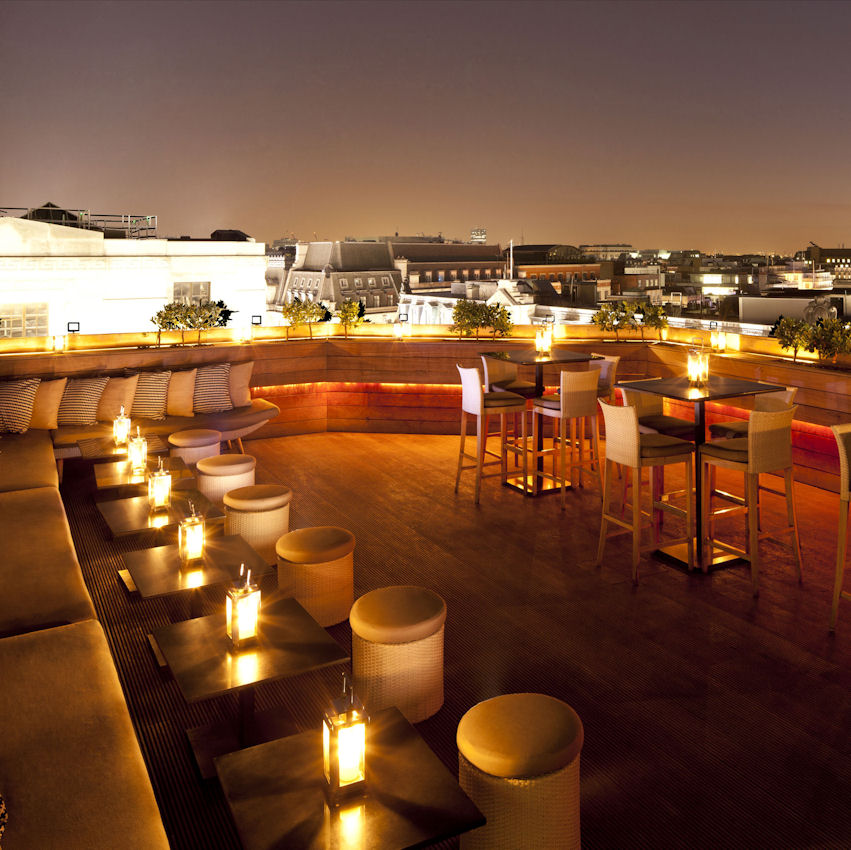 Set high above the bustle of Regents Street on the fifth floor of the famous former Dickins & Jones building, Aqua Nueva is one of the capital's most unique and exciting dining destinations serving Spanish cuisine at its finest.
Chef Alberto Hernandez presents a modern take on traditional northern Spanish cuisine, reinterpreting classic dishes in exciting new ways. A dedicated Cava Bar is also available where guests can order from a menu of delicious tapas while enjoying a glass of cava from an extensive wine list.
Aqua Nueva itself is an eye catching designer haven, with a Pamplona bull that seems to charge at you along the sultry-lit corridor, fabulous views over the capital from the outdoor terraces, and a stunning interior in luxurious gold's and pure whites.
Club offer: members and their guest enjoy a complimentary glass of Cava when having lunch or dinner Monday to Thursday. Click here for booking details.
5. Bird of Smithfield, 26 Smithfield, EC1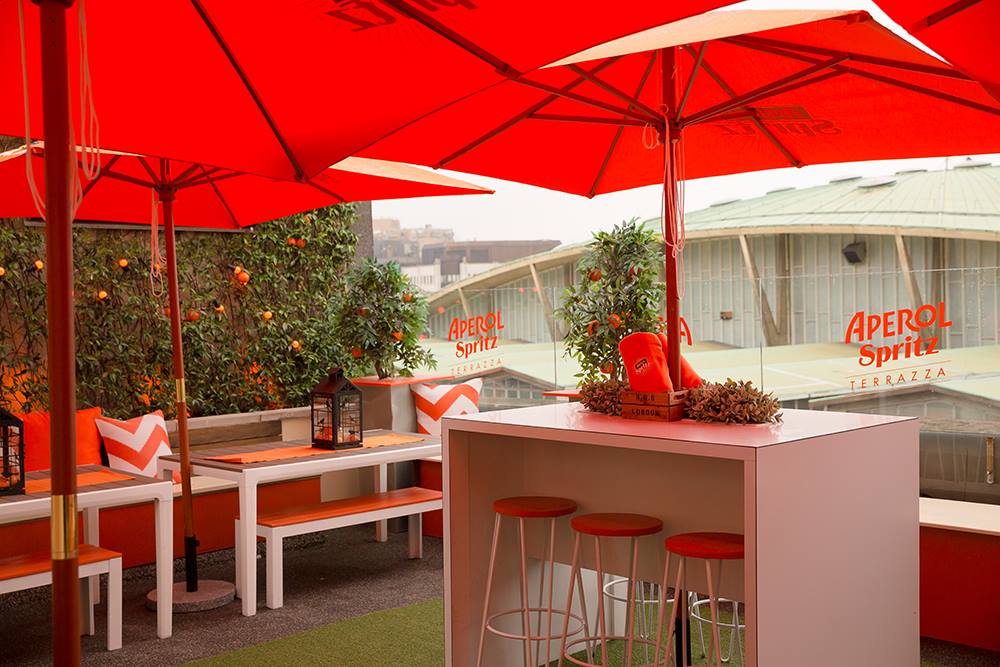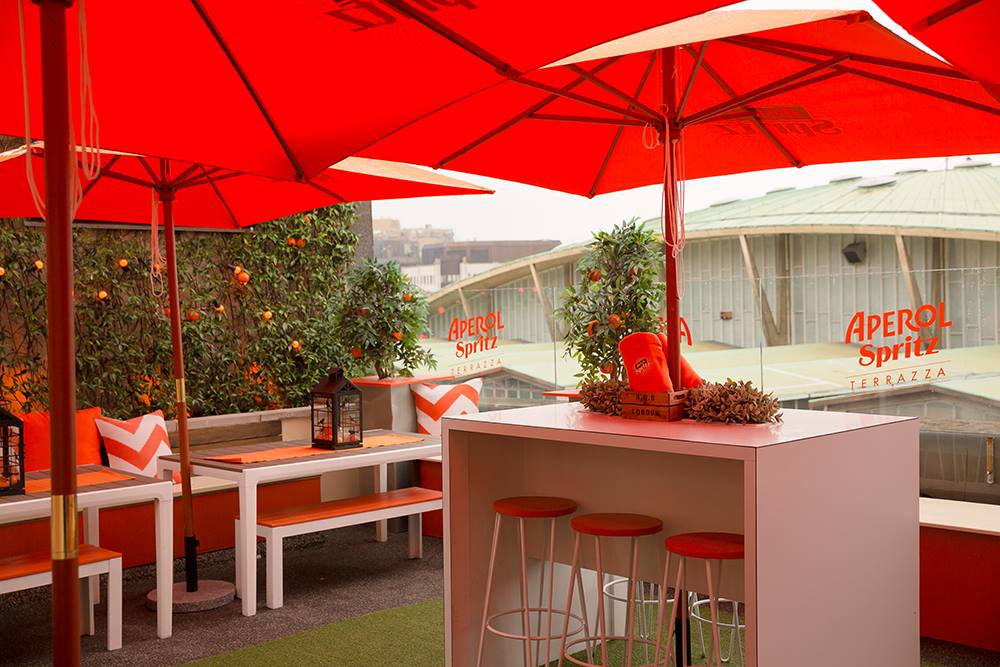 This is a beautifully styled emporium over five floors by Alan Bird, formerly of The Ivy – cute ground floor bar and lounge, elegant first floor restaurant with harris tweed and herringbone fabric seating, popular private dining room, roof terrace looking over the old market and the basement cocktail bar, also a great event space.
The food is British with a twist with both historic and modern influences.
This summer Bird of Smithfield's rooftop has been transformed into a haven for Spritz lovers!
From May to August, Aperol Spritz & Bird of Smithfield will host eight free after-work events, with London's hottest lifestyle influencers and brands, including Forza Win, Print Club London, The School of Life and Soho Radio.
To apply for a place for you and a guest at this free event, simply visit AperolSpritzSocials.comand click on the events page to enter your details.
ROOF OPENING TIMES 
Monday to Friday 12pm- 10pm (last orders at 9.30pm)
Saturday 5pm- 10pm (last orders at 9.30pm)
ALL roof tables are on first come- first served basis so pop in early to grab some space!
We do not close the roof for events, however we make exceptions on Saturdays.
Club offer: Members and their guest receive a complimentary glass of Champagne when having lunch Monday to Friday and dinner Monday to Saturday. Click here for more details.
Not a member? Why not treat yourself to a year of dining in luxury and enjoy tantalizing offers – all for just £95.00 for 12 months. Find out more here.