From Tennis to Croquet – 10 Luxury UK Hotels With Croquet Lawns
As we all grieve the end of Wimbledon and wonder where on earth we are going to get our lazy, hazy, grassy summer kicks from now – fear not! The Luxury Restaurant Guide is perfectly positioned to recommend a sporting pursuit which will easily fill this slot, as we are lucky enough to have the countries former number one seed women's Croquet player here in our very office! We asked Head of Support Services, Annabel (Stanhope) McDiarmid, her top pick of luxury hotels with great croquet lawns so feast your eyes on these luscious greens – and all venues featured have club benefits for members in their restaurants!
1. Coworth Park
Blacknest Road, Ascot, Berkshire,SL5 7SE | www.dorchestercollection.com/ | 01344 876600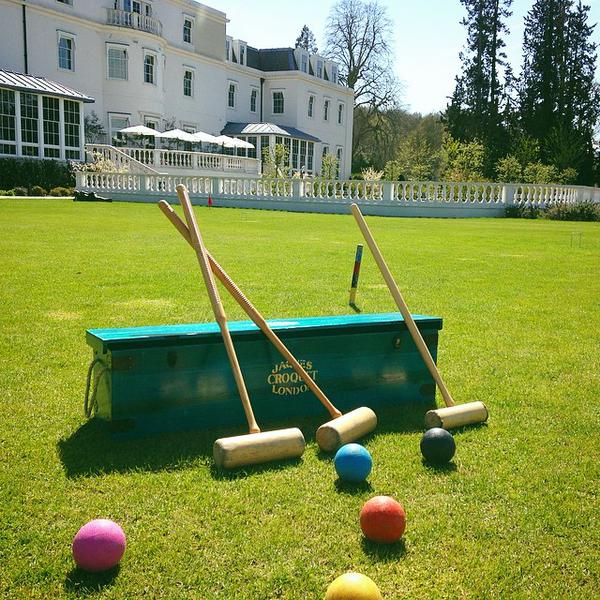 Dorchester Collection's luxury country house hotel and spa has a huge range of leisure pursuits for guests to enjoy. Its picturesque parkland is idyllic and is a favourite both of families and as romantic retreat. Just 45 minutes from London, relax in the shadow of the magnificent mansion house on the beautiful croquet lawn before enjoying lunch or afternoon tea. Club member benefits are available in both The Barn and Restauant Coworth Park – click here for details.
2. Chewton Glen
New Milton, Hampshire, BH25 6QS | www.chewtonglen.com | 01425 275341
Nothing is quite as quintessentially English as Chewton Glen. Set in 130 acres of exquisitely landscaped parkland with a 9 hole par 3 course, indoor and outdoor tennis courts and an outdoor pool, it also has a stunning croquet lawn. Play in front of the main house and book a lesson to give your game a boost! Club member benefits are available in The Dining Room – click here for details.
3. Lucknam Park Hotel & Spa
Colerne, Nr. Bath, Chippenham, Wiltshire, SN14 8AZ | www.lucknampark.co.uk | 01225 742777
Glorious Lucknam is perfect at any time of year but it really comes into its own in the summer. Set in 500 acres of listed parklands, the five star hotel is approached by a mile long sweeping driveway lined by magnificent beech trees. Lucknam is essentially a luxury playground for families with masses of activities including equestrian and cookery on offer.  After exploring the grounds, enjoy  a game of croquet on the west lawn and relax into your evening with drinks on the brasserie terrace. Club member benefits are available in both Hywel Jones by Lucknam Park and The Brasserie – click here for details.
4. Tylney Hall Hotel
Rotherwick, Hook, Hampshire, RG27 9AZ | www.tylneyhall.co.uk | 01256 764881
How about playing croquet with the longest uninterrupted view in Hampshire at the magnificent Tylney Hall Hotel? If you can concentrate on your game with the magnificent backdrop of this elegant Victorian mansion with its incredible vistas we applaud you! The Grade II listed building remains an example of a luxury country house  that has never lost its old world sense of charm. Club member benefits are available in The Oak Room Restaurant – click here for details.
5. Great Fosters
Stroude Road, Nr. Virginia Water, Egham, Surrey, TW20 9UR | www.greatfosters.co.uk | 01784 433822
This immaculately preserved Tudor mansion is set in 50 acres of stunning parklands, and enviably located close to Heathrow, Windsor and Wentworth. With a Japanese bridge and Saxon Moat, the formal gardens of Great Fosters are both extensive and exceptional – the knot garden is designed to reflect the intricate beauty of a Persian Rug. Along with a lake, four secret gardens and majestic grassed amphitheatre at the end of the lime avenue a game of croquet in this incredible setting will seem an enchanting dream! Club member benefits are available in both The Estate Grill and The Tudor Room – click here for details.
6. Hambleton Hall
Hambleton, Oakham, Rutland, Leicestershire, LE15 8TH | www.hambletonhall.com | 01572 756991
Privately owned by Tim and Stefa Hart, this 'location perfect' Victorian mansion has been lovingly converted into a prestigious hotel. A few metres from the sun-drenched terrace is Hambleton's croquet lawn – and if you need any help or a referee owner Tim and general manager Chris are more than happy to step in and help out! In addition to the main house guests can also choose to stay in the Croquet Suite, adjacent to the main hotel and perfect for families. Club member benefits available in Hambleton's restaurant – click here for details.
7. Ashdown Park
Wych Cross, Nr. Forest Row, East Grinstead, Sussex, RH18 5JR | www.ashdownpark.com | 01342 824988
Surrounded by the Ashdown Forest, which according to to the famous children's author, A. A. Milne, is the woodland that inspired his Winnie The Pooh stories, the Ashdown Park Hotel and Country Club offers the heights of luxury in the heart of East Sussex. Famous in the first for its stunning 18 hole, par 3 golf course, croquet is also available for guests on the luscious lawns adjacent to the hotel. Club member members receive dining benefits in Anderida Restaurant – click here for details.
8. Four Seasons Hampshire
Dogmersfield Park, Chalky Lane, Dogmersfield, Hampshire, RG27 8TD | www.fourseasons.com/hampshire | 01252 853000
Four Seasons opened their first luxurious country house hotel in 2005. Situated less than an hour from London in the village of Dogmersfield, the restored Georgian manor is set in 500 acres of parkland and seamlessly blends English country living with 21st century modernity. Rural relaxation doesn't get better than this – enjoy tennis, horseriding and hidden in a walled garden through an archway lies the croquet lawn. Currently undergoing an extensive refurbishment programme the restaurant is due to open later this summer. Club member benefits will be available – click here for details.
9. Bailiffscourt Hotel
Climping, West Sussex, BN17 5RW | www.hshotels.co.uk | 01903 723511
This perfectly preserved medieval house, set in 35 acres of private pastureland is the ultimate country escape. A series of charming houses an cottages it leads down to Climping Beach. Families and dogs are welcome and encouraged to roam and explore, and take advantage of the leisure pursuits available. Enjoy the nooks and crannies and games from quoits and tennis and of course croquet. Club member benefits available in the Tapestry Restaurant – click here for details.
10. Bovey Castle
North Bovey, Dartmoor National Park, Dartmoor, TQ13 8RE | www.boveycastle.com | 01647 445007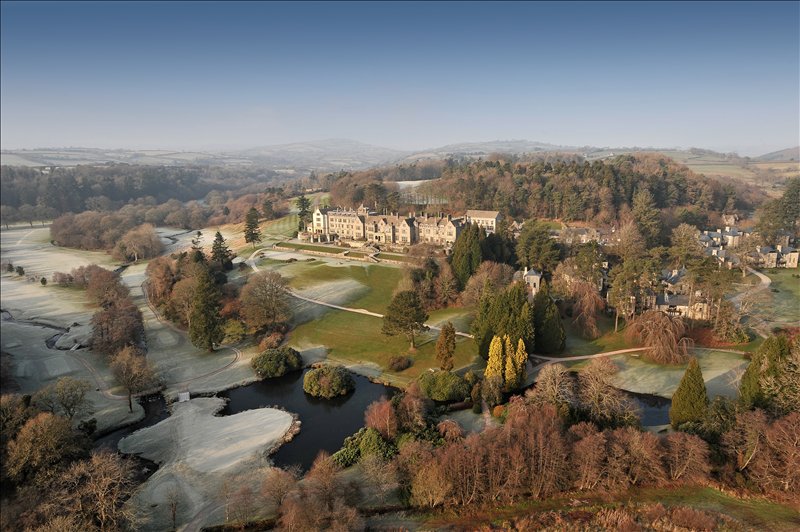 Located in the heart of Dartmoor National Park, Bovey Castle was opened as a hotel and golf resort in 1930 by Great Western Railways. The award-winning championship golf course still continues to draw golfers from the world over, but Bovey have taken their leisure pursuits one step further with their latest offer – Crolf. Combining golf and croquet crolf is the newest sport at Bovey and a very competitive game. It has just nine laws to follow, can be played by any number of players and involves 'hools', three-way hoops. Intrigued? Head to Dartmoor and check it out! Club member benefits are available in the Great Western restaurant – click here for details.
Find out more about the Luxury Restaurant Club – the UK's largest fine dining club, where you can subscribe to enjoy instant rewards, invitations and insights from over 500 of the finest restaurants in the UK. Find out more here.