Winner of AA's London Restaurant of the Year, Tredwells is the latest addition to Marcus Wareing Restaurants and creates contemporary British cooking in the heart of the West End. This recipe from Chef Patron, Chantelle Nicholson, can't fail to please this Christmas.
Confit Turkey Leg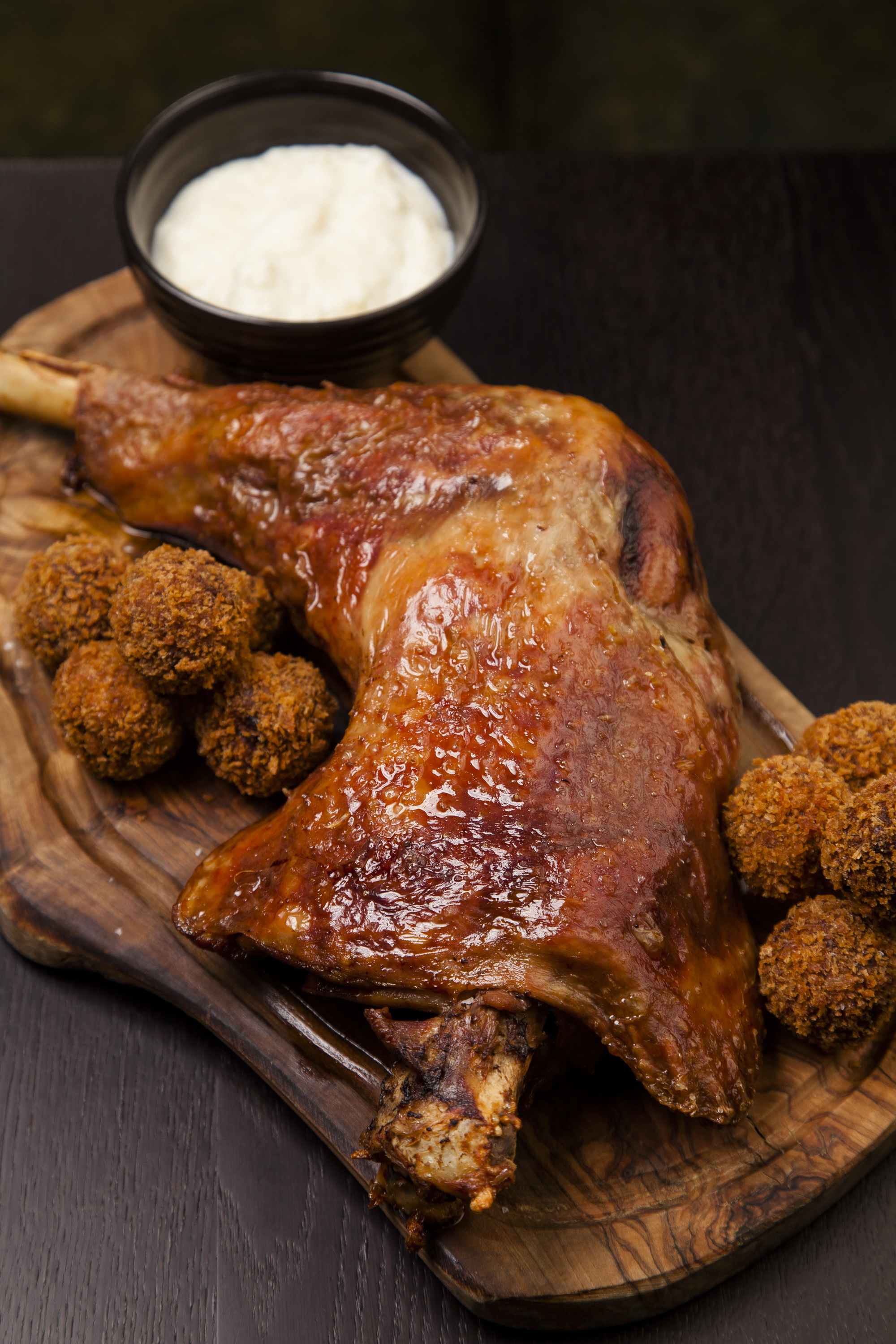 Ingredients
1 turkey leg, bone in, approximately 1kg
1 recipe Meat Brine
2kg duck fat
½ bunch thyme
3 bay leaves
¼ bunch rosemary
2 star anise
Method
Brine the turkey leg for 4 hours in the Meat Brine.
Preheat the oven to 100˚C.
Place the duck fat in an oven proof dish large enough to fit the turkey leg snugly. Add the herbs and spices and place in the oven for 5 minutes.
Remove from the oven and carefully place the turkey leg inside. Cover with foil and place in the oven for 4-5 hours. Check if cooked by placing a skewer into the meat, it should go straight through with no resistance.
Once cooked, remove the entire tray and allow the turkey leg to cool down in the fat. Remove when still warm and strain the fat to re use.
When ready to serve, preheat the oven to 200 ˚C. Place the turkey leg in a roasting pan and place in the oven for 15 minutes until heated right through and crispy.
Meat Brine
4 litres water
280g salt
6g white peppercorns
6g coriander seeds
6g fennel seeds
10g thyme
4 bay leaves
Place all ingredients, apart from the water, in a large pan. Add one litre of the water and bring to the boil. Remove from the heat, add the remaining water, then cover and chill.
Bread sauce
250g sourdough
600ml milk
1 onion, halved and peeled
2 bay leaves
8 cloves
¼ bunch thyme
1 tsp celery salt
Freshly milled black pepper
Place all ingredients, bar the bread, in a pan. Bring to a simmer for 20 minutes. Remove, cover with clingfilm, and allow to infuse. Strain off then add the bread. Leave to soak for 20 minutes then blend together using a stick blender.
Cranberry sauce
250g frozen cranberries
100ml port
1 orange, zest and juice
1 stick cinnamon
150g caster sugar
500m cranberry juice
Place all ingredients in a pan and bring to a simmer. Simmer for 30 minutes, remove the cinnamon and refrigerate until needed.
The Chef: Chantelle Nicholson Chef Patron, Tredwells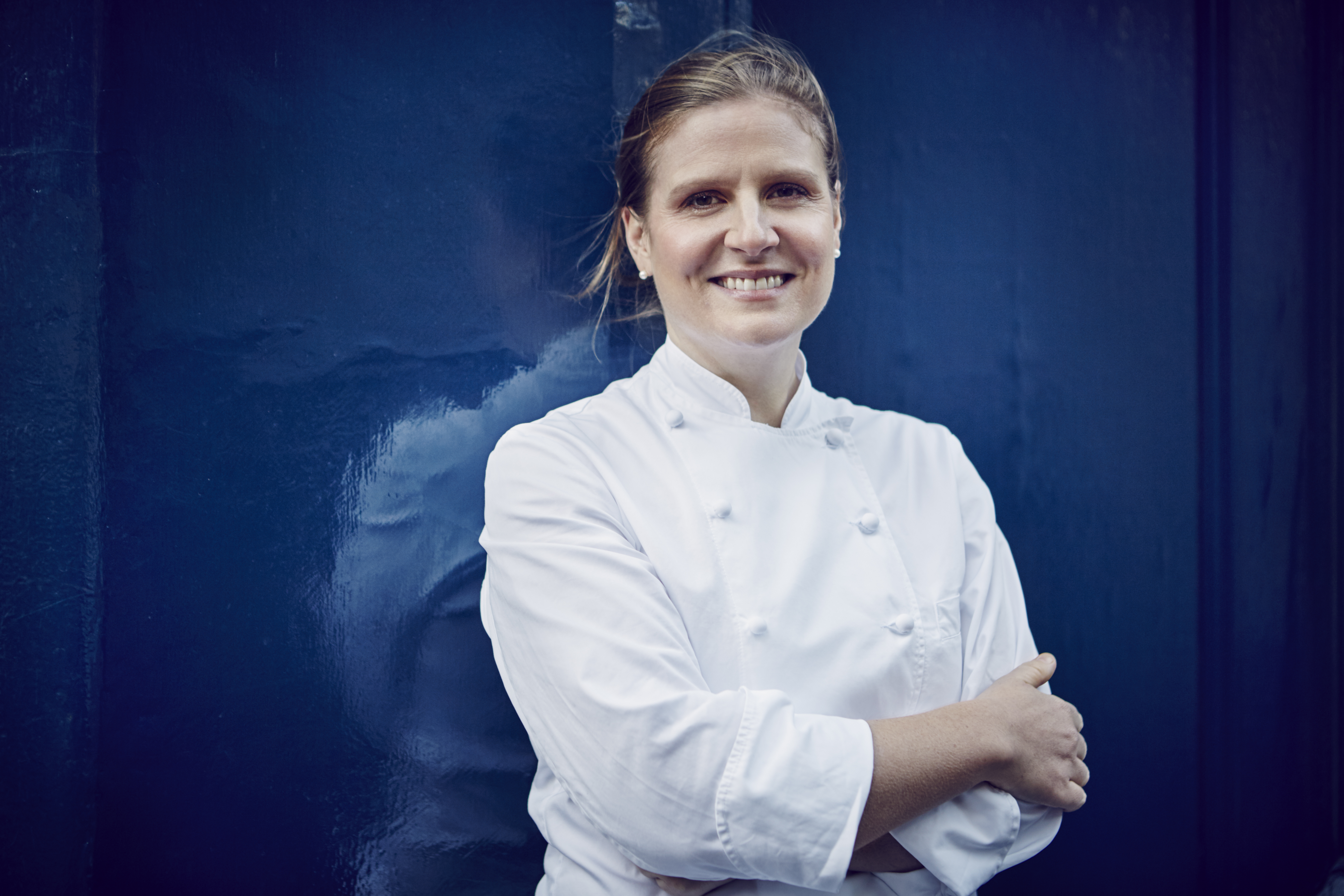 Chantelle Nicholson is one of the most recognised women in the British hospitality industry. Her awards include Woman of the Year (The Shine Awards 2016), Manager of the Year (The Cateys 2016), Restaurant of the Year: London (for Tredwells, AA Hospitality Awards 2015/2016) and the Acorn Award (2009).
Originally from New Zealand, Chantelle trained as a lawyer before discovering a passion for food. In 2004 she reached the final of the Gordon Ramsay Scholarship competition, where she met Josh Emett, then head chef of London's Savoy Grill, who offered her a job. At The Savoy Grill Chantelle met Marcus Wareing who was Chef Patron. In 2006 Chantelle joined Marcus at Pétrus, originally as sous chef and later in other key roles. She was instrumental in the formation of Marcus Wareing Restaurants and, since 2014, has been Group Operations Director, helping launch The Gilbert Scott and Tredwells where she is now Chef Patron.
The Restaurant: Tredwells
4a Upper St Martin's Lane, Seven Dials, London, WC2H 9NY | 0203 764 0840 | www.tredwells.com
The Club Offer: members and their guests receive a complimentary glass of House Champagne or sparkling wine as chosen by the Sommelier when enjoying a minimum two courses per person for lunch or dinner. Click here for further details.
Not a member? Don't miss out on this fantastic opportunity to dine with fabulous benefits throughout the lead up to Christmas. Call membership services on 01276 850581 today and join The Luxury Restaurant Club for 12 months for just £95.00 – or why not purchase as a gift?