Chef's Recipe : Watermelon Gazpacho, Feta, Peach & Basil from Frenchie, Covent Garden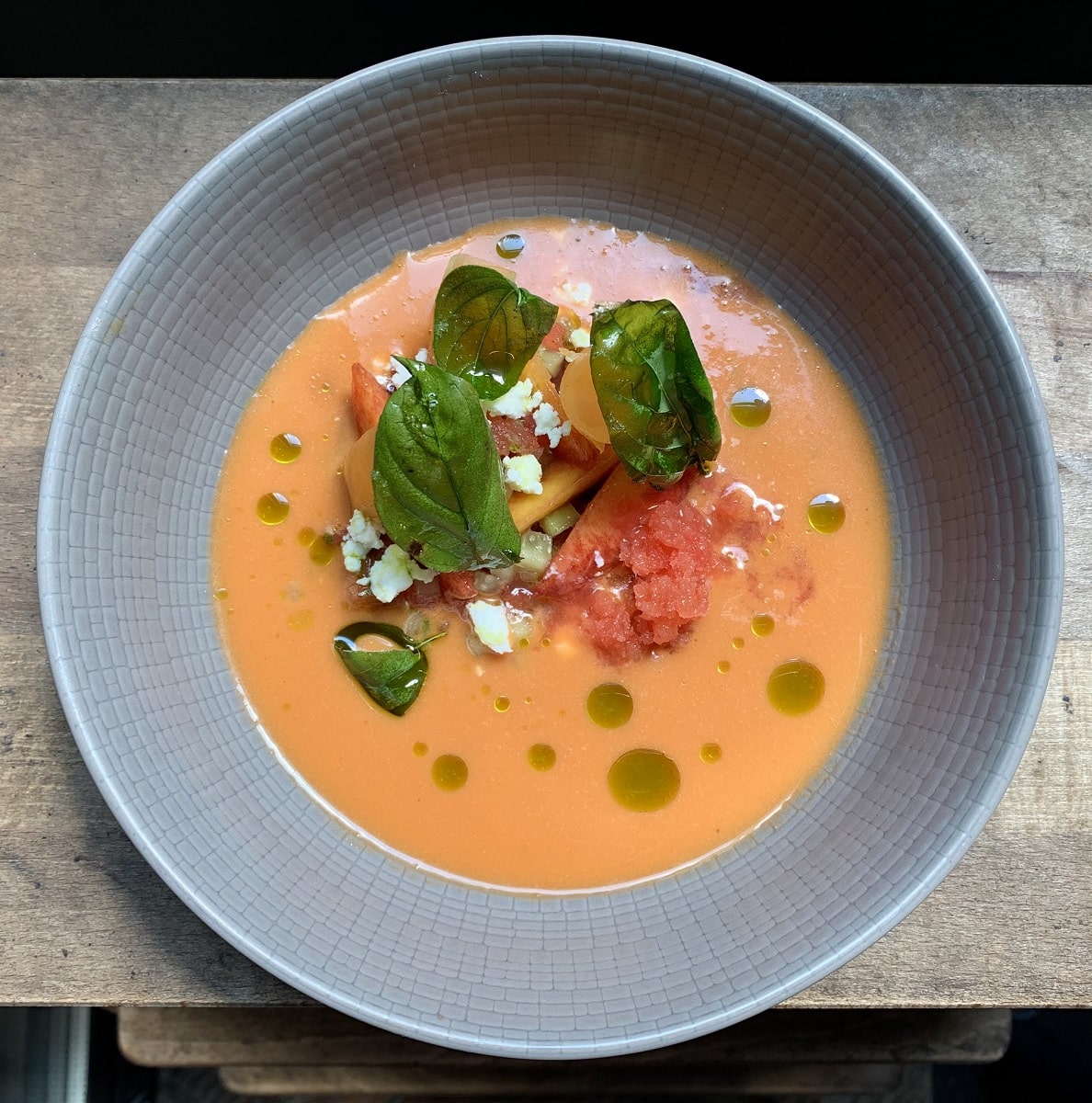 Watermelon Gazpacho with feta, brought to you from Gregory Marchand, chef Patron of Frenchie in Covent Garden.
This is Greg's twist on a Spanish classic, served cold, the soup is refreshing and ideal for warm evenings. It's easy to prepare and suitable for making in advance – so you can soak up the rest of the sun.
Gazpacho :
3kg watermelon
900g tomato
600g cucumber
140g shallot
2 red peppers
200ml olive oil
100ml Cabernet Sauvignon vinegar
2 cloves of garlic
2 red chillis, deseeded
1 bunch of basil
Chop all the vegetables and watermelon into smaller pieces, add olive oil and Cabernet Sauvignon vinegar. Pick the basil, crush the garlic, mix both together and marinade overnight.
Next day blitz and strain gazpacho through a chinois. Then blitz the gazpacho with fresh watermelon to thicken. Season with salt and, if you would like to add more acid, another dash of Cabernet Sauvignon vinegar. Season to taste.
Dressing :
60g shallots
1.5 red chillis
40g ginger
20g galangal
40ml lime juice
15g palm sugar
60ml sesame oil
40ml mirin
Heat sesame oil in a pan and finely chop shallots, ginger, galangal and chilli, and sweeten lightly in sesame oil. Dissolve mirin and palm sugar and add lime at the end. Chill.
Granita :
400g melon trimmings
200g peach trimmings
2 limes juiced and zested
Blitz trimmings with line zest and pass through a chinois. Add lime juice and freeze.
Mint-Basil Oil :
100g basil
100g mint
600g grapeseed oil
Blitz all in a blender 80 degrees for 8 minutes, pass through a muslin cloth. Chill.
To serve :
Peeled wedges of peach (blanch them in boiling water for 15 seconds and refresh in iced water)
Compressed watermelon disc
diced cucumber
diced lime melon
diced watermelon
deep fried basil
feta
Place watermelon disc in the centre of the bowl, place diced cucumber, melon and watermelon on top of the disc, add peach wedges, crumbled feta, and top with fried basil.
Add granita on the side of the watermelon disc. Serve and poor chilled gazpacho around in the bowl. Add dashes of prepared dressing oil.
This dish is currently available as a starter on the a la carte menu at Frenchie (£14).
To find the best dining locations around, download the FREE Luxury Restaurant Guide app here. Plus, enjoy over 500 offers and privileges as a member of the Luxury Restaurant Club, the UK's leading fine dining club.