Chef's Recipe : Warm Chocolate Cake from Cakes & Bubbles at Hotel Café Royal
Show someone you love them with this incredible dish; or simply just indulge if Eros hasn't aimed his arrow at you recently. Enjoy Valentine's Day your way. You will melt hearts with this perfect love drug – Warm Chocolate Cake from Cakes & Bubbles, the first restaurant outside of Spain by Albert Adria of legendary elBulli fame, now at the luxurious Hotel Café Royal. Delicious!
Warm Chocolate Cake  –  Makes 6
 Hazelnut crunch
25g best quality hazelnut paste from Italy
25g hazelnut praline
10g toasted chopped hazelnuts
1g salt
13g cocoa butter
Ganache cream insert
80g dark chocolate
130g whipping cream
For lining the six 7x4cm rings :
3 table spoons of any gluten free flour
1 tsp cocoa powder
Cake mix (mouse)
38g dark, but silky good quality chocolate (we use Valhrona 62%)
29g butter
7.6g cocoa powder
78.4g eggs
45g sugar
Method
For the hazelnut crunch, blitz all the ingredients together and spread a thin layer onto a sheet of greaseproof paper. Place in the freezer. Once frozen, cut into 7cm circles and keep in the freezer until ready to serve.
Heat the cream in a pot and pour over the chocolate. Using a stick blender, blend until smooth and silky. Pour 30g into each of six 6cm silicone ring mould (about 1.5cm), and freeze.
In a bowl mix 3 tbsp of any gluten free flour and 1 tsp cocoa powder. Line 6 rings (7x4cm) with baking paper, brush with melted butter and dust with the flour and cocoa mix.
Heat the oven to 220'C.
To make the cake mix, place the eggs and sugar into a bowl. Whisk on a medium speed until light and shiny.
Melt the chocolate and butter together, then sieve in the cocoa powder. Once the mixture reaches 40'C, slowly fold in 1/3 of the egg mix. Add the remaining egg mix until smooth and well combined.
Place the mixture into a piping bag and cut off the tip (to get a 3mm hole). Pipe a layer of cake mix on the bottom of the ring, then place a circle of frozen chocolate ganache and press gently. Cover with a thin layer of cake mix.
Place the cakes in the oven for 11 minutes.
Serve immediately with hazelnut crunch and vanilla ice cream on the side
Enjoy!
Dine at Cakes & Bubbles
For more jaw dropping, mouth-watering and utterly sensational desserts to eat in, or take out you simply must head to Cakes & Bubbles. Eat in with the Luxury Restaurant Club and enjoy a complimentary glass of champagne for each person in your party, see details. Simply, download the free Luxury Restaurant Guide app and follow steps to join the club here.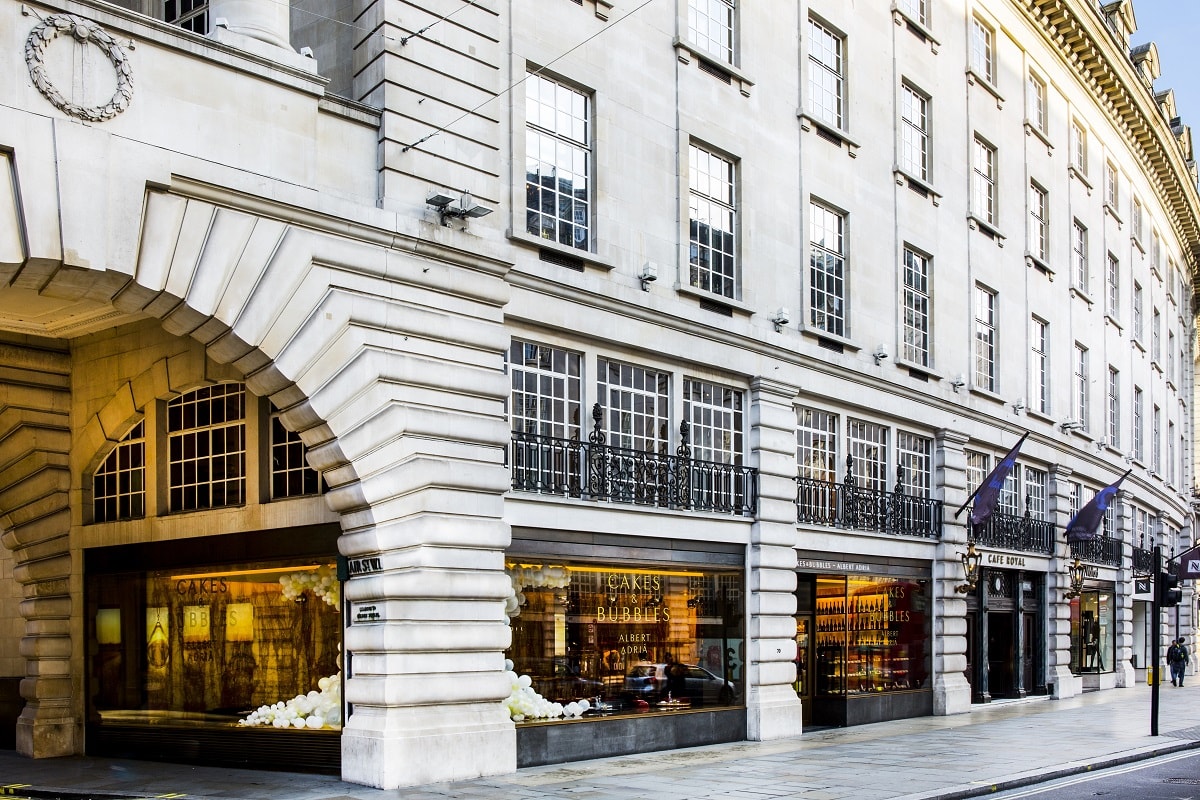 Take a look at more sensational dishes to enjoy at Cakes & Bubbles: