Chef's Recipe : Luxury Beef Burger from The Lygon Arms Hotel
IT'S NATIONAL BURGER DAY TODAY, Thursday 22 August 2019
We all love a burger so why not go out and celebrate this week with just that. For one week only from 19th to 26th August 2019, The Lygon Arms, a stunning former coaching inn in the heart of one of the Cotswolds most beautiful villages of Broadway, is serving a special Cotswold Gentleman Burger. This limited edition burger is served in the Lygon Lounges, Terrace Room and Bar and Grill, with 10% of the price donated to the Air Ambulance Service.
Luxury Restaurant Club members also enjoy a 10% reduction when dining at The Lygon Arms all week for lunch and Sunday to Thursday for dinner. Join the club here to enjoy this and more great offers. First steps, download the free Luxury Restaurant Guide and follow the steps to join.
But, if you want to make it yourself, here's how to under the expert tutelage of Lygon Arms Head Chef Ales Maurer –
Ingredients for two burgers
West Bakery Bun
Ham hock
Pork belly
2 x slices of cheese
50ml Apple juice
Thyme
Stock
One large orange
Clove
Sage
170g beef mince
One clove of garlic chopped
One shallot chopped
1tsp whole mustard
2 onions
10 apples
500ml old fields cider
10ml brandy
250g brown sugar
500ml beer
125ml soda water
250g plain flour
Method
Pork Belly. Preheat the oven to 180 degrees C. Mix the thyme,stock and apple juice together in a bowl. Add to cooking dish with pork belly and cook for 5 hours on 180 degrees C. Take the pork belly out of the stock and rest on a plate allowing it to cool for 2 hours, before slicing.
Ham Hock. Add Ham hock, orange, clove and sage to a pan and bring to the boil and simmer for 4 hours and flake down.
6oz Burger. Make your burger with 170g beef mince, garlic, shallot, whole mustard and then shape into burgers.
Onion and Apple Cider Jam. 2 chopped onions, 10 peeled and sliced apples, 500ml old fields cider, 10ml brandy, 250g brown sugar. Bring to the boil and simmer until sticky and reduced.
Onion Rings. Thickly slice onion and then marinade onion ring in beer for 20 minutes before flouring. Make beer batter with 500ml beer, 125ml soda water. Add onion rings to the beer batter with onion seed. Shallow fry 'til golden.
When all cooked it is time to build your Cotswold Gentleman's Burger – and enjoy.
Cost: £25 to dine at Lygon Arms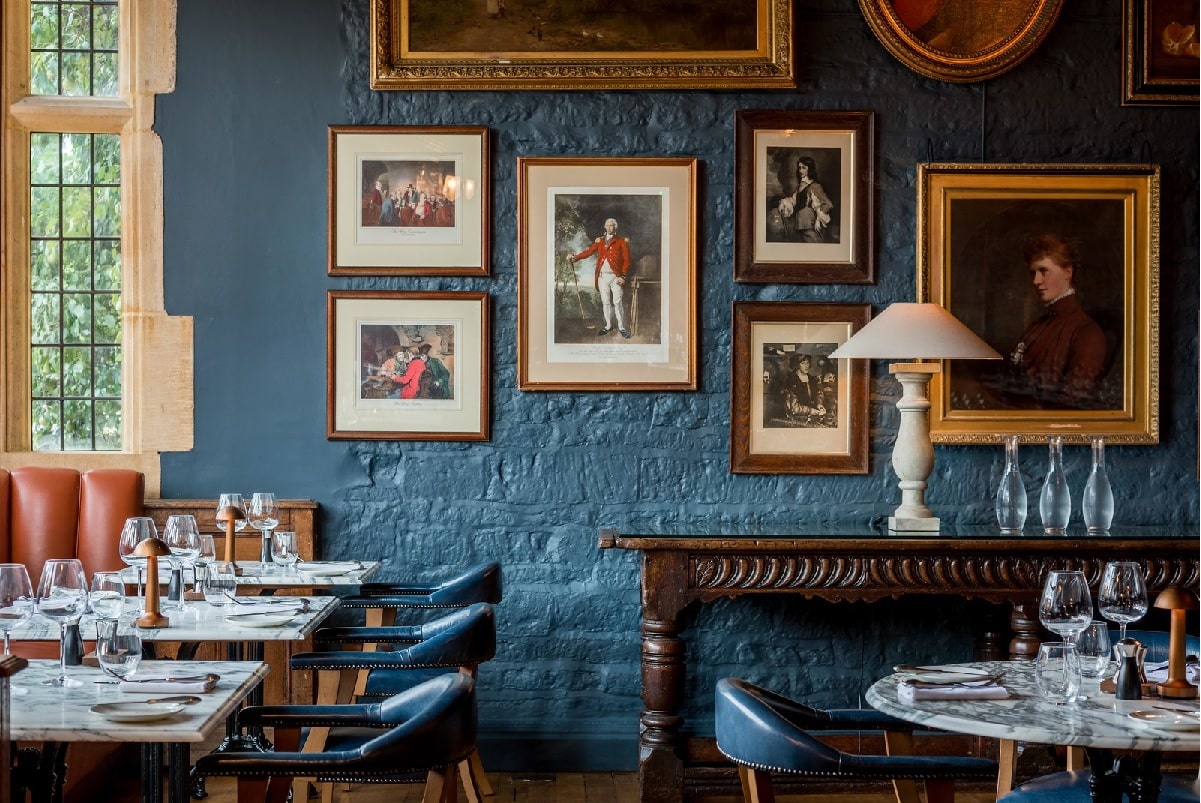 Tel : +44(0)1386 852255