Chefs Recipe – Caramel Poached Pears with Cider and Mascarpone Cream by Shay Cooper, The Goring Hotel
The prestigious Goring Hotel in Belgravia has hosted many Royals over the years including most recently The Duchess of Cambridge on the night before her marriage to Prince William. Now this 5-star star hotel, which has been run by four generations of the Goring family since 1910, is home to the incredibly talented chef Shay Cooper. His creative but elegant style of cooking perfectly compliments this most grand of dining rooms. Here he shares for us his recipe for Caramel Poached Pears with Cider and Mascarpone Cream.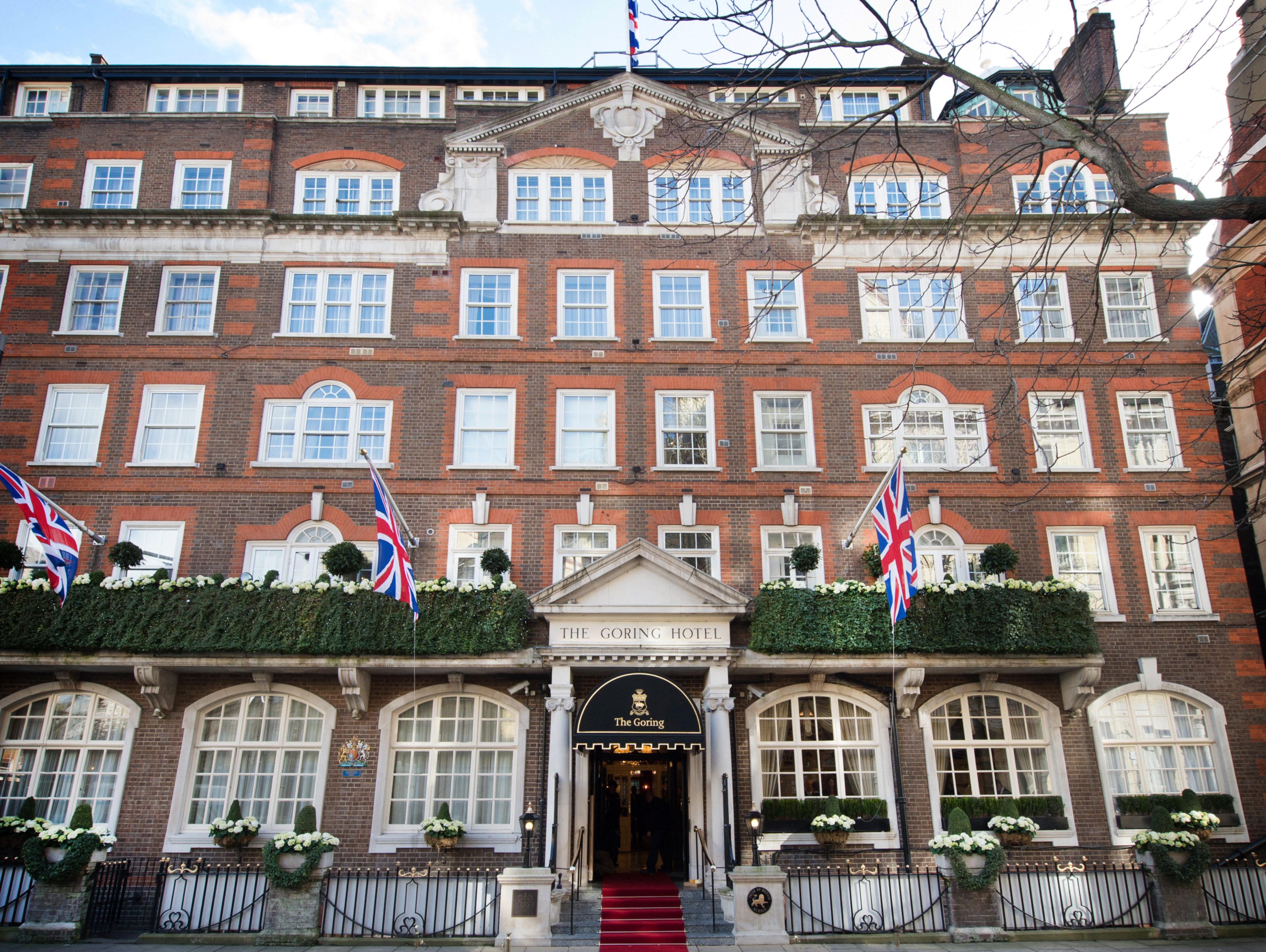 Ingredients
4 Williams pears (firm but not under ripe)
1 lemon
300g double cream
300g creme fraiche
300g mascarpone
150g sugar
1 litre good quality cider
Method – Poached Pears
Peel the pears and scrape the surface with a small knife to ensure a smooth finish
Place the 750g of sugar into a heavy based saucepan with a little splash of water and put onto high heat, stirring until you have made a rich dark amber caramel
remove the pan from the heat and place into a shallow tray of ice water to prevent the caramel from continuing to cook
Add 1 litre of water to the caramel and then place back on to the heat to create a caramel syrup
Bring the syrup to the boil and add the pears along with the juice from the lemon. Cook over a gentle heat until the pears are tender, remove from heat and allow to cool in the syrup
Method – Cider Cream
Pour the cider into a heavy bottom pan and reduce over a high heat until it becomes a heavy syrup then put to one side
Put the double cream into a mixing bowl with the 150g sugar and whip until stiff ribbons are formed
Fold the crème fraiche and mascarpone into the whipped cream and add the reduced cider syrup according to taste
To Serve
Remove the poached pears from the caramel syrup and drain on some kitchen towel
Place the pears onto individual plates and serve alongside a large dollop of the cider cream
 Executive Chef – Shay Cooper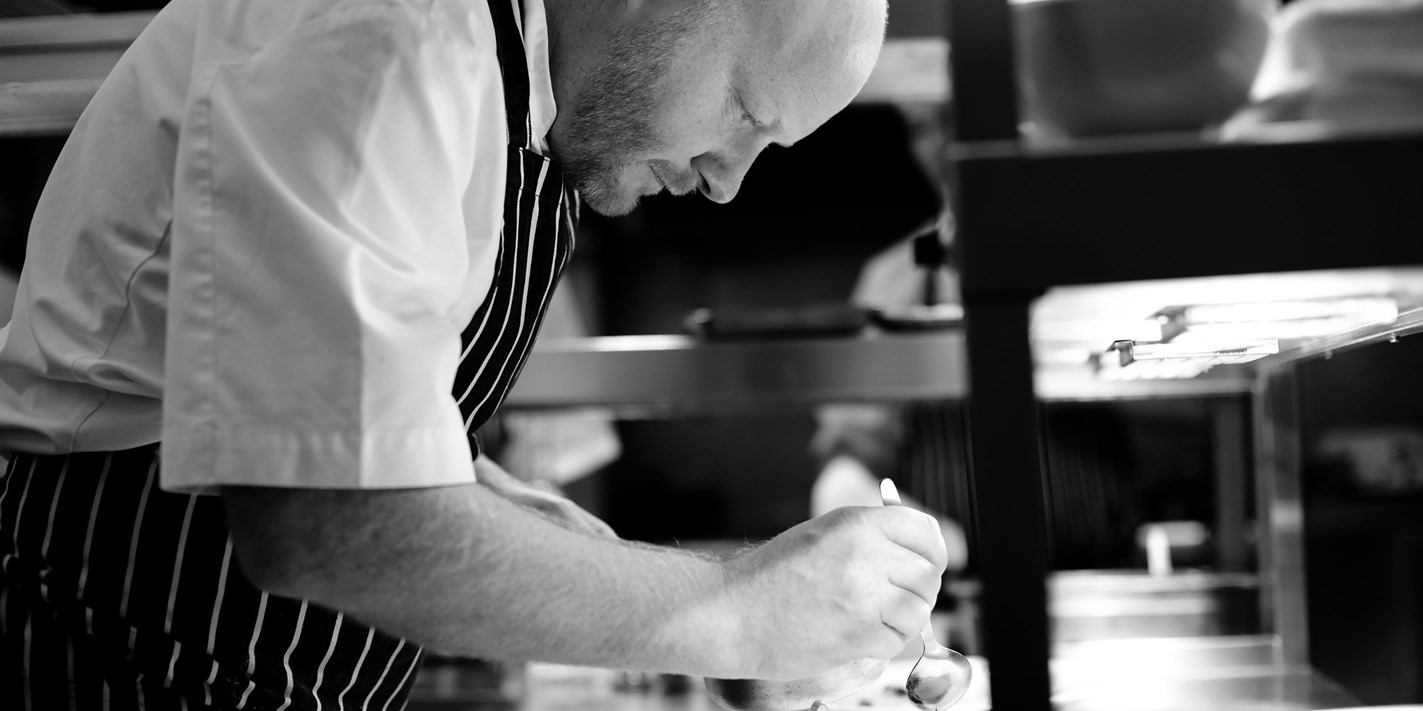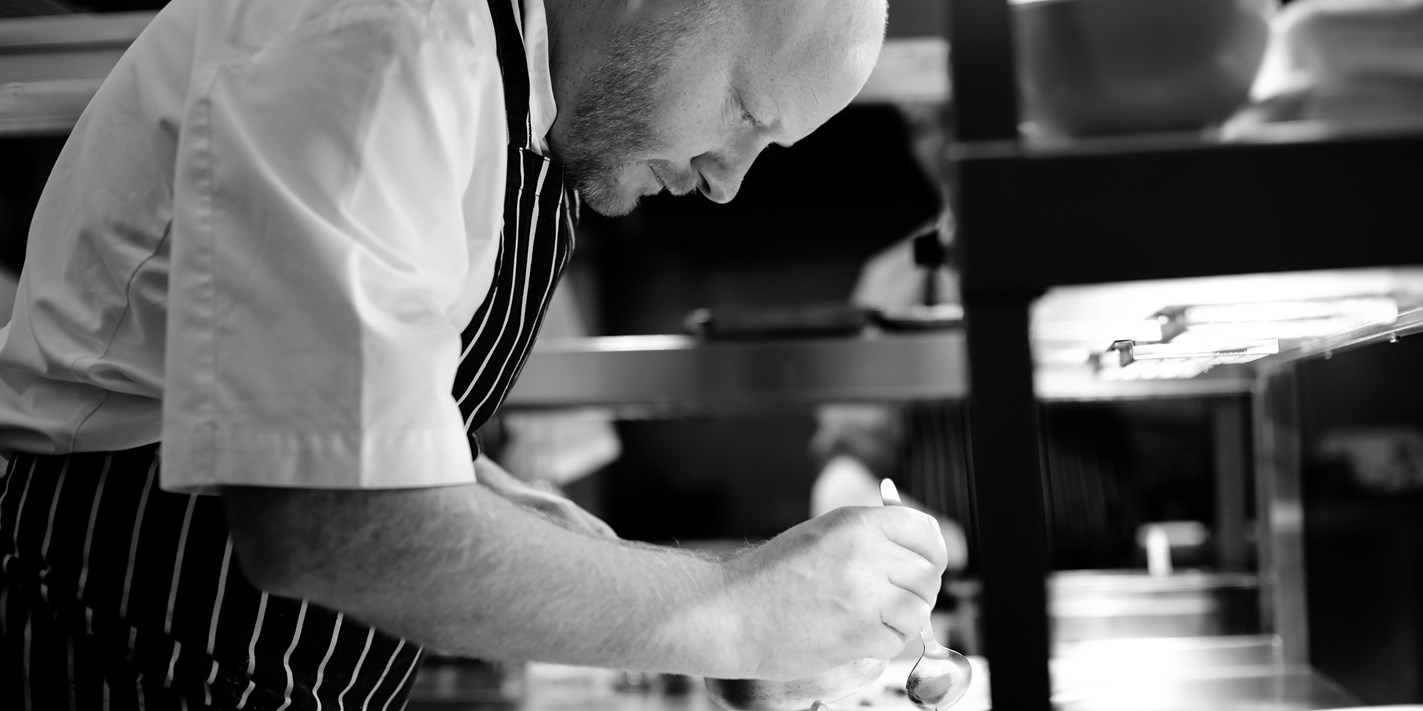 "One of England's young generation of up-and-coming, ultra-talented chefs with Michelin pedigree, Shay Cooper started cooking as a commis chef in 1997, before he was even out of school. Since then he's worked at Juniper in Altrincham, Stockcross's The Vineyard, and was named head chef at the Endsleigh Hotel, gaining three AA rosettes for his efforts there.
More recently, he impressed at The Bingham in Richmond, chalking up another three AA rosettes and his first Michelin star, before moving on to take the role of Executive Chef at London's Goring Hotel. The Dining Room at The Goring Hotel was subsequently awarded a Michelin star in the 2016 award list – one of only four London restaurants to gain their first star.
Instead of making the whiz-bang, show-off food that one might expect from a young chef bursting with ideas, Cooper has earned praise for his light touch, which allows the ingredients themselves to do the heavy lifting." Great British Chefs
The Restaurant – The Goring Dining Room | Beeston Place, Grosvenor Gardens, London, SW1W 0JW | 0207 396 9000 | www.thegoring.com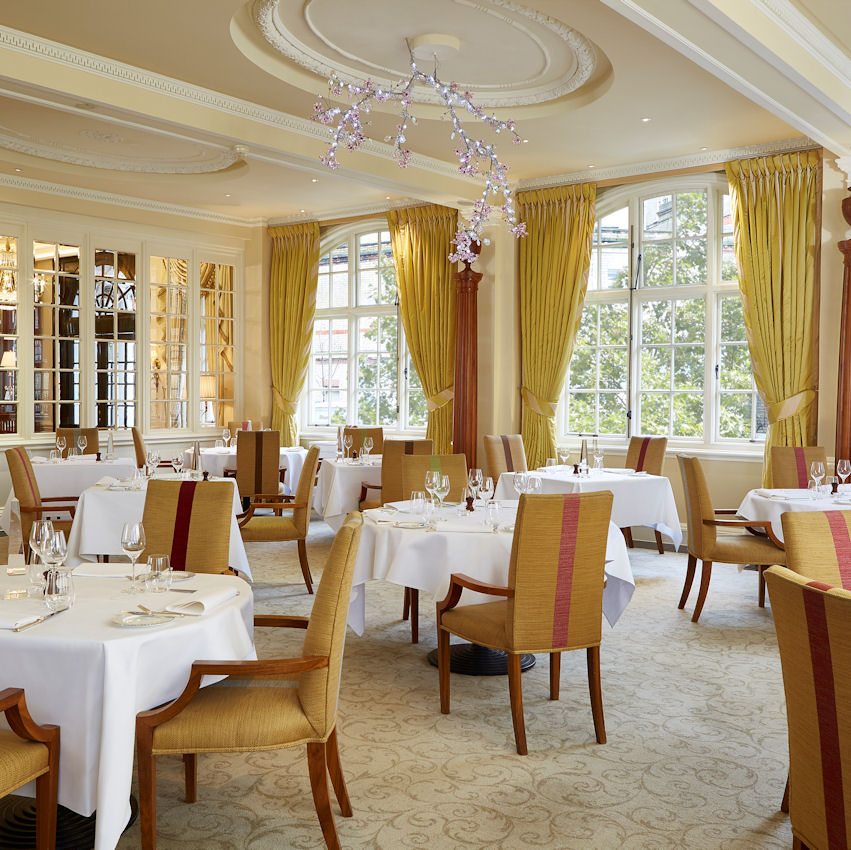 Club Offer: 
Members and  guests receive a complimentary glass of Champagne when dining for lunch Sunday to Friday or dinner Sunday to Thursday. Click here for more details.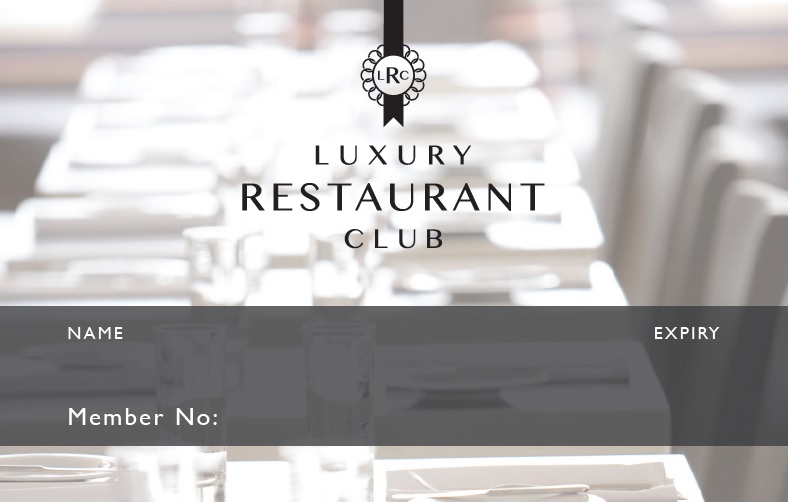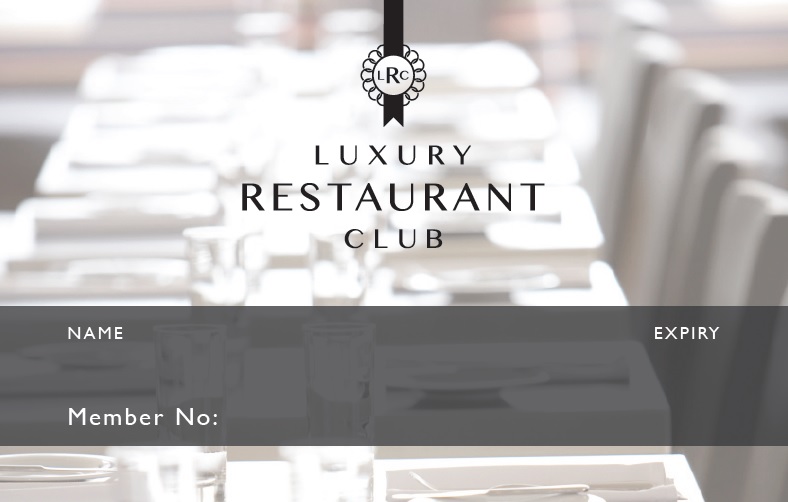 Not a member? Why not treat yourself to a year of dining in luxury and enjoy these and other tantalizing offers – all for just £95.00 for 12 months. Find out more here.