Chef's Recipe: Quiche au Crabe from Michel Roux Jr.
Michel Roux Jr. brings his Michelin-starred talents to creating his favourite quiche dish, Quiche au Crabe, for this week's Luxury Restaurant Guide feature on sublime picnic dishes.  Over to you Mr. Roux…
One of my favourite quiches, this is rich and full-flavoured with a touch of curry heat. I like to serve it with a little grilled endive – the slightly bitter smokiness sets off the sweetness of the crab perfectly. Use any kind of endive, such as Belgian or radicchio –

Michel Roux Jr.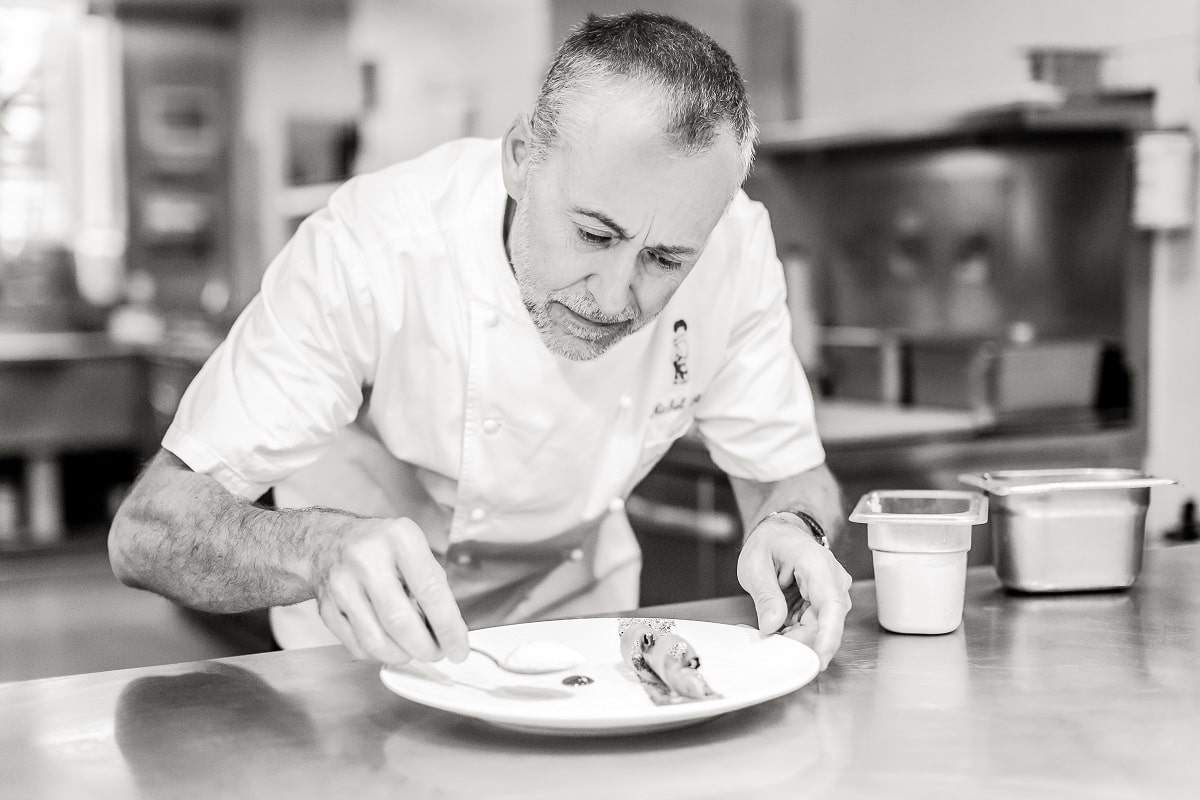 Serves 8-10
Ingredients
1 medium leek
1 tbsp unsalted butter
1 tbsp Madras curry powder
250g fresh white crabmeat
6 free-range yolks
2 free-range eggs
200ml milk
400ml double cream
60g Gruyère cheese, grated
Salt
Black pepper
Shortcrust pastry:
250g plain flour, sifted, plus extra for dusting
120g cold unsalted butter, diced
1 free-range egg, beaten
1 tsp salt
2 tbsp cold water
Endive:
4 or 5 heads of endive
Olive oil
Method
Start by making the pastry. Put the sifted flour on a clean, cold surface and make a well in the centre, then add the diced butter, egg and salt. Using your fingertips, work all the ingredients together, gradually drawing in the flour. Once the mixture has a sandy consistency, add the cold water and gently knead the pastry until smooth – but take care not to overwork it. Shape it into a ball, wrap in cling film and leave it to rest in the fridge for 2 hours.
Roll out the pastry on a floured surface to a circle about 3mm thick and use this to line a buttered 24cm flan ring. Leave the pastry to rest in the fridge again for at least 20 minutes. Preheat the oven to 200˚C/Fan 180˚C/Gas 6. Prick the pastry with a fork, line it with greaseproof paper and fill with baking beans, then bake for 20 minutes. Remove the paper and beans and put the pastry back into the oven for another 10 minutes or until the base has cooked but not taken on too much colour. Leave the oven on.
For the filling, trim the leek and split it in half lengthways. Cut it into fine strips, wash these well in cold water, then drain and dry on a cloth. Melt the butter in a wide saucepan, then add the leek and cook gently until tender. Season with a little salt, pepper and the curry powder and continue to cook for 2-3 minutes, then tip everything into a mixing bowl and leave to cool.
Pick through the crabmeat to remove any bones or cartilage and add it to the leek. Whisk the yolks and whole eggs, add the milk and cream and season. Stir the egg mixture into the leek and crab, then pour everything into the pastry base. Gently place the quiche in the oven, still at 200˚C/Fan 180˚C/Gas 6, and bake for 25 minutes. Sprinkle the grated cheese on top and cook for another 5 minutes or until golden and set. Remove the quiche from the oven and leave to cool a little before cutting it into slices to serve.
To prepare the endive, cut them in half, drizzle with olive oil and season. Heat a ridged grill pan, add the endive and grill until pleasingly charred.
Taken from Michel Roux Jr's The French Kitchen, Weidenfeld & Nicolson
Alternatively, dine out with the Luxury Restaurant Guide at Michel Roux Jr's Roux at Parliament Square and enjoy a 10% reduction from the total food bill for lunch as a Club member or a complimentary glass of champagne on arrival, and a tour of the kitchen to meet the chefs for dinner. Read more here; Or dine at Roux at The Landau where Club members and their guests receive a complimentary glass of champagne on arrival when dining. Read more here.  Simply, download the free Luxury Restaurant Guide app here and follow steps to join the Club.